In this post we have have collected for you the top Qismat Poetry in Urdu. We hope you enjoy it, and if you enjoy it, please do share it with your friends.
If you like this post of Qismat Poetry, we bet you will also like other post on our page including, love poetry, sad poetry, zulf poetry, dhoka poetry, muskurakat poetry, zindagi poetry, intezar poetry, yaad poetry, barish poetry, waqt poetry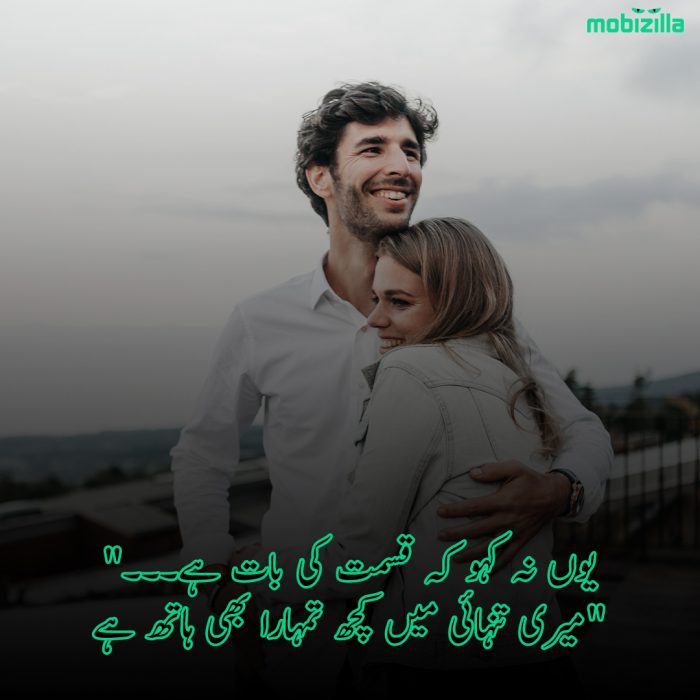 qismat-poetry
"یوں نہ کہو کہ قسمت کی بات ہے۔۔۔
میری تنہائی میں کچھ تمہارا بھی ہاتھ ہے"
—<<>>—
"Youn Na Kaho Kay Qismat Ki Bat Hai
Meri Tanhai Main Kuch Tumhara Bhi Hath Hai"
—<<>>—
"Don't say it's a matter of luck …
You have a hand in my loneliness. "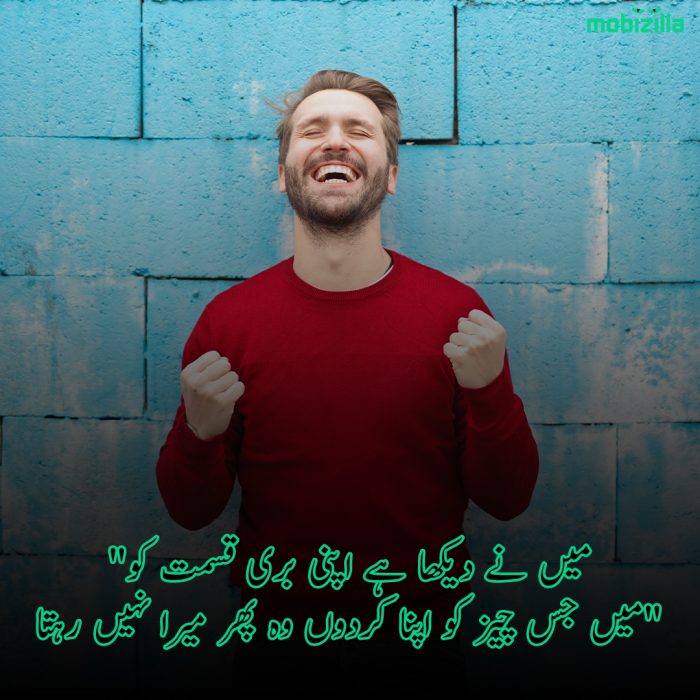 qismat-poetry-in-urdu
"میں نے دیکھا ہے اپنی بری قسمت کو
میں جس چیز کو اپنا کردوں وہ پھر میرا نہیں رہتا"
—<<>>—
"Main Nay Dekha Hai Apni Buri Qismat Ko
Main Jis Cheez Ko Apna Kar Don Wo Phir Mera Nahi Rehta"
—<<>>—
I have seen my bad luck
What I own is no longer mine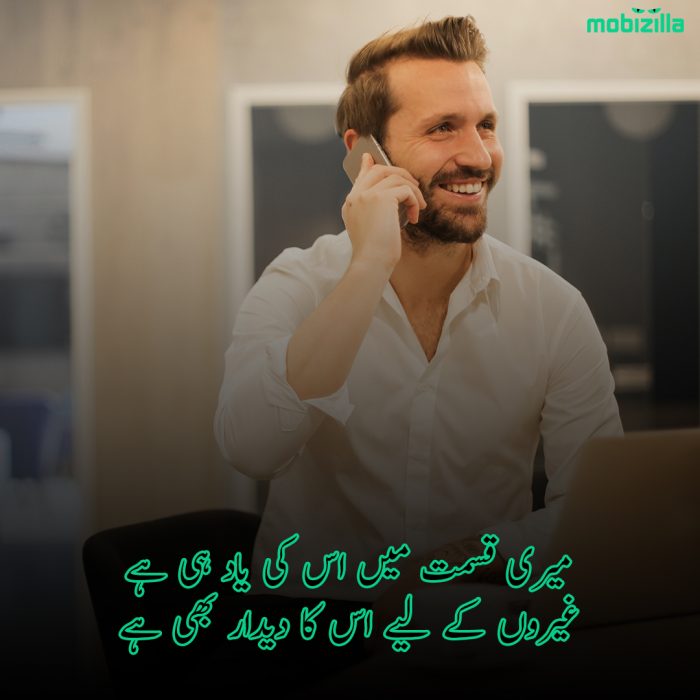 kismat-poetry-in-urdu
"میری قسمت میں اس کی یاد ہی ہے
غیروں کے لیے اس کا دیدار بھی ہے"
—<<>>—
"Meri Qismat Main Uski Yaad He Hai
Ghairon Kay Liye Uska Dedar Bhi Hai"
—<<>>—
I remember it in my destiny
It's a sight to behold for others. "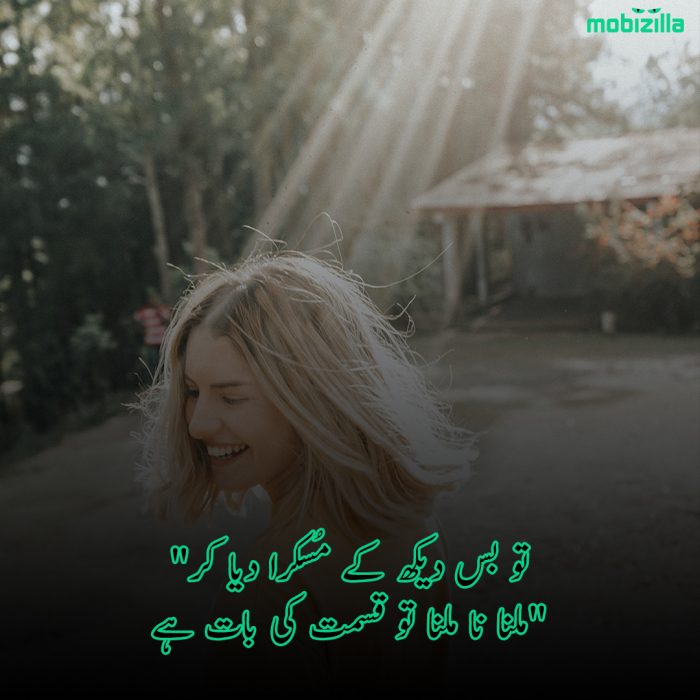 qismat-shayari-in-urdu
"تو بس دیکھ کے مُسکرا دیا کر
ملنا نا ملنا تو قسمت کی بات ہے"
—<<>>—
"Ton Bas Dekh Kay Muskura Diya Kar
Milna Na Milna To Qismat Ki Bat Hai"
—<<>>—
So just look and smile
Meeting or not meeting is a matter of luck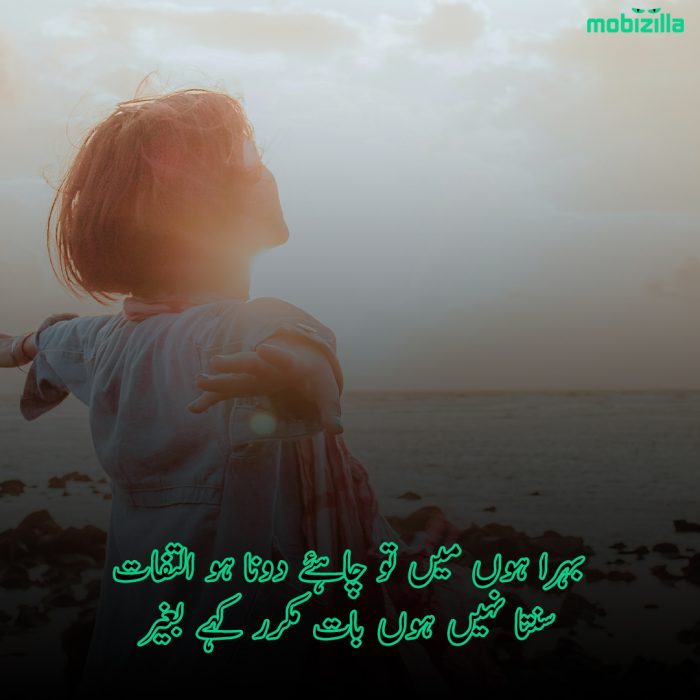 kismat-shayari-in-urdu
بہرا ہوں میں تو چاہئے دونا ہو التفات
سنتا نہیں ہوں بات مکرر کہے بغیر
—<<>>—
Bahra Hun Mai To Chahiye Duna Ho Iltifat
Sunta Nahi Hun Baat Mukarrar Kahe Baghair
—<<>>—
I am deaf, so I should pay attention
I don't listen without repeating
bad-kismat-poetry-in-urdu
نہیں مایوس اپنے الله سے
بدل جاتی ہے قسمت دُعا سے
—<<>>—
Nahi mayoos apne Allah se
Badal jate qismat dua se
—<<>>—
Do not despair of your God
Fate is changed by prayer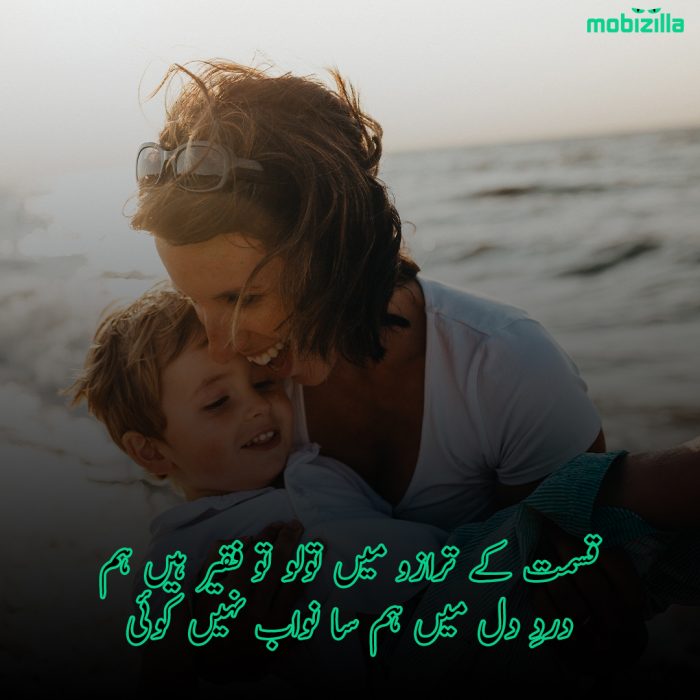 bad-kismat-shayari-in-urdu
قسمت کے ترازو میں تولو تو فقیر ہیں ہم
دردِ دل میں ہم سا نواب نہیں کوئی
—<<>>—
Kismat Ke Tarazu Mein Tolo Toh Faqeer Hain Hum,
Dard e Dil Mein Hum Sa Nawab Nahi Koi
—<<>>—
We are poor in the scales of destiny
There is no one like us in heartache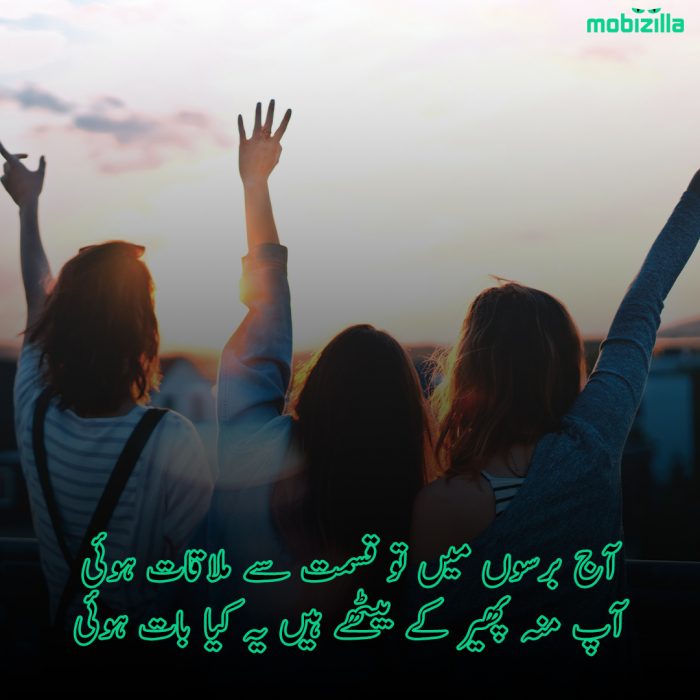 kismat-poetry-sms-in-urdu
آج برسوں میں تو قسمت سے ملاقات ہوئی
آپ منہ پھیر کے بیٹھے ہیں یہ کیا بات ہوئی
—<<>>—
Aj barso qismat se mulaqat hoie
Ap moo pihro ke bhate hadiyo hain ye kiya baat hoie
—<<>>—
Today has been a fateful year
What are you talking about?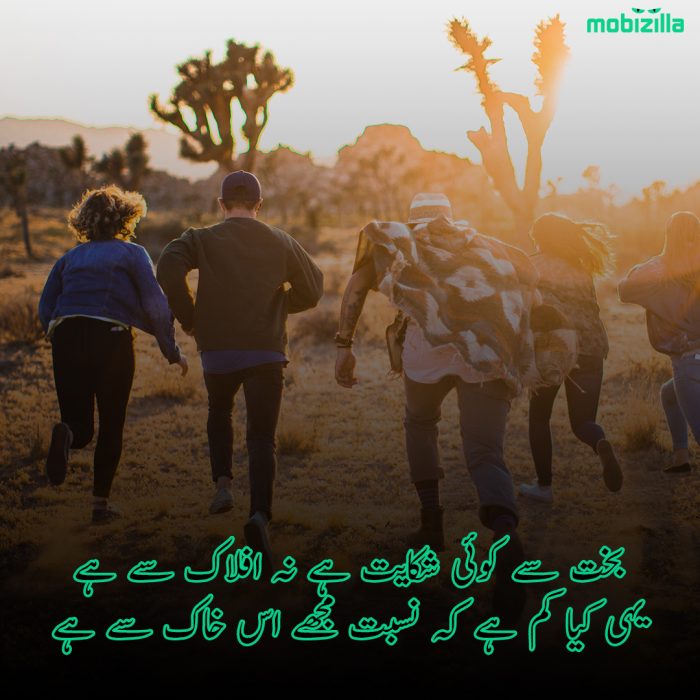 kismat-poetry-sms-in-urdu
بخت سے کوئی شکایت ہے نہ افلاک سے ہے
یہی کیا کم ہے کہ نسبت مجھے اس خاک سے ہے
—<<>>—
Bakht Se Koi Shikayat Hai Na Aflak Se Hai
Yahi Kya Kam Hai Nisbat Mujhe Is Khak Se Hai
—<<>>—
There is no complaint from luck nor from the heavens
What is less than that I have from this dust
kismat-shayari-2-lines-urdu
وہ کہتا ہے انسان اپنی قسمت خود لکھتا ہے
اگر یہ سچ ہے تو قسمت میں درد کون لکھتا ہے؟"
—<<>>—
"Wo Kehta Hai Insan Apni Qismat Khud Likhta Hai!
Agar Ye Sach Hai To Qismat Main Dard Kon Likhta Hai
—<<>>—
He says man writes his own destiny
If that is true, then who writes the pain of fate? "
Follow us on instagram
Follow us on Facebook