In this post we have have collected for you the top zulf poetry in Urdu. We hope you enjoy it, and if you enjoy it, please do share it with your friends.
If you like this post of zulf poetry, we bet you will also like other post on our page including, love poetry, sad poetry, poetry on beauty, eyes poetry, friendship poetry, bewafa poetry , attitude poetry, zulm poetry chand poetry Breakup Poetry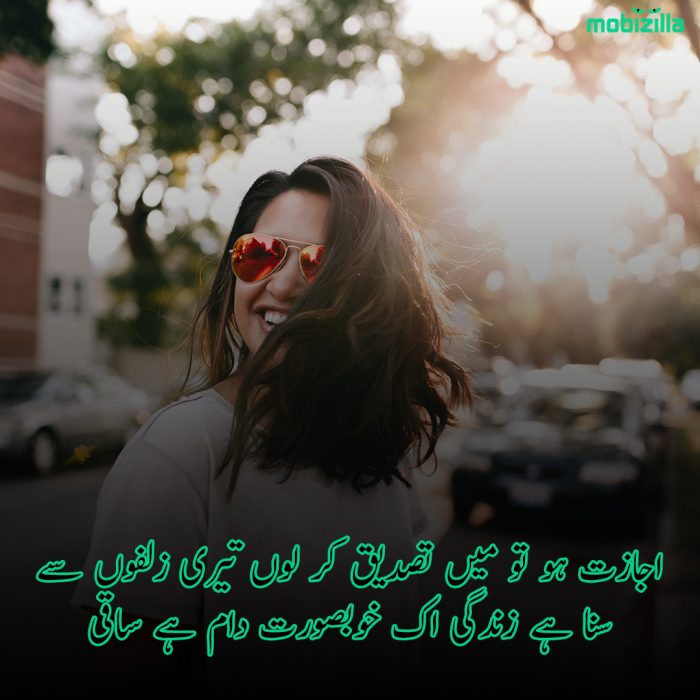 zulf poetry in urdu
اجازت ہو تو میں تصدیق کر لوں تیری زلفوں سے
سنا ہے زندگی اک خوبصورت دام ہے ساقی
—<<>>—
Ijzat ho tu mare tasdiq karo tare zulfi sia
Sona hai zindagi ik khobsorat dam hai saqi
—<<>>—
If I have permission, I will confirm with your hair
I have heard that life is a beautiful price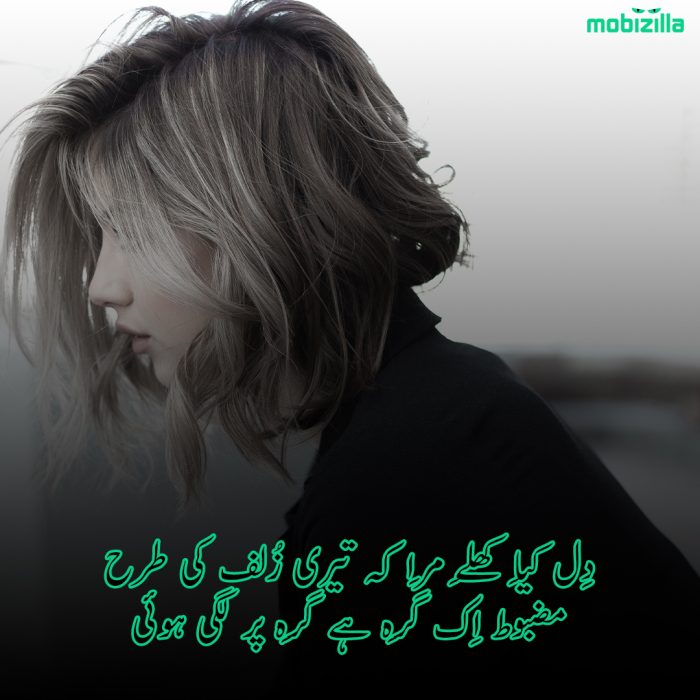 kon jeeta hai teri zulf poetry
دِل کِیا کھِلے مِرا کہ تیری زُلف کی طرح
مضبوط اِک گِرہ ہے گِرہ پر لگی ہوئی
—<<>>—
Dil kiya kolay mar aka tari zulfki traha
Mazboot ik grwa pr lagi hovy
—<<>>—
my heart fill with joy, like your hair?
A strong knot is tied to a knot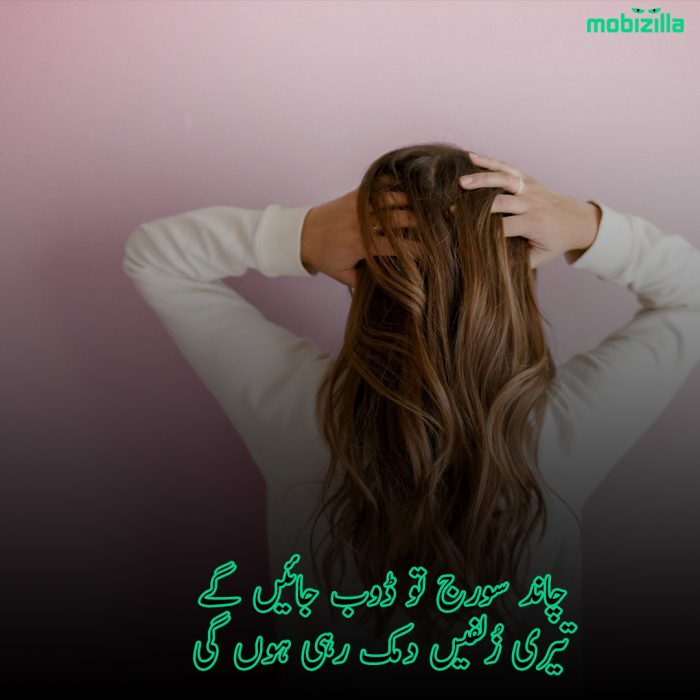 poetry on zulf
چاند سورج تو ڈوب جائیں گے
تیری زُلفیں دمک رہی ہوں گی
—<<>>—
Chand soraj too doob jaie gai
Tare zulfay damak rahi ho gi
—<<>>—
The moon and the sun will sink
Your hair will be shining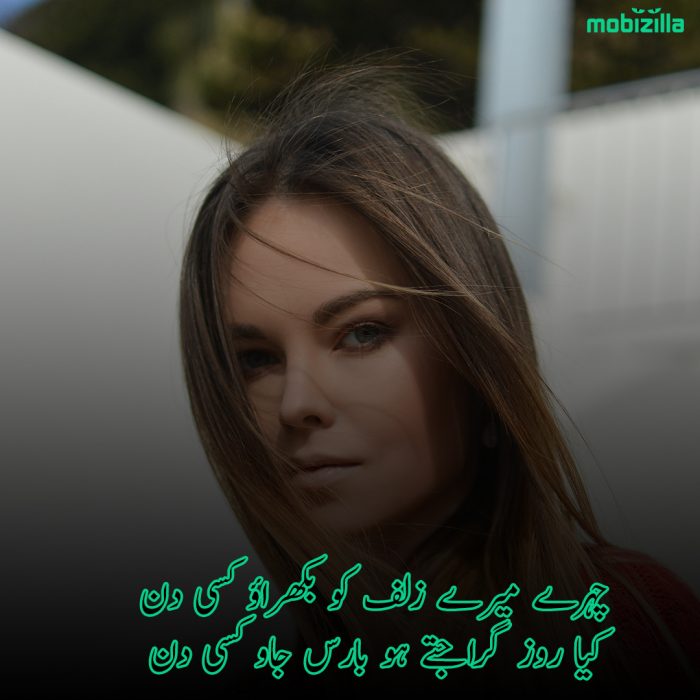 shayari on zulfein in urdu
چہرے میرے زلف کو بکھراؤ کسی دن
کیا روز گراجتے ہو بارس جاو کسی دن
—<<>>—
Chehray maray zulf ko bkrio kisi din
Kia rooz gira jatay ho baras jio kisi din
—<<>>—
Scatter my hair on my face one day
Instead of roaring all the time shed one day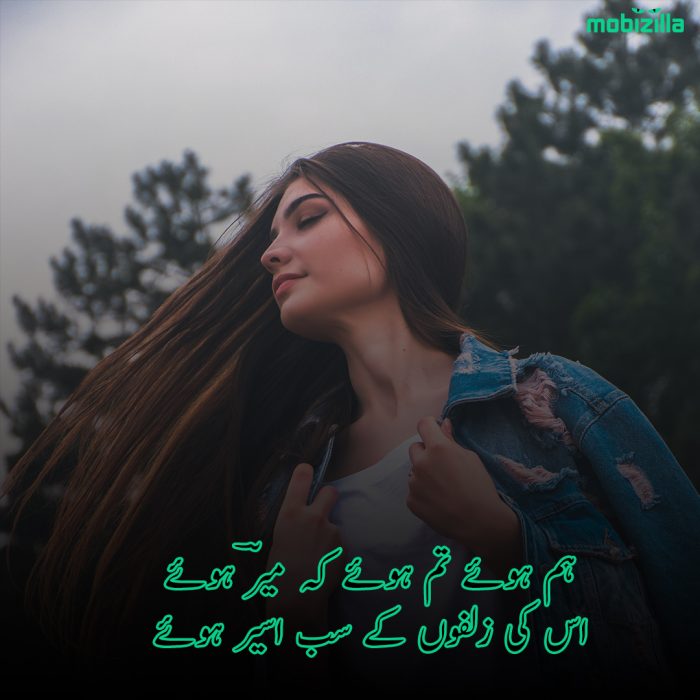 zulfen poetry in urdu sms
ہم ہوئے تم ہوئے کہ میرؔ ہوئے
اس کی زلفوں کے سب اسیر ہوئے
—<<>>—
Hamm howay tum howay kai miir howau
Uski zulfoo kai sab asar howay
—<<>>—
We became you, you became mine
everyone became a fan of her hair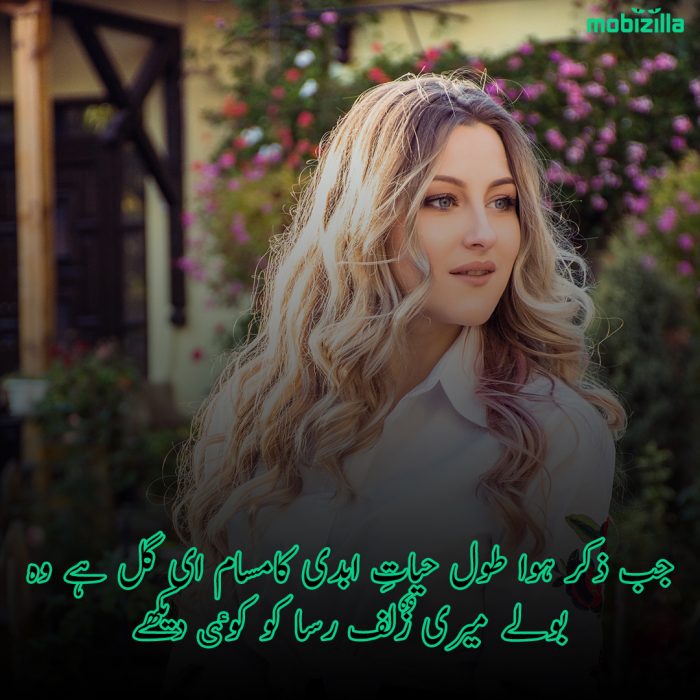 جب ذکر ہوا طول حیاتِ ابدی کا
وہ بولے میری زٌلف رسا کو کوٸ دیکھے
—<<>>—
Jb zikra howa tool hayat abdi ka
Wo bolay zulf rasa ko koie dakay
—<<>>—
When the longevity of eternal life is mentioned
They said look at my hair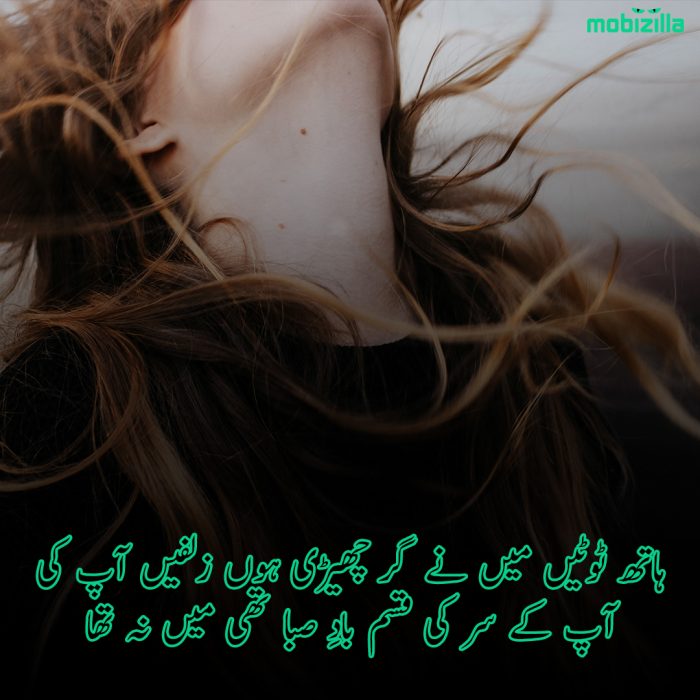 ہاتھ ٹوٹیں میں نے گر چھیڑی ہوں زلفیں آپ کی"
آپ کے سر کی قسم بادِ صبا تھی میں نہ تھا
—<<>>—
Haat thotay mai nai gir cheri ho zulfay ap ki
ap kai sar ki qasam bad te mia na ta
—<<>>—
let my hands break if i had touched your hair
"I swear on your head, I was the breeze
آہ کو چاہیے اک عمر اثر ہونے تک
کون جیتا ہے تری زلف کے سر ہونے تک
—<<>>—
Ah ko chahiyay ik umar asar honay tak
Kon jeta hai tare zulf kai sar honay tak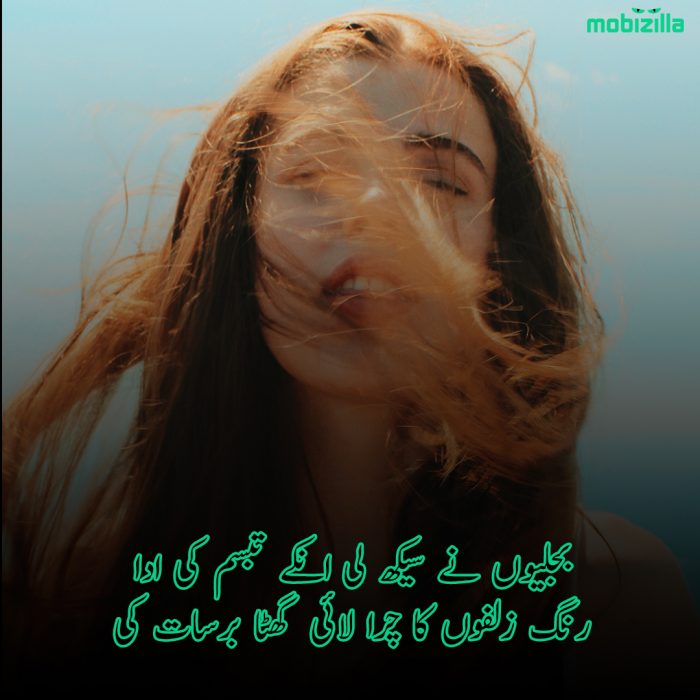 zulf-shayari-2-lines
بجلیوں نے سیکھ لی انکے تبسم کی ادا
رنگ زلفوں کا چرا لائی گھٹا برسات کی
—<<>>—
Bijlio nia sika li inkai tabsm ki ada
Rang zulfo ka chra laie gata barsat ki
—<<>>—
The lightnings learned to pay their respects
the rain has captured the color of her hair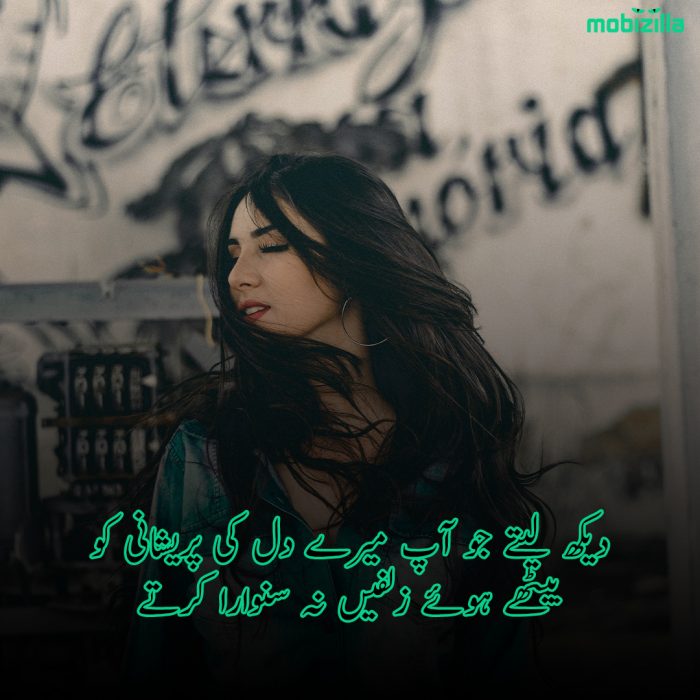 shayari-on-hairs
دیکھ لیتے جو آپ میرے دل کی پریشانی کو
بیٹھے ہوئے زلفیں نہ سنوارا کرتے
—<<>>—
Dekh lete jo aap mere dil ki pareshaani ko
Baithe hue zulfein na sanwaara karte
—<<>>—
if you had seen the trouble of my heart
They would not fix their hair while sitting