In this post we have have collected for you the top Tanhai Poetry in Urdu. We hope you enjoy it, and if you enjoy it, please do share it with your friends.
If you like this post of Tanhai Poetry, we bet you will also like other post on our page including, love poetry, sad poetry, zulf poetry, dhoka poetry, muskurakat poetry, zindagi poetry, intezar poetry, yaad poetry, barish poetry, waqt poetry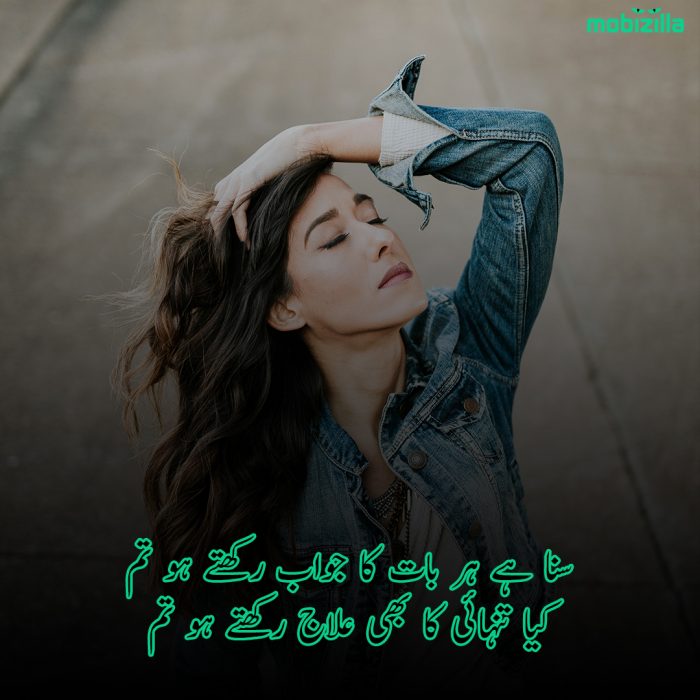 alone-poetry-in-urdu-2-lines
سنا ہے ہر بات کا جواب رکھتے ہو تم
کیا تنہائی کا بھی علاج رکھتے ہو تم
—<<>>—
Sana Hae Har Baat Ka Jawaab Rakhte Ho Tum
Kya Tanhayi Ka Bhi Elaaj Rakhte Ho Tum
—<<>>—
I have heard that you have the answer to everything
Do you have a cure for loneliness?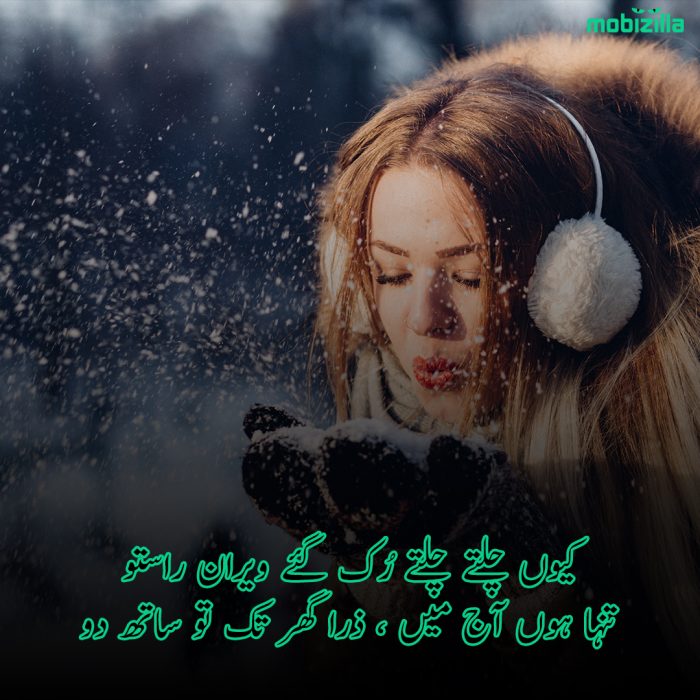 tanhai-poetry
کیوں چلتے چلتے رُک گئے ویران راستو
تنہا ہوں آج میں ، ذرا گھر تک تو ساتھ دو
—<<>>—
kiyun chaltay chaltay ruk gaye veran rastu
tanha hoon aaj main, zara ghar tak tu sath do
—<<>>—
Why did you stop walking on the deserted road?
I am alone today, just go home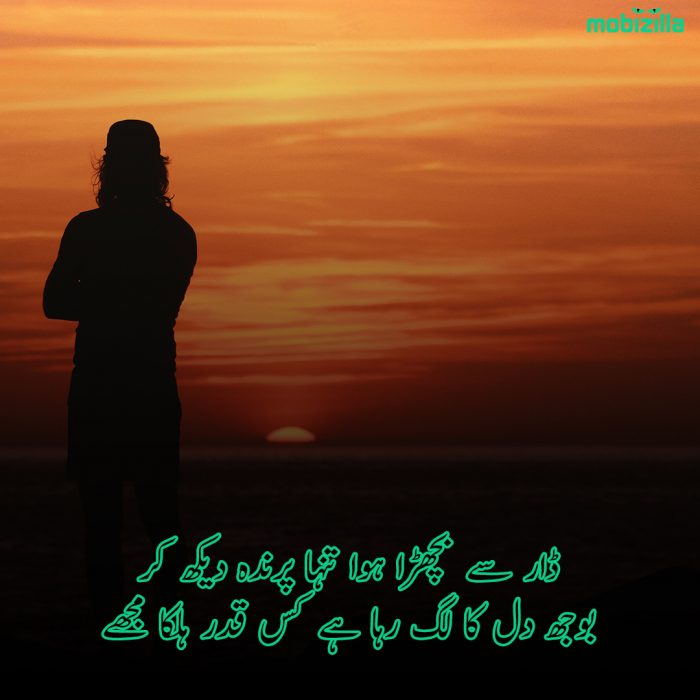 alone-poetry-in-urdu
ڈار سے بچھڑا ہوا تنہا پرندہ دیکھ کر
بوجھ دل کا لگ رہا ہے کس قدر ہلکا مجھے
—<<>>—
daar say bichrra hua tanha parinda dekh kar
bojh dil ka lag raha ha kis qadar halka mujhe
—<<>>—
Seeing a lone bird with a calf out of fear
How light is the burden of my heart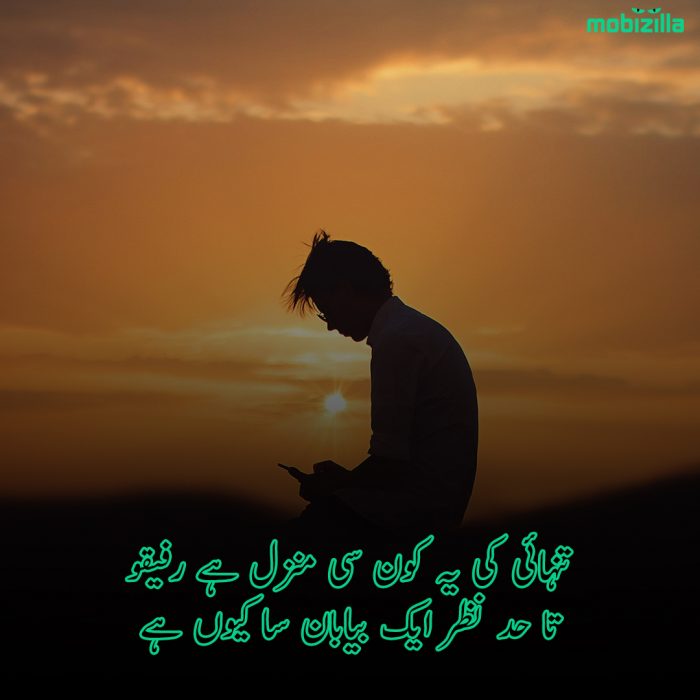 alone-shayari-in-urdu
تنہائی کی یہ کون سی منزل ہے رفیقو
تا حد نظر ایک بیابان سا کیوں ہے
—<<>>—
tanhai ki yeh kon si manzil hay rafeeqo
ta-had e nazar aik biyaban sa kiyun hai
—<<>>—
What is this destination of loneliness, comrade?
Why is it like a desert?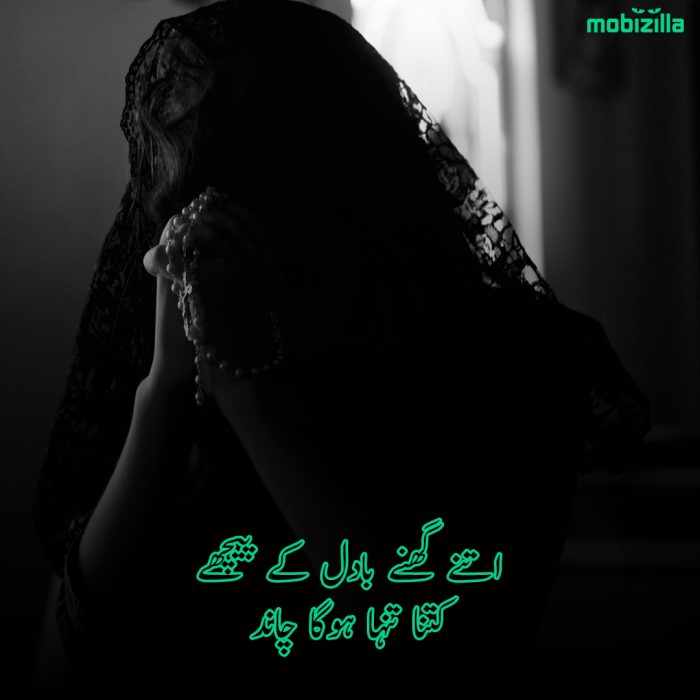 اتنے گھنے بادل کے پیچھے
کتنا تنہا ہوگا چاند
—<<>>—
Itne ghane badil ki pichay
Ktna  tanha hoga chand
—<<>>—
Behind such a dense cloud
How lonely the moon will be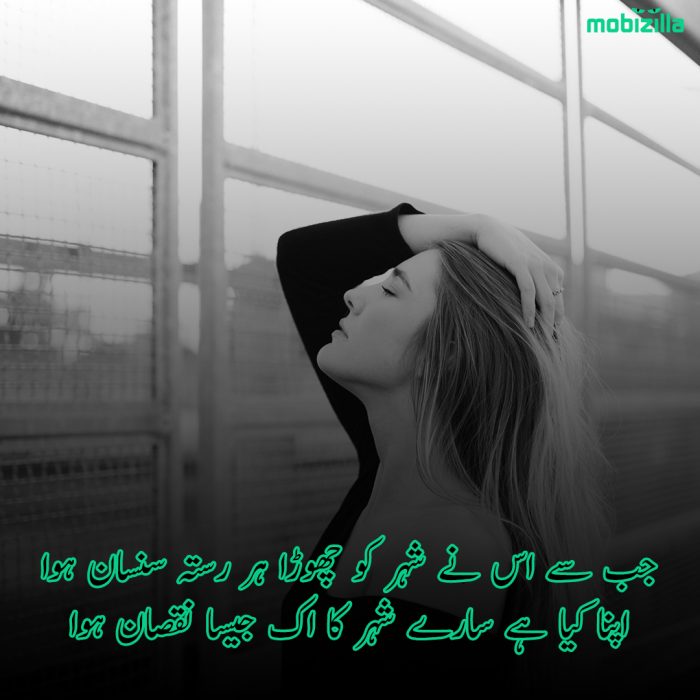 feeling-alone-poetry-in-urdu
جب سے اس نے شہر کو چھوڑا ہر رستہ سنسان ہوا
اپنا کیا ہے سارے شہر کا اک جیسا نقصان ہوا
—<<>>—
Jab Se Us Ne Shaher Ko Chora Har Rasta Sunsan Hua
Apna Kya Hai Saare Shaher Ka Ik Jaisa Nuksan
—<<>>—
Ever since he left the city, every road has been deserted
The whole city suffered the same loss
tanhai-poetry-in-urdu
میرے نظریات مٌجھے تنہا کرتے ہیں
مٌنافق ہو جاٶں تو ابھی بھیڑ لگ جاۓ
Mery nazriyat mujhy tanha karty hain
Munafiq ho jaon tu abhi bheer lag jaye
—<<>>—
My thoughts make me lonely
If you become a hypocrite, you will become a mob now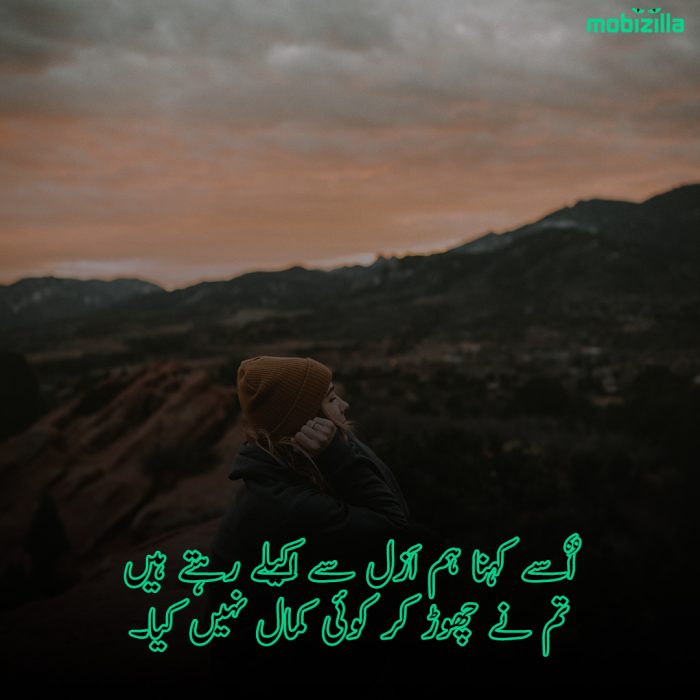 alone-urdu-poetry
اٌسے کہنا ہم اَزل سے اکیلے رہتے ہیں
تم نے چھوڑ کر کوئی کمال نہیں کیا۔
—<<>>—
Usay kehna ham azal say akely rehty hain
Tum nay chorr kar koi kamal nahi kiya
—<<>>—
To say that we live alone forever
You have done nothing but leave.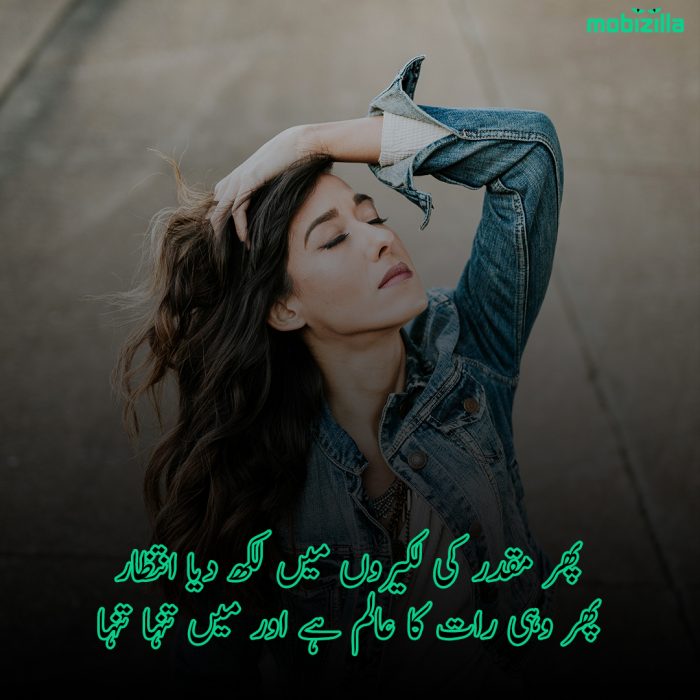 tanhai-shayari-in-urdu
پھر مقدر کی لکیروں میں لکھ دیا انتظار
پھر وہی رات کا عالم ہے اور میں تنہا تنہا
—<<>>—
Phir muqadar ki lakeeron main likh diya intazar
Phir wahi raat ka aalam hai aur main tanha tanha
—<<>>—
Then wait in the lines of destiny
Then he is the world of night and I am alone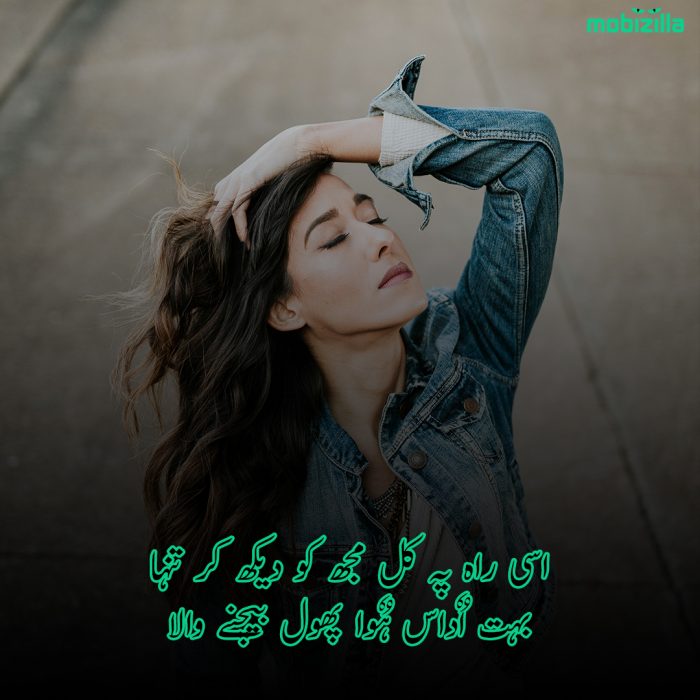 tanhai-shayari-urdu
اسی راہ پہ کل مجھ کو دیکھ کر تنہا
بہت اٌداس ہٌوا پھول بیچنے والا
—<<>>—
Ussi rah pay kal mujh ko dekh kar tanha
Buhat udas huwa phool bechny wala
—<<>>—
Lonely looking at me on the same road tomorrow
Very sad flower seller
Follow us on instagram
Follow us on Facebook