Friendship poetry Urdu builds upon one of the most unique and relationship in the world i.e "friends".
Indeed, the mesmerizing journey of friendship begins at at very early age and reaches its climax in adolescence.
Friendship poetry Urdu is full of exuberant poetry directed towards beloved friends but interestingly the tone is mostly melancholic.
In fact,
a friend is someone who is sometimes more close to you than your blood relatives. Because you open up to him and speak from your heart.
Whereas, with family you may not be able to express yourself that way. In addition Urdu poetry sad also engulfs the subject of
Mobizilla.pk will take you to some new level of friendship poetry in urdu two lines and unmatched Urdu poetry images…
If you like this post of Friendship poetry, we bet you will also other post on our page including, love poetry, sad poetry, poetry on beauty, eyes poetry, friendship poetry, bewafa poetry , attitude poetry, zulm poetry Ehsas Poetry
1.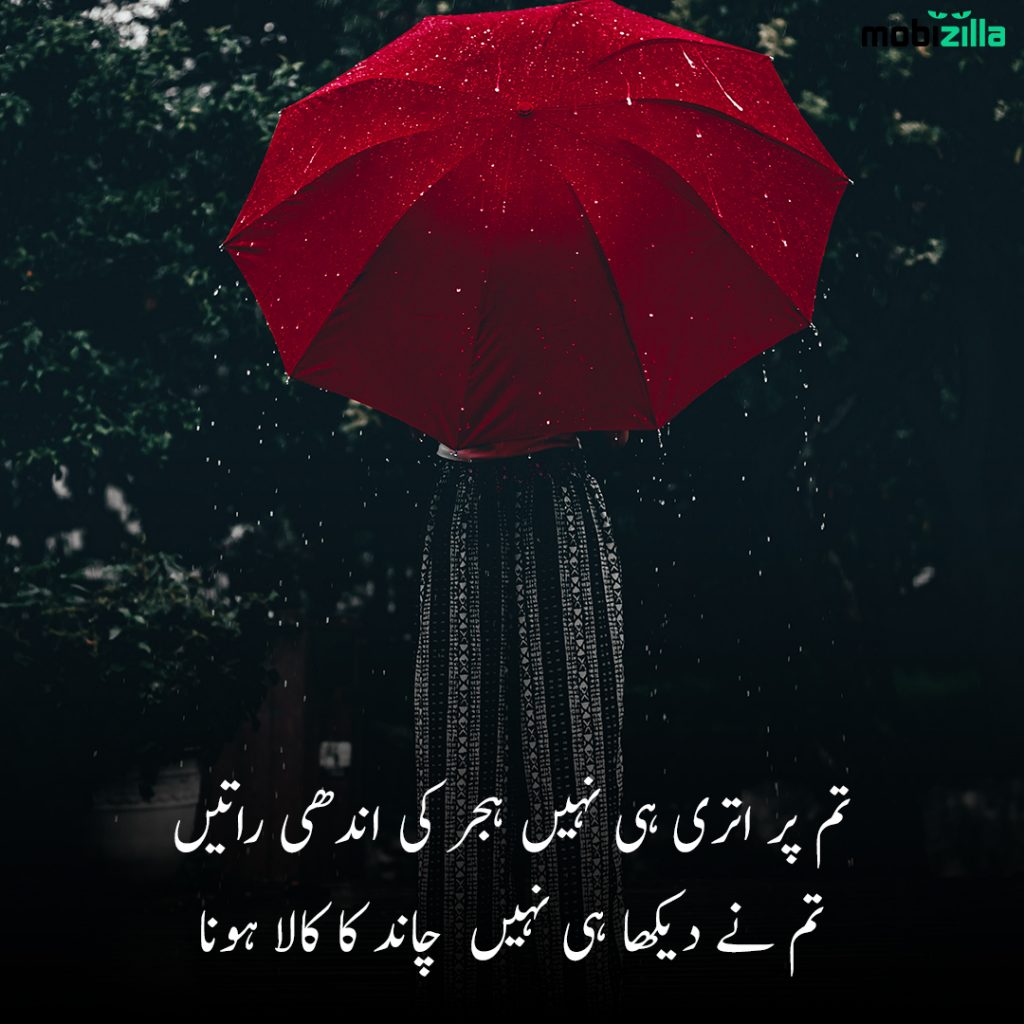 Tm par utri nahi hijar ki andhi raatain
Tm nay daikha hi nahi chaand ka kala hona
تم پر اتری ہی نہیں ہجر کی اندھی راتیں
تم نے دیکھا ہی نہیں چاند کا کالا ہونا
2.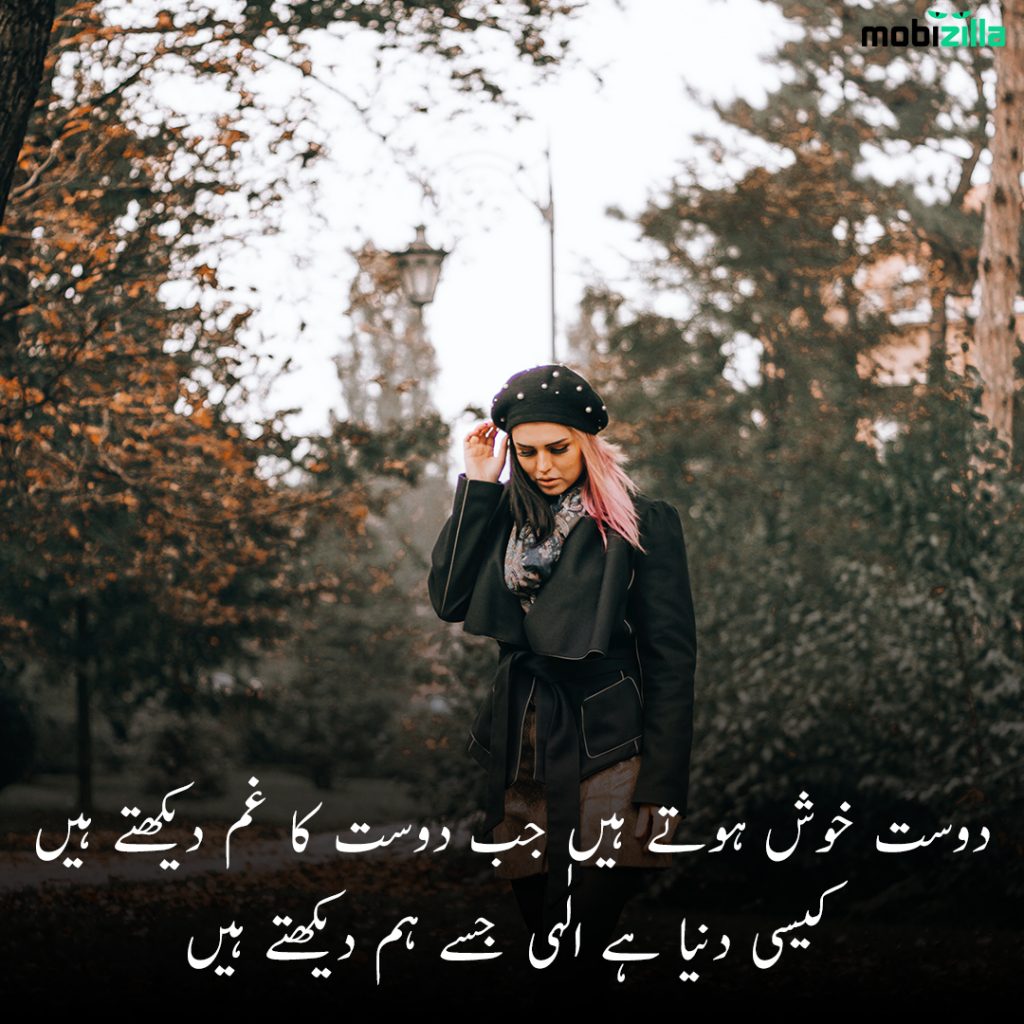 Dost khush hotay hn jb dost ka gham daikhtay hn
Kesi dunya hai elahi jisay hm daikhtay hn
دوست خوش ہوتے ہیں جب دوست کا غم دیکھتے ہیں
کیسی دنیا ہے الٰہی جسے ہم دیکھتے ہیں
3.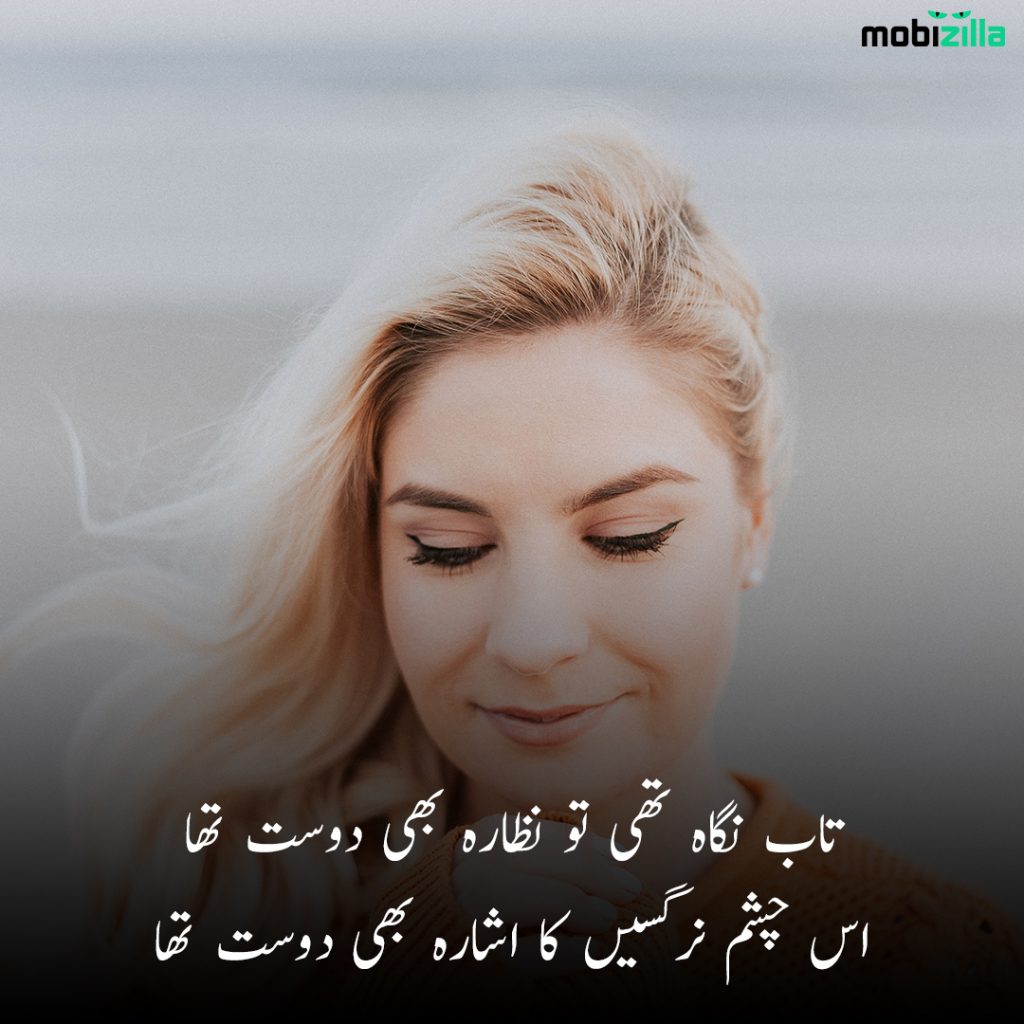 Taab nigh thi to nazara bhi dost tha
Is chisham nargis ka ishara bhi dost tha
4.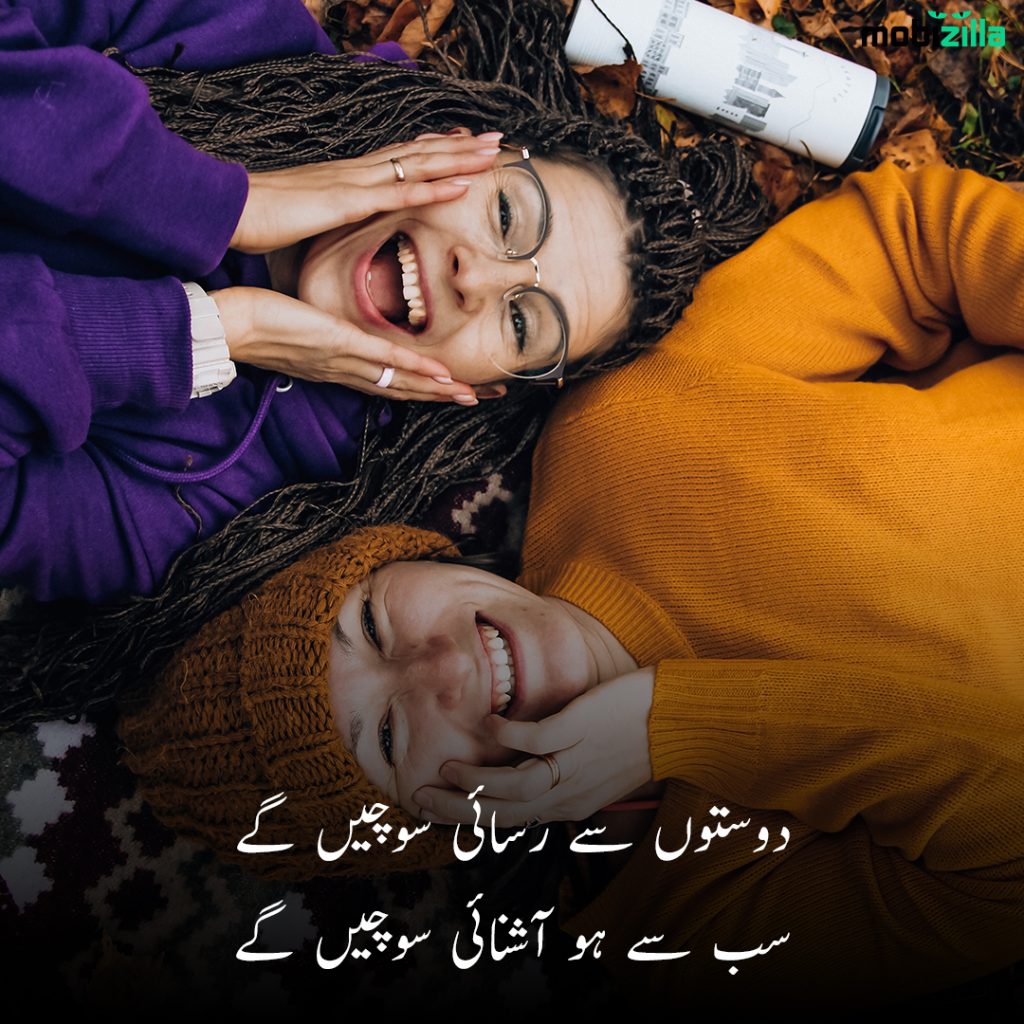 Doston say rasai souchian gain
Sb say ho aashnai sochain gain
5.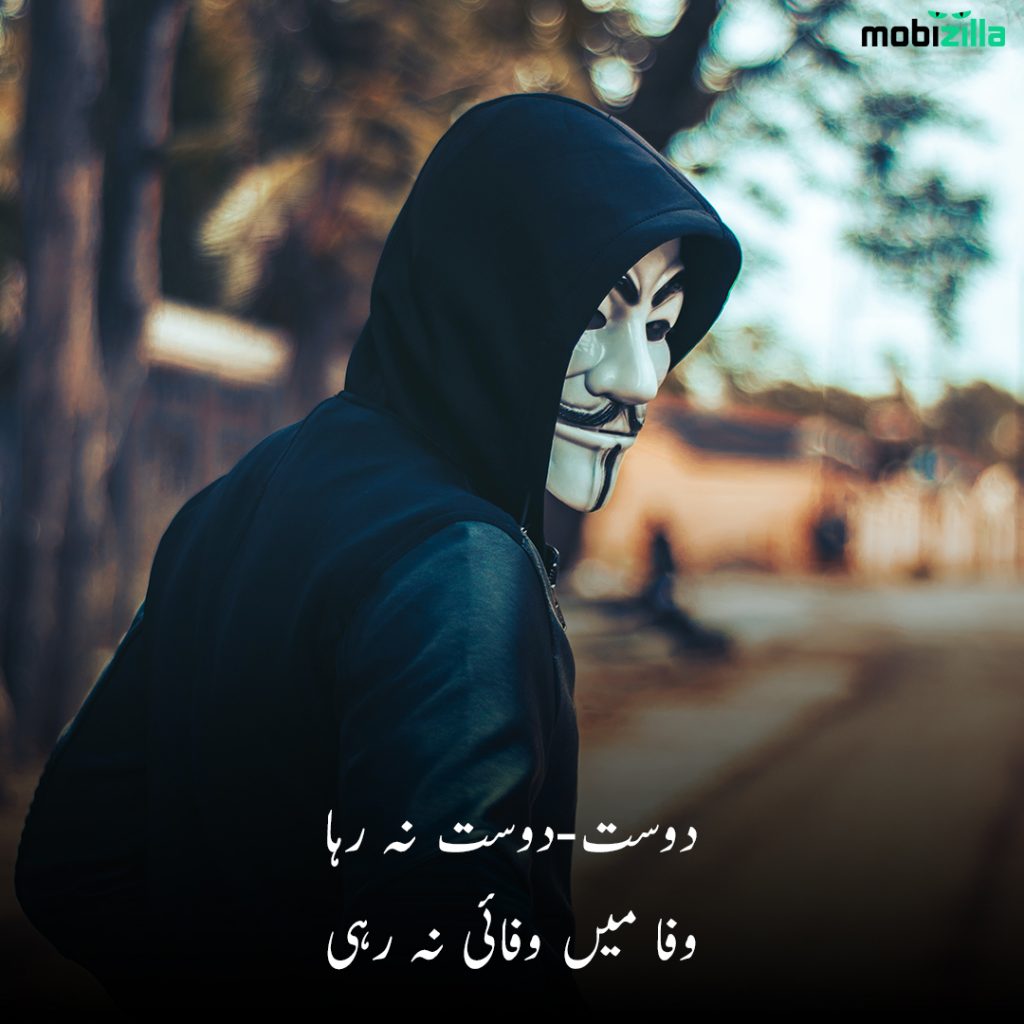 Dost dost na raha
wafa may wafi na rahi
As matter of fact it is not the same as before. Loyalties have changed. Those whom I trusted and relied on have shown their backs.
Friendship Poetry Urdu
6.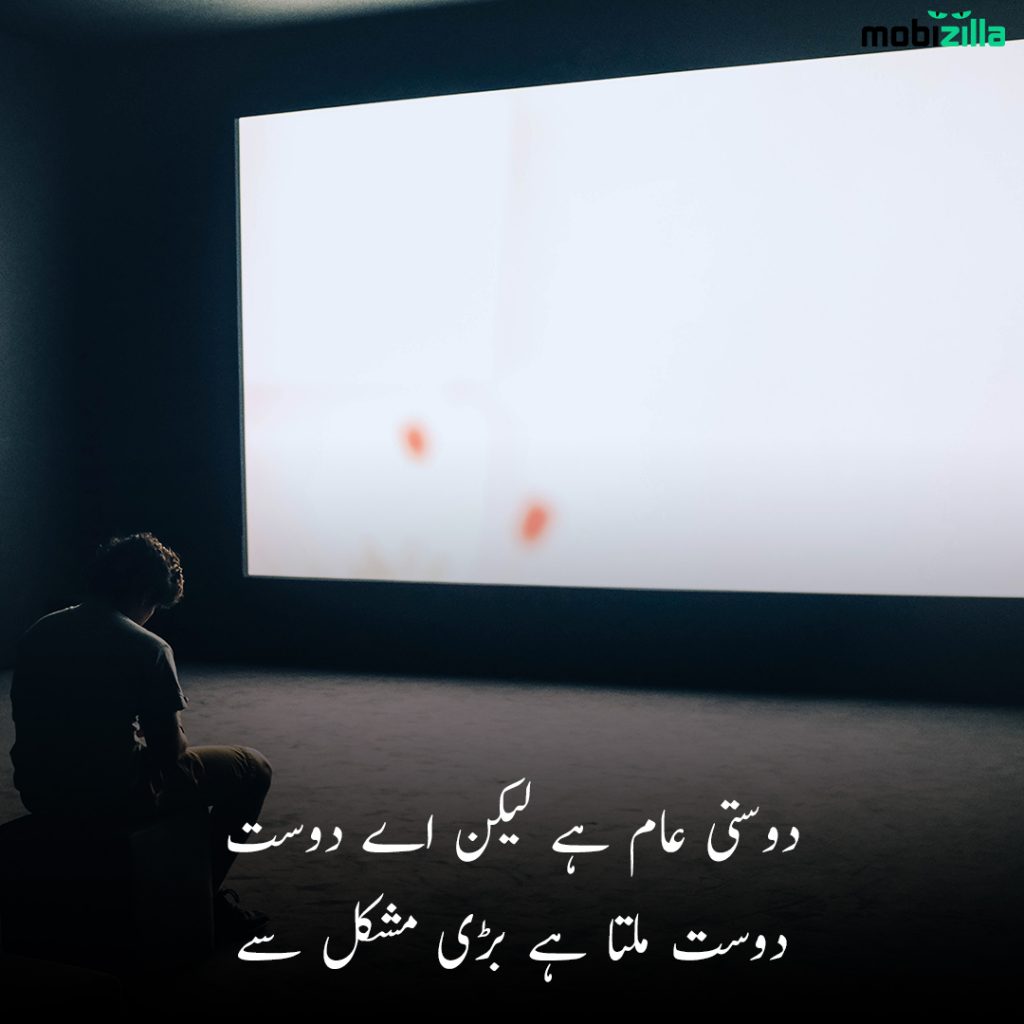 Dosti aam hai lekin aye dost
Dost milta hai bari mushkil say
7.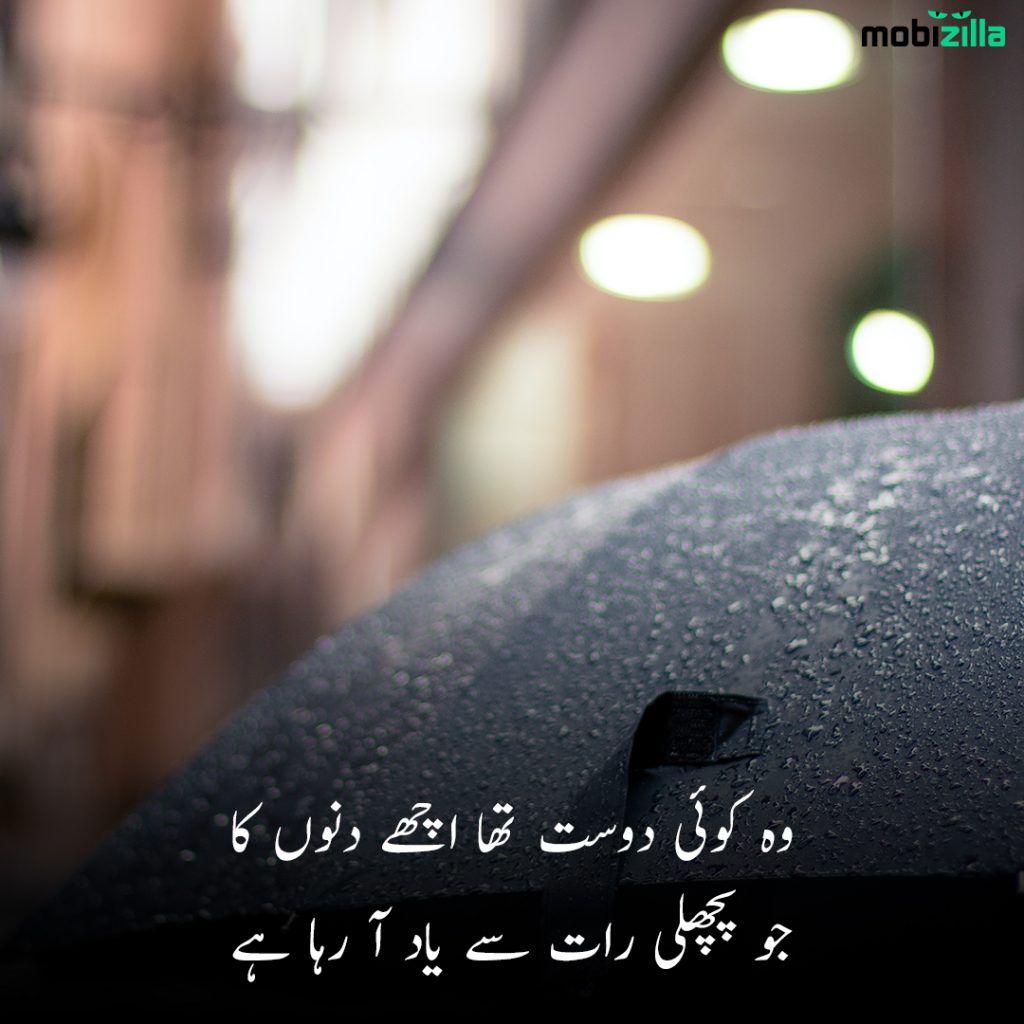 Wo koi dost tha achay dino ka
Jo pechli raat say yaad a rha hai
وہ کوئی دوست تھا اچھے دنوں کا
جو پچھلی رات سے یاد آ رہا ہے
We were together in the school spending ten years together. Though, as soon as we were done with the school you never looked back.
On the contrary I missed you every moment. There doesn't go a day when I don't think about you my friend. Moreover, I have no clue where to find you. I wish I can get in contact and speak to you for once…
8.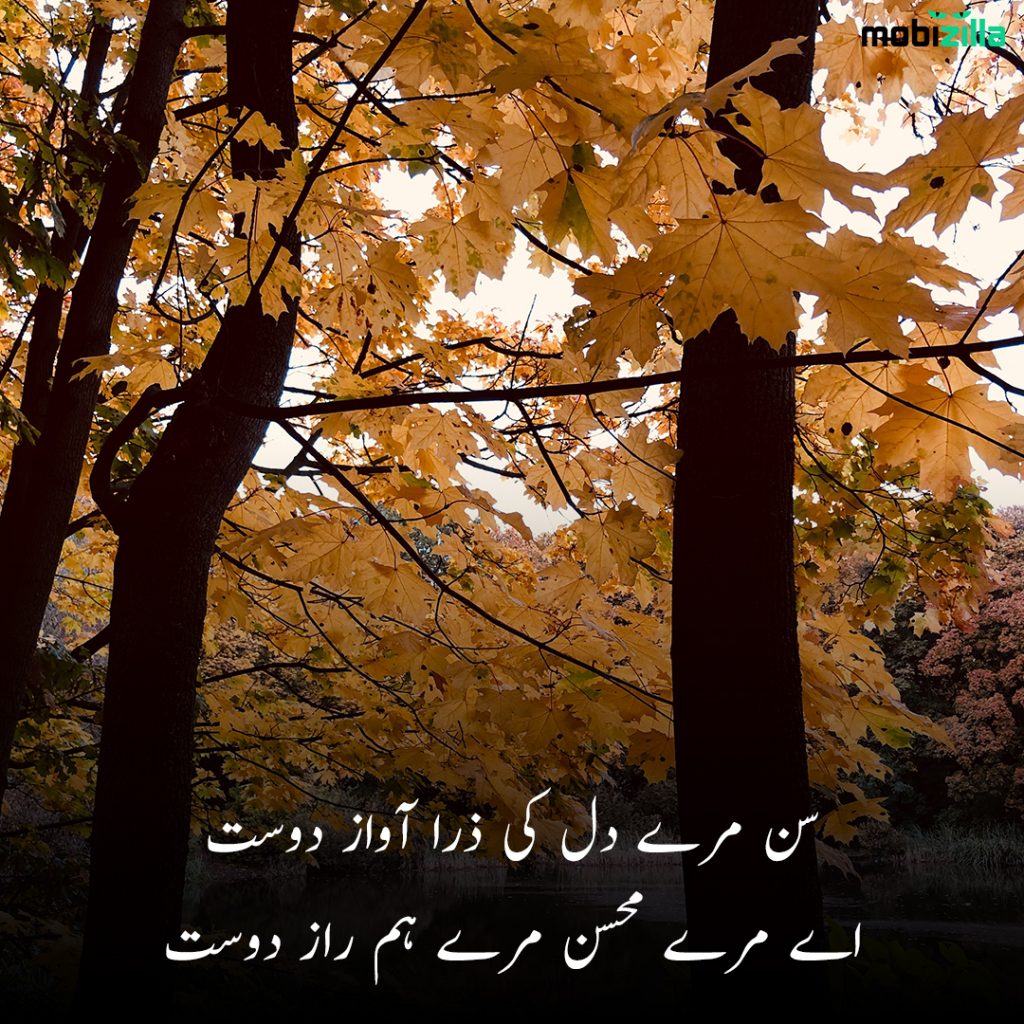 Sun meray dil ki zara awaz dost
Aye meray mohsin meray hm raz dost
سن مرے دل کی ذرا آواز دوست
اے مرے محسن مرے ہم راز دوست
Friendship poetry in Urdu 
9.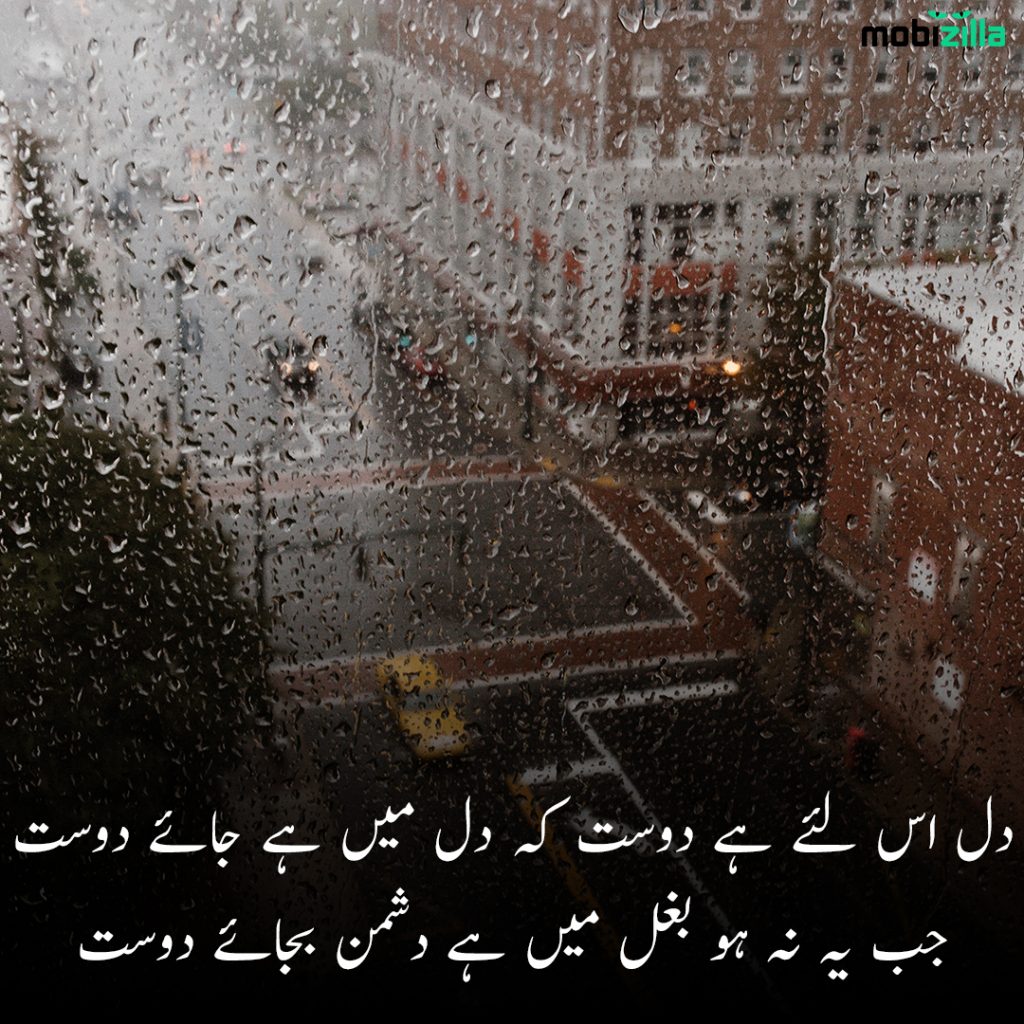 Dil is liay hai dost kay dil may hai jaye dost
jb ye na ho baghal may hai dushman bajaye dost
10.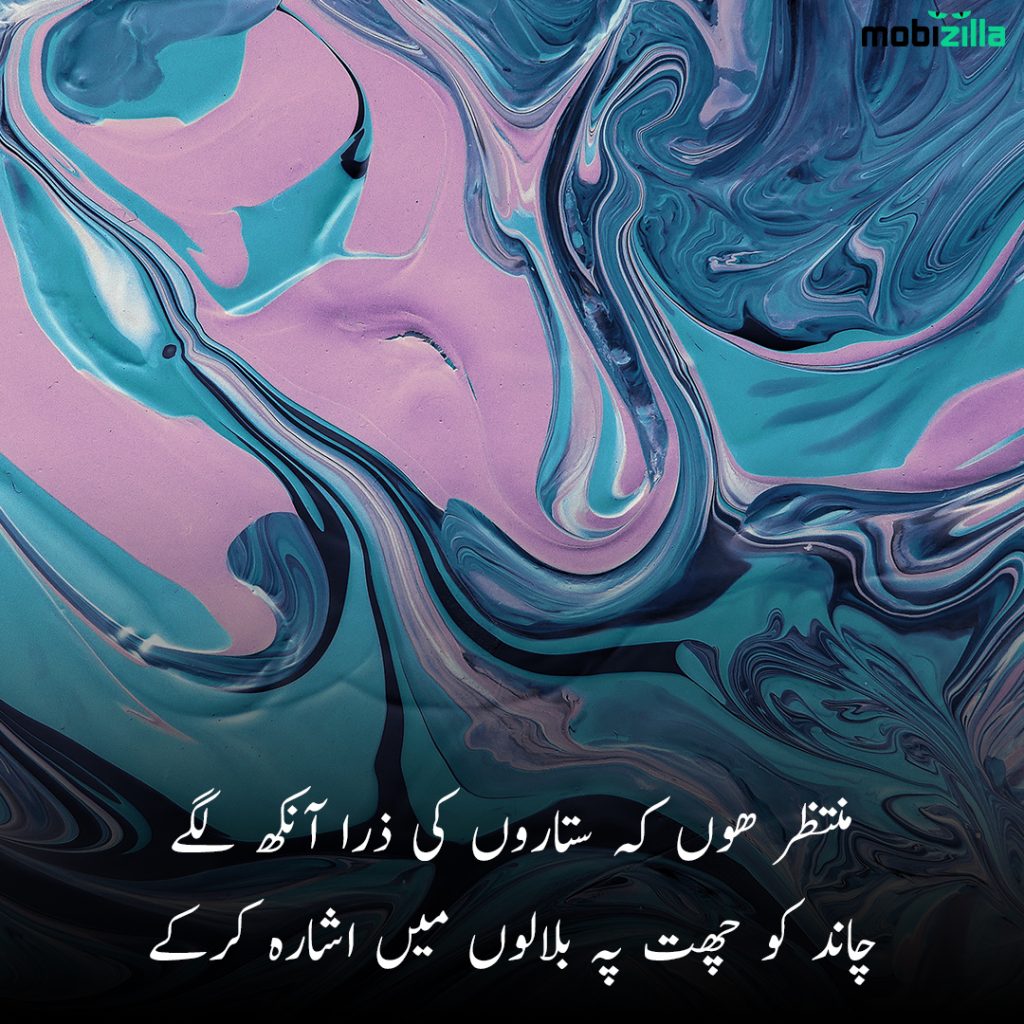 Muntazar hun kay sitaron ki zara aankh lagay
Chand ko chat pay bulahun may ishara kr kay
11.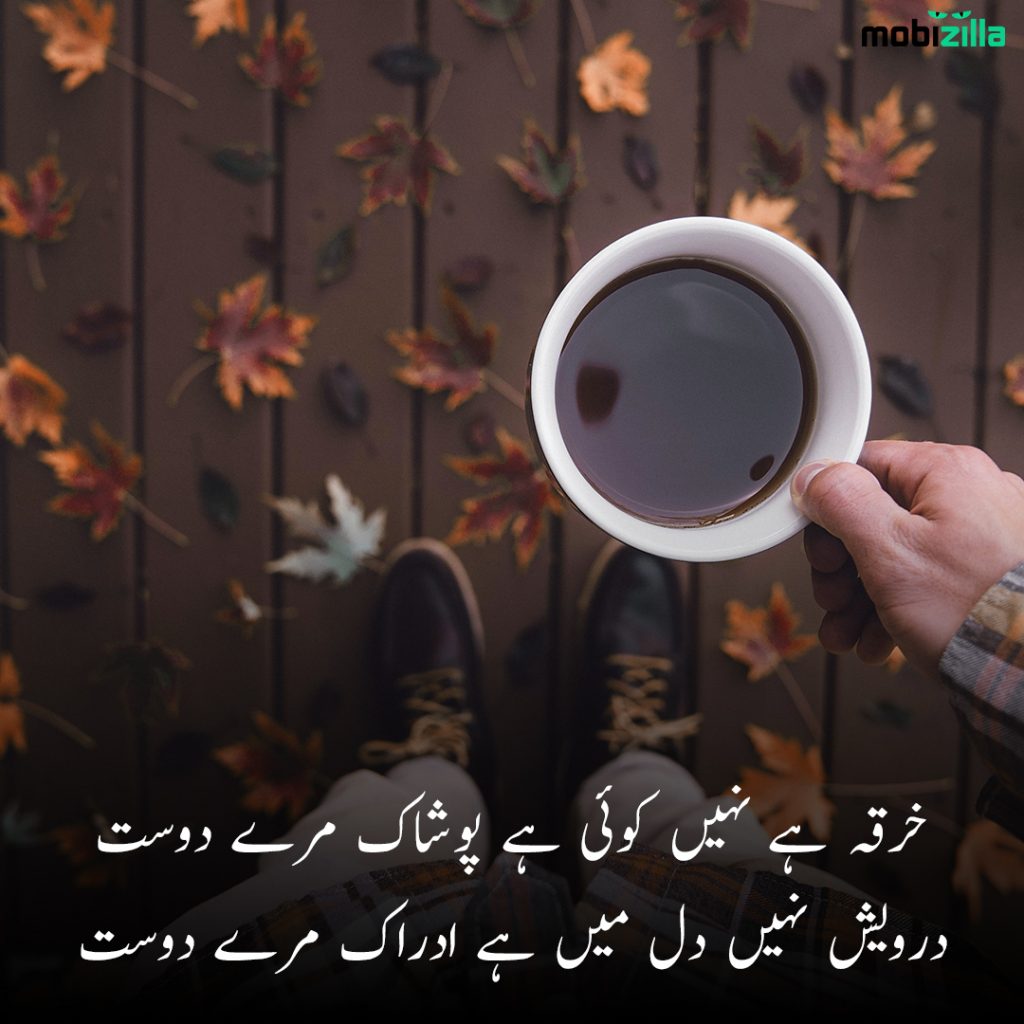 Kharqa hai nahi koi hai poshaq meray dost
Darwaish nahi dil may hai idraq meray dost
Read more: Urdu poetry love romantic eye catching poetry 
12.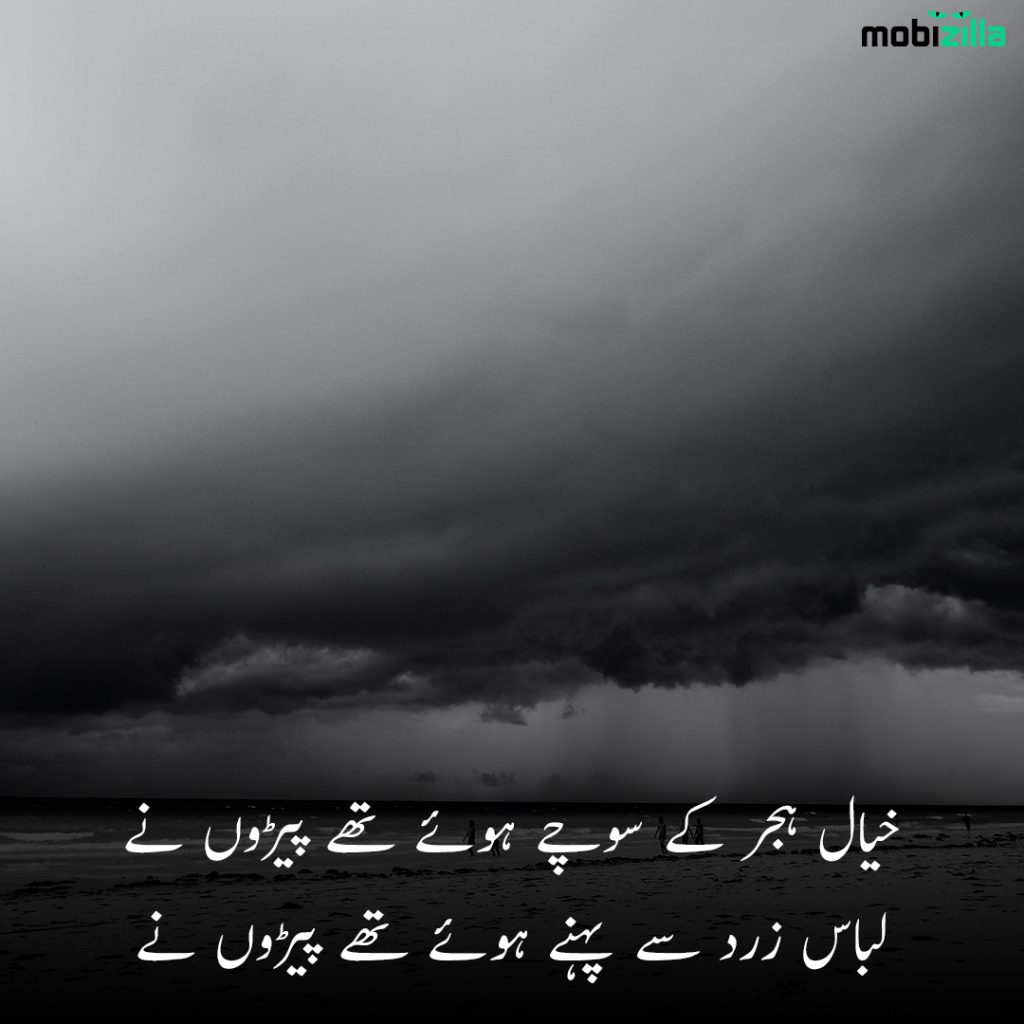 Khyal hijar kay souchay thay peron nay
Libas zard say pehnay hoay thay peron nay
13. Friendship Poetry Urdu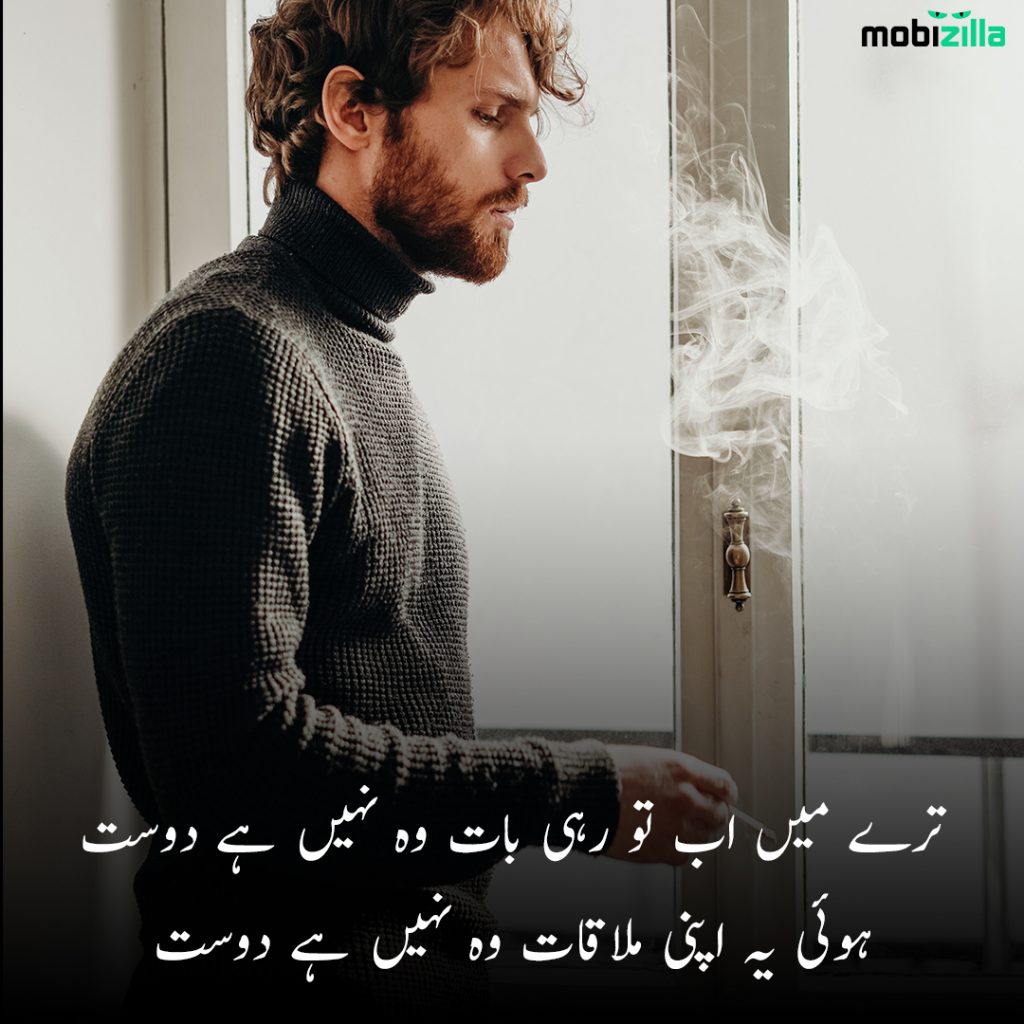 Teray may ab to rahi baat wo nahi hai dost
Hoi ye apni mulaqat wo nahi hai dost
They say a "a friend in need is a friend indeed". That was true once but it doesn't apply to you my friend anymore.
You know why? because you gave up the scared friendship over money and material.
14.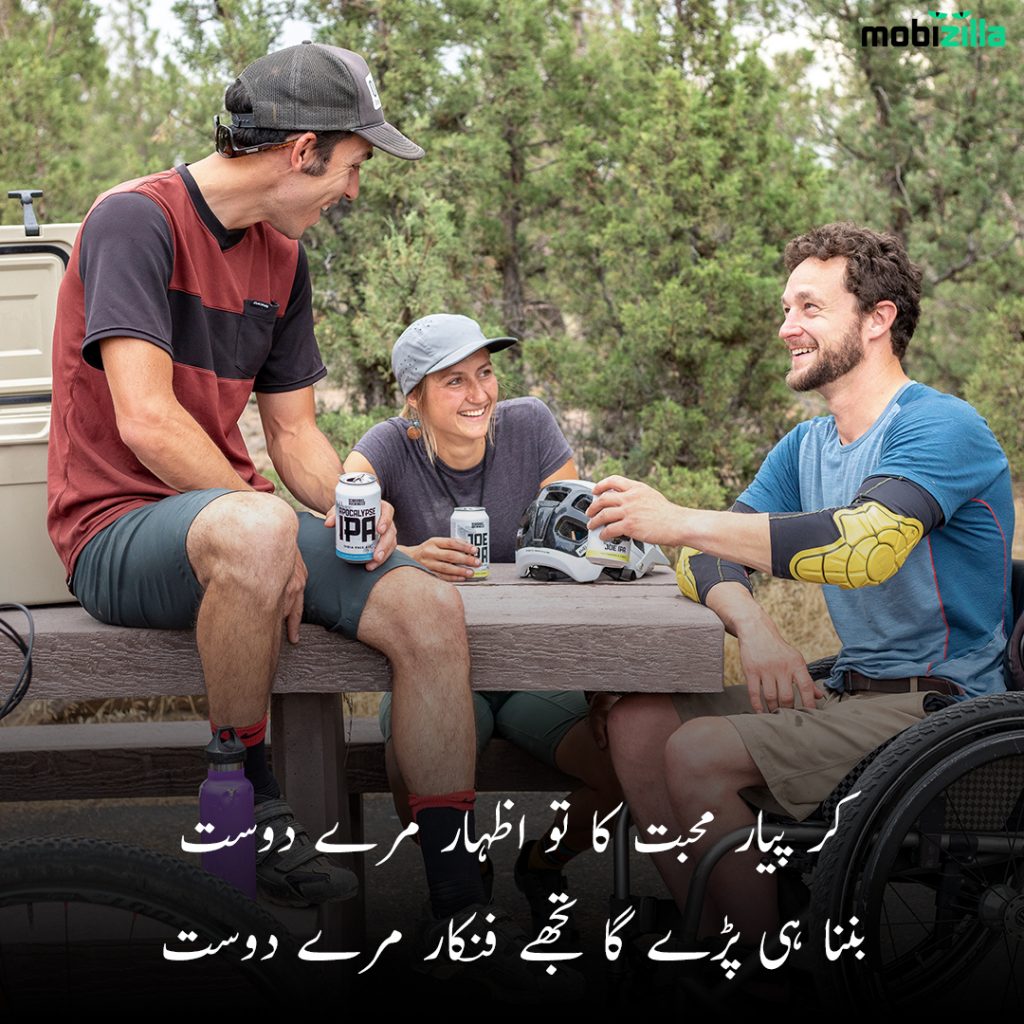 Kar pyar muhabbat ka to izhar meray dost
Banna hi parega tujhay fankar meray dost
Patras Bukhari elaborates a friend as a person with who you are just sitting and no talking yet you are happy. Whenever your and his/her clashes he/she back off. And moreover he does all to forward your interest not his.
15. (Dosti shayari, Dosti poetry)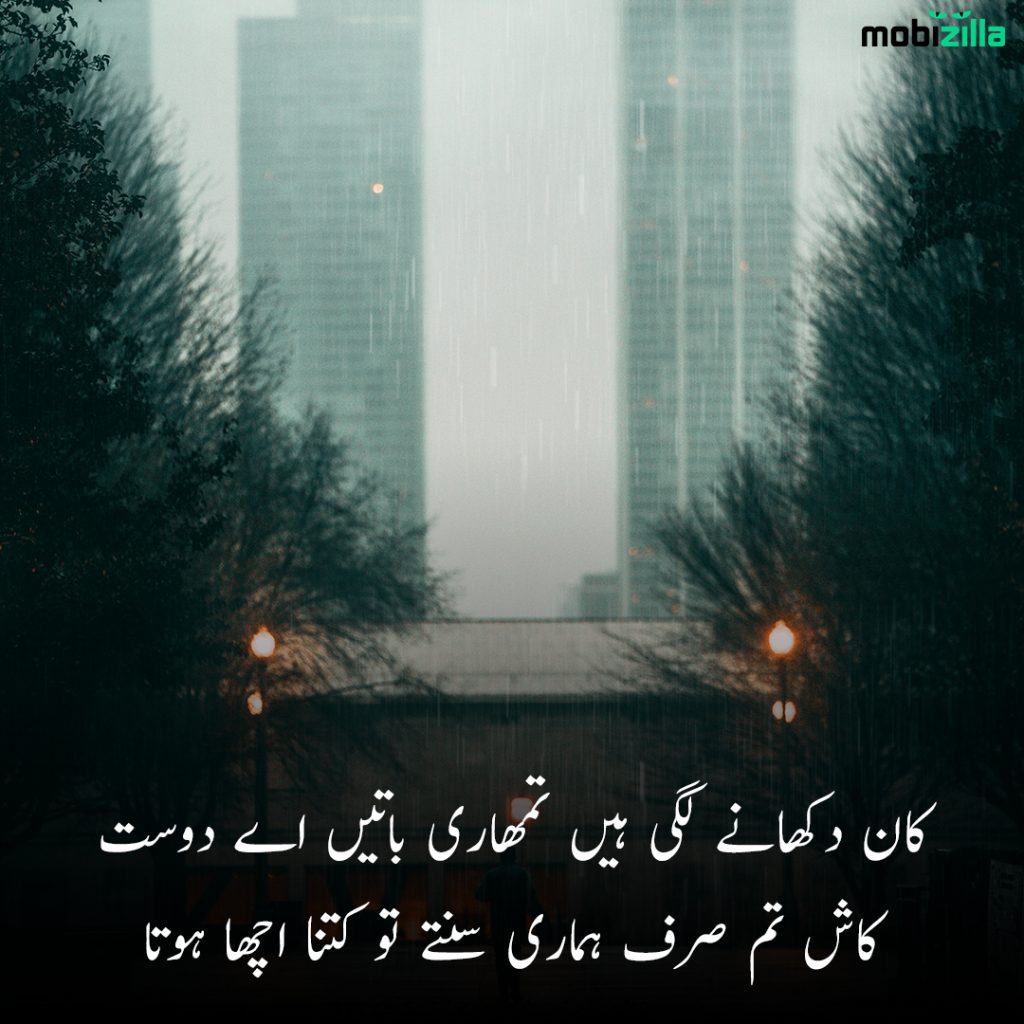 Kaan dikhanay lgi hn tmari batain aye dost
Kaash tm sirf hamari suntay to kitna acha hota
کان دکھانے لگی ہیں تمھاری باتیں اے دوست
کاش تم صرف ہماری سنتے تو کتنا اچھا ہوتا
16.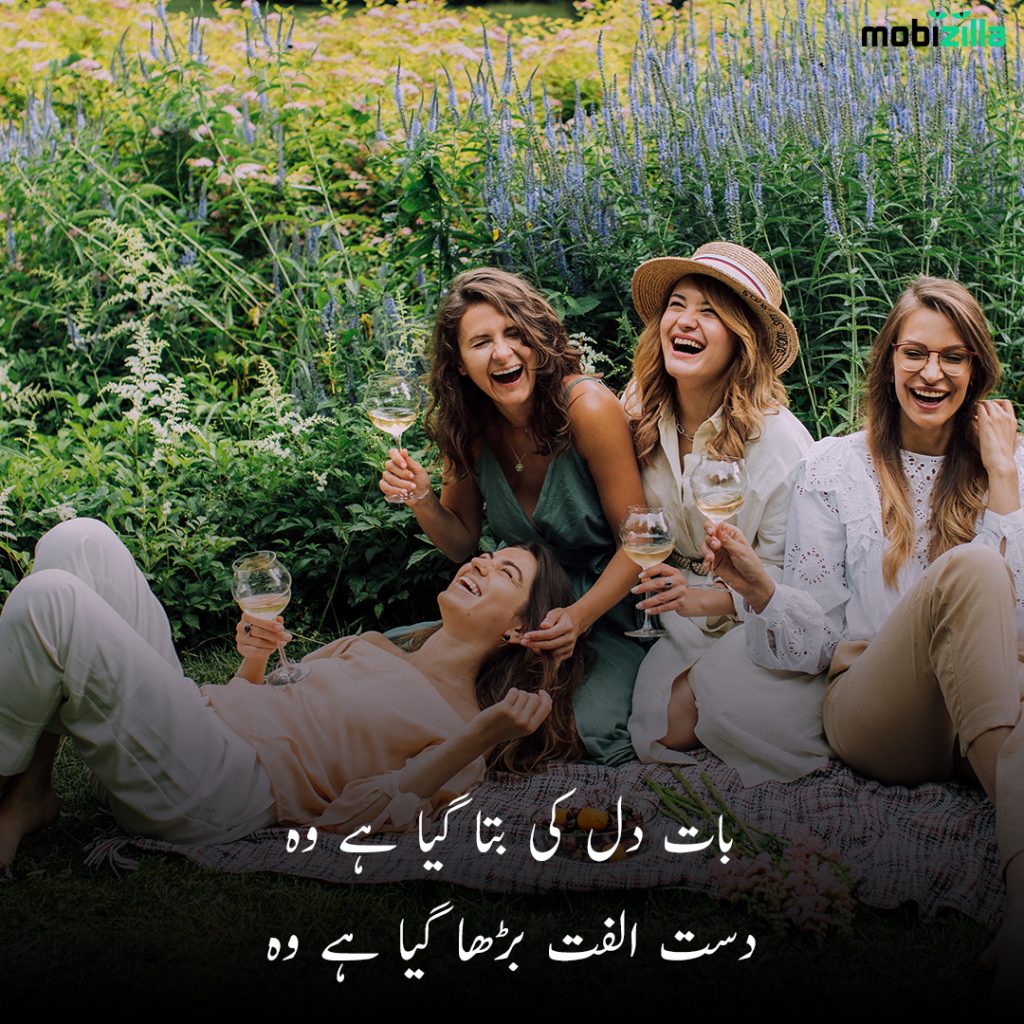 Baat dil ki bata gia hai wo
Dost ulfat badha gia hai wo
17. Friendship poetry Urdu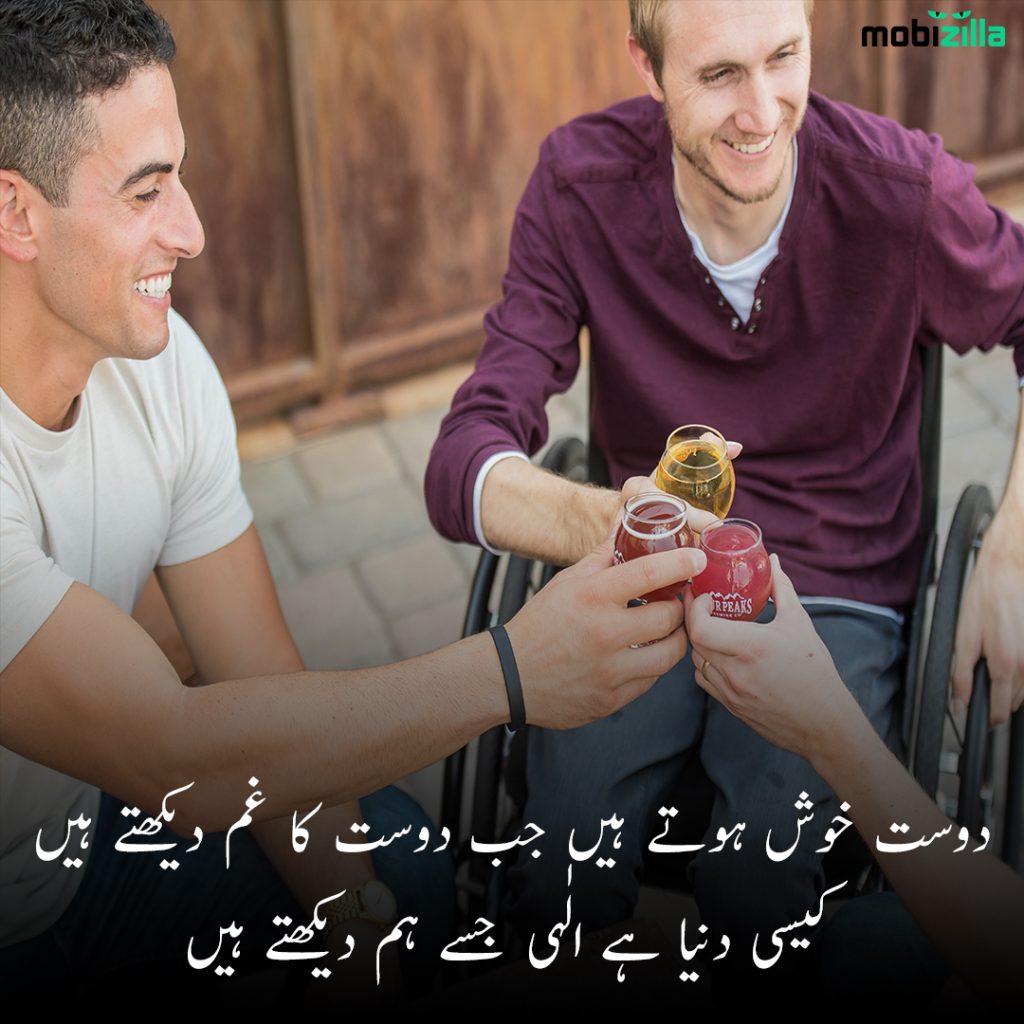 Dost khush hotay hn dost ka gham daikhtay hn
Kesi dunya hai elahi jisay hm daikhtay hn (Friendship poetry urdu) 
18.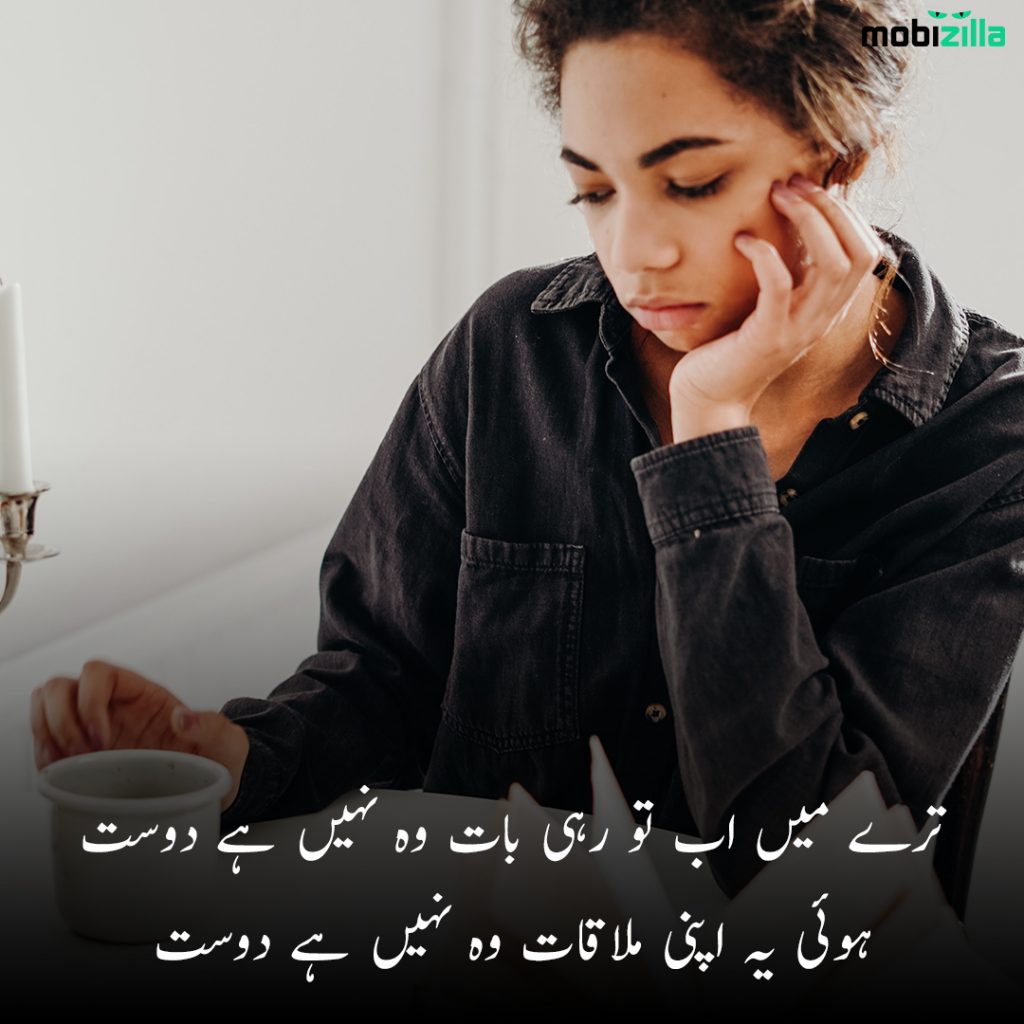 Teray may ab to rahi baat wo nahi hai dost
Hoi ye apni mulaqat wo nahi dost
19.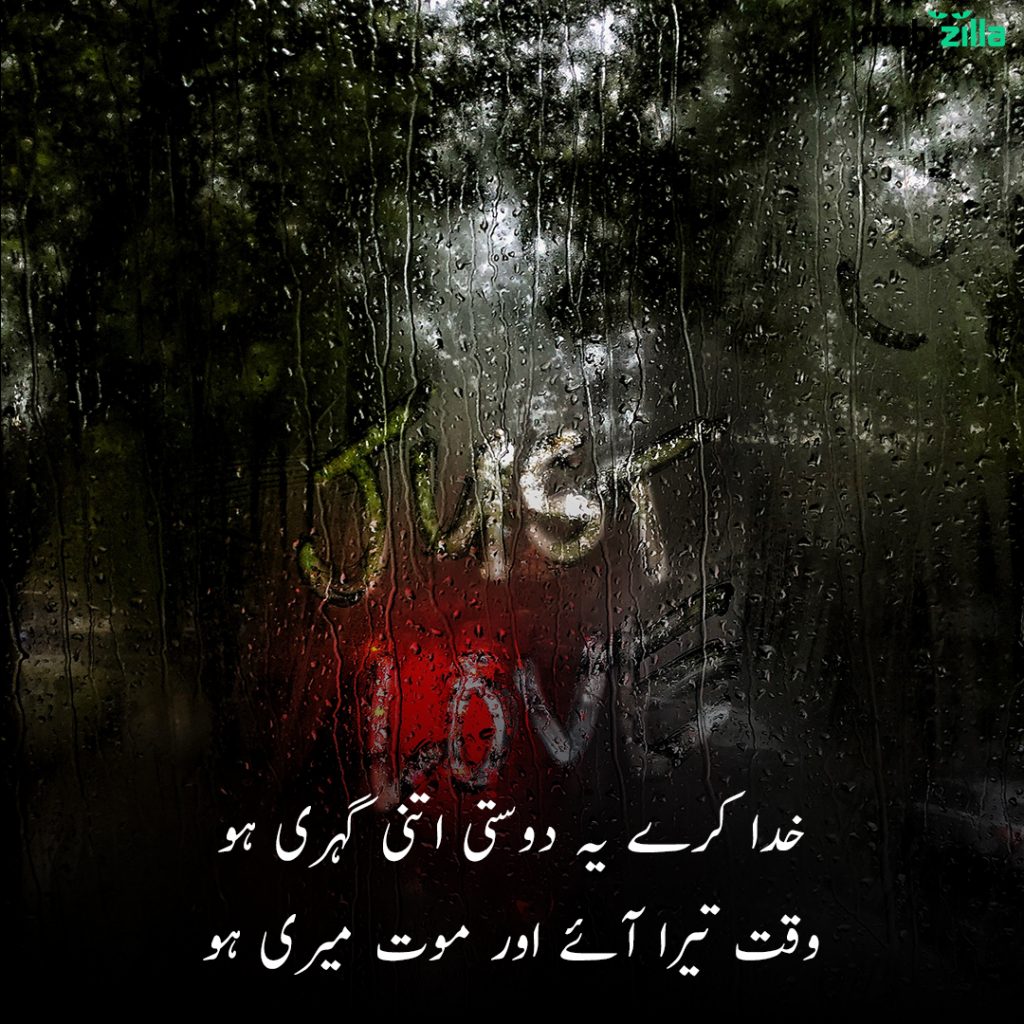 Khuda karay ye dosti itni gehri ho
Waqt tera aye aur moot meri ho
20.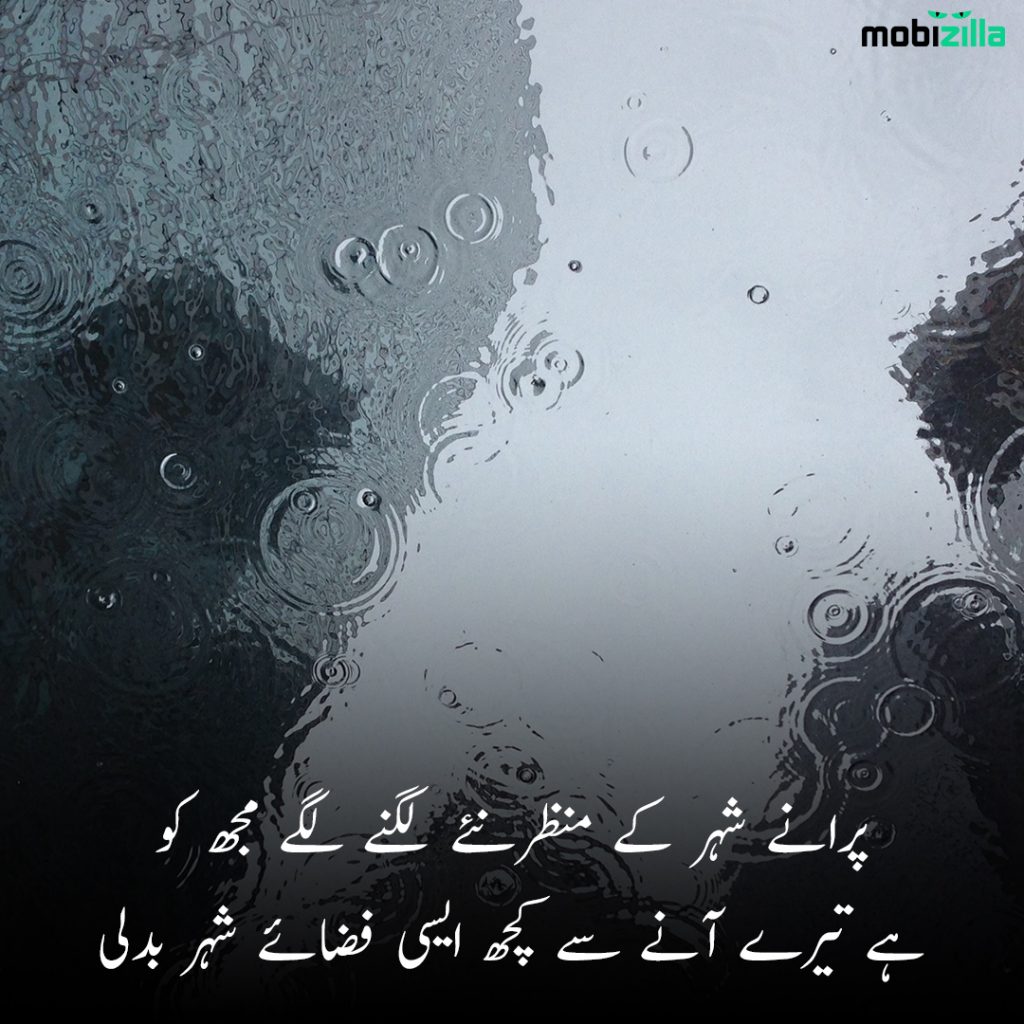 Puranay sehr kay manzr naye lagnay lagay mujh ko
Hai teray aanay say kuch aisi fazaye sehr badli
21. Urud poetry 2 lines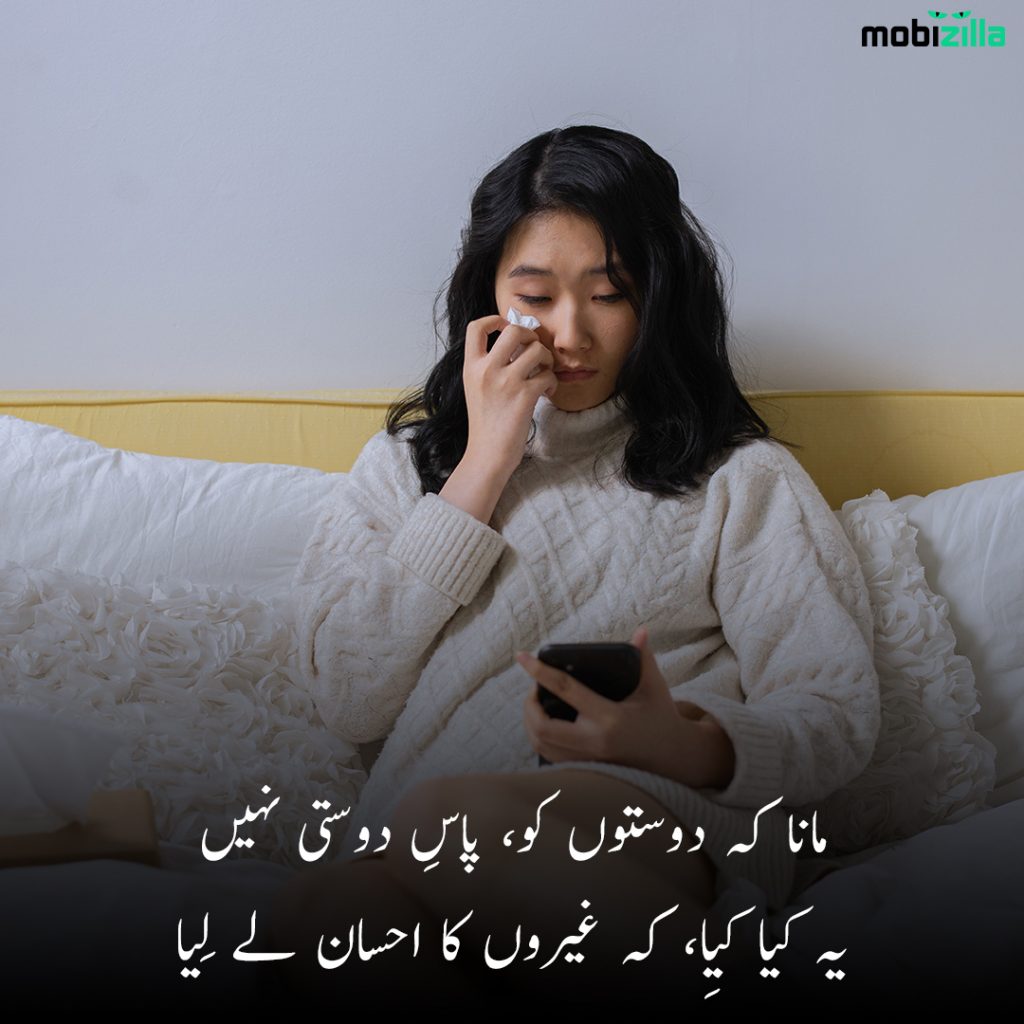 Mana kay doston ko paas dosti nahi
Ye kia kia kay gheron ka ehsan lay lia
When you my friend were absent when I needed you. So, how come you mad on for taking help from strangers? Obviously I took it because I needed it.
(Dosti shayari, Dosti poetry)
22.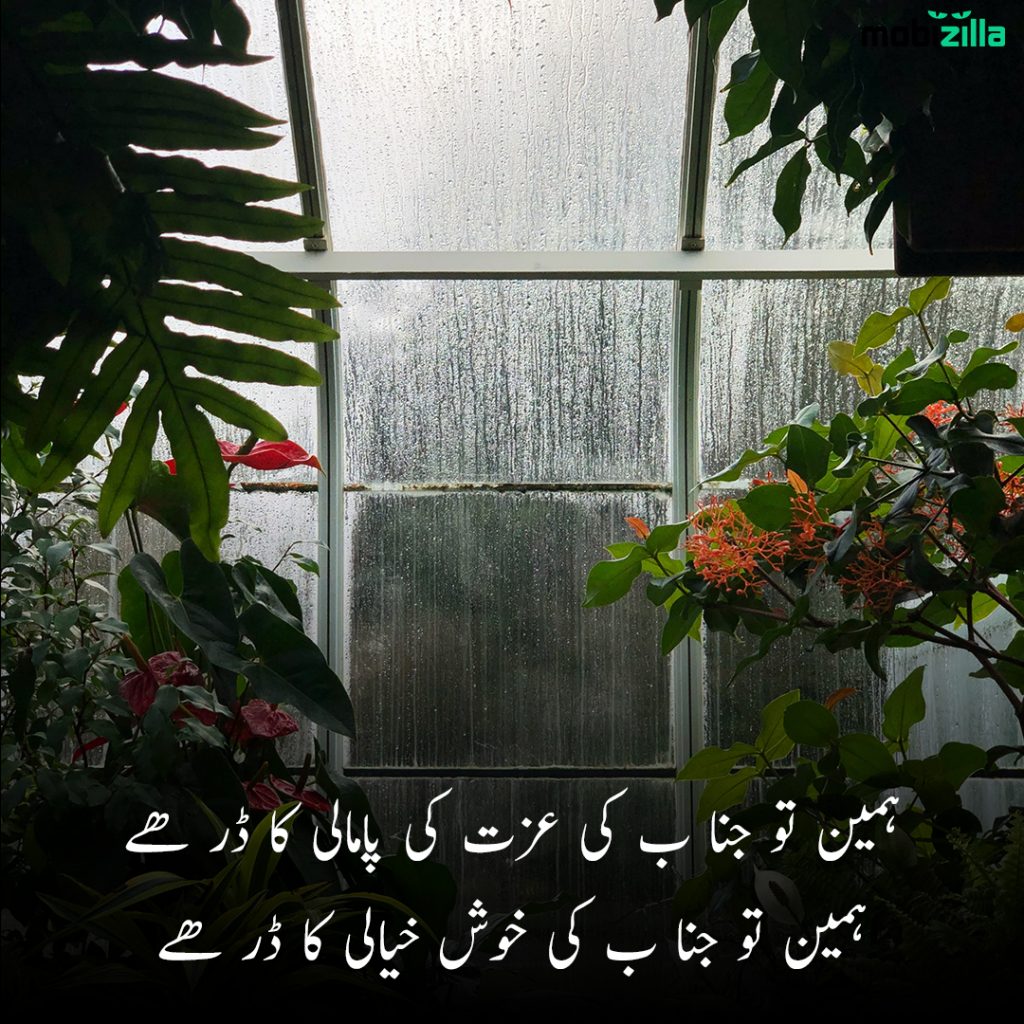 Hamain to janab ki izat ki pamali ka dar hai
Hamian to janab ki khush khyali ka dar hai
Like mobizilla.pk on Facebook to get the latest updates
Like mobizilla.pk on Instagram to get the latest updates
23.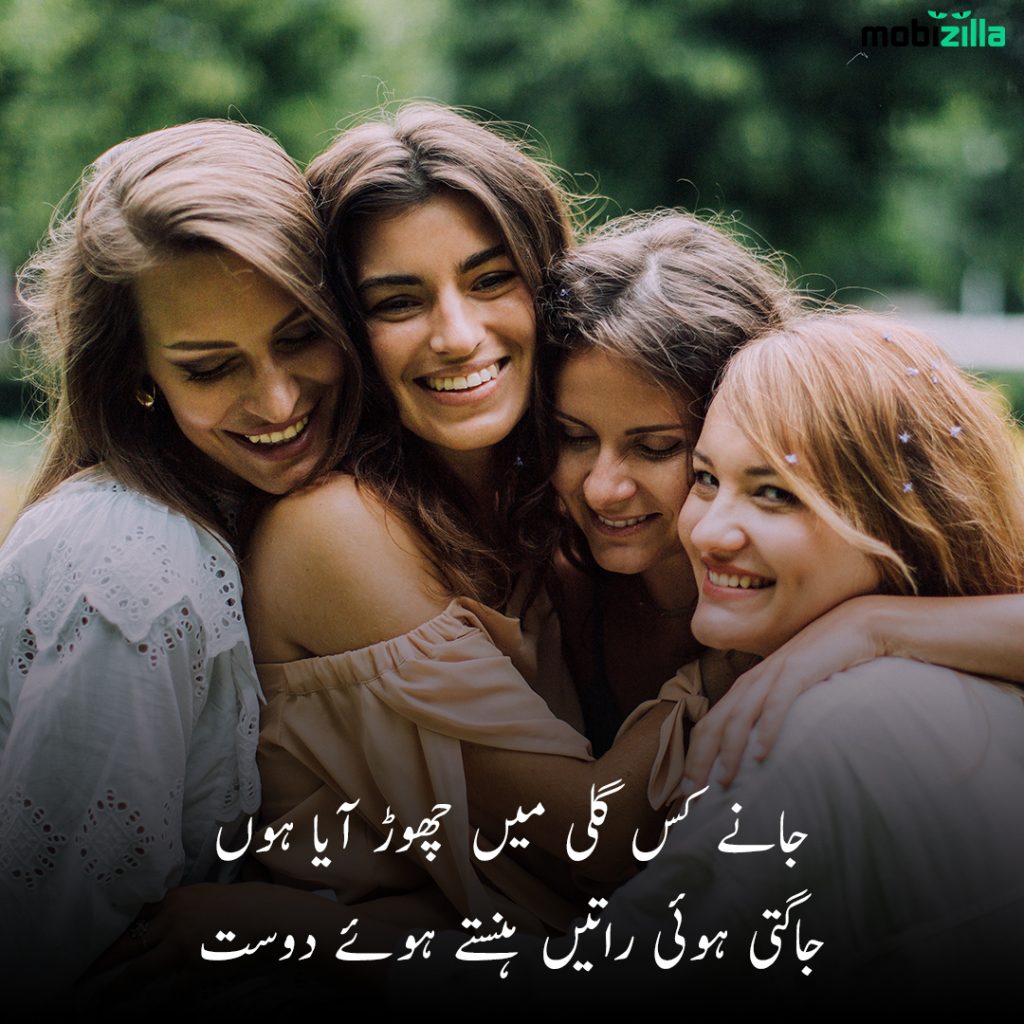 Janay kis ki gali may chod aya hun
Jagti hoi ratain hastay hoay dost
جانے کس گلی میں چھوڑ آیا ہوں
جاگتی ہوئی راتیں ہنستے ہوئے دوست
24. Friendship poetry in urdu two lines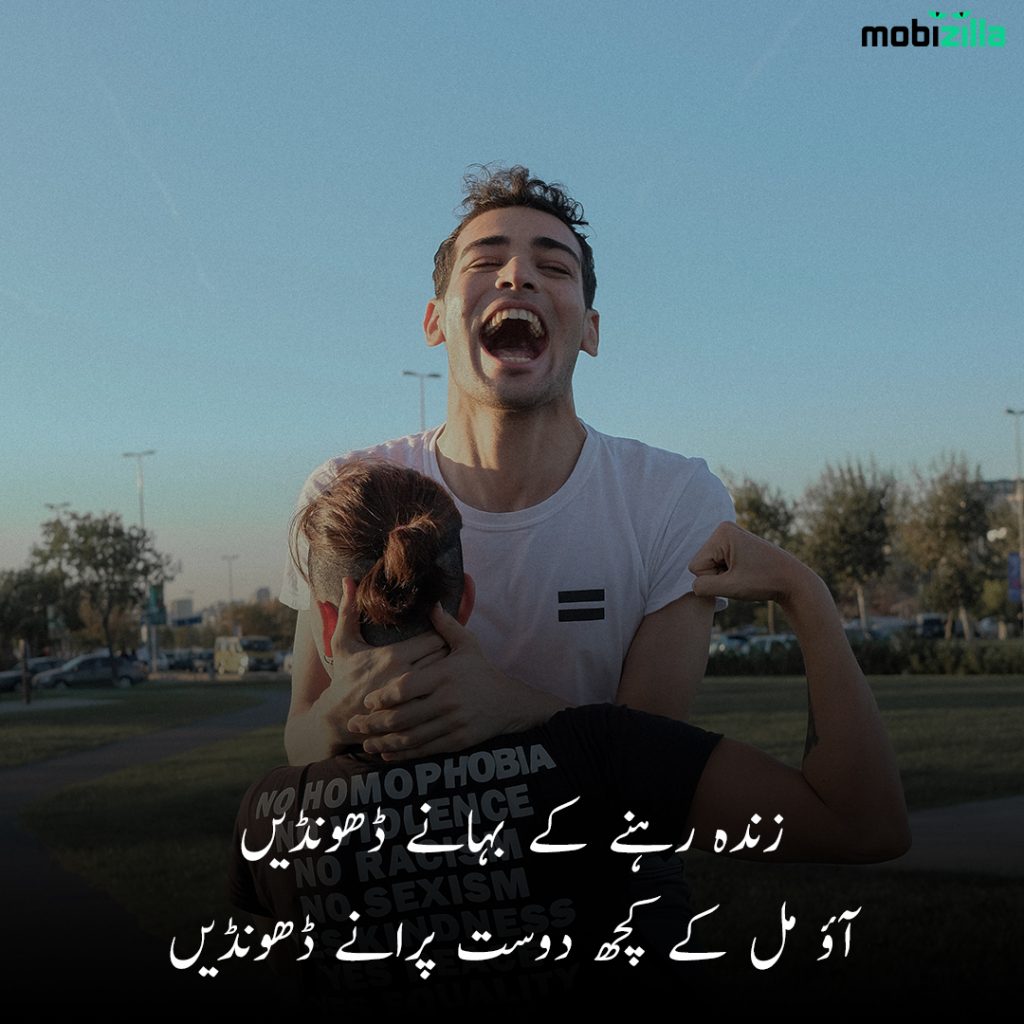 Zinda rehnay kay bahanay dhundain
Aao mil kay kuch dost puranay dhondain
25.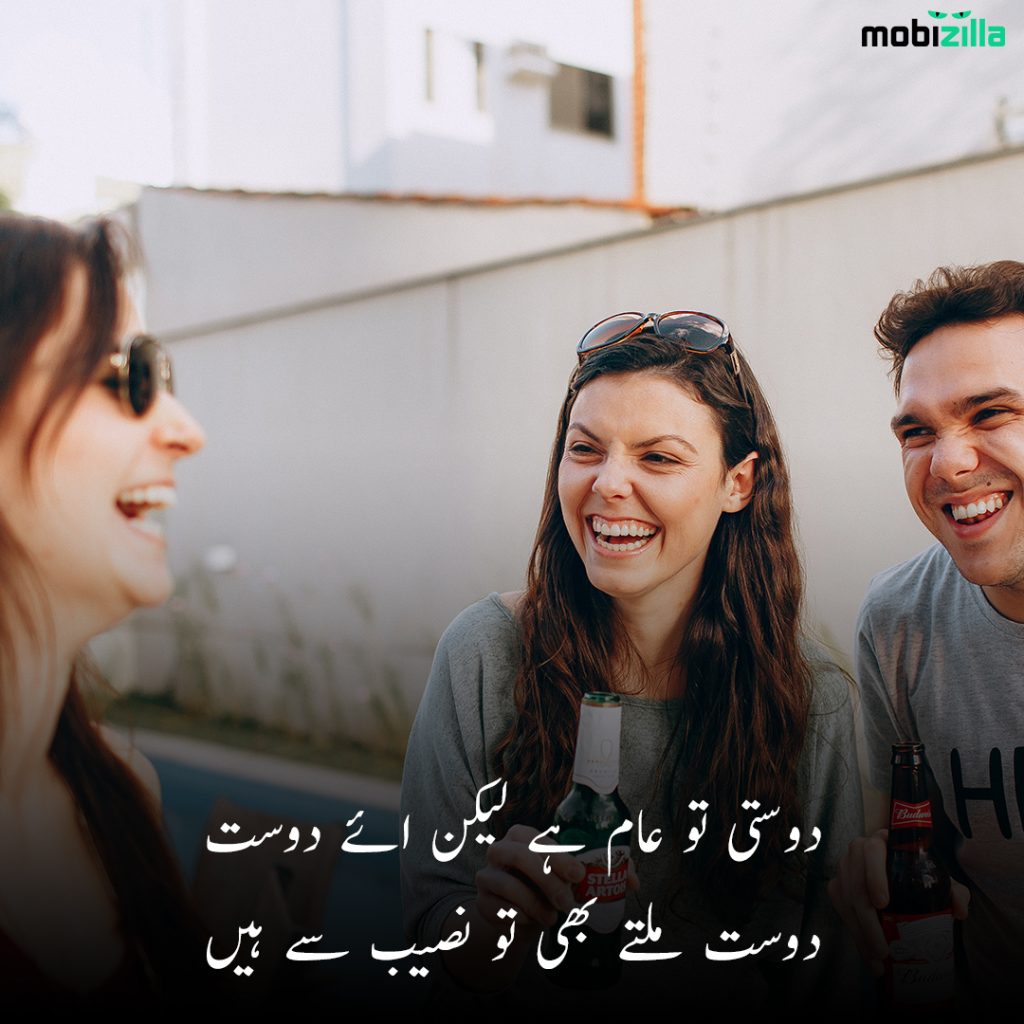 Dosti to aam hai lekin aye dost
Dost miltay bhi to naseeb say hn
No matter how many transition words like however. Nonetheless. Perhaps. So. Thus. Therefore. Although. Consequently. Besides. Furthermore and what not, it will not change your thought process. In fact this will worsen the matters. So, leave it to luck.
26.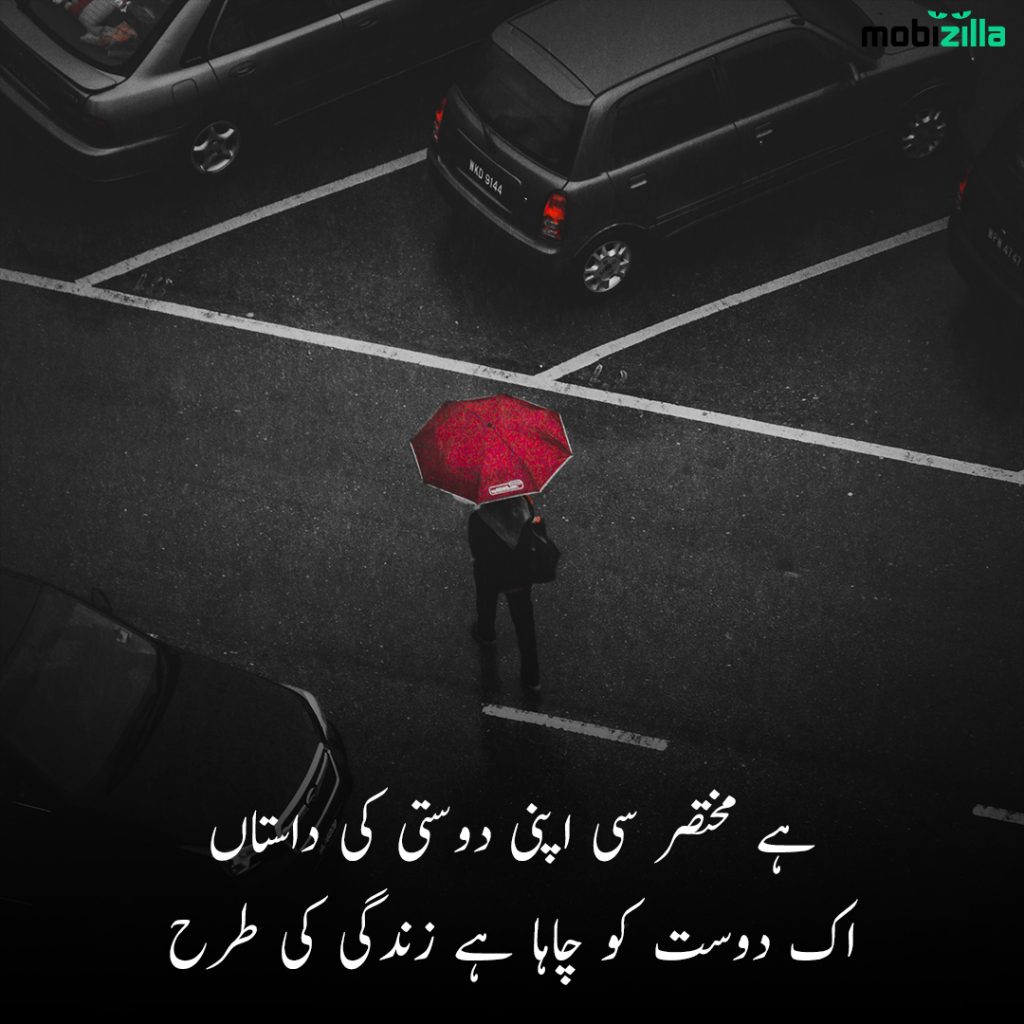 Hai mukhtasr si apni dosti ki dastan
Ik dost ko caha hai zindagi ki taran
ہے مختصر سی اپنی دوستی کی داستاں
اک دوست کو چاہا ہے زندگی کی طرح
Friendship Poetry in Urdu Two Lines
27.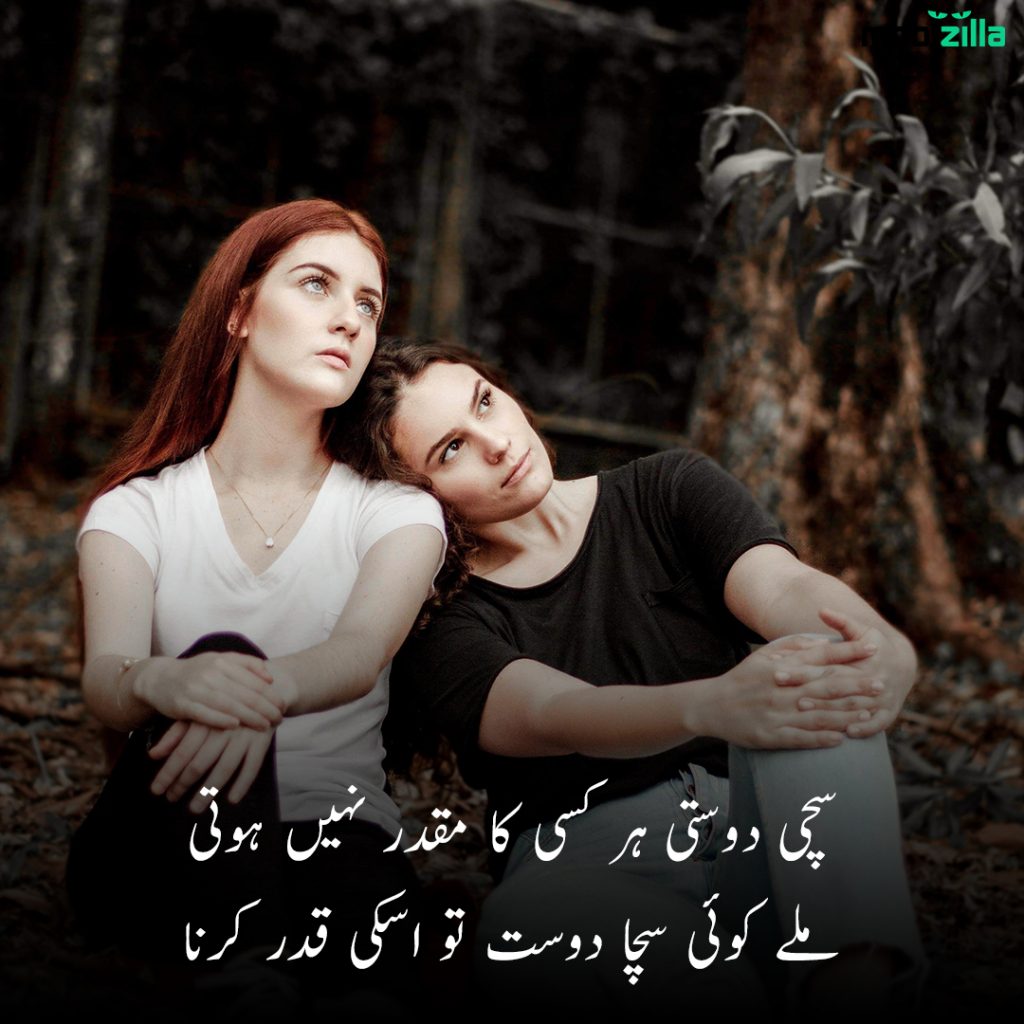 Sachi dosti hr kisi ka muqadar nahi hoti
Milay koi sacha dost to uski qadar karna
سچی دوستی ہر کسی کا مقدر نہیں ہوتی
ملے کوئی سچا دوست تو اسکی قدر کرنا
Not to mention, I am a very lucky person that I have you. Reason is, you don't find honest friends these days. Most of the time they fake buddies will stab you in the back when push comes to shove.
Thus, having you is truly a charm.
28.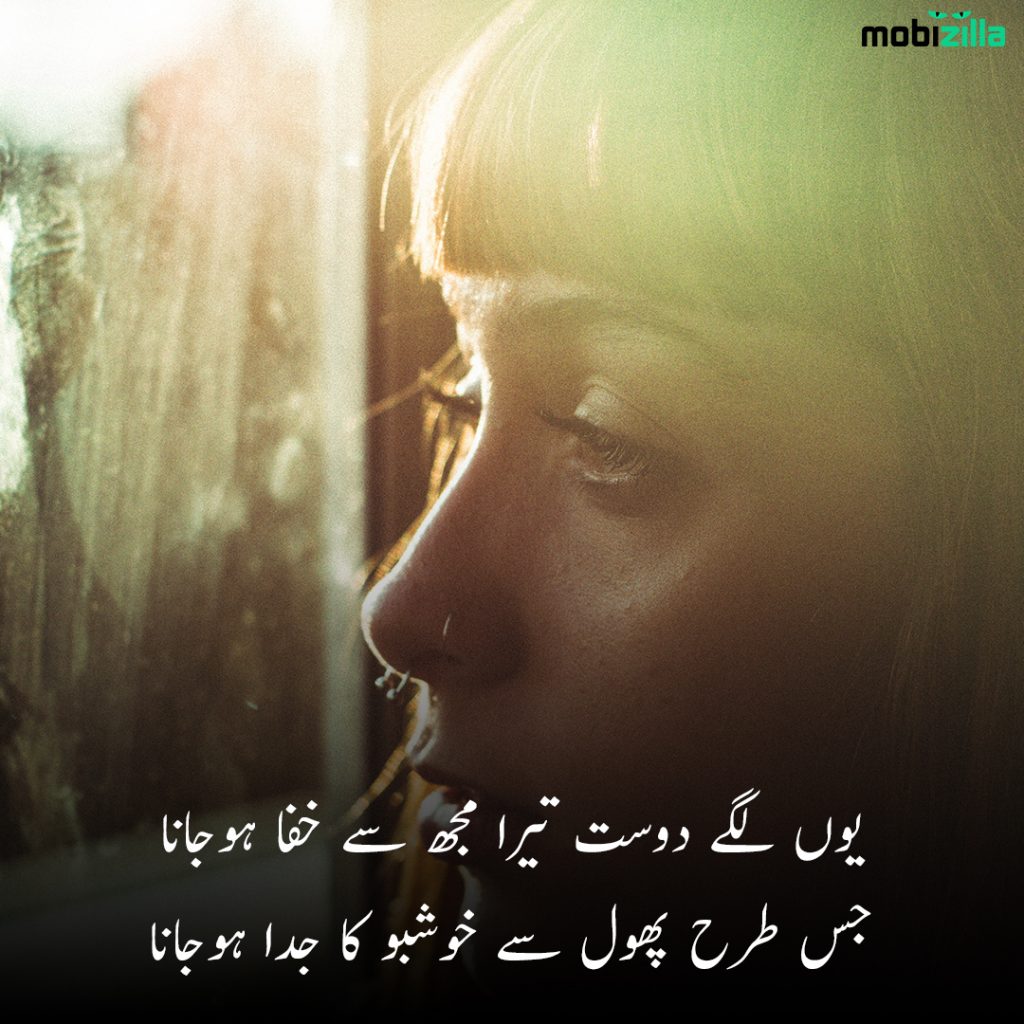 Yun lagay dost tera mujh say khafa ho jana
Jis taran phol say khusbo ka juda ho jana
Again, you being sad devastates me. There is no reason for you to be sad because I am all yours. Please meet hallway with me again otherwise I will further plunge into darkness.
If that's what you want then go on and destroy me…
Friendship poetry in Urdu
29.
Daway dosti kay mujay nahi atay yar
Aik jaan hai jb dil cahay maang lena
30.
(Dosti shayari, Dosti poetry)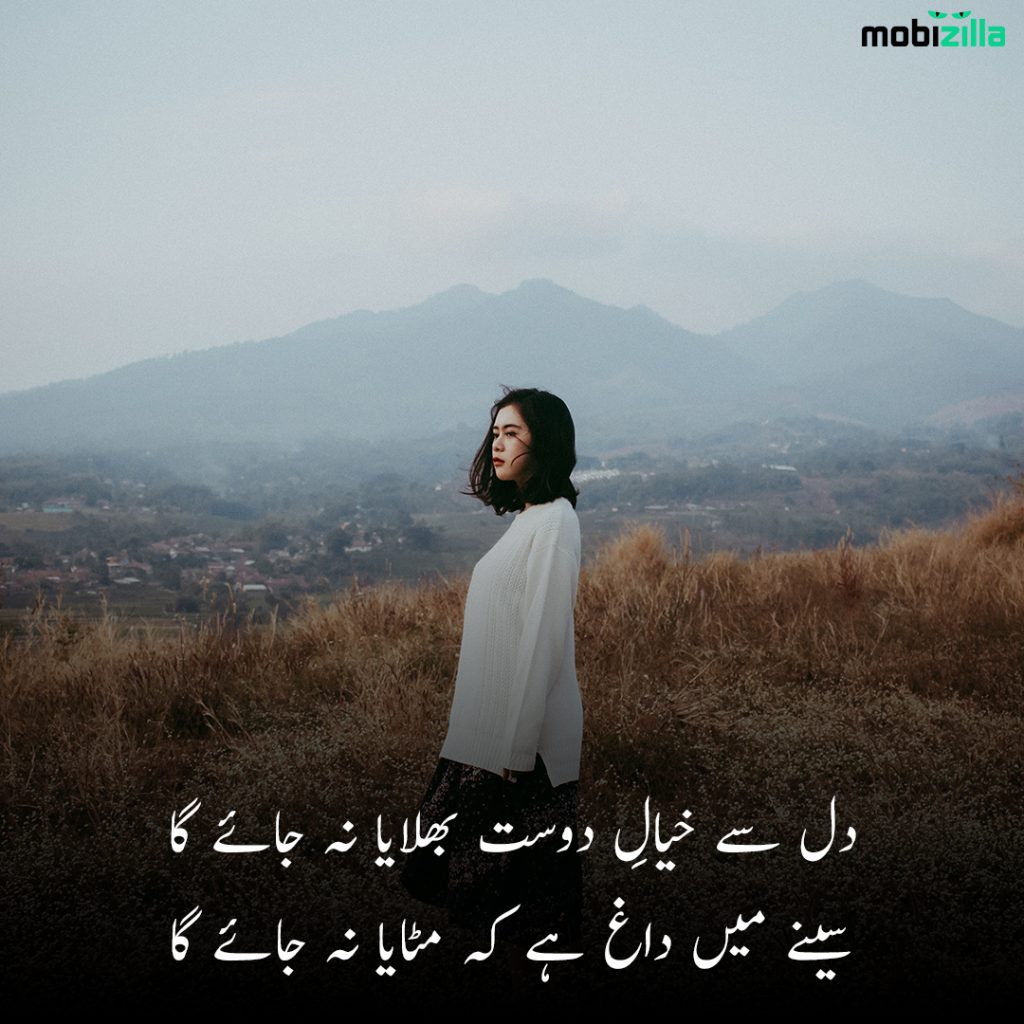 Dil say khyal dost bhulaya nahi jaye ga
Senay may daagh hai kay mitaya na jayega
دل سے خیالِ دوست بھلایا نہ جائے گا
سینے میں داغ ہے کہ مٹایا نہ جائے گا
31.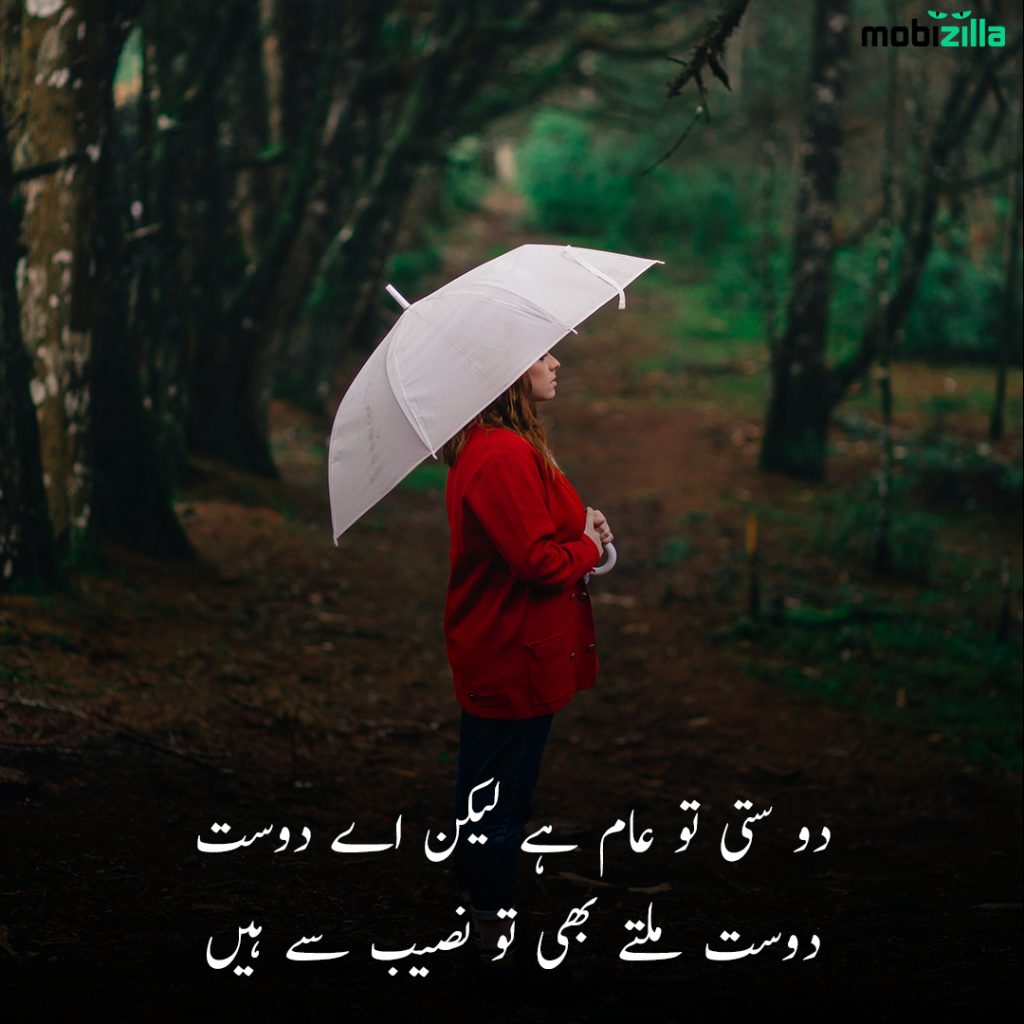 Dosti to aam hai lekin aye dost
Dost miltay bhi to naseeb say hn
32.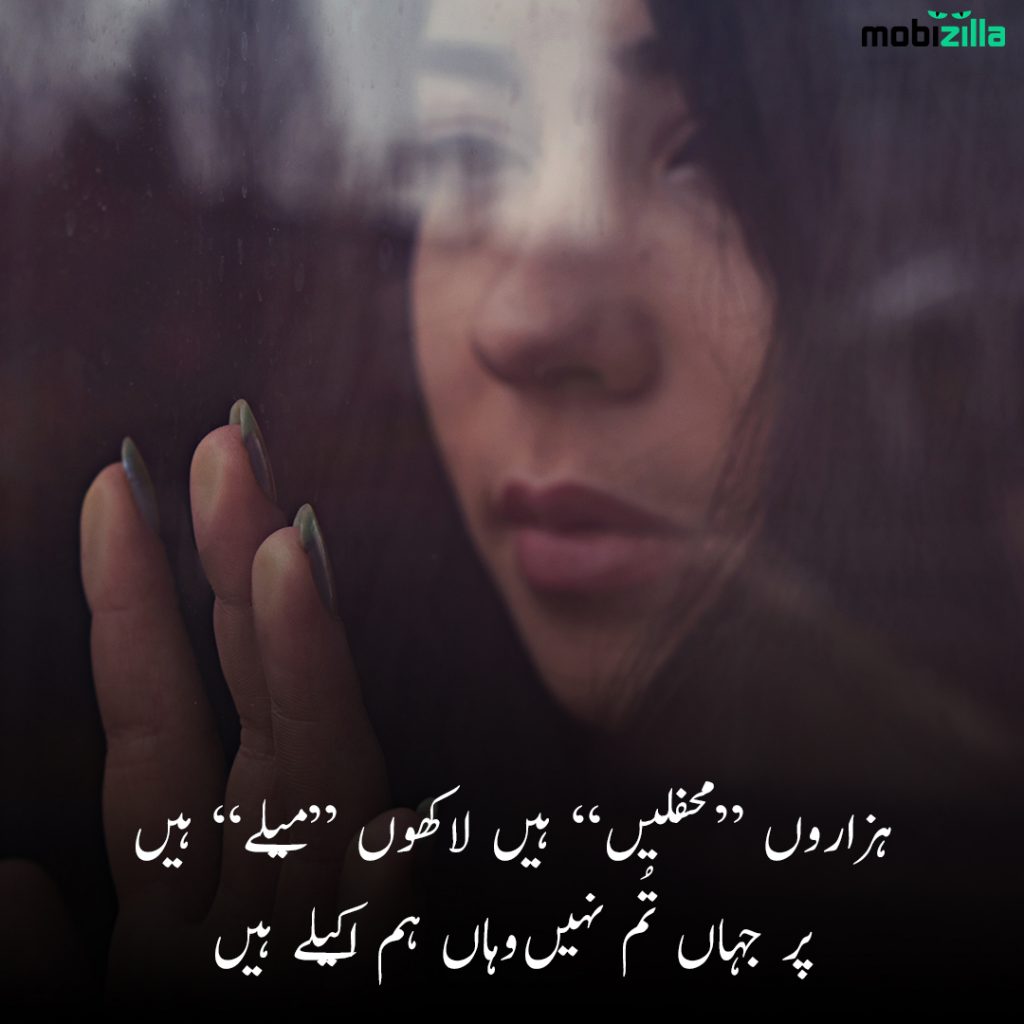 Hazaron mehfilain hn lakhon melay hn
Par jahan tm nahi wahan hm akelay hn
33.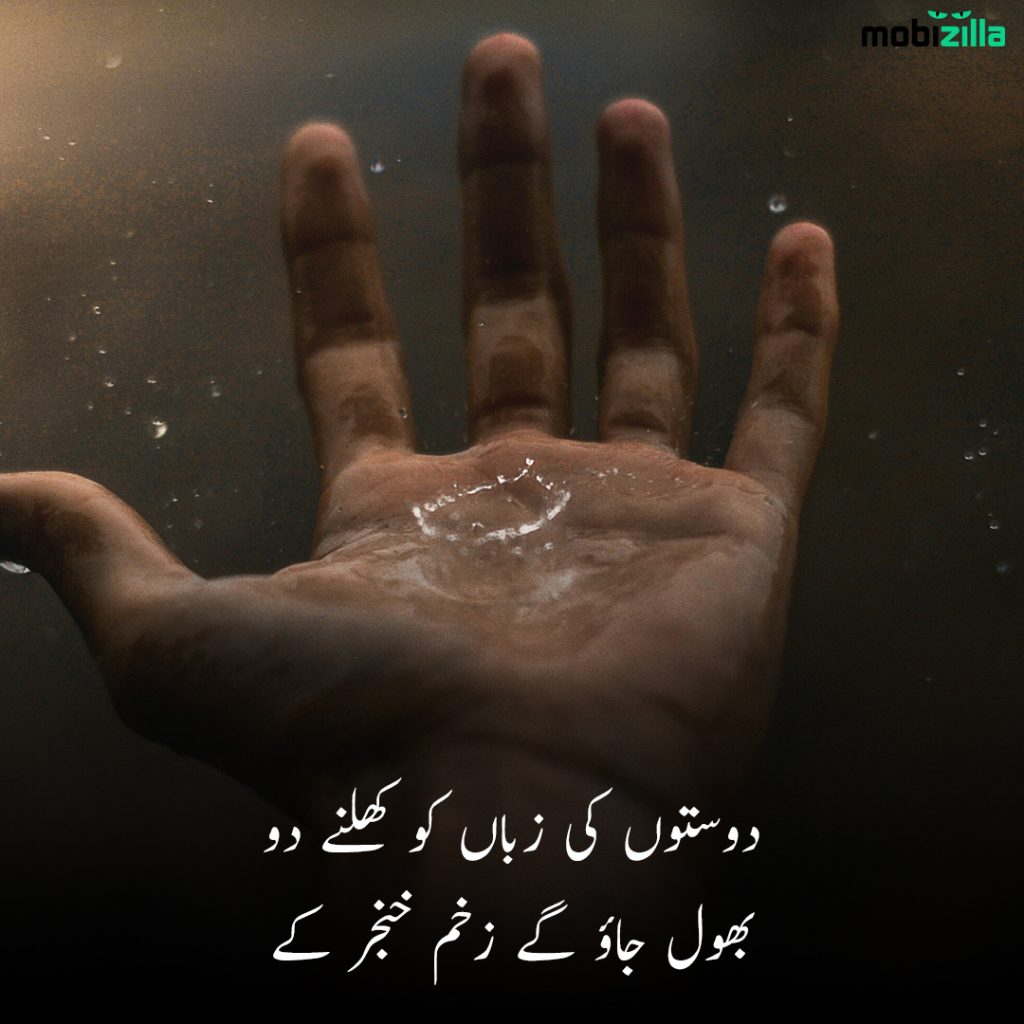 Doston ki zuban ko khulnay do
Bhool jao gay zakham khanjar kay
(Dosti shayari, Dosti poetry)
دوستوں کی زباں کو کھلنے دو
بھول جاؤ گے زخم خنجر کے
34.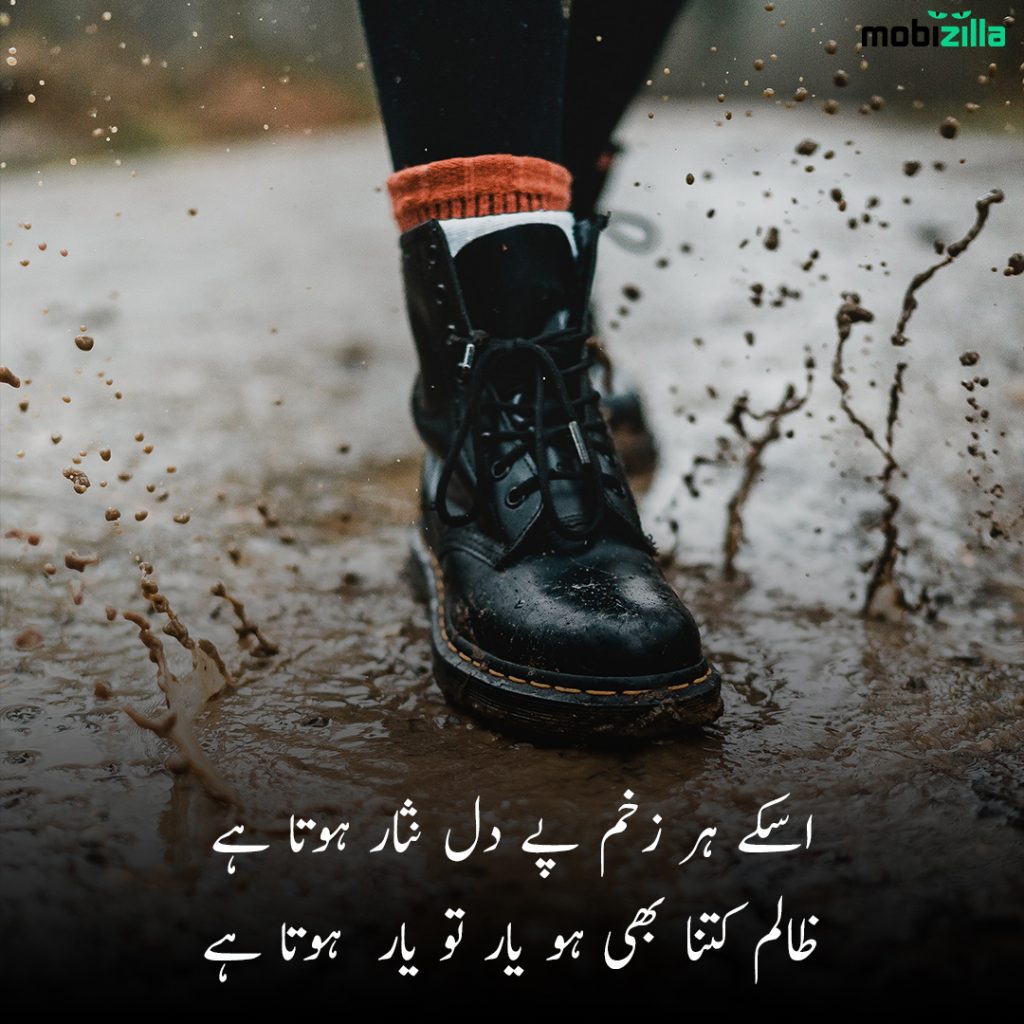 Iskay har zakham pay dil nisar hota hai
Zalim kitna bhi ho yar to yar hota hai
35.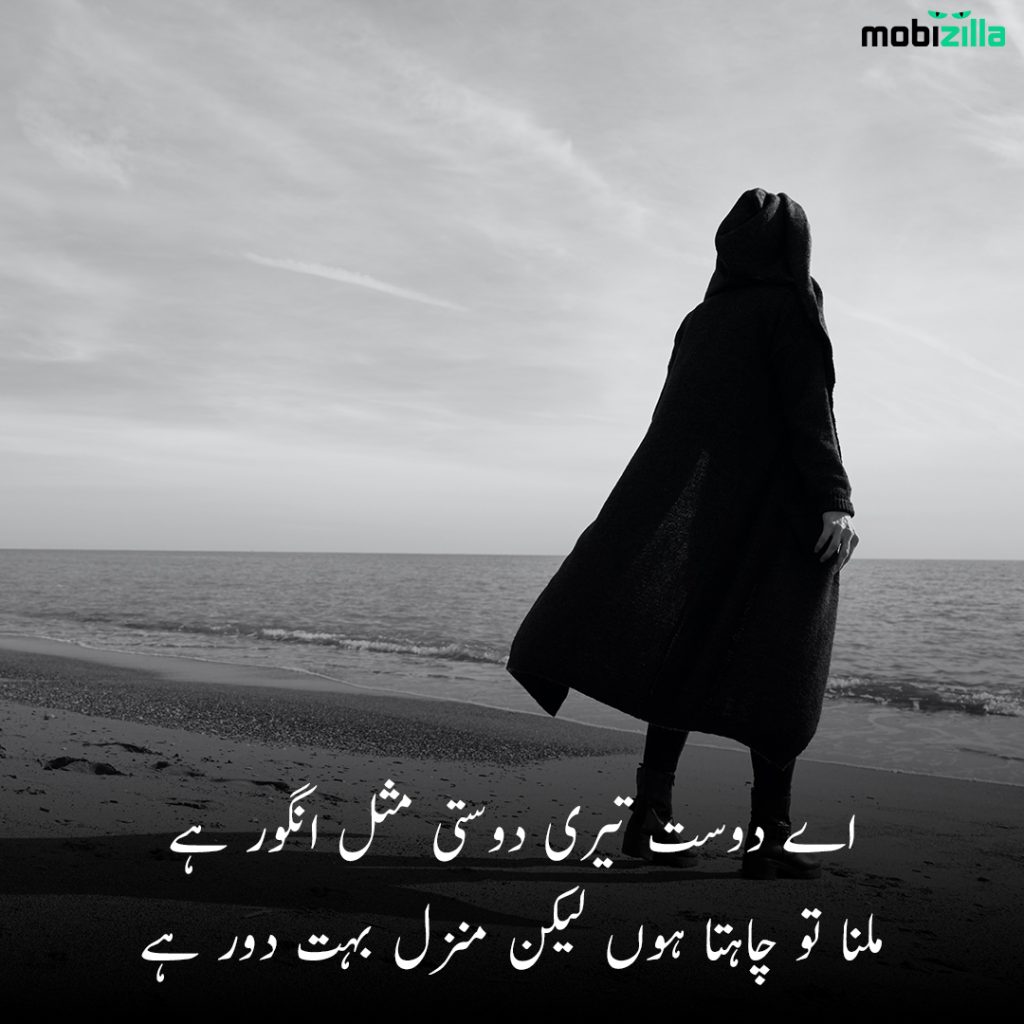 Aye dost teri dosti misal angor hai
Milna to cahta hun lekin manzil bht dur hai
اے دوست تیری دوستی مثل انگور ہے
ملنا تو چاہتا ہوں لیکن منزل بہت دور ہے
36.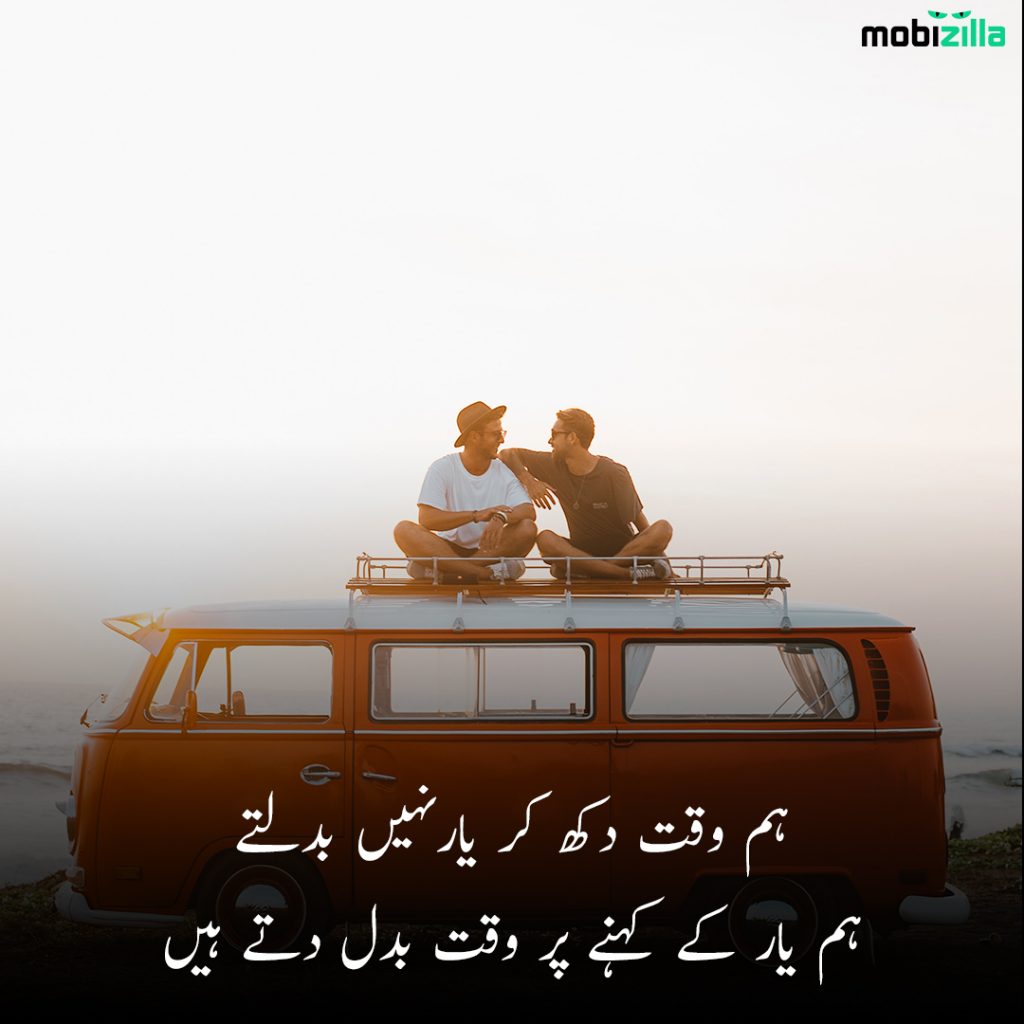 Hm waqt daikh kr yaar nahi badltay
Hm yaar kay kehnay par waqt badal daitay hn
Fake friend poetry in urdu
37.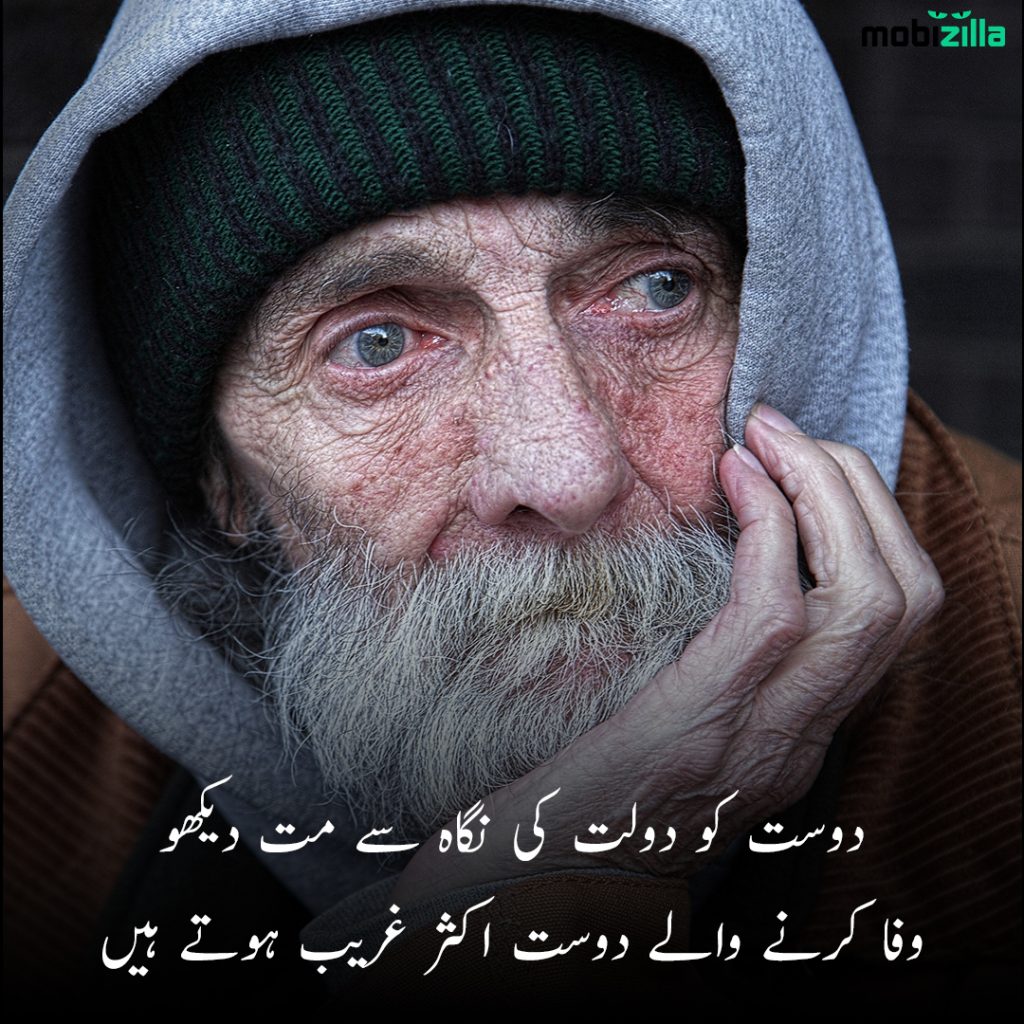 Dost ko dolat ki nigh say ma daikho
Wafa karnay walay dost aksar gharib hotay hn
دوست کو دولت کی نگاہ سے مت دیکھو
وفا کرنے والے دوست اکثر غریب ہوتے ہیں
Money isn't everything. As a matter of fact, honesty is what matters and poor are mostly honest.
Thus, this isn't a sweeping statement but a correct representation of facts.
38.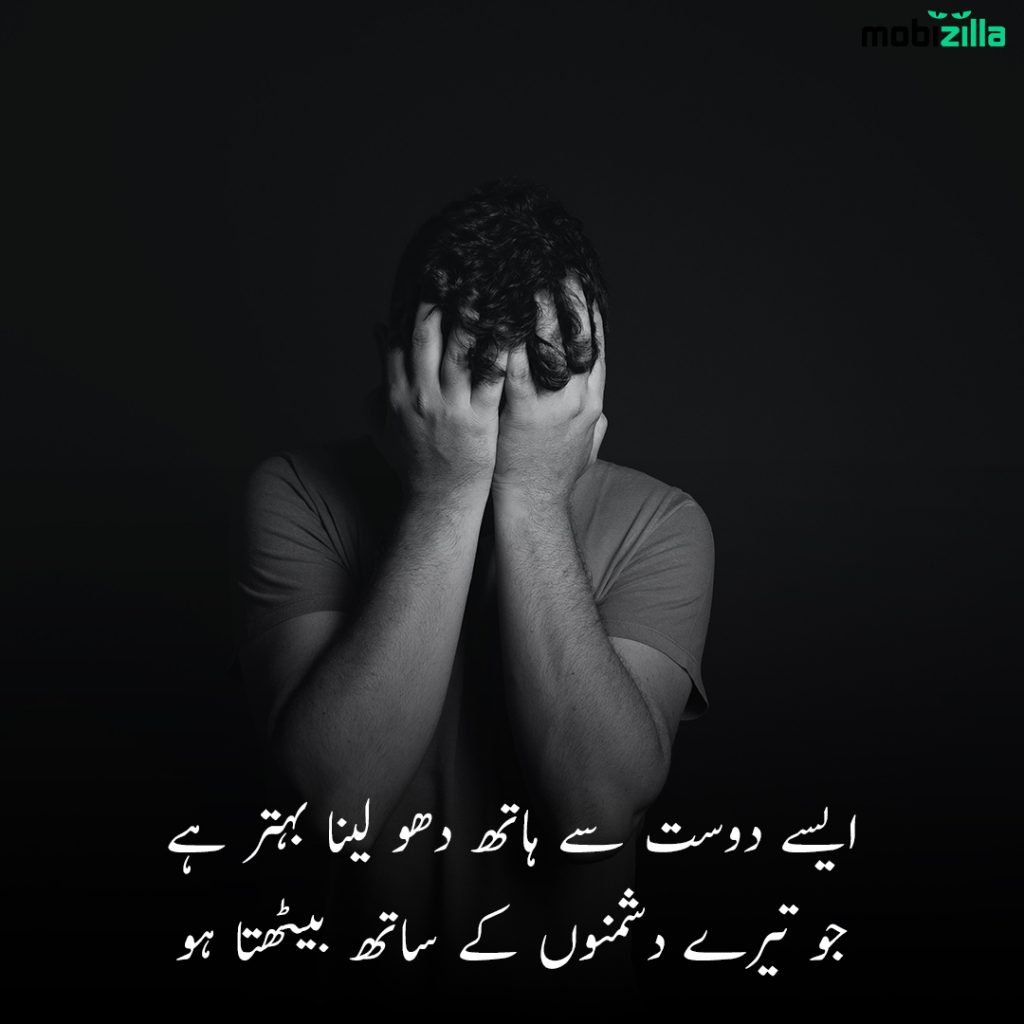 Aisay dost say haat dho lena behtr hai
Jo teray dushmano kay sat bethta ho
39.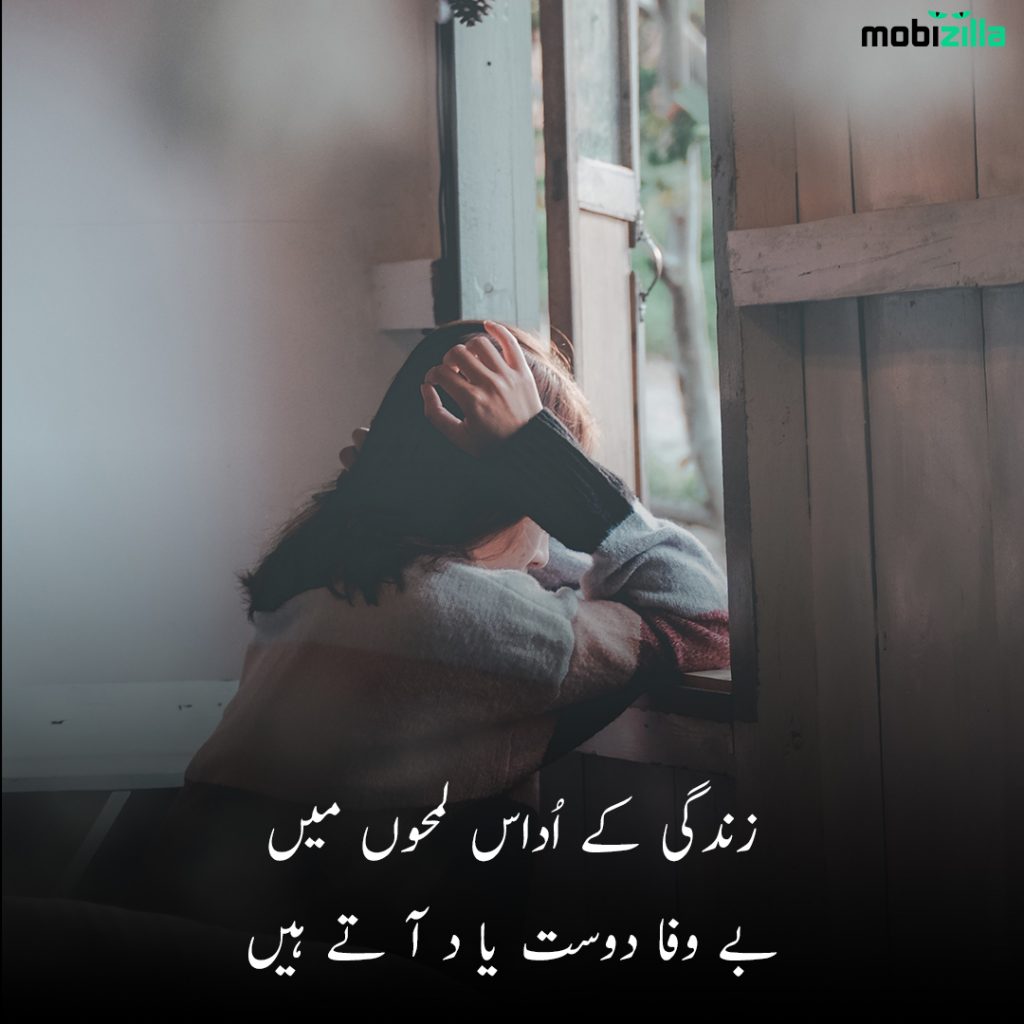 Zindagi kay udas lamhon may
Be wafa dost yaad aatay hn
Friendship Poetry in Urdu Two Lines
40.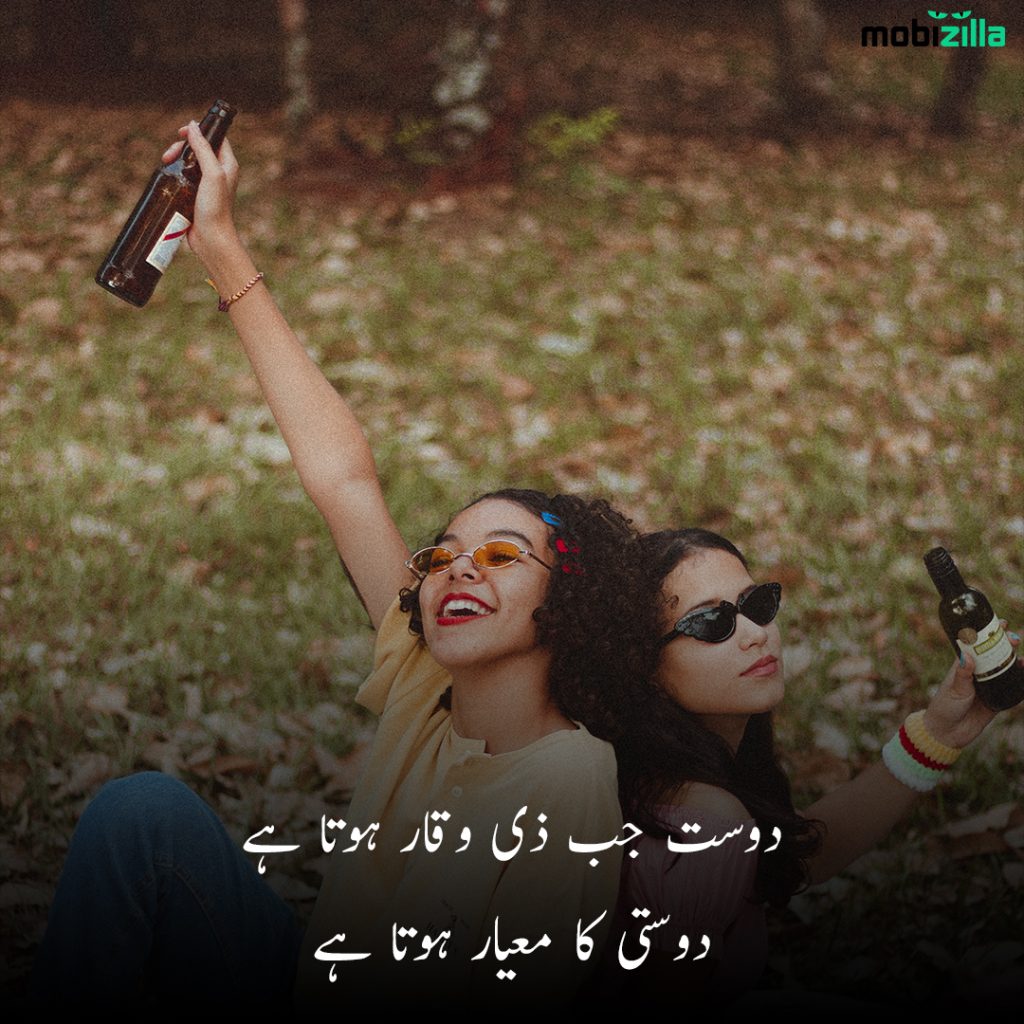 Dost jb ze waqar hota hai
Dosti ka mayar hota hai. (Friendship poetry urdu, Dosti shayari, Dosti poetry)
41.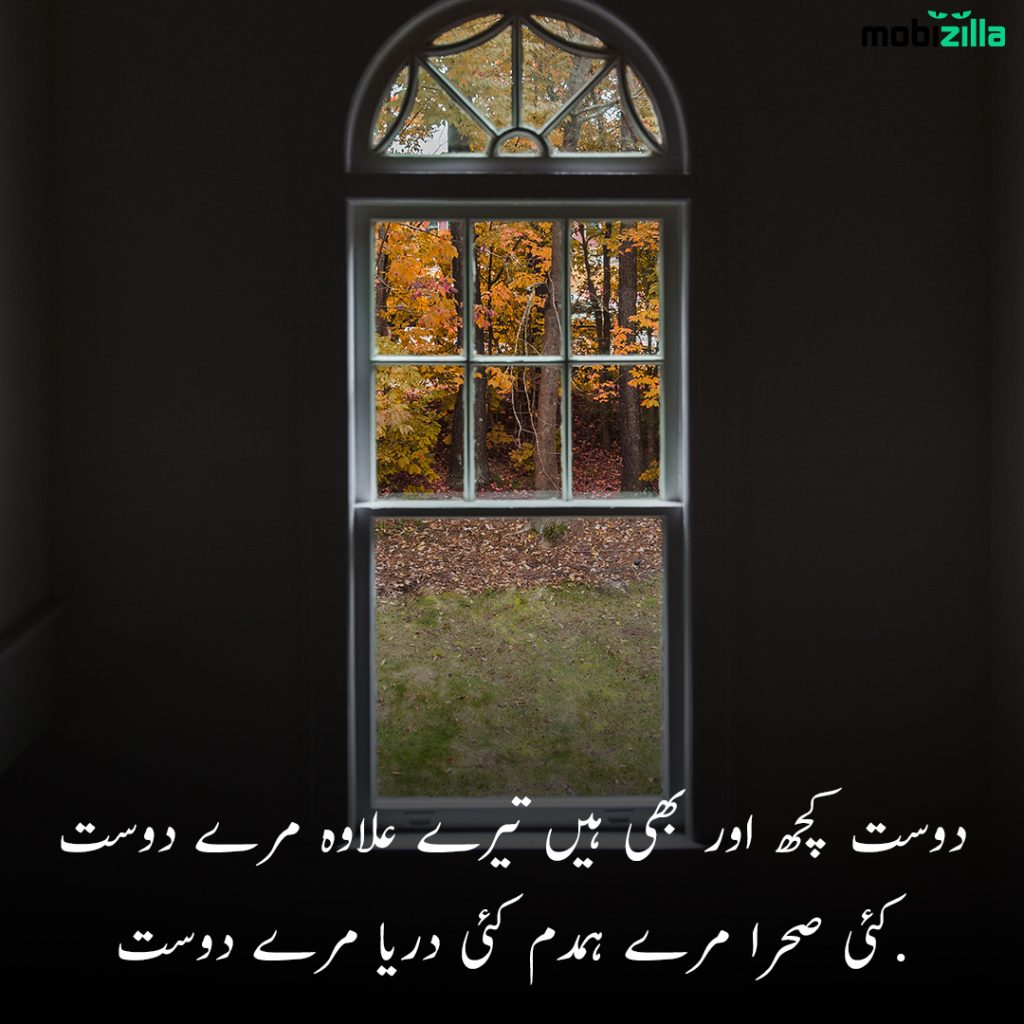 Dost kuch aur bhi hn teray ilawa meray dost
Kai sehra meray hm dm kai darya meray hm dm
Fake friend poetry in urdu
42.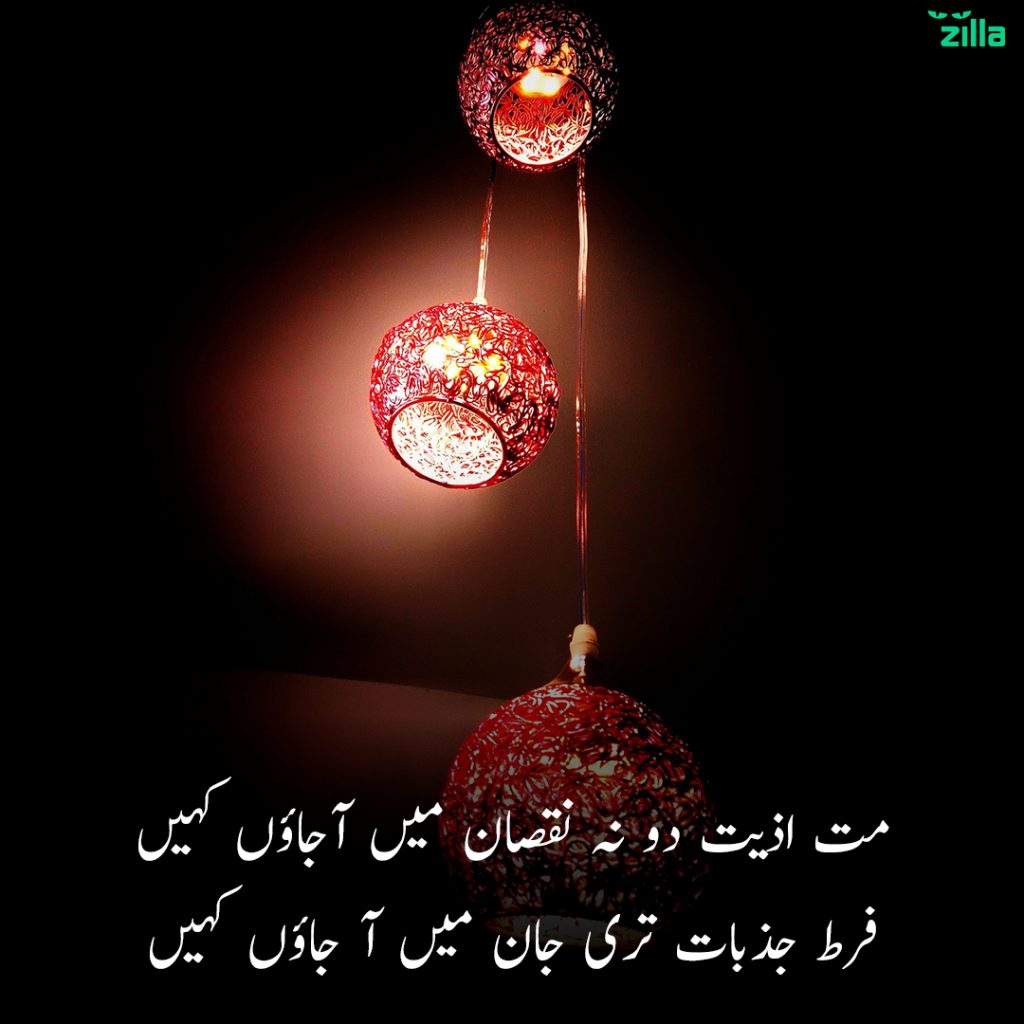 Mat aziyat do warna nuqsan may ajaun kahin
Fart-e-jazbat teri jan may ajaun kahin
43.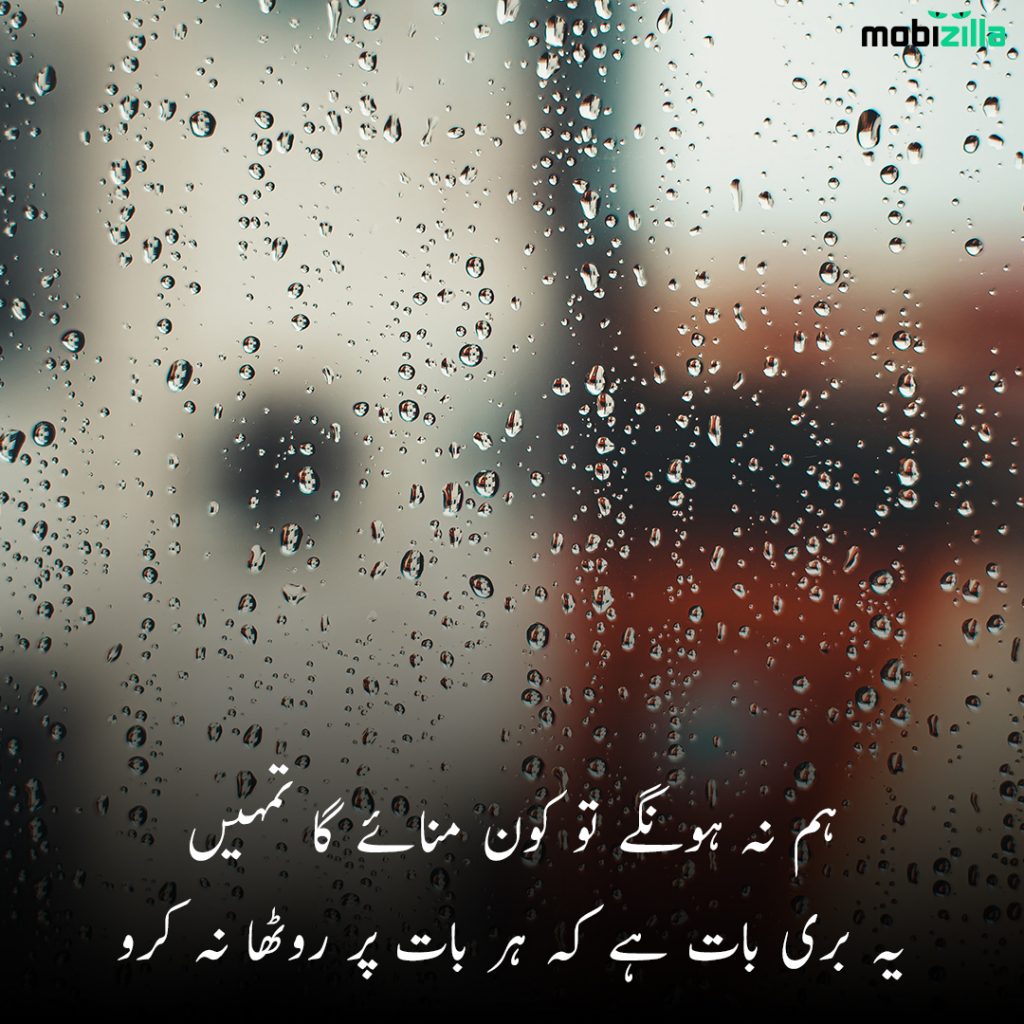 hm na honagay to kon manaye ga tumhay
Ye bari baat hai kay hr baat pay rotha na karo
missing friends poetry in urdu
44.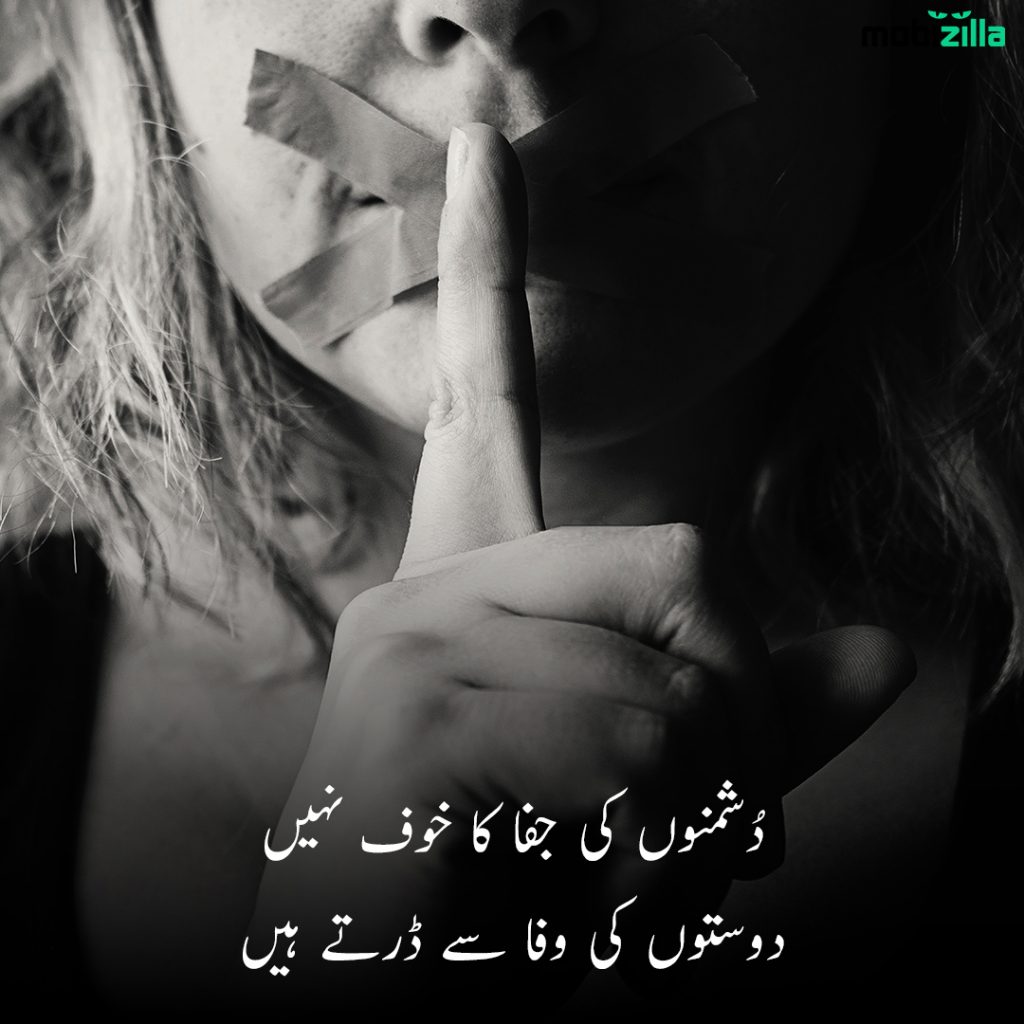 Dushmano ki jafa ka khof nahi
Doston ki wafa say dartay hn
دُشمنوں کی جفا کا خوف نہیں
دوستوں کی وفا سے ڈرتے ہیں
45.
Friendship poetry urdu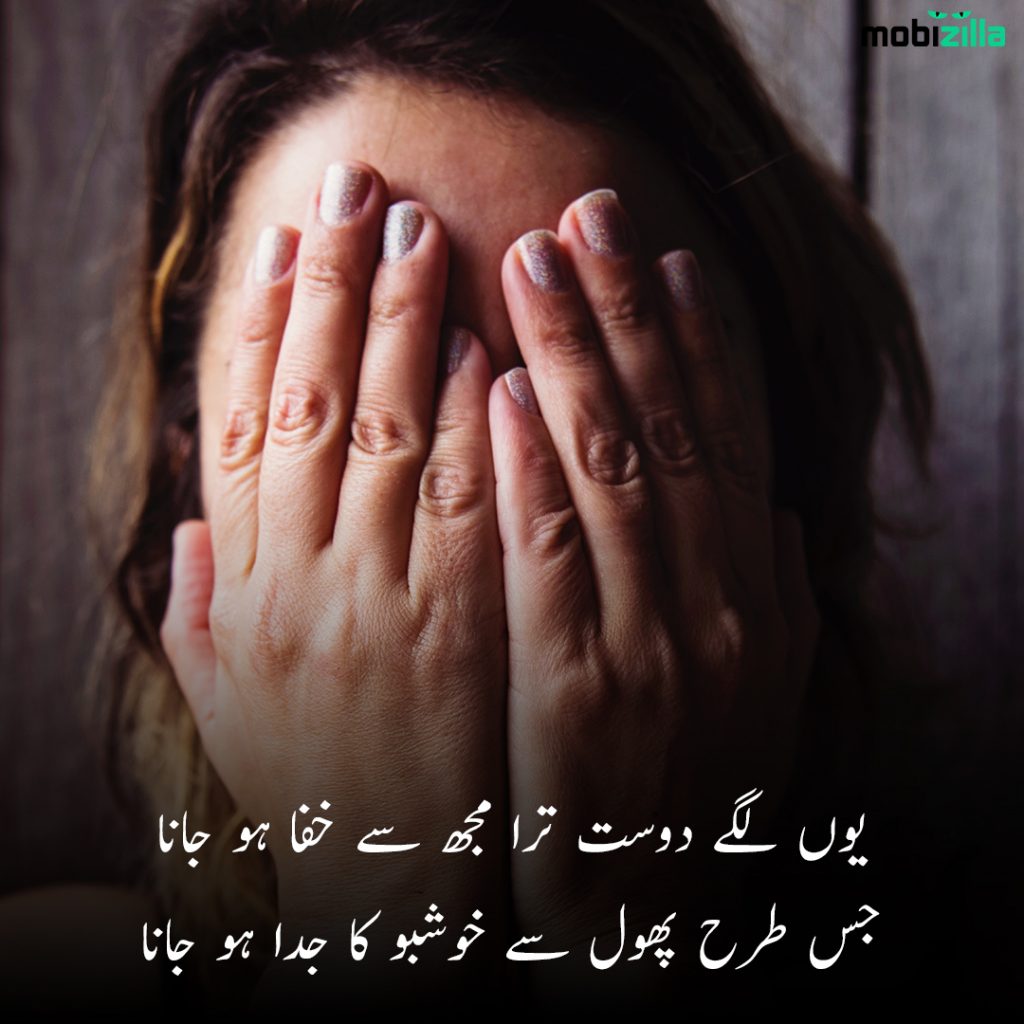 Yun lagay dost teray mujh say khafa ho jana
Jis tarah phol say khushbo ka juda ho jana
46.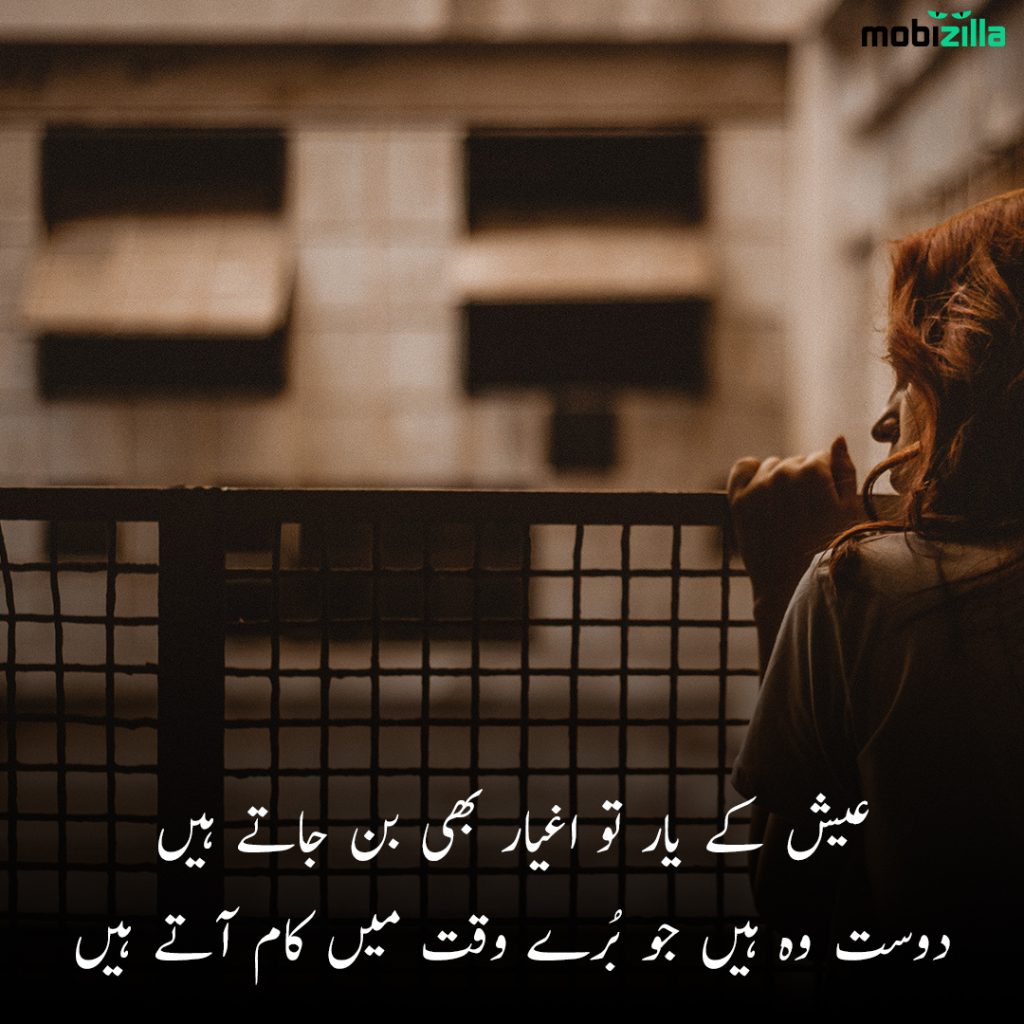 Aiish kay yaar to aghyar bhi bn jatay hn
Dost wo hn wo buray waqt may kaam aatay hn
47.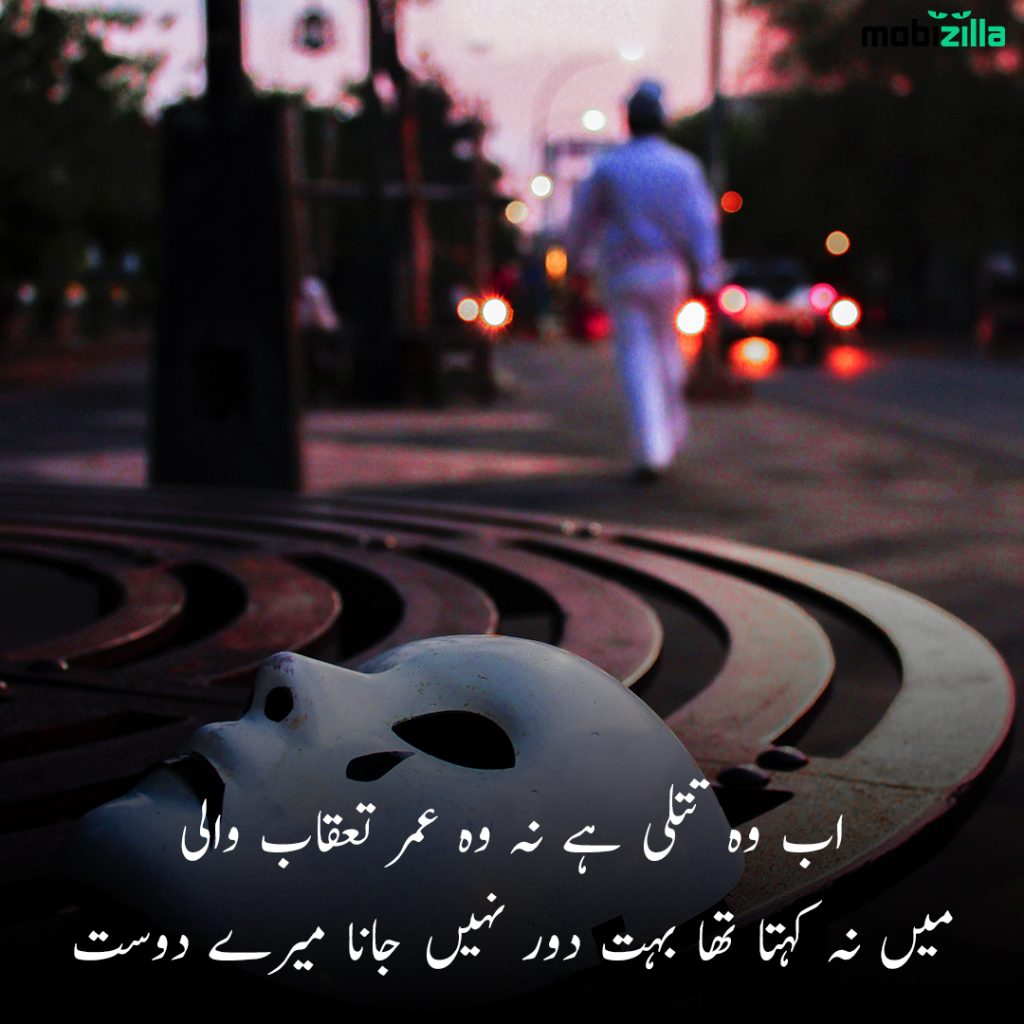 Ab wo tatli hai na wo umar taqab wali
May na kehta tha bht dur nahi jana meray dost
(Dosti shayari, Dosti poetry)
48.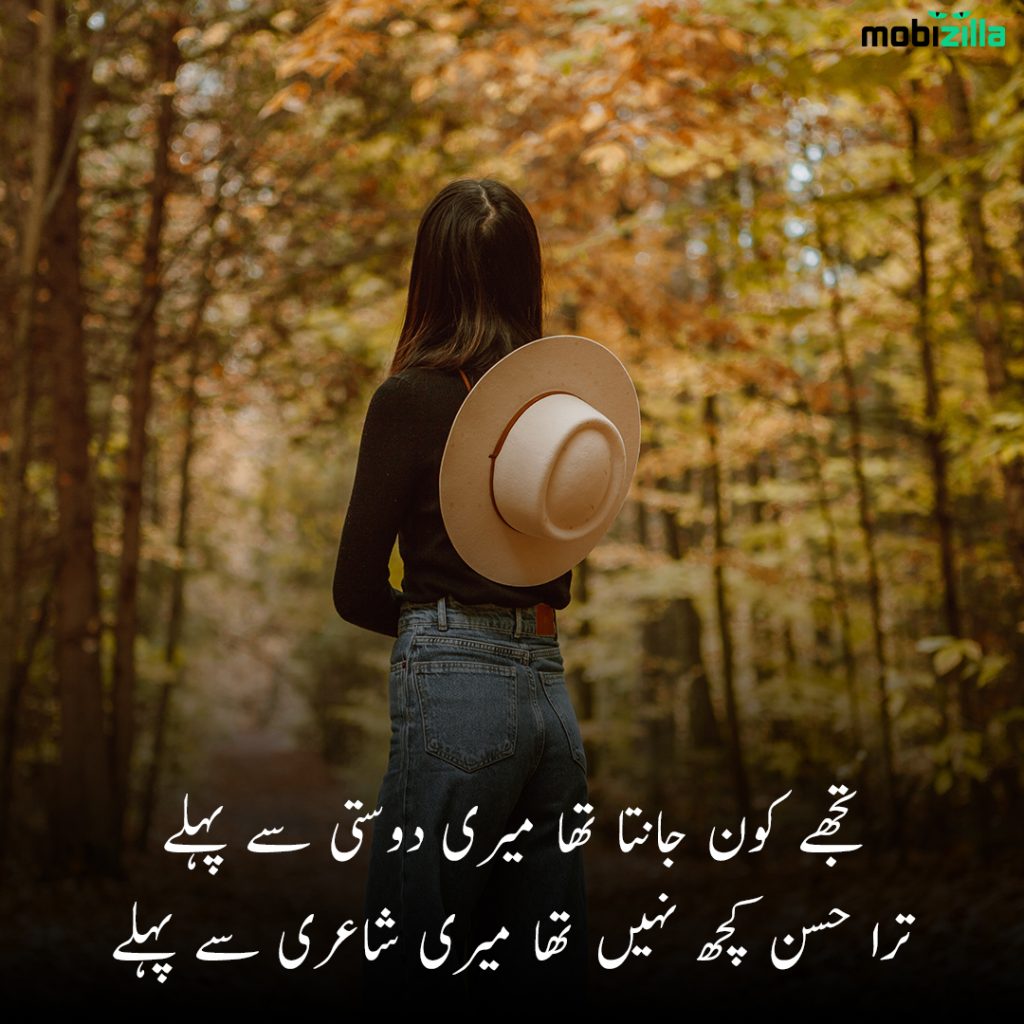 Tujhay kon janta tha meri dost say pehlay
Tera hussan kuch nahi tha meri shayari say pehlay
49. True friend poetry in urdu
Wohi weshat wohi herat wohi tanhai hi hai
Teri ankhain meray khwabon say kitni milti julti hn
50.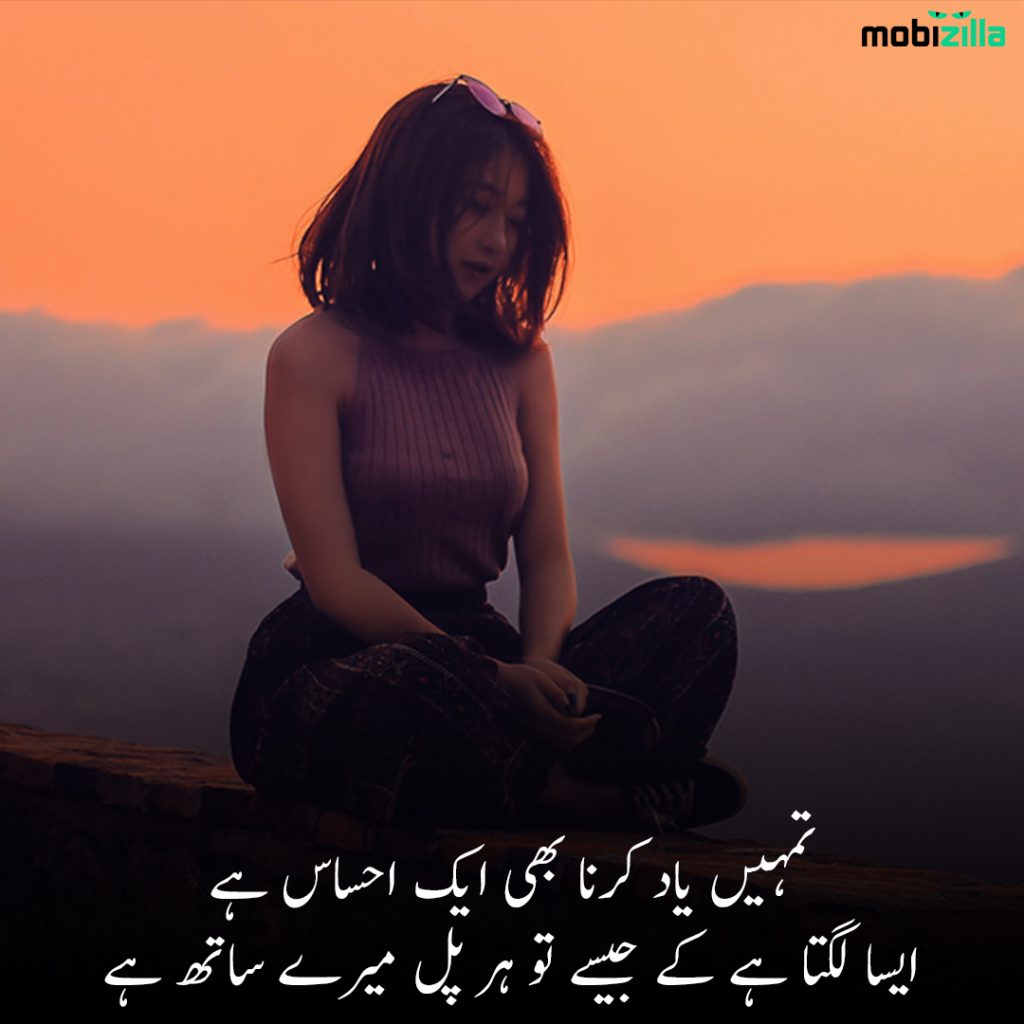 Tumhain yaad karna bhi aik ehsas hai
Aisa lgta hai kay jesay to hr pl meray saat hai
Friendship and poetry in Urdu because both are interlinked.
For example, the friend discussed in friendship poetry Urdu is often the beloved lover who is missing from the scene.
Or deep down you love her but you are being friendzoned. Either way a friend is someone who you can count on and can help you in the times of worry.
Otherwise he isn't your friend, he is just an imposter…
51.
Friendship Poetry Urdu
Khud ko ba wazu kia teray tasawor say bhi pehlay
May nay is darja teray ishq ko pakiza rakha
Friends love poetry in urdu
52.
Meri dosti ki hd is pay khatam hai
Zamin pay rehta hai magar chand jesa hai
میری دوستی کی حد اس پہ ختم ہے
زمیں پہ رہتا ہے مگر چاند جیسا ہے
53.
Yahan qadm qadm pay naye fanqar miltay hn
Magar kismat walon ko sachay yaar miltay hn
54.
May nay sb ko delete kr dia
Mery dost meray bewafa
I have litteraly deleted you from my life. Time to move on…
Friend missing poetry in urdu
55.
Khuda say duaun may tumhay apnay liay maang lun
Mhari ijazat ho to may apnay liay dua maang lun
56.
Tm takaluf ko bhi ikhlas samjthay ho faraz
Dost hota nahi hr haat milanay wala
تم تکلف کو بھی اخلاص سمجھتے ہو فرازؔ
دوست ہوتا نہیں ہر ہاتھ ملانے والا
57.
Pehlay din milay thay anjan thay jo
Aaj aik dosray ki jaan hogai
58.True friend poetry in urdu
Aap ko bhulana hai na saat chos jana hai
Ehad pura karna hai aapka saat nibhana hai
59.
Dost kia khob wafaon ka sila detay hn
Har naye mod pay ik zakham naya daitay hn
60.
Dost bn kr bhi nahi sath nibhanay wala
Wohi andaz hai zalim zamanay wala
61. (Dosti shayari, Dosti poetry)
Teray jesa yaar
Kahan!
Obviously, no one like you mate!
62. 
Kuch is liay bhi rakhay hn raqeebon kay number
Kay apni nasrat par tod paye in ka ghamand
Best friendship poetry in urdu
63.
Ye duryan ro mita dun
May ik pal may magr
64.
friendship poetry urdu
Guzar gaye wo din mujh ko guzaray hoay
Jo thay kal meri simt aaj tumharay hoay
65.
Meri sari doston kay naam
Youm e ilst ki baat hai
66. Friendship poetry in urdu sms
Agia johr ajab ulta jamana kia kahin
Dost wo kartay hn batain jo ado kartay nahi
67. Attitude friendship poetry in urdu
Tm hastya raha karo
Tm muskuratay raha karo
تم ہنستے رہا کرو
تم مسکراتے رہا کرو
68.
Agia johar ajab ulta zamana kia kahian
Dost wo krtay hn batain jo wada kartay nahi
آ گیا جوہرؔ عجب الٹا زمانہ کیا کہیں
دوست وہ کرتے ہیں باتیں جو عدو کرتے نہیں
69. 
Agar kisi ko chaho to es tarah chaho
Wo zinda tou rahe magar sirf tumhare liye
Nonetheless, love someone in way that you hypnotize her. She can't see anything but you. Thus, falling in love with you.
Sad friend poetry in urdu
Friendship quotes in urdu
70. 
Jo meyassar ho teri deed rooz khawabo mai
ba khuda neend ko mai apna sahara kar lo
71. 
Faqat ak ka hone mai husne bandage he ghalib
Jo roz qibla badalte he wo be deen hote he
Hence, proved. Love is just for once not a changing phenomenon.
72. 
Mar kai tou mitti se mitti he mil jana he
Q na hum do mitti ak dosre pe mitt jaye
73. 
En kai dekhne se jo ate he mouh pe ronaq
wo samajte he ke bemar ka hal acha he
Indeed impressive! As soon as I see her, I forget my pain ago. Though, she think that I am fine but it is not true. On the contrary it is her beauty that changes my mood and condition. However…..
74. 
Shayad wo likh he dai muje tere haq mai
tou katib e taqdeer se zara israr tou kar
With special thanks to pixabay.com for magnificent images. 
75. 
Dard ho dil mai tou dawa kegeye
dil he jab dard ho tou kya kegeye
If I am myself the problem then what can you do. Therefore move on…..
 pexels.com for freindship poetry urdu images.
76. 
Be loos wafaye koi hum se sekhe
jise tooth kar chaha ese khabr na te
Friendship poetry in urdu two lines
77.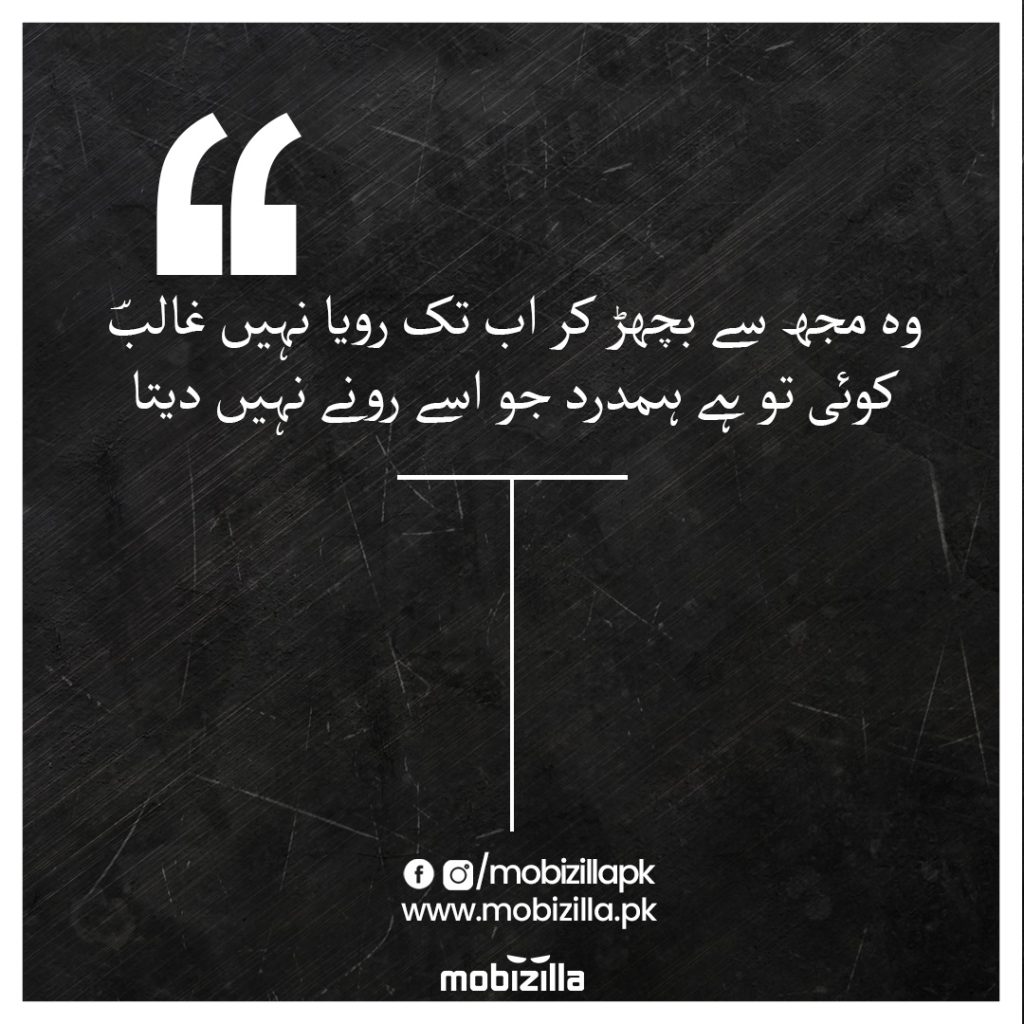 Wo muj se bichar kar ab tak roya nahe ghalib
koi tou he hamdard jo ese rona nahe deta
78. 
Mai es shaks ko kaise manawo ga mohsin
jo muj se rota he meri muhabbat kai sabab
79.
Pir esi bewafa pe marte he
pir wahe zindage hamari he
80. 
Wo jo be panah chahte te
wo ab panah chahte he
81. 
Roone se or ishq mai be baaq ho gaye
dhoo aye hum itne kai pak ho gye
82. friendship poetry in urdu sms
Muhabbat ki dunya mai mehboob jab la hasil ho
insan mar tou jata he magar moat nahe ate
83. 
Be khudi be sabab nahe ghalib
kuch to he jis ki parda dari he
84. 
Dil munafiq ta shabe hijar mai soya kese
or jb tuj se mila tooth kai roya kaise
85.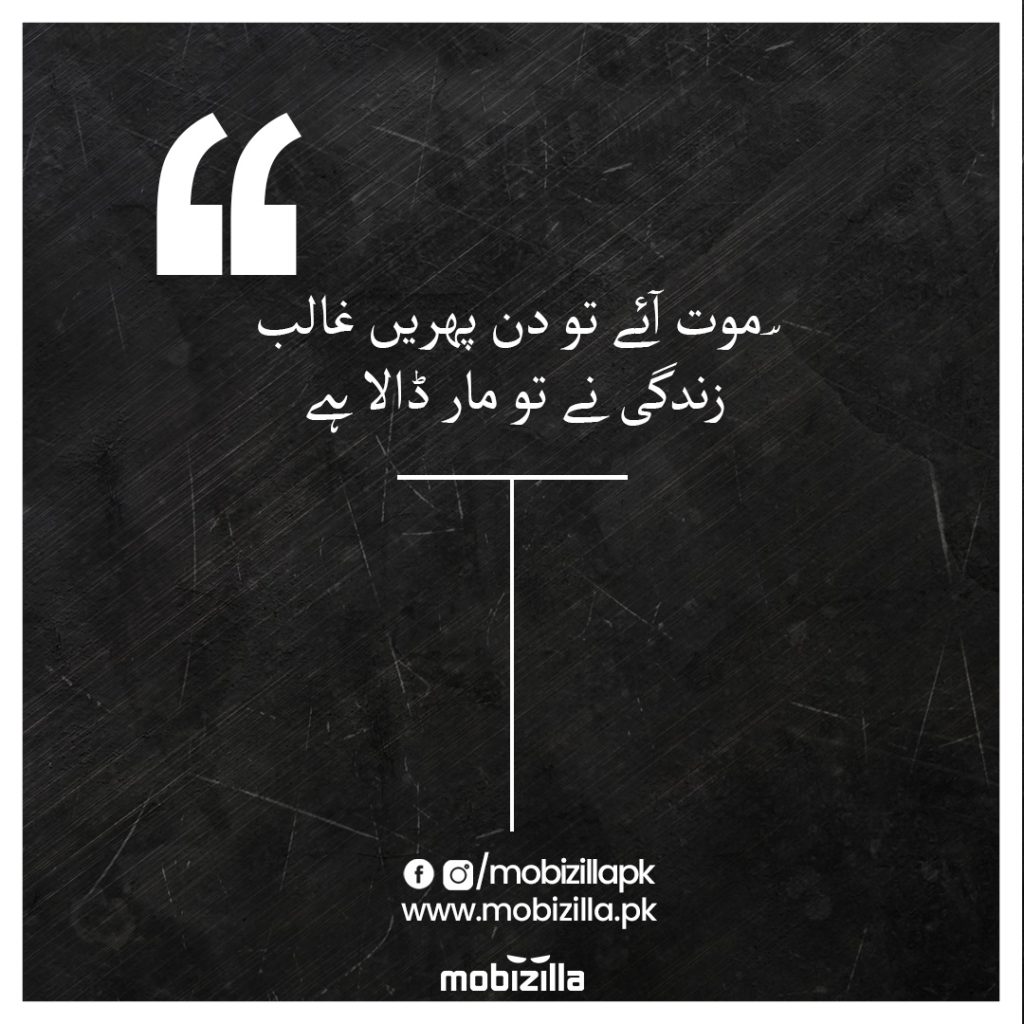 Moat aye to din pehre  ghalib
zindage ne tou mar dala he
86.
Suna he tumhari ak nigah se katal hote he log
ak nazar hum ko be dekh lo kai zindage achi nahe lagte
87.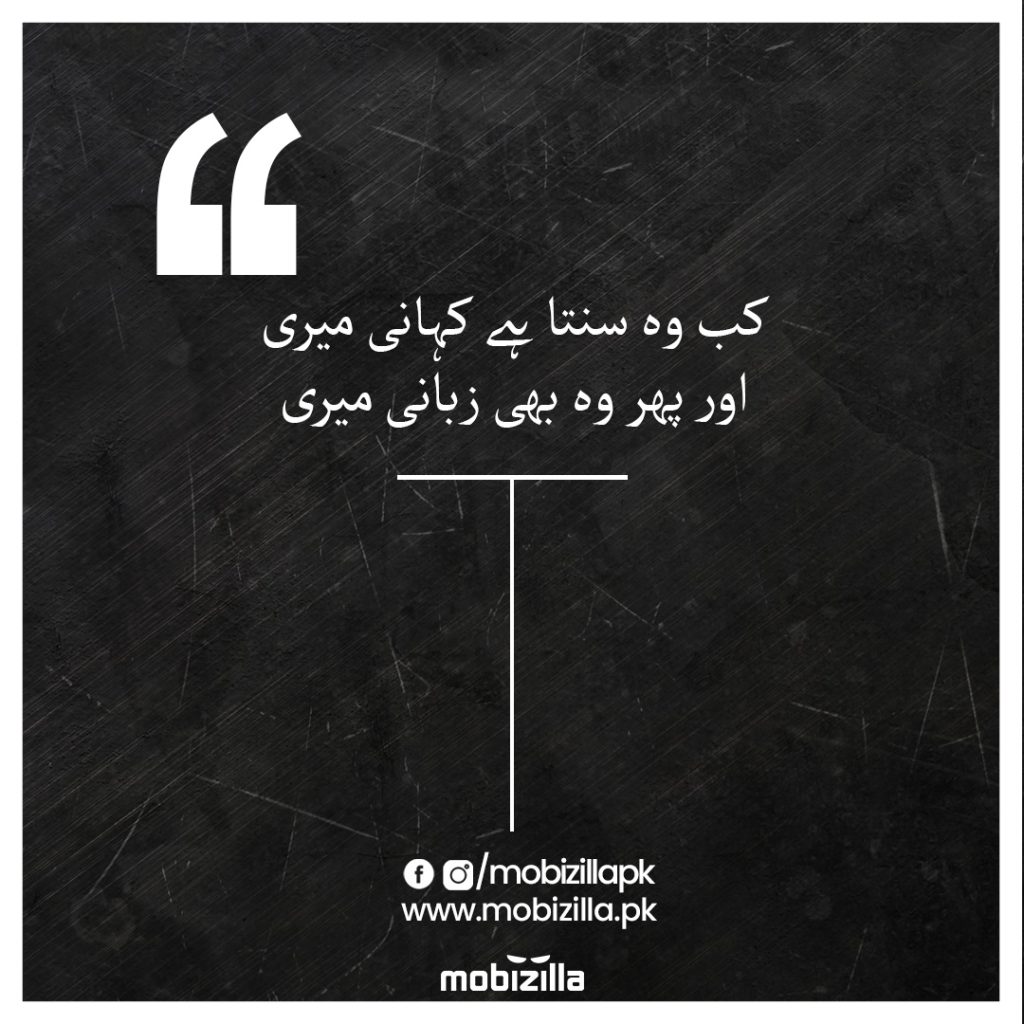 Kab wo sunta he kahani meri
or pir wo be zubani meri
88. 
Kisi bewafa ki khatir youn dil ko na jalawo
jo tumhe bhool chuka he ose tum be bhool jawo
dost poetry
89. 
Sad Friendship Poetry
Sakoon or ishq wo be dono ak sath
rehne do ghalib koi aqal ki baat karo
Indeed, Ghalib was one of those hurt ones. Further, he reiterates that love and misery goes side by side.
Therefore, do not be surprised if you suffer in love.
90. 
Jesay dhaga ho koi tasbeh may
Aisay sanson kay darmian ho tm
Friendship poetry in urdu sms
91.
Koi kisi ka muntazr nahi hota
Hm khud ko bewako banatay hn bs
92.
Khud pay beti ho to rotay ho saktay ho
Wo jo hm nay kia tha wo ishq nahi tha
93.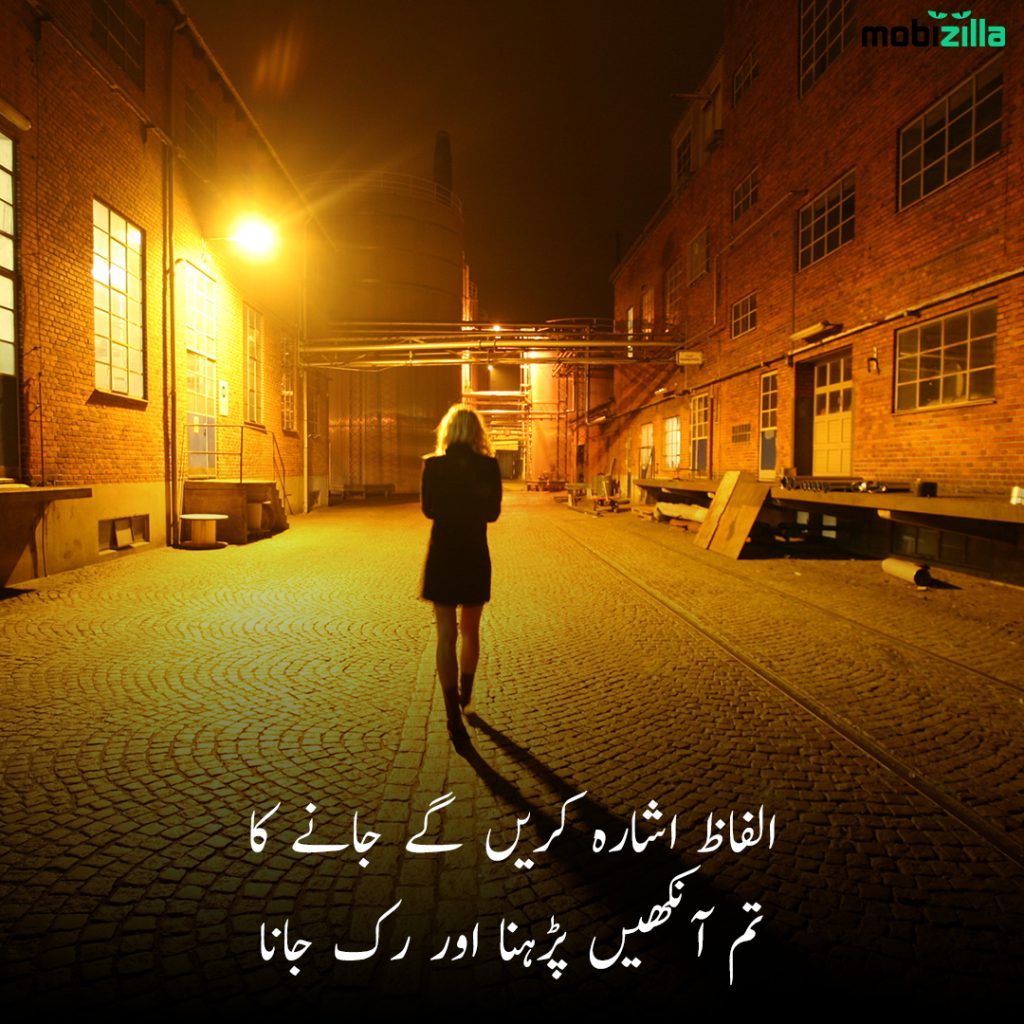 Alfaz ishara karain gay janay ka
Tm ankain padna aur ruk jana
Sad Friendship Poetry
94.
Us nay rakhi hi nahi mujh say bana kr
Warna us say wo ishq karta zamana yaad rakhta
Fault was not on my part, rather it was her who was not interested. Had it been the other way around, i'd have loved her till date. Certainly, no one believes me. Therefore, leave it…
95.
Dostron kay andar say keray nikalnay walon ko
Khud kay andr saanp kyun nahi nazar atay
دوسروں کے اندر سے کیڑے نکالنے والوں کو
خود کے اندر سانپ کیوں نہیں نظر آتے
96.
Rang ghusay ka alag aur alag pyar ka rang
Koi daikhay to sahi aakay meray yaar ka rang
However, so friendship poetry in urdu two lines
97.
Kabhi jb may nahi hun ga
Tumhay wo sb yaad ayega
کبھی جب میں نهیں هوں گا
تمهیں وه سب یاد آۓ گا
98.
Meri awaz ko tarsay gi sammat teri
Umar bhar tujh ko meri call kahi ayegi
Indeed, when am gone then you will realize my absence. Surely I won't recieve your call again,
99.
Marta nahi hai koi kisi kay bagair ye haqiqat hai zindagi ki
Lekin sirf sans lenay ko hi to jena nahi kehtay
100.
Mayous hogia dil is zindagi kay safar say
Maqsad ki muhabatain hn aur matlb ki yarain
101.
Ab faqat daikhtay hi rehtay hn
Warna hm bhi to boltay thay kbhi
اب فقط دیکھتے ہی رہتے ہیں
ورنہ ہم بھی تو بولتے تھے کبھی
In sum, friendship is something that is sacred.
Besides, do not sell yourself short when it comes to friendship. Perhaps, you will not find a sincere friend again if you betray him for something material item.