Poetry on beauty in Urdu
Poetry on beauty in Urdu holds a central position in Urdu poetry.
In fact, beauty is what shayari emanates from largely.
For example, her eyes.
Your eyes are so deep like a ocean that i want to drown in them. Moreover, your eyes are so dark reminds me of dark night when it spreads.
Sometimes blue and green eyes are referred to as cunning person's in Urdu poetry.
Similarly, her long dark hair when they are down looks fascinating. Red lips like rose petal or her fawn like thin neck.
All these attributes make her personality. Ironically, beauty is mostly associated with women as compared to men in poetry on beauty in Urdu. Mobizilla.pk gives you an account of wonderful poetry on beauty in Urdu below:
So, let's enjoy…..
1.
Meri mason muhabbat ki gawahi mat mang
Meri palkon pay sitaron nay ibadat ki hai
میری معصوم محبت کی گواہی مت مانگ
میری پلکوں پے ستاروں نے عبادت کی ہے
2.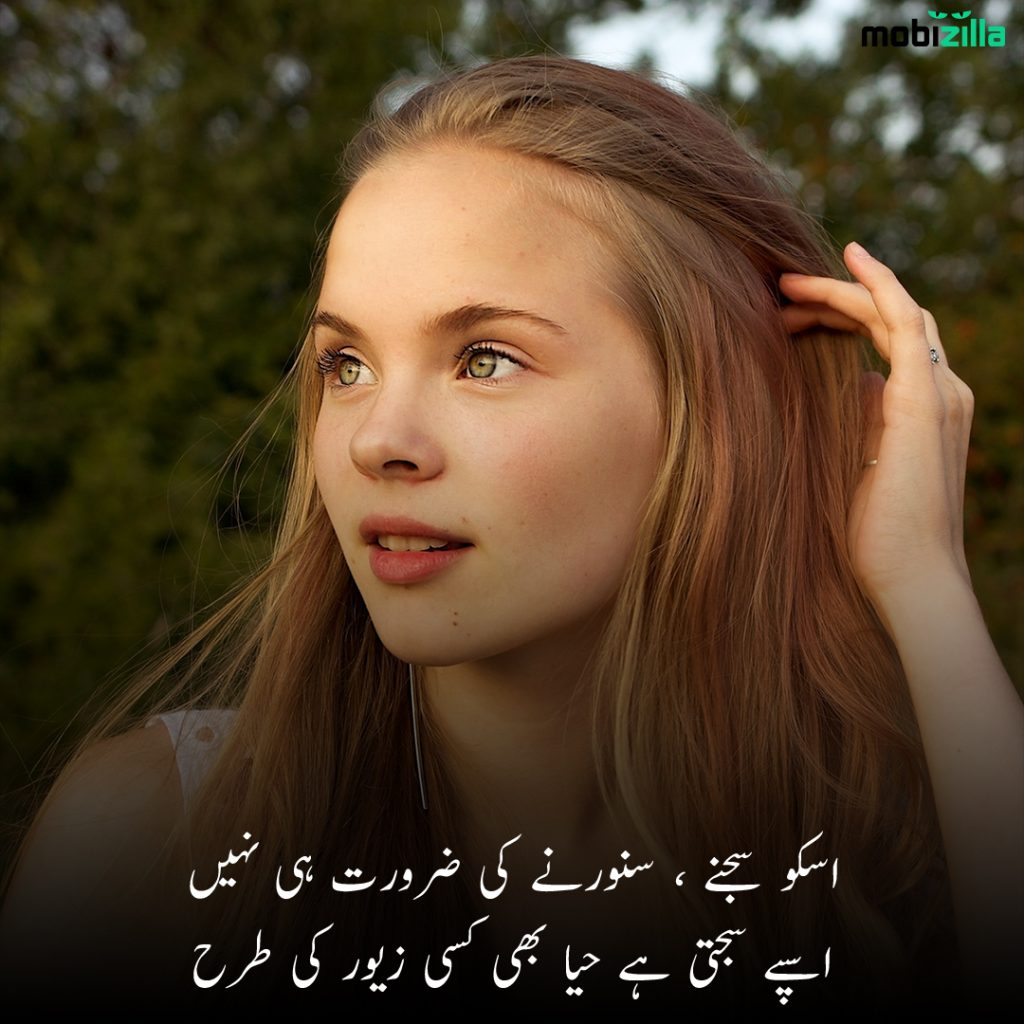 Isko sajnay sanwarnay ki zarorat hi nahi
Ispay sajti hai haya bhi kisi zewar ki taran
Obviously, she doesn't need any sort of make up whatsoever.
On the contrary, she looks pretty just the way she is. This is natural beauty.
3.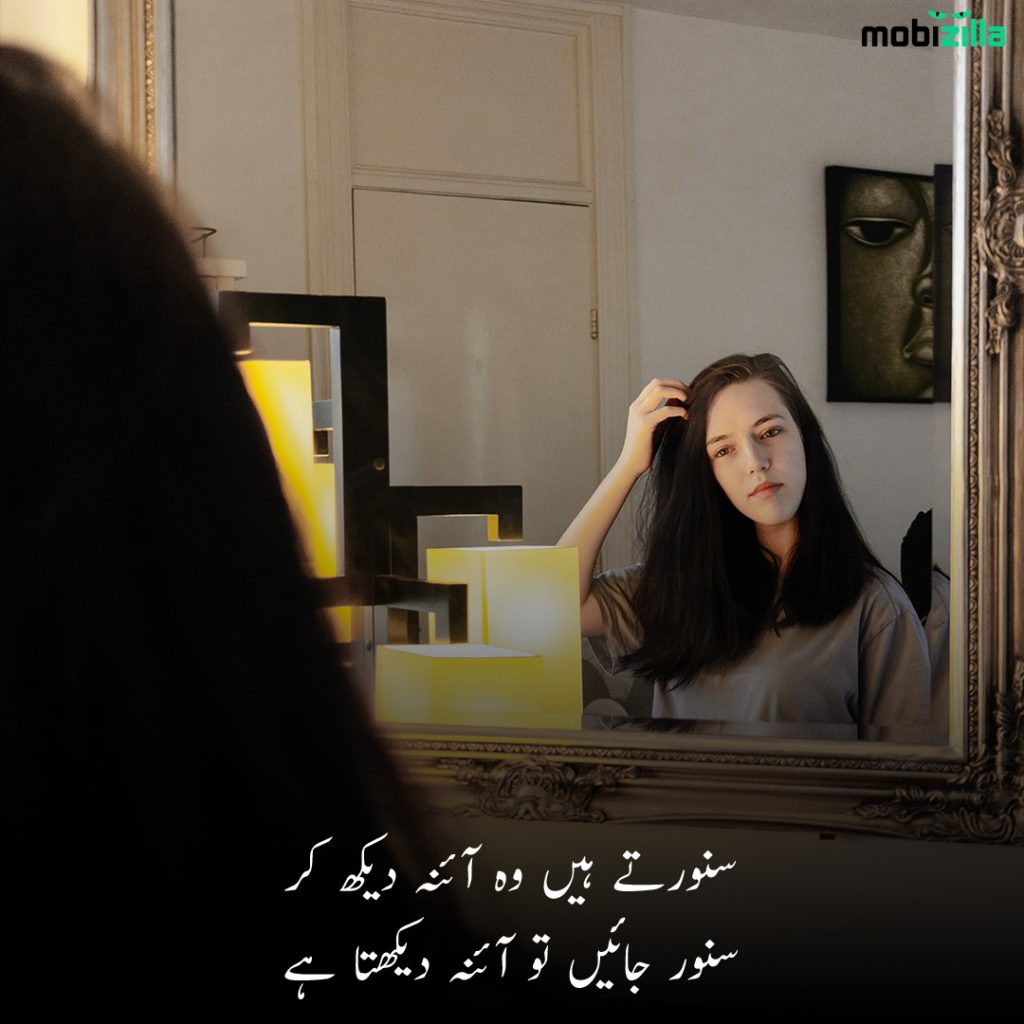 Sanwartay hn wo aaiyna daikh kar
Sanwar jaain to aaiyna daikhta hai
سنورتے ہیں وہ آئنہ دیکھ کر
سنور جائیں تو آئنہ دیکھتا ہے
4.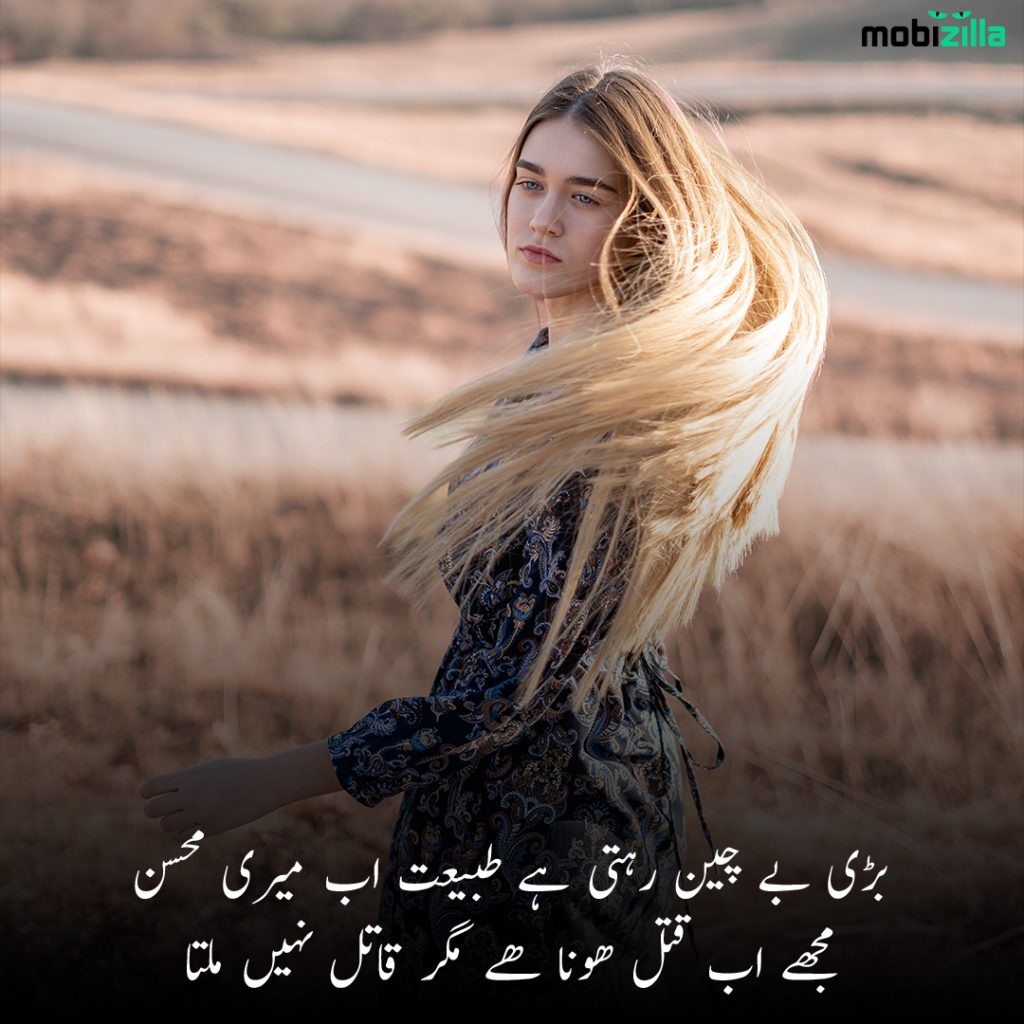 Badi be chain rehti hai tabiat ab meri Mohsin
Mujhay ab qatal hona hai magar qatil naho mila
Urdu poetry on beauty
5.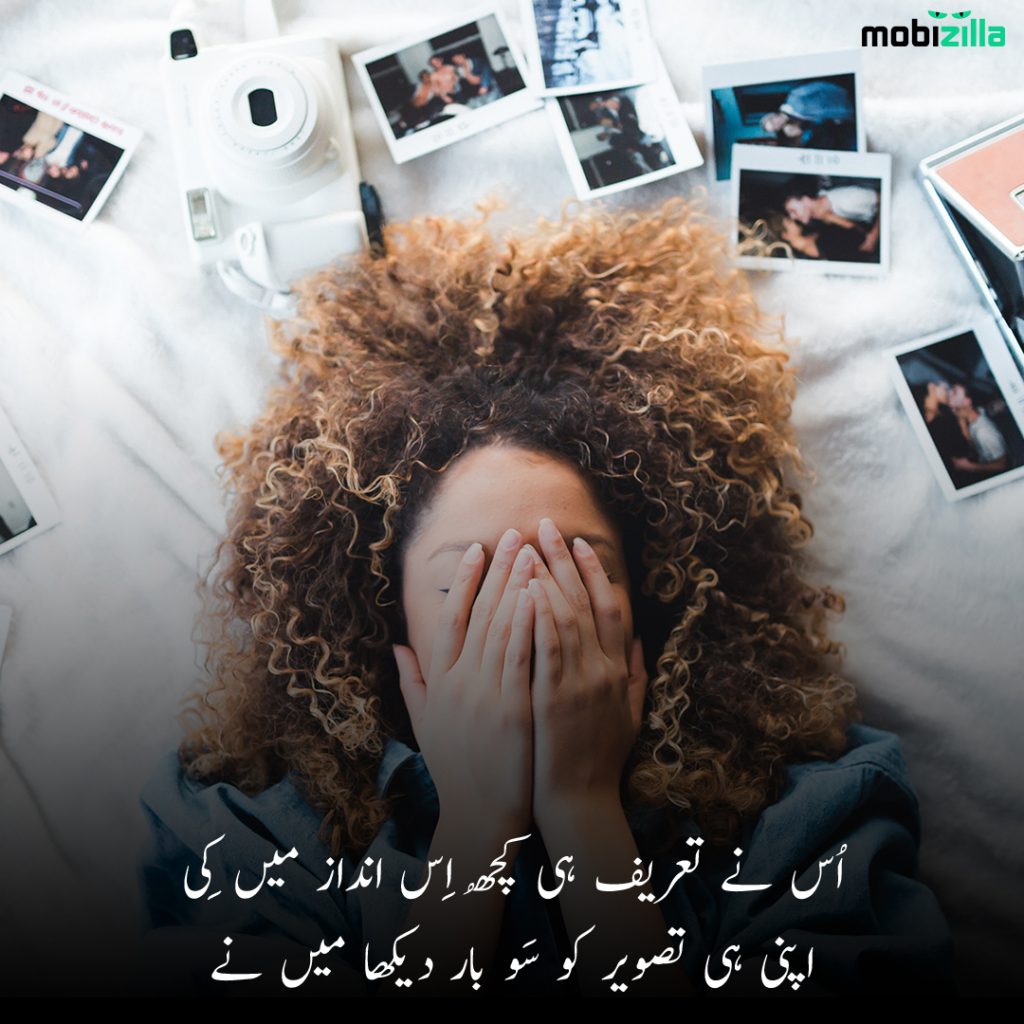 Us nay tareef hi kuch is andaz may ki
Apni hi tasveer ko so bar daikha may nay
اُس نے تعریف ہی کُچھ اِس انداز میں کِی
اپنی ہی تصویر کو سَو بار دیکھا میں نے
6.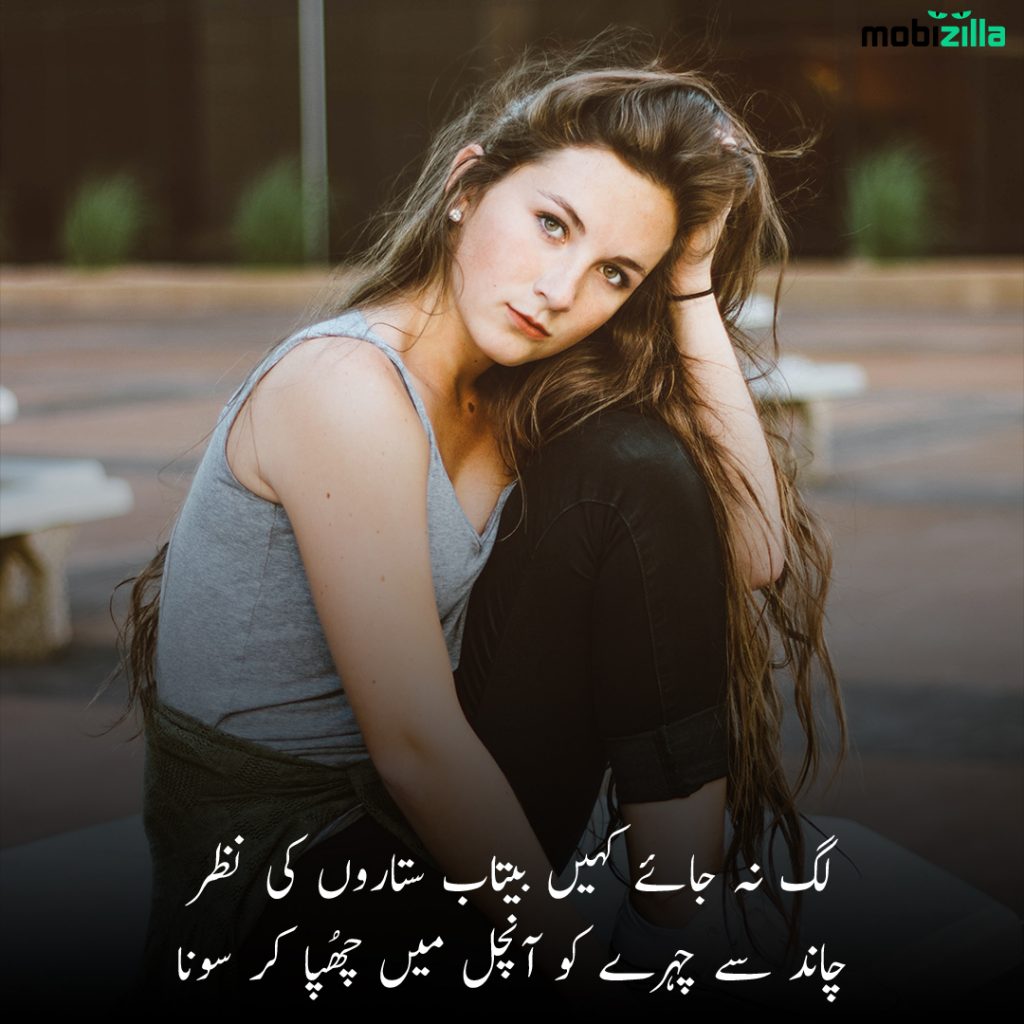 Lg na jaye kahi be taab sitaron ki nazar
Chand say cehray ko aanchal may chupa kr sona
7.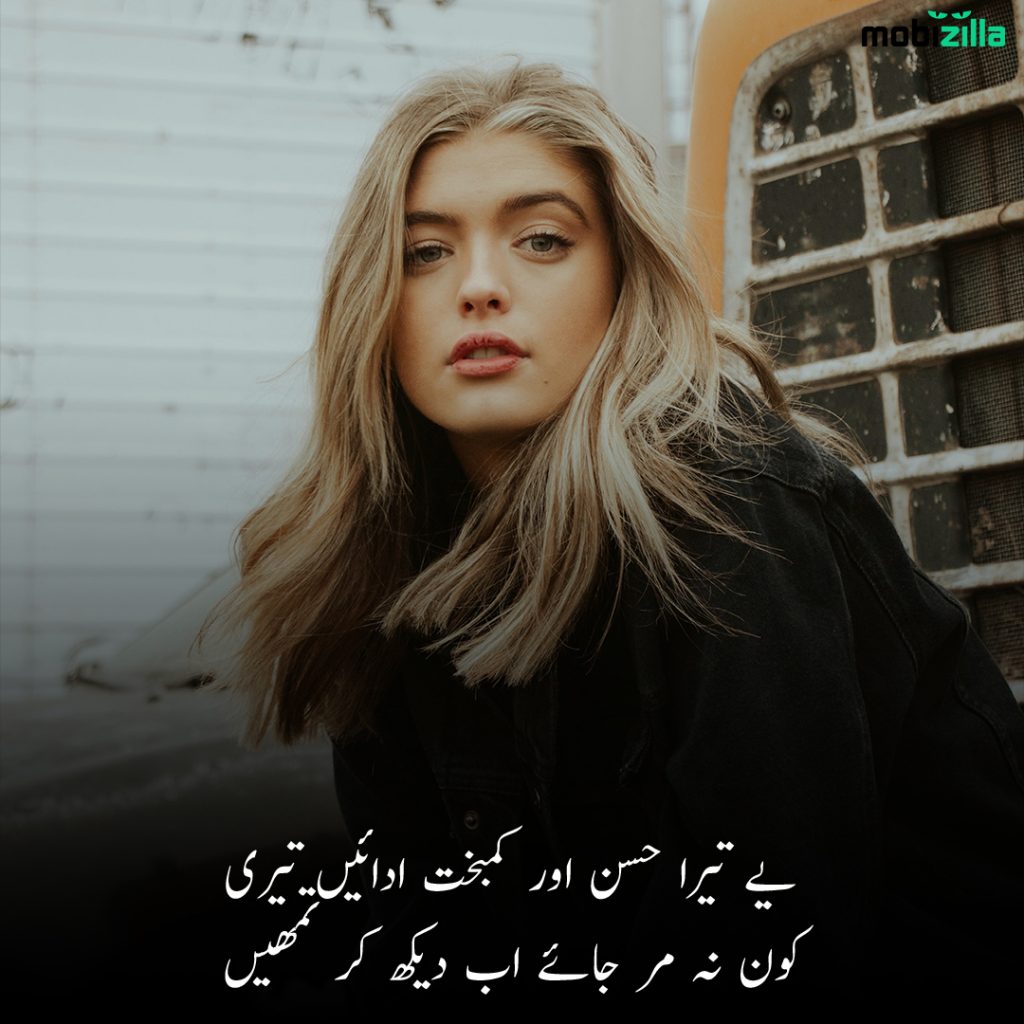 Ye tera hussan aur kambakht adain teri
Kon na mar jaye ab daikh kr tumhay
Clearly, your beauty is irresistible.
As a matter of fact anyone who sees you will instantly fall in love with you. I know this for a fact because one does have many options when it comes to you.
یے تیرا حسن اور کمبخت ادائیں تیری
کون نہ مر جائے اب دیکھ کر تمھیں
8. Poetry on beauty in Urdu //// Urdu poetry love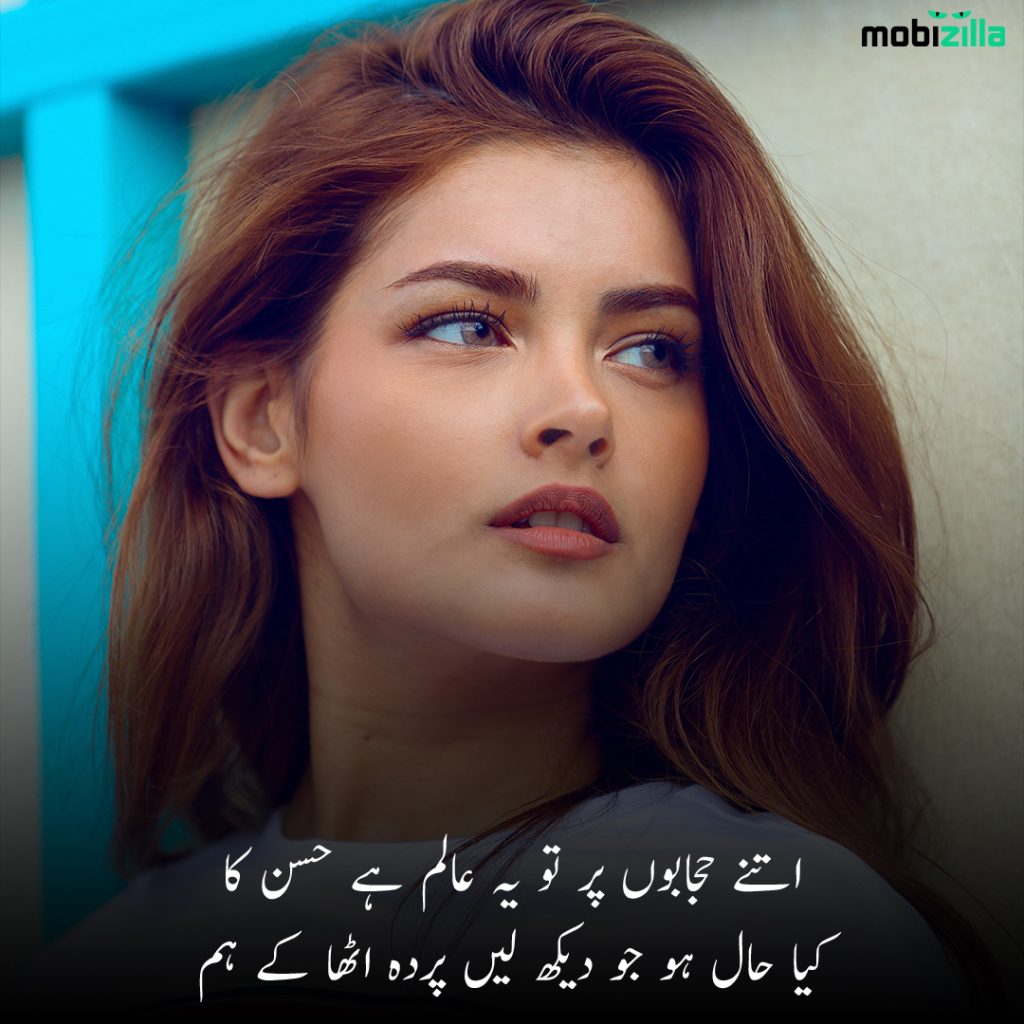 9.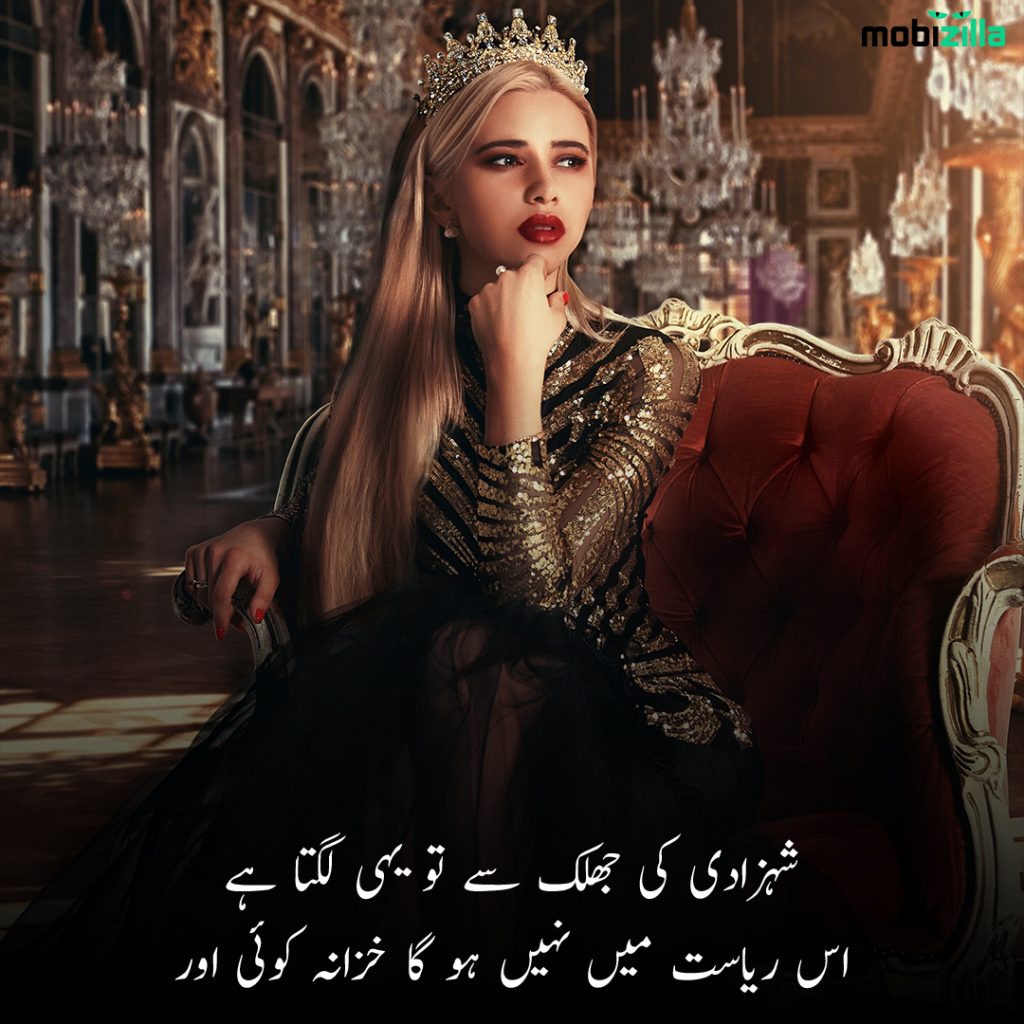 Sehzadi ki jhalak say to yehi lgta hai
Is riyasat may naho hoga khazana koi aur
Despite many good looking people in the town, She is no match. As they say she's the "one and only".
(Poetry on beauty in Urdu)
10.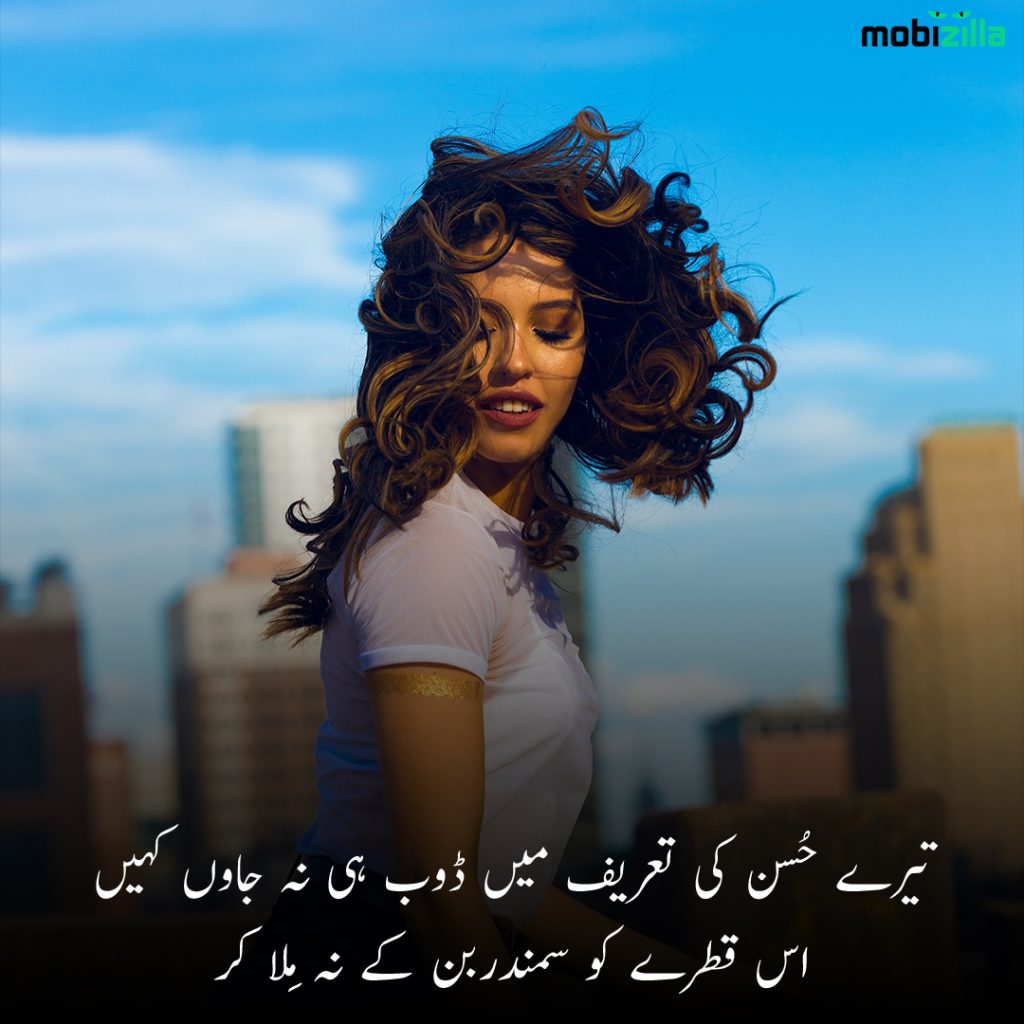 تیرے حُسن کی تعریف میں ڈوب ہی نہ جاوں کہیں
اس قطرے کو سمندربن کے نہ مِلا کر
Teray hussan ki tari may dob hi na jaaun kahin
Is qatray ko samndar ban kay na mila kr
11.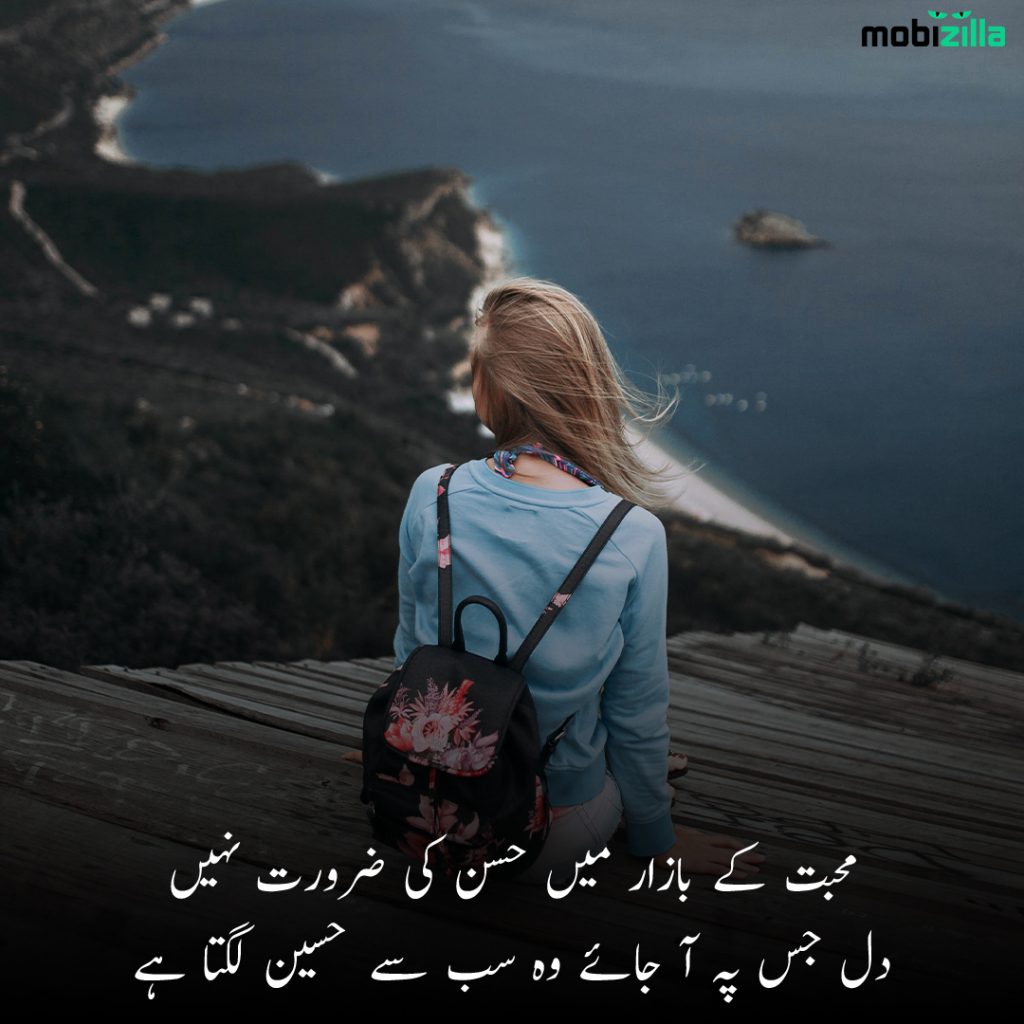 Muhabbat kay baazar may hussan ki zarorat nahi
Dil jis pay aajaye wo sb sat haseen lgta hai
Whereas, I often hear about multifarious definition of beauty form people.
For instance, some would say she's tall, others would say she has attractive eyes and what not.
On the contrary, I have a different theory in this regard. I personally do not go for physical features but character and affection.
(poetry on beauty in urdu, beautiful Husn Shayri, beautiful poetry, husn shayari)
12.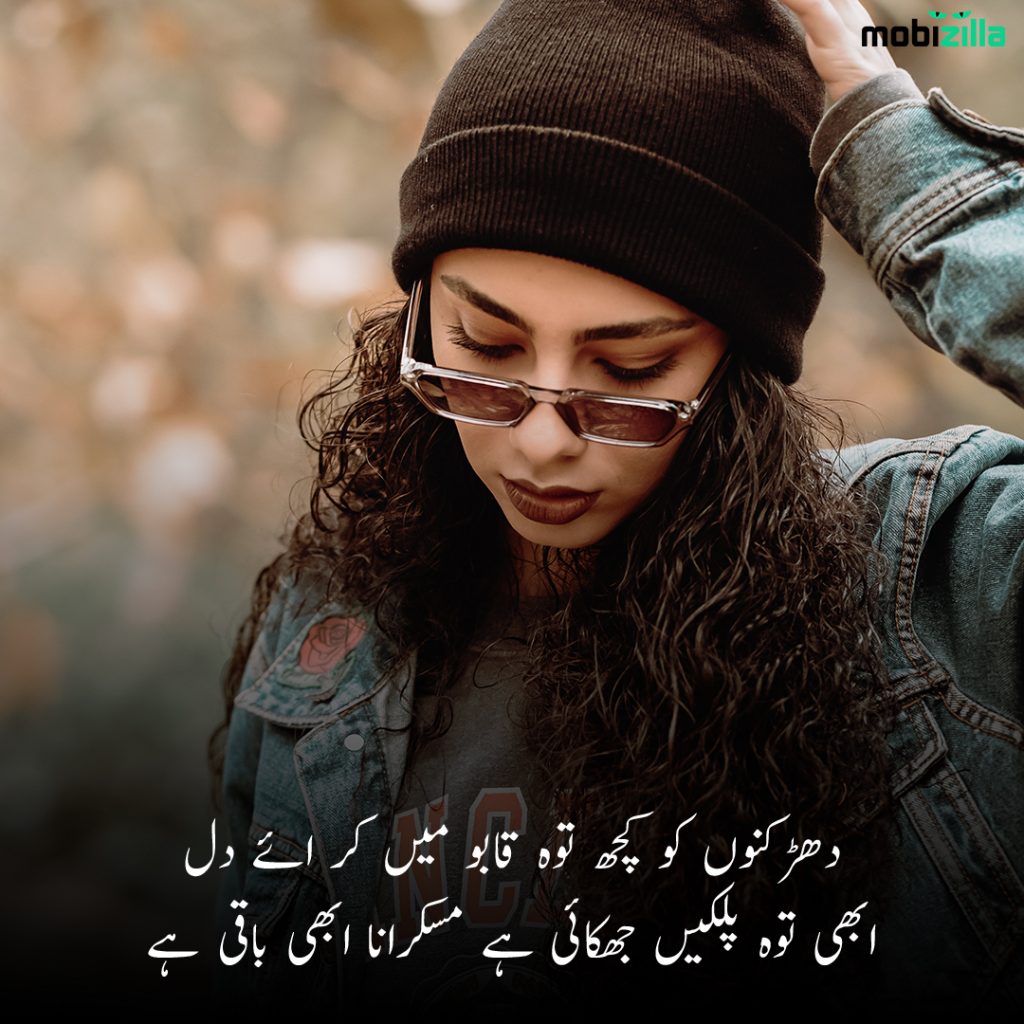 Dhadkano ko kuch to qabo may karay dil
Abhi to palkain jhukai hn muskurana abhi baqi hai
دھڑکنوں کو کچھ توہ قابو میں کر ائے دل
ابھی توہ پلکیں جھکائی ہے مسکرانا ابھی باقی ہے
Urdu poetry on beauty
13.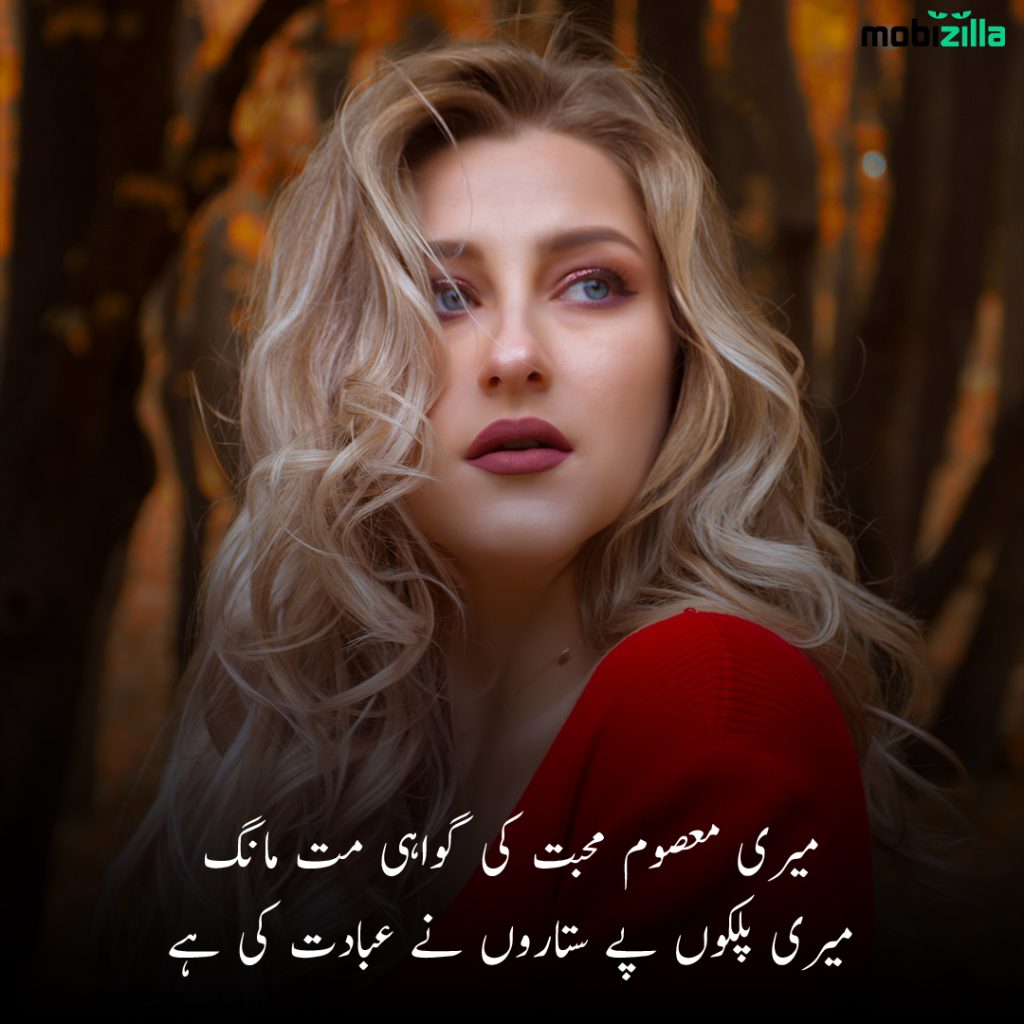 Meri maasom muhabat ki gawahi mat maang
Meri palkon may sitaron nay ibadat ki hai
14. Beautiful urdu poetry sms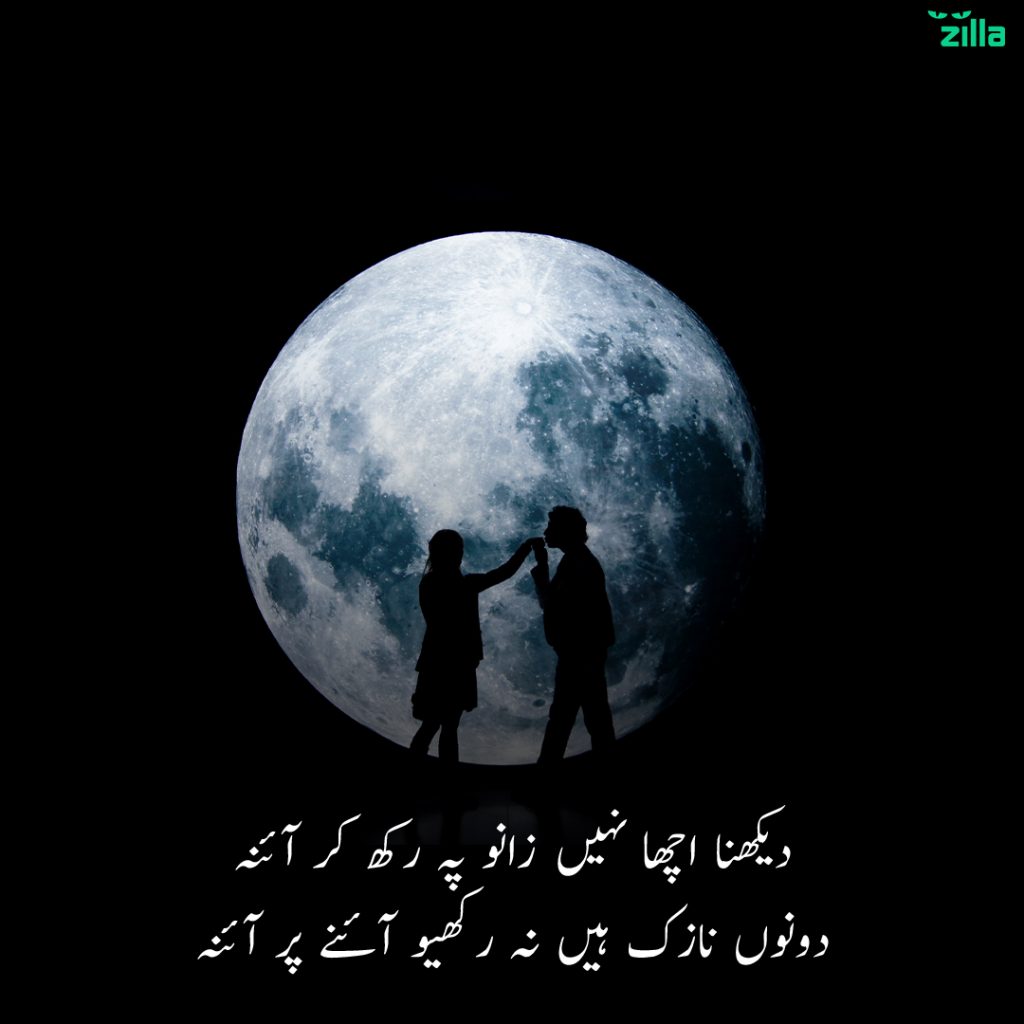 Daikhna acha nahi zano pay rakh kr ayena
Dono nazuk hn rakhyo aynay par ayna
دیکھنا اچھا نہیں زانو پہ رکھ کر آئنہ
دونوں نازک ہیں نہ رکھیو آئنے پر آئنہ
15.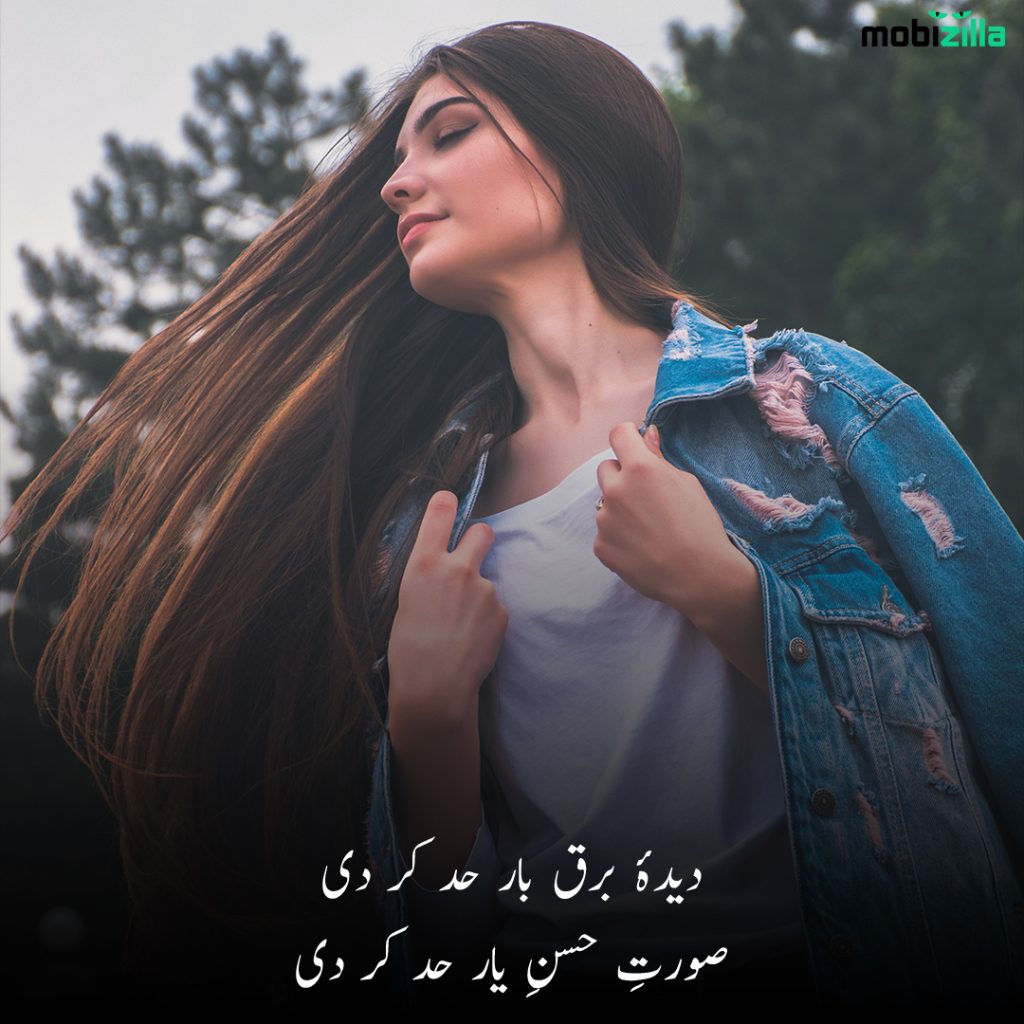 Dedaye barq bar hd kr di
Surat-e-husan yar hd kr di
16. Husn shayari
However so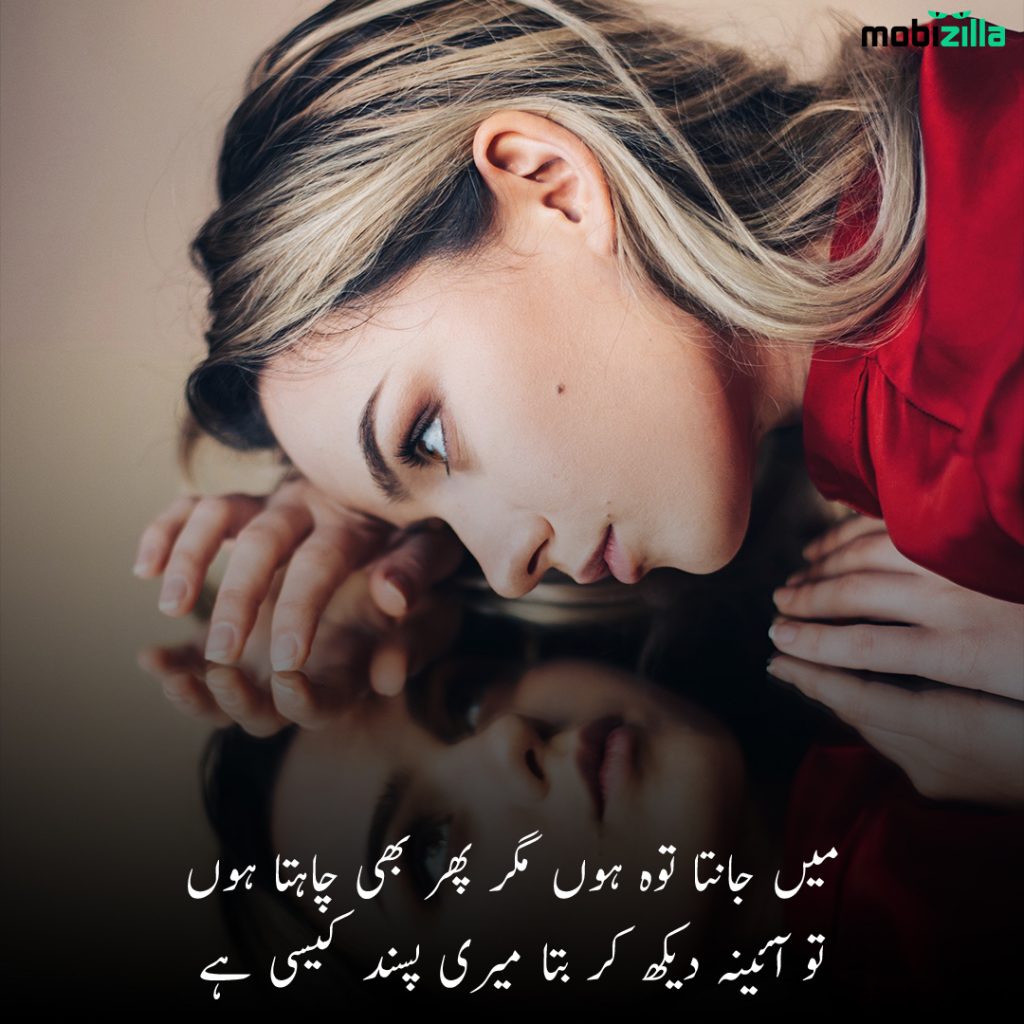 May janta to hun magar phir bhi cahta hun
To aayina daikh kr bata meri pasand kesi hai
(For images www.freepik.com)
Beautiful urdu poetry sms
17.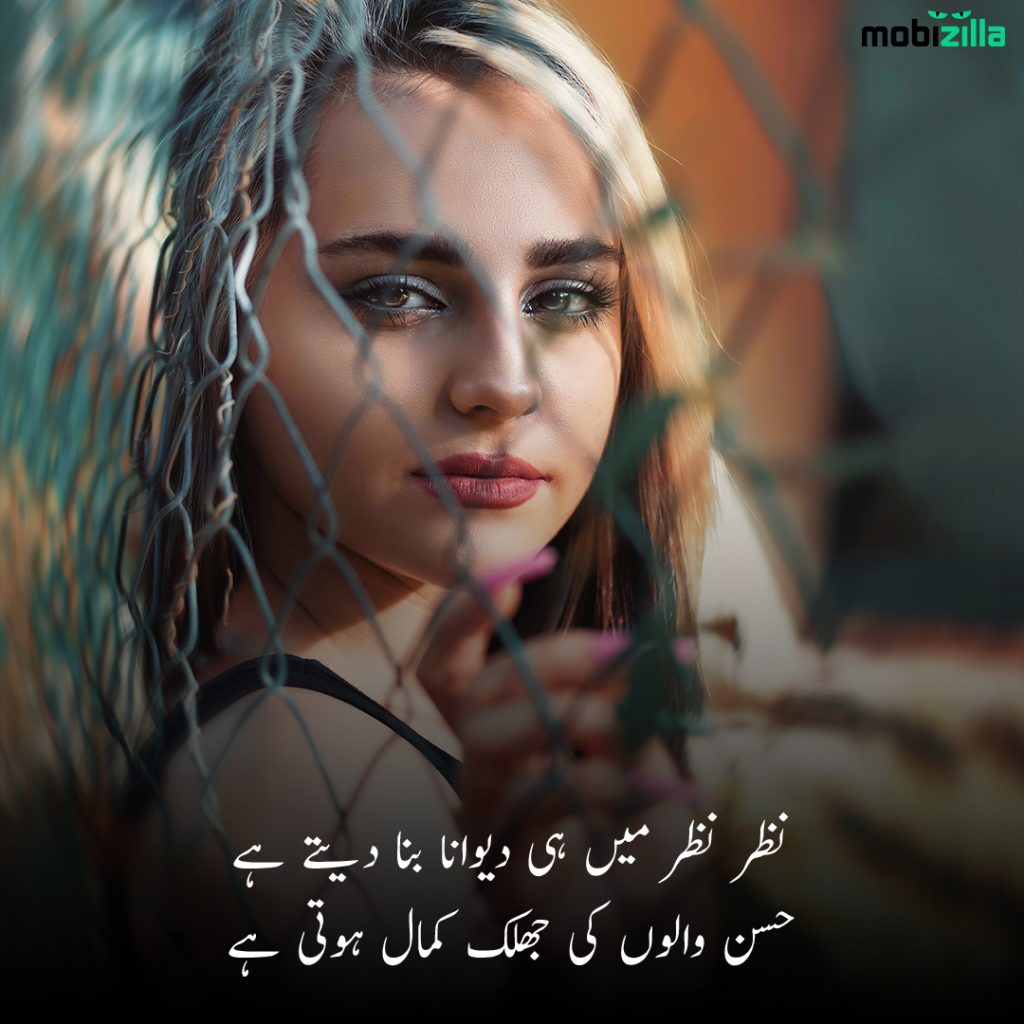 The very gaze of you make me crazy.
Indeed, one look and those with great patience would fall for it.
Poetry on beauty in Urdu
If you do not trust me you'd have to check it for yourself. Especially, when she is leaving for work this morning and dressed up pretty, go and have a look.
نظر نظر میں ہی دیوانا بنا دیتے ہے
حسن والوں کی جھلک کمال ہوتی ہے
18.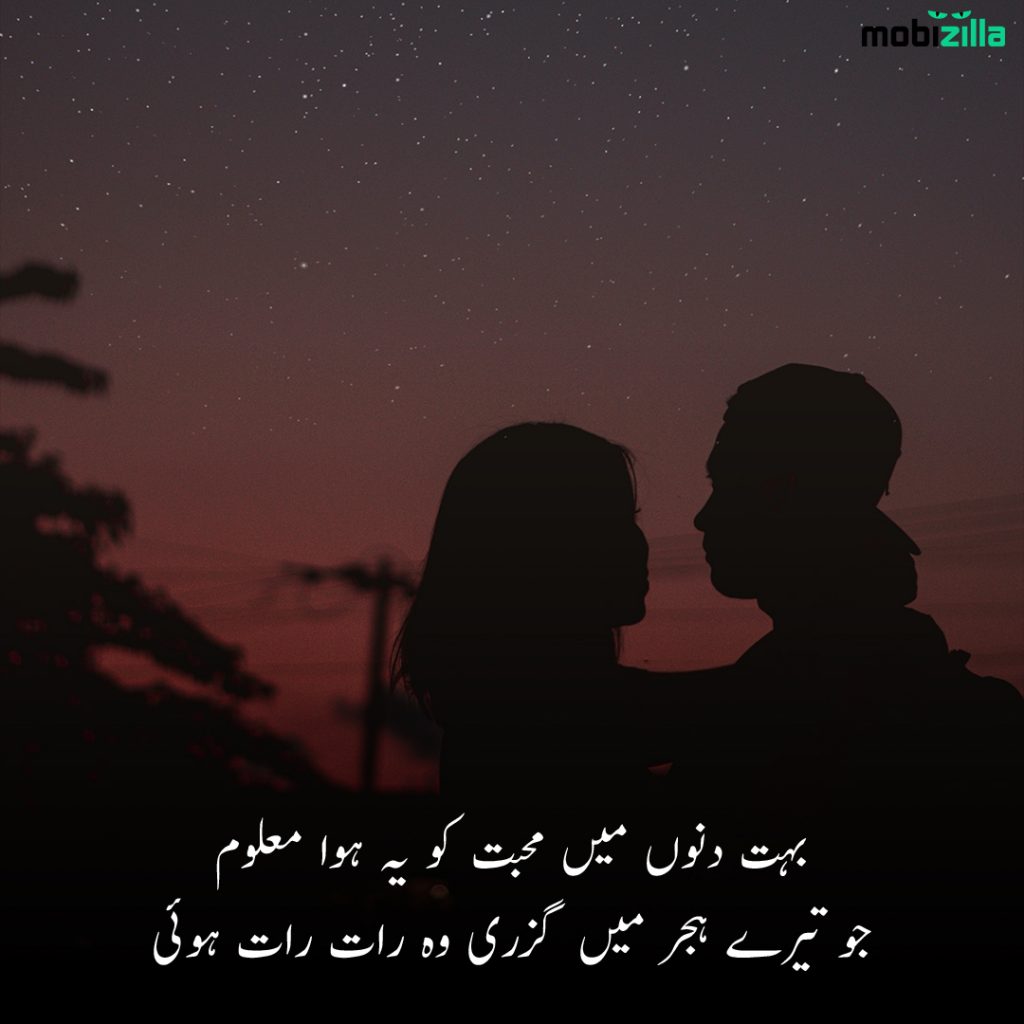 Bht dino may muhabat ko ye hoa maalom
Jo teray hijar may guzri wo raat raat hoi
Beautiful urdu poetry sms
Unquestionably, my love, the moment I spend in your waiting are not wasted.
In fact, they are the most productive moments of my day.
Crazy people think I am wasting my time for you but in reality it is not a waste. You will come to me one day, sooner or later. However…..
19. 
Tm par utri hi nahi hijar ki andhi raatain
Tm nay daikha hi nahi chaand ka kala hun
تم پر اتری ہی نہیں ہجر کی اندھی راتیں
تم نے دیکھا ہی نہیں چاند کا کالا ہون
What do you know about separation?
As a matter you have never experienced love in your entire life. So, you are in no position to judge me. Keep your opinion to yourself. (Husn shayari, beautiful Husn Shayri beautifu shayari in urdu)
20.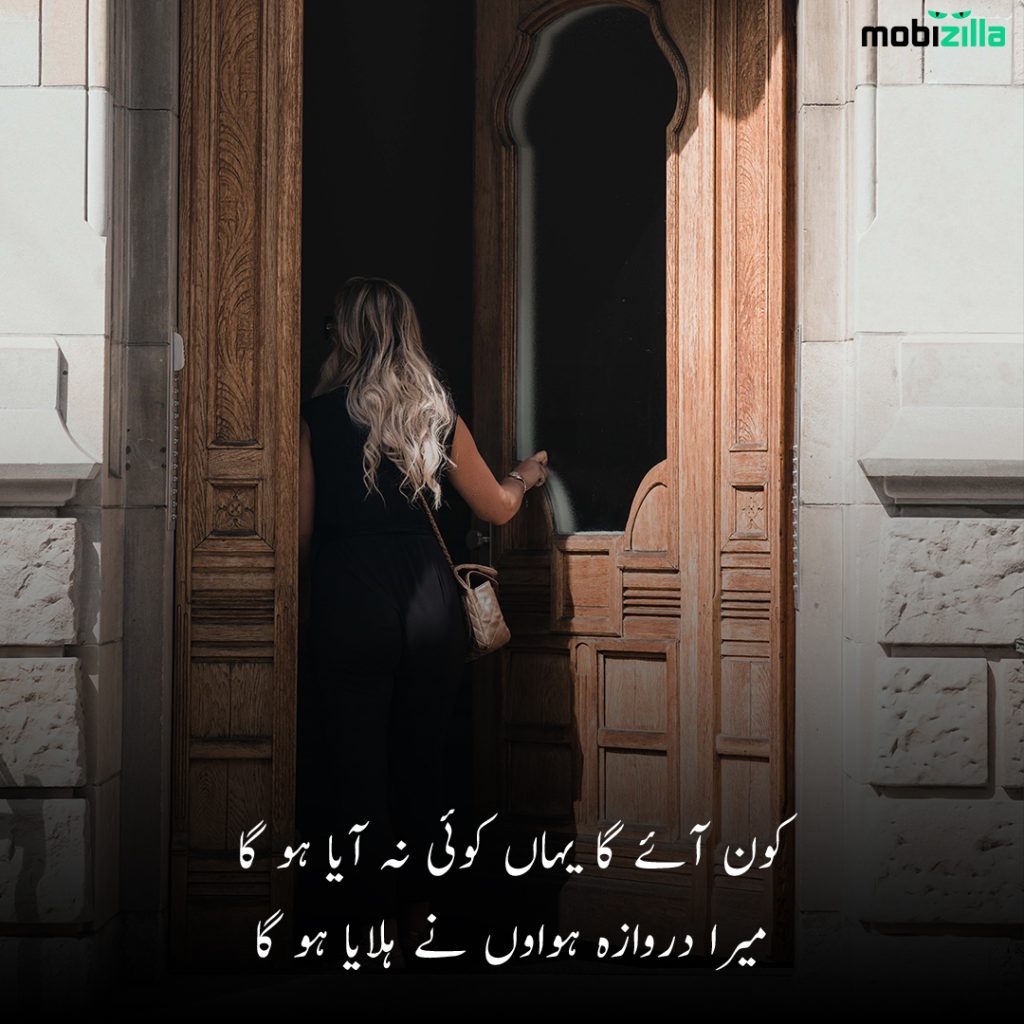 Kon ayega yahan koi na aya hoga
Mera darwaza hawaun nay hilaya hoa
Clearly, someone came and visited me because the door was open.
Or it was the wind?
Or wait, was it a ghost or your ghost?
21. Poetry on beauty in Urdu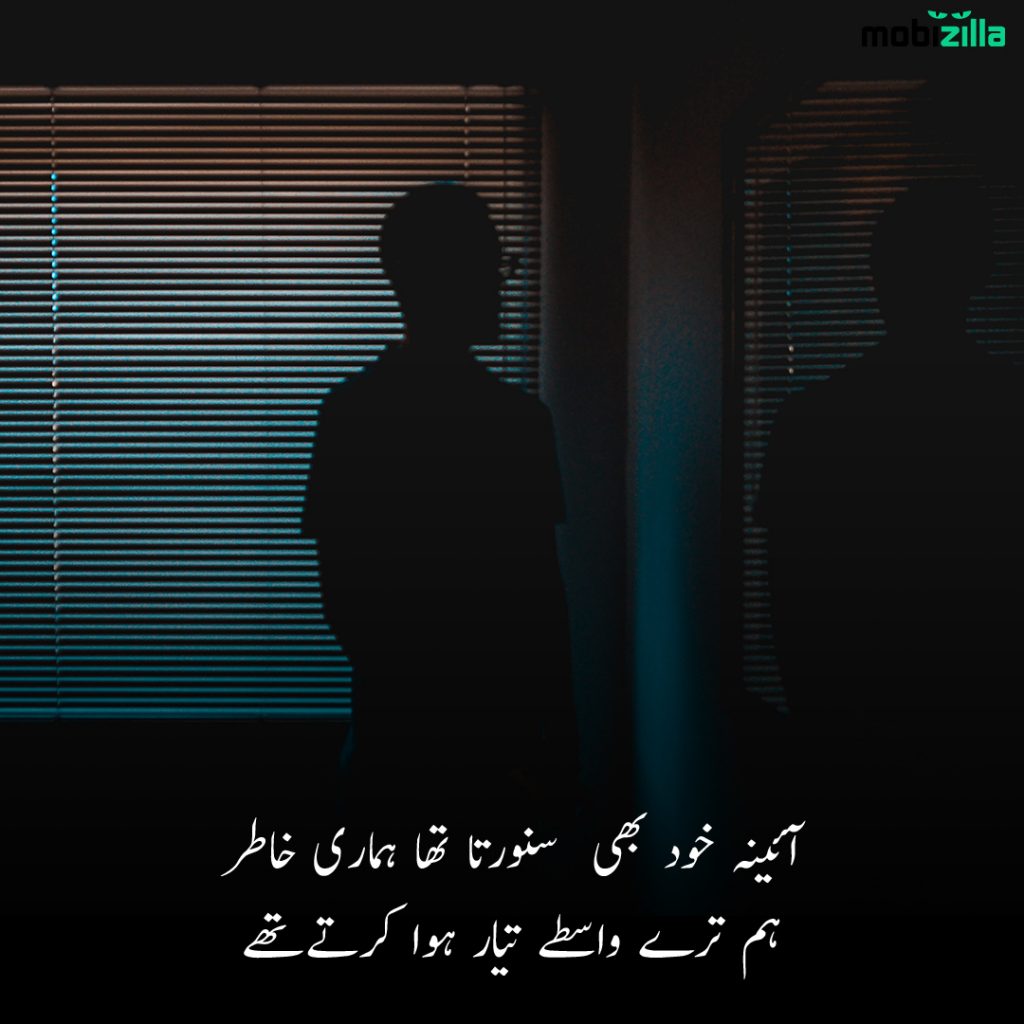 Ayina khud bhi sanwarta tha hamari khatir
Ham teray wastay tayar hoa kartay thay
Beautiful lines in urdu
22.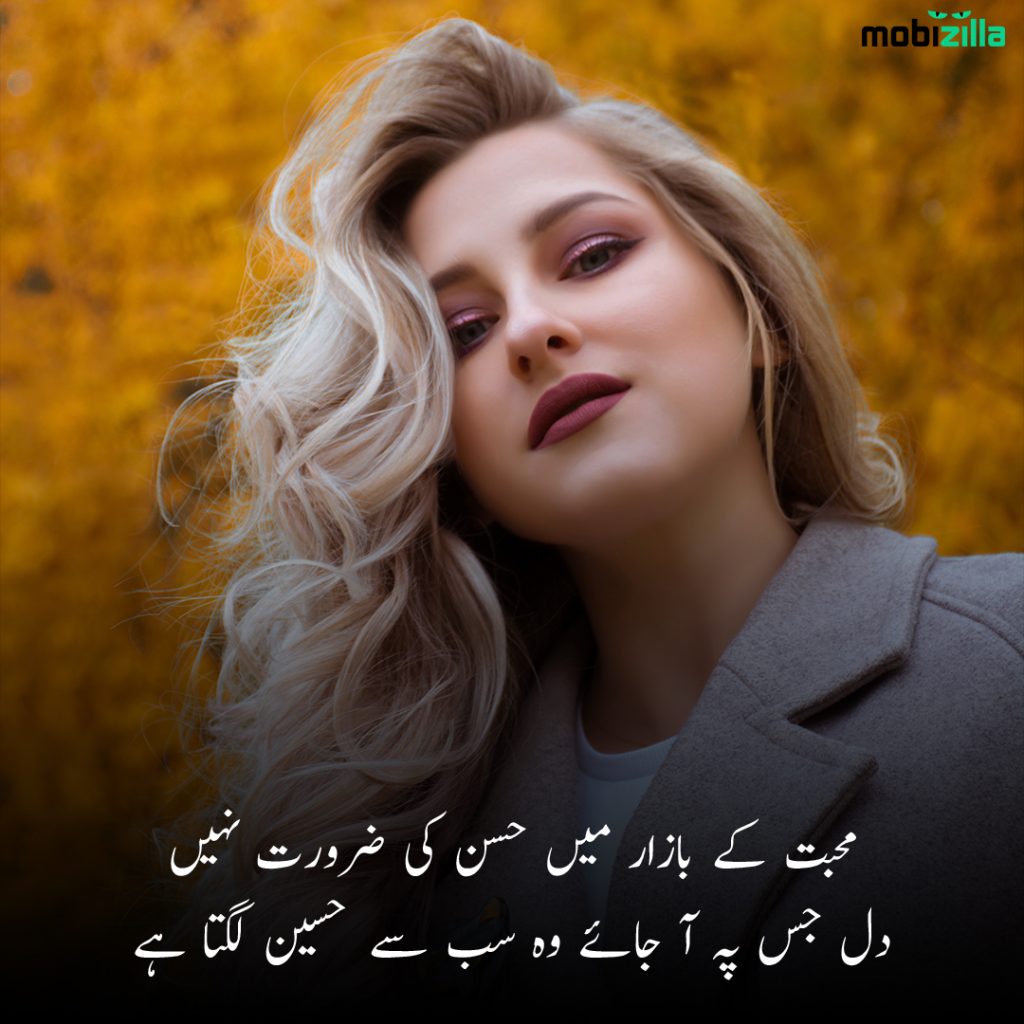 Muhabbat kay bazar may husan ki zarorat nahi
Dil jis may ajaye wo sb say haseen lgta hau
23.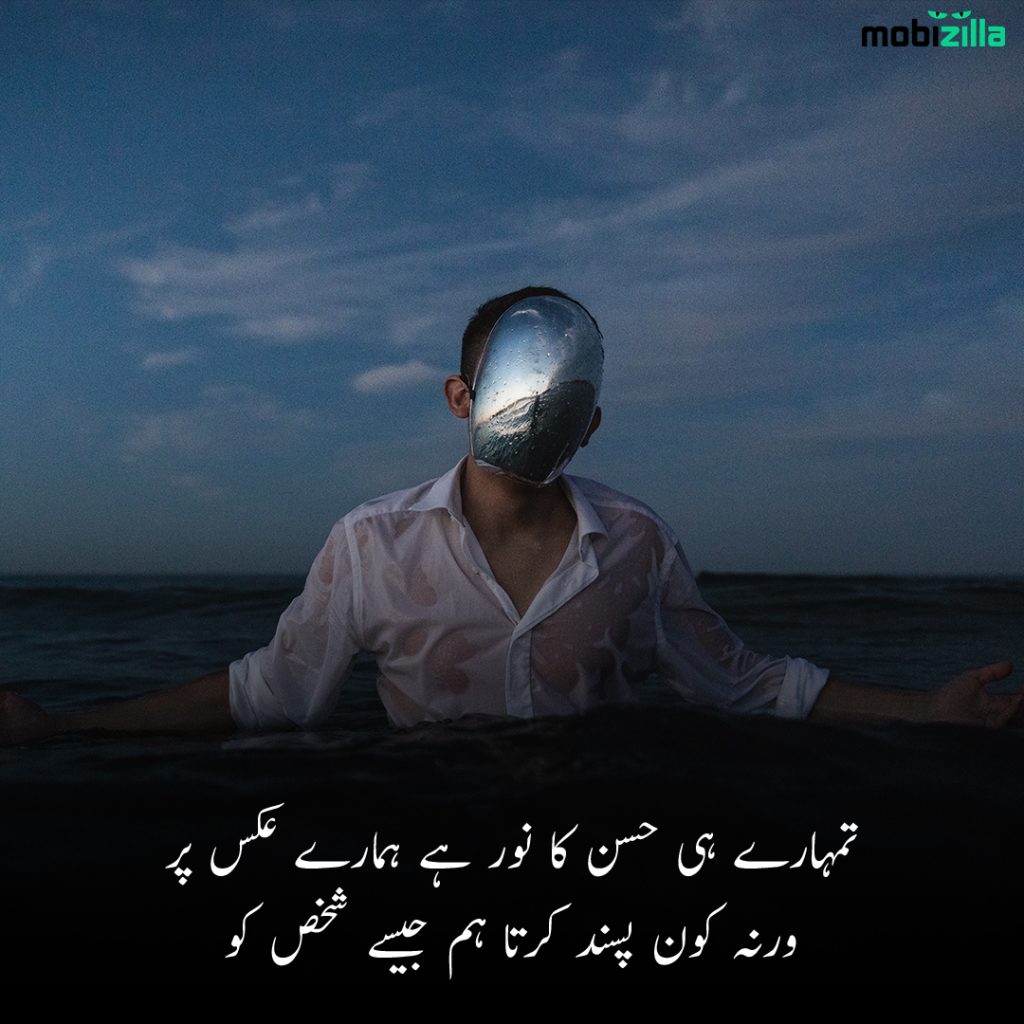 Tumhara hi hussan ka noor hau hamaray aks par
Warna kon pasand karta hm jesay sakhs ko
24.
Poetry on beauty in Urdu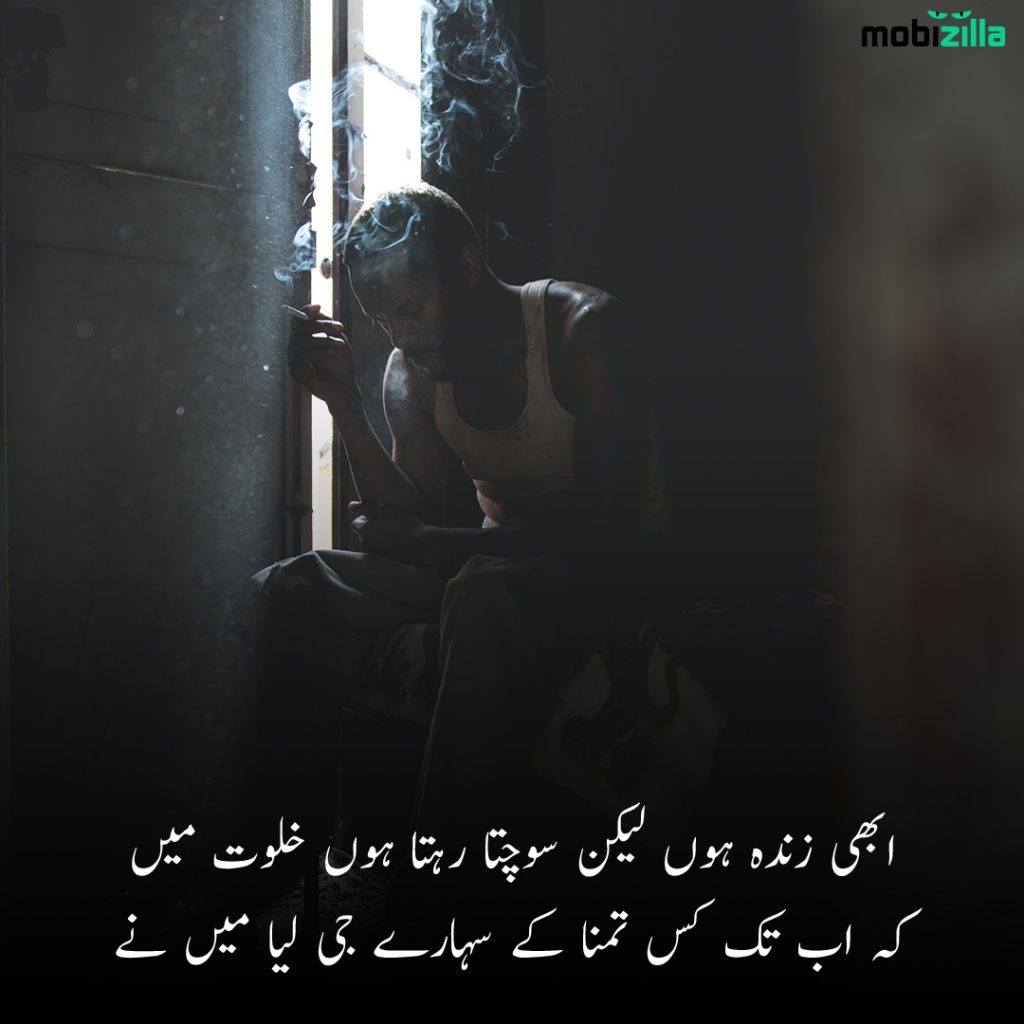 Poetry on beauty in UrduAbhi zinda hun lekin souchta rehta hun khalwat may
Kay ab tak kis tamana kay saharay ji lia may nay.
Thus you know it but you never admit it
ابھی زندہ ہوں لیکن سوچتا رہتا ہوں خلوت میں
کہ اب تک کس تمنا کے سہارے جی لیا میں نے
25. Poetry on beauty in Urdu
Mojod thi udasi abhi pechli raat ki
Bhala tha dil zara sa kay phir raat hogai
Poetry for beautiful girl in urdu
26.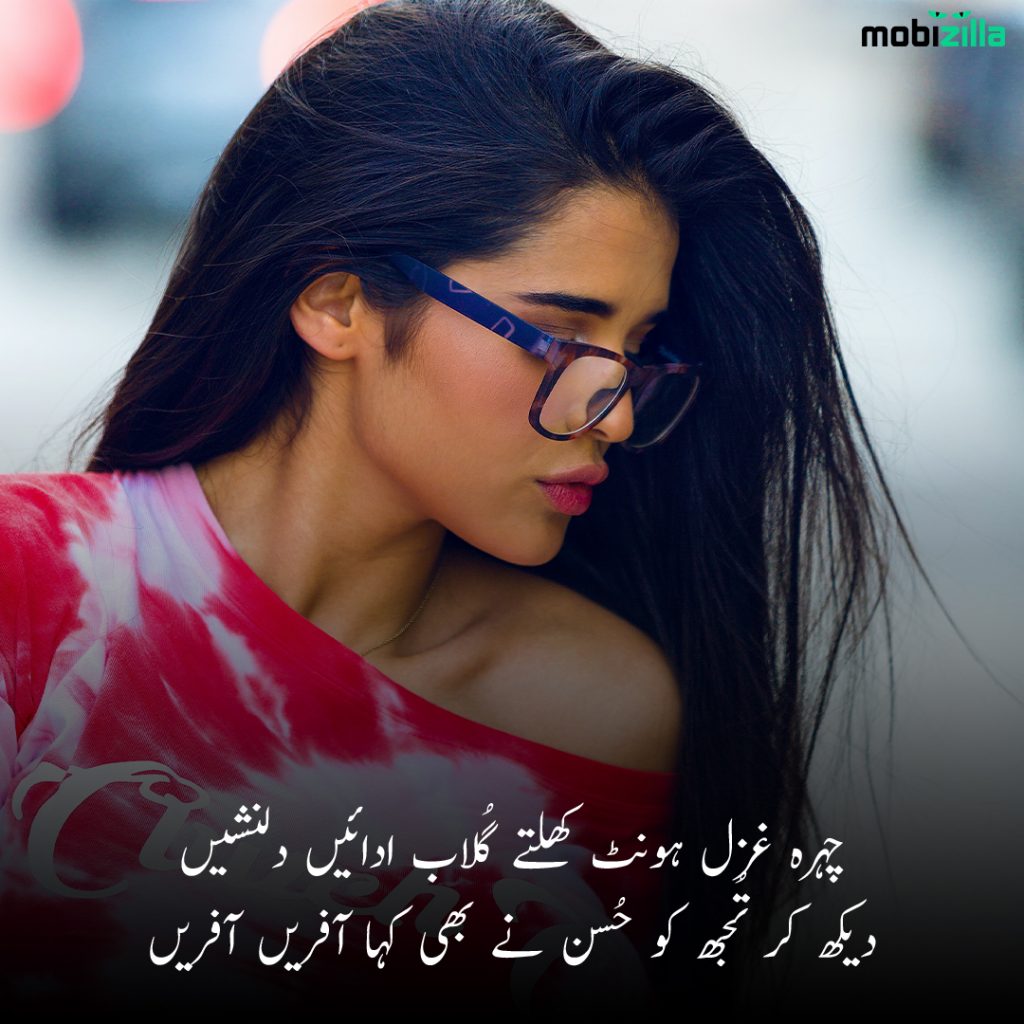 Cehra ghazal hont khiltay gulab adain dilnashi
Daikh kr tujh ko hussan nay bhi kaha aafreen aafreen.
(Poetry on beauty in Urdu) Moreover, beautiful people are look nothing in front of you
چہرہ غزل ہونٹ کھلتے گُلاب ادائیں دلنشیں
دیکھ کر تُجھ کو حُسن نے بھی کہا آفریں آفریں
Poetry for beautiful girl in urdu
27.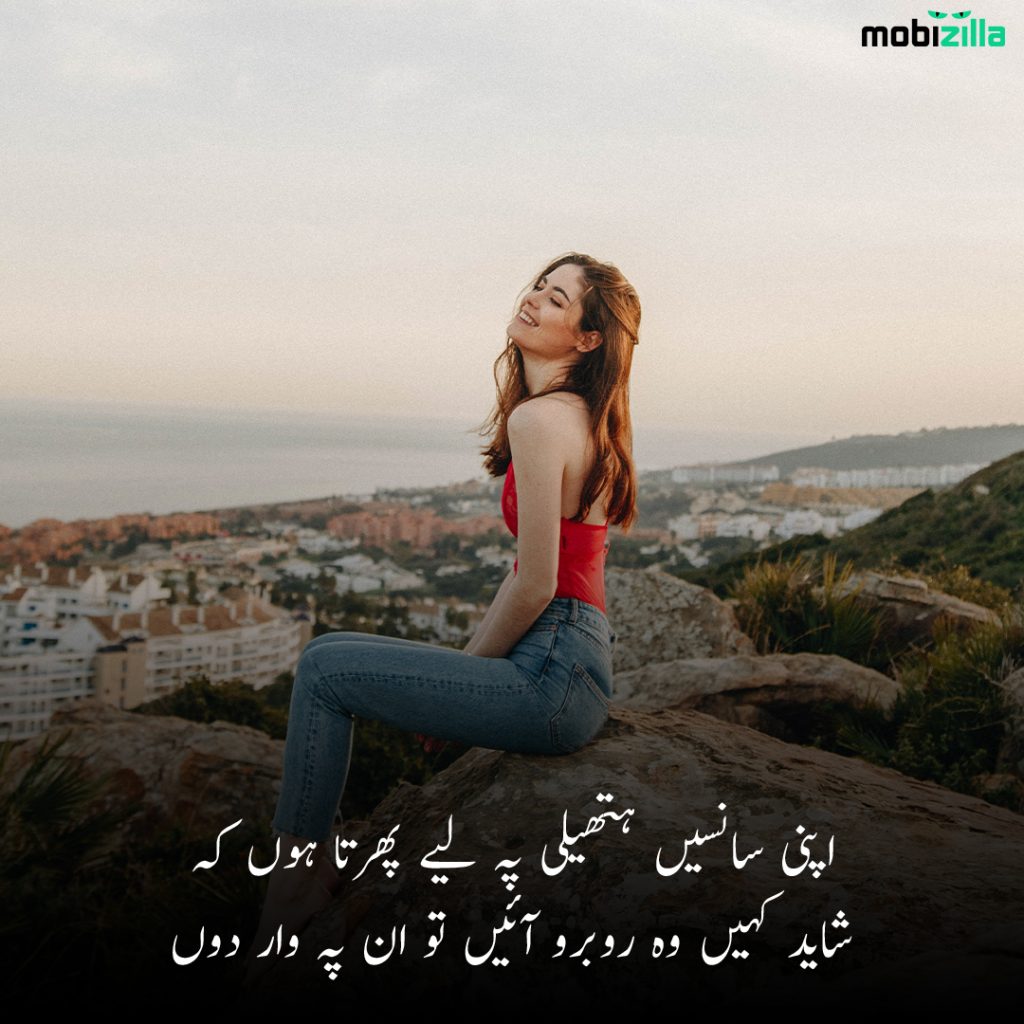 Apni sansain hateli pay liay phirta hun kay
Shayad kahin wo ru baru aain to waar dun
28.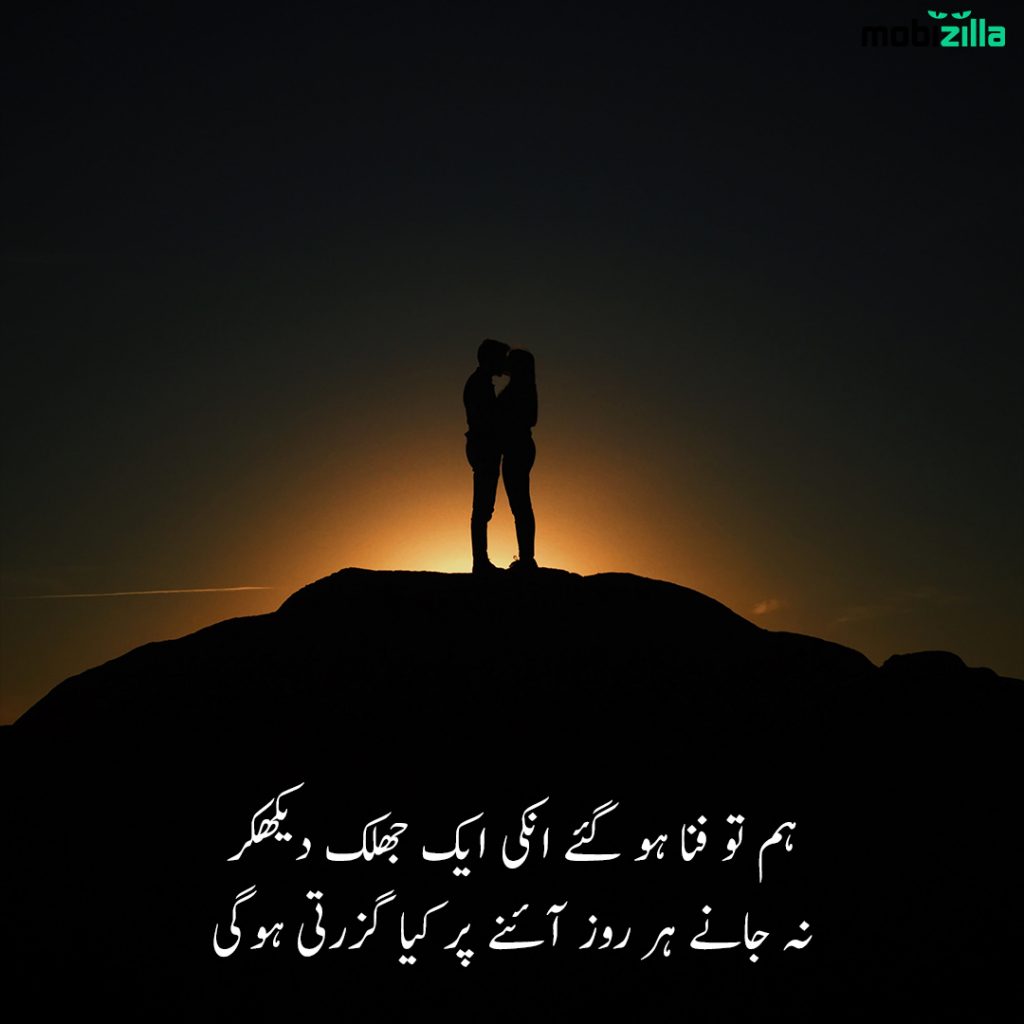 Ham to fana hogaye inki aik jhalak daikh kr
Na janay aynay pa kia guzrti ho
29. 
Is taluq may nahi mumkin talaq
Ye muhabat hai koi shadi nahi
اس تعلق میں نہیں ممکن طلاق
یہ محبت ہے کوئی شادی نہیں
Importantly, how do you expect me to end this relationship? Because this is not marriage which we can end. This love we started. Thus, you'd have to bear with me.
Beautiful love poetry in urdu
30.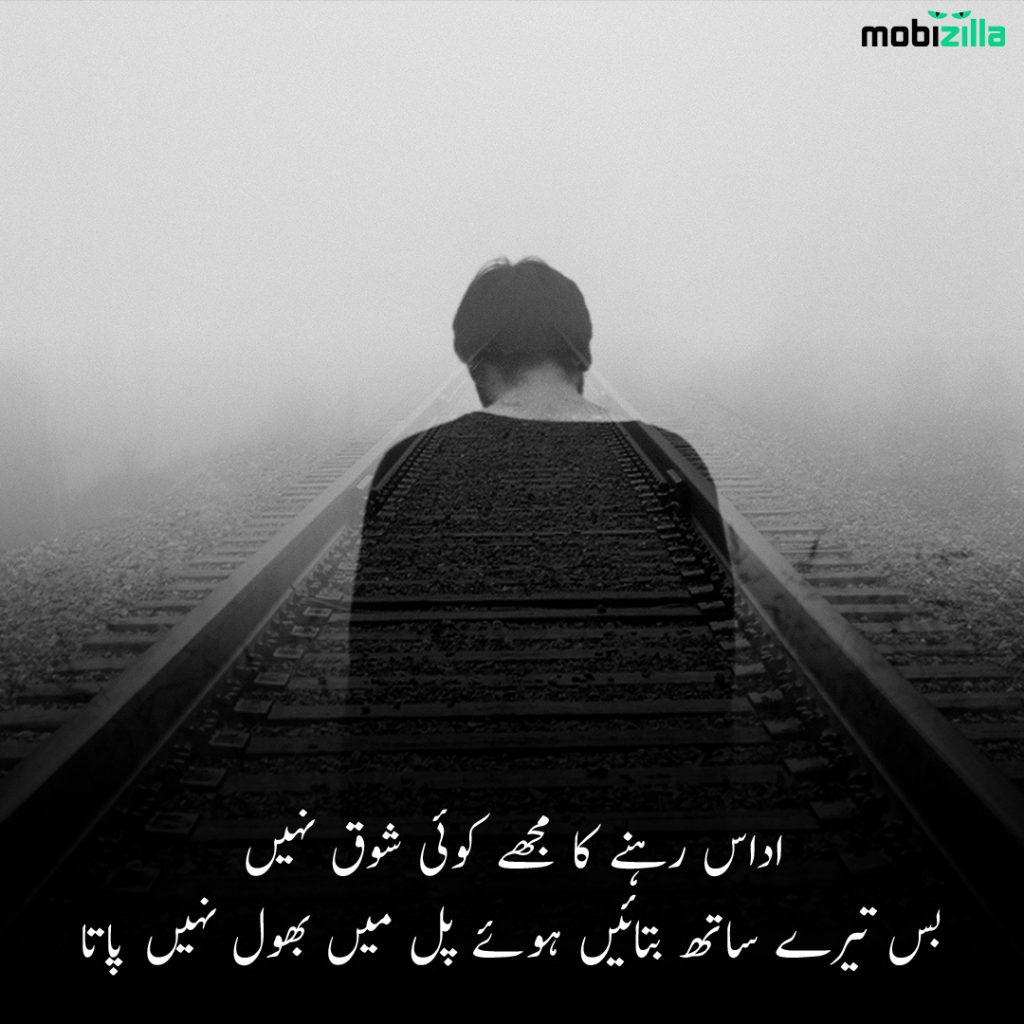 Udas rehnay ka mujhay koi shouq nahi
Bs teray sath batain hoay pal may bhol nahi pata
(Beautiful Husn Shayri)
31.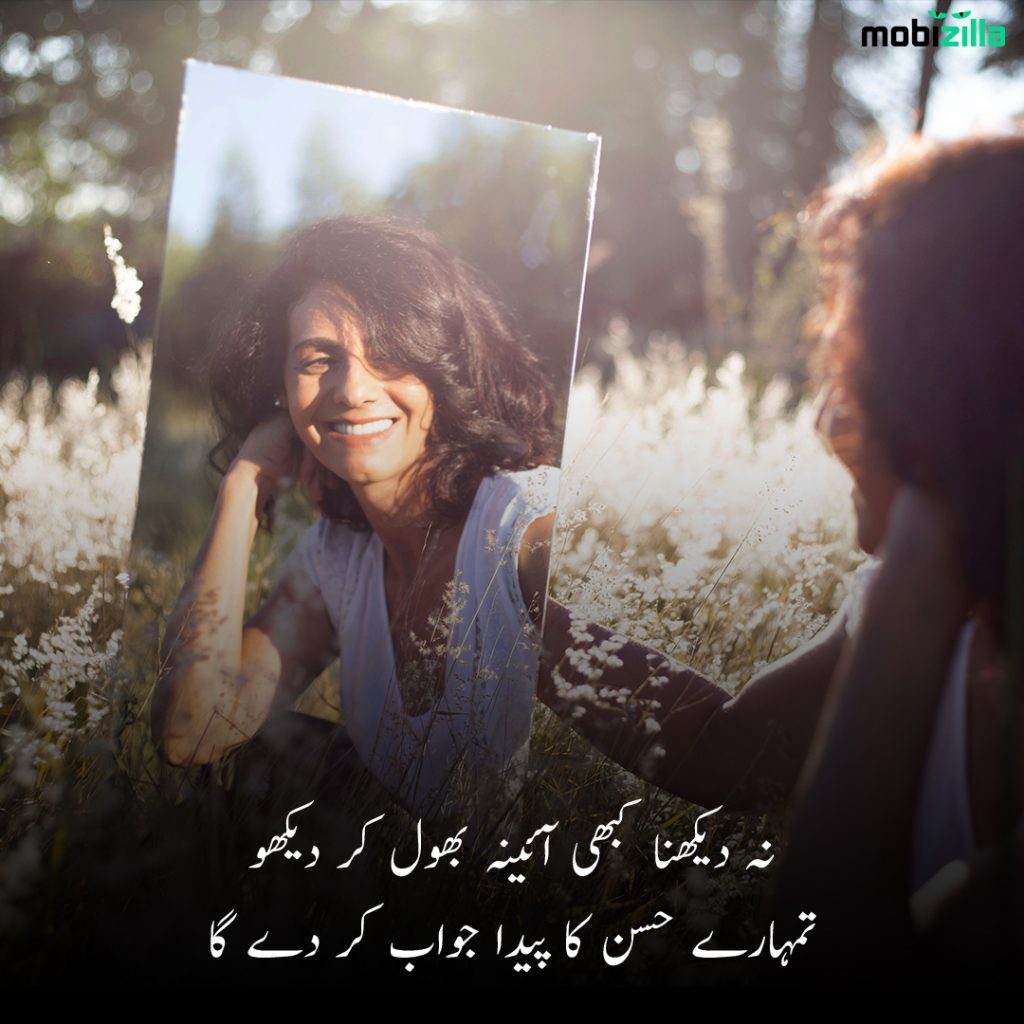 Na daikhna kbhi ayna bhol kr daikho
Tumharay husan ka peda jawab kr dega
Beautiful love poetry in urdu
32.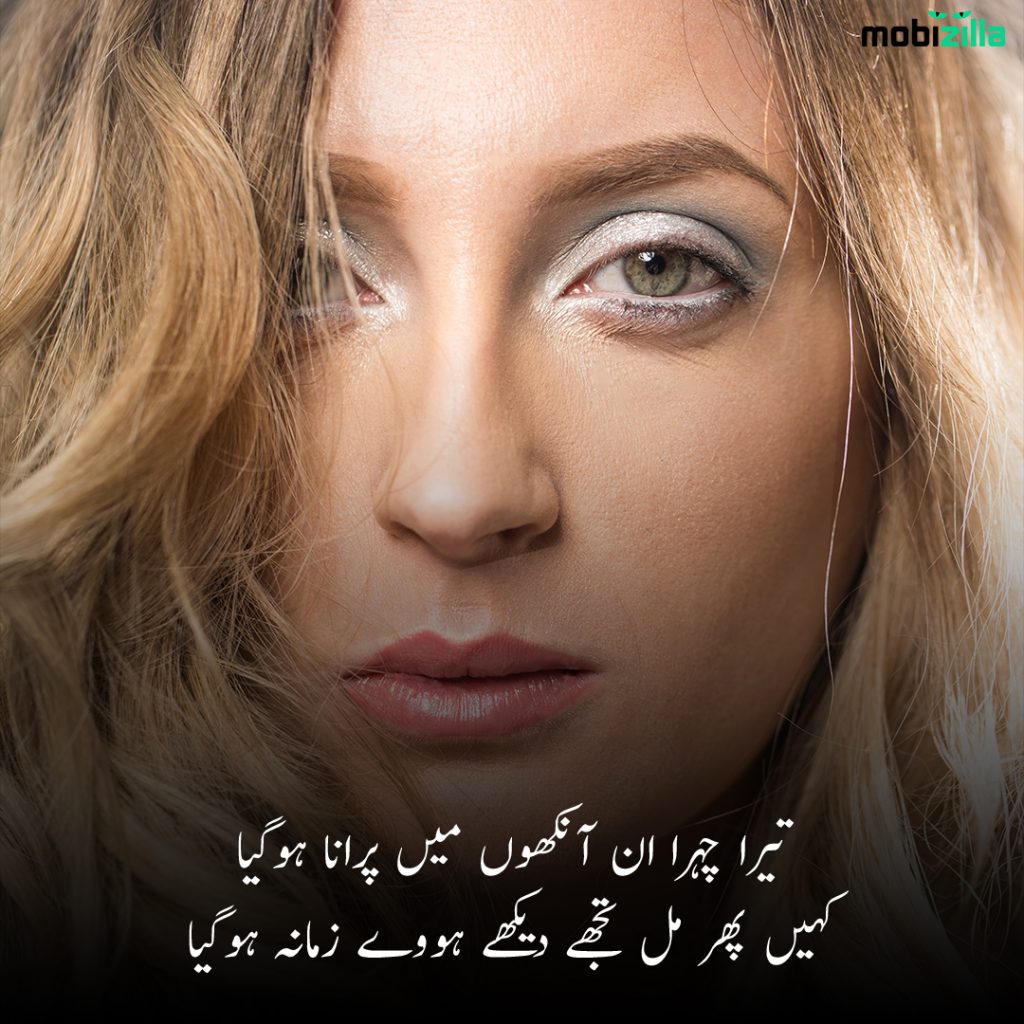 Tera cehra in aankhon may purana hogia
Kahin phir tujay daikhtay hoay zamana hogia
33. Poetry on beauty in Urdu
Gaye thay unkay husan ko benaqab karnay
Khud inkay isq ka naqab phen kr agaiy
Thus, the hunter go hunted. As I went to get you in order but fallen a pray to your enchanting beauitful face.
گئے تھے انکے حسن کو بےنقاب کرنے
خود انکے عشق کا نقاب پہنکر آ گئے
Beautiful love poetry in urdu
34.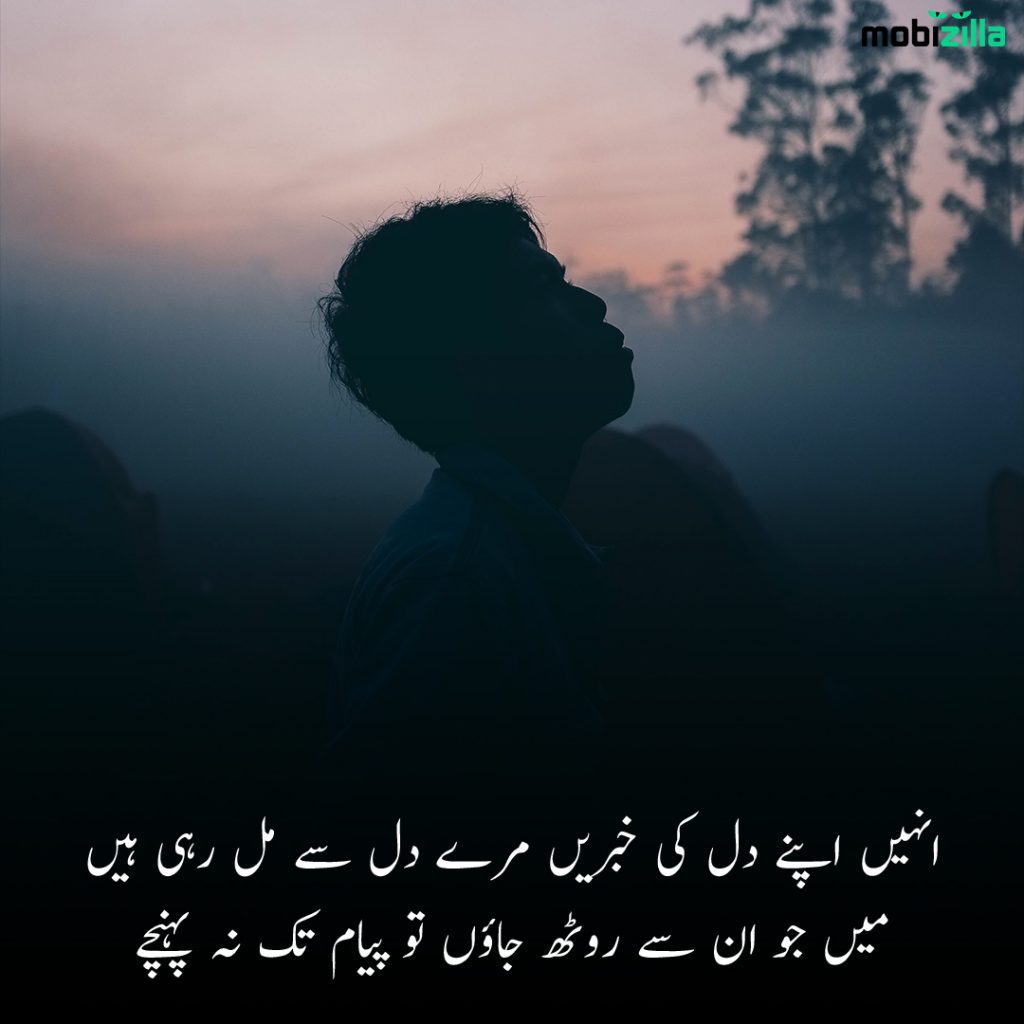 Inhain apnay dil ki khabrain meray dil say mil rahin hn
May jo in say roth jaaun to payam tk na pohanchay
35.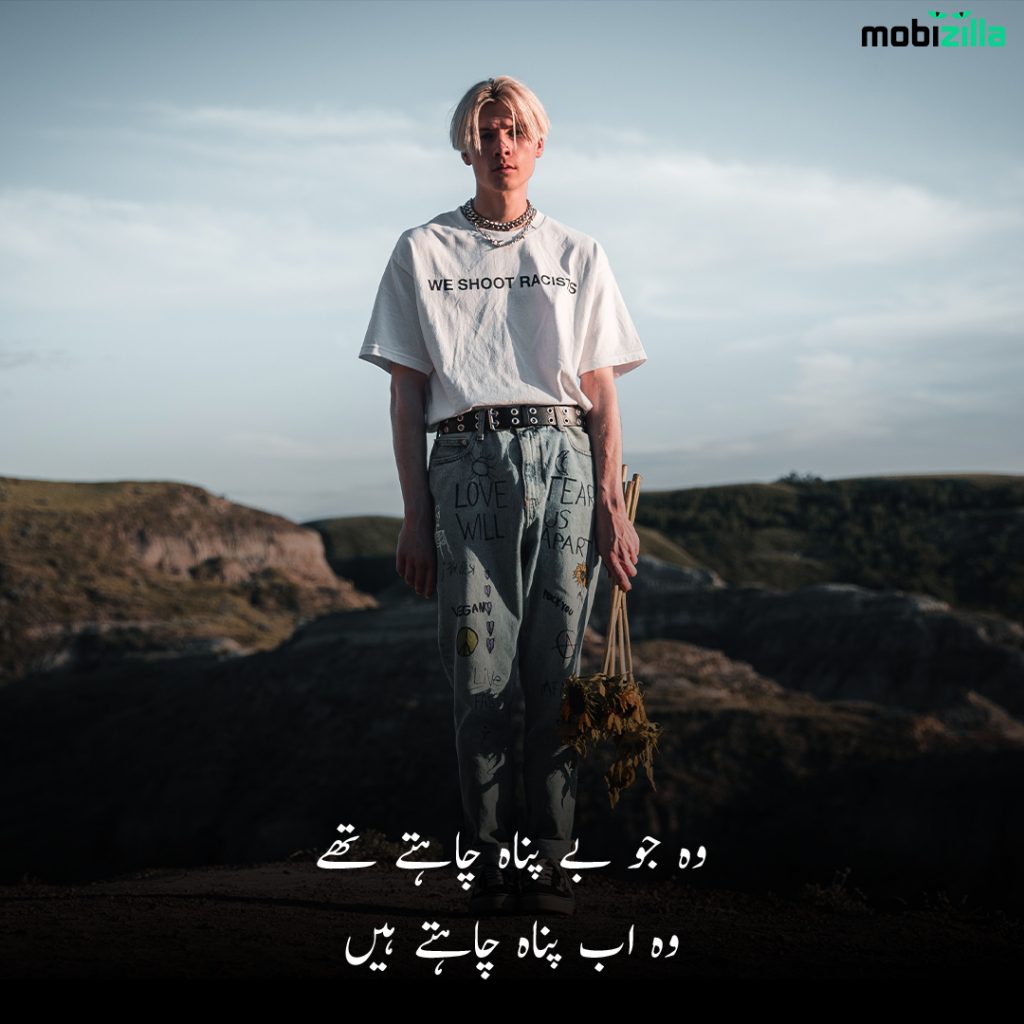 Wo jo be panah cahtay thay
WO ab panah cahtay hn
وہ جو بے پناہ چاہتے تھے

وہ اب پناہ چاہتے ہیں
You know something, let me tell you, though it is not very pleasant but I shall put my case fort.
Actually, there was a time when we'd talk on phone for hours.
In fact, there was not social media or Whatsapp and no wifi.
Similarly, no smartphones we'd just rely on the dumb phones and call packages. Remember we'd wait until the night came and package timings begin.
Then talks would start for hours and hours. On occasions, sun shine would emerge from the horizon.
Thus, unending talk that'd continue forever.
Though,
unfortunately things changed slowly and gradually.
Obviously, you started ignoring me. I don't know the reason behind that behavior but you acted as if nothing happen between us.
As a matter of fact you acted like strangers. You'd not return my calls or respond to my text and change your path when see me.
You should know to this fact, "I will never forgive you".
36.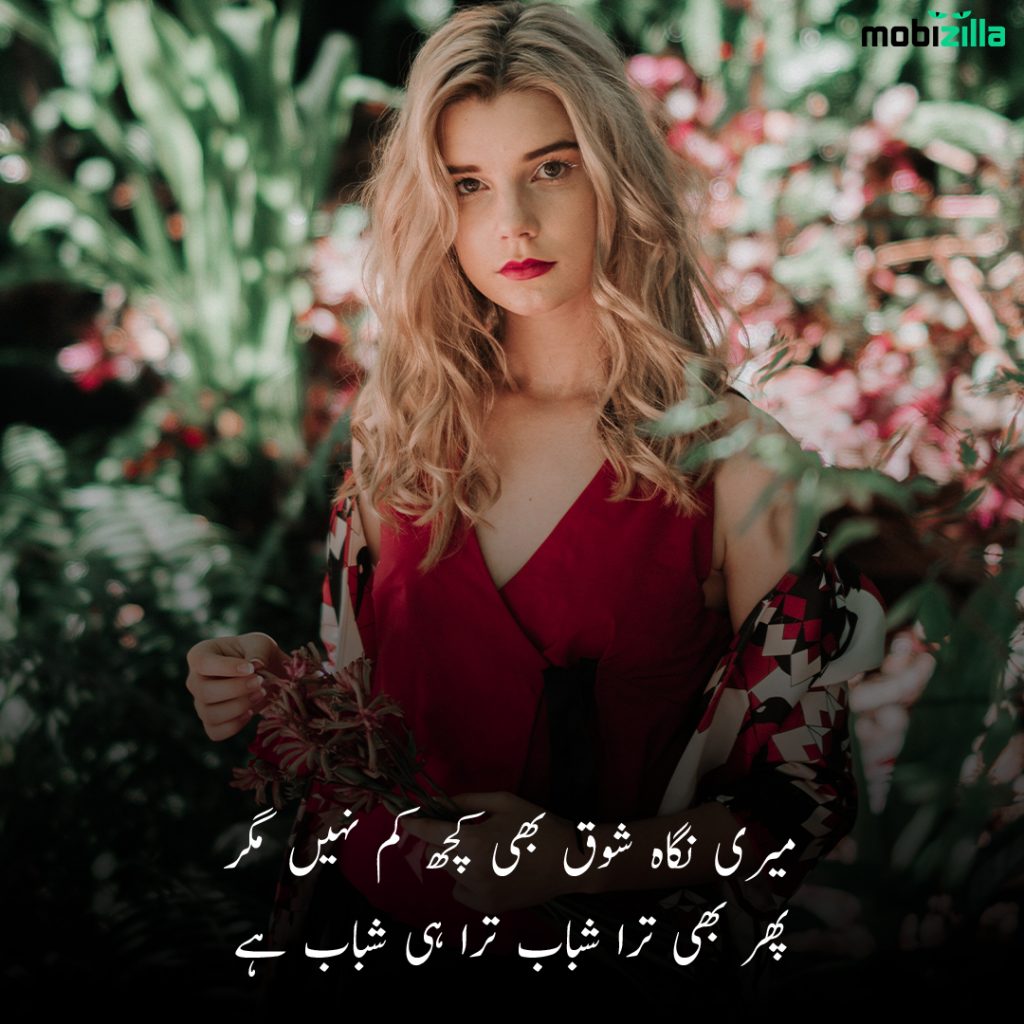 Meri nigah shouq bhi kuch nahi magr
Phir bhi tera shabab tera hi shabab hai
37.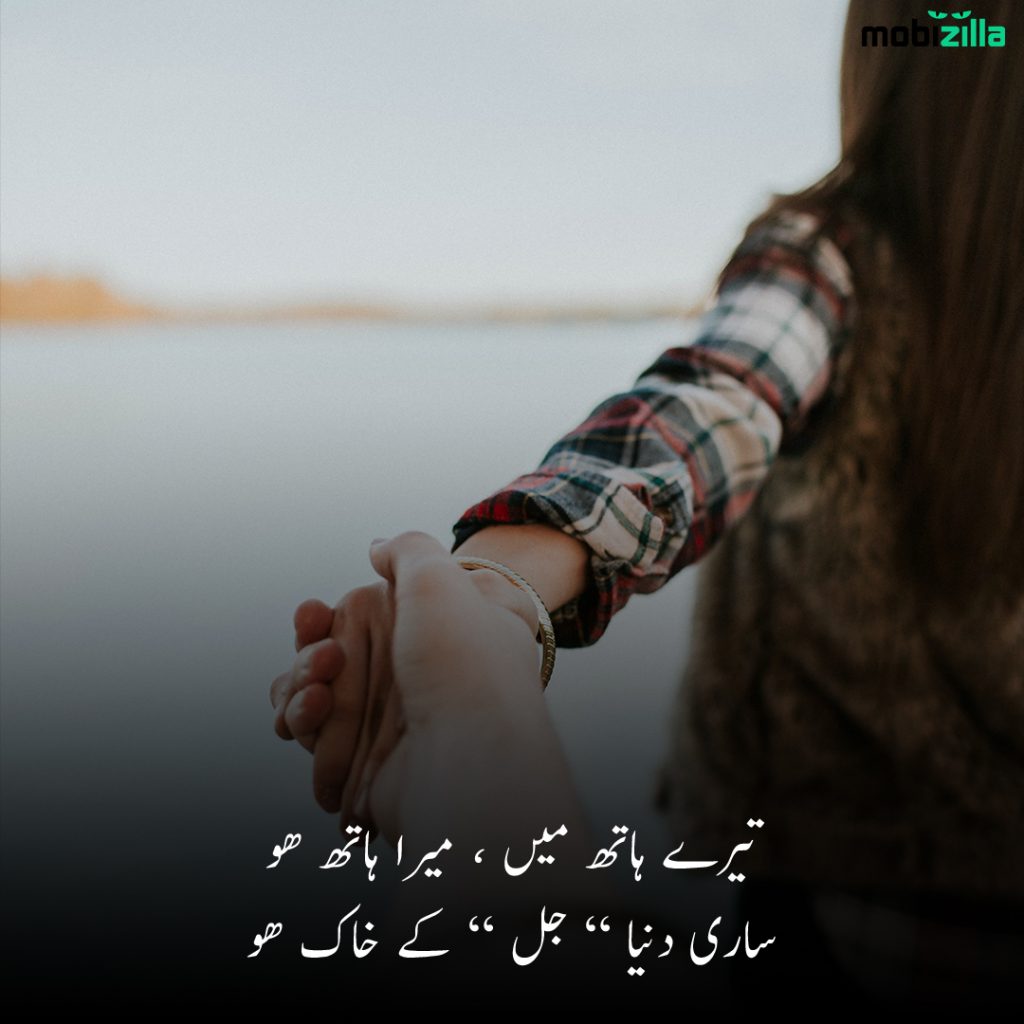 Tera hath mera haat ho
Sari dunya jal kay khak ho
تیرے ہاتھ میں ، میرا ہاتھ هو
ساری دنیا " جل " کے خاک هو
38.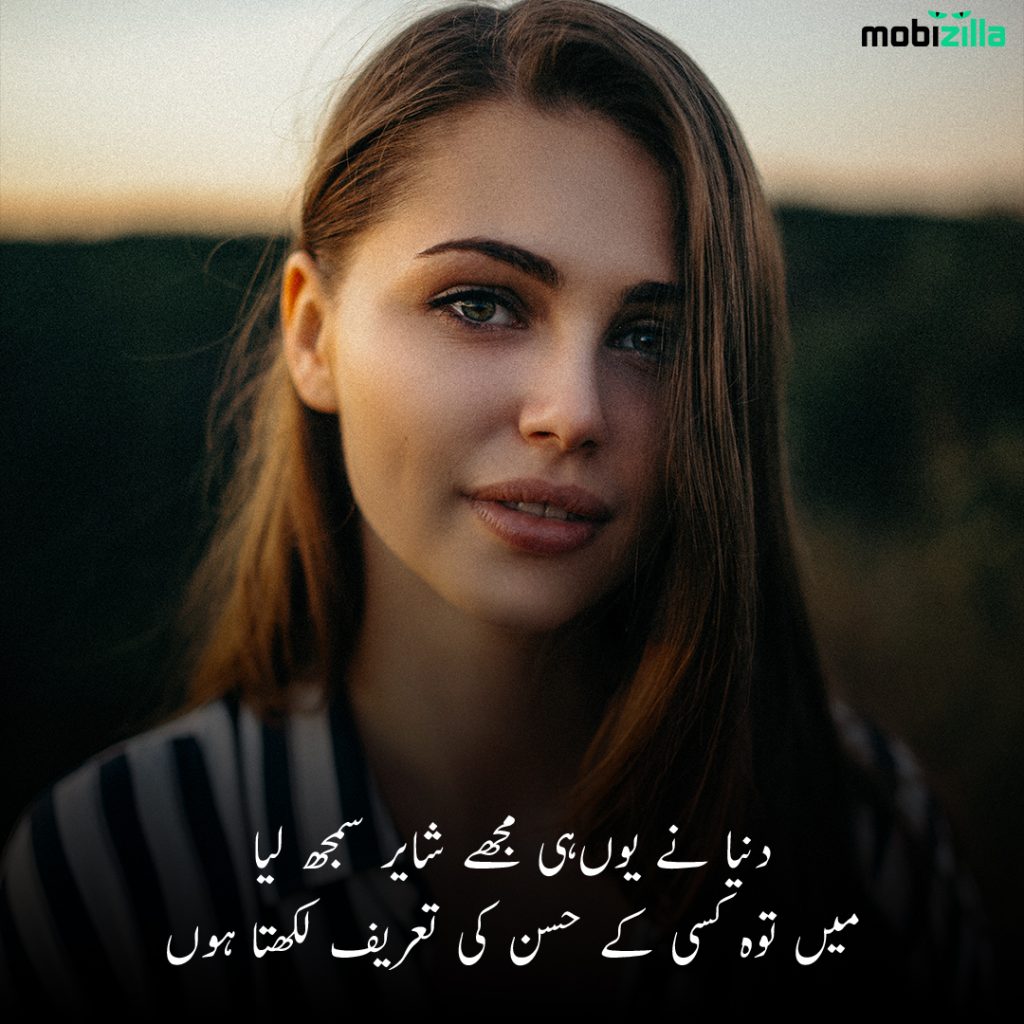 Dunya nay yun hi mujhay shayad samj lia
May to kisi kay hussan ki tareef likhta hun
39.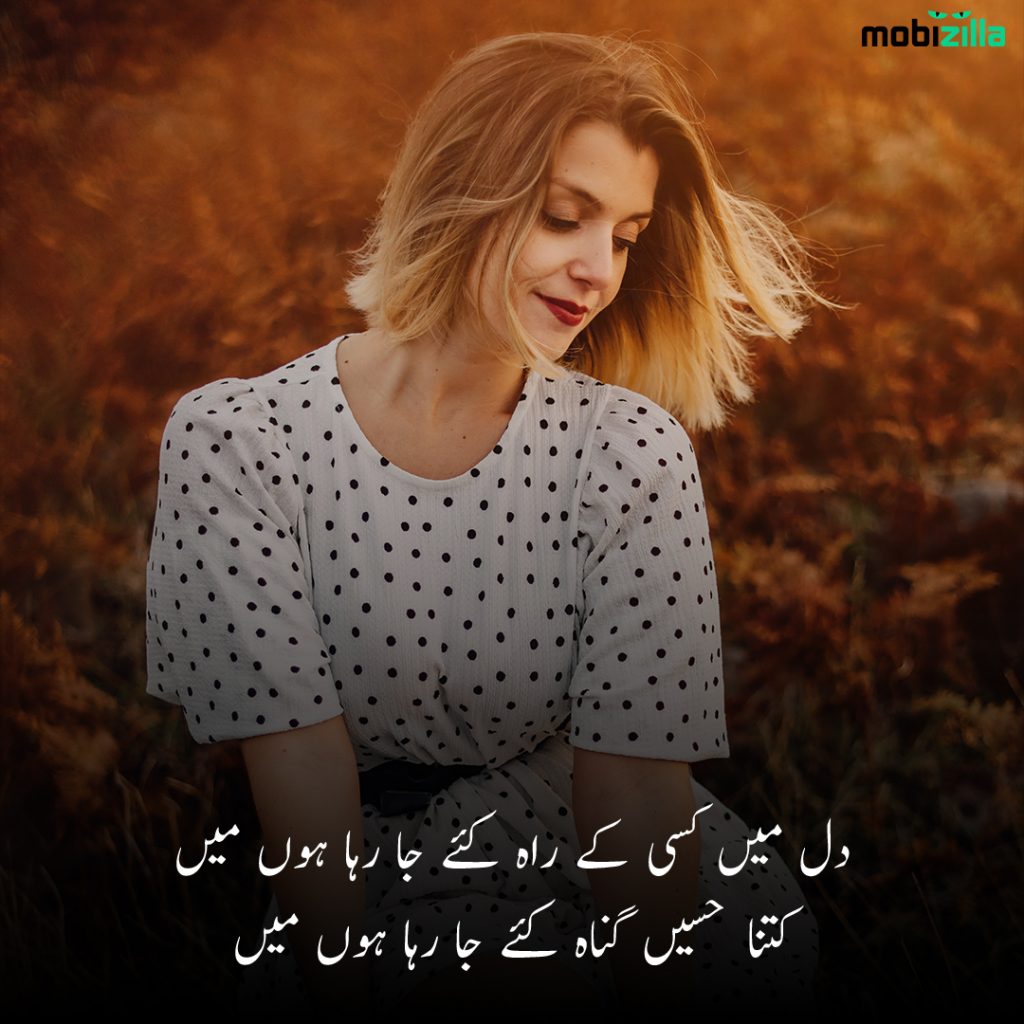 Dil may kisi kay rah kiay ja raha hun may
Kitna hassen gunah kiay ja raha hun may
40. Poetry on beauty in Urdu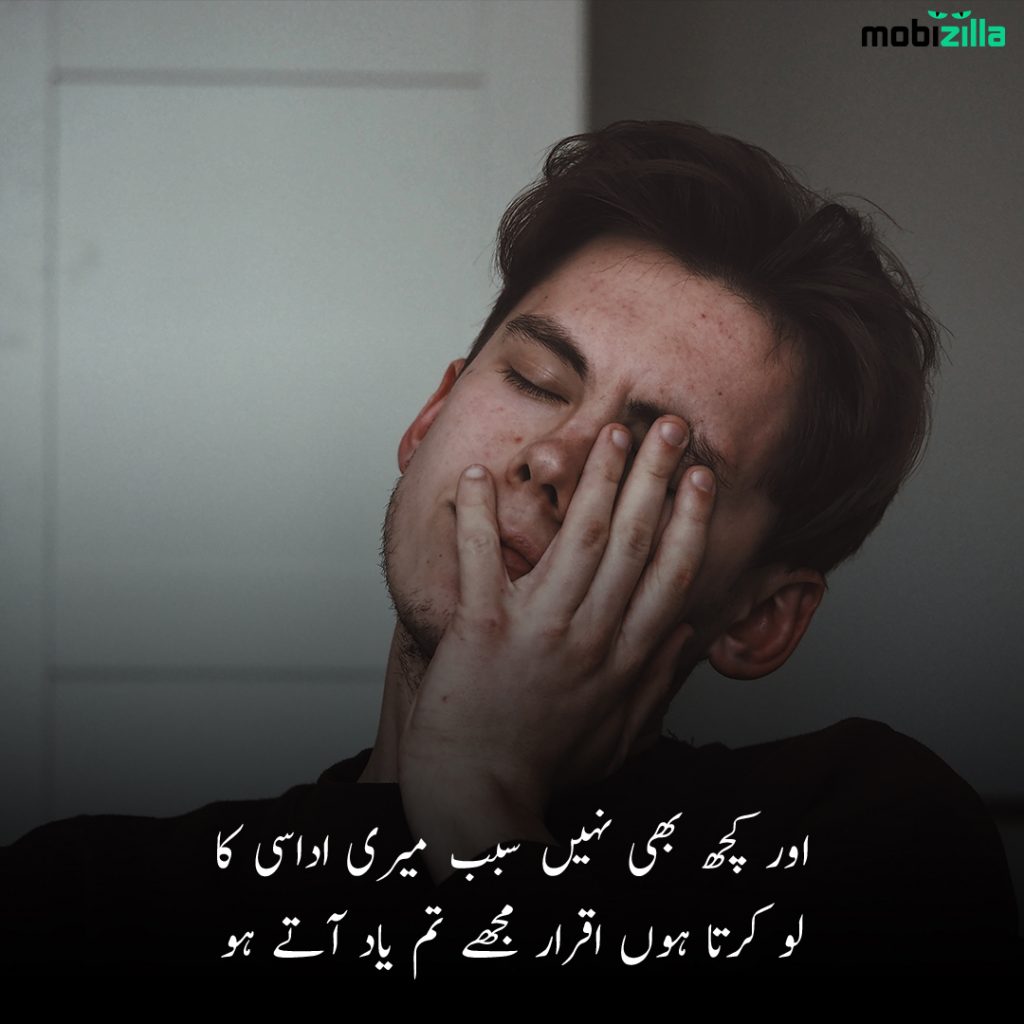 Aur kuch bhi nahi sbab meri udasi ka
Lo krta hun iqrar mujhay tm yaad aatay ho.
Absolutely husn ki tareef shayari in urdu
42.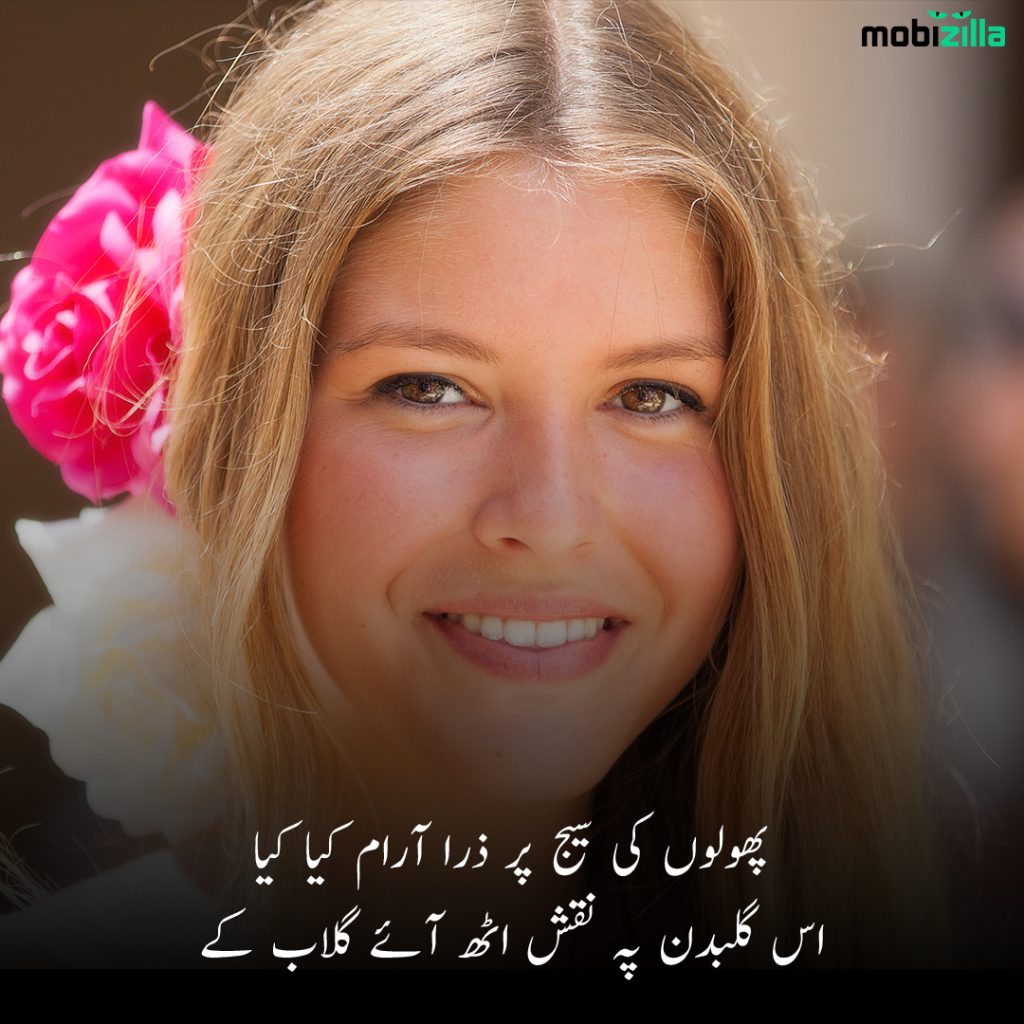 Pholon ki sej pay zra aaram kia kia
Is gulbadn pay naqash uth aye gulab kay
43.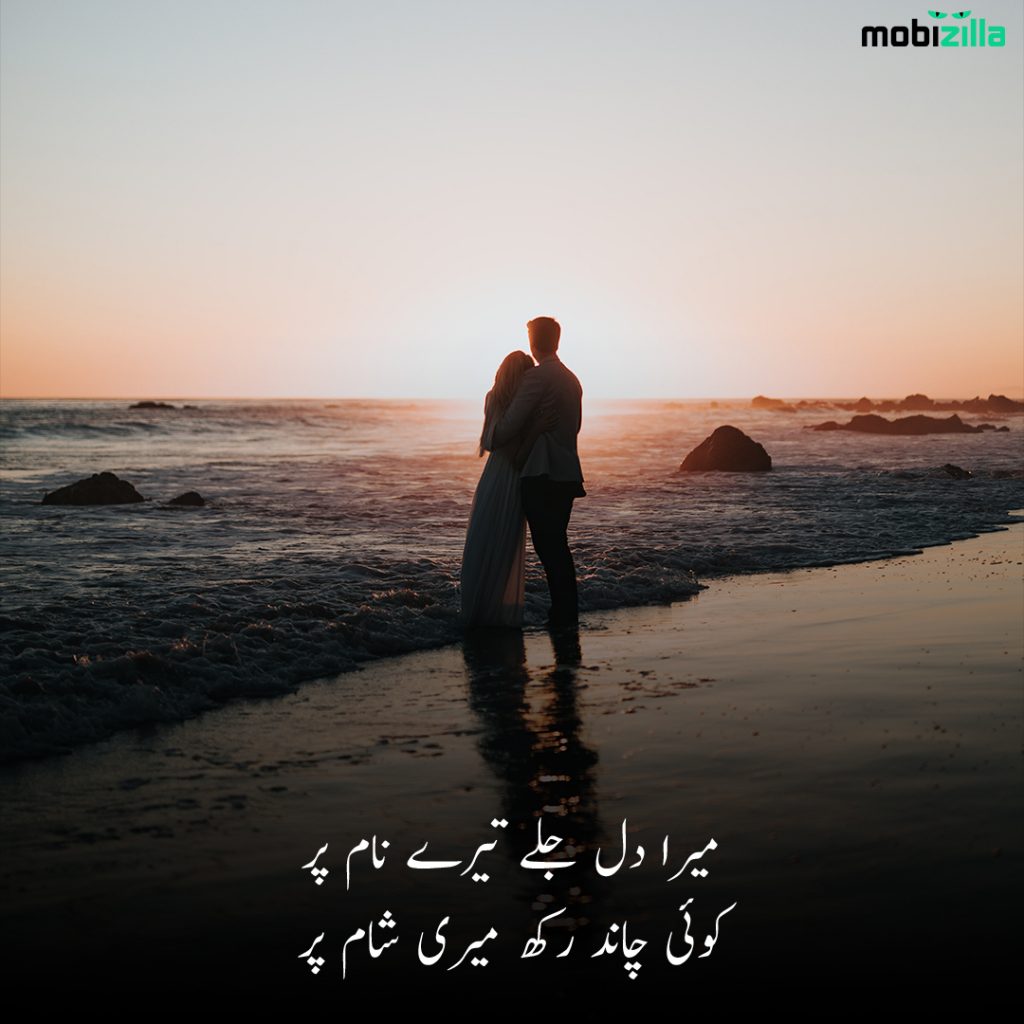 Mera dil jalay teray naam par
Koi chand rakh meri sham par
44. 
Ab hm samjahay teray cehray pay til ka matlb
Husan ki dolat pay drban bitha rakha
اب ہم سمجھے تیرے چہرے پے تل کا مطلب
حسن کی دولت پے دربان بٹھا رکھا ہے
45.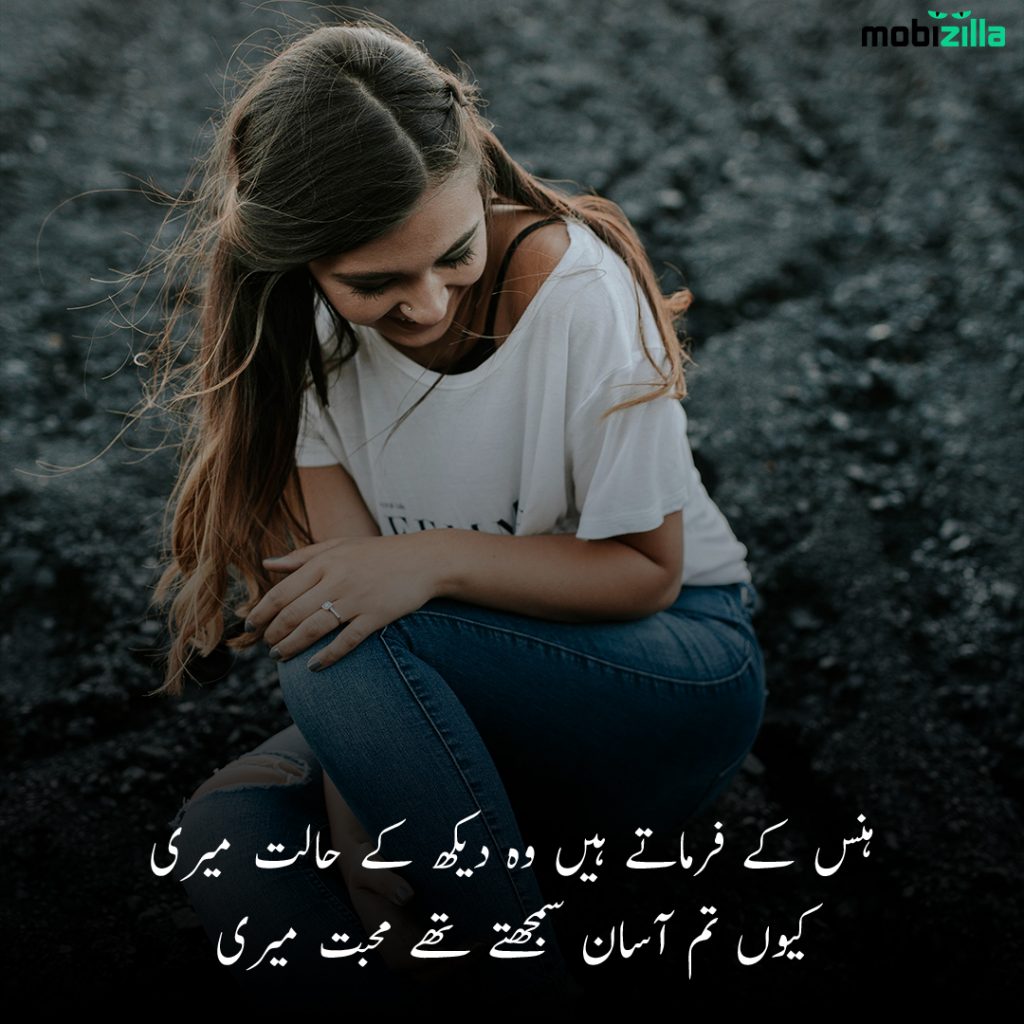 Hans kay farmatay hn wo daikh kay haalat meri
Kyun tm aasan samjhtay thay muhabat meri
Husn ki tareef shayari in urdu
46.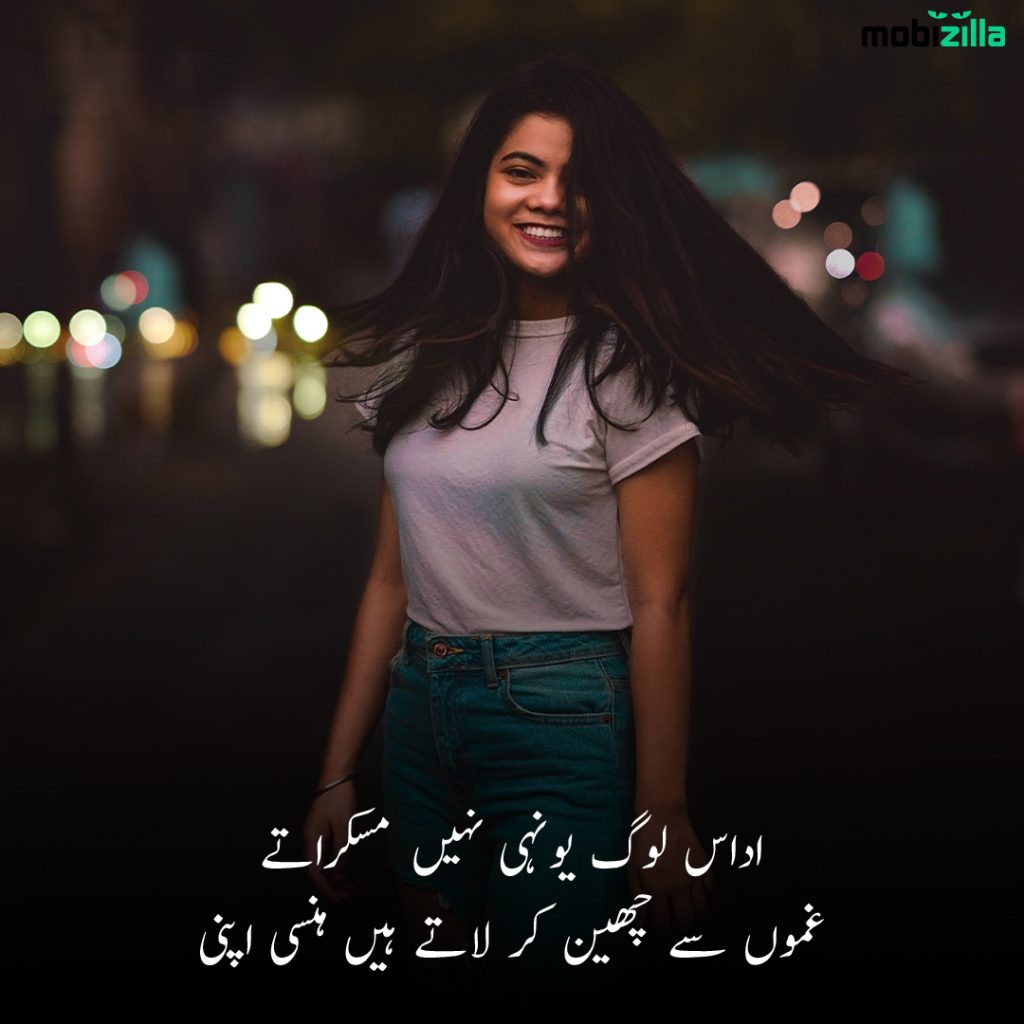 Udas log yuhun nahi muskuratay
Ghamo say chen kr latay hn apni hansi
husn shayari,
beautiful Husn Shayri
Laughters and smiles may not be what they seem to be.
47.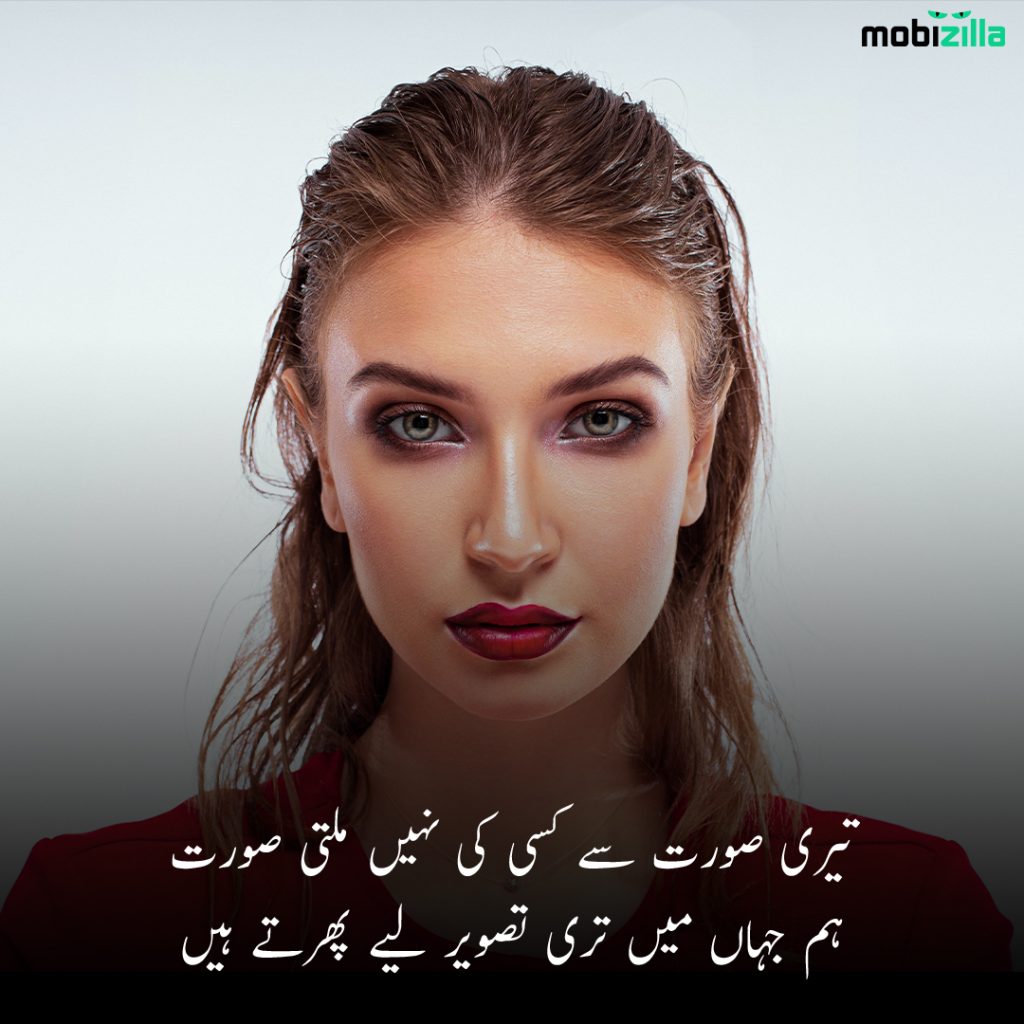 Teri surat say kisi ki nahi milti surat
Hm jahan may teri tasver liay phirtay hn
48.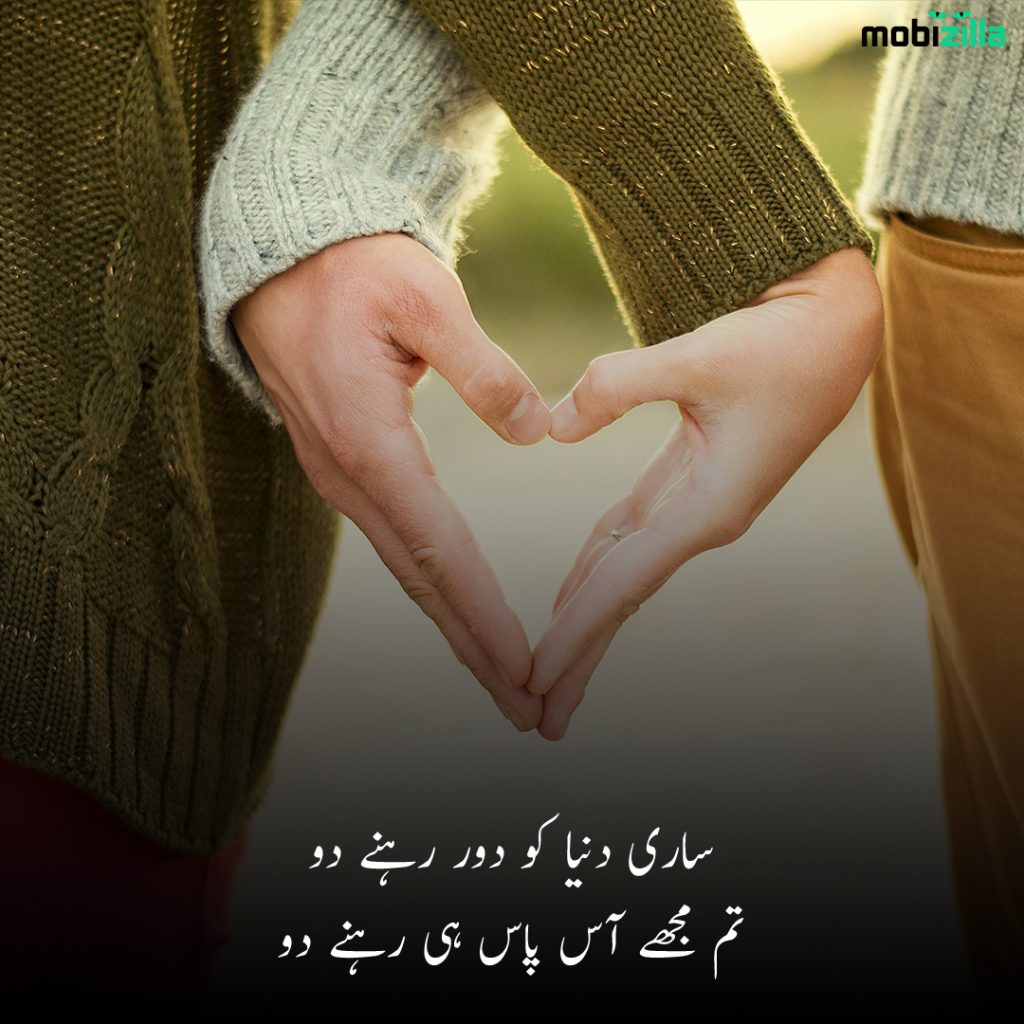 Sari dunya ko dur rehnay do
Tm mujhay aas paas hi rehnay do
49.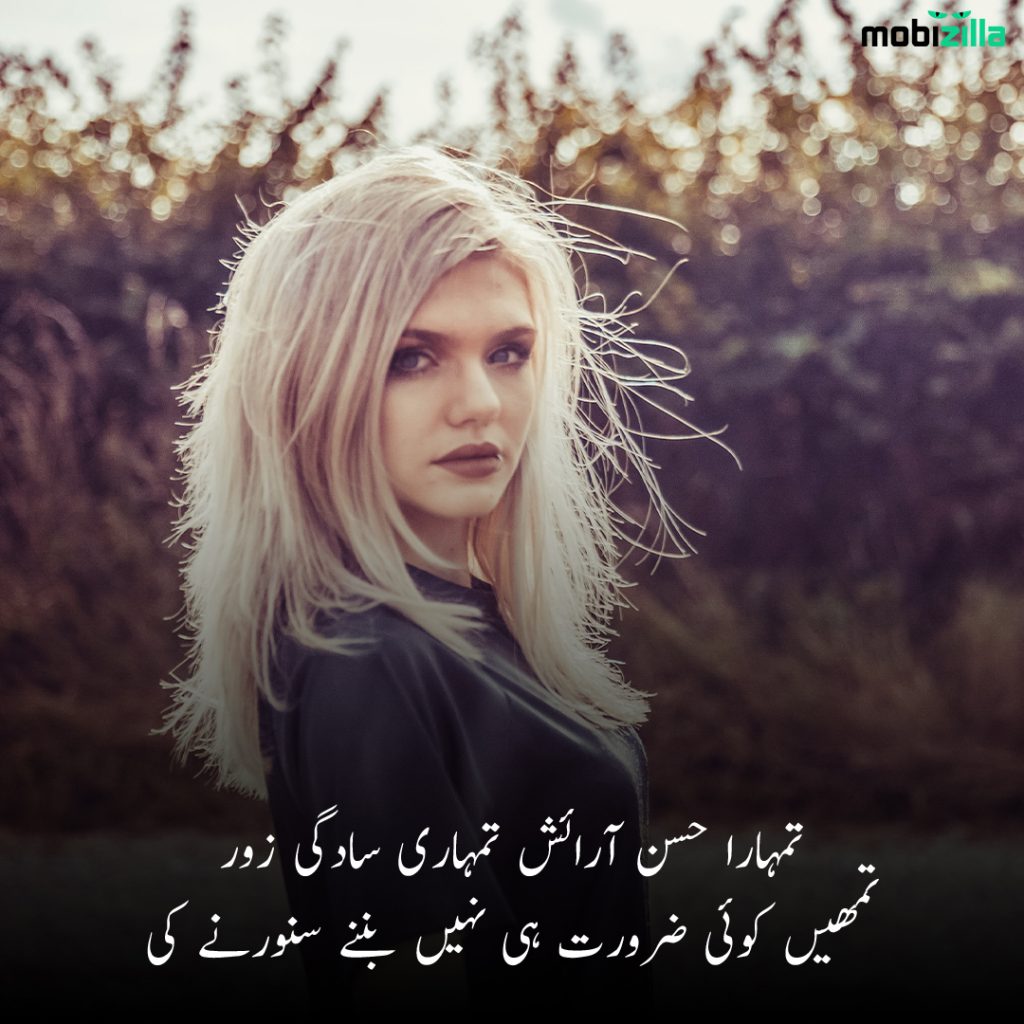 Tumhara husan araish tumhari saadgi roz
Tumay koi zarorat hi nahi bannay sanwarnay ki
50.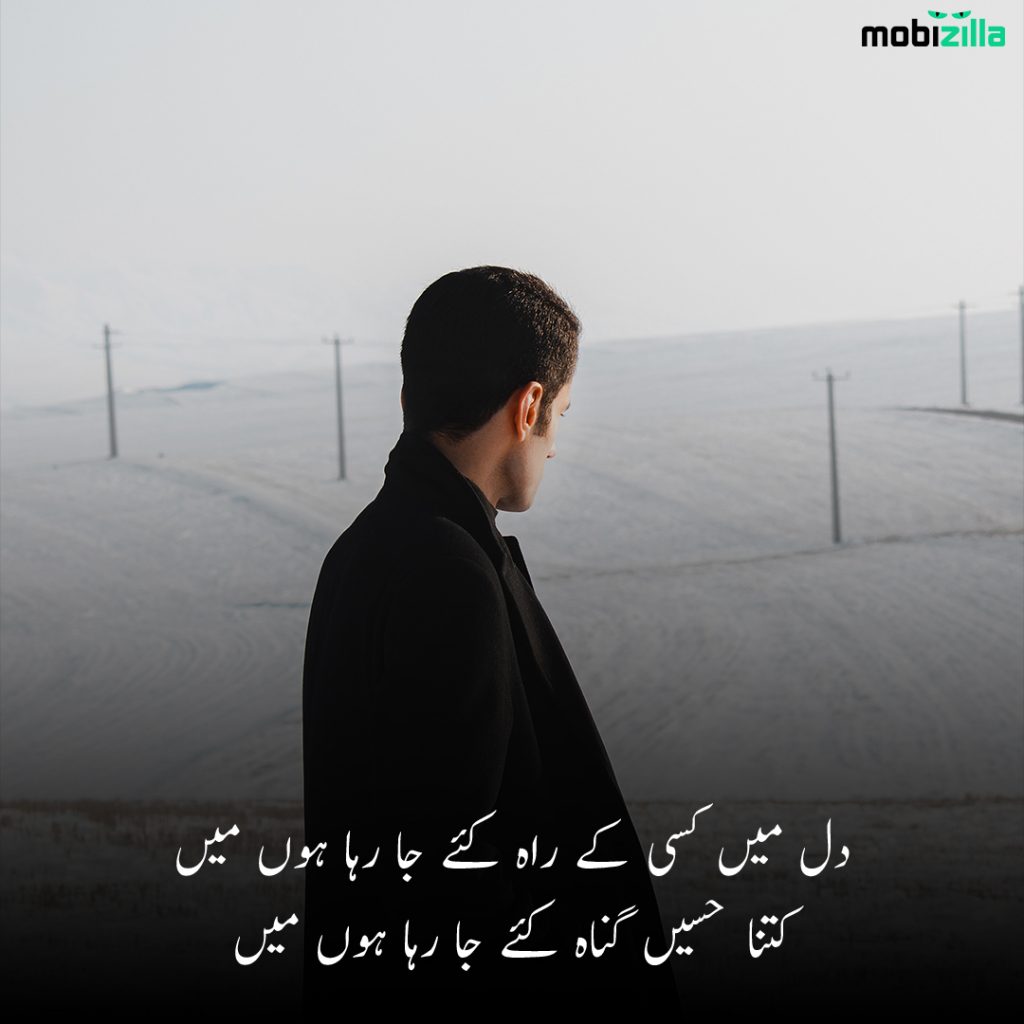 Dil may kisi ki rah kiay ja raha hun may
Kitna haseen gunah kiay ja raha hun may
دل میں کسی کے راہ کئے جا رہا ہوں میں
کتنا حسیں گناہ کئے جا رہا ہوں میں
Poetry on beauty of girl in urdu
51.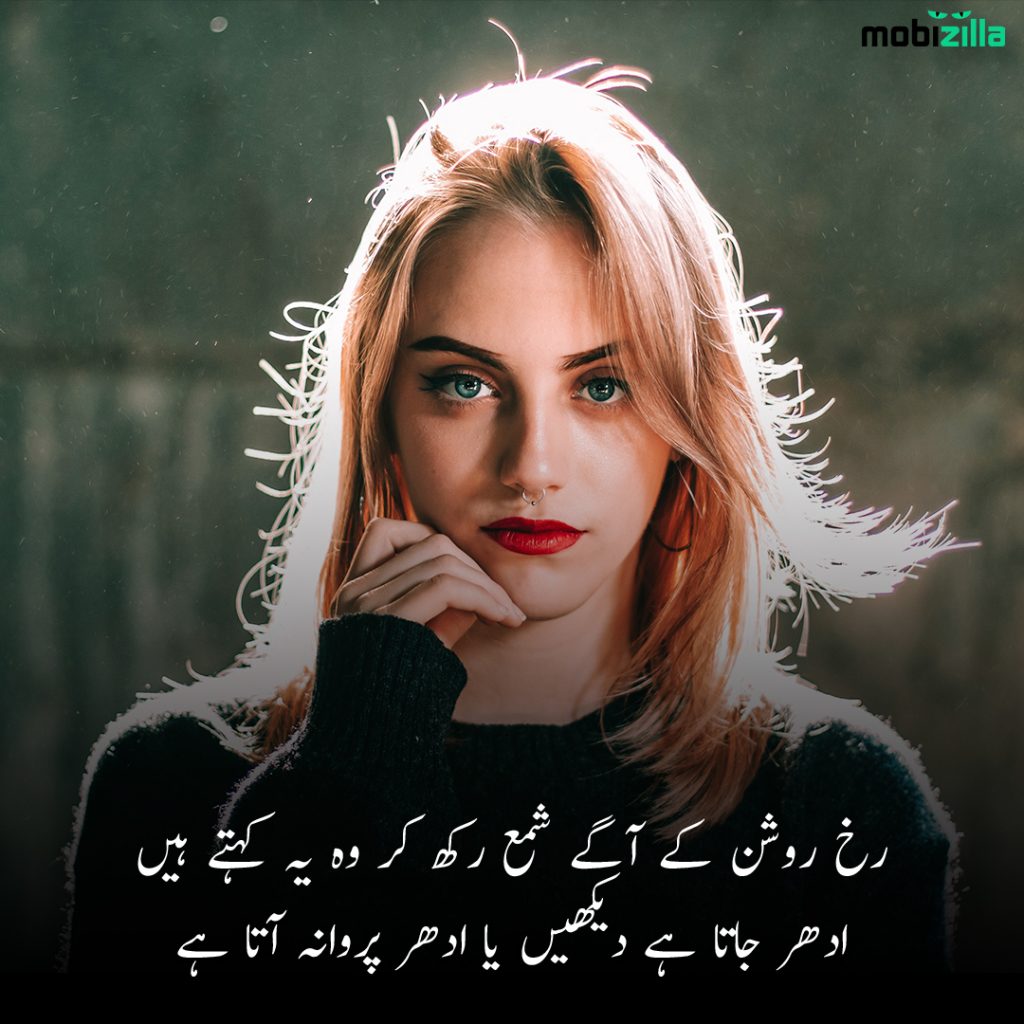 Rukh roashan kay aagay shama rakh kr wo ye kehtay hn
Udhar jata hai daikhain ya udhar parwa na ata hai
52. Poetry on beauty in Urdu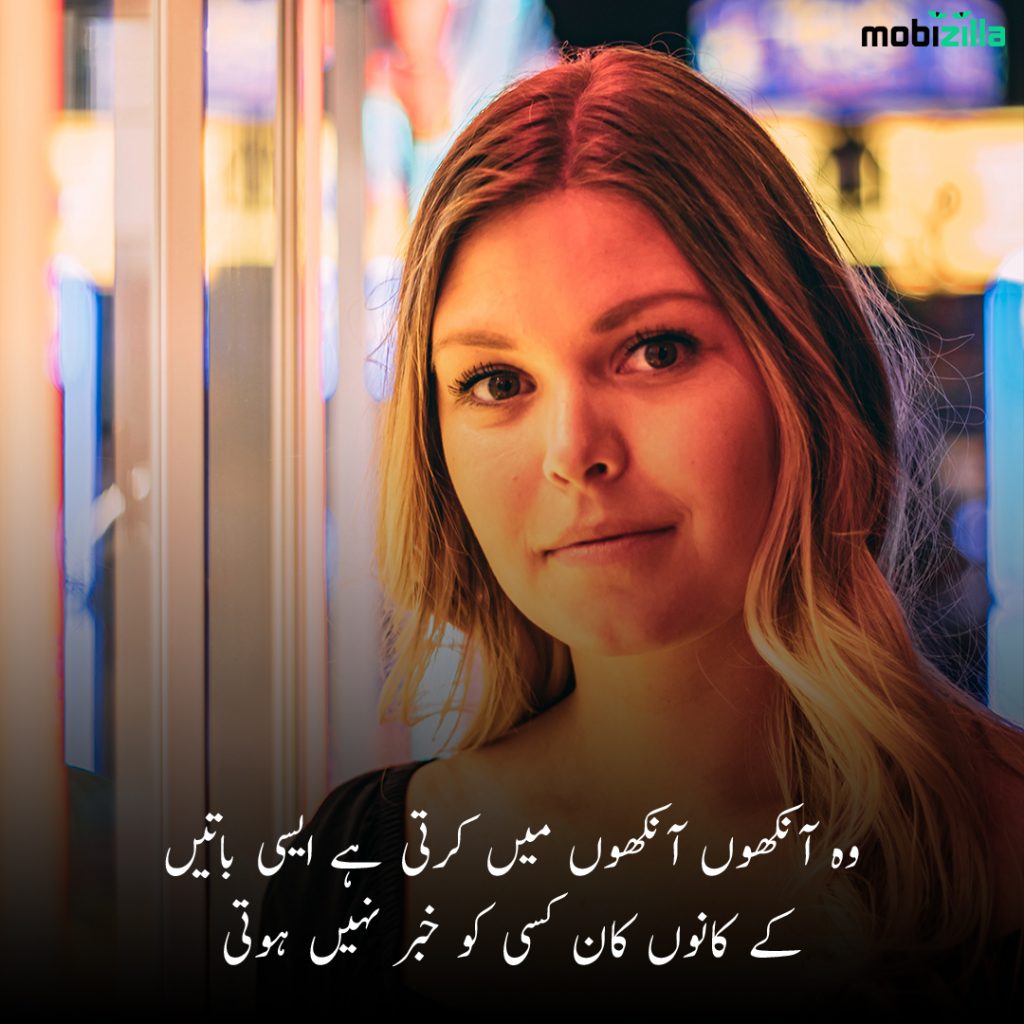 Wo aankhon aankhon may karti hai aisi baatin
Kay kaanon kaan kisi ko khabar nahi hoti
53.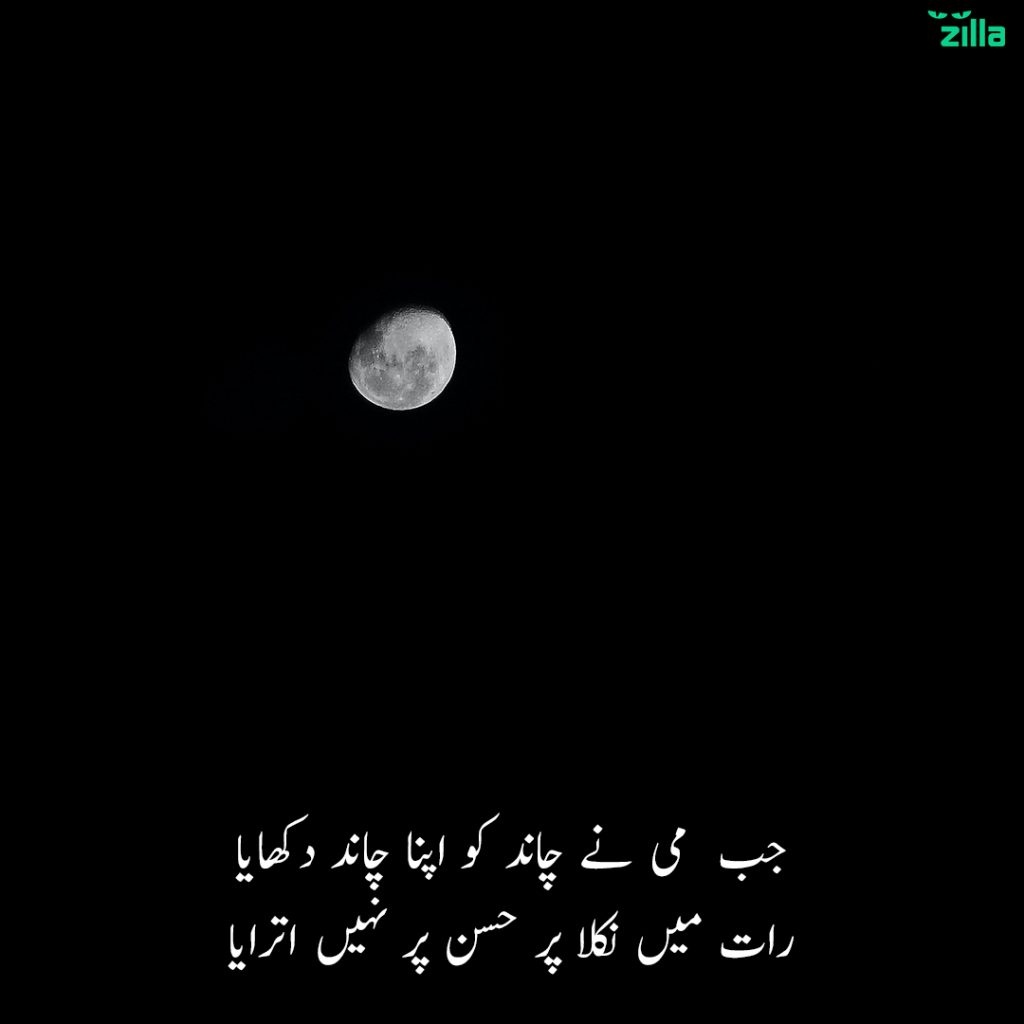 Jb may nay chand ko apna chand daikhaya
Raat may nikala pay husan par nahi utarta
54. 
Mujhay kia malum tha husan kia hota hai
Meri nazron nay tujay daikha aur andaza hogia
Poetry on beauty of girl in urdu
55.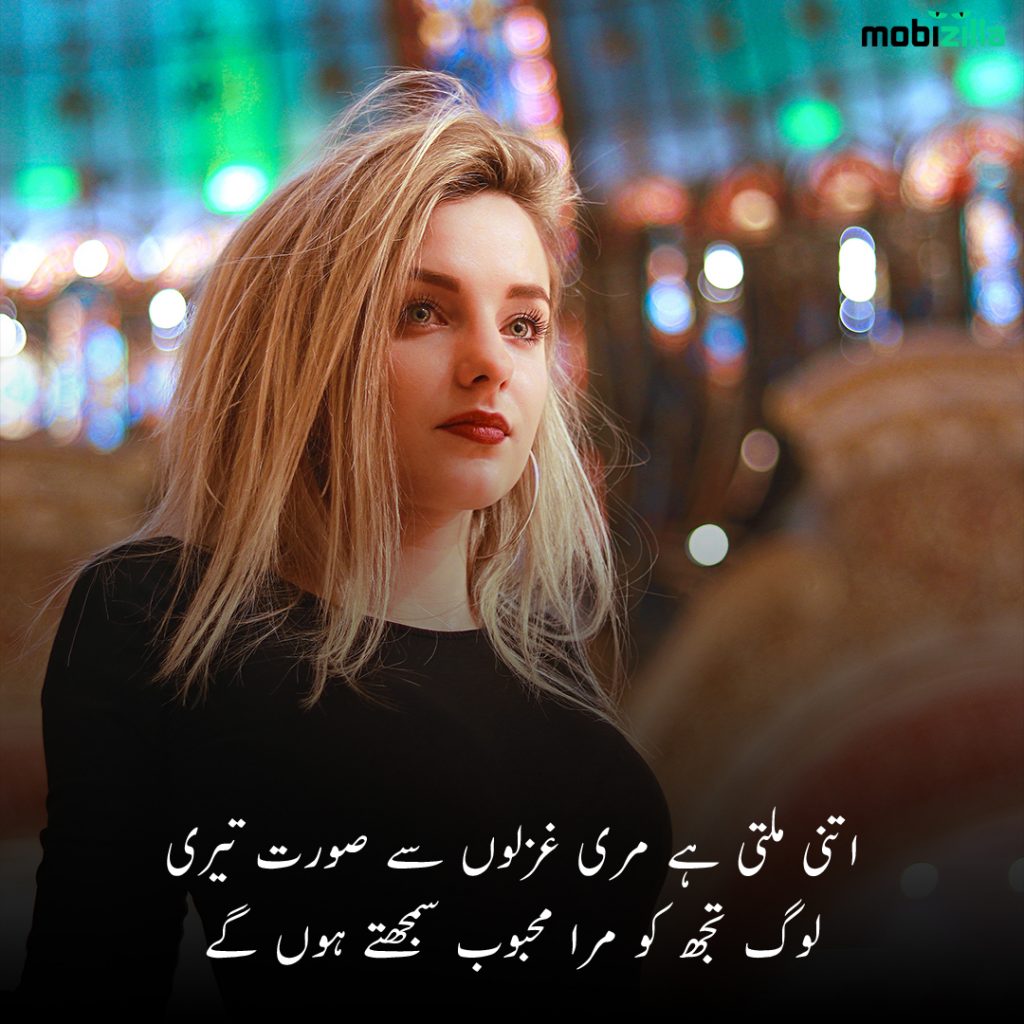 Itni milti hai meri ghazlon say surat teri
Log tujh ko mera mehboob samjhtay hongay
اتنی ملتی ہے مری غزلوں سے صورت تیری
لوگ تجھ کو مرا محبوب سمجھتے ہوں گے
56.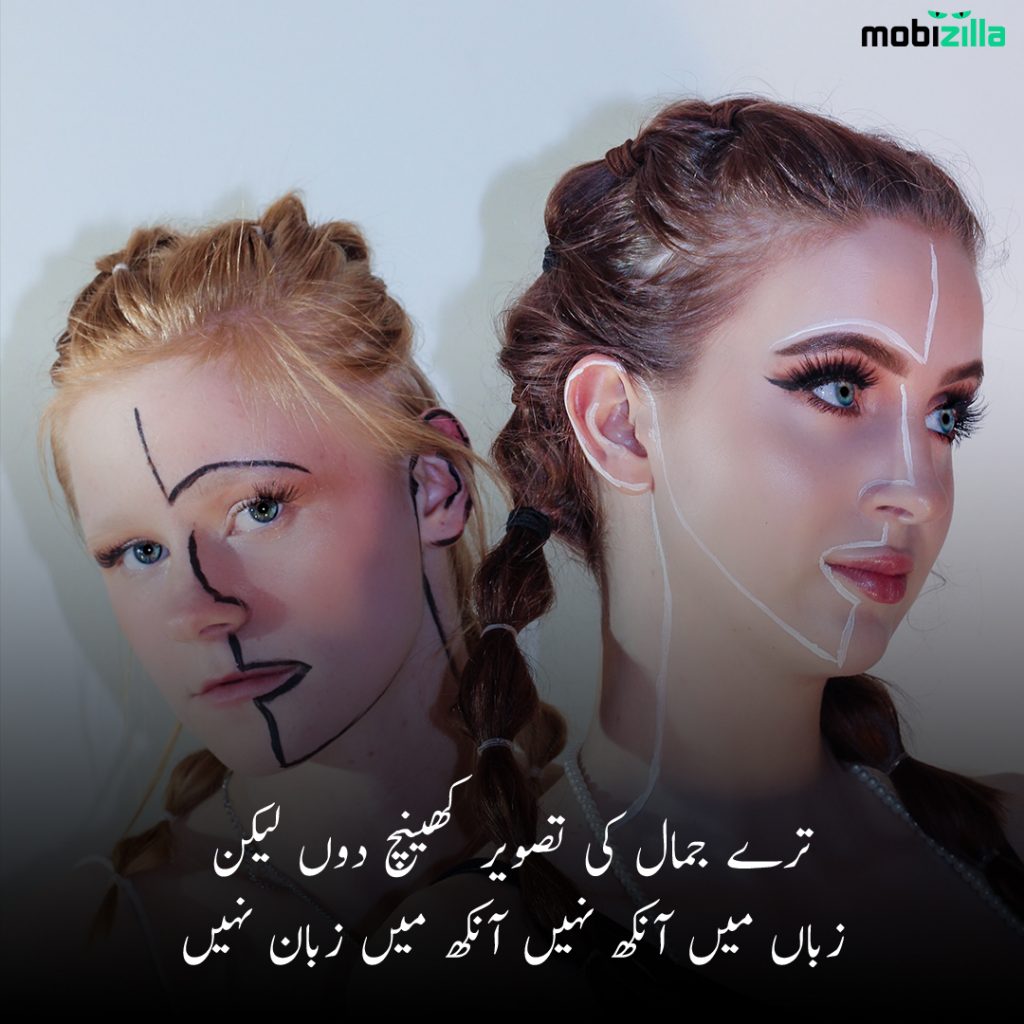 Teray jamal ki tasweer khench dun lekin
Zuban may aankh nahi aankh may zuban nahi
57.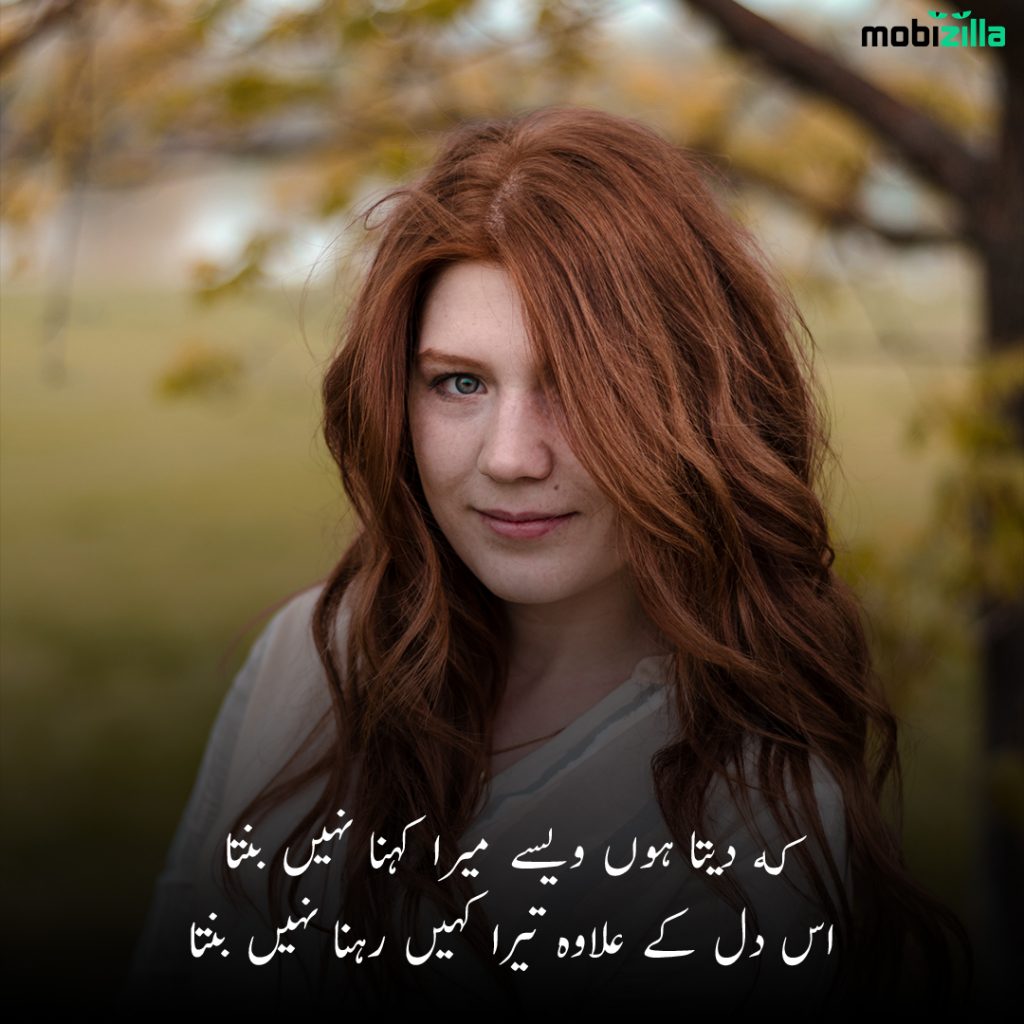 Keh daita hun wesay mera kehna nahi banta
Is dil kay ilawa tera kahin rehna nahi banta
58.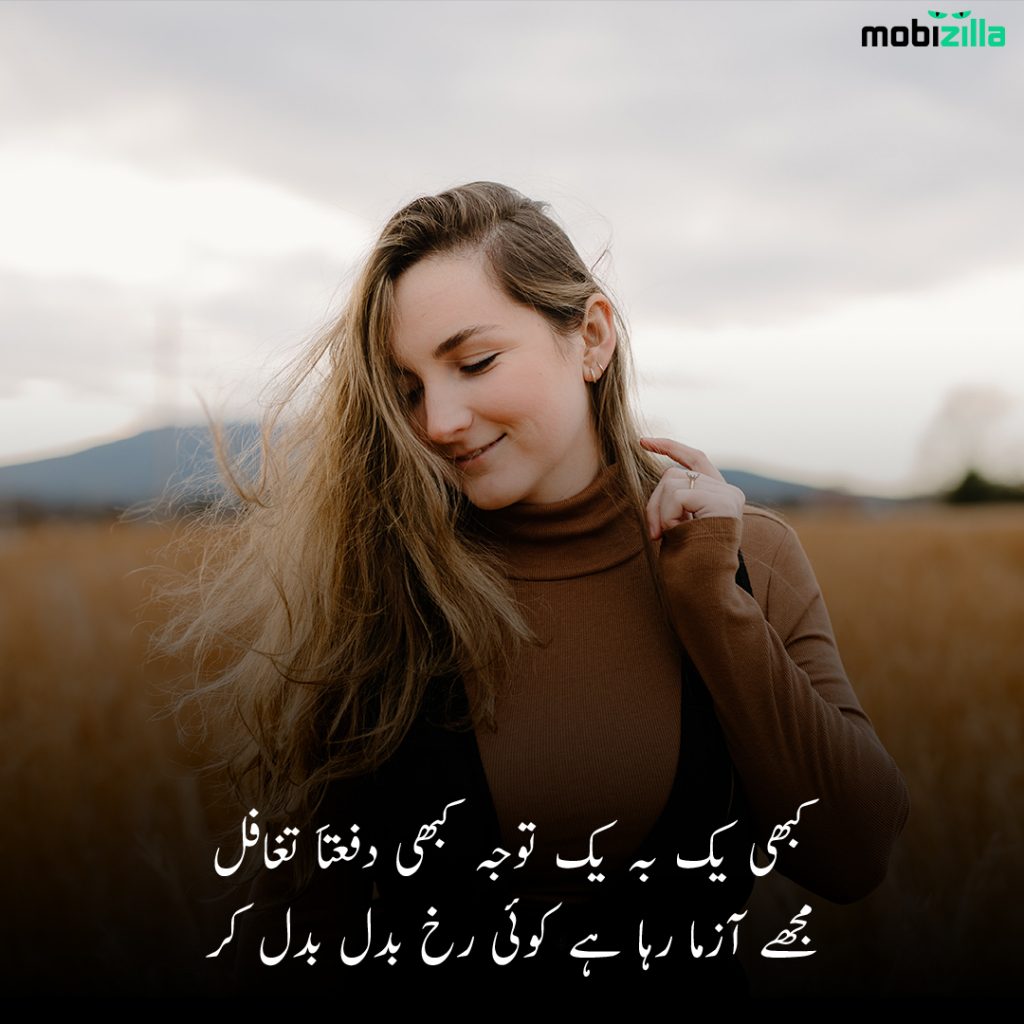 Kabi yak ba yak tawajh kabhi dafatan taghful
Mujhay aazma raha hau koi rukh badal badal kr
Urdu poetry on beauty of girl
59.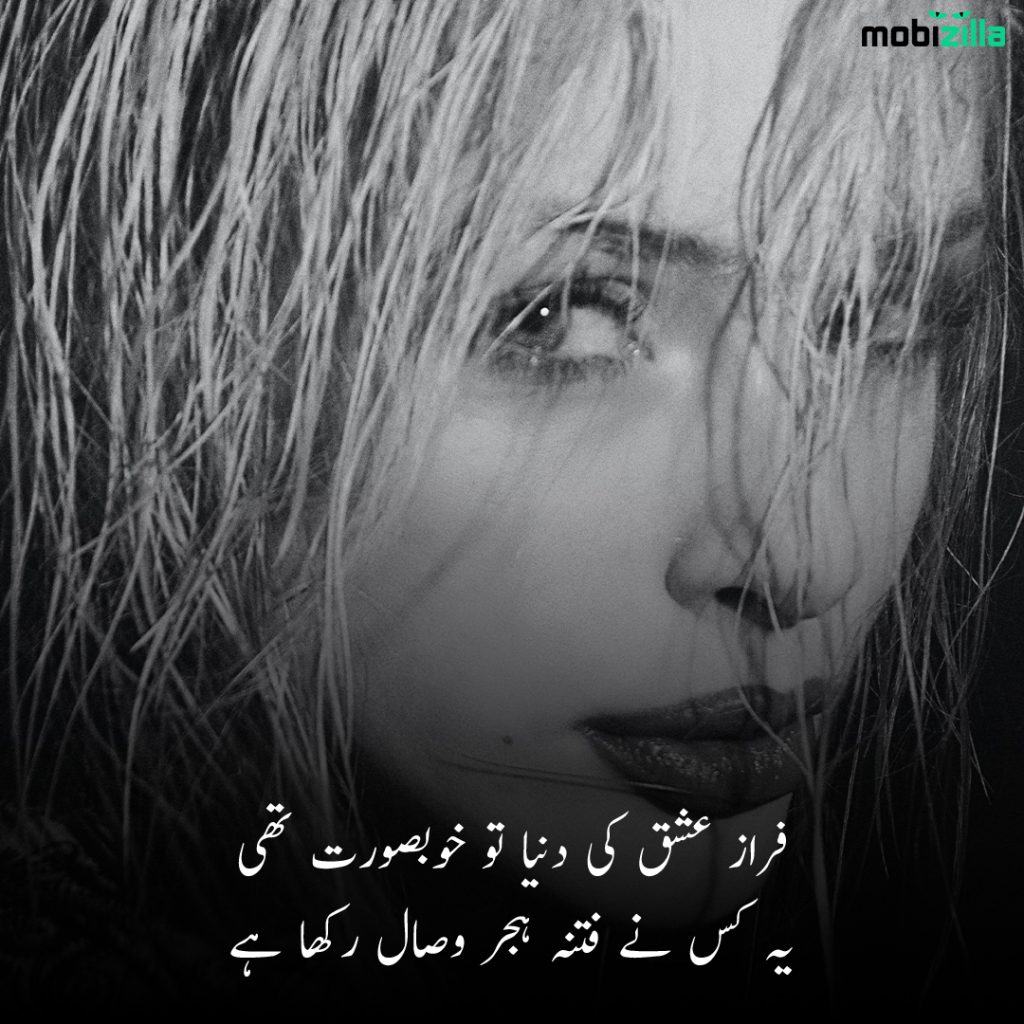 Faraz isq ki dunya to khubsorat thi
Ye kis nay fitna hijar wisal rakha hai
فراز عشق کی دنیا تو خوبصورت تھی
یہ کس نے فتنہ ہجر وصال رکھا ہے
60.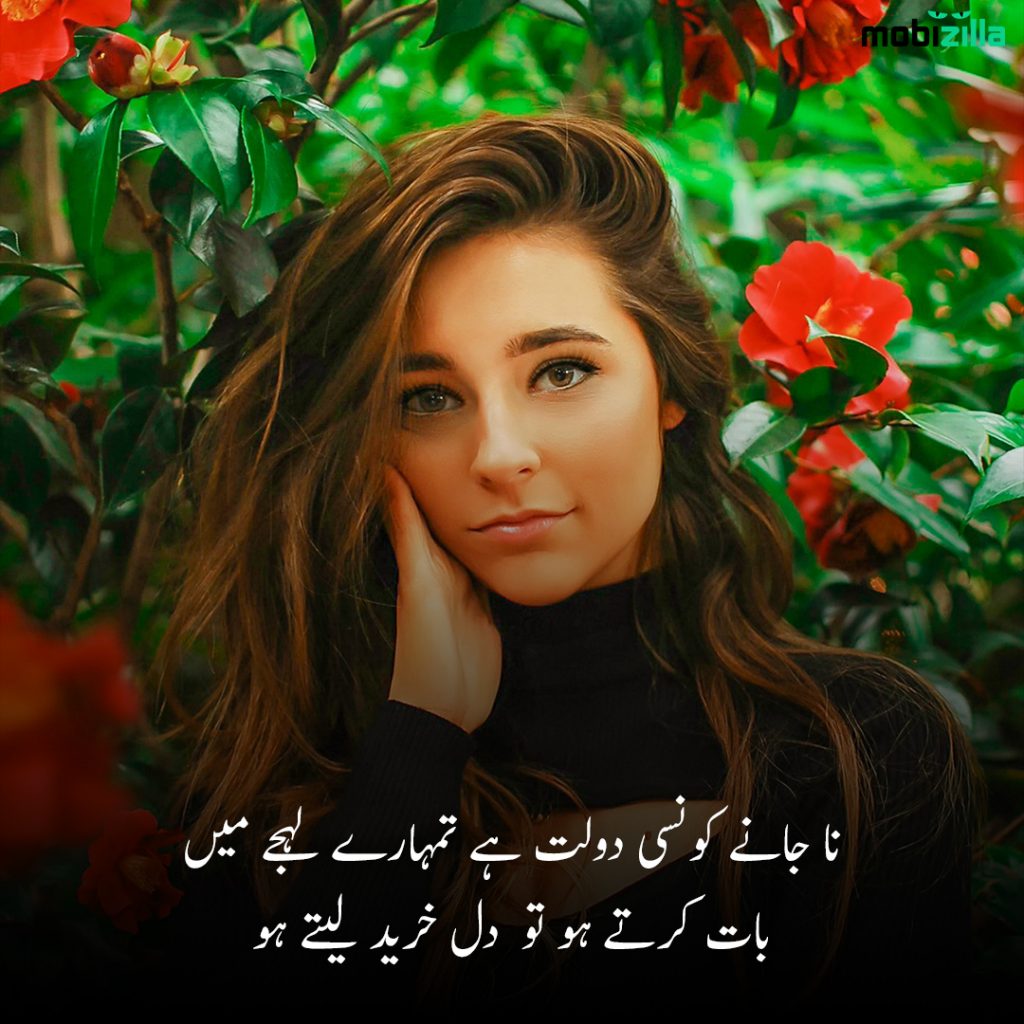 Na janay konsi dolat hai tumharay lehjay may
Baat kartay ho to dil khareed letay ho
61.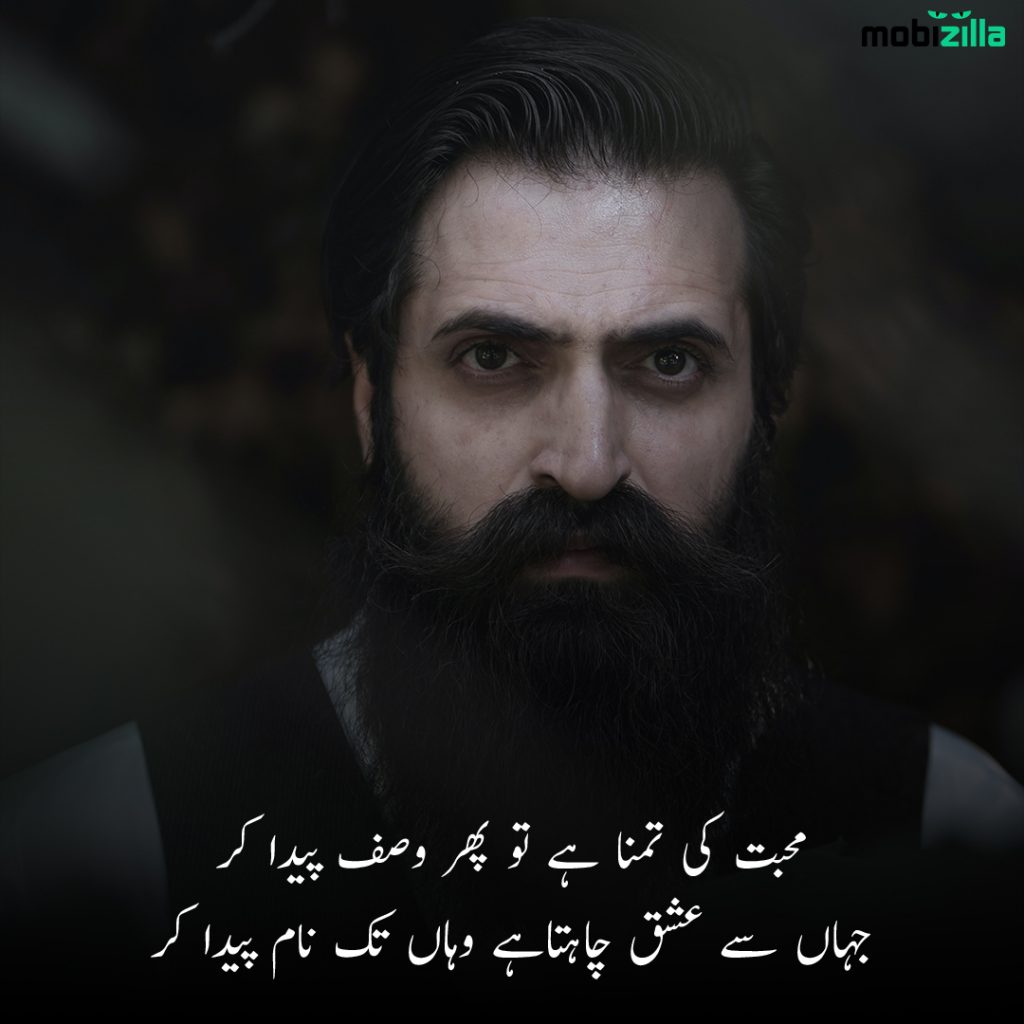 Muhabbat ki tamana hai to phir wasf peda kr
Jahan say ishq cahtya hai waha tk naam peda kr
Urdu poetry on beauty of girl
62.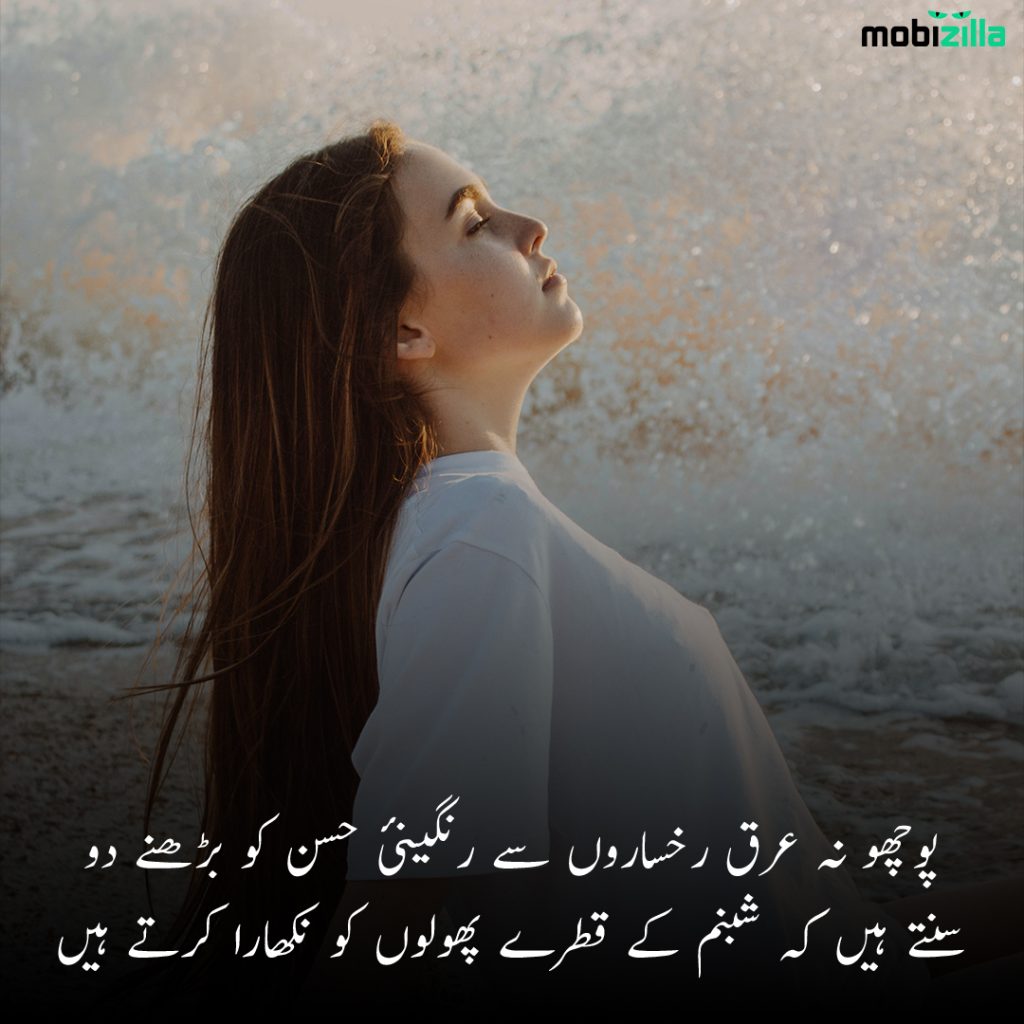 63. Beautiful Husn Shayri
Kabhi kabhi kay tasawor say g nahi bharta
Meray khayal may aao to baar baar ao
64.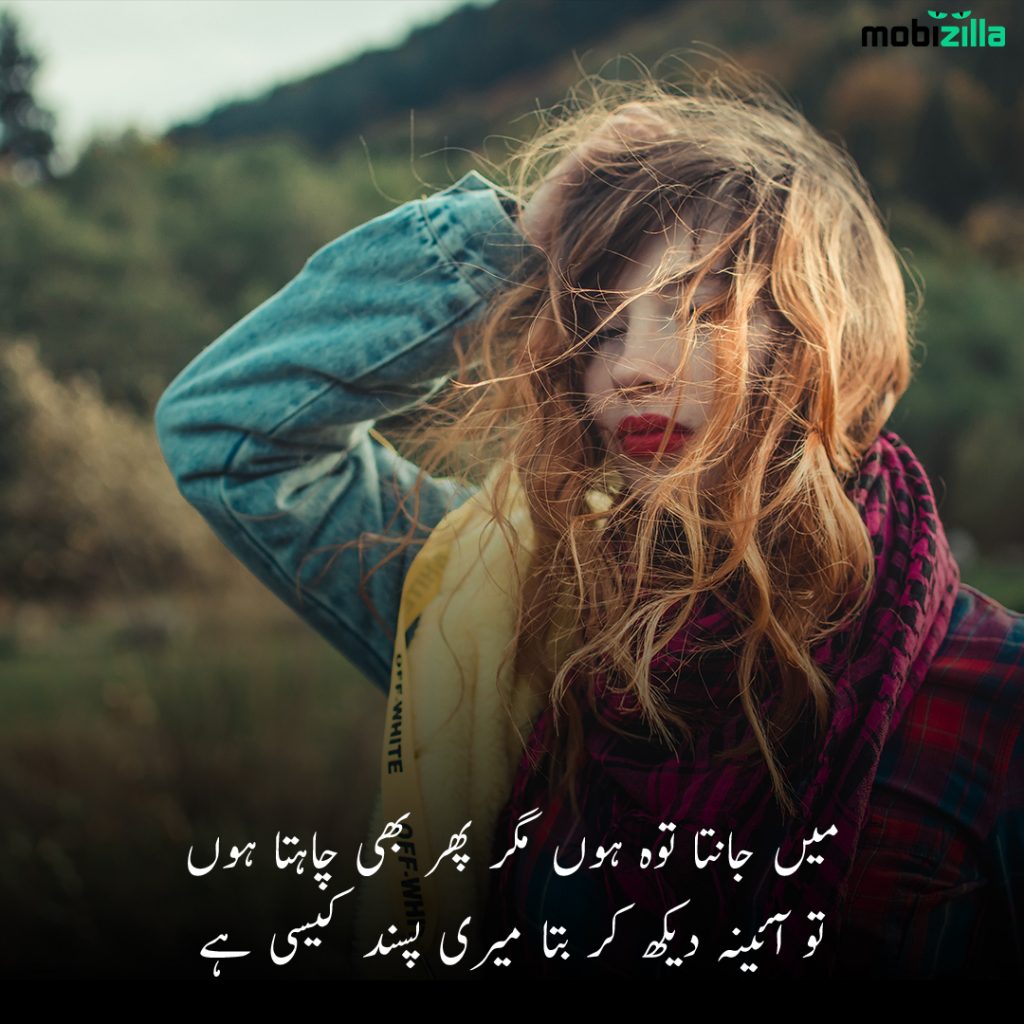 میں جانتا توہ ہوں مگر پھر بھی چاہتا ہوں
تو آئینہ دیکھ کر بتا میری پسند کیسی ہے
65.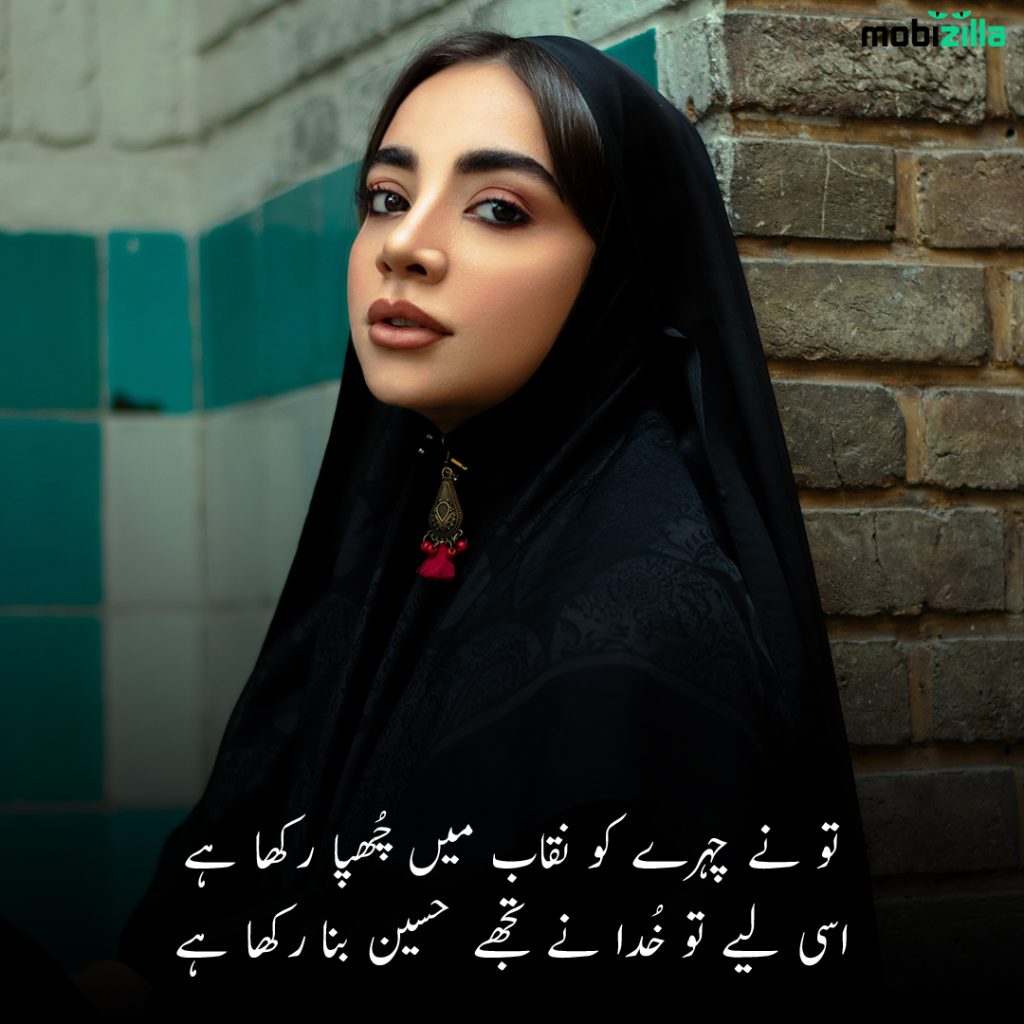 Tu nay cehray ko naqab may chupa rakha hai
Isi liay to khuda nay tujhay haseen bana rakha hai
Urdu poetry on beauty of girl
66.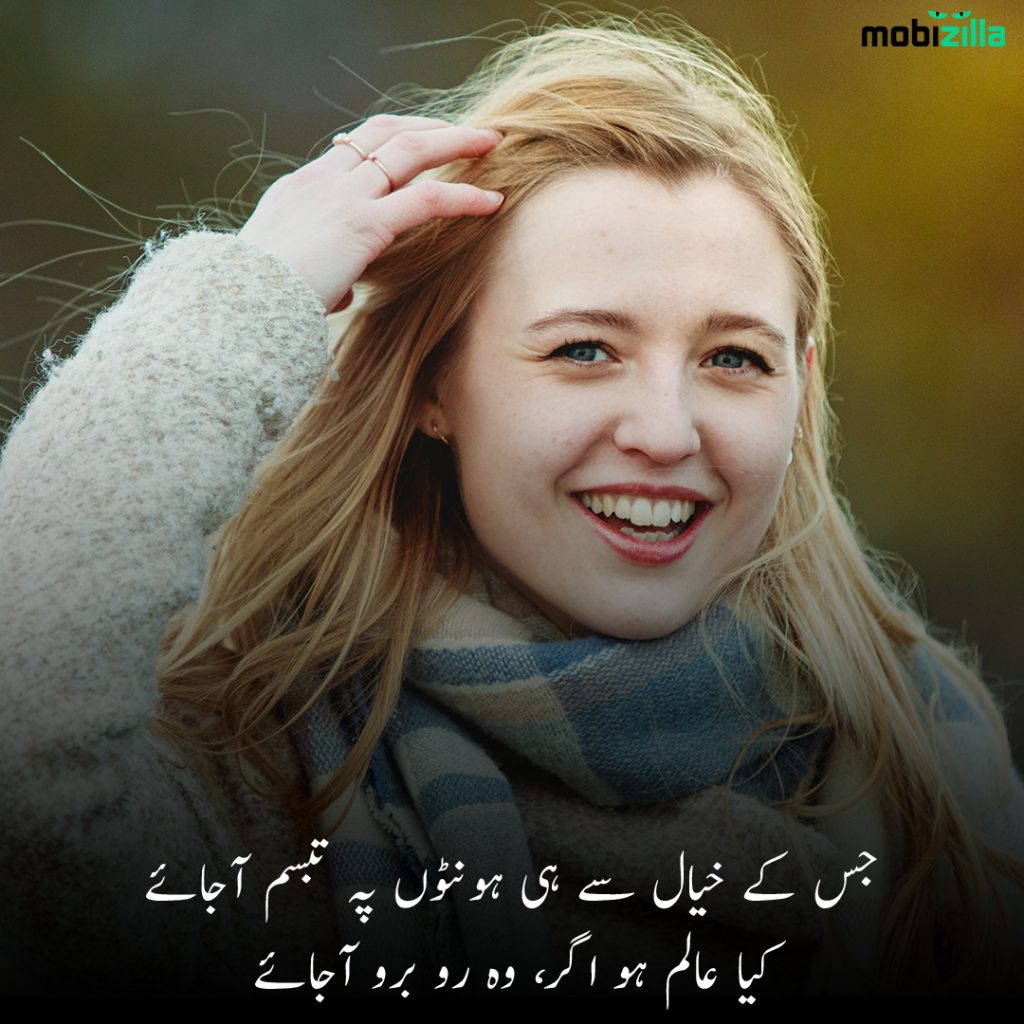 Jis kay khayal say hi honton pay tabasum ajaye
Kia aalim hoa agar wo ro baro ajaye
The thought of you brings a smile to my face. Imagine meeting your for real, how nice. 
67.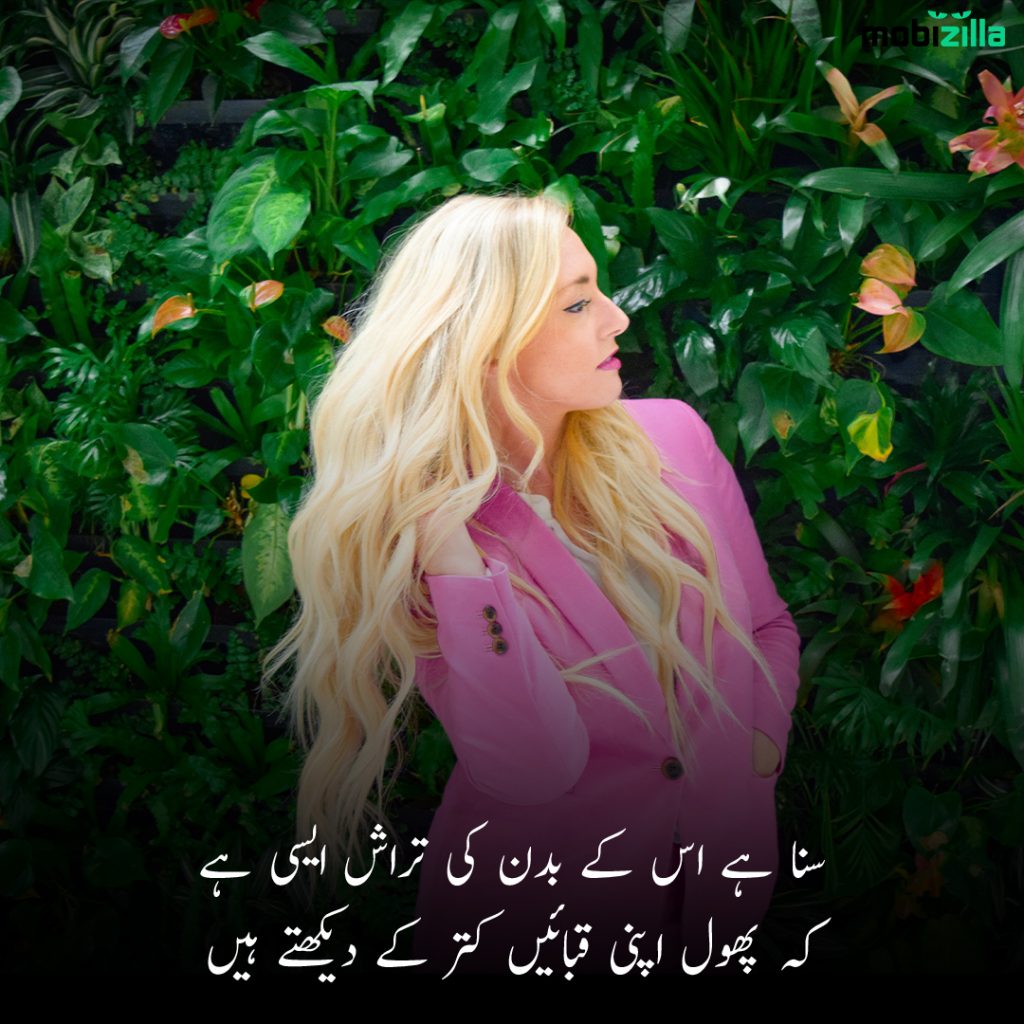 Suna hai uskay badn ki tarash aisi hai
Kay phool apni qabain kutr kay daikhtay hn
68.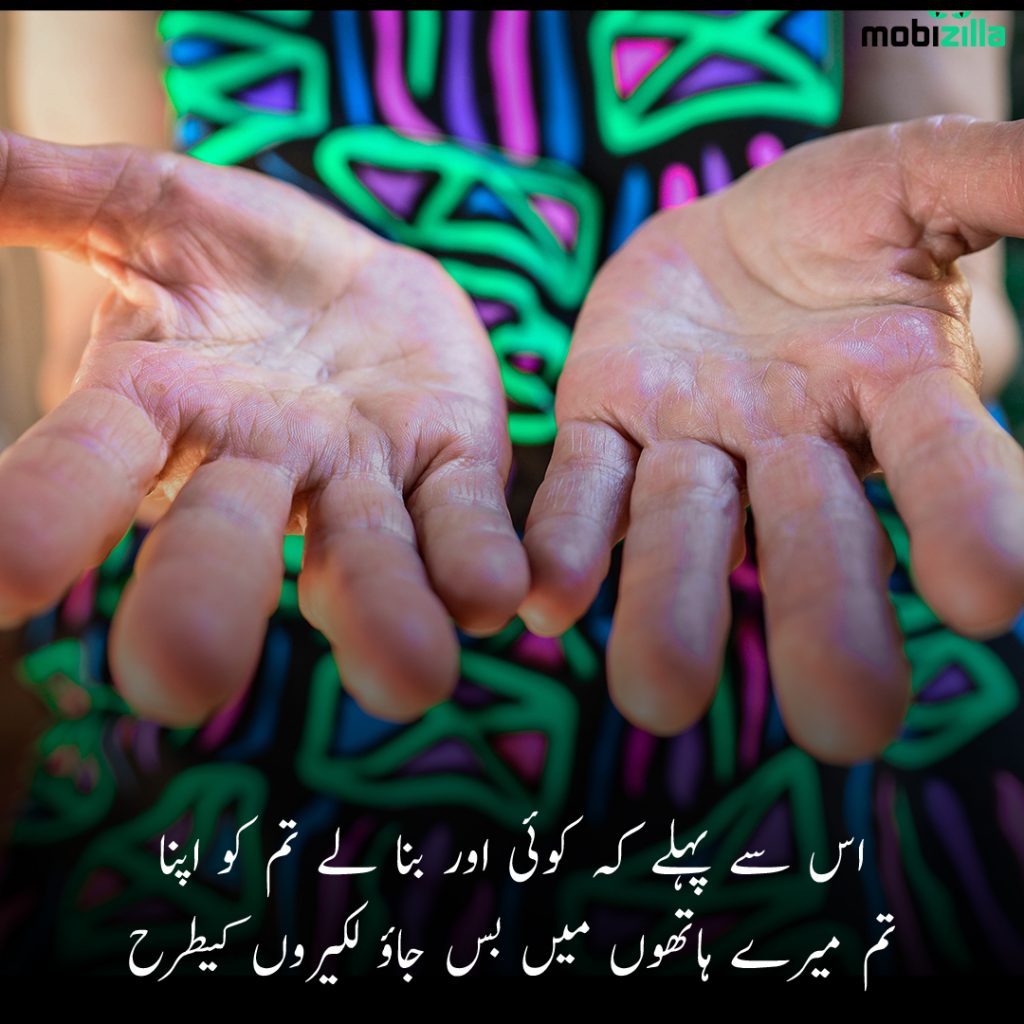 khubsurat poetry in urdu
69.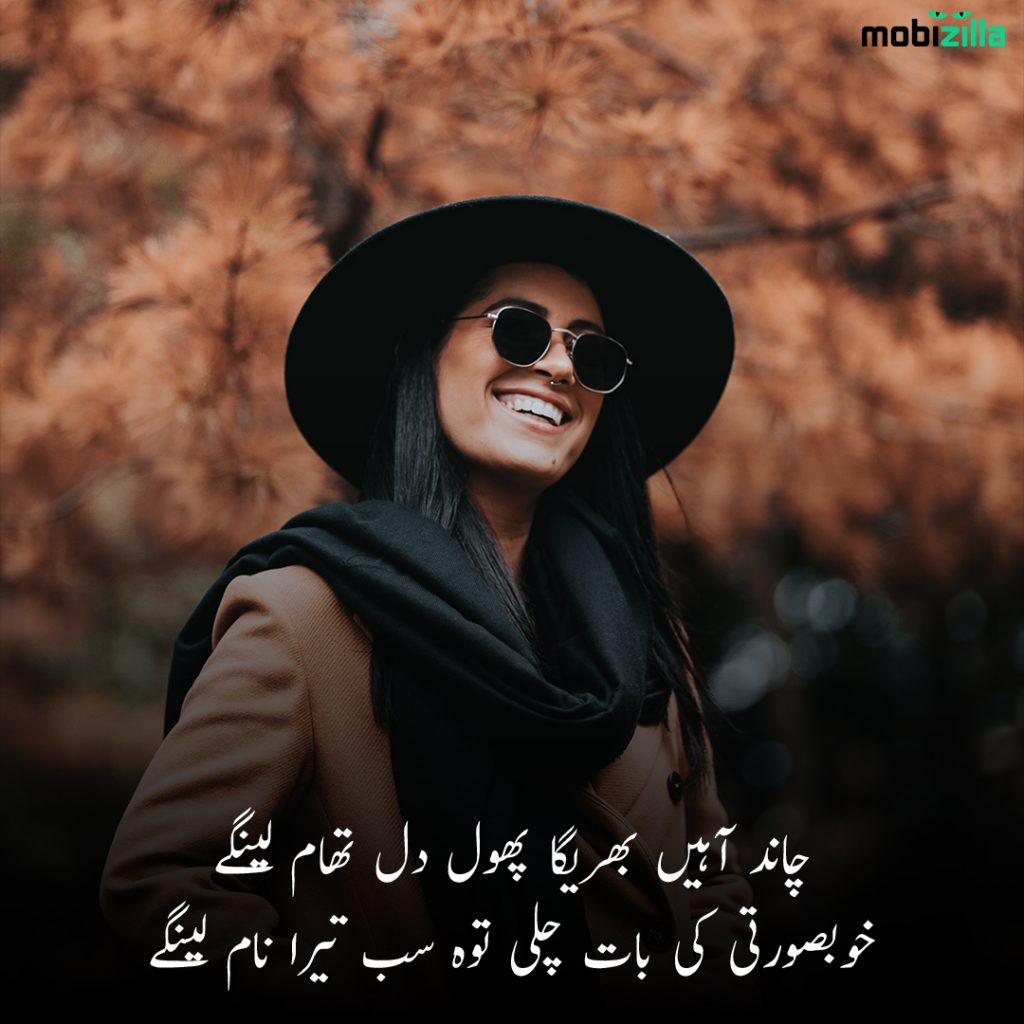 Chand aahian bhraega phol dil tham laingay
Khubsorat ki baat chali to sb tera naam laingay
70.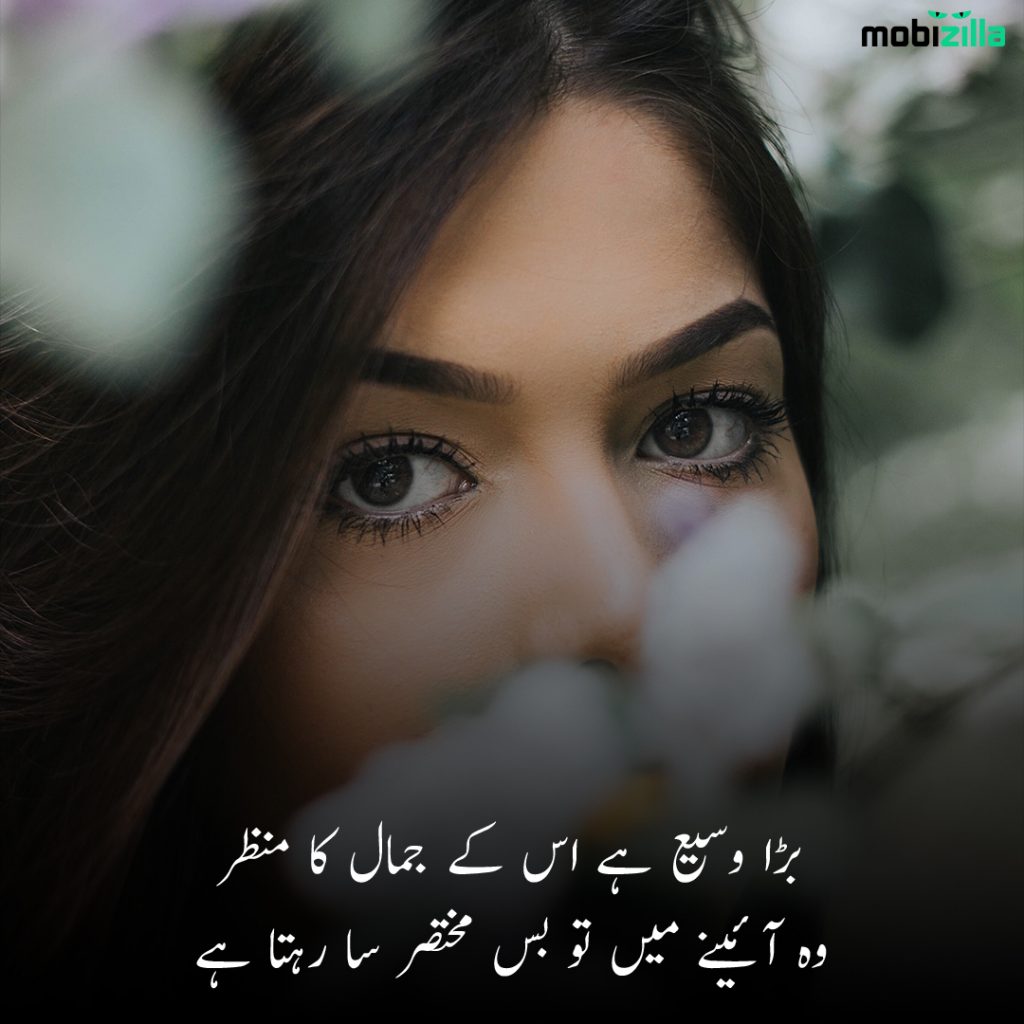 Bara waseh hai is kay jamal ka manzar
Wo aainay may bs mukhtasar sa rehta hai
khubsurat poetry in urdu
71. 
72. Poetry on beauty in Urdu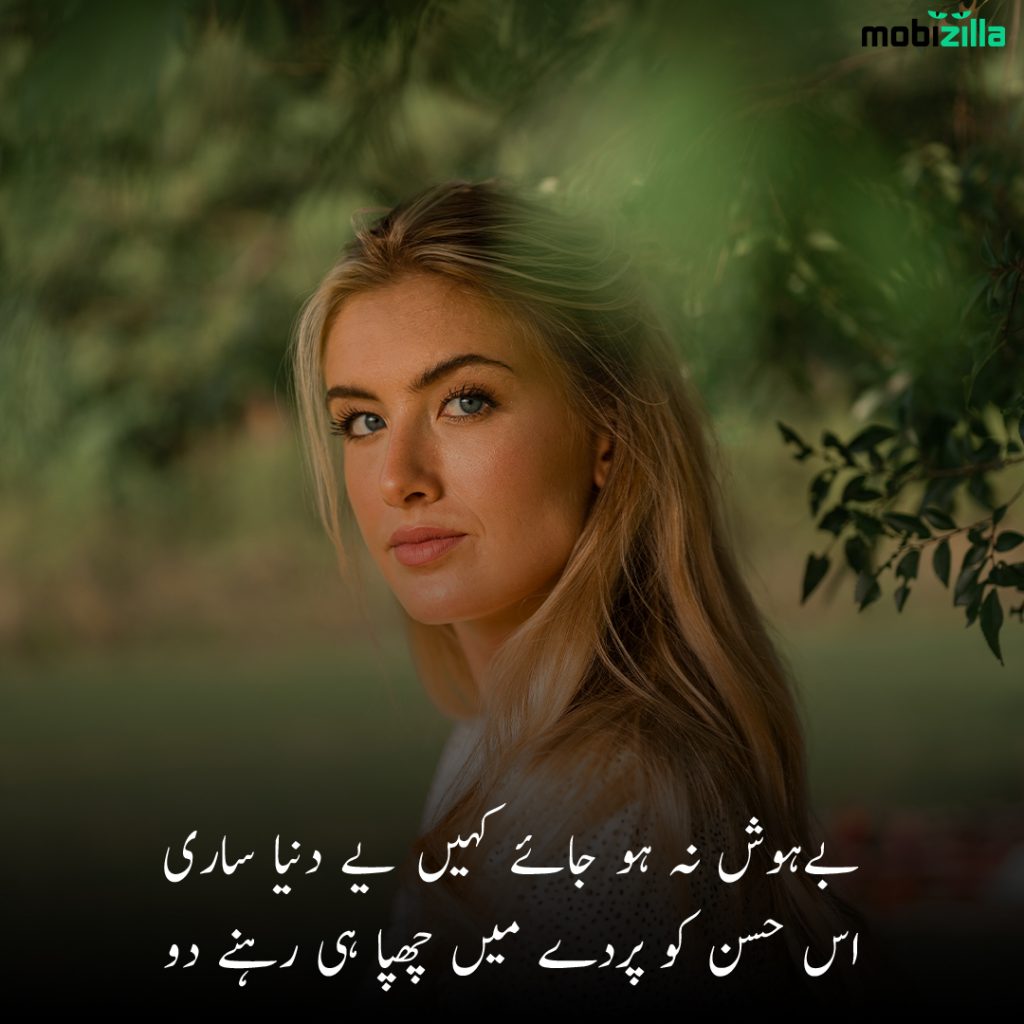 Be housh na ho jaye kahin ye dunya saari
Is husan ko parday may chupa hi rahnay do
73.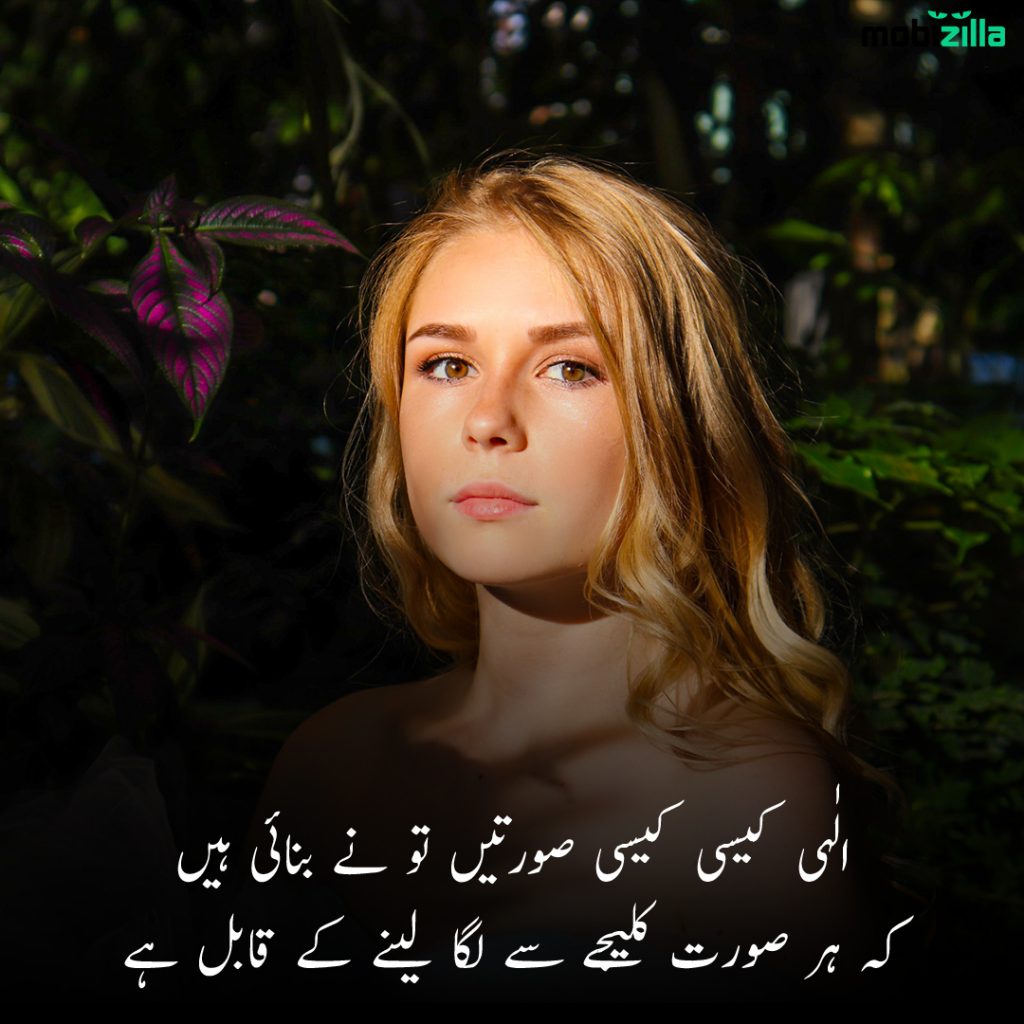 الٰہی کیسی کیسی صورتیں تو نے بنائی ہیں
کہ ہر صورت کلیجے سے لگا لینے کے قابل ہے
74.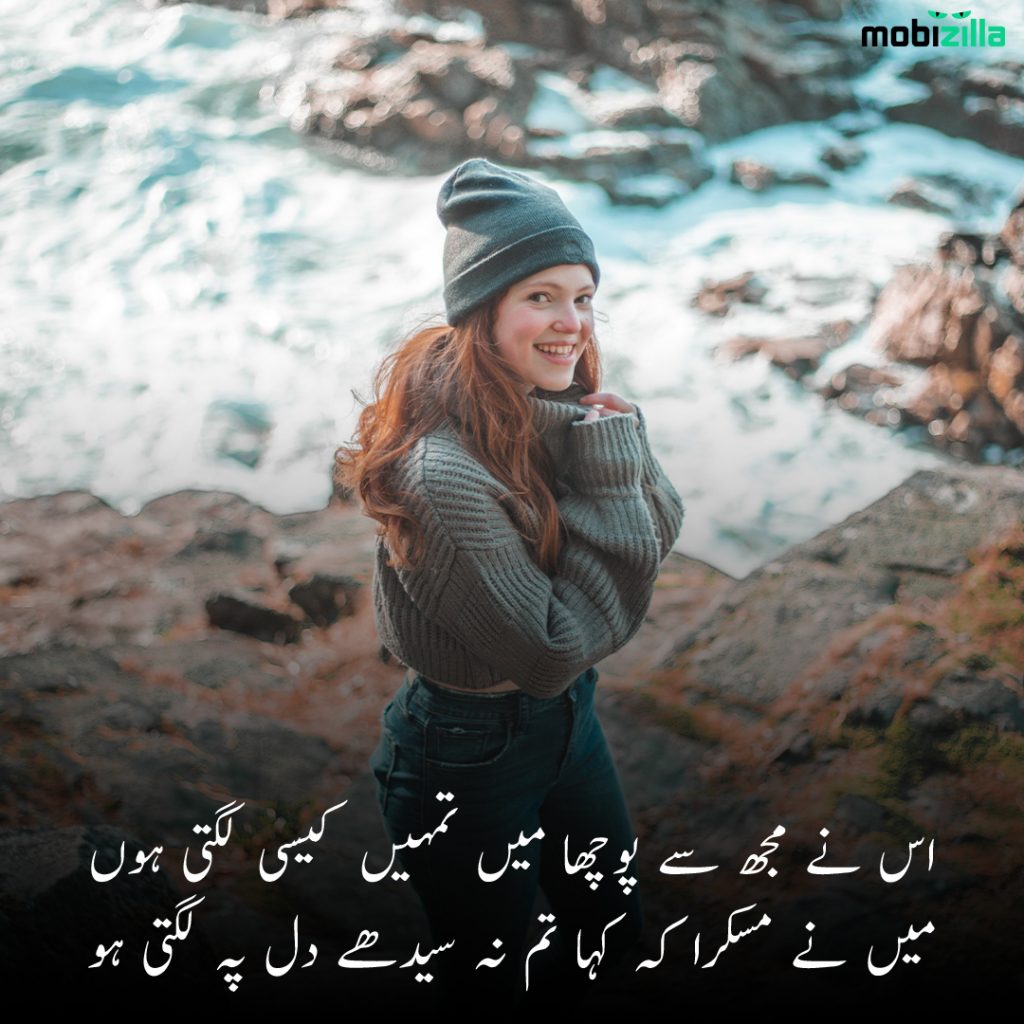 Is nay muj say poucha may nay tumhain kesi lgti hun
May nay muskura kay kaha tm  sedhay dil pay lgti ho
75.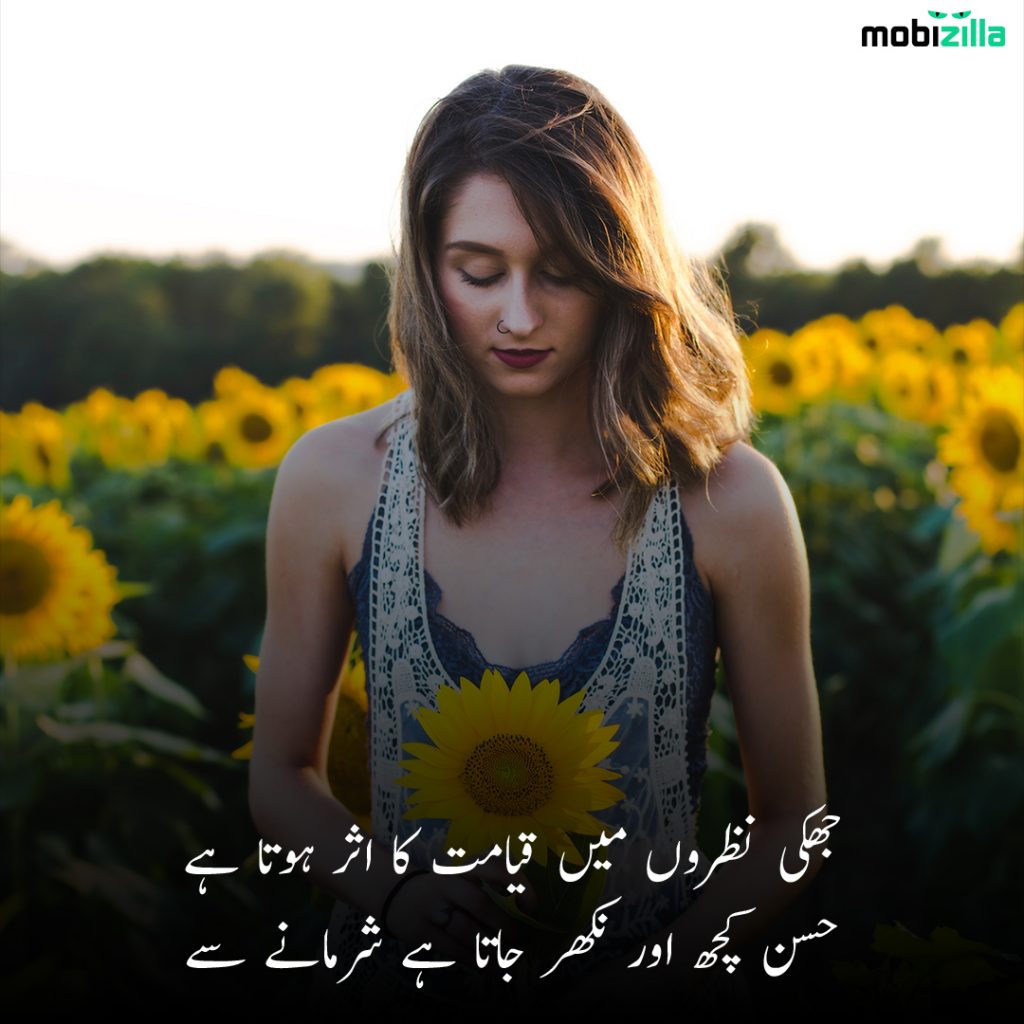 Jhuki nazron may qayamt ka asar hota hai
Husan kuch aur nikhr jata hai sharmanay say
Tera husn poetry
76.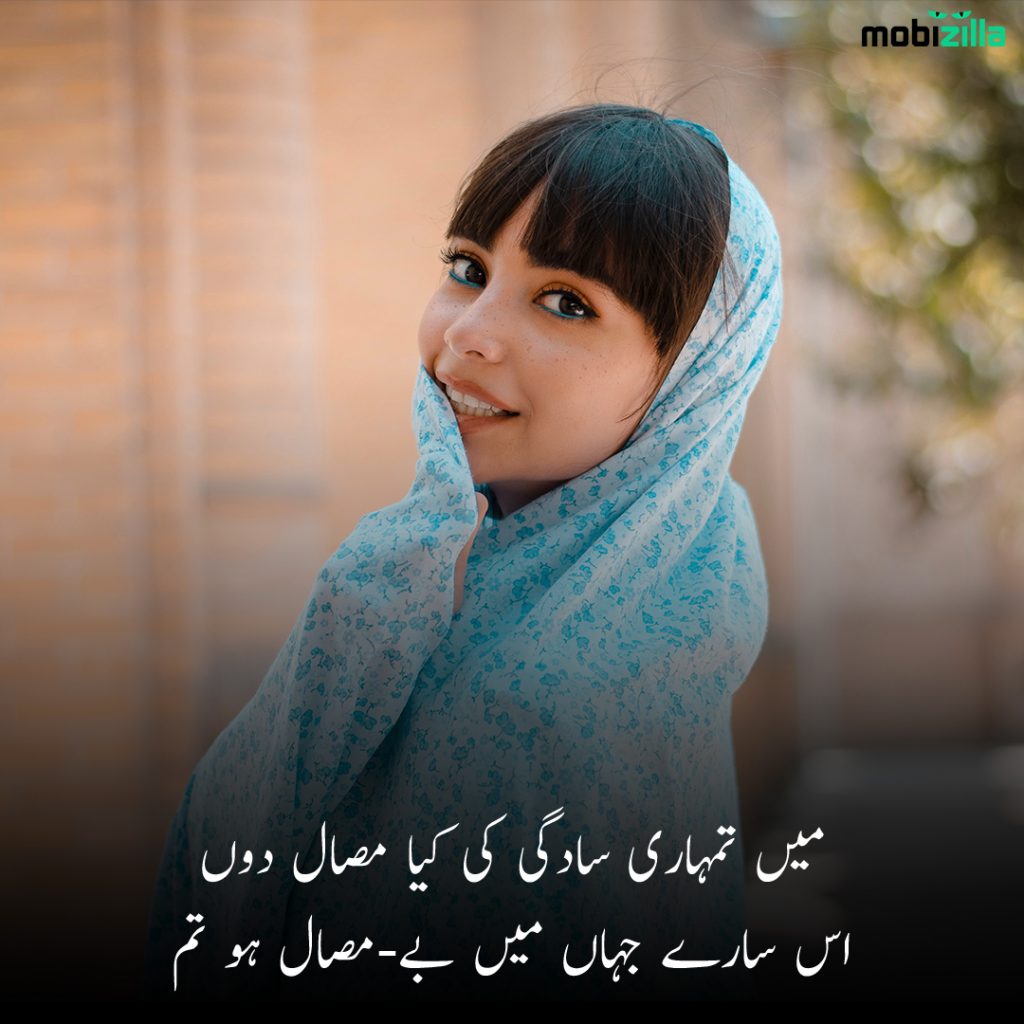 Poetry on beauty in Urdu
77.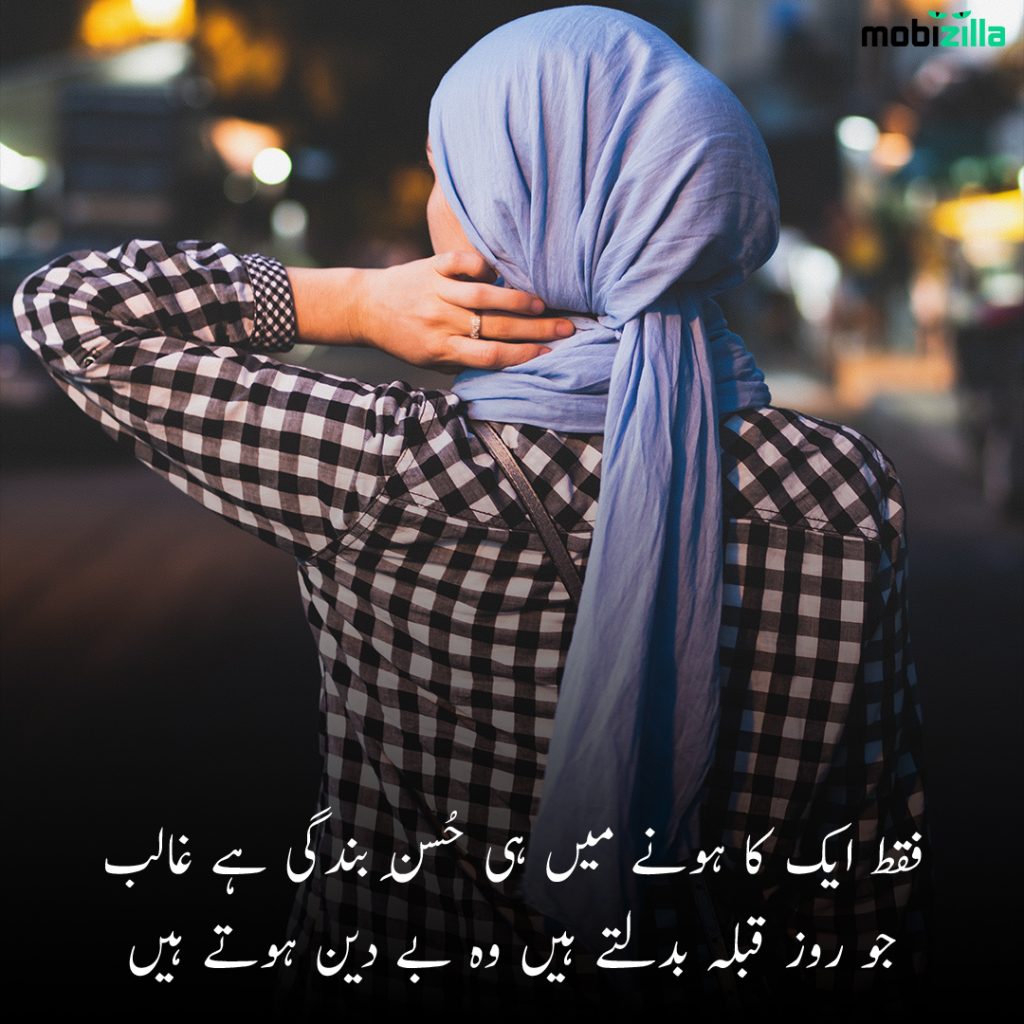 Faqat aik ka hona may nay hi husan bandagi hai Ghalib
Jo roz qabla badaltay hn wo be deen hotay hn
Ghalib says it all. It appears that he believed in one true love.
But, what do you think?
Tera husn poetry
78.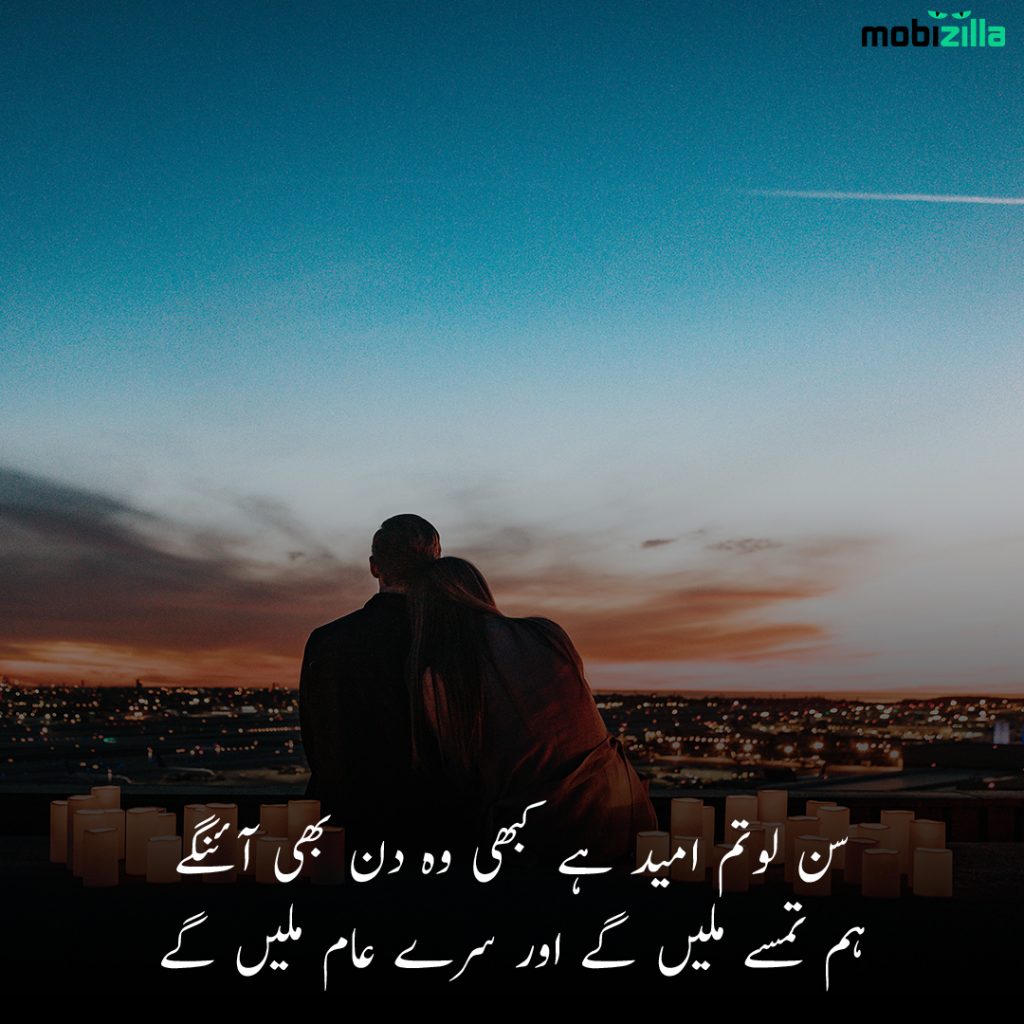 Sun lo tm umeed hay kabhi wo din bhi ayega
Hm tmsay milain gay aur saray aam milainga
سن لوتم امید ہے کبھی وہ دن بھی آئنگے
ہم تمسے ملیں گے اور سرے عام ملیں گے
79.
Nazr nazr may hi dewana bana daitay hai
Husan walon ki jhalak kamal hoti hai
Tera husn poetry
80. 
81.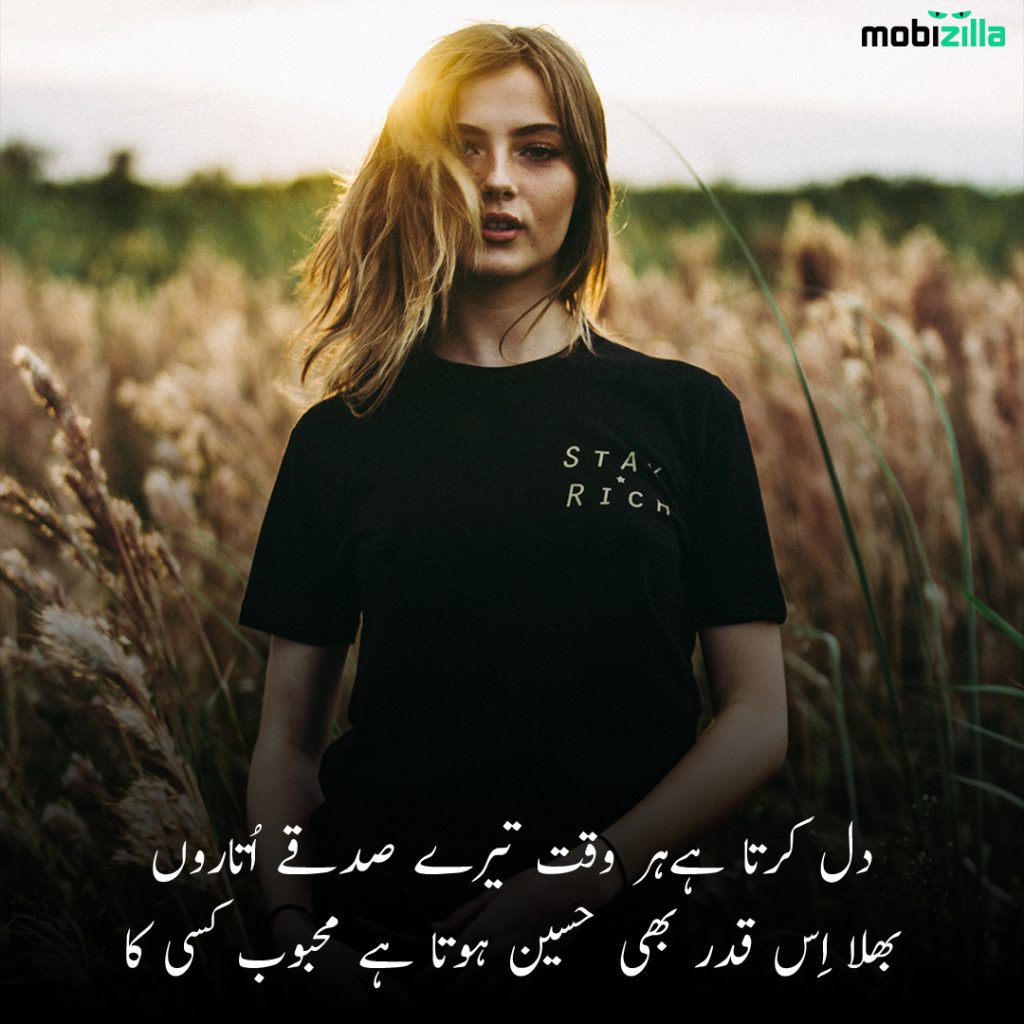 82.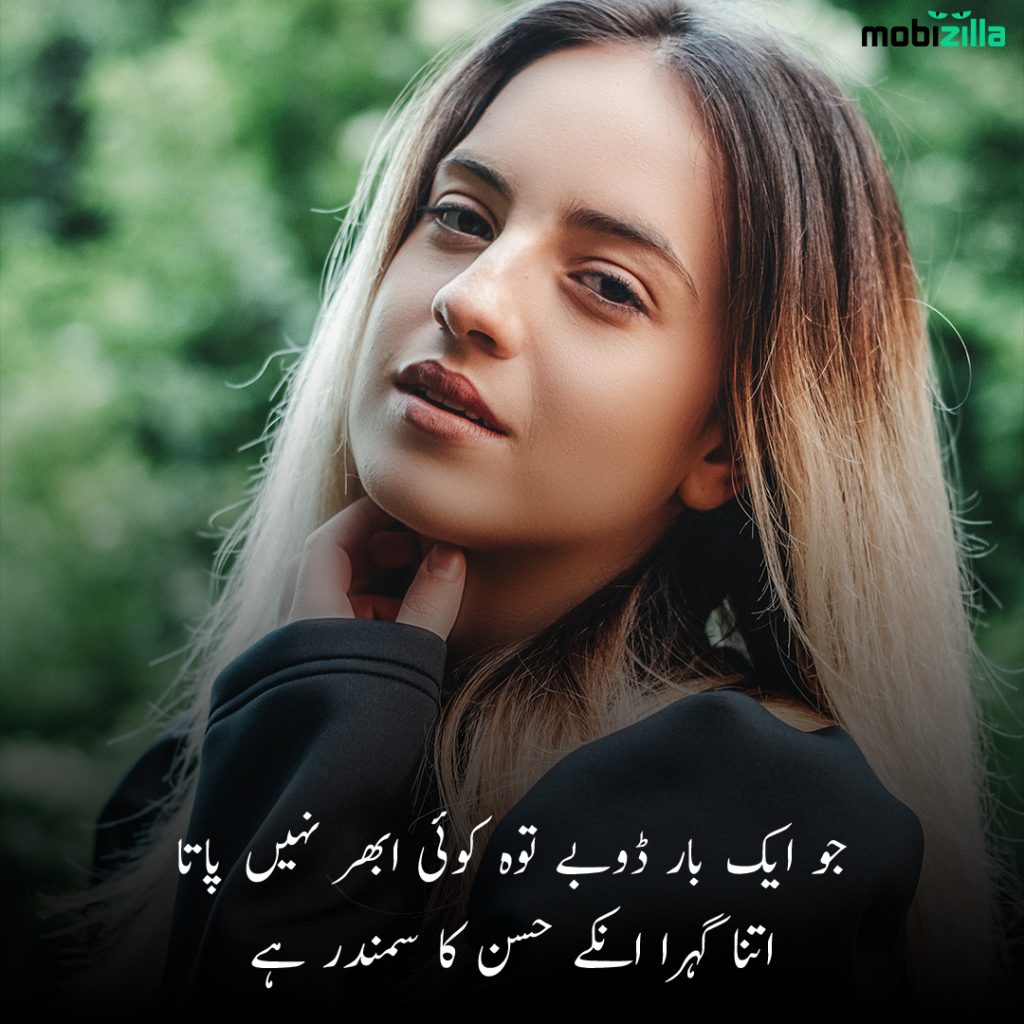 Jo ai k baar dobay to koi ubar nahi pata
Itna gehra inkay husan ka samndar hai
83.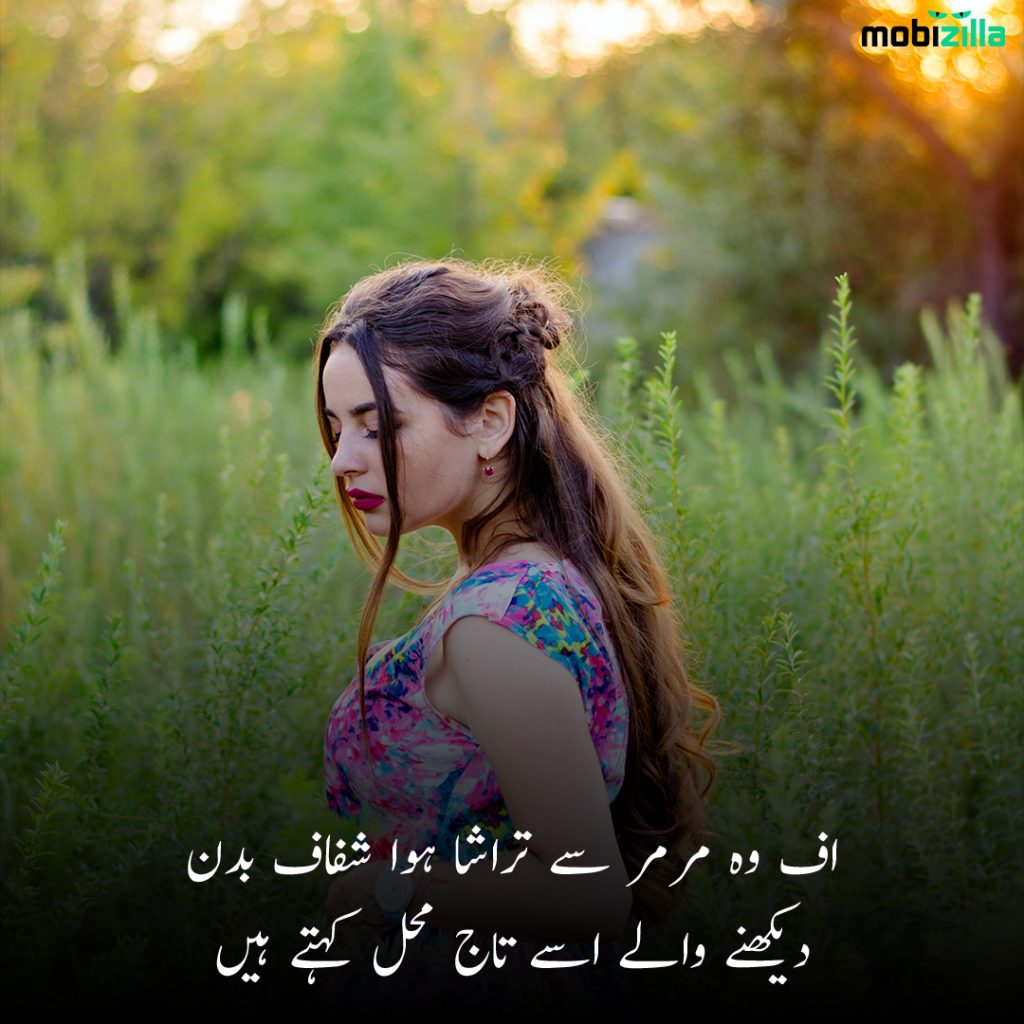 Uf wo mar mar say tarasha hoa shafaf bdn
Daikhnay walay usay taaj-e-mahl kehtay hn
I can relate your body to a beautiful architectural building. For example, Taj Mahal. 
84.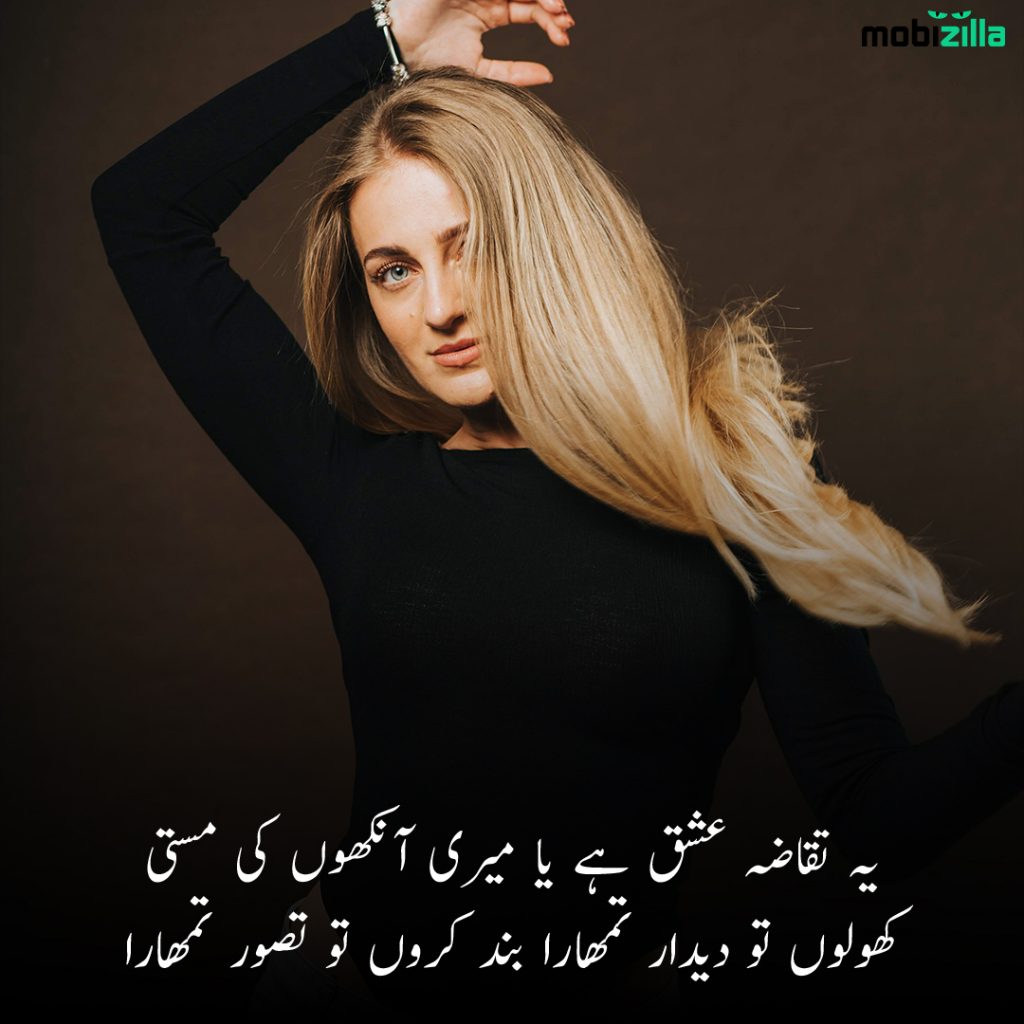 Ye taqaza ishq hai ya meri aankhon ki masti
Kholon to dedar tmhara bnd karun to tasawo tmhara
85.
husn shayariSatatay hai hamain to husan kay maliq
Aoron say to hm naza bhi nahi milatay
86.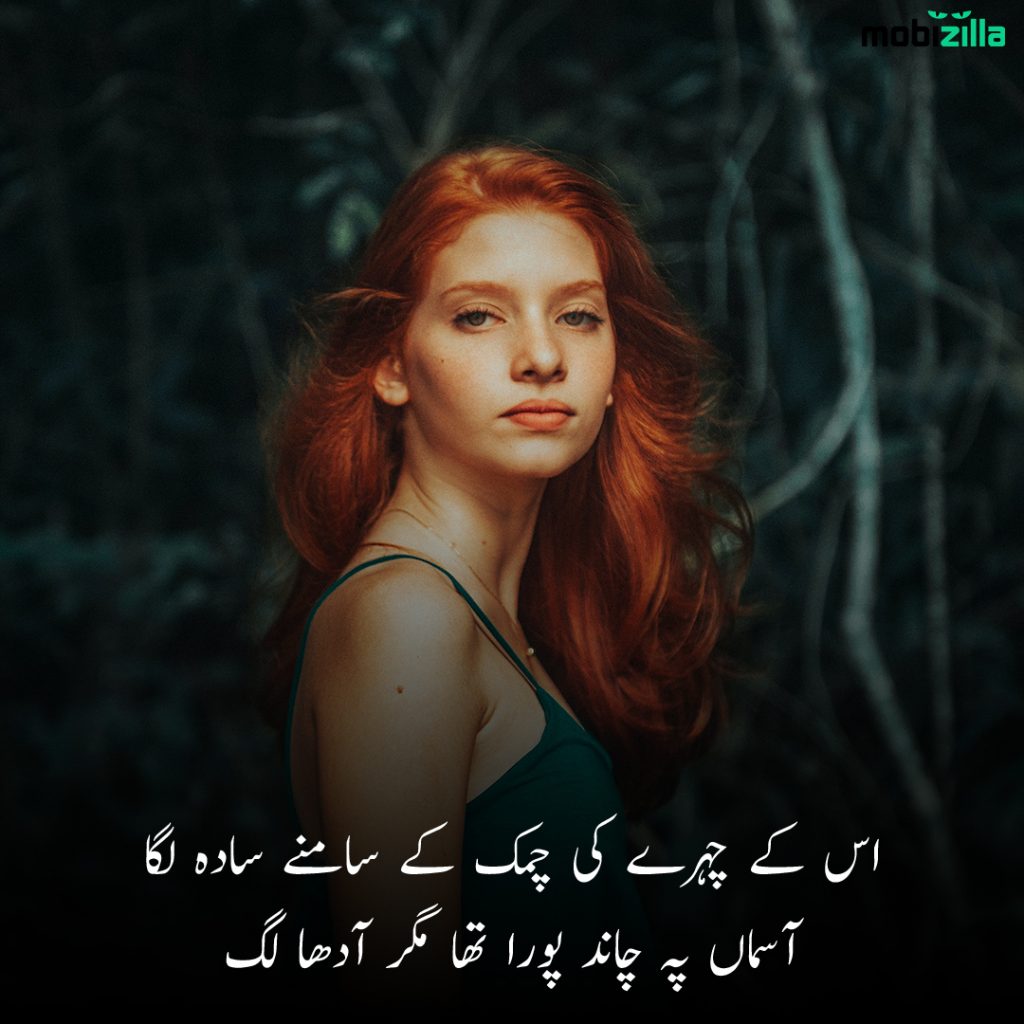 Iskay cehray ki chamak kay ssamnay sada lga
Aasaman pay chand pora tha magar aadha lg
87.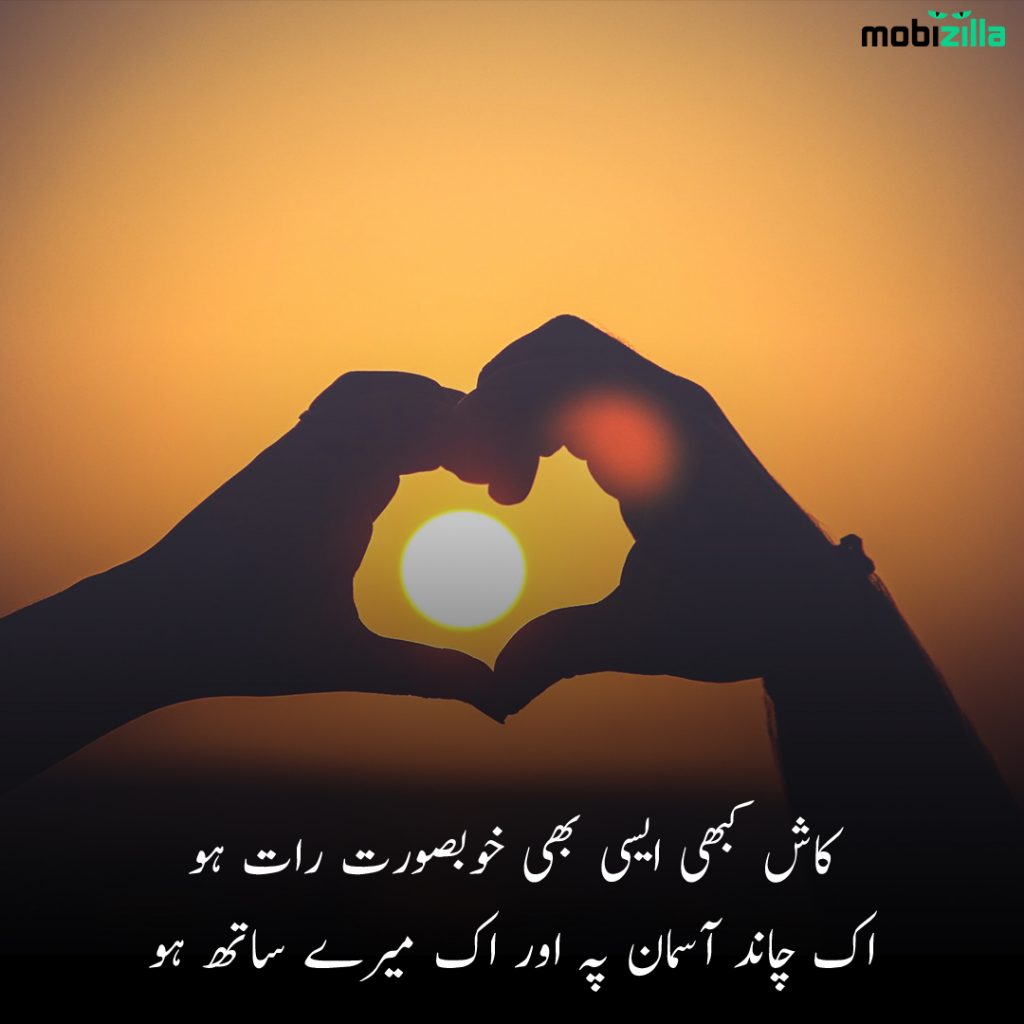 Kaash kbhi aisi bhi khobsurat raat ho
Ik chaand aasamn pay aur ik meray sat ho
کاش کبھی ایسی بھی خوبصورت رات ہو
اک چاند آسمان پہ اور اک میرے ساتھ ہو
88.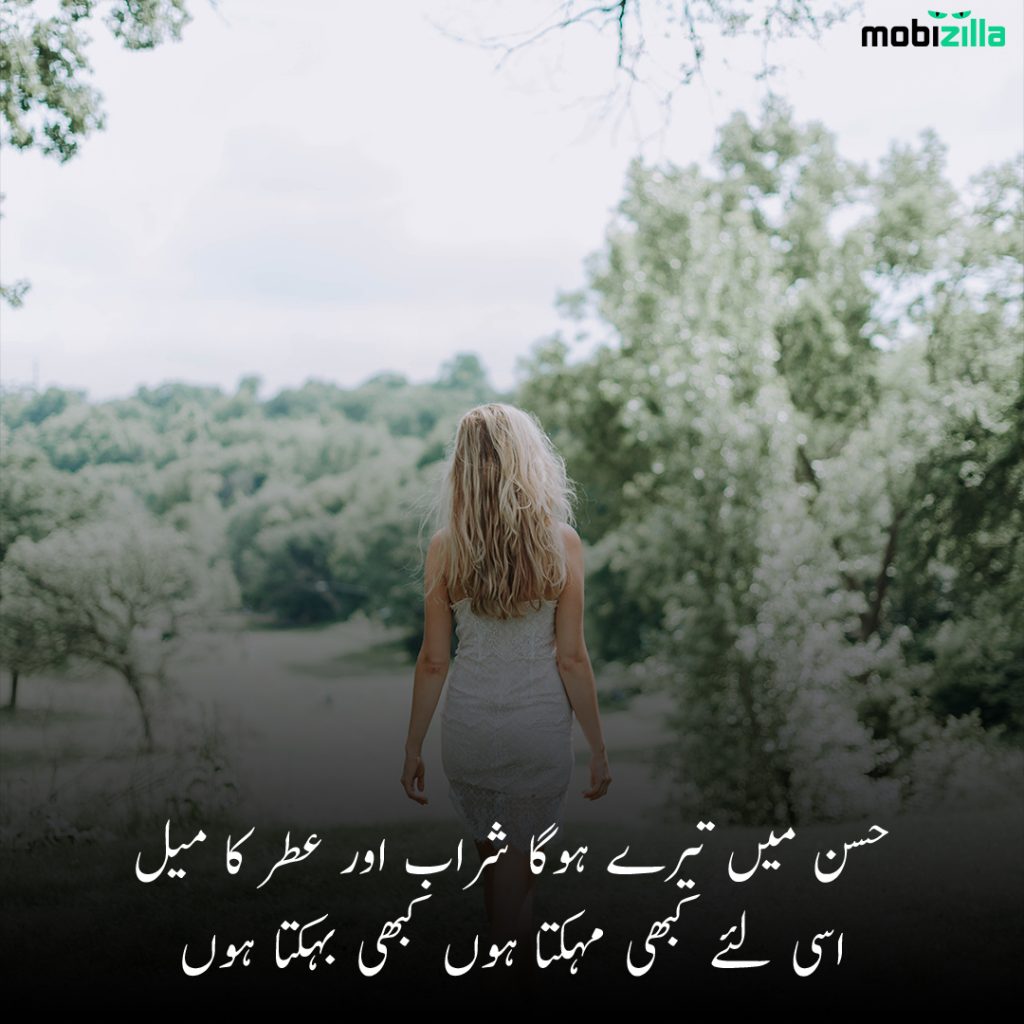 Husan may teray hoga sharab aur itar ka mail
Isi liay kbi mehkta hun kbhi behkta hun
89. husn shayari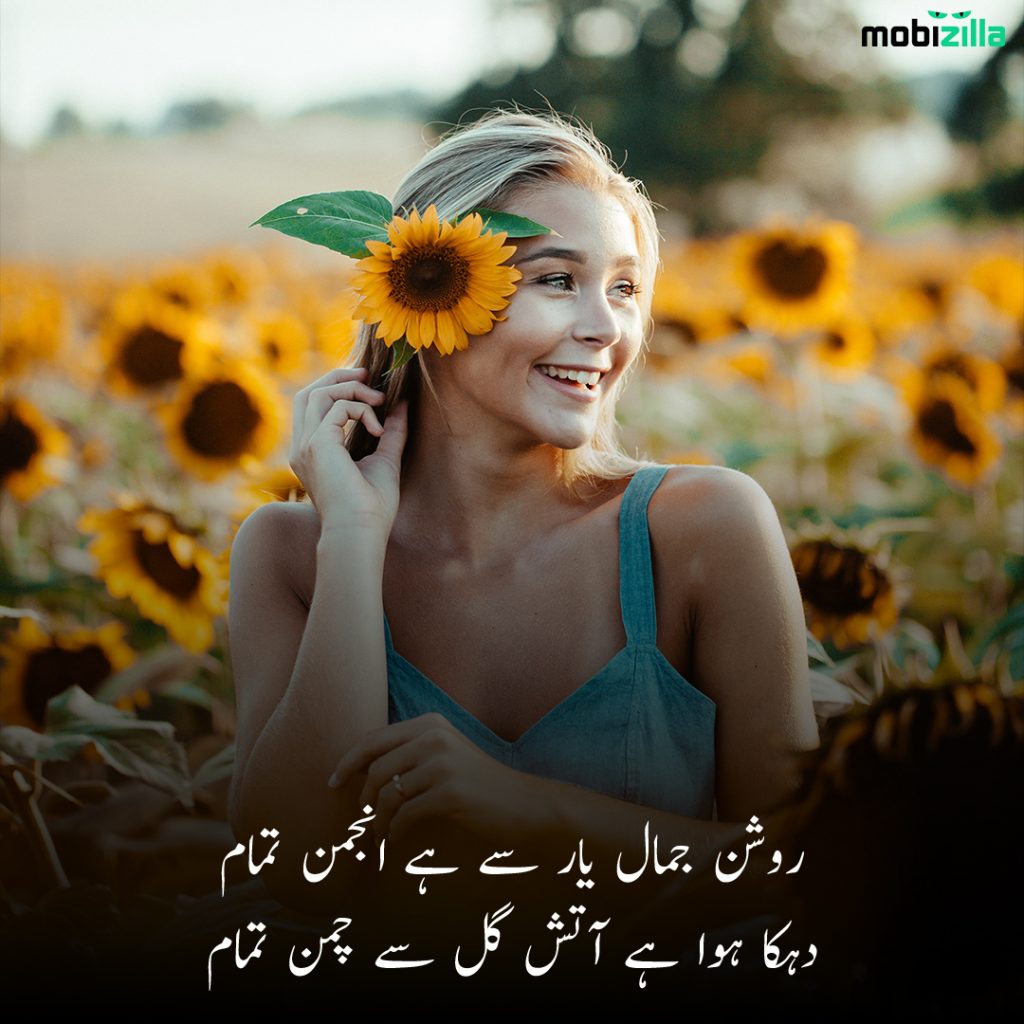 Roashan jamal-e-yar say hai anjuman
Dehka hoa aatish say chaman tamam
روشن جمال یار سے ہے انجمن
تمام دہکا ہوا ہے آتش گل سے چمن تمام
90. 
Akeli waris ho tm
Meri be shumar cahaton ki
اکیلى وارث ہو تم
میری بےشمارچاہتوں کى
91.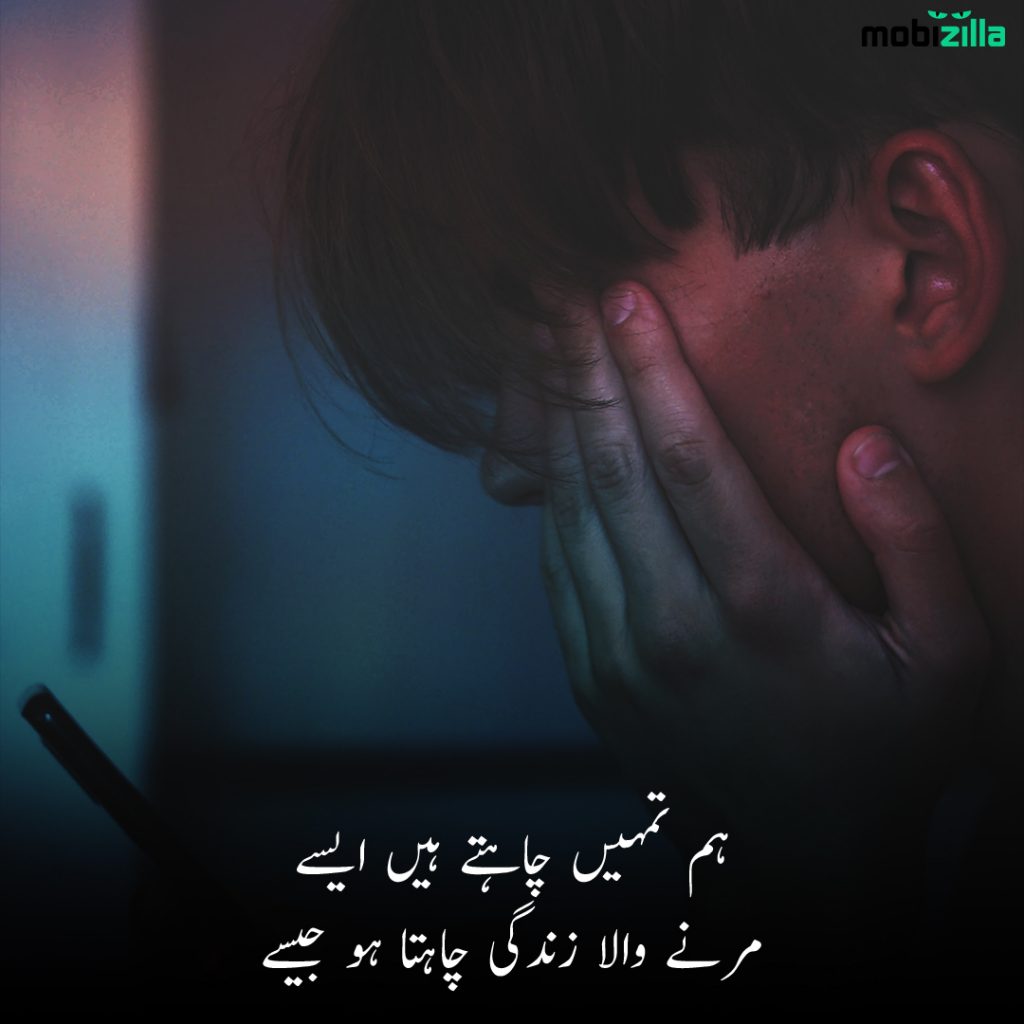 Hm tumhain cahtay hn aisay
Marnay wala zindagi cahta ho jesay
Like mobizilla.pk on Facebook to get the latest updates
Like mobizilla.pk on Instagram to get the latest updates
92.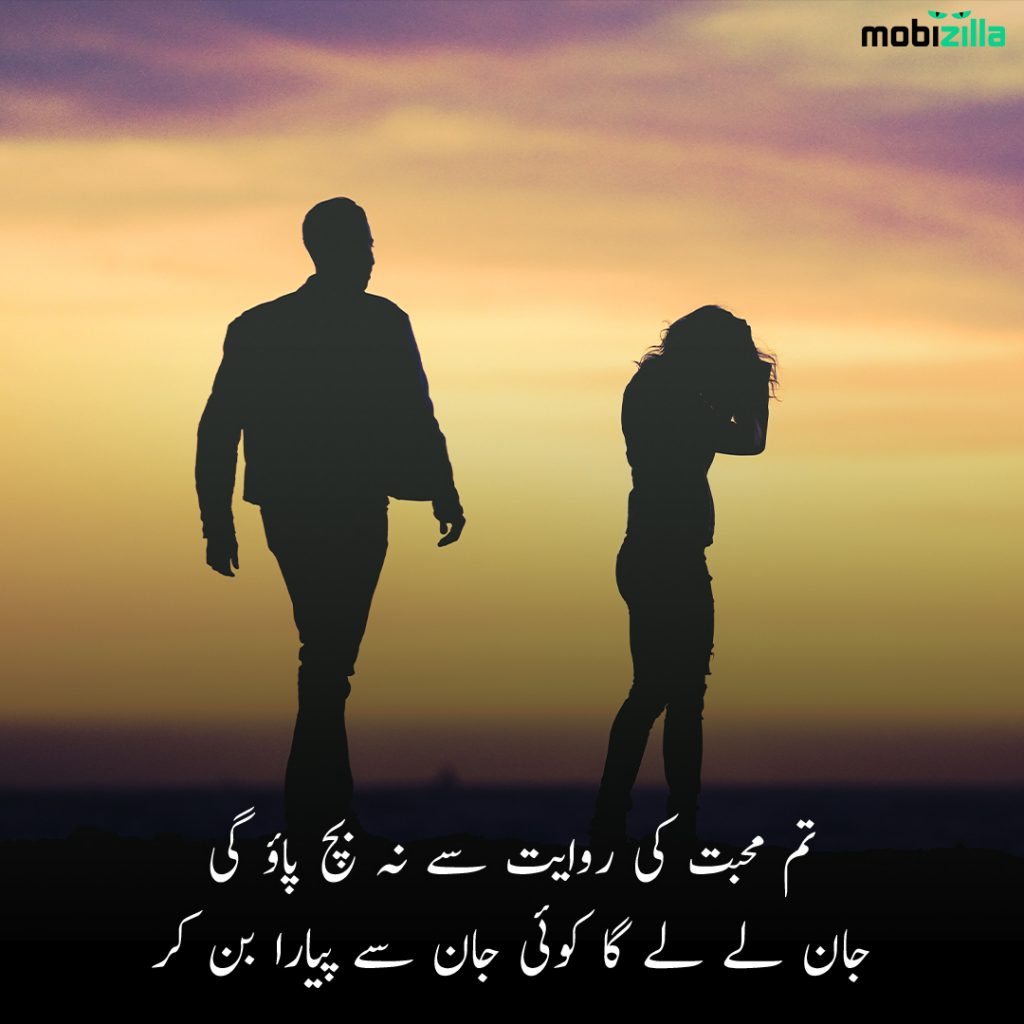 Tm muhabat ki riwayat say na bach paaogi
Jan lay lay ga koi jan say pyara bn kr
93.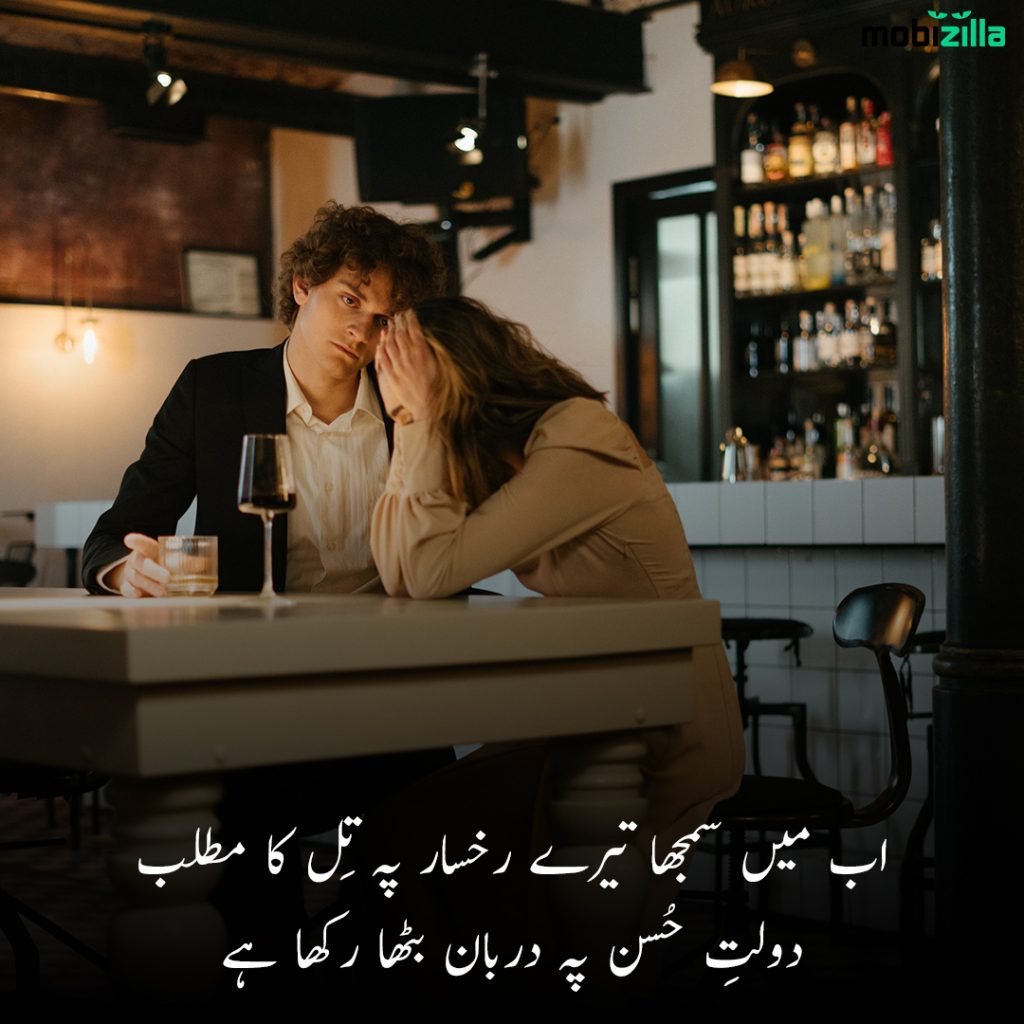 Ab may samjha teray rukhsar pay til ka matlb
Dolat-e-husan pay darbad batha rakha hai.
94.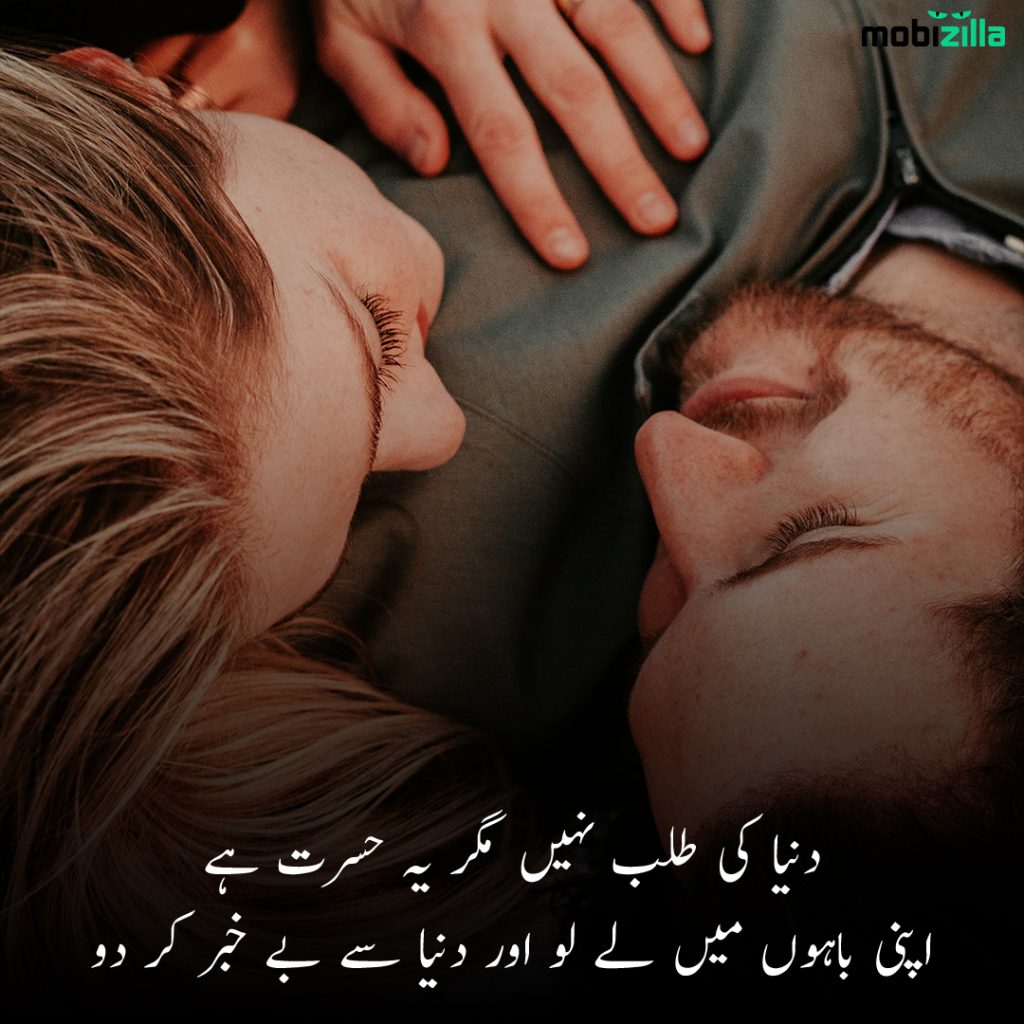 Dunya ki talab nahi magr ye hasrat hai
Apni baahon may lay lo aur dunya say be khabar kr do .
95.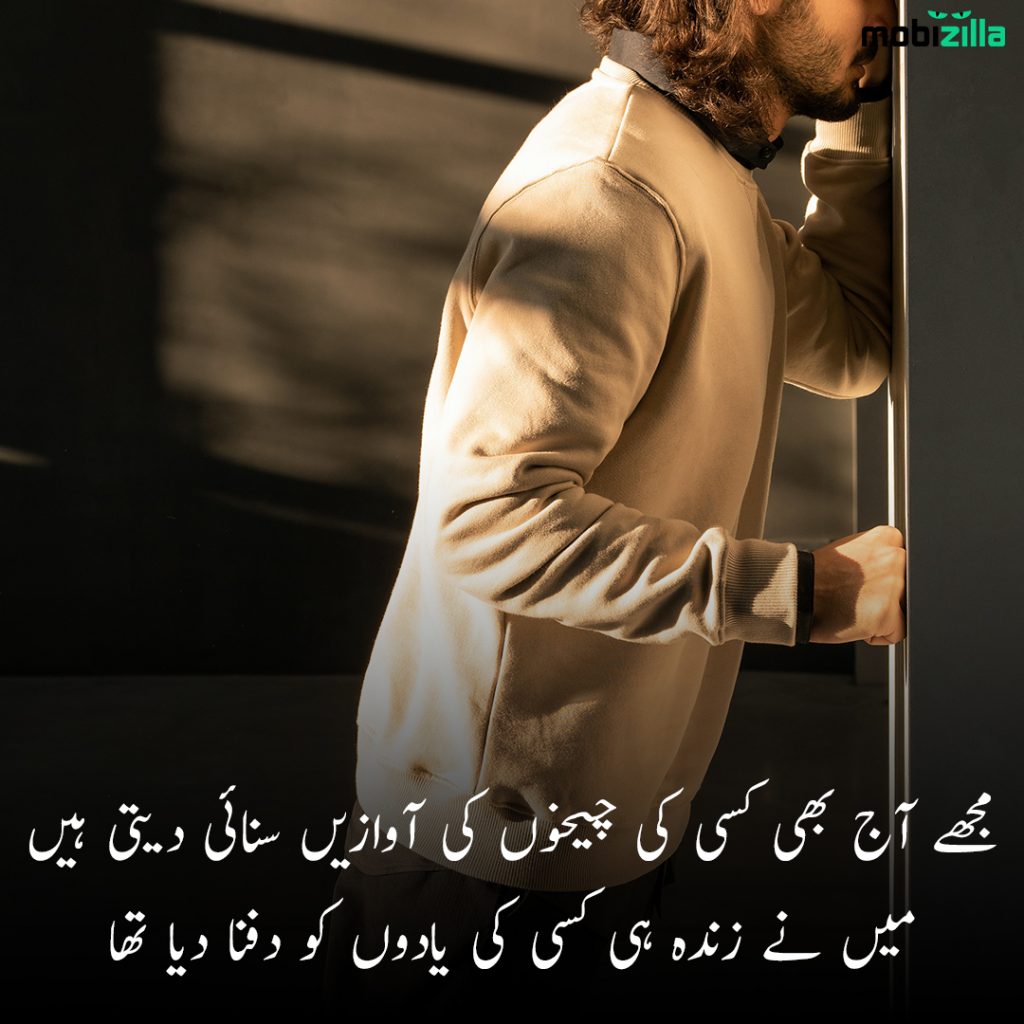 96.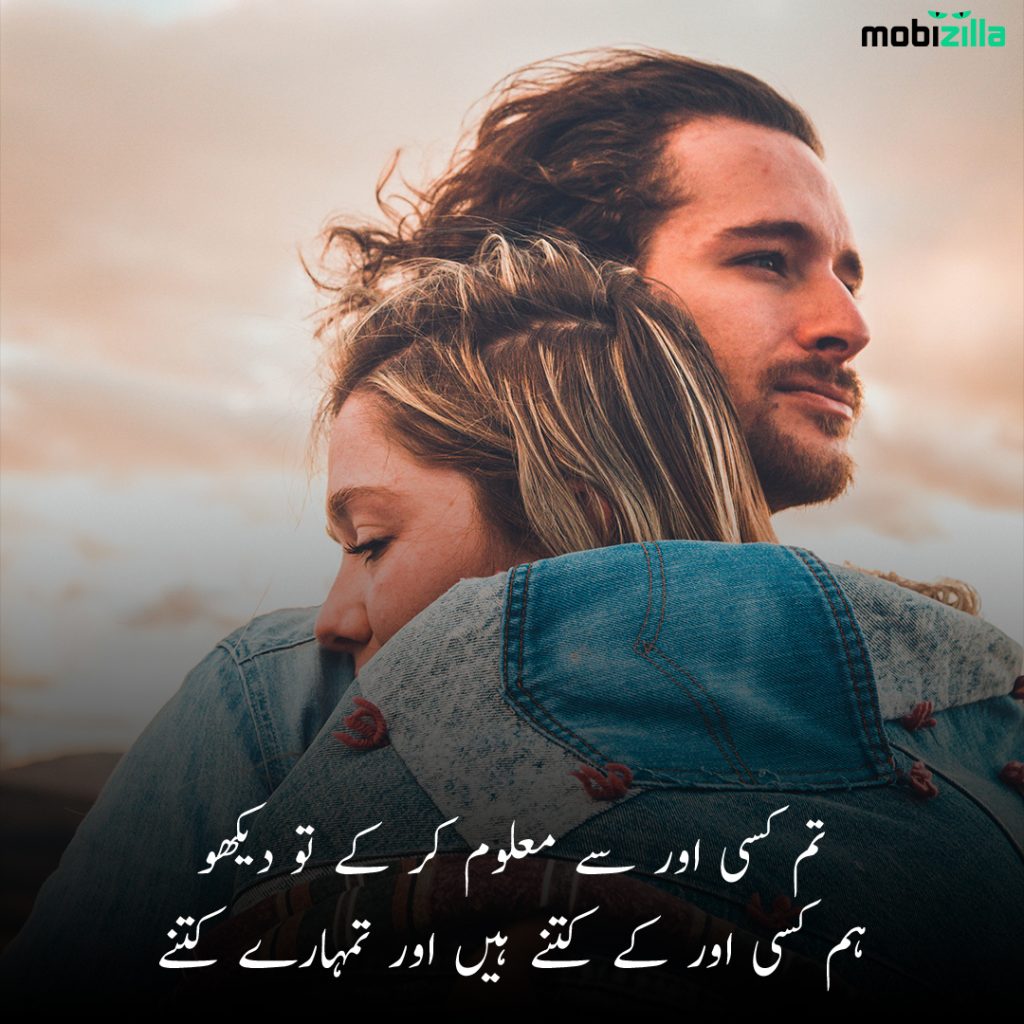 Tm kisi aur say malum kr kay to daikho
Hm kisi aur kay kitnay hn aur tmharay kitnay
97.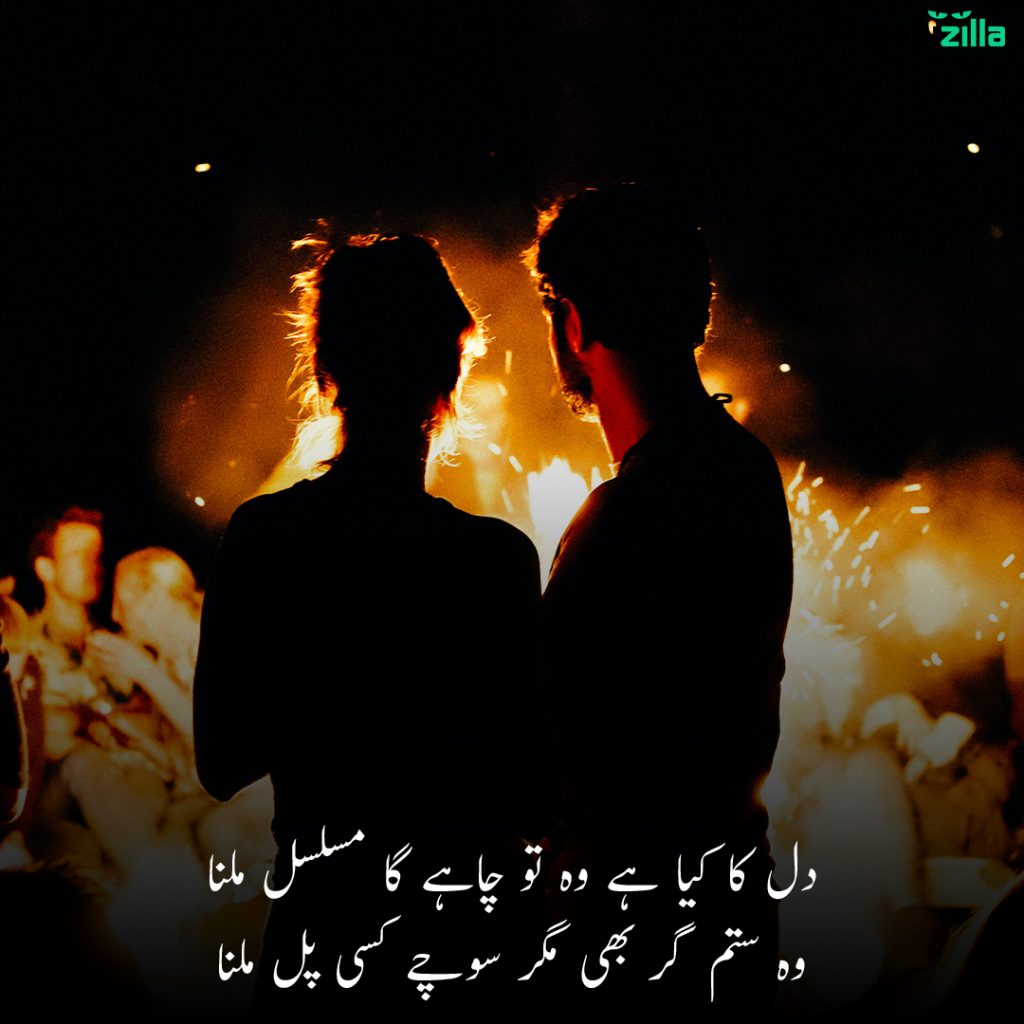 Dil ka kia hai wo to chahe ga musalsal milna
Wo sitm gar bhi magar souch kisi pl milna
دل کا کیا ہے وہ تو چاہے گا مسلسل ملنا
وہ ستم گر بھی مگر سوچے کسی پل ملنا
98.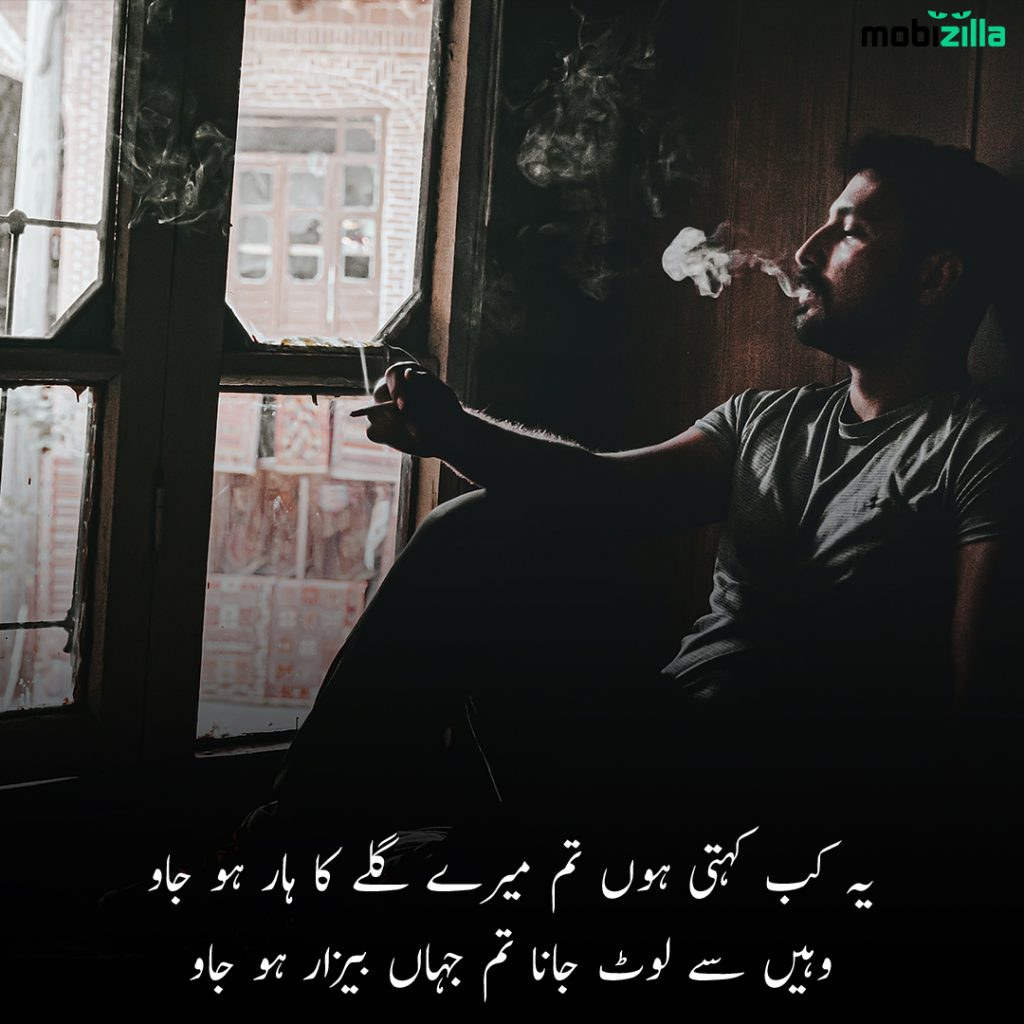 Kb kehti ho tm meray galay ka haar ho jaun
Wohi say loot jana tm jahan bezar ho jaun
99.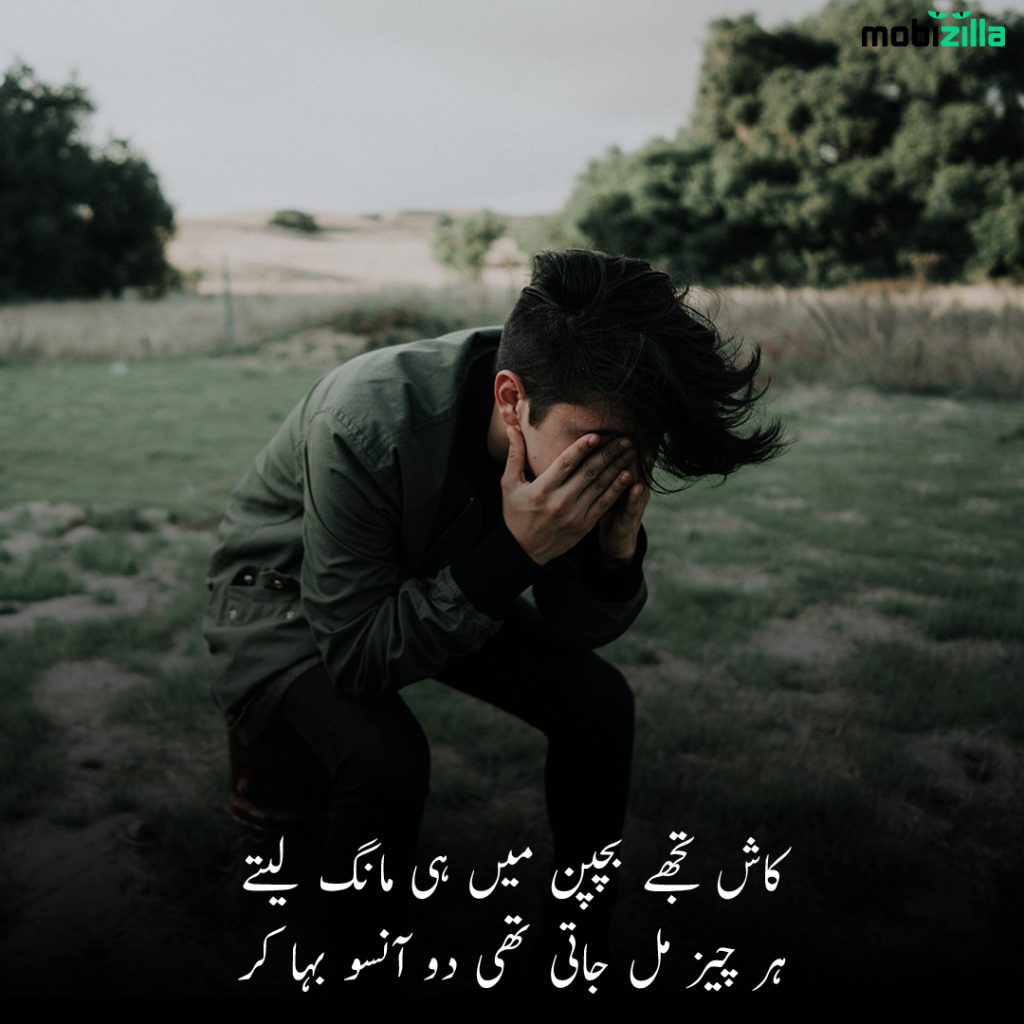 Kaash tujhay bachpan mau maang letay
Hr cheez mil jati thi do aanso baha kr
کاش تجھے بچپن میں ہی مانگ لیتے
ہر چیز مل جاتی تھی دو آنسو بہا کر
100.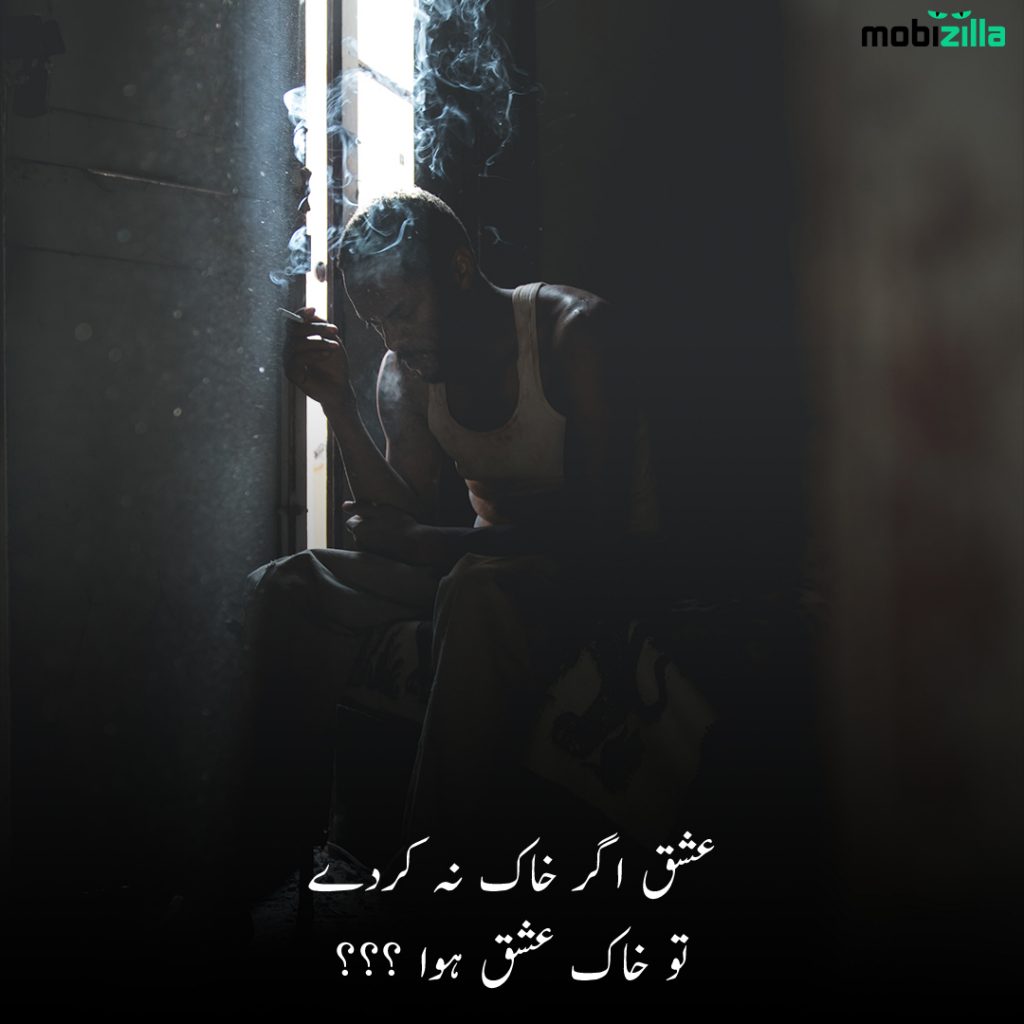 Ishq agr khak ma kr day
To khaak ishq hoa
عشق اگر خاک نہ کردے
تو خاک عشق ہوا ؟؟؟