Bewafa poetry in Urdu, bewafa, betrayal is always very heartbreaking. When she chooses someone else over you.
In fact the motivation behind it can be anything. For example, money, power, fame or she's just tired of you.
Though, the issue is not leaving you (more or less) but it is the greed and lust behind the actions that saddens people.
Indeed, if you came and explained the situation, one can understand but it is the other way around.
1. Bewafa poetry in Urdu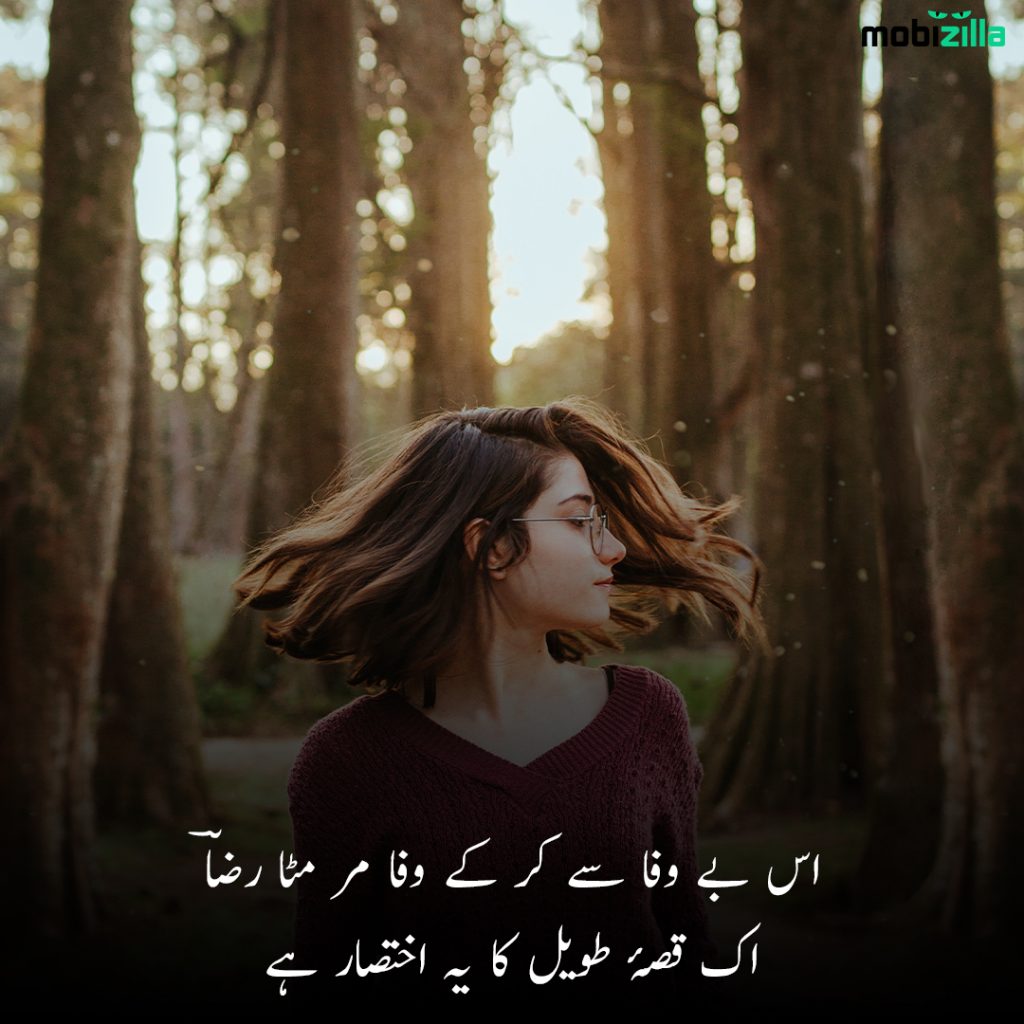 Es bewafa se kar kai wafa mar mitta Raza
Ak qissaye taveel ka ye akhtiyar he
2.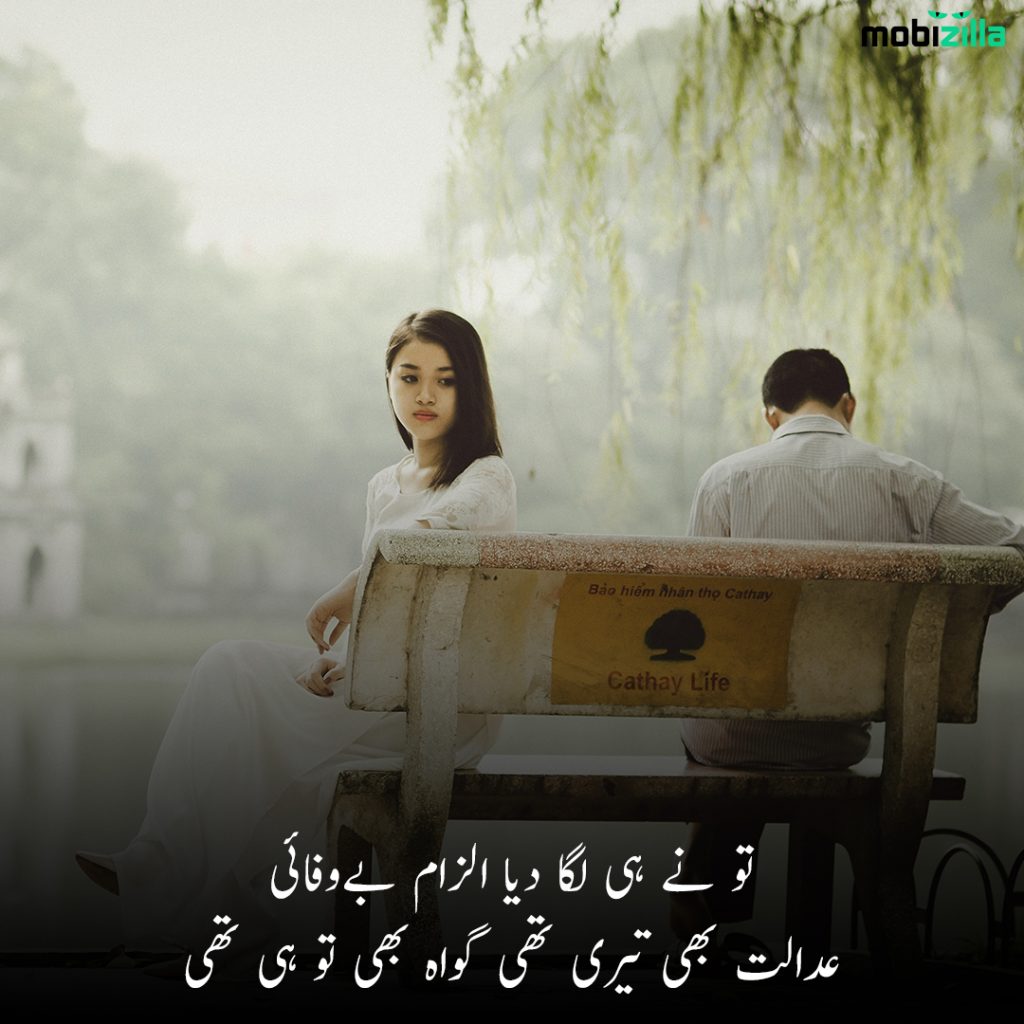 Tou ne he laga diya elzaam be wafaye
Adaalat be teri te gawah be tou he te
3.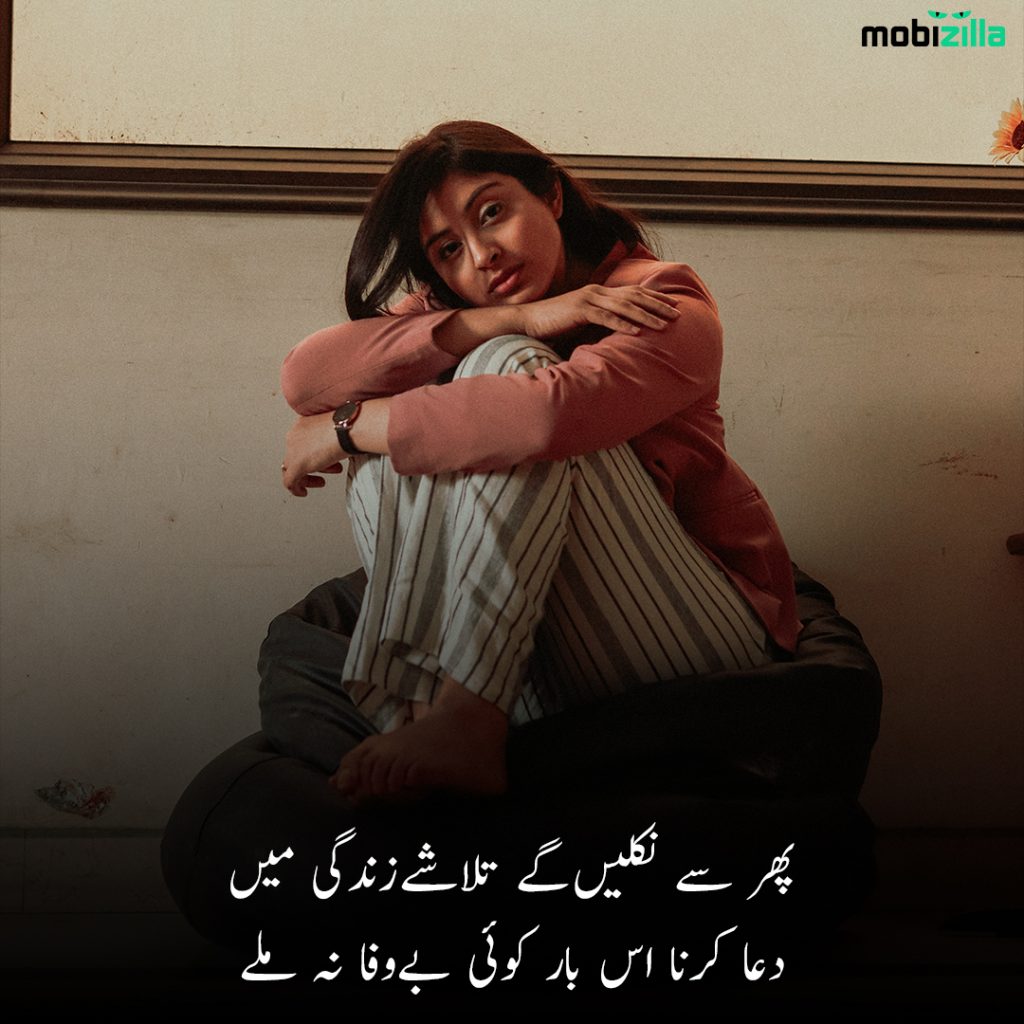 Phir se nikhle ge talashe zindage mai
dua karna es bar koi bewafa na mile
4.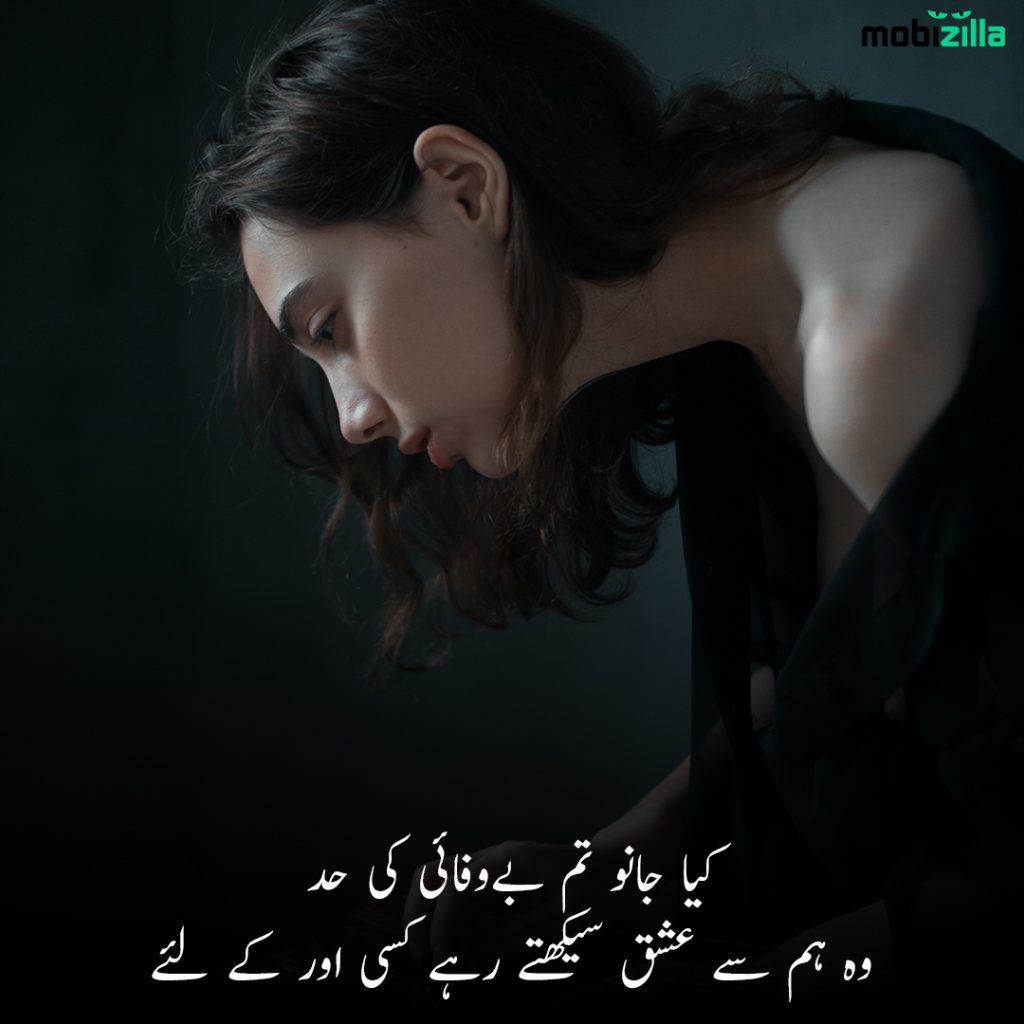 Tum kya jano bewafaye ki had
Wo hum se ishq sekhte rahe kisi or kai liye
Bewafa poetry in urdu 2 lines
5.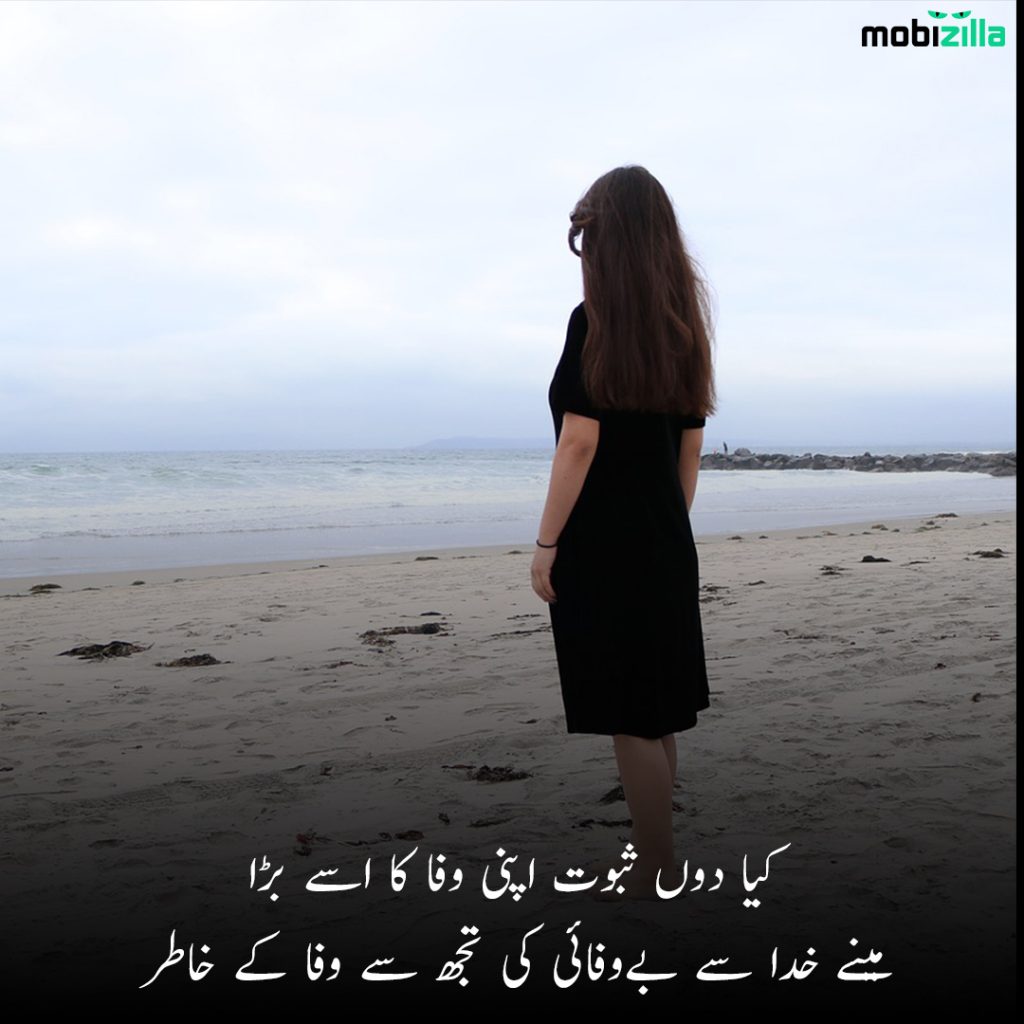 Kiya do saboot apni wafa ka es se bara
Maine khuda se bewafaye ki tuj se wafa ki khatir
What else do you want me to do to prove my loyalty?
Indeed I broke every relationship around me for you. That includes my immediate family, my parents, my brothers and sisters.
Even now you complain?
You are basically an unthankful person.
6.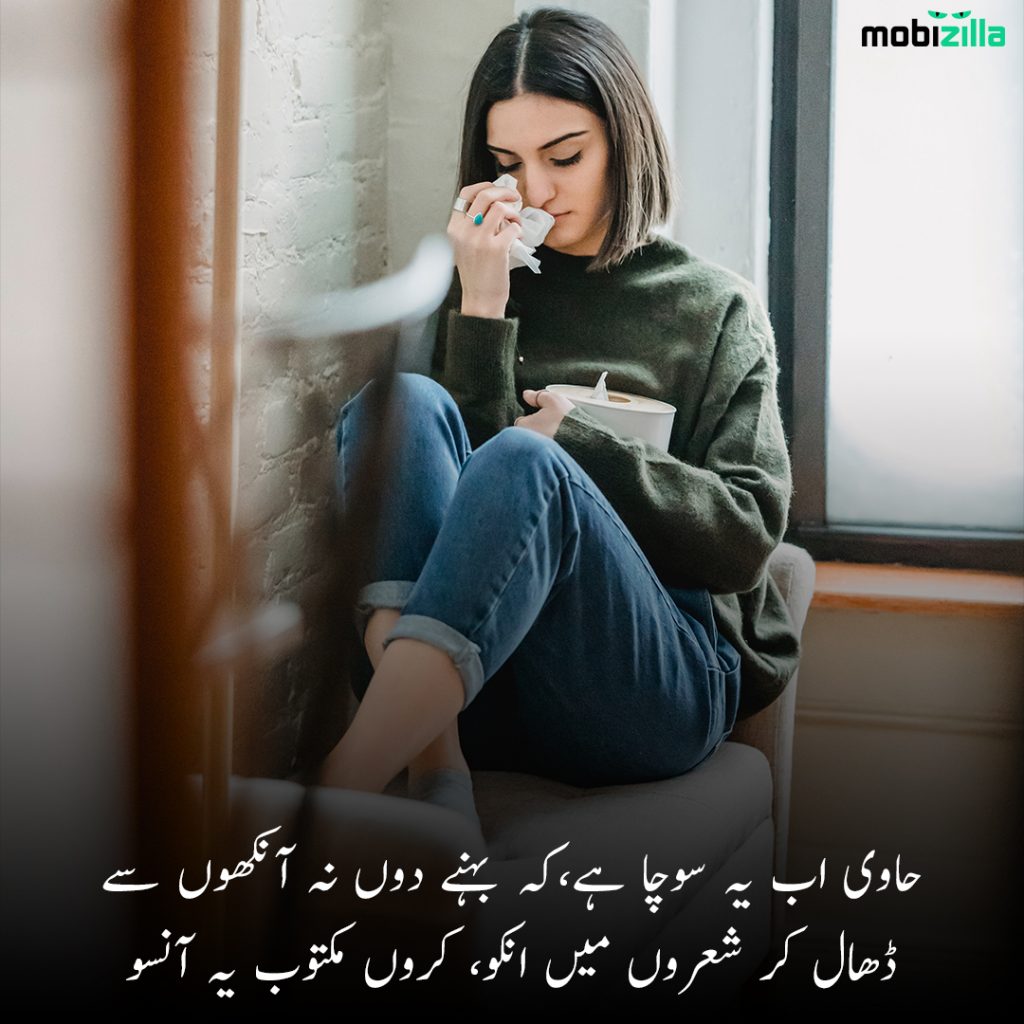 dost bewafa poetry urdu
Hawe ab ye socha he kai behne doo na ankooh se
Dhaal kai shearo mai enko karo maktoob ye ansoo
7.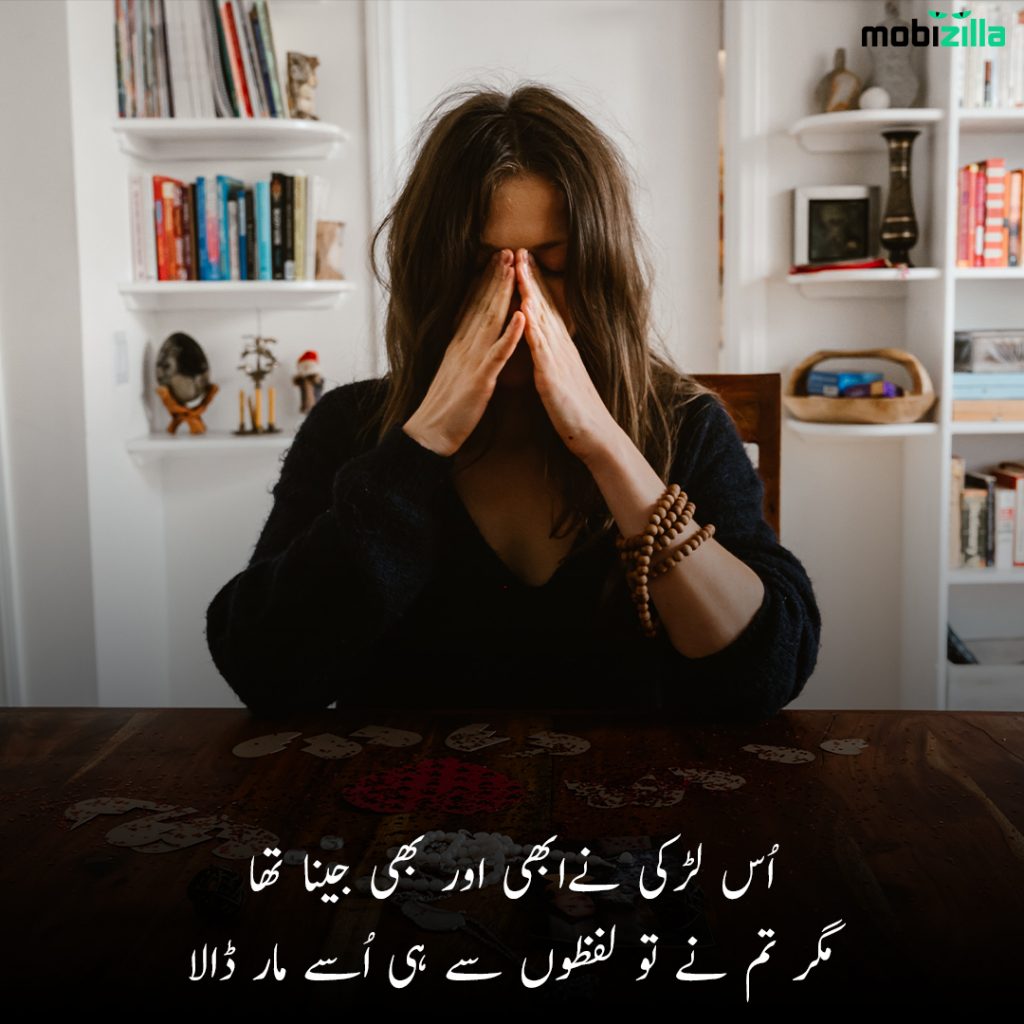 Os larki ne abhe or be jena ta
Magar tum ne lafzo se he ose maar dala
8.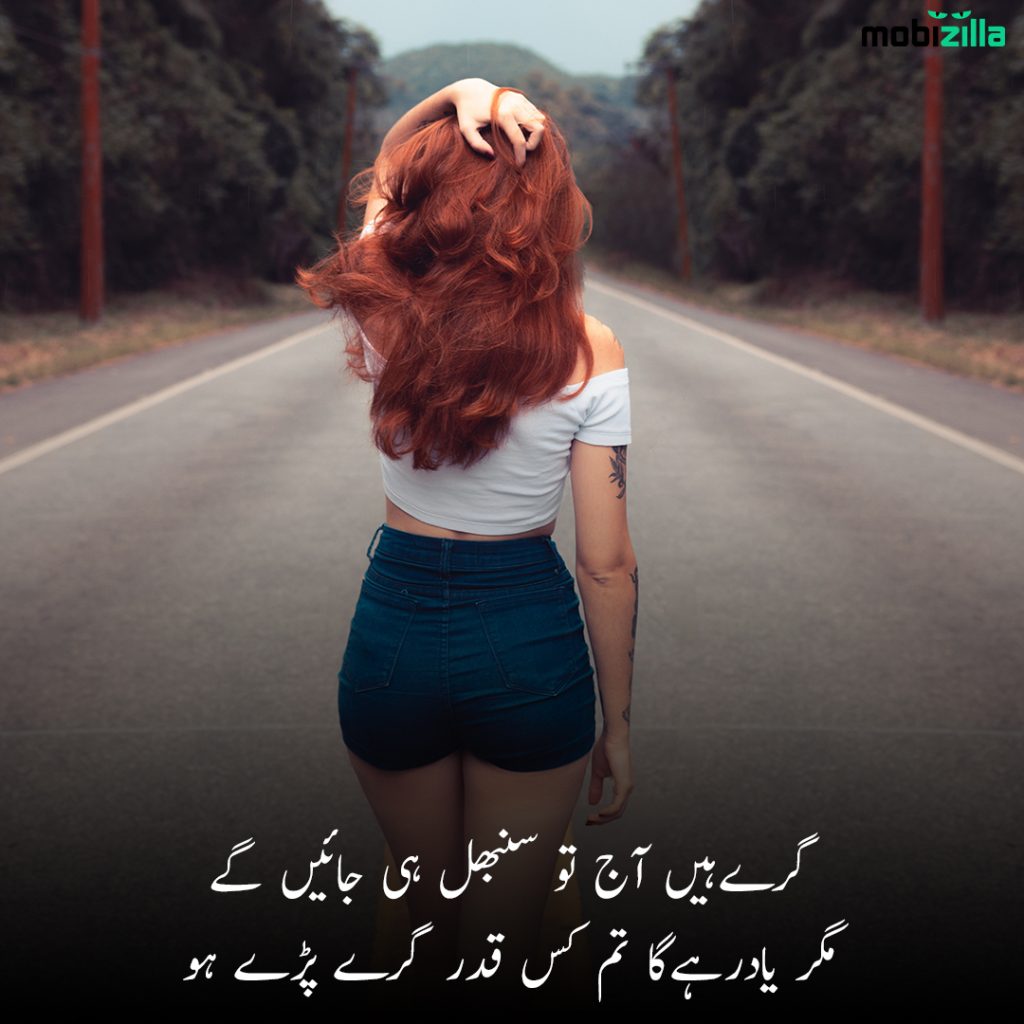 Ghire he aaj tou sambal he jaye ge
Magar yaad rahe ga tum kis qadar ghir parhe ho
9.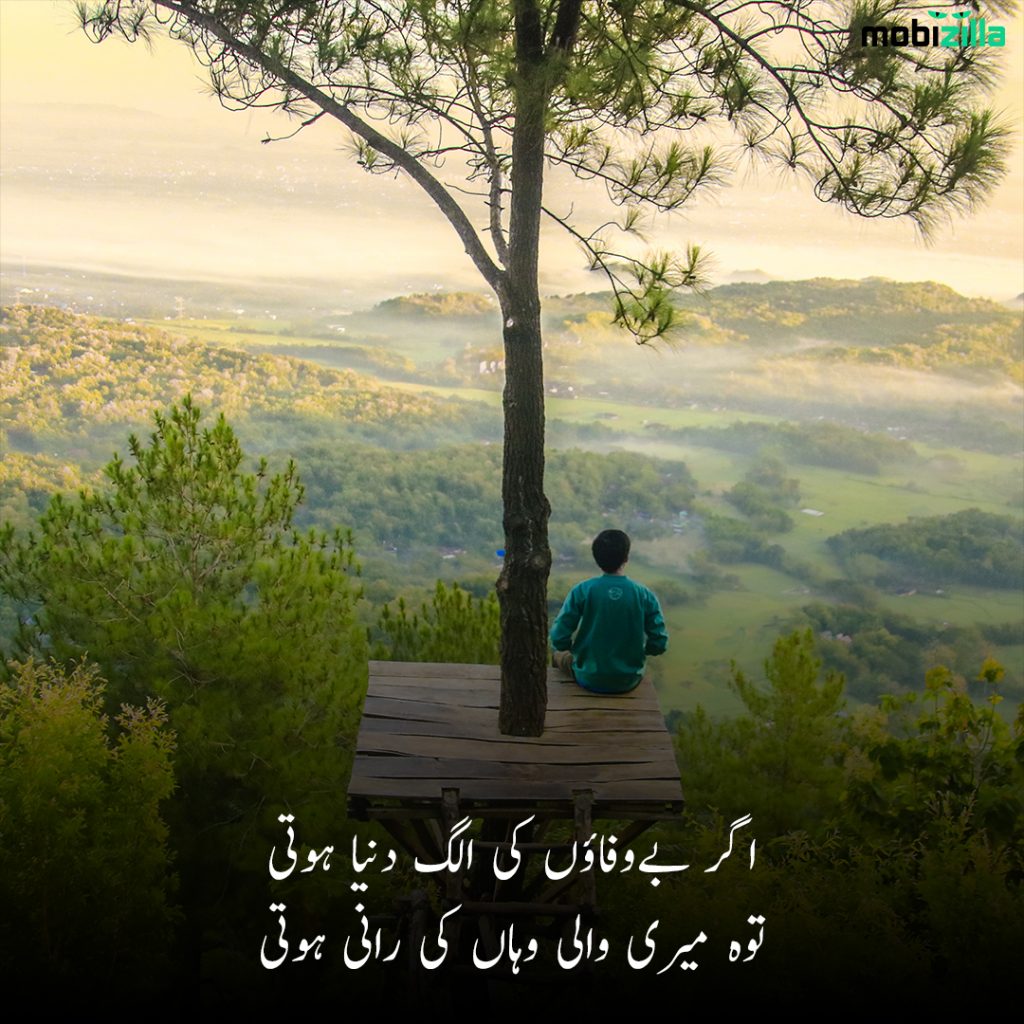 Agar be wafawo ki ala dunya hoti
Tou meri wali waha ki rani hoti
10.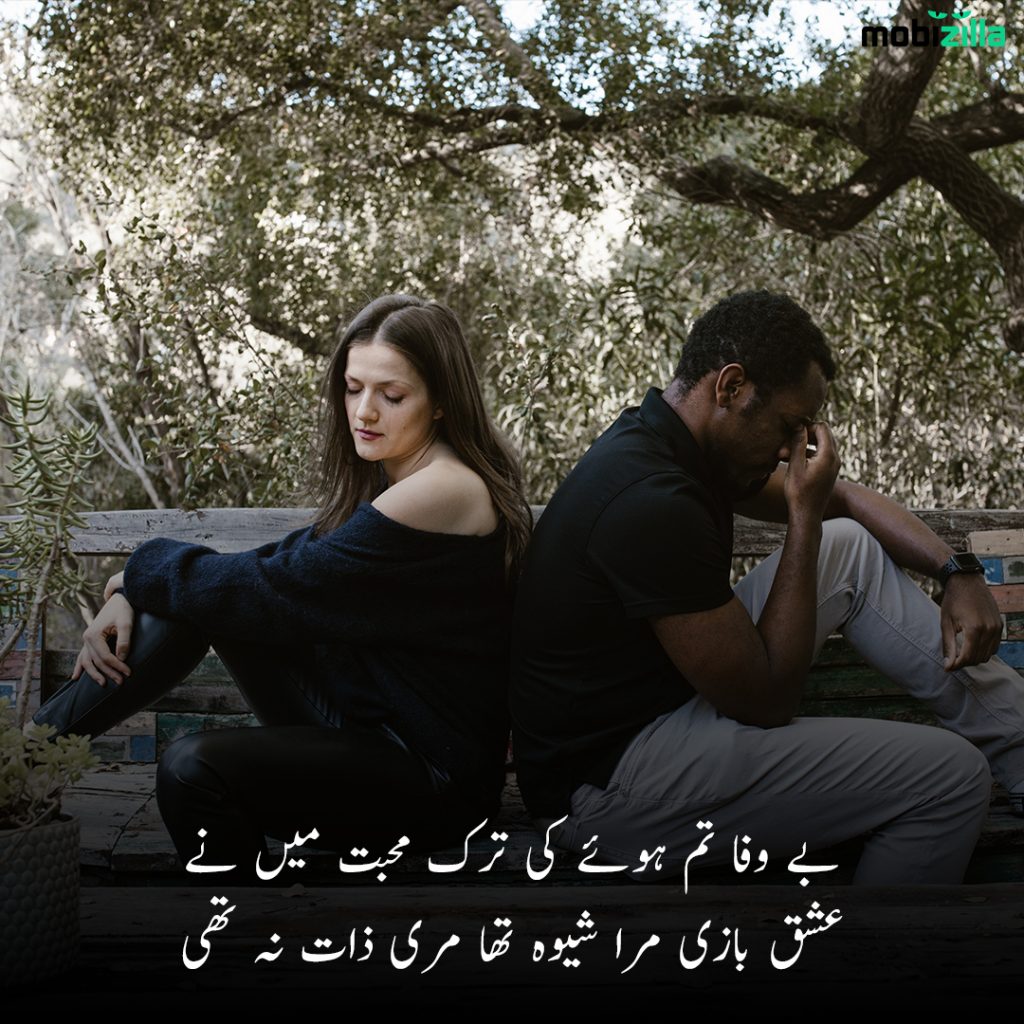 Bewafa tum howe ki tarke muhabbat maine
Ishq bazi mera shewa ta meri zaat na te.
11.
Intizar tou hum sari umer kar liye gaye
Bs khuda kare tou bewafa na nikhle
I have waited for you my entire life. Moreover, don't you see my eyes they have practically dried due excessive tears shedding.
Nevertheless, I pray that I may finally have you.
12.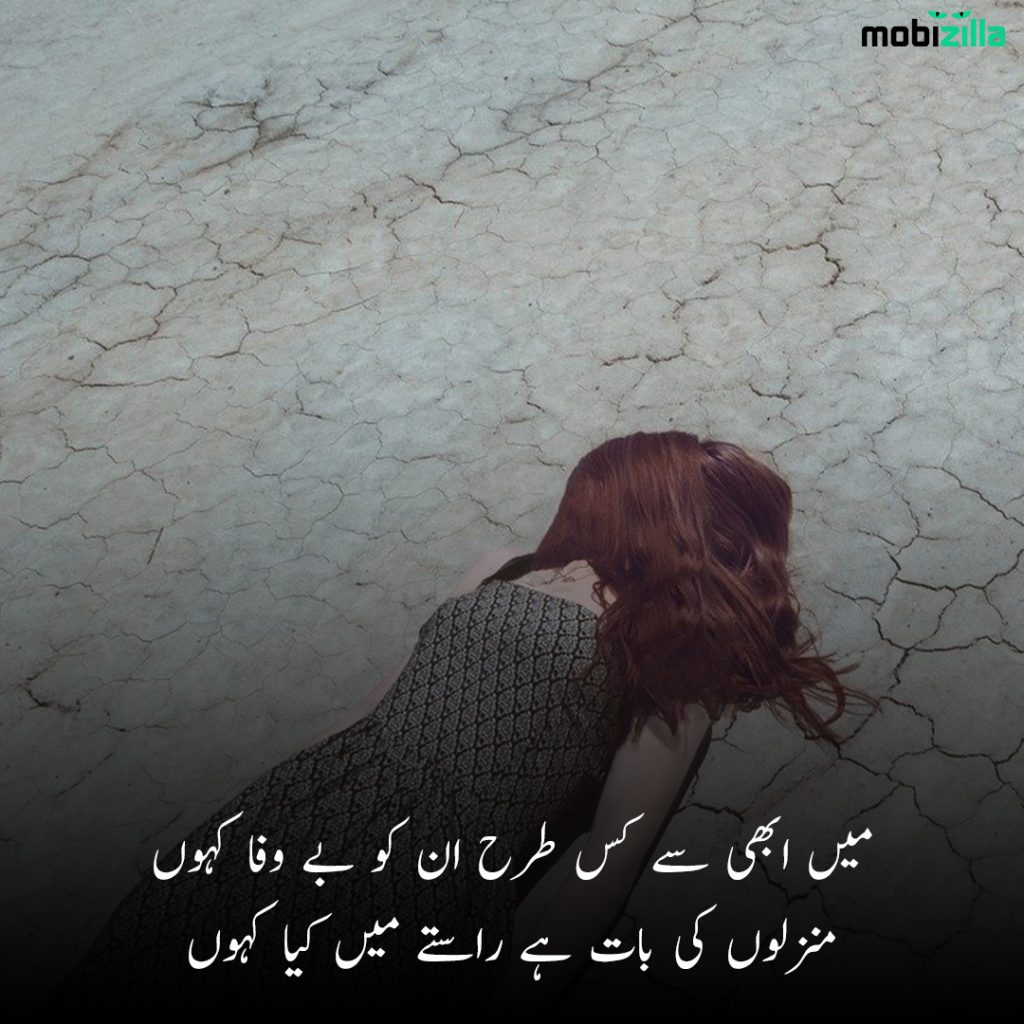 Mai abhe se kis tarah en ko be wafa kaho
Manzelo ki baat he raste mai kya kaho
Like mobizilla.pk on Facebook to get the latest updates
Like mobizilla.pk on Instagram to get the latest updates
13.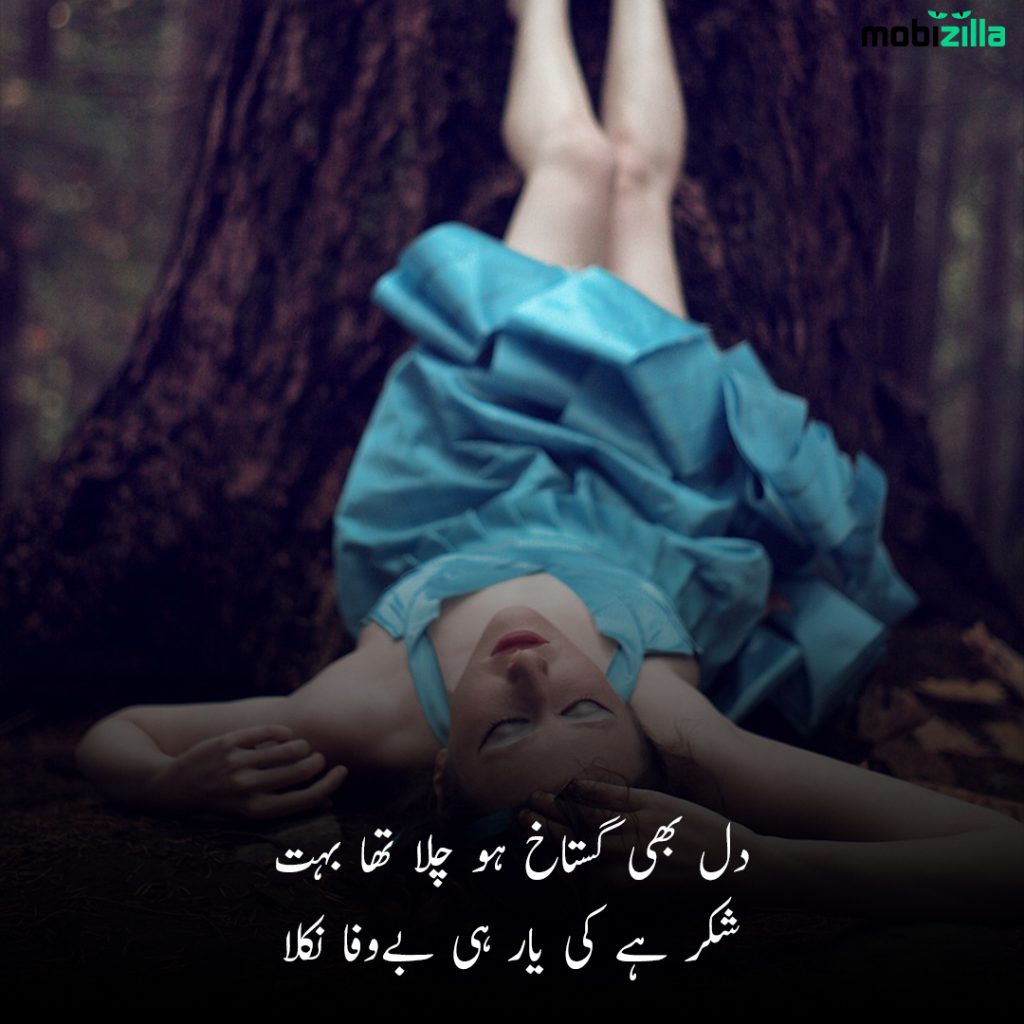 Dil be gustakh ho chala ta bohut
Shukar he kai yar he be wafa nikla
Bewafa poetry in urdu 2 lines
14.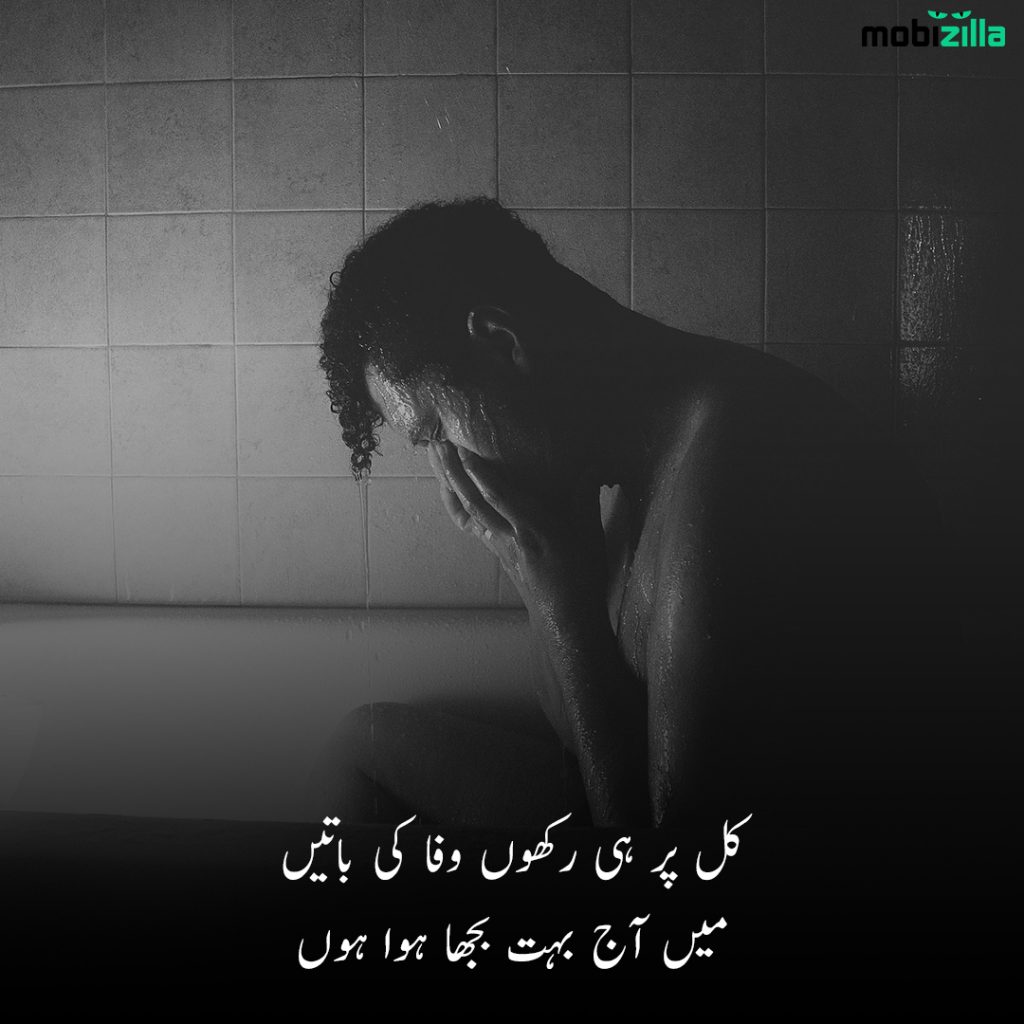 Kal par he rakho wafa ki bate
Mai aj bohut bujha howa ho
15.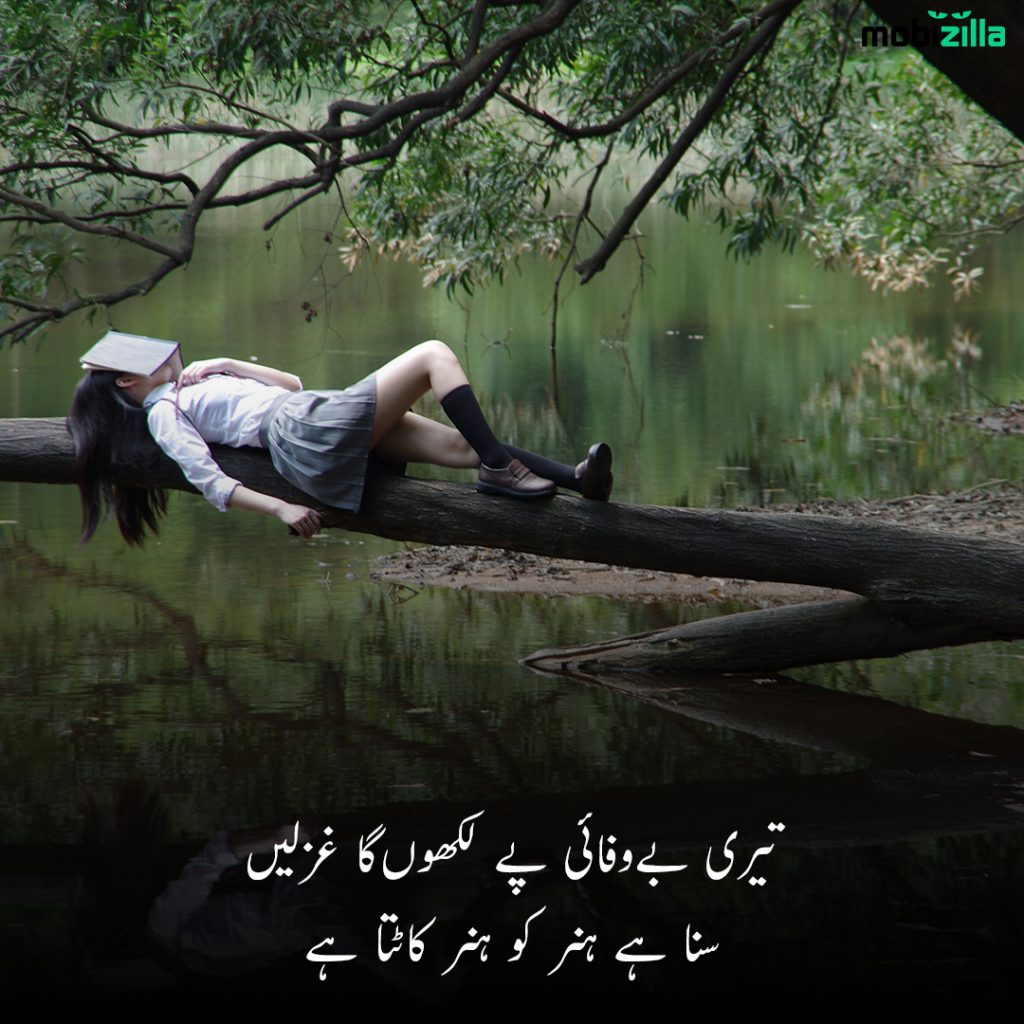 Teri bewafaye pe likho ga ghazal
Suna he hunar ko hunar katha he
16.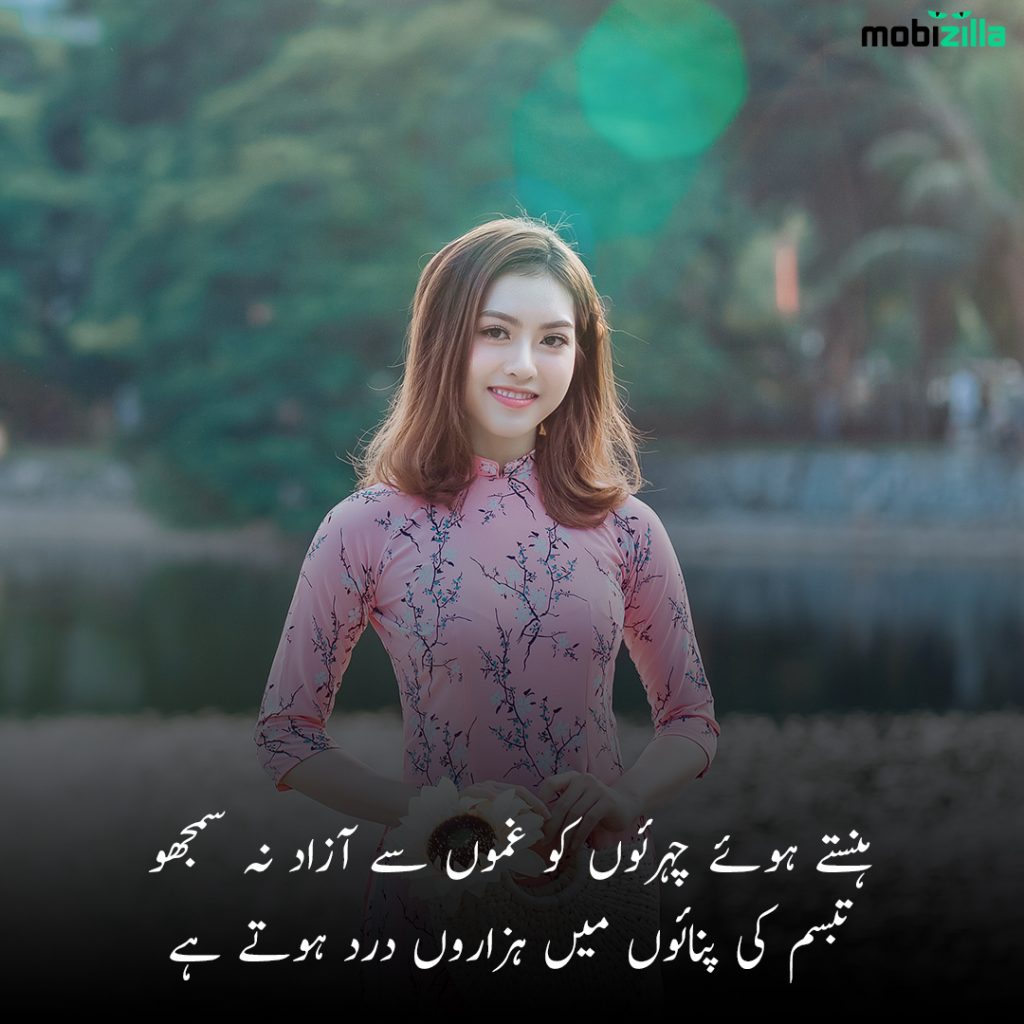 Hanste howe chehro ko ghamo se azad na samjho
Tabassum ki apnawo mai hazaro dard hote he
Yeah!
Don't be fooled by my laughs. Obviously, if you dig a bit deeper you will get to know that I am heartbroken 🙁
17.Bewafa poetry in Urdu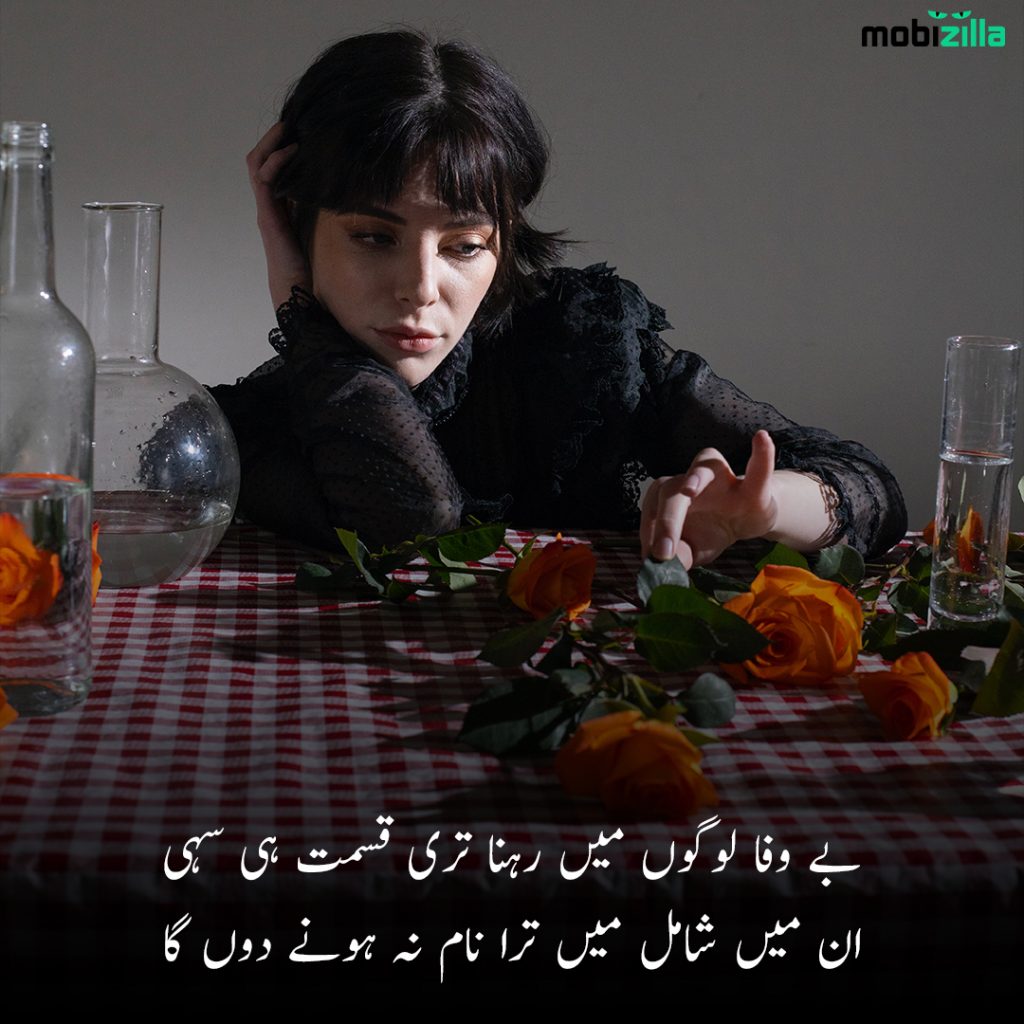 Bewafa logo mai rehna teri kismat he sahe
En mai shamil mai tera naam na hone do ga.
18.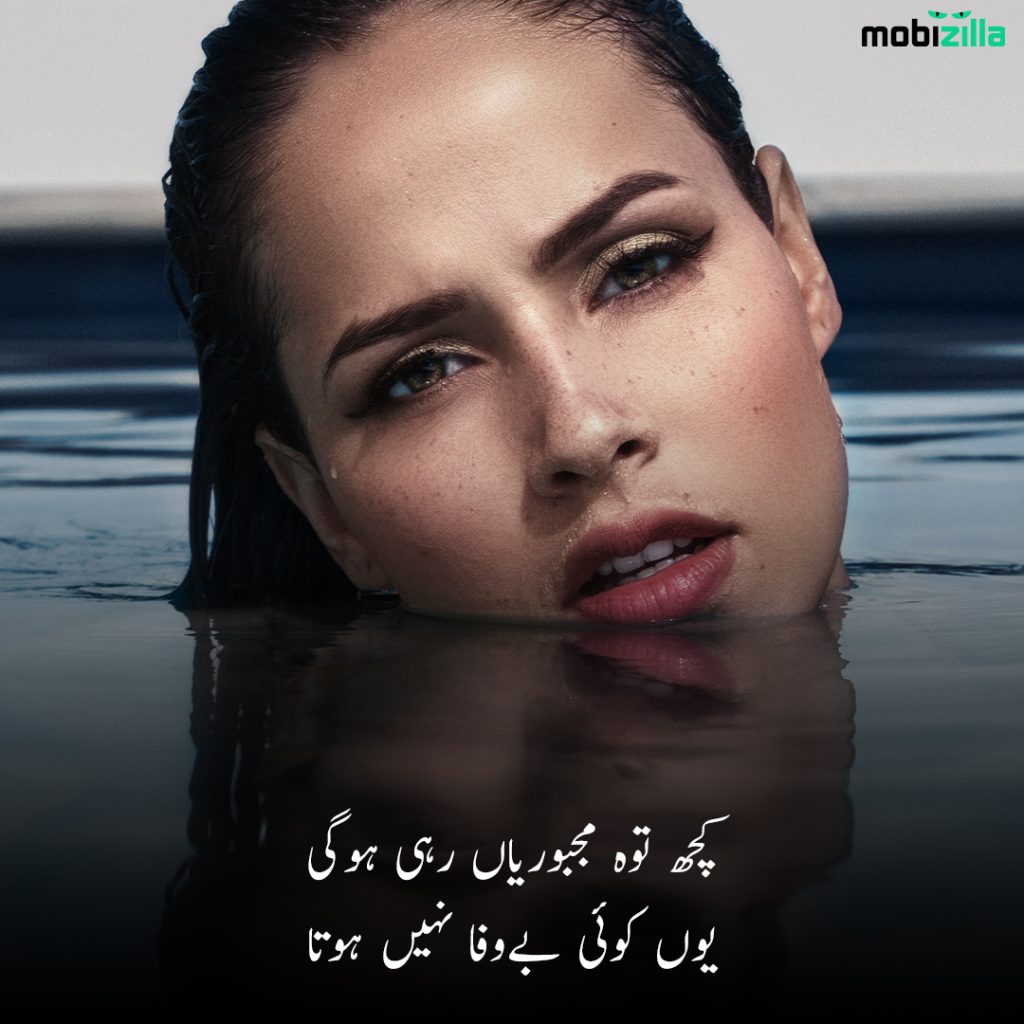 Kuch to majboriya rahe ho ge
You koyi bewafa nahe hota
19.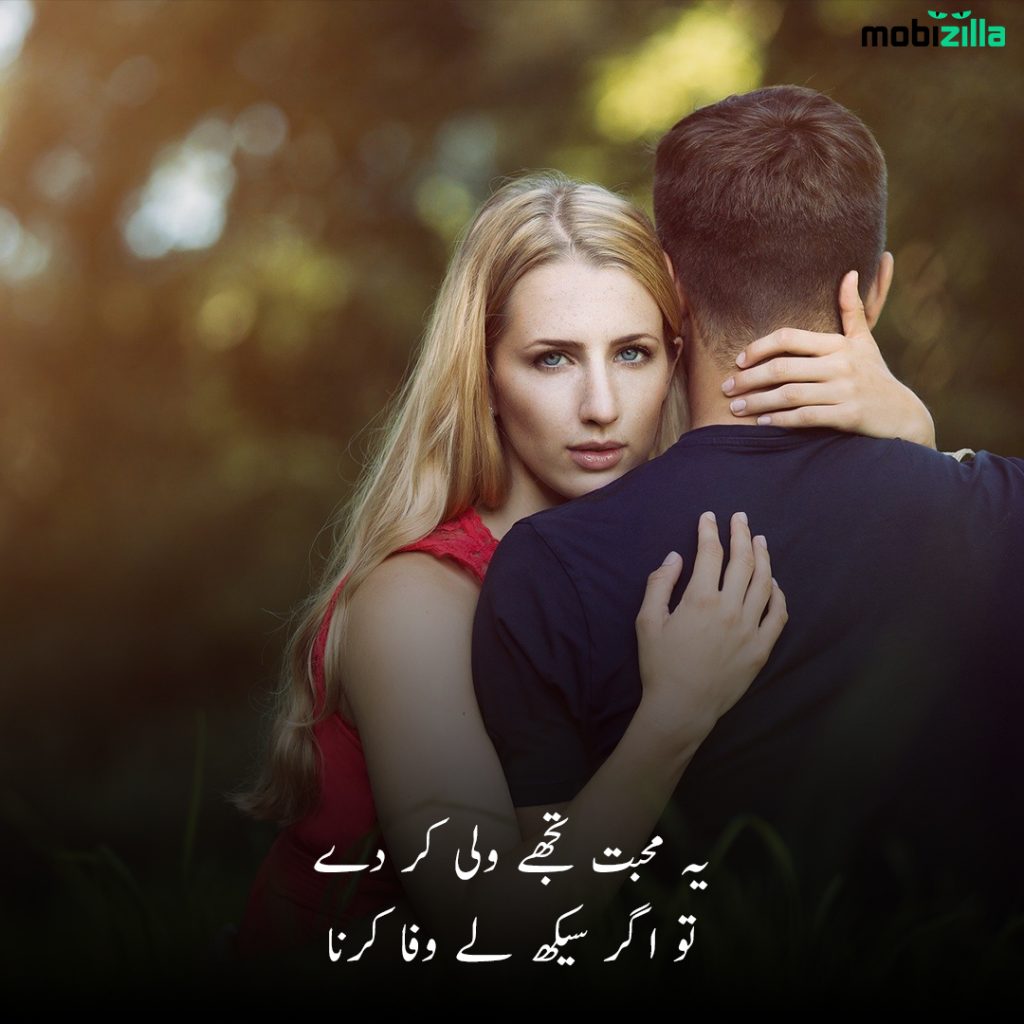 Ye muhabbat tujhe wali kar dai
tou agar seekh le wafa karna
19.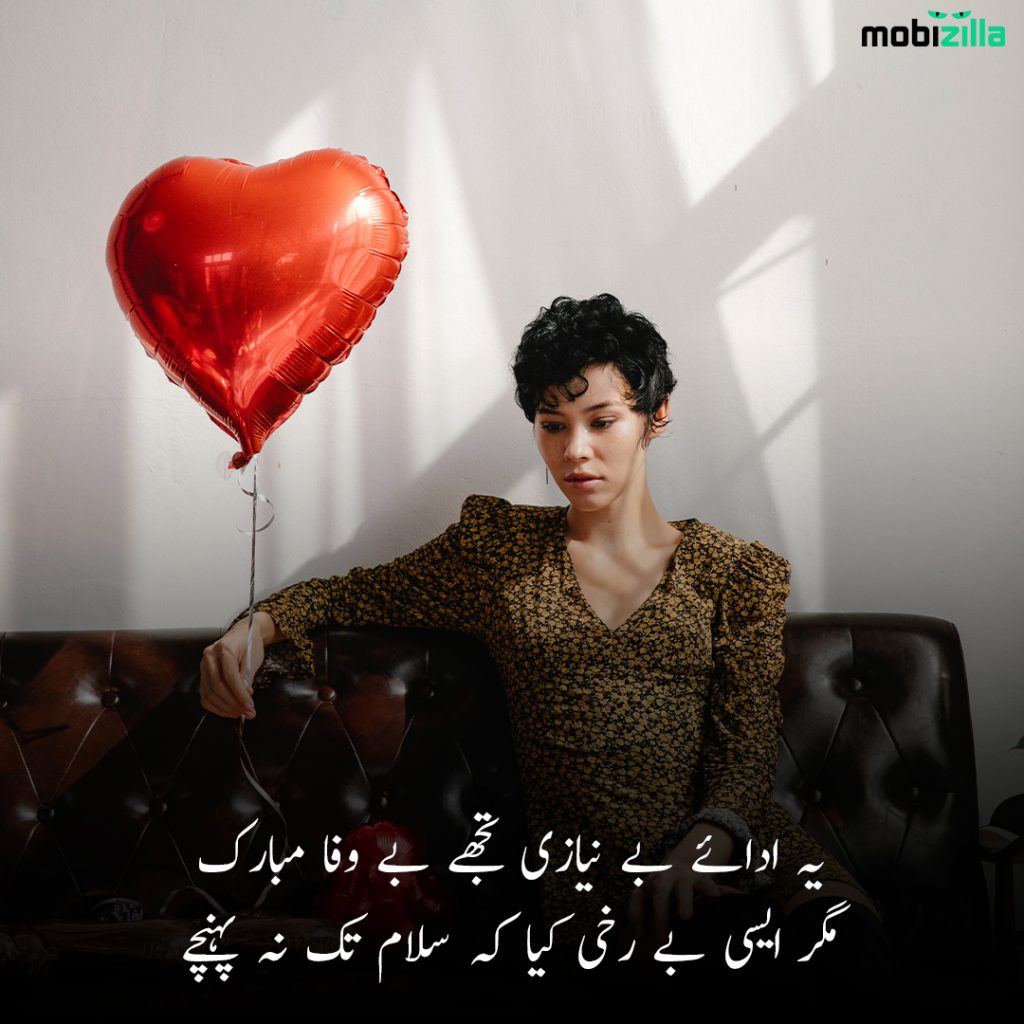 bewafa poetry 2 lines
Ye adaye be niyazi tujhe be wafa mubarak
Magar esi be rukhe kiya kai salam tak na ponche
20.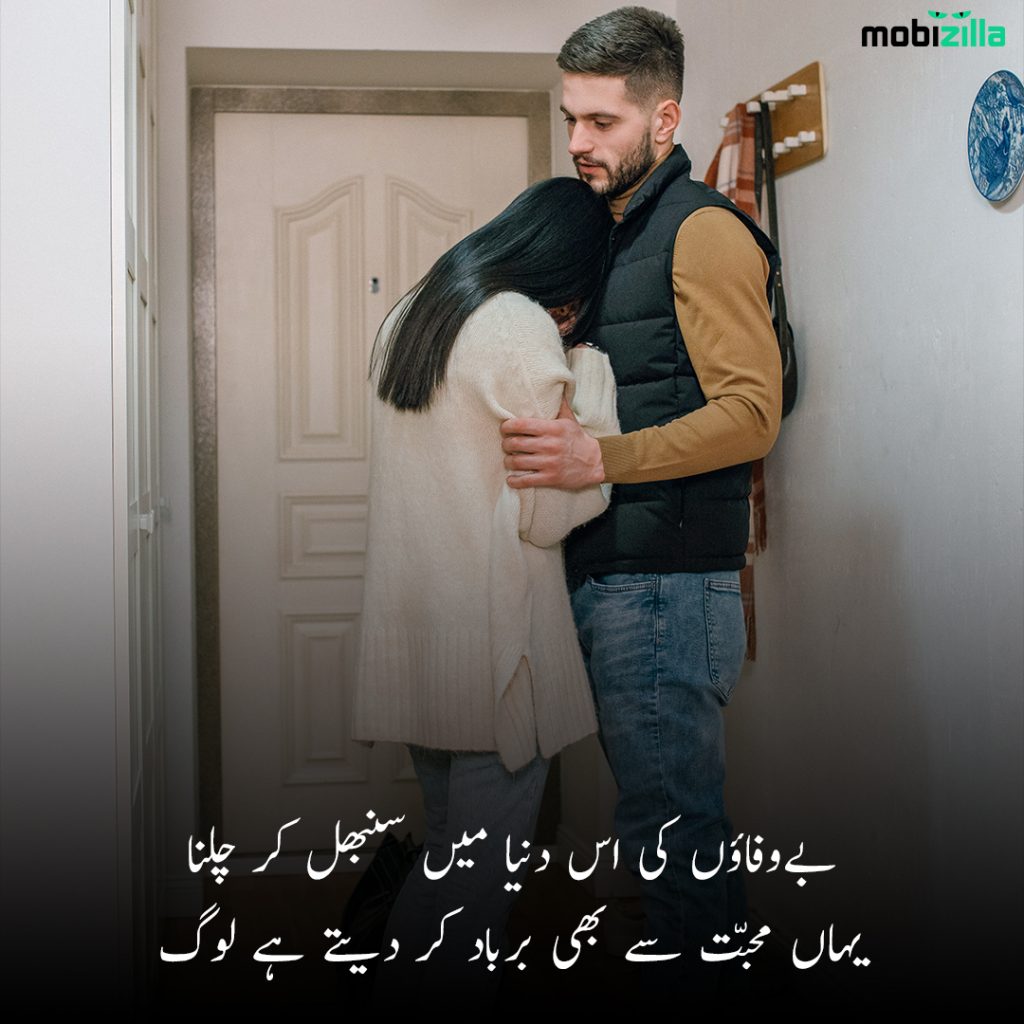 Bewafawo ki es dunya mai sambhal kar chalna
Yaha muhabbat se be barbad kar daite he log
Beware my friend beware. Otherwise, you'll step on a mine which will take you in to the darkness.
And my friend the mine is basically betrayal.
21.
Tum ne jana ta mai ne jane diya
es se barh kar wafa kiya karta
22.
Meri ghazal mai kisi bewafa ka zikar na ta
Na jane kese tera tazkira nikal aya
23.
Meri wafawo ko takhar dene wale
kash tujhe be kisi bewafa se pyaar hojaye
Sad bewafa poetry in urdu
24.
poetry for bewafa lover
Be qadri tou hoti he tee
hum os ko muyassar jo te
25.
Ak ajab hal he kai ab es ko
Yaad karna be bewafaye he
To remember her is banal. Trust me on this one…
26.
Kuch alag he karna he tou wafa karo
Bewafaye tou sabne ki he majbori kai naam par
27.
Hum he wafa shikan sahe or hum he be wafa
Tum tou wafa shaear te tum q badal gaye
28. (Bewafa poetry in Urdu)
Hum se koye taluq khatir tou he ese
Wo yar ba wafa na sahe be wafa tou he
Even so, if she dislike me so what? I still have some connection with her. To me it does matter.
29. 
Ruswa q karte ho tum ishq to a dunya walo
Mehboob tumhara bewafa he tou ishq ka kiya gunnah
30.
Mera bharoosa ase he nahe tootha
Mai ne dekha he ose gheero kai sath dil lagate howe
Clearly, she is a bewafa because I've seen her with other strangers. Upon asking she never explained her position to me. Indeed that is dubious.
Sad bewafa poetry in urdu
31.
poetry for bewafa lover
Hum se kya ho saka muhabbat mai
Kher tum ne tou bewafaye ki
32.
Roz dalta howa suraj ye kehta he muj se
Aaj ese bewafa howe ak din or beet gaya
33. Bewafa poetry in Urdu
Adhoora ishq ta lekin
Mukammal khaa gaya muj ko
34.
Tum ne kiya na yaad kabhi bhool kar hame
Hum ne tumhari yaad mai sab kuch bula diya
Whether you remember me or not, I miss you every moment.
35.
Ab tarap raha ho tou os ki yaad mai
Es bewafa ne teri baad kitne bula diye
36.
Younhe nahe rota koye murshad
Ishq andar se ujhaar deta he
37.
Ajab tou ye ho kai hum phir se os pe mar mithe
Os pe ghazab ho kai wo be hum ko mil gaye
38.
Teri bewafaye ka soo bar shukriya
Meri jaan chute ishq e muhabbat se
39.
bewafa girl poetry
Wo kar raha ta apni wafawo ka tazkira
Hum par nazar parhe to khamosh ho gaya
40.
bewafa poetry in urdu 2 lines
Na bana kisi ko apna sathe a gul
Ye dunya bewafa he kar dai ge tuj ko tabah
41.
Rehne dai ye khitaab tere kaam ki nahe
Es mai likhe howe he wafawo kai tazkire
Bewafa poetry in urdu sms
42.
Bas ak he sabq sekha he zindage se
Jitni wafa karo ge itna pareshan raho ge
43.
bewafa girl poetry
Yar wafa ki aar mai wo de gaye fareeb
Shikwa kare ge hashar mai es bewafa ka hum
44.
bewafa poetry in urdu 2 lines
Es door mai ki te jis se wafa ki umeed
Akher ko esi ke hath ka pathar laga mujhe
45.
Mai tou bewafa taa na
Jo tum ne ki wafa os wafa par lannat
46.
bewafa poetry in urdu 2 lines
Mai kisi esi jaga ki talash mai ho
Jaha gehre tanhai tou ho magar ehsas tanhai na ho
47.
Muhabbat se bhare koye ghazal enhe pasand nahe
Bewafaye kai har sher pe wo daad diya karte he
48.
bewafa log poetry
Fasila jo tera taa
Lekin dil jo tootha wo mera taa
49.
Agar be aeeb chaho tou farishto se nibha kar lo
Mai adam ki nishani ho khata meri waris he
50.
Tere wafa kai taqaze badal gaye warna
Mujhe tou aj be tujse aziz koye nahe
Bewafa poetry in urdu sms
51.
Bewafaye tou hone tee
Hum unko mayassaar jo te
52.
bewafa log poetry
Hota he apni aankh ka ansoo be bewafa
Nikalta he wo be kisi or kai liye
53.
poetry for bewafa lover
Barbad kar diya dono ki larai ne muj ko
Na ishq haar manta he na dil shikast ka aadi he
54.
Tera zikar be wafaye ka shuru kese karoo
Parda rakhte rakhte mai teri be wajibe ka
55.
Jo haal kar gaye ho
Kabhi dekhne maat ana
56.
Nahe tum se koye shikayat
Bas itni se eltija he
wo bewafa hai to kya poetry in urdu
57.
Kare tou kis se kare rasaeyo ka gila
Safar tamam howa humsafar nahe aya
58.
mai tumhe bewafaye maaf kar do ga
Lekin apni zehni barbadi nahe
59.
Mai jab be toothte ho tujhe dhondte ho
Tum ne ak bar kaha ta na hum ak he
60. Bewafa poetry in Urdu
Hum tou samjhe te honge do char ansoo
Rone bethe tou samandar kai samandar nikhle
61.
Chale jane do os bewafa ko kisi ghair ki agosh mai
Jo itni chahat kai bad be mera na howa kisi or ka kiya hoga
Bewafa poetry in urdu images
62.
Bohut haseen he wo
Lekin jazbat ki qadar nahe ose
63.
Jis din sabar agaya
Phir kiya aukaat reh gaye ge tumhari
64.
Kon karta he wafawo ka taqaza tum se
Hum tou ak jhoti tassale ke talabgar te bs
65.
Os ne os waqt bewafaye ki
Jab yaqeen akhri mukaam pe ta
66.
Kar kai ak dosre se ehd e wafa
Awo kuch dair jhoot bhole hum
Bewafa poetry in urdu images
67. 
Ishq paband wafa he na kai baband rasoom
Sir jukhane ko nahe kehte he sajda
68. 
Jo dil ko acha lagta he osi ko dost kehta ho
Munafiq ban kai rishto ki siyasat mai nahe karta
69.
Tum be ache tumhari wafa be ache
Bure to hum he jin ka dil nahe lagta tumhare bina
70. Bewafa poetry in Urdu, Urdu poetry, Sad poetry
Agar wo zindage mai faqat ak bar mera ho jata
Tou mai zamane ki khitaabo se lafz be wafaye he mitha daita
71.
Moat ka gham nahe muj ko
Gham tou yar ki bewafaye ka he
72.
Mare mola muj ko madboot rakhna
Munafiq logo se door rakhna
73.
Hum ne socha ta sab dard bataye ge tum ko
Par tum itna be nahe pocha khamosh q ho
74.
Ab tou zeyada hansne se be dar lagta he
Kahe zeyada rona na parh jaye
75.
Fikhar tou teri aaj be karte he
Bs zikhar karne ka haq ab nahe raha
76.
Mohsin meri aankh se ojal howa jab
Suraj taa mare sir par magar raat ho gaye
77.
Bohut maan ta jin pe
Bohut be emaan nikhle wo
78.
Alfaz sirf hubte he
Khamoshiya mar daite he
79.
Mana kai hum ghalat te jo tujh se chahat kar bethe
Par roye ga kabhi tou be esi wafa ki talash mai
80.
Sath rehte he mare sath bs matlab ki had tak
Kahe takh javo tou tanha kahe rukh javo tou tanha
81.
Koi mar jaye tou sabar ajata he
Koi bichre jaye tou q nahe ata
82.
Bs itna khayal rakheye ga
Muhabbat qaza nahe hoti
83.
Manzal qareeb aye koye rasta mile
Dasht e janoon mai sath ap ka mile
84. (Bewafa poetry in Urdu)
Kase sameet pate wafawo kai boj ko
Sad shukar hum ko dost sare bewafa mile
85.
Jo tum ne kabhe ki he nahe
Mujhe wo muhabbat udaas rakhti he
86.
Kisi or ka ho kar rehta he
Tumhari jaga koye le nahe sakhta
87.
Muhabbat jhoti nahe te tum se yara
Gawah he har nimaz ki dua
88.
Jo tum ne kabhi ki he nahe
Mujhe wo muhabbat udas rakhti he
89.
Mujhe yaad arahe he
Mujhe bhool jane wale
90
Wo dushman be nahe karte
Jo mare yar kar gaye
91.
wafaye seekh lo hum se
Kahe karni na parh jaye
92.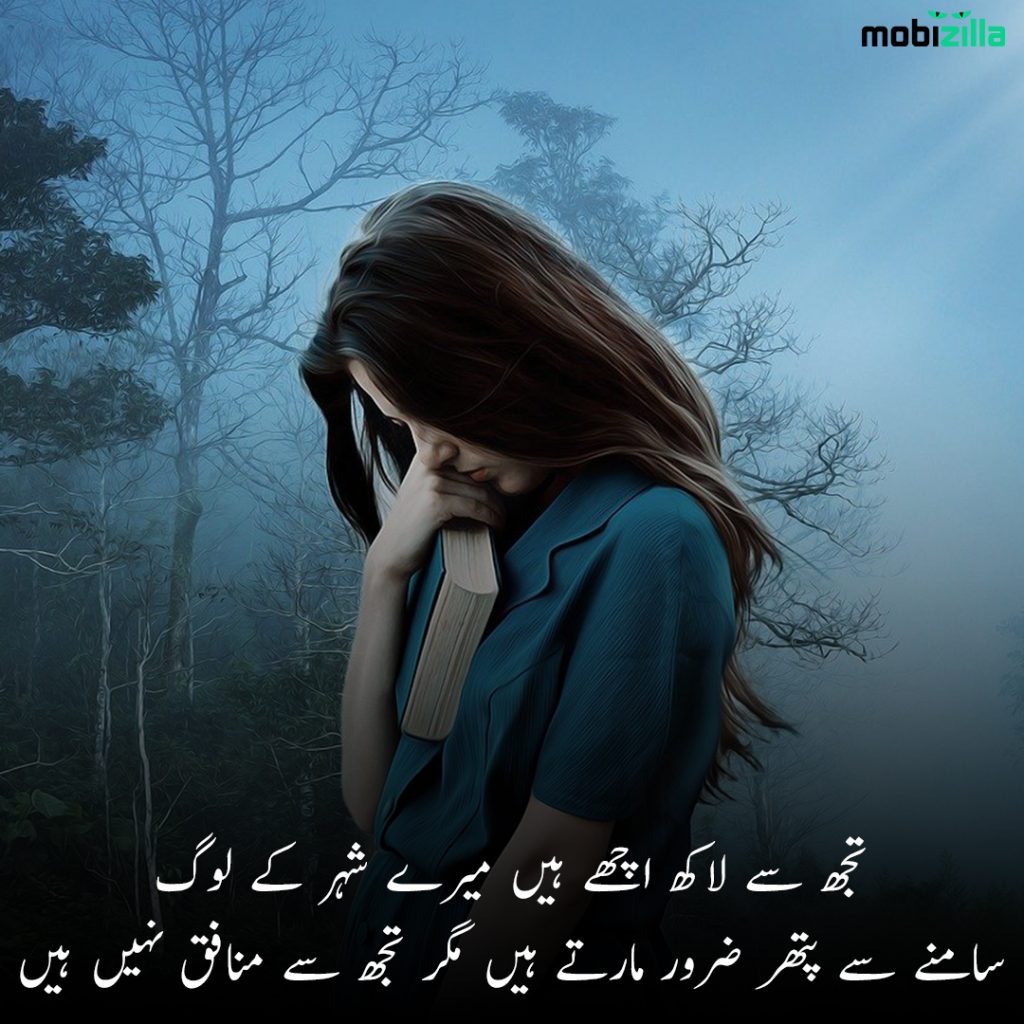 Tuj se lakh ache he mare shehar kai log
Samne se pathar zarur marte he magar tuj se munafiq nahe he
The problem with you is that you make trouble behind my back. Moreover, I don't mind if you say something to my face becasue that's not bewafai.
It gets worse when you indulge in unfair game.
93.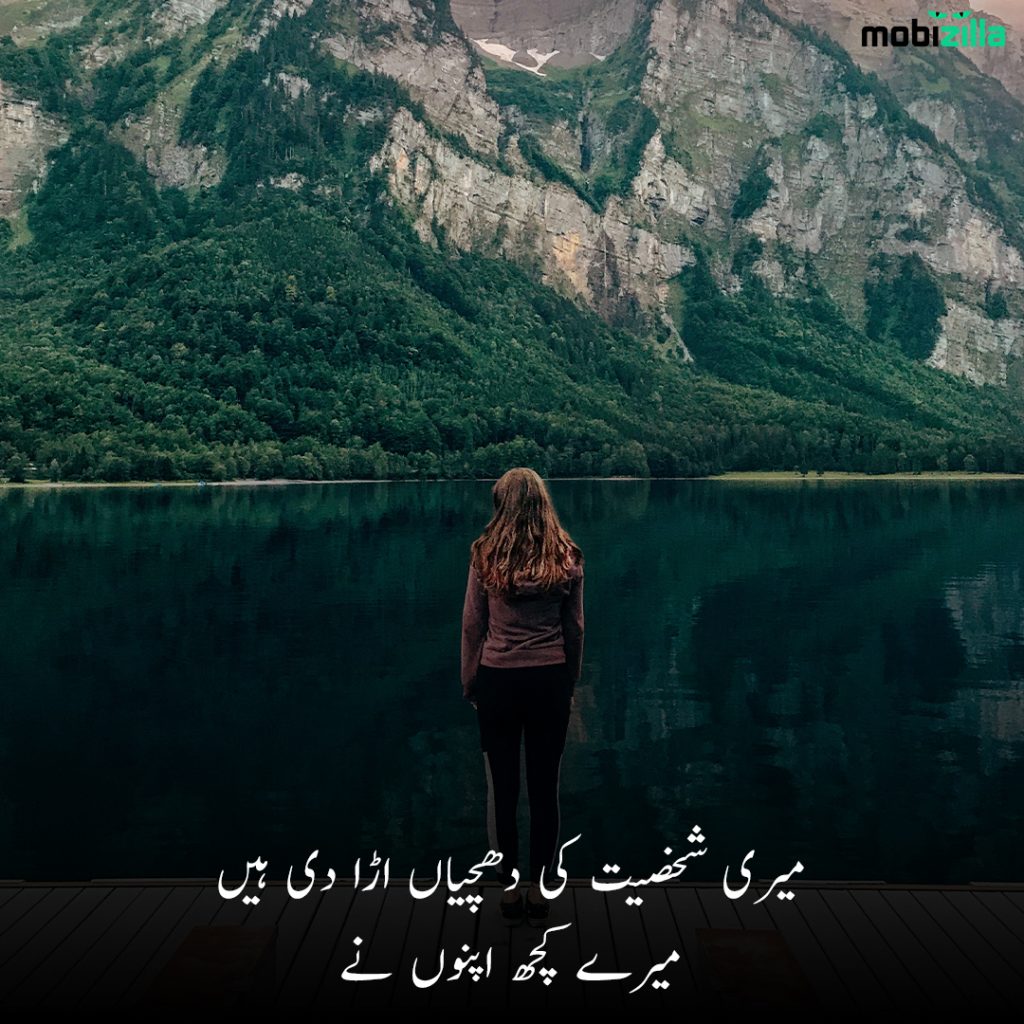 Meri shaksiyat ki dacheya ora di he
Mare kuch apno ne
94.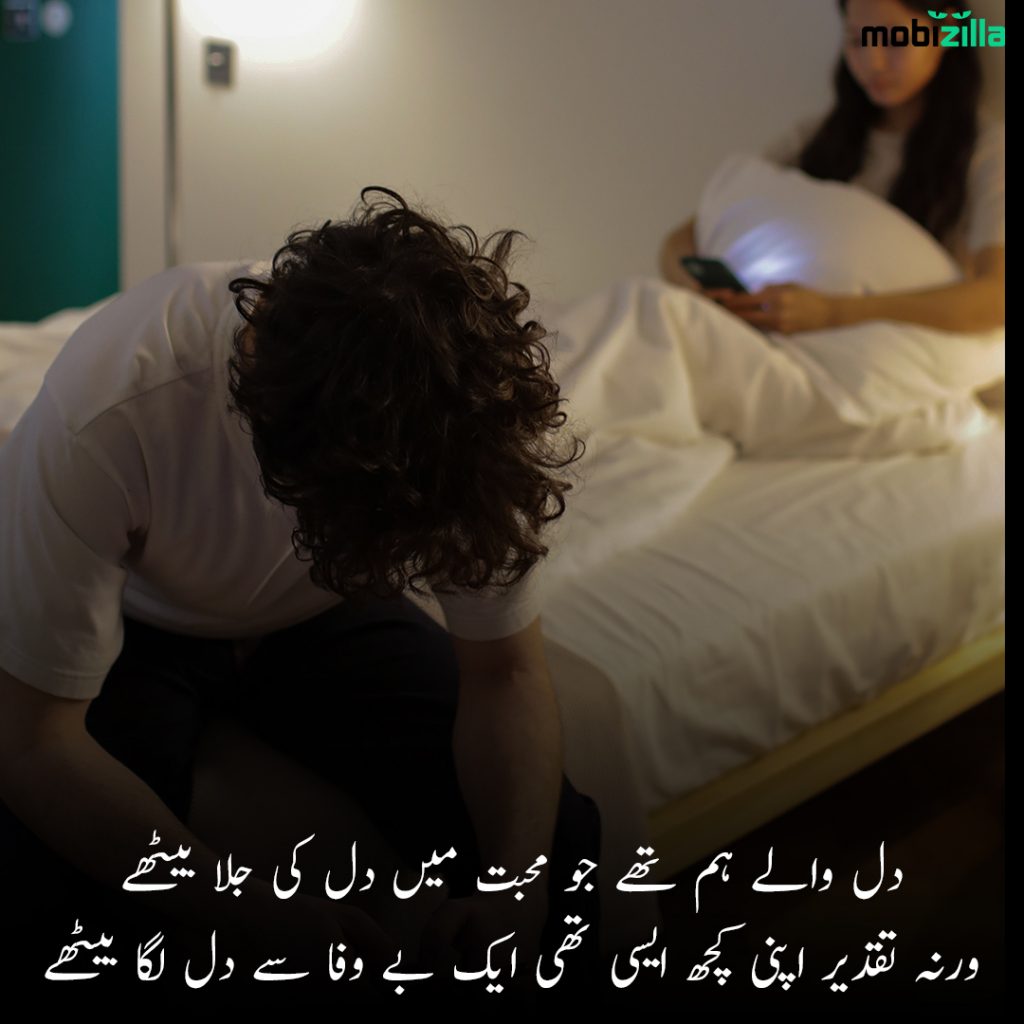 Dil wale hum te jo muhabbat mai dil jala bete
Warna taqdeer apni kuch ase te ak bewafa se dil laga bete.
95.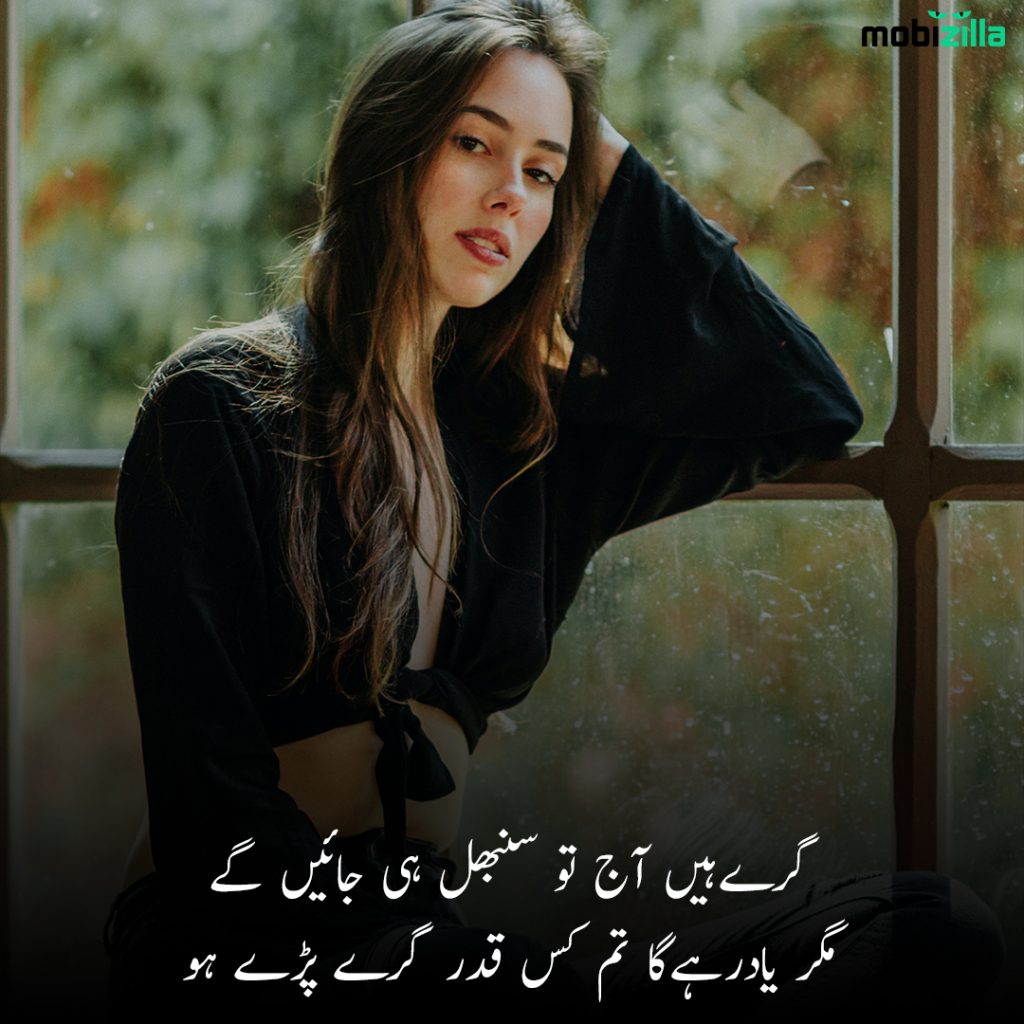 Gire he aaj to sambhal he jaye ge
Magar yaad rahe ga tum kis qadar ghir parhe ho
96.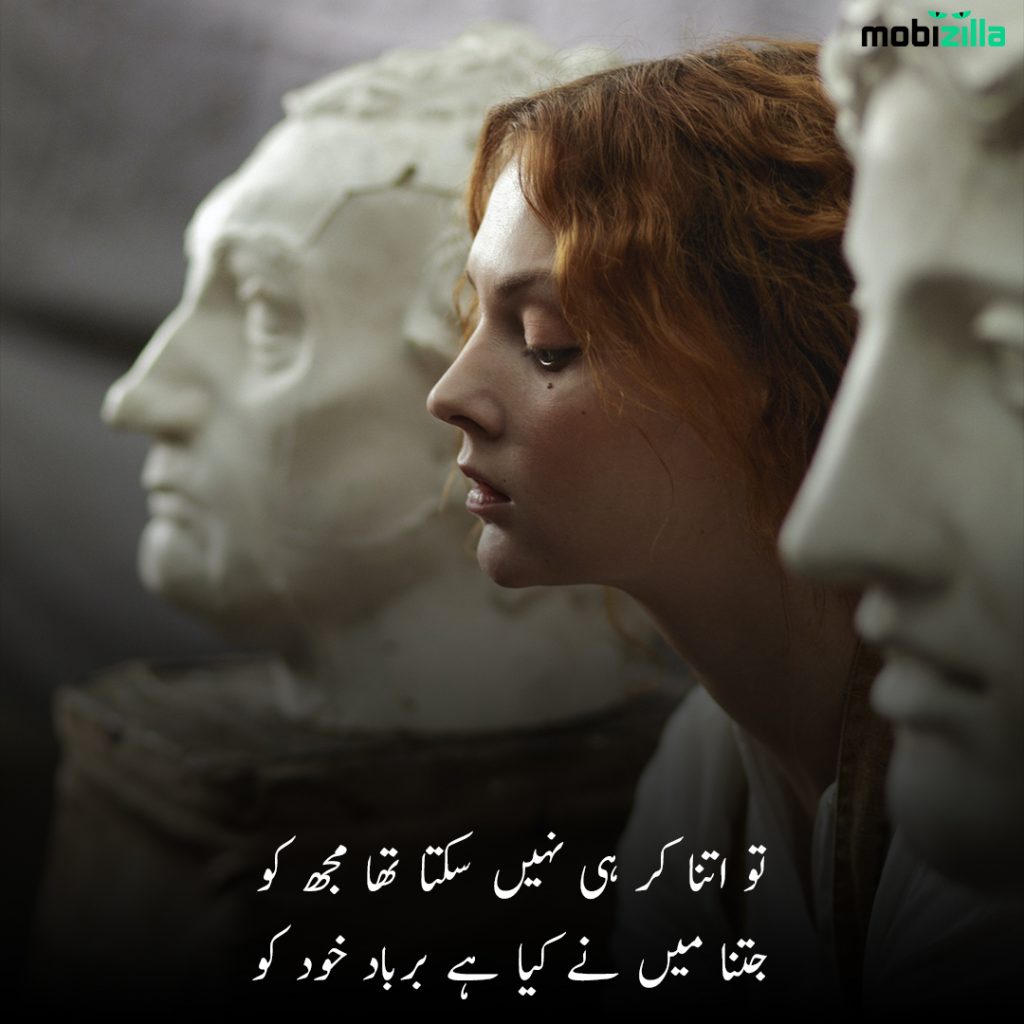 Tou itna kar he nahe sakhta ta muj ko
Jitna mai ne kiya he barbad khud ko
97.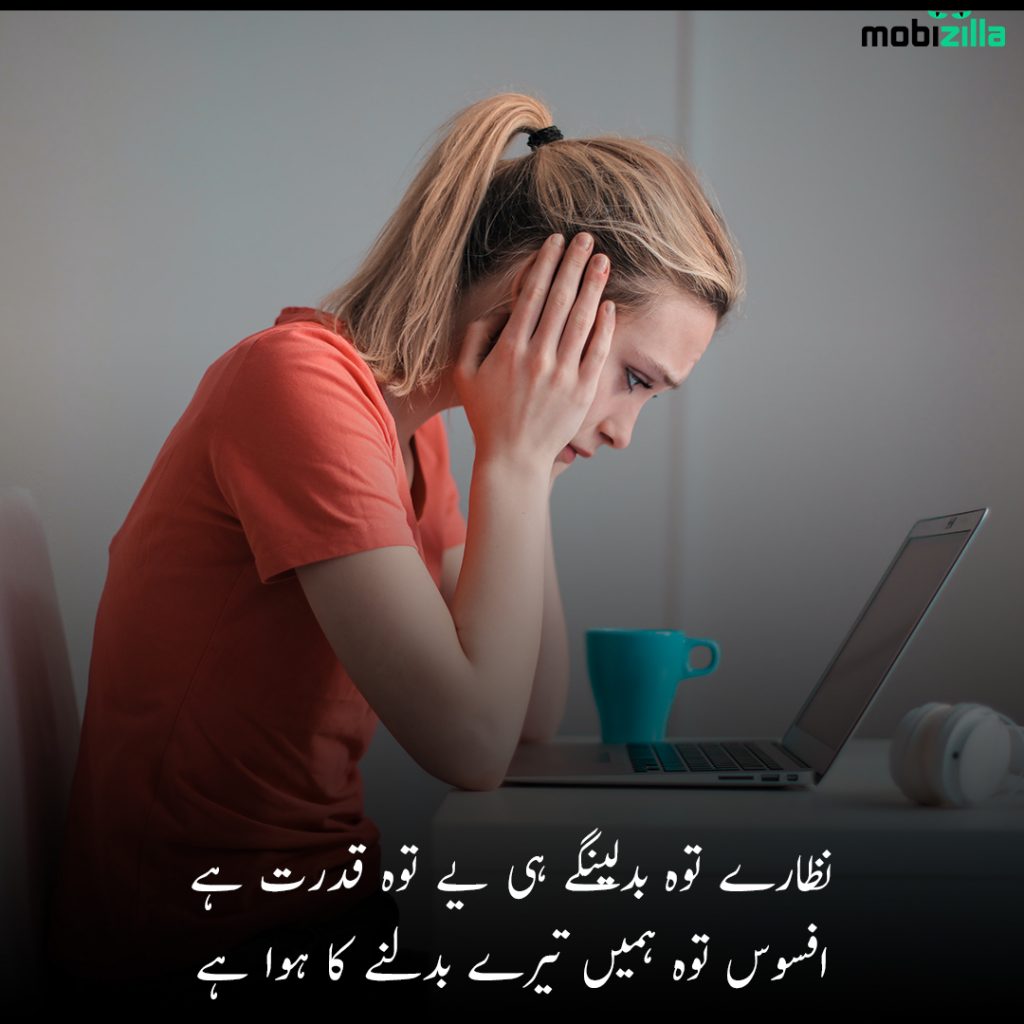 Nazare tou badlenge he ye tou qudrat he
Afsoos tou hame tere badalne ka howa he