In this post we have have collected for you the top Shikayat Poetry in Urdu. We hope you enjoy it, and if you enjoy it, please do share it with your friends.
If you like this post of Shikayat Poetry, we bet you will also like other post on our page including, love poetry, sad poetry, zulf poetry, dhoka poetry, muskurakat poetry, zindagi poetry, intezar poetry, yaad poetry, barish poetry, waqt poetry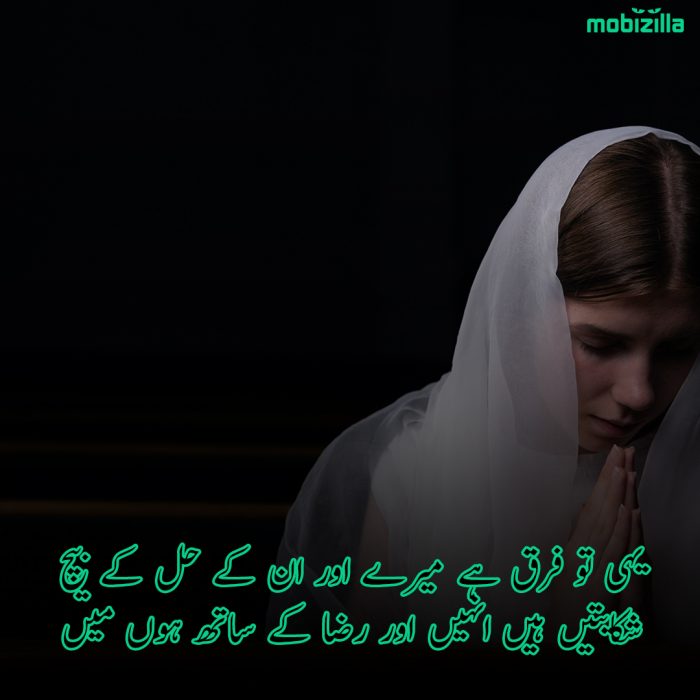 یہی تو فرق ہے میرے اور ان کے حل کے بیچ
شکایتیں ہیں انہیں اور رضا کے ساتھ ہوں میں
—<<>>—
Yahi to farq hai mare or un ke khl ki bich
Shekiatay hain unhain or raza ki sath ho main
—<<>>—
This is the difference between me and their solution
There are complaints from them and I am with Raza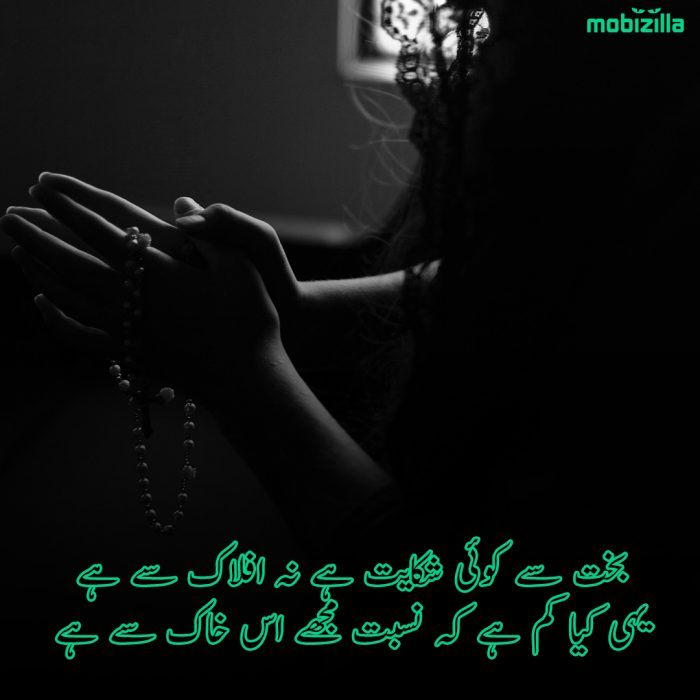 Shikayat Poetry
بخت سے کوئی شکایت ہے نہ افلاک سے ہے
یہی کیا کم ہے کہ نسبت مجھے اس خاک سے ہے
—<<>>—
Bakht se kie shekiet hai na aflak se hai
Yahi kiya kam hain= kah nisbat muje us khak se hai
—<<>>—
There is no complaint from luck or from the heavens
What is less than that I have from this dust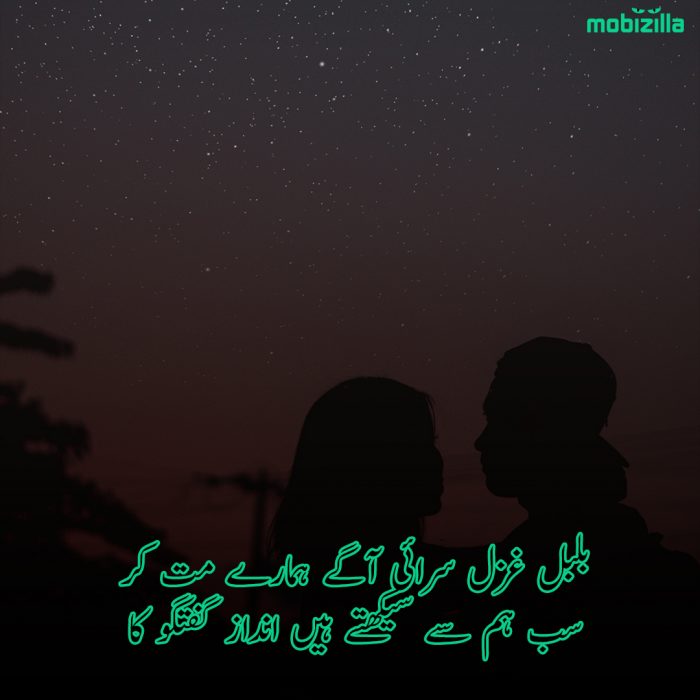 shikayat shayari urdu
بلبل غزل سرائی آگے ہمارے مت کر
سب ہم سے سیکھتے ہیں انداز گفتگو کا
—<<>>—
Bolbol ghazal sarani hamr mat kr
Sub hum se sikate hain andaz guftago ka
—<<>>—
Don't do bubble ghazal singing in front of us
Everyone learns from us the style of conversation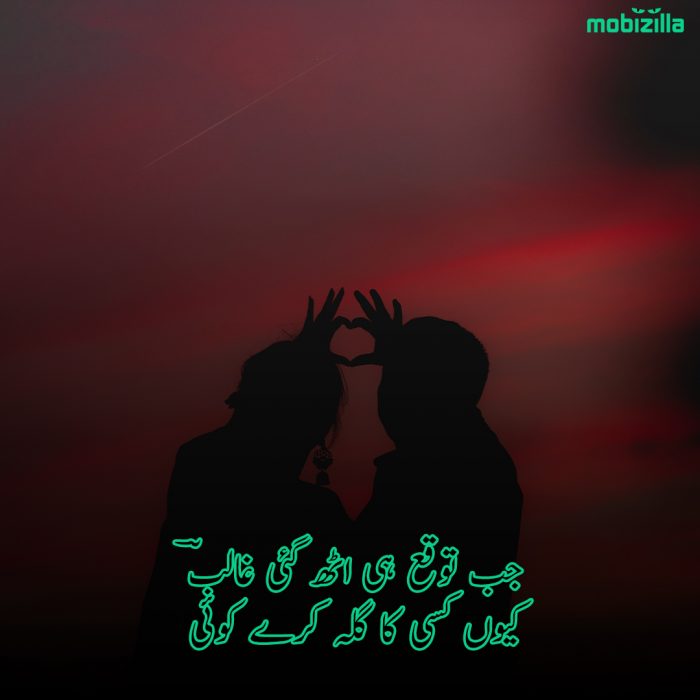 جب توقع ہی اٹھ گئی غالبؔ
کیوں کسی کا گلہ کرے کوئی
—<<>>—
Jab tawaqoo hi uti gaye ghalib
Kiyo kasi ka gala kare koie
—<<>>—
When the expectation rises, Ghalib
Why should anyone complain?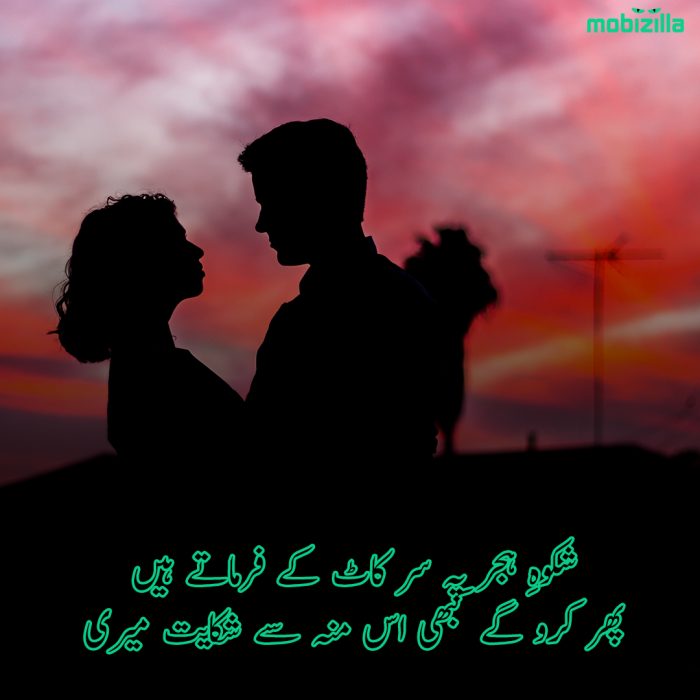 shikayat poetry in urdu sms
شکوہِ ہجر پہ سر کاٹ کے فرماتے ہیں
پھر کرو گے کبھی اس منہ سے شکایت میری
—<<>>—
Shikawa hijar ye sarkat ki farmate hain
Pr karoge kabhi us muo sai shekayat mari
—<<>>—
They cut off their heads at the glory of Hajj
Will you ever complain to me again?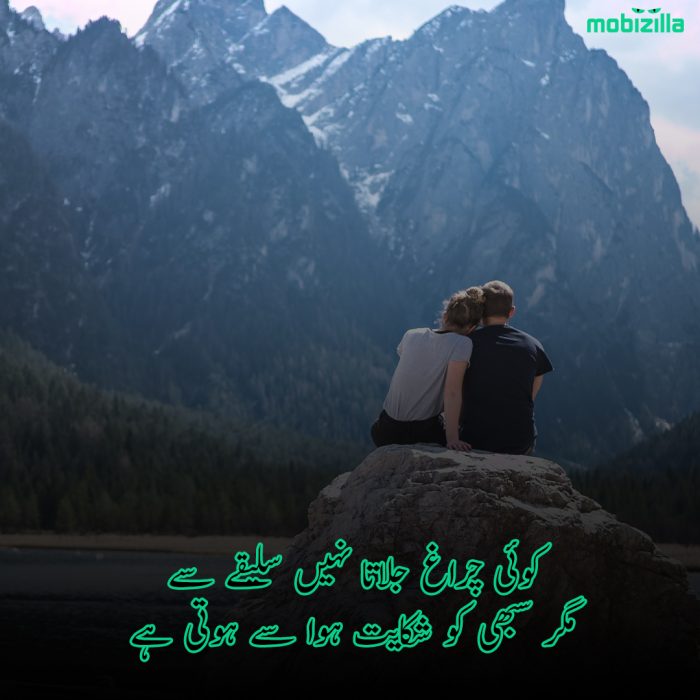 shikwa shikayat shayari in urdu
کوئی چراغ جلاتا نہیں سلیقے سے
مگر سبھی کو شکایت ہوا سے ہوتی ہے
—<<>>—
Koie charagh chalata nahi silqe sia
Magar sabi ko shekayat howa se hote hai
—<<>>—
No lamp is lit neatly
But everyone complains about the wind
نہیں کوئی شکایت تم سے مگر
یاد آتا ہے تیرا مجھ سے محبت کرنا
—<<>>—
Nahi koie shekayat tum se magar
Yad ata han tara muj se mohabat karna
—<<>>—
No complaints from you but
I remember your love for me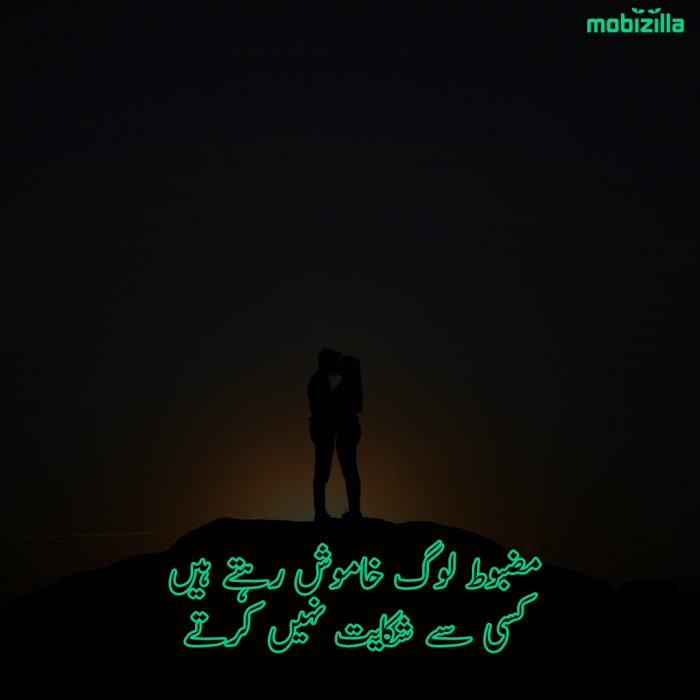 shikayat quotes in urdu
مضبوط لوگ خاموش رہتے ہیں
کسی سے شکایت نہیں کرتے
—<<>>—
Mozbootb log khamosh rahte
Kisi se shekayat nahi karte
—<<>>—
Strong people are silent
Don't complain to anyone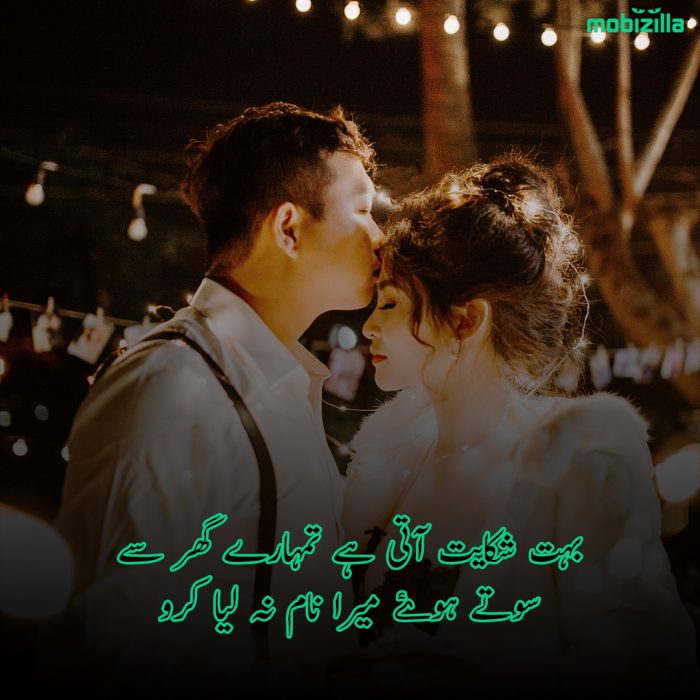 بہت شکایت آتی ہے تمہارے گھر سے
سوتے ہوۓ میرا نام نہ لیا کرو
—<<>>—
Bohat shekayat ate hai tumhare gar se
Sote Howie mara name na liya karo
—<<>>—
A lot of complaints come from your house
Don't take my name in your sleep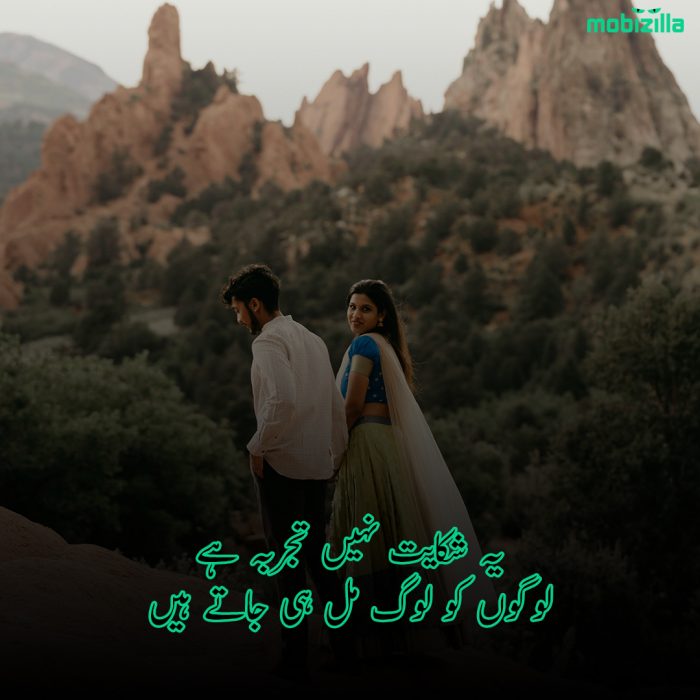 Shikayat Poetry in Urdu
یہ شکایت نہیں تجربہ ہے
لوگوں کو لوگ مل ہی جاتے ہیں
—<<>>—
Ye shekayat mahi tujroba hai
Logo ko log mil hi jate hai
—<<>>—
This is not a complaint but an experience
People get people