Without the ideal pair of shoes, no outfit is complete. It's like finding your ideal mate when you discover a brand that fits your look and lifestyle. When it comes to top ladies shoes brands in Pakistan, there are some brands which will definitely pop up in your mind. Whether you're wearing a casual or formal outfit, you'll need the correct shoes to be both comfortable and fashionable. We've put together a list of both economical and high-end Ladies shoes brands in Pakistan today. This is a comprehensive list that will assist you in selecting the finest footwear within your price range.
These companies provide a wide range of formals, casuals, and sportswear. You may also check through classic footwear as well as unique and uncommon styles to complement or contrast your bracelets or nail art for a more attractive appearance. All of these businesses are recognized for their high-quality standards, and once you've purchased from them, you'll find it difficult to shop anywhere else.
Top 10 ladies shoes brands in Pakistan
1. Stylo Shoes : Top ladies shoes brands in Pakistan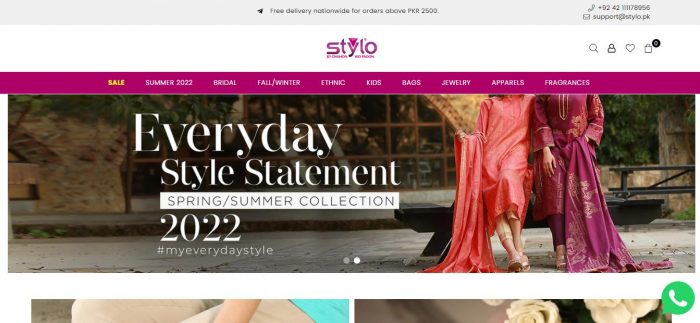 Stylo Shoes was one of the earliest women's footwear brands in Pakistan. With 89 stores, it is Pakistan's largest women's footwear brand. It was established in 1974. Because of its huge collection of all sorts of shoes, Stylo Shoes is the most popular brand among elite and working-class women. It has also become a talking point among brides-to-be due to its extravagant bridal line.
The main reason behind the success of Stylo shoes is that they combine comfort and remarkable attractiveness. Due to their comfort they are more popular in working women. In their stores, you may get a wide range of shoes including Casual boots, sandals, and shoes with large and medium-sized heels. If you're shopping for wedding shoes, Stylo is a terrific place to go. Stylo shops may be found in almost every Pakistani city
2. Women's Unze London Shoes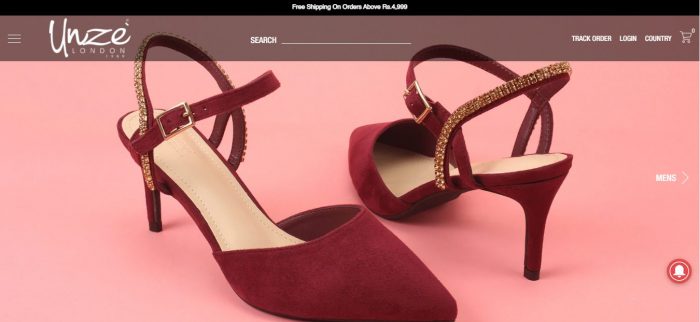 Unze London is also one of the top shoe brands for women in Pakistan. It was founded by the Saleem family in 1989 in the United Kingdom. The company has more than 30 years of expertise in the footwear industry. Unze has both women's and men's shoes for you to choose from.
Women's fashion isn't complete without the right footwear. And who better than Unze London to deliver the greatest shoes. Their devotion and enthusiasm for creating the greatest footwear in accordance with Pakistani culture and heritage has earned them a large following. Unze London has stores in both Pakistan and the United Kingdom. It's a well-known brand that offers contemporary ladies a wide range of shoe designs to choose from. Unze London is known for its sleek, sophisticated, and clever designs of fashionable footwear and accessories. Unze will give you with the finest quality comfy footwear that you can only dream of. whether you are a working mother or a university student, at home or constantly out Unze London has something for everyone. Choosing between stylish and comfy is a difficult choice, but with Unze, you don't have to worry; they provide the ideal combination of both.
Also Read: Top 16 clothing brands of Pakistan for women
3. Nike Women's Shoes: Nike ladies shoes in Pakistan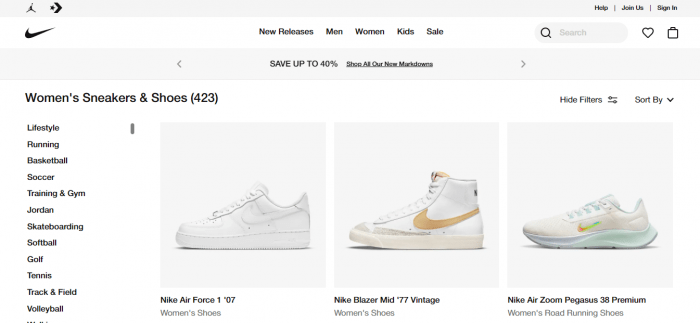 Nike is a well-known and well-loved international brand.it has wowed the globe with its most cutting-edge apparel concepts. When it comes to sportswear for both women and men, Nike is one of the most popular brands in the world if not the most.
Have you ever witnessed tennis player Serena Williams sliding about in her shoes, striking the ball so hard that her opponent is forced to back off? That's the gripping strength of Nike's gripping sneakers. Nike is the ideal brand for Pakistani women who have discovered their way to sports and fitness facilities since it focuses only on casual and sportswear.
If you're about to start working out at the gym, you'll need to visit a certified Nike shop in Pakistan or purchase online; you'll need Nike gym shoes. Nike originals, Converse, Hurley, and the Jordan brand are among the best Nike items. The NIKE price range begins at 12,000 PKR, although there are several clearance deals and yearly promotions that may be taken advantage of to save money.
4. Metro Shoes: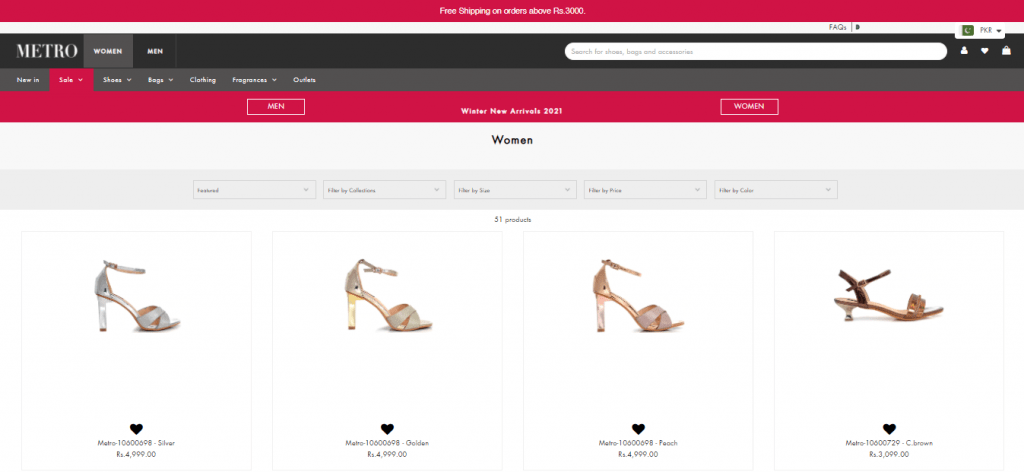 Metro shoes have been around for as long as we can remember. Brides used to wear Metro exclusively, and nothing has changed since then. Metro is still as popular as it was when it initially launched all those years ago. Metro was founded in 1986, and it is still running as strong as it can be after all these years. The brand is ISO certified and has a clear understanding of what the Pakistani society needs.
Metro knows its target customer better than any other brand, which is why it has been so successful for so long. This is also why they will continue to exist for decades to come. The Pakistani community has its own set of fundamental beliefs, and they want their accessories and clothing to reflect these ideals, which is why Metro is so popular in comparison to other brands.
You may choose from a wide range of casual, formal, seasonal, fancy, and wedding options. Metro does extensive online research and draws inspiration from all of the newest trends in order to provide you with the best of everything. Metro is recognized for both supporting local manufacturing and importing from other countries to ensure that its quality never deteriorates.
5. Bata Shoes: Best women shoes brands in Pakistan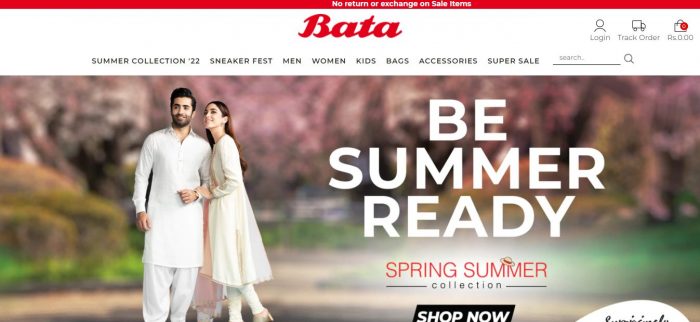 Bata is not only Pakistan's largest and most prominent footwear brand, but it is also the country's oldest and most prestigious footwear brand. For decades, the brand has provided the finest among the rest to the Pakistani population. The knowledge of what the target audience wants alone offers them an advantage over the competition.
The brand maintains a close watch on where the fashion wind blows so that it can stay on top of the latest trends and supply the most fashionable shoes to its customers. With grins on their cheeks, their stores feature the greatest and most amicable workers that will assist you in getting exactly what you want and need. They don't only conduct business in Pakistan; they also do business abroad.
Bata, being an international corporation, contributes significantly to the country's economy. It employs around 10,000 people. it's commitment to providing the greatest women's shoes to its devoted customers is reflected in its fundamental value. Bata has all-purpose shoes; whether it's for a special event like a wedding or simply for everyday wear, Bata has it all.
6. Ndure by Servis shoes: Shoes brands in Pakistan for ladies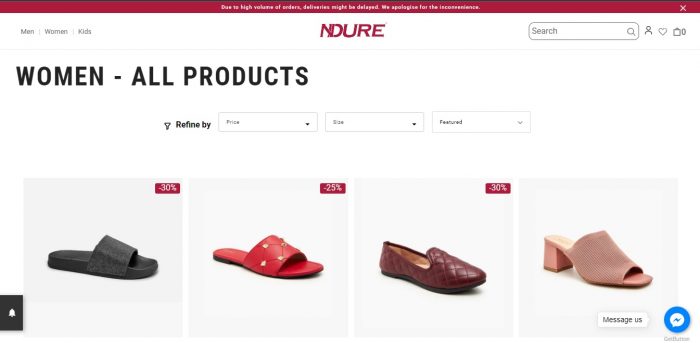 Servis is a Pakistani brand that was founded in 1959 in Lahore. Servis not only sells everyday shoes, but also provides a selection of the most beautiful and stylish shoes for special events. it guarantees that all of its goods will be of the highest quality.
With over 500 retail locations and 1500 individual merchants, the brand is booming. Servis offers unrivaled elegance, continual innovation, and up-to-date style trends, particularly when paired with the new Warda summer collection, which is a mix of bright and cool hues to battle the heat.
The brand conducts research into the personal tastes of its target audience as well as the ins and outs of fashion in order to preserve its position of leadership. All of this information enables them to give the most up-to-date trends to their target audience. They offer a variety of products including flats, athletics, sandals, and slippers for everyday wear, gym sessions, and special events. Their footwear has everything you need for every situation.
Also Read: Top 16 clothing brands of Pakistan for women
7. ECS Women's Shoes (Ehsan Chappal Store)
Ehsan Chappal Establishment (Pvt.) Limited, or ECS, is a retail store that first opened its doors in 1954. This huge shop opened in the middle of Anarkali Bazar. ECS quickly established a large name as a result of its sophisticated and long-lasting products. It may have begun tiny, but it never intended to remain that way. ECS now has a significant presence in Pakistan's footwear sector.
ECS has made its mark all across Pakistan, gaining the hearts of people in areas as diverse as KPK, North-Central-South Punjab, and Urban Sindh. it keeps loyal to its early promise of providing quality and value for money to its customers. They are one of Pakistan's oldest footwear brands, and t have achieved exceptional success in a short period of time. Women's footwear from the ECS manufacture is not only stylish and fashionable, but also very durable and comfortable. It will be difficult to switch to another brand after you have purchased from ECS.
Seasonal collections such as summer, winter, and spring, as well as unique collections such as wedding footwear, casuals, sandals, slippers, and sneakers, are included in their product line. Whether you're heading to the gym, a formal event, or a casual date with your buddies, ECS has you covered. At ECS, you'll find everything you need for your feet.
8. Borjan Shoes for Ladies: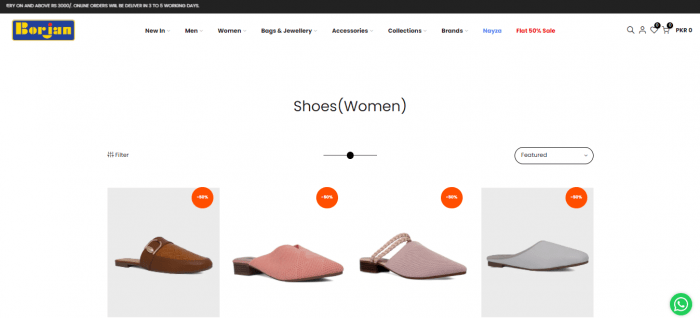 Borjan is another high quality brand in our list of top 10 ladies shoes brands in Pakistan .the brand used to describe the core of Pakistani tradition. It's the one retailer that understands the demands of the Pakistani community better than any other. The company employs over 1000 people and has 112 stores throughout Pakistan. Borjan stores can be found in over 56 locations throughout Pakistan, where you may get your favorite footwear. Its high-end footwear was also included at the 2014 Middle Eastern Market. Borjan's long-term ambition is to expand into the MENA region.
Borjan has a wide range of footwear, including Moccs, Mules, Court Shoes, Long Boots, Peep Toes, Sportswear, Comfortable Daily Wear Shoes, Heels, Flats, Chappal, Slipper, Sandals, Khussa, Uggs, and pumps. It is the only shoe brand that offers such a wide variety of options.
9. Regal Shoes: Ladies shoes brands in Pakistan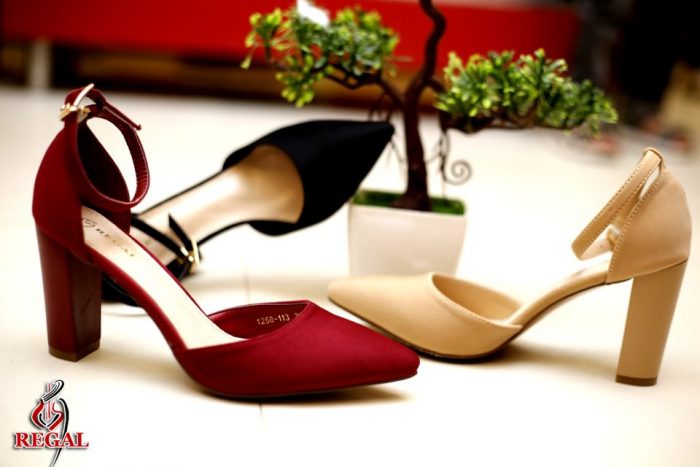 Regal is a class apart when it comes to Pakistan's most inexpensive women's shoe company. They are unbeatable in terms of price, style, and quality. The Regal shop first opened its doors in Karachi in 1980, and they've been delivering high-quality modern shoes to ladies all around Pakistan ever since.
Regal Shoes has stores in every major and well-known mall in Karachi, as well as in the surrounding areas. Dolmen Mall, Tariq Road, Main Zaibunisa Street Atrium Mall, Main Bahdurabad, Main Hyderi Market, Lucky One Mall, and Main Rashid Minhas Road are just a few of the options. These are Karachi's busiest streets and malls, and having stores here makes you feel like an uncrowned king.
At any of these Regal locations, you can find all of your heart's (or rather, your feet's) desires. Regal has everything you need for any special occasion, as well as every day and workplace attire. If that wasn't enough, they also provide fantastic deals throughout the year. Regal is a one-stop store for all your footwear need.
10. Sputnik Ladies Shoes: Top shoes brands in Pakistan for ladies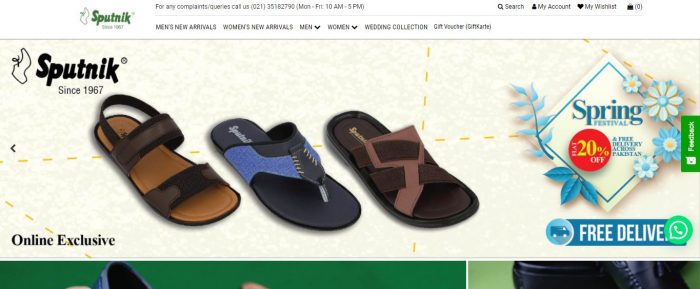 In the year 1967, Sputnik arrived in Karachi. Sadruddin Veljee was the brains behind the shop. His business was founded on two principles: the design of every product must be delicate and exquisite, and nothing less would ever be presented in his shop. His brand concept and principles paid off handsomely; Sputnik is one of Pakistan's most well-known boutiques, selling a wide range of women's shoes. What began as a single store on Elphinstone Street has grown into the epitome of women's footwear.
Sputnik has a large following of dedicated clients, and it owes this to its founder's vision. The legendary business first opened its doors in Karachi in 2001, and it has remained unstoppable ever since. They also established another store in Islamabad in 2015. Year after year, Sputnik climbed the success ladder.
If you're seeking for the most up-to-date footwear, you should certainly stop by Sputnik. You may receive the most exquisite, beautiful, and trendsetting shoes quality shoes with Sputnik, which everyone can only desire for. Sputnik has it all, from vivid animal designs to gem stones to pops of color to classic elegance. They offer shoes that will be ideal for all of your events.