Pakistan is among the top five nations in the world in freelancing, with total revenue of $0.5 billion created solely from freelance jobs. Unsurprisingly, the number continues to climb. The key reason for this fast growth is because freelancers have total control over their workload projects, and customers' businesses are increasingly turning to freelancers to satisfy their work needs. Furthermore, the Pakistani labor market is severely underserved. Only 8.8% of graduates secure employment in their professions following graduation, (based on a survey issued by the Higher Education Commission). That's why Pakistanis are quite interested in top freelancing websites in Pakistan
So, if you've been searching for freelance jobs, you will definitely be aware of how tough it is to earn money online and start freelancing carrier due to competition. But don't worry, we've put together a list of the best freelance websites in this article to help you get started with becoming a freelancer in Pakistan. Before checking the top freelance websites in Pakistan, let us first understand what freelance actually is.
What is freelancing?
If you work for yourself rather than for a corporation, you are termed a freelancer. Because freelancers are self-employed, they usually contact customers directly to establish employment conditions and may set their own rates.
Freelancers are often hired as independent contractors by businesses for a limited time or for a particular project. Freelancers do not get the same benefits as full-time employees since they are only employed for a limited period.
The list of top 13 Freelancing websites in Pakistan are as follows
1. Fiverr –

Freelancing website for beginners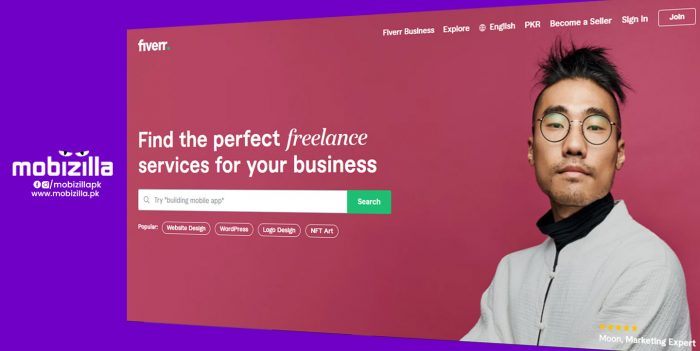 Because of its nice and user-friendly interface, Fiverr is one of the most popular freelance websites. It's an online marketplace that links freelancers with companies looking for digital services, including graphic design, website design, content writing, and voiceovers.
This freelancing platform makes communication between freelancers and company owners very simple. Freelancers are referred to as sellers on the platform, while their services are referred to as gigs, and business owners are referred to as buyers.
Instead of putting out bids, merchants may join up for free and publish their jobs at their own rates. Customers may purchase by browsing through a variety of categories. When a buyer buys a gig, the system deducts charges from their account and deposits them after deducting a commission charge. The system will pay freelancers 80% of the money given.
Advantages
User Friendly
It has a wide range of categories.
Many free online courses and tutorials are available for Fiverr.
Disadvantages
High commission fee
A lengthy payment procedure
2. Upwork –

Best freelancing site in Pakistan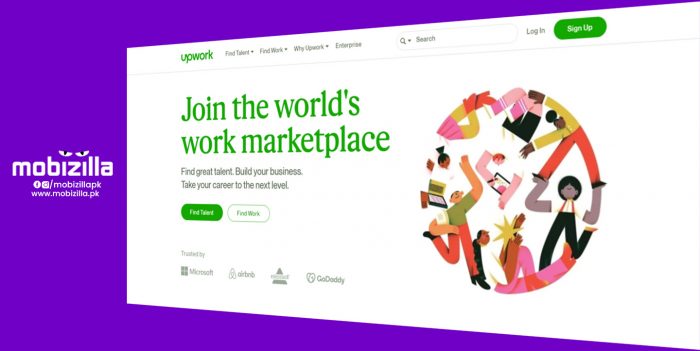 In our list of best freelance websites, Upwork takes the second place. Upwork is a global freelance marketplace that links clients with freelancers from all over the world. The platform covers a wide range of topics, including web design, software development, customer service, and accounting.
Clients and freelancers may interact via a variety of methods. Clients have the option of posting a job to recruit talent or purchasing a fixed service from the project catalog.
When you apply for a job or pitch a project, you must first build a profile that includes information about yourself, your abilities, and your work history. Remember that customers will go through your profile to determine whether you're qualified for the job.
Upwork charges on relative basis, which means the more jobs you complete, the less you are charged. For example, the commission fee starts at 20% for the first $500 bill and progressively reduces as you get more money. Withdrawals may be accomplished in a variety of ways, including direct transfer, PayPal, and wire transfer.
Advantages
payment protection
Reliable clientele
Prevents clients from asking for free work
Disadvantages
long selecting procedure
Connects are required to send proposals
Takes a while to build your reputation
3. freelancer.com –

Best freelance jobs in Pakistan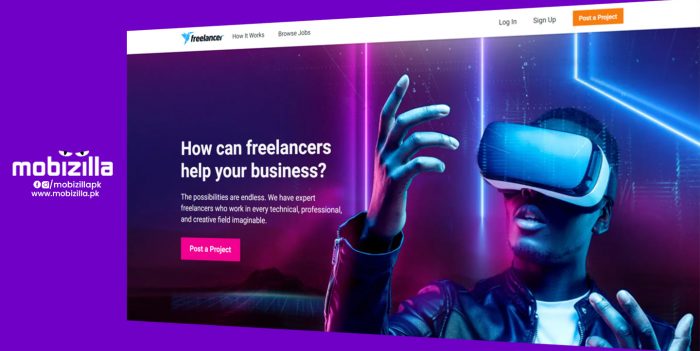 Another reputable freelancing website is freelancer.com, which connects specialists and companies from all over the globe to collaborate on different tasks. Due to the vast range of expertise, customers may easily find an expert in any sector. You may register as a freelancer or a small company owner.
To work as a freelancer, you must first fill out a simple registration form detailing your skills, educational background, and professional experience. There are a variety of competitions available, including graphic or design work, as well as tasks. These contests may help freelancers make money while also receiving favorable comments on their accounts. For competitions and fixed projects, each freelancer will be paid in full after completion. However, the platform will charge 10% of your entire earnings.
Advantages
This platform includes a progress tracker.
Live chat and customer service available 24 hours a day, seven days a week
Disadvantages
does not have a user-friendly interface.
Spammers do exist on this platform
Read Also: Best Business Ideas in Pakistan with Low Investment
4. Guru.com – freelancer in Pakistan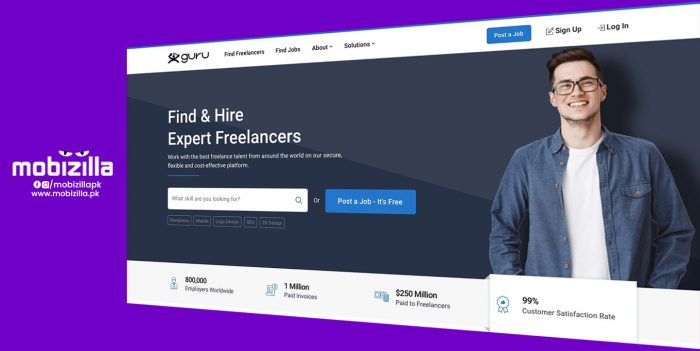 Unlike other freelancing websites, guru.com is based on compensation rather than job completion. Freelancers may select from a variety of work categories on guru.com. The platform features a robust dashboard via which freelancers may receive project-related tasks, files, and other information.
Clients and freelancers may also communicate privately via the website. Guru.com also offers payment choices for freelancers, such as hourly payment or payment based on millstones such as weekly, monthly, quarterly, and so on.
Pros:
24/7 support
Lower fees
User-friendly website
Cons:
Premium monthly members are boosted ahead of free members
High competition
5. People per hour – Pakistan freelancing sites
As the name says, people per hour support businesses in identifying skilled freelancers to employ by the hour or project. Millions of freelancers work in fields including public relations, marketing, and journalism.
You may create a free account and start creating your profile. Before being authorized, each application will be examined by the moderators. Following clearance, freelancers may begin seeking work in various fields.
When working on a project, freelancers may submit offers and set their own rates. Once they've completed, they may effortlessly generate an invoice from their dashboard. Most freelancing sites, such as persons per hour, charge freelancers a 20% service fee on revenues of 350 dollars. Fortunately, as you do mor jobs, your fee will decrease.
Advantages
automatic invoice
location listings
safe payment.
Disadvantage
free bids are restricted; you can only place 15 offers each month.
6. dribble –

Top Freelancing websites in Pakistan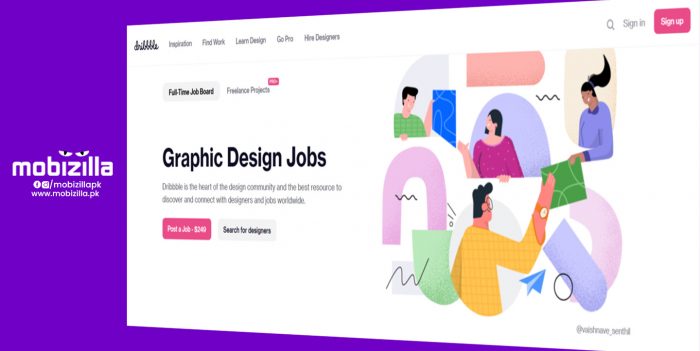 Dribble is also among the best freelancing websites in Pakistan. it is a prominent social networking platform for creative professionals to connect, collaborate, and meet. Designers and artists use this service to construct portfolios and sell their companies on the internet.
Creating a work portfolio can increase your chances of landing a job. Work prospects include UI UX design and content creation. Premium customers, on the other hand, get access to a list of available freelance jobs. In the search results of the website, a premium account will also have a better ranking.
Advantages
This is a vast worldwide network community.
Lots of design inspiration
7. 99designs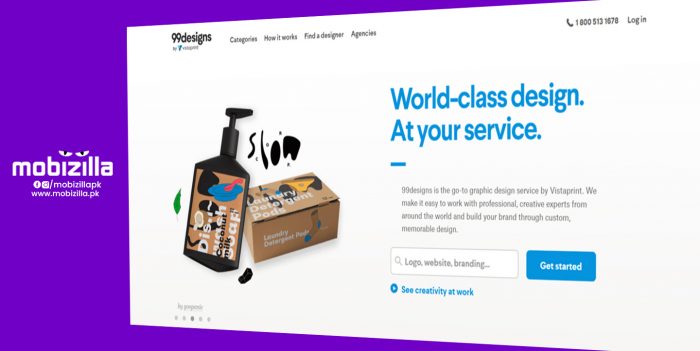 For freelance designers looking for employment, 99 designs give a number of options. It's a freelancing marketplace focused on connecting designers and companies. There are several design tasks available, ranging from logo design to book covers to fashion and retail.
Once you've signed up, You'll be instructed to make a profile that includes your work history.  The team at 99designs will assess your application and determine your designer level. Your visibility on the site is determined by your level. By choosing industries, styles, and design categories, you will be able to pick from a list of jobs.
To work on this platform, you must be an excellent designer. A one-hundred-dollar introductory fee and a platform fee ranging from 5% to 15% will be charged by 99 designs. Within three business days, freelancers are paid through paypal or payoneer, and those with higher profile levels are paid even quicker.
Advantages
It has a great vibrant community
Payment safety
Fast payments
Disadvantage
High service charges
the designer level may be restricted.
Only the pro edition of 99 designs has a list of freelancing projects.
8. Topal –

freelancing websites in Pakistan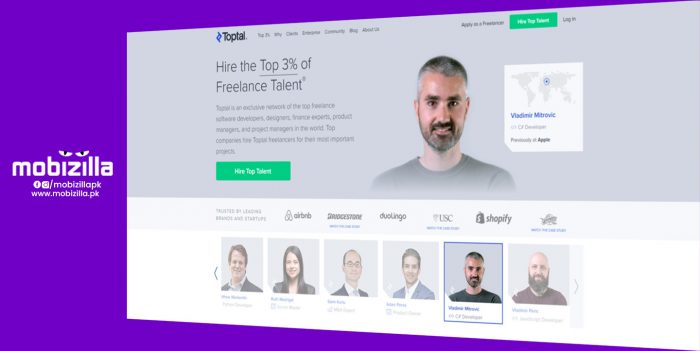 Toptal is a freelance marketplace that connects companies with highly qualified industry experts. Toptal has a wide range of freelancers, from web developers and web designers to financial advisors and product managers.
To work with Toptal as a freelancer, you must pass five stages of the screening process, beginning with a demanding English test and concluding with a project evaluation. For the platform, only the top 3% of applications are chosen. It is the most effective freelancing website for professionals.
You'll get access to a variety of job listings from major clients and organizations, like Motorola and Airbnb after you've completed all of the requirements. If you don't pass the test, your application will be placed on hold for many months.
Toptal's TopTracker is a specialist time tracking and billing system. Using this service, freelancers will be paid the full amount they provide, and payments will be done by Payoneer, Paypal, or a direct local bank transfer.
Advantages:
networking possibilities
current news updates
low cost
Disadvantages
malevolent users
spam content
9. LinkedIn –

Freelancing site in Pakistan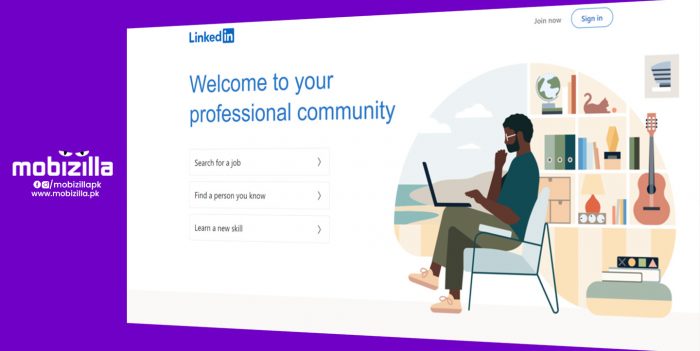 LinkedIn is a famous employment site that makes it simple to locate jobs in a variety of areas. It's also a professional social networking site where people can connect and engage.
To get started, just sign up and establish a profile. Include as much information about your abilities, education, and job experience as possable. More work prospects may arise as a result of a detailed LinkedIn profile.
Adding a new post to your profile might also help you get more attention. Create a post outlining your skills and attaching your work portfolio if you're a freelance writer, for example. Employers may come across your profile and make you an offer.
It's also a good idea to go through LinkedIn job advertising for freelancing jobs. Use similar keywords and arrange the results from the most recent to locate your ideal freelancing work.
Advantages
Big audience,
Networking possibilities,
Individualized content
Disadvantages
Competitive atmosphere
Picture file size limitations
Read Also: Small manufacturing business ideas in Pakistan
10. Behance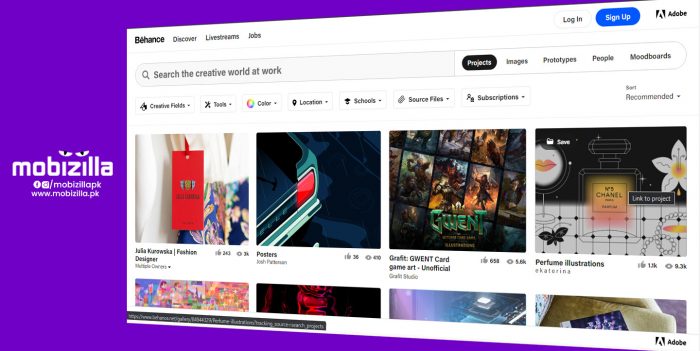 To become a full-time freelancer in Pakistan in the field of design and animation, you must have a profile and portfolio on Behance. It is a social network for creative skills, unlike the other freelancing sites on the list. People from all around the world use this website to make portfolios and share their creative work, which ranges from animations and drawings to web and graphic design.
Whether you're a freelance graphic designer, web designer, or animator, it's a terrific way to be noticed by potential employers. Create an account and fill up your profile first. Because this is a social networking site, the more profiles you follow, the more posts appear in your feed. It enables you to look for more freelancing opportunities.
A job board is also available on Behance. Every freelancer will get a personalized job recommendation based on their skill sets and category, making it easier for them to find freelance work that is a suitable match.
Advantages
Free to use and apply to jobs
Networking and portfolio exposure
Personalized job recommendations
Disadvantages
Highly competitive platform
Issues with image loading and compression
11. Flex Jobs – freelance websites in pakistan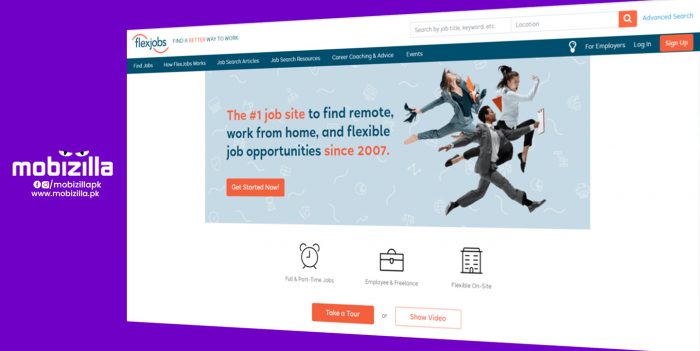 Flex jobs is a website that focuses on remote and flexible employment options, such as freelancing, part-time, and full-time work. There are a variety of work opportunities accessible, including teaching and training, as well as journalism and writing.
Every job submitted on the site is checked by flex jobs team to ensure that it is real. All job posts are checked and screened, filtering out scammers and imposters. People must first join up for a membership in order to get a freelancing work.
This website offers a scam-free 30-day money-back guarantee as well as solid customer support.
Advantages
Ad-free and scam-free
Reliable customer service
Lower competition
Disadvantages
Paid service
Website can feel overwhelming to navigate
Some premium listings can be found on other sites
12. ServiceScape –

freelancing in Pakistan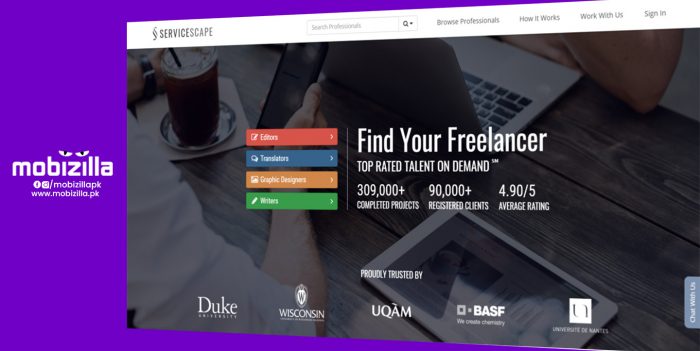 Servicescape is an online job board specializing in freelance writing, editing, and translation work. Freelancers may build profiles on the site and market their services to a growing customer base.
What distinguishes Servicescape from other platforms is the recruiting process. Because freelancers do not put bids or submit proposals, they just wait for job opportunities from customers. So, having a profile that stands out is essential for working on this platform.
Freelancers and employers may easily communicate using Servicescape, and both parties can exchange messages and schedule a conference call. Serveicescape provides income via PayPal check and gusto every month. However, the site charges a 50% commission fee for each finished task.
Advantage
bespoke price structure.
Disadvantages
Lack of flexibility in scheduling and efficient communication
The website offers a high commission % but only covers a small area of expertise.
13. Designhill –

Top Freelancing websites in Pakistan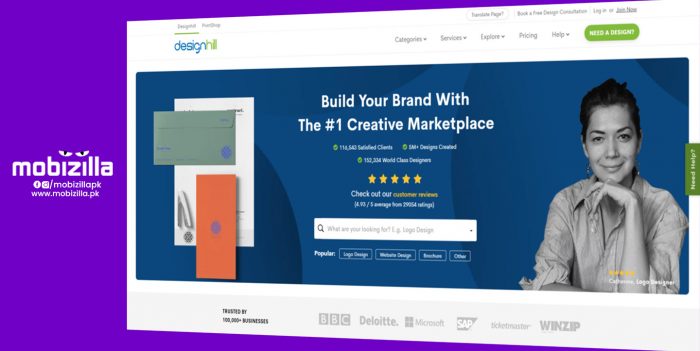 Another good freelancing website in Pakistan is DesignHill. Employers seeking freelance designers may use Designhill to locate them in a variety of ways. They hold a project competition to find talented freelancers and choose from a variety of design entries. They may also locate freelancers by searching for certain services using the search box at the top of the landing page.
Design contests may be contentious. We understand your displeasure with freelancing platform contests. However, not all design contests are a rip-off, and Designhill shows that they may be effective in attracting new clients.
Designhill has a lot to offer whether you're a graphic designer, a web designer, or interested in other types of design. Designhill goes even farther to court its creatives by enabling them to design their own T-shirts, get them printed, and sell them in their online shop. This is a useful tool since it provides freelance designers with another another way to market their work and make money.
Advantages:
access to top-tier organizations and people,
free invoicing and payment.
Disadvantages
lengthy screening process,
limited to large projects
Our list of the top freelancing websites in Pakistan for getting work and making money online in 2022 finishes here. Finding freelancing work does not have to be tough. The majority of websites just need you to create an account on your profile; however, before doing so, make sure you understand how each freelancing website operates, including the payment method, withdrawal method, and service fee.
Frequeltly Asked Questions. (FAQs)
What are the workings of freelancing websites in Pakistan?
The majority of freelancing websites in Pakistan fall into one of two categories: marketplace or job board.
Both attempts to connect freelancers to work prospects and frequently include distinct features (such as a community component or recruitment assistance).
On marketplaces, you'll normally create a profile, browse potential jobs, and enjoy the benefits of a safe and expedited application, client communication, and payment procedure.
However, the protection and guidance that freelancing markets provide come at a cost.
Job boards, on the other hand, frequently provide useful search tools that allow you to quickly locate and apply to current openings listed by clients in your industry.
You'll have to go through the real project on your own using job boards, and you'll have to pay for memberships on occasion.
However, you'll have the extra advantage of not needing to outbid other freelancers, have flawless profile evaluations, or even join up at all.
How do you choose the best freelancing site?
How We Selected the Best Freelance Websites
When putting up the top freelancing websites for you, I focused on the following important criteria:
Service fees and pricing
Freelance categories are available.
Usability and features of the website
The popularity of the site and the value of the chances offered
Payment security
What is the greatest website for newbie freelancers?
The two most popular freelancing websites for novices are Fiverr and Upwork (up to a point). While these platforms make it simpler to get started, you still need to deliver high-quality services and advertise yourself effectively to boost your chances of earning future jobs. Before creating a profile in an online marketplace, the most successful freelancers have successfully developed their expertise. Job experience, testimonials, case studies, and a good portfolio will create a great foundation for being recognized and employed more often.
What is the most popular freelancing website?
Upwork has more than eighteen million freelancers and five million customers registered. Upwork is the world's biggest freelancing marketplace, with three million tasks worth over $1 billion posted each year.
Which skill is best for freelancing 2022?
Some of the most demanded skills for freelancing skills are as follows:
Graphic Design
Photography & Videography
SEO
Social Media Manager & Community Manager
Virtual Assistant
Website Design
Website Development (Coders, Developers & Programmers, Software Engineers)
Writing (Copywriting, Content Marketing, Report Writing)