The internet has grown tremendously in recent years, transforming the way of buying and selling things. From millions of products to free cash on delivery, the top online shopping websites in Pakistan have it all and they're always coming up with fresh ideas to improve your shopping experience.
Furthermore, Pakistan is catching up with to the rest of the world in terms of online shopping. Hundreds of businesses are using the internet to sell their items, which range from cell phones to clothing and home equipment. Online shopping websites are all over the internet in Pakistan. The behavior of online buyers is rapidly changing as a result of the rising usage of smartphones and availability of the 3g and 4g internet.
Although Pakistan has roughly 25% online buyers, this is still a small percentage when compared to wealthy nations. However, the trend is anticipated to expand much more in the next years, as State Bank expects a two-fold growth in online shopping in the previous few months.
Is it safe to shop online in Pakistan?
Every month, millions of Pakistanis purchase online. Many of them shop for gadgets, apparel, personal care, mobile phone, electronic products, beauty products, and other items over the Internet. Local and foreign goods are sold by some of Pakistan's largest online stores. There are also different sellers that specialize in certain areas or categories, in addition to the large brands. Because businesses employ a secure payment mechanism, online buying in Pakistan is quite safe.
Individual sellers may now offer their items online in Pakistan on a few popular online shopping websites like Daraz.pk and OLX. With so many new online shopping websites opening every other month in Pakistan, we've compiled a list of the top 10 online shopping websites in Pakistan
1. Daraz.pk : Best Online Shopping Website in Pakistan
Daraz gets first place in the list of top 10 online shopping websites in Pakistan. Daraz.pk is unquestionably one of Pakistan's most popular e-commerce platforms in Pakistan. It's possible that the Alibaba group now owns the whole marketplace. There are over 30,000 vendors providing tens of thousands of items. Mobile phones, household, electronic items, office products, appliances, toys and children's items, fashion accessories, and so much more are all available. Daraz.pk is well-known for its online sales and discount deals, which allow customers to purchase things at reasonable prices. Furthermore, all of the major companies have flagship storefronts on Daraz.pk, allowing customers to acquire dependable items online.
2. Telemart: Online Shopping in Pakistan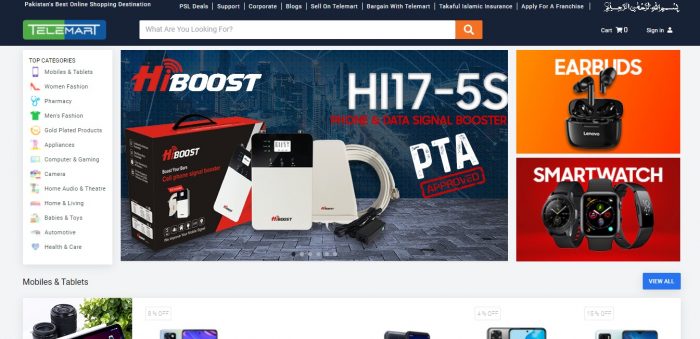 Telemart.pk is among the top five online shopping stores, owing to its 27-year track record of excellence in online purchasing and customer care. Their business began with mobile phones and gadgets but has now expanded to include healthcare items, women's apparel, children's clothing, and much more. They want their clients to keep coming back to them for their needs by providing value via their goods. It has become the sole brand in Pakistan to offer superior gold-plated items, with over 150,000 products in its shop. To make purchasing easier for their clients, they also provide a free discount card/app and gift card.
3. Shopon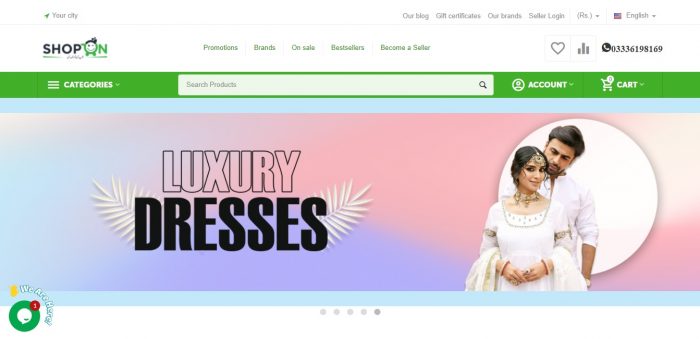 Shopon.pk is a relatively new e commerce store for contemporary clothing, fashion accessories, and electronics including cameras, lenses, smartwatches, smartphones, gaming consoles, and earphones. If you like shopping for brands, they offer a special section where you may browse for your favorite brand. Shopon.pk was founded with the goal of propelling Pakistan ahead in the e-commerce business by bringing the greatest items to you at reduced prices. The nicest part is that you may get products at a significant discount. This e-commerce company is open 24 hours a day, 7 days a week, and ready to deliver high-quality products right to your home. Are you ready to purchase?
4. Shophive: Online Shopping Site in Pakistan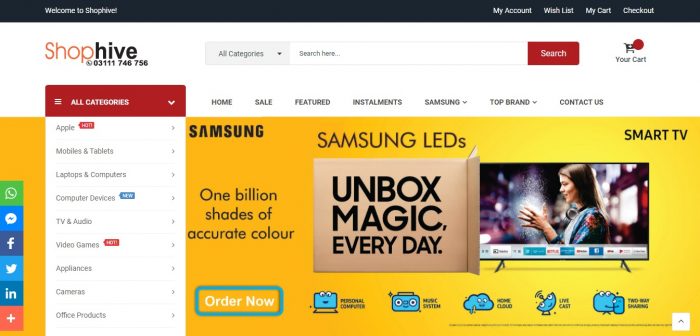 Shophive is one of Pakistan's leading gadget online businesses, specializing in providing almost all types of electronics and gadgets to its consumers. Laptops, smartphones, tablet computers, cameras of all sorts, TVs, big brand projectors, desktop computers, standalone monitors, printers, scanners, and a variety of other wearable gadgets are among their most notable goods. One of the most passionate aspects of this platform is its commitment to long-term customer connections. As a result, the majority of Shophive clients become long-term consumers rather than one-time buyers.
So, if you are unable to go to a market to buy products, this website can give you some excellent discounts where you may purchase various items at your leisure from the comfort of your own house. You may also use this online shopping platform to take advantage of payment options delivery.
5. Jomo.pk: Best Online Shopping Website in Pakistan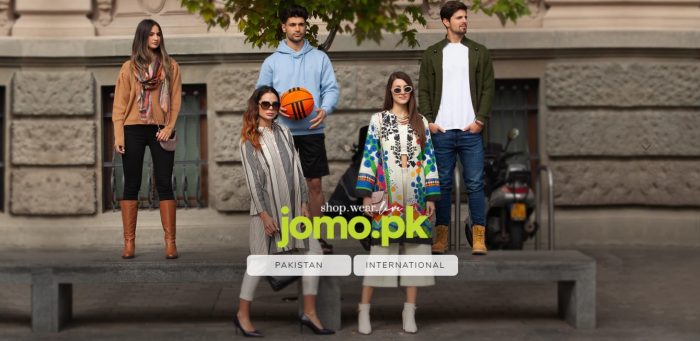 Jomo.pk is the newest website in our list of top ten online shopping websites in Pakistan. They are quite innovative in their delivery processes and have introduced revolutionary processes to their delivery system. theses processes include; Pehlay tries Pir Buy, meaning first try the product, if you like it then buy if you don't like the product you can return it back to us. such initiatives have encouraged online shopping dramatically in Pakistan. before the advent of such websites, online buyers were afraid of scams. as many buyers have received fake products from big online platforms.
Jomo.pk offers various product categories including shoes, clothes, electronics, and watches, etc.
6. HomeShopping.pk: Top Online Shopping Website in Pakistan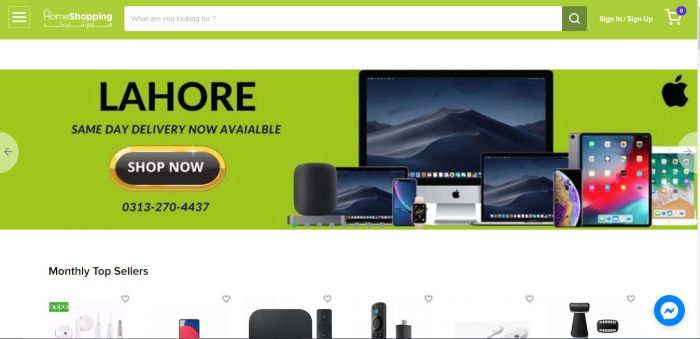 HomeShopping.pk is one of Pakistan's most popular online shopping websites. It is also one of the retail industry's pioneers, with an excellent price philosophy. Clothing, phones, computers, and other electrical devices are among the things available on the shopping platform. The platform also allows you to buy items from Amazon and eBay and have them delivered to your home in Pakistan.
It's a fantastic website that's well worth a look. This service not only offers room for people's hard-earned money spent on high-priced devices, but it also gives information about other online shopping websites and how much they care about their customers. However, no matter how fantastic a website is, you should always examine the specifics of all items before purchasing them, as well as the seller's rating.
7. iShopping: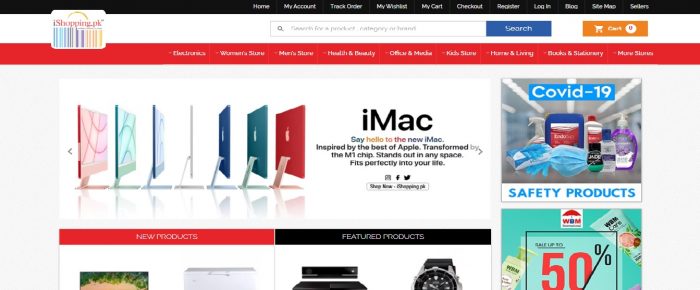 ishopping.pk  is a prominent online marketplace in Pakistan, dedicated to providing a platform that connects buyers and sellers. This expansive online shopping website offers a wide range of product categories, including electronics, women's and men's fashion, health and beauty products, office supplies, media, children's items, home and lifestyle goods, smartphones, books, and stationery, among others. With its diverse selection, ishopping.pk caters to the needs and preferences of a wide range of customers.
One of the notable aspects of ishopping.pk is its reputation as a reliable and trustworthy online retailer. The platform has established strong buyer and seller protection rules, ensuring a secure and transparent shopping experience for its customers. This commitment to maintaining a safe marketplace contributes to the confidence and trust that customers place in ishopping.pk when making their online purchases.
8. Goto: Online Shopping Pakistan
Goto is a one-stop online marketplace in Pakistan that promises a safe, easy, and simple purchase experience based on confidence and peace of mind. Goto's mission is to give Pakistanis with a convenient and hassle-free buying experience.
Goto has developed a one-of-a-kind shopping experience for its consumers by bringing together a diverse variety of top brands in the domains of technology, fashion, beauty, and lifestyle, all of which are 100 percent original. furthermore, the website has created a unique shopping experience with a broad choice of major brands in the categories of technology, fashion, beauty, and lifestyle as more people in Pakistan explore the world of online shopping. Goto is a prominent online shopping location in Pakistan.
9. PriceOye
PriceOye is a rapidly growing e-commerce store that was launched in 2020. It has gained popularity among customers in Pakistan for its wide range of products and accessories available for purchase online. One of the standout features of PriceOye is its unique open parcel delivery option, which allows customers to inspect the product before making the payment. This level of transparency and authenticity sets PriceOye apart in a market where scams are a concern.
PriceOye places a strong emphasis on delivering excellent customer service and providing high-quality products at affordable prices. This commitment has contributed to its rapid rise as one of the leading online shopping websites in Pakistan. Whether you are in search of mobile phones, laptops, or other gadgets, PriceOye offers a diverse selection to cater to your needs. With an impressive monthly visitor count of over 3.1 million, it is clear that people have embraced PriceOye as their go-to platform for online shopping in Pakistan.
10. VMart: E-Commerce site in Pakistan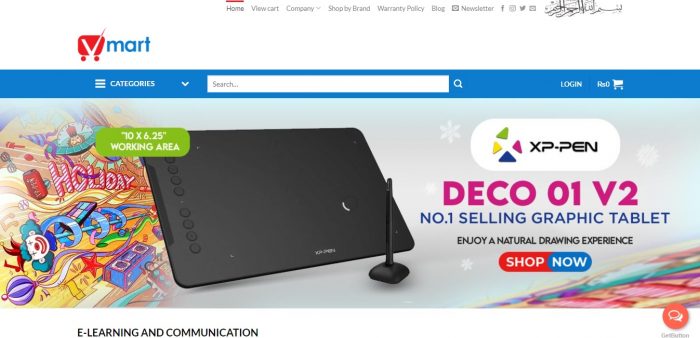 Like Telemart and Homeshopping.pk, Vmart offers every computer device to people all across Pakistan. From phones and gadgets to gaming gear and computers, their online shopping site offers practically everything. All premium brands are represented, including Logitech, Razer, SteelSeries, and TravelMore.
That concludes our list of Pakistan's top 10 online shopping websites for top 10 online shopping websites in Pakistan in 2022. We wish you a pleasant online shopping experience with these sites. All of the websites mentioned above began on a modest basis and have since grown to dominate Pakistan's online shopping frontiers via consistency and determination. If you're considering becoming one of them, don't wait too long. Simply choose a product and build an E-Commerce Development service like WordPress or Shopify to build your online shop. This is the shortest path to launching your next major e-commerce venture! Best wishes!
Frequently Asked Questions about Pakistan's Best Online Shopping Websites
What is Pakistan's most reputable internet buying site?
All of the top shopping websites in Pakistan are reputable and provide prompt service. Telemart.pk, Daraz.pk,  and Homeshopping.pk, in particular, have excellent client feedback. Also, the platform you choose is determined by the things you wish to buy, so always read user reviews before making a purchase.
Is it possible for me to order from Ali Express from Pakistan?
Yes, you certainly can! All you have to do now is pick a registered vendor, choose a product, make an order, and provide your payment information. Your purchase may take 40-50 days to complete, but it will be delivered successfully. Also, keep in mind that internet buying from China to Pakistan does not allow for cash on delivery, therefore you must always pay online. It's also best not to purchase in quantity outside of Pakistan, since this might be seen as suspicious.
Is Amazon available in Pakistan?
No, Amazon does not deliver directly to Pakistan. To distribute Amazon items, you'll need to discover firms that operate as a middleman. Also, just 5% of Amazon's items may be delivered to your home, and that does not include shipping costs.
Which is Pakistan's greatest and cheapest online buying site?
All of the above-mentioned online shopping websites in Pakistan provide excellent customer service. these websites are numbered in terms of their quality, customer service, and prices