In this post we have have collected for you the top Khamoshi Poetry in Urdu. We hope you enjoy it, and if you enjoy it, please do share it with your friends.
If you like this post of Khamoshi Poetry, we bet you will also like other post on our page including, love poetry, sad poetry, zulf poetry, dhoka poetry, muskurakat poetry, zindagi poetry, intezar poetry, yaad poetry, barish poetry, waqt poetry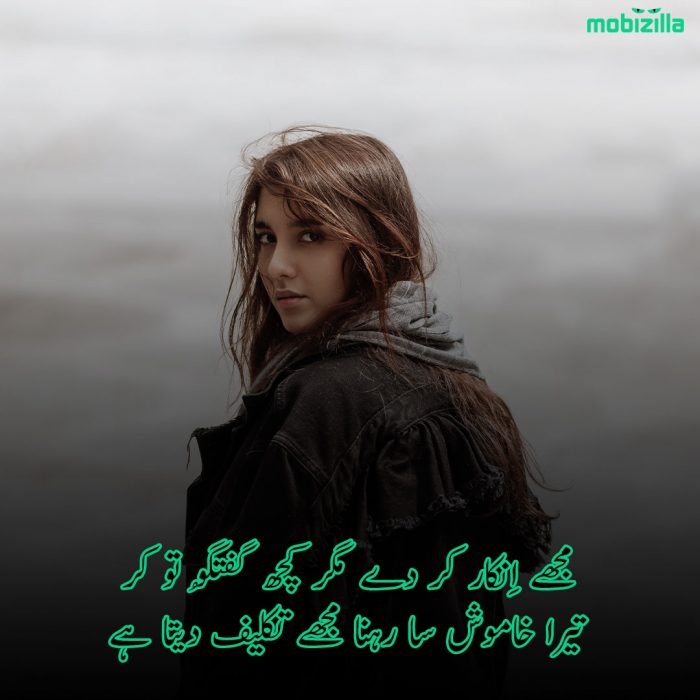 khamoshi-poetry
مجھے اِنکار کر دے مگر کچھ گُفتگو تو کر
تیرا خاموش سا رہنا مجھے تکلیف دیتا ہے
—<<>>—
Mujay inkar kar dai magar Koch guftago to kar
Tara khamosh rahna mujay taklif dyta hn
—<<>>—
Deny me but talk a little
Your silence hurts me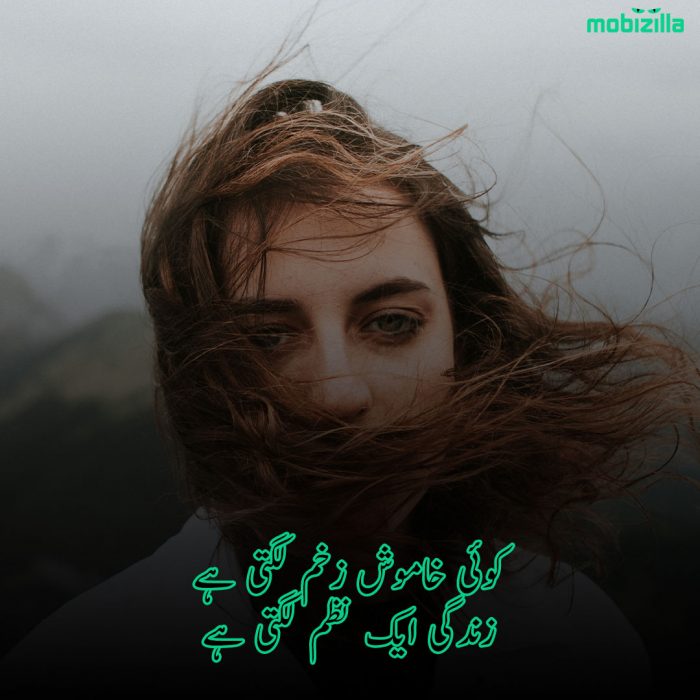 khamoshi-poetry-in-urdu
کوئی خاموش زخم لگتی ہے
زندگی ایک نظم لگتی ہے
—<<>>—
Koie khamosh zakham lagye hn
Zindagi ik nazam lgti hn
—<<>>—
There seems to be a silent
woundLife seems like a poem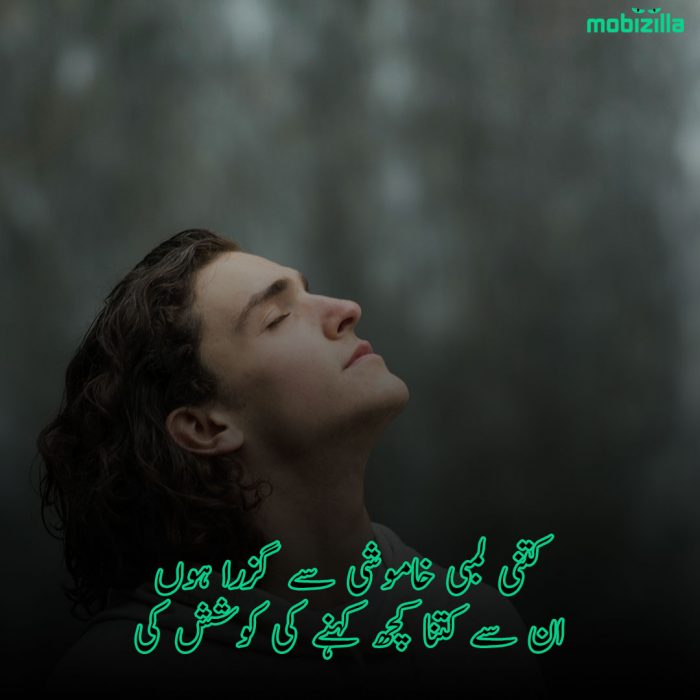 khamosh-poetry
کتنی لمبی خاموشی سے گزرا ہوں
ان سے کتنا کچھ کہنے کی کوشش کی
—<<>>—
Ktni lambi khamoshi sai gozra ho
In sia ktna Koch kahnay ki koshesh ki
—<<>>—
How long have I passed in silence?
I tried to say something to them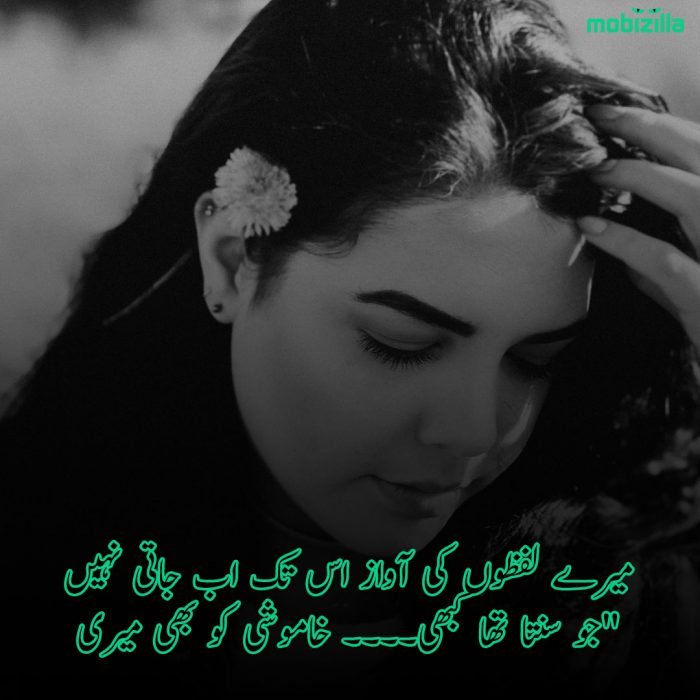 poetry-on-khamoshi
میرے لفظوں کی آواز اس تک اب جاتی نہیں
جو سنتا تھا کبھی۔۔۔۔ خاموشی کو بھی میری"
—<<>>—
Maray lafzo ki awaz us tak ab jati nahi
Jo sunta ta kabi khamoshi ko bi mare
—<<>>—
The sound of my words does not reach him now
Who ever heard My silence too
khamoshi-urdu-poetry
مانا کے تم لفظوں کے بادشاہ ہو مگر۔۔۔
ہم بھی خاموشیوں پے راج کرتے ہیں"
—<<>>—
Mana kay tum lafzoo  kiay badsha ho magar
Ham bi khamoshiyo bai raj kartay hai
—<<>>—
Suppose you are the king of words but
We too reign in silence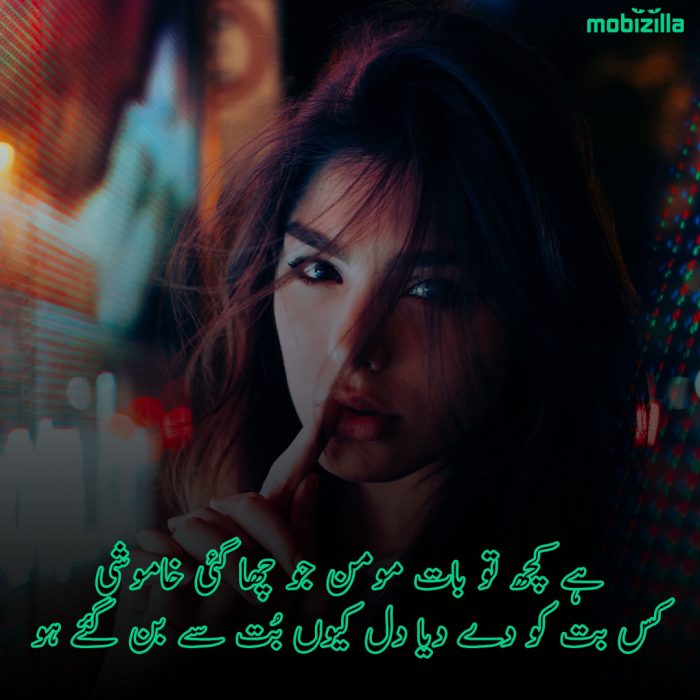 silent-poetry-in-urdu
ہے کچھ تو بات مومن جو چھا گئی خاموشی
کس بت کو دے دیا دل کیوں بُت سے بن گئے ہو
—<<>>—
Ham Koch to baat momin  jo chagaye khamoshi
Kisi bot ko dai diya dil kiyo bot siay ban gaye ho
—<<>>—
There is something about the believer who is overwhelmed by silence
Why did the heart given to an idol become an idol?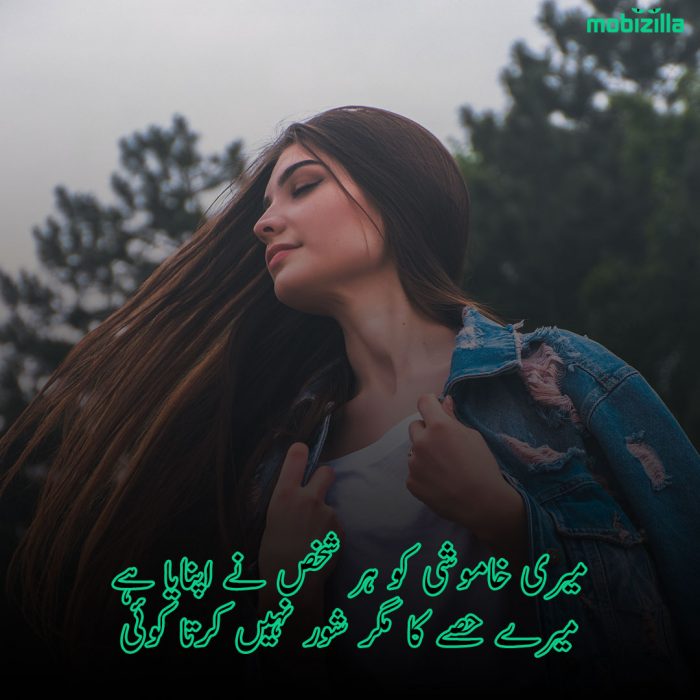 khamoshi-shayari-in-urdu
میری خاموشی کو ہر شخص نے اپنایا ہے
میرے حصے کا مگر شور نہیں کرتا کوئی
—<<>>—
Mare khamoshi ko har shakhsh nai apnaya hn
Maray khasaiy ka magar shor nahi karta koie
—<<>>—
Everyone has embraced my silence
My part, but no one makes noise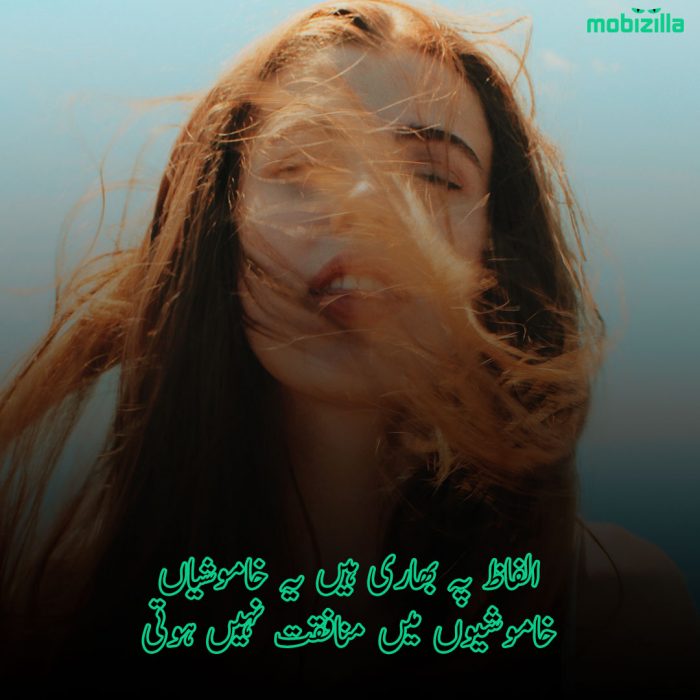 khamoshi-poetry-in-urdu-sms
الفاظ پہ بھاری ہیں یہ خاموشیاں
خاموشیوں میں منافقت نہیں ہوتی
—<<>>—
Alfaz pai bahri hai ye khamoshiya
Khamoshiya main munafiqat nahi hotis
—<<>>—
These silences are heavy on words
There is no hypocrisy in silence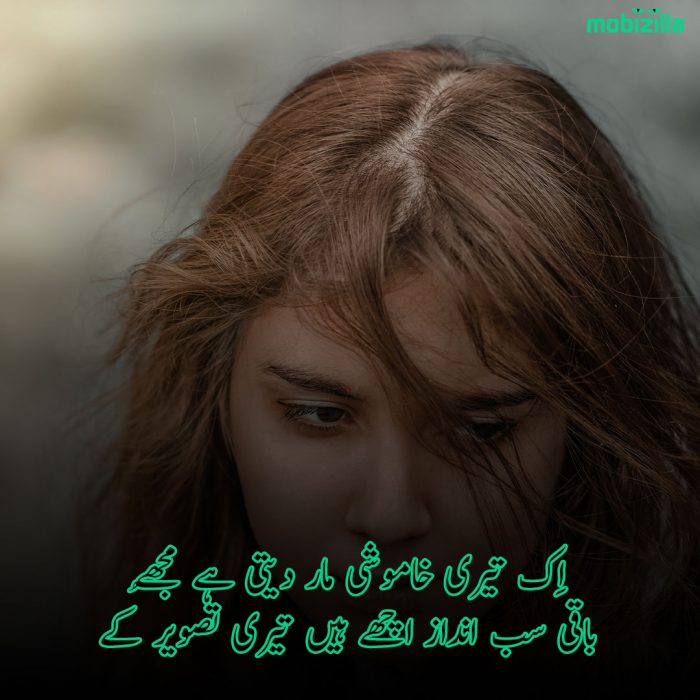 khamoshi-quotes-in-urdu
اِک تیری خاموشی مار دیتی ہے مُجھے
باقی سب انداز اچھے ہیں تیری تصویر کے
—<<>>—
Ik tare khamoshi mar daitii hn mujay
Baqi sab anddaz achay hai tare taswir kay
—<<>>—
Your silence kills me
Everything else is nice about your picture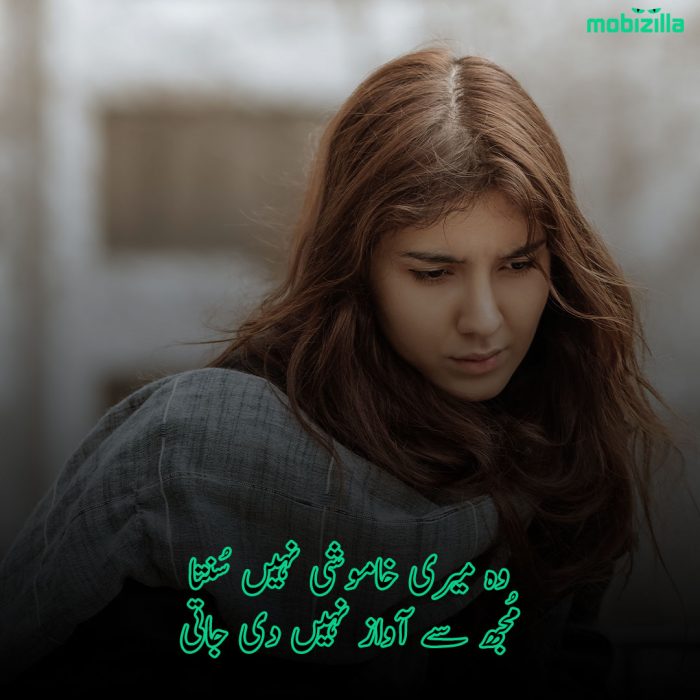 silence-quotes-in-urdu
وہ میری خاموشی نہیں سُنتا
مُجھ سے آواز نہیں دی جاتی
—<<>>—
Wo mare khamoshi nahi sunta
Muj sia awaz nahi di jati
—<<>>—
He does not hear my silence
I don't have a voice
Follow us on Instagram
Follow us on Facebook