When it comes to fashion industries, women's fashion industry has always been believed to take the lead. But in the present day, the men's fashion industry has made sure it doesn't fall behind.
Over the years, the fashion sales industry for men has recorded a 14 percent growth in the stock market, worldwide, whereas 6 percent growth has been recorded alone in Pakistan. Moving at the current pace, it is expected to keep growing robustly over the next five years.
Leaving behind the everyday clothing clichés and keeping up with the latest vogue trends, trying new colors and styles, has undoubtedly taken new heights. Not only are these brands working on keeping their collections up-to-date but also putting a lot more effort into the quality. Moreover, clothing brands for men in Pakistan are improving the quality of their fabrics to keep their customers satisfied. Most brands have been very successful in that aspect which is what led to the sudden evolution in the men's fashion industry.
If apparel for both genders is compared, wardrobe for men lags behind because they are restricted to limited options. They have especially monotonous colors and repetitive designs and styles. But fret not! Here we have some top-class clothing brands in Pakistan, with the most diverse compilation of the finest attires for you.
LIST OF TOP 10 CLOTHING BRANDS FOR MEN IN PAKISTAN
Based on the collections, the quality, and how heavy or light these brands will go on your pockets, here's a list of the top 10 clothing brands in Pakistan for men.
Junaid Jamshed J.
Gul Ahmad
Bonanza Satrangi
Levi's Pakistan
Cougar
Alkaram
Outfitters
Charcoal
Breakout
Diners
1- Junaid Jamshed J. :
This leading fashion label stood on its feet in 2002. A brand that started off solely as an Eastern clothing brand. Spreading their roots, they moved on to Western clothing for both men and women, children's wear, and groom's wear.
They have a vast collection of impeccable and unique stitched and unstitched shalwar kameez, kurtas, and waistcoats. In short, they never fall out of following state-of-the-art fashion trends.
Their clothing catalog goes easy on the pockets as their starting prices range from around 3000 PKR/-. With their pretty economical rates and incomparable quality of goods, J. is considered one of the best-selling clothing brands in Pakistan.
We've provided a link to its online store at the bottom through which you can place an order anytime you want. They charge 200 PKR/- for their delivery services.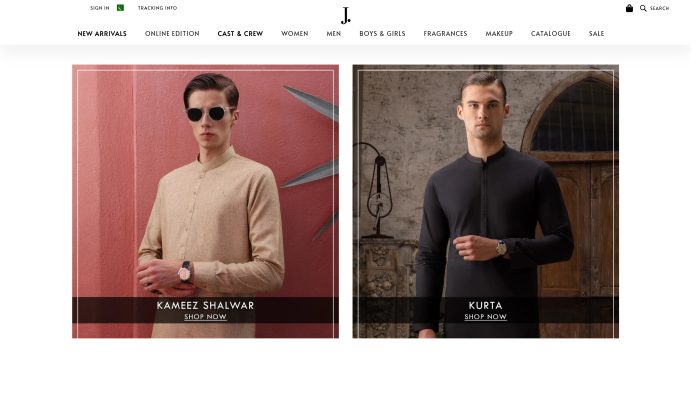 2- Gul Ahmed :
Gul Ahmed is pretty long in the tooth being initiated in 1953. They are a very well-known clothing brand with an excellent track record. Furthermore, they put forward an extensive variety of Eastern apparel matching their pace with the ongoing latest taste in trends. They are famously known for the quality of their fabrics. Their collections, whether stitched or unstitched, formal or party wear, Eastern or Western themed, are supreme.
With their starting demands being around 3500 PKR/-, their products are extremely reasonable for their marvelous catalog of men's apparel and they're considered one of the top clothing brands in Pakistan.
The link to their official store is given at the bottom for you to check out their amazing collections of outfits. 100 PKR/- is charged as their delivery charge for your placed order.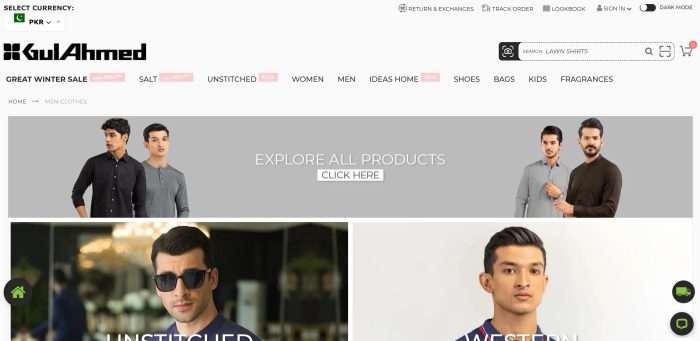 3- Bonanza Satrangi :
With them laying their foundation in the year 1976, they were first exclusively for women. But they sure did make their way to the top of the ladder as a brand for Pakistani men after a head starts in that genre.
They put forward the options of formal clothing, knits, and ethnic wear for men. Bonanza Satrangi prefers a limitless collection of both stitched and unstitched fabrics with distinctive designs for their exceptional kurtas, waistcoats, and shalwar kameez.
The brand's starting price ranges from 3000-3500 PKR/- which is easily accessible to many. With over 40 years of experience and very moderate rates, Bonanza Satrangi definitely is one of the best-selling clothing brands in Pakistan.
To place an order from their online store, the link has been given below. The delivery charges for Bonanza Satrangi are 200 PKR/-, moreover for orders above 2000 PKR/- they offer free delivery.
Related post: Best suiting brands for men
4- Levi's : (men's international clothing brands in Pakistan)
Levi's Strauss & Co. is an American clothing brand with outlets spread all over the globe. They, beyond any doubt, are one of the best clothing brands in Pakistan for men that entirely revolves around Western clothing, specifically in denim material.
Their Vintage themed denim jeans are not only aesthetically pleasing to the eyes but are also known for their deep-rooted material that lasts fairly long. The durability of their products is the reason why their products are sold in such high demand.
Being top-notch when it comes to originality, they are a little tough on the pockets with their price tags starting from around PKR 4,999/-. However, when it comes to the highest quality of casual apparel, Levi's is a must-go-to.
Their official store does have an option of shipping to your location, the delivery charges for which are not known. The link to their official store for you to easily order from is given under.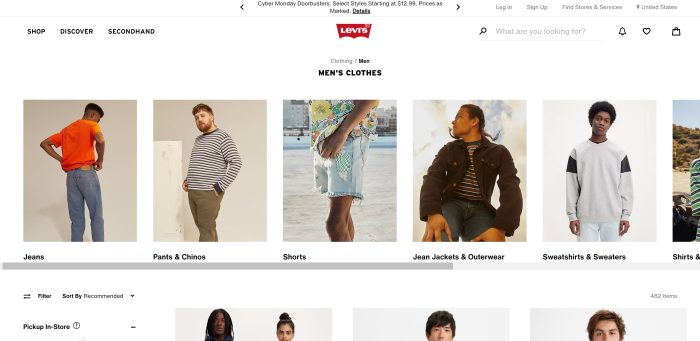 5- Cougar :
Catching wholly the eyes of the Gen-Z of Pakistan, Cougar, without a doubt is one of the finest clothing brands for Pakistani men. It has an incredible variety of outfits in different styles.
Their most sold vestments include, not only Western wear, comprising of their matchless casual and fancy attire, but also second-to-none Eastern wear, inclusive of the traditional kurtas.
Their products are worth the money and tremendously affordable with their starting price stretching from only 1,500 PKR/-. With their stores widely present across multiple cities, Cougar is worth visiting and buying yourself some eye-catching apparel.
Hit the link given below to add the coolest outfits to your wardrobe from their online store. With every order above 2500 PKR/-, you don't have to pay for their delivery charges. But for orders below the given rate, 180 PKR/- is charged from your wallets.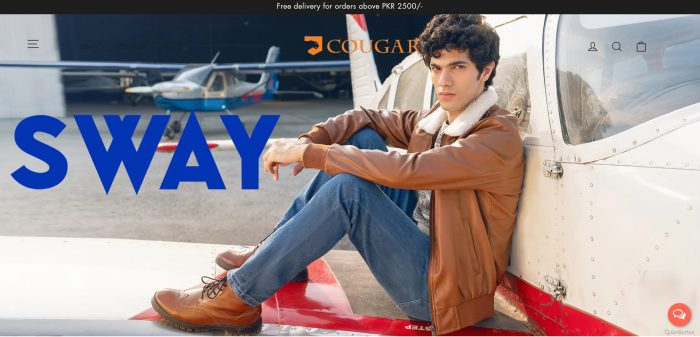 6- Alkaram: clothing brands for men in pakistan
Amongst the highest-rated clothing brands for men in Pakistan, Alkaram did an extraordinary job marching its way to the top. Setting foot in 1986, it is one of the most primeval clothing brands in Pakistan.
Regardless of whirling particularly around Eastern wear, they do offer their Western-style attires. Their unstitched and ready-to-wear Kurtas and Shalwar Kameez, and their elegant waistcoats of the most vibrant colors and unrepeatable designs are one of the major reasons for the brand's success.
With their starting price being as low as 2000 PKR/-, their clothing goods, no doubt are too good for the prices they are sold at.
The link given below will lead you to its official store where you easily place your orders. You are not asked to pay the delivery charges if your orders go above 1999 PKR/-. 99 PKR/- has to be paid for your orders below the given rate.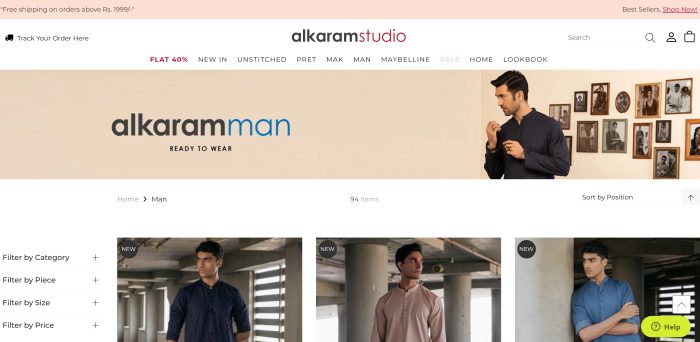 7- Outfitters :
Inaugurating in 2003, Outfitters has always been considered an exemplary top clothing brand that serves Western vestments exclusively. Known for their ceaseless funky and groovy items, they have always played the trick to enchant the youth of Pakistan very easily.
Their super-cool hip items like T-shirts, pullovers, button-downs, and even footwear, for both formal and informal dressing sets a new trend every once in a while. Being a trendsetting brand, their apparels are always high in demand.
With their recent Winter Collection, they have been called out for being slightly sharp on the purse with their price tags ranging between 7000-9000 PKR/-. But for their finest standard of outfits, Outfitters sure is worth every penny.
Make sure to visit their official store with the link we've given below, to check out their amazing variety of Western clothing. You are asked to pay delivery charges of 180 PKR/- only for your orders under 3000 PKR/-. Above that, you're free to go!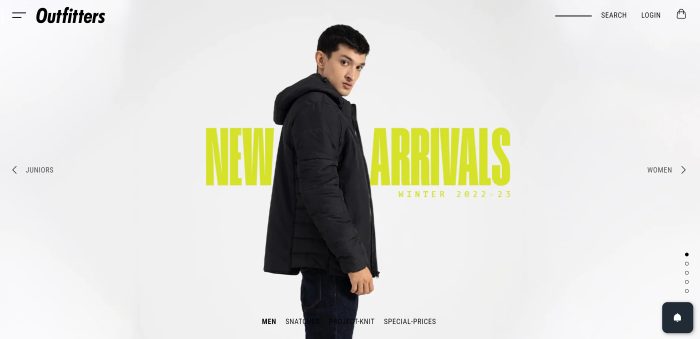 8- Charcoal :
For traditionally formal clothing, Charcoal unquestionably is the best in the game. Their wardrobe has the most versatile collection of flawless vestures. Moreover, having both Eastern and Western wear, they rightly are counted in the list of the top clothing brands for men in Pakistan.
They have the widest collection of first-class and incomparable three-piece suits, ties, casual and semi-casual shirts, kurta pajamas, waistcoats, and shalwar kameez with a wonderful quality material used to make them.
Being an international brand, they are somewhat costly with their lowest starting price around 5000-6000 PKR/-. But for such an extensive variety of apparel, they have developed into one of the most noteworthy brands in Pakistan.
To get yourself some appealing apparel, don't forget to pay for their online store a visit with the mentioned link. They have not really talked about how much they charge for their delivery services, but for every order above 3000 PKR/-, you don't have to pay a penny.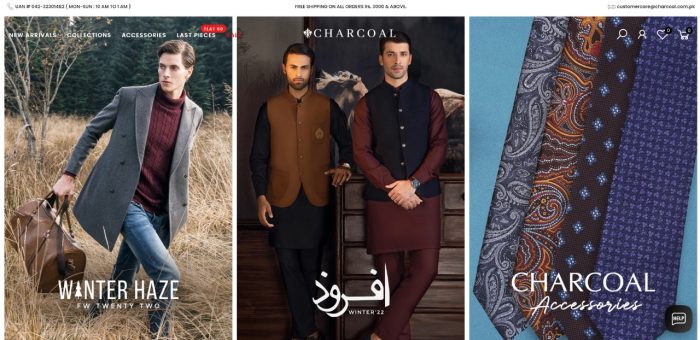 9- Breakout :
With its boundless stock of ultramodern, highly fashionable clothing, breakout stands tall in the list of highest-ranked clothing brands in Pakistan.
When it comes to being a brand that stays up to the minute following the newest fashion vogue, Breakout manages to have it all. They are well known for selling branded jeans and tees, with unparalleled aesthetics for graphics and designs on their products. Their pants and jeans are simply A-1.
Their standard and style hit the top of the charts with their overly moderate pricing on their goods, their 2022 winter collection starting from around  2999 PKR/-.
Breakout has a hype of its own. Their summer and winter collections being distinctive among the brands have been in demand among youngsters for years. With their quality, they are meeting the expectations of everyone perfectly.
With the given link, you can shop for whatever, whenever you want to. Moreover, they charge 180 PKR/- delivery charges all over Pakistan for orders valued under 2000 PKR/-, but free delivery is offered for every order above.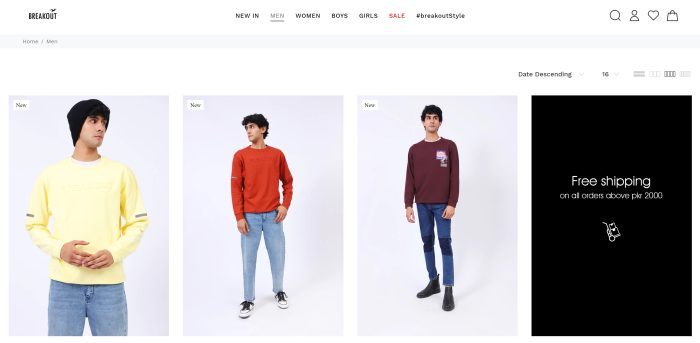 10- Diners : (Pakistani clothing brands for men)
Stepping into the business in the early 90s, Diners took no time in becoming one of the very leading clothing brands in Pakistan. When it comes to quality and comfort, they are always one step ahead.
The standard of their fabric is just exceptional. They have a tremendous diversity of suits, t-shirts, suiting, ethnic wear, trousers and jeans, and activewear. Diners, famous for their suit collection and blazers in winter production, have an identity of their own.
With their products being the most economical among all the other brands. Their casual wear starts from around 1500 PKR/- while the suiting side has an expensive touch to it as they're starting from 18,999 PKR/-. Furthermore, They have justly been placed in the list of the top clothing brands for men in Pakistan.
Diners having its outlets in every other city provides a vast number of customers with its high-end and flawlessly stitched products.
To visit their online store, click on the mentioned link. Free delivery is offered for orders above 1500 PKR/- but they charge 100 PKR/- for every order below it.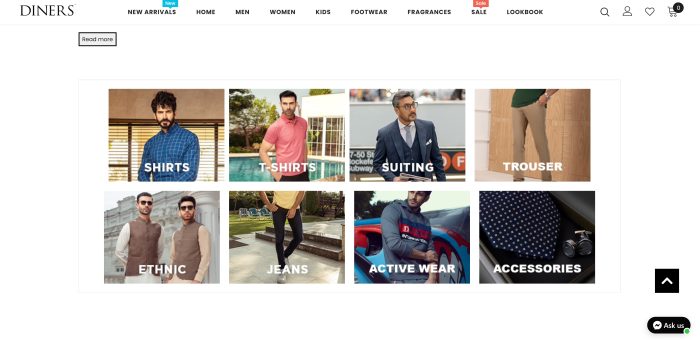 Conclusion:
With these top clothing brands for men in Pakistan mentioned above, one can never run out of a splendid wardrobe. These brands have made sure their products are unsurpassed when it comes to the excellence of the material or their versatility in terms of colors and patterns. With the increasing competition within the fashion industry, every brand is trying its far best to convince its customers to buy their goods, in every possible way. Whether it's Eastern wear you are looking for or Western, stitched clothes or unstitched, formal dresses or informal, every single above-stated brand is worth a visit. You can stop over at their stores in your city, or click on the links we have mentioned, to head on to their official stores and add a bunch of great-looking clothes to your cart.