In this post we have have collected for you the top Maa Poetry in Urdu. We hope you enjoy it, and if you enjoy it, please do share it with your friends.
If you like this post of Maa Poetry, we bet you will also like other post on our page including, love poetry, sad poetry, zulf poetry, dhoka poetry, muskurakat poetry, zindagi poetry, intezar poetry, yaad poetry, barish poetry, waqt poetry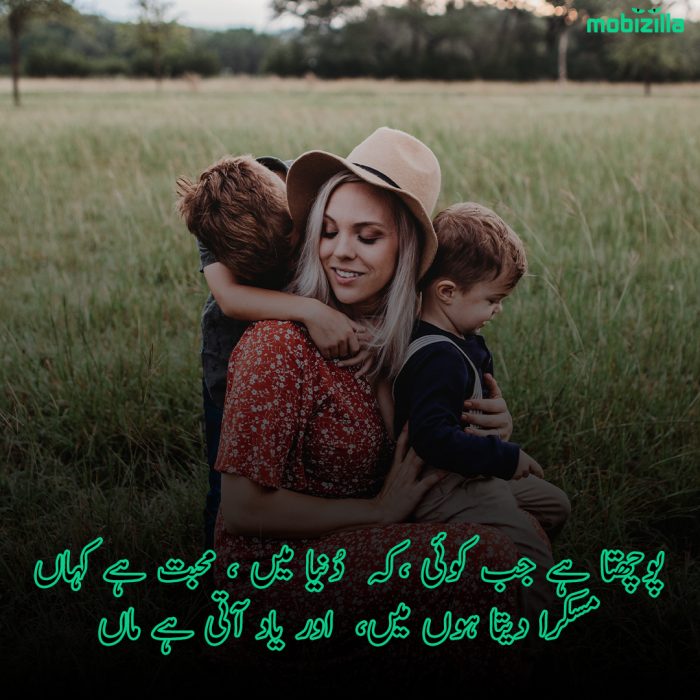 mother-poetry-in-urdu
پوچھتا ہے جب کوئی ،کہ  دُنیا میں ، محبت ہے کہاں
مسکرا دیتا ہوں میں،  اور یاد آتی ہے ماں
—<<>>—
puchta hay jab koi, keh duniya main, muhabbat hay kahan
muskra deta hoon main, aur yaad aati hay maan
—<<>>—
When one asks, where in the world is love?
I smile, and I miss Mom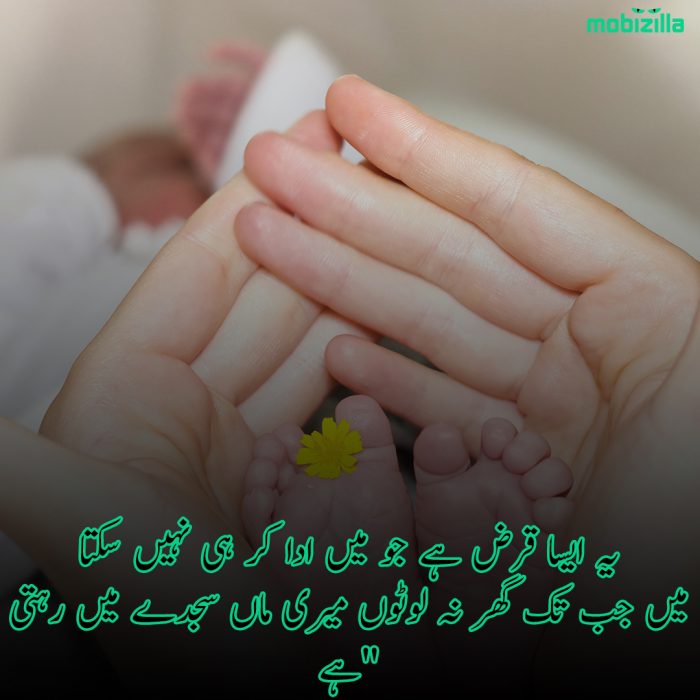 mothers-quotes-in-urdu
یہ ایسا قرض ہے جو میں ادا کر ہی نہیں سکتا
میں جب تک گھر نہ لوٹوں میری ماں سجدے میں رہتی ہے"
—<<>>—
"Ye Esa Qarz Hai Jo Main Ada Kar Nahi Sakta
Main Jab Tak Ghar Na Loton Meri Maa Sajdy Main Rehti Hai"
—<<>>—
It's a debt I can't repay
My mother is in prostration until I return home. "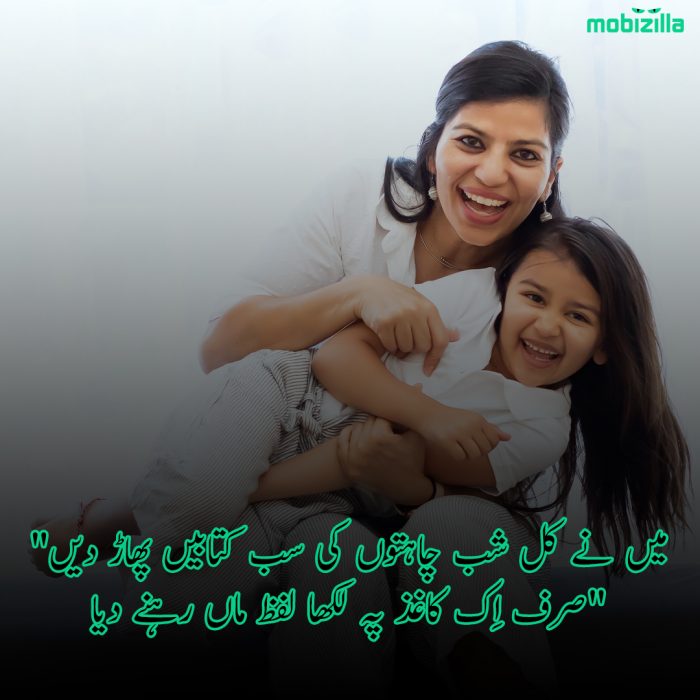 maa-poetry-in-urdu
میں نے کل شب چاہتوں کی سب کتابیں پھاڑ دیں
صرف اِک کاغذ پہ لکھا لفظ ماں رہنے دیا"
—<<>>—
"Main Nay Kal Shab Chahto Ki Sab Kitaben Phar Den
Sirf Ik Kagaz Pay Likha Lafz Maa Rehny Diya"
—<<>>—
I tore up all my wish books last night
Let alone the word mother written on a piece of paper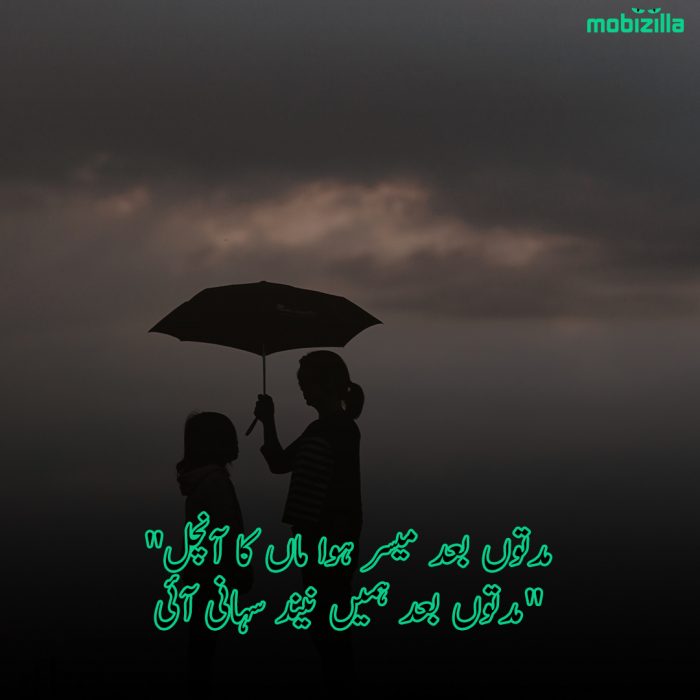 mothers-day-poetry-in-urdu
"مدتوں بعد میسر ہوا ماں کا آنچل
مدتوں بعد ہمیں نیند سہانی آئی"
—<<>>—
"Mudaton Bad Mayasar Howa Maa Ka Anchal
Mudaton Bad Hamey Neend Suhani Aai"
—<<>>—
"After a while, mother's ankle became available
After a while we fell asleep.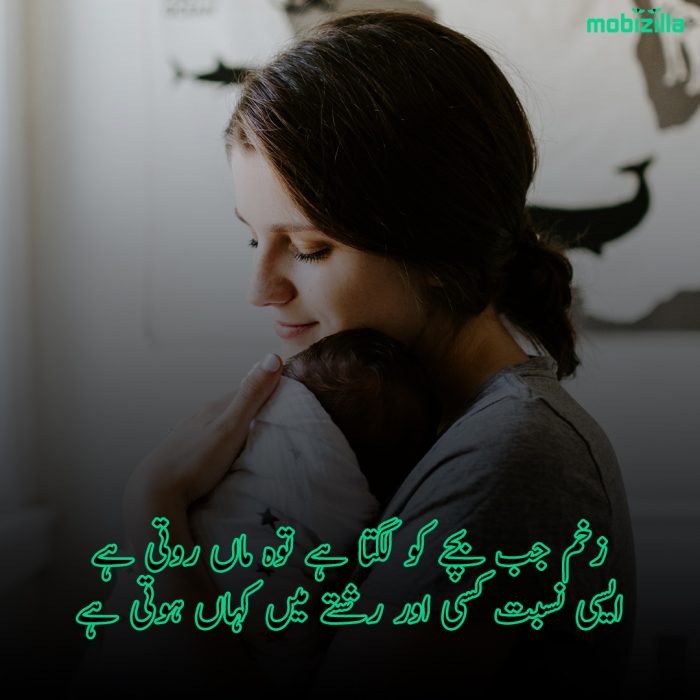 shayari-on-mother-in-urdu
زخم جب بچے کو لگتا ہے توہ ماں روتی ہے
ایسی نسبت کسی اور رشتے میں کہاں ہوتی ہے
—<<>>—
Zakhm jab bacche ko lagta hai toh maa roti hai
Aisi nisbat kisi aur rishte mein kahan hoti hai.
—<<>>—
The mother cries when the baby is hurt
Where is such a relationship in any other relationship?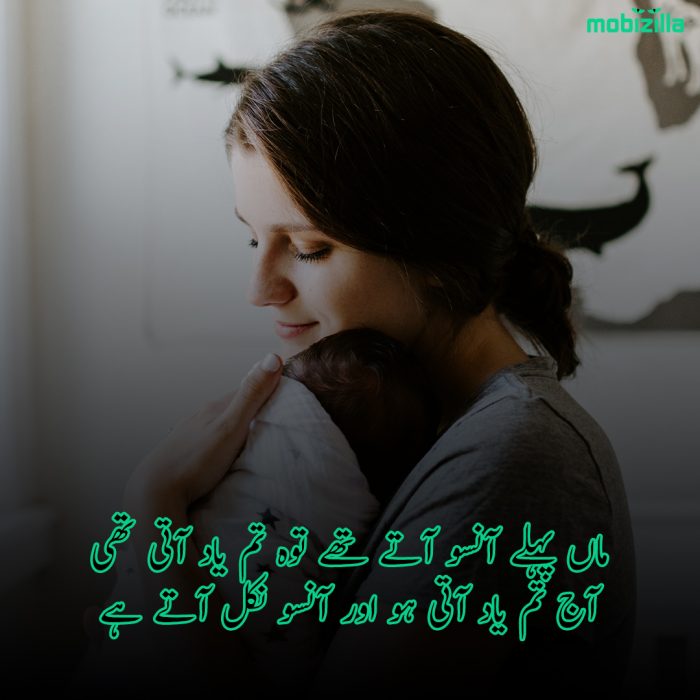 urdu-poetry-on-mother-by-wasi-shah
ماں پہلے آنسو آتے تھے توہ تم یاد آتی تھی
آج تم یاد آتی ہو اور آنسو نکل آتے ہے
—<<>>—
Maa pehle aansu aate the toh tum yaad aati thi
Aaj tum yaad aati ho aur aansu nikal aate hai.
—<<>>—
Mom used to shed tears, then you would remember
Today you remember and tears come out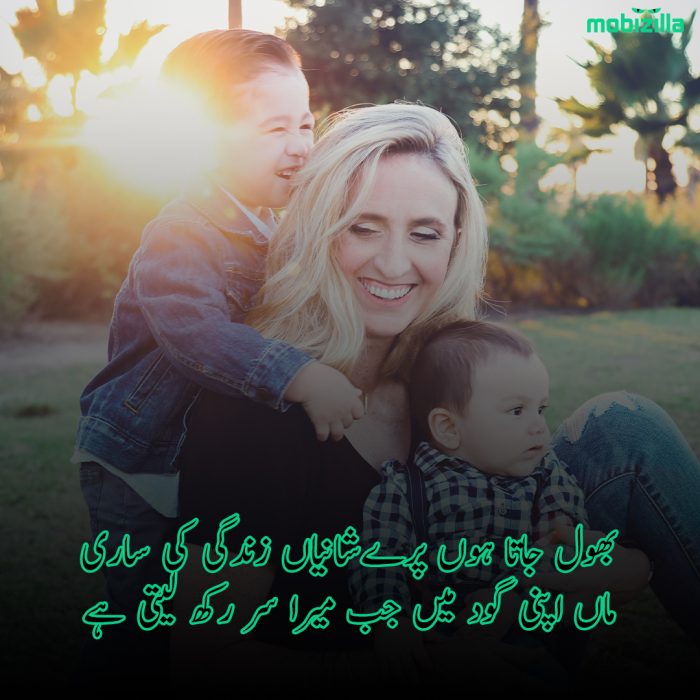 mother-sad-poetry-in-urdu
بھول جاتا ہوں پرےشانیاں زندگی کی ساری
ماں اپنی گود میں جب میرا سر رکھ لیتی ہے
—<<>>—
Bhool jaata hoon pareshaaniyaan zindagi ki saari
Maa apni god mein jab mera sar rakh leti hai.
—<<>>—
I forget all the troubles of life
Mom puts her head in my lap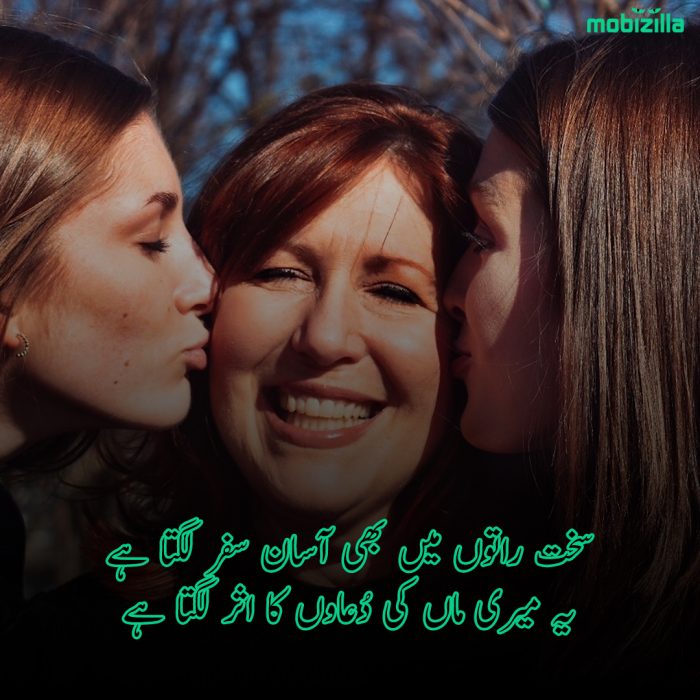 happy-mothers-day-poetry-in-urdu
سخت راتوں میں بھی آسان سفر لگتا ہے
یہ میری ماں کی دُعاوں کا اثر لگتا ہے
—<<>>—
sakht raton main bhi asan safar lagta hay
yeh meri maan ki duaon ka asar lagta hay
—<<>>—
Even on hard nights, the journey seems easy
This seems to be the effect of my mother's prayers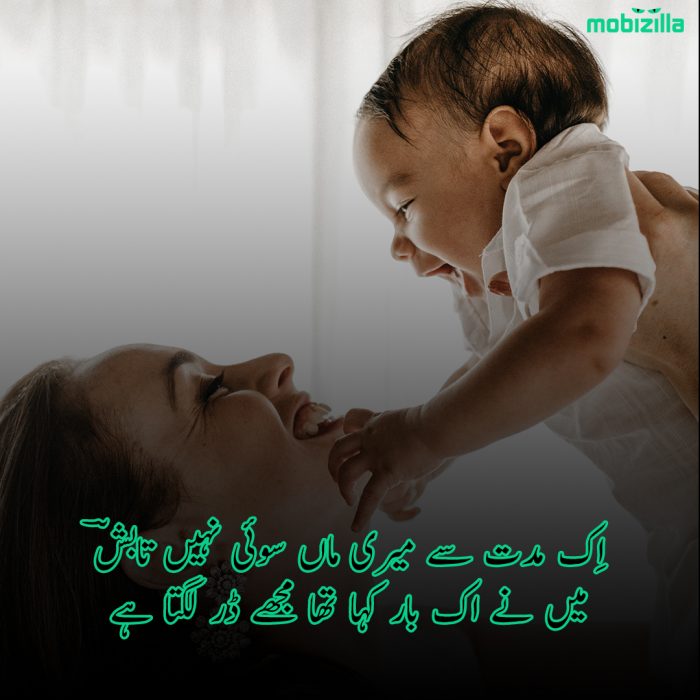 mothers-day-shayari-in-urdu
اِک مدت سے میری ماں سوئی نہیں تابشؔ
میں نے اک بار کہا تھا مجھے ڈر لگتا ہے
—<<>>—
ik mudatt say meri maan soi nahi tabish
main nay ik bar kaha tha mujhy dar lagta hay
—<<>>—
My mother has not slept for a while
I once said I was scared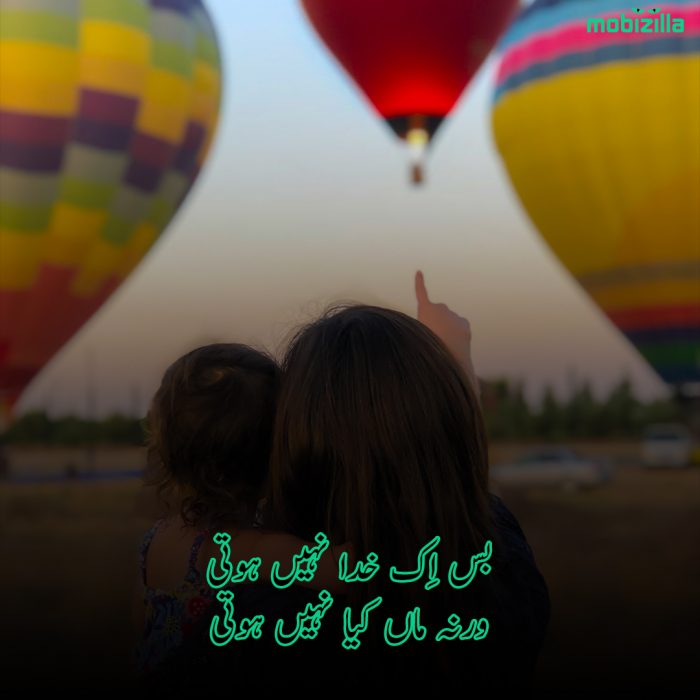 maa-ki-yaad-shayari-in-urdu
بس اِک خدا نہیں ہوتی
ورنہ ماں کیا نہیں ہوتی
—<<>>—
Bas Ek Khuda Nahi Huti
Warna Maa Kia Nahi Huti
—<<>>—
There is only one God
Otherwise mother is not what
Follow us on instagram
Follow us on Facebook