The markets in Pakistan, especially in cities like Lahore, Karachi, and Islamabad, are brimming with a wide range of diaper brands. Each brand comes with its unique features, absorption capabilities, and price points, providing endless choices for parents.
For new moms, choosing the perfect diaper for their babies can be a perplexing task. Questions like Which diaper will suit my baby best or Which brand offers rash-free diapers are common concerns shared among mothers.
To help ease the confusion and provide a comprehensive guide, we've compiled a checklist of the best baby diaper brands available in Pakistan. So, no need to search any further; read on until the end to find the perfect diaper for your precious little one.
List of Best Baby Diaper Brands in Pakistan
Pampers: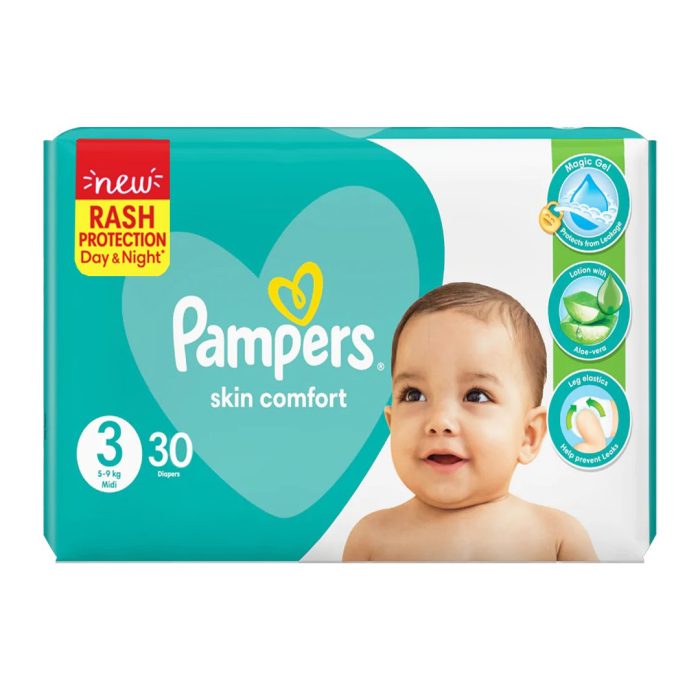 Pampers is a well-known and trusted brand when it comes to diapers. They offer a wide range of diapers suitable for newborns and older babies. Pampers understands the different needs of babies at each stage of their development, and their diapers are designed to provide optimal comfort and protection. Made with highly absorbent materials, Pampers diapers feature a secure liner design that keeps babies dry and prevents any discomfort or rash. Count on Pampers for diapers that deliver quality and performance.
Canbebe: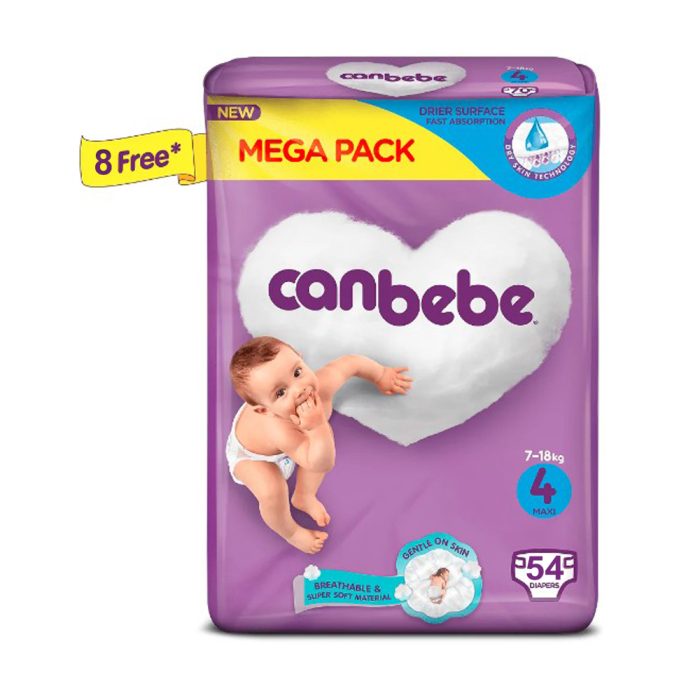 Canbebe is a Turkish brand that has gained popularity in the Pakistani market. Known for its good quality, Canbebe diapers offer special benefits for consumers. Their diapers provide 12-hour protection for babies and feature a thin design that is equally absorbent and comfortable. The diaper-sensitive soft surface ensures a gentle and irritation-free experience for your baby. Canbebe diapers are available in various sizes, catering to newborns up to XL size.
Molfix: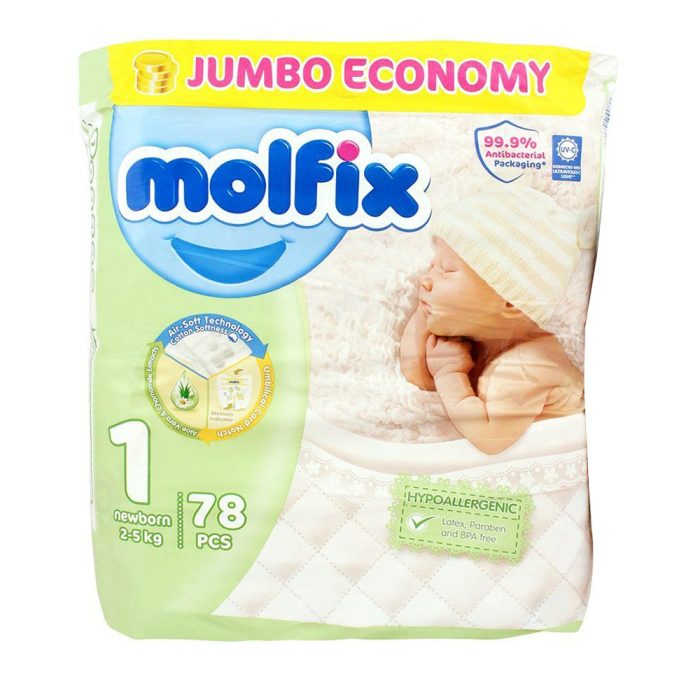 Molfix is one of the most reliable and highly regarded baby diaper brands in Pakistan. Known for its exceptional quality and dependability, Molfix diapers are particularly favored for newborns. The double absorbent layer ensures extended wear, while the soft and breathable outer layer provides maximum comfort, especially during nighttime use. Molfix diapers are highly absorbent, making them a favorite among mothers. The brand offers a variety of diaper sizes, catering to newborns up to 24-month-old toddlers.
Bebem: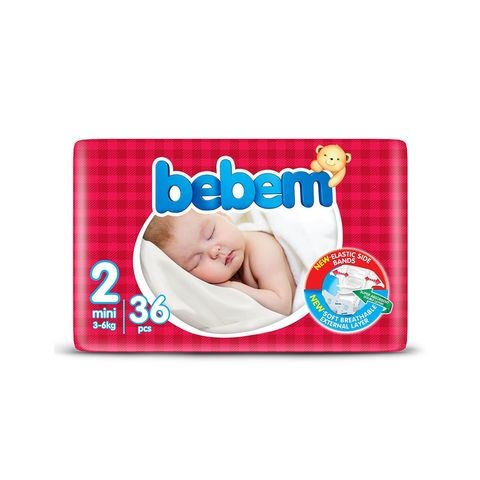 Bebem is a widely available baby diaper brand found in high-end supermarkets and hypermarkets. Their diapers offer several features that benefit both mothers and babies. Inspired by nature, Bebem diapers are free from harmful toxins and chemicals, making them safe for your baby's delicate skin. The light and soft texture of the diapers prevents irritation and discomfort. With flexible elastic side bands, Bebem diapers provide a comfortable fit that allows your baby to move freely, whether they are walking or crawling.
Bona Papa: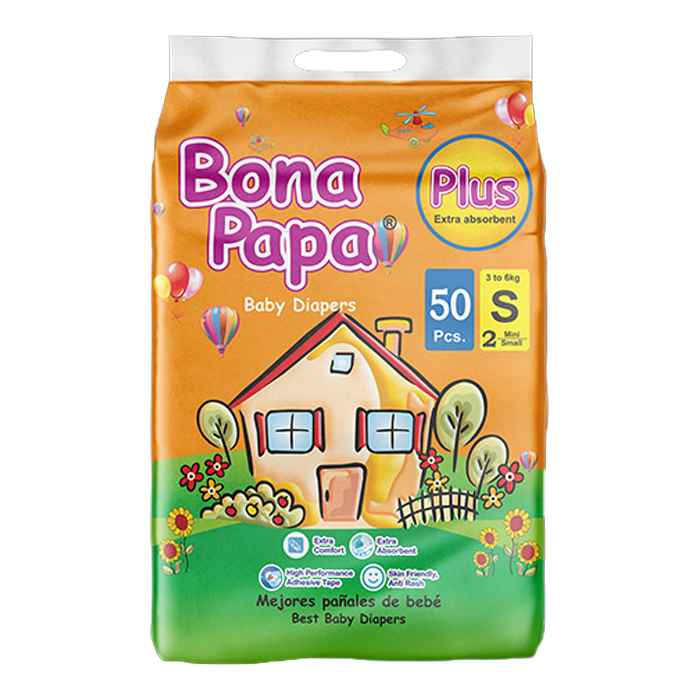 Bona Papa is another trusted brand for baby diapers in Pakistan. Their diapers are known for their premium quality and reliability. Formulated with vitamin E gel, Bona Papa diapers keep your baby's skin soft and protected. With 12 hours of leakage protection, these diapers ensure that your baby can sleep soundly throughout the night. Bona Papa diapers are available in various sizes and are made with skin-friendly fabric, allowing you to use them with confidence for your newborn or toddler. Choose Bona Papa for diapers that prioritize your baby's comfort and provide peace of mind for parents.
Vigo Baby: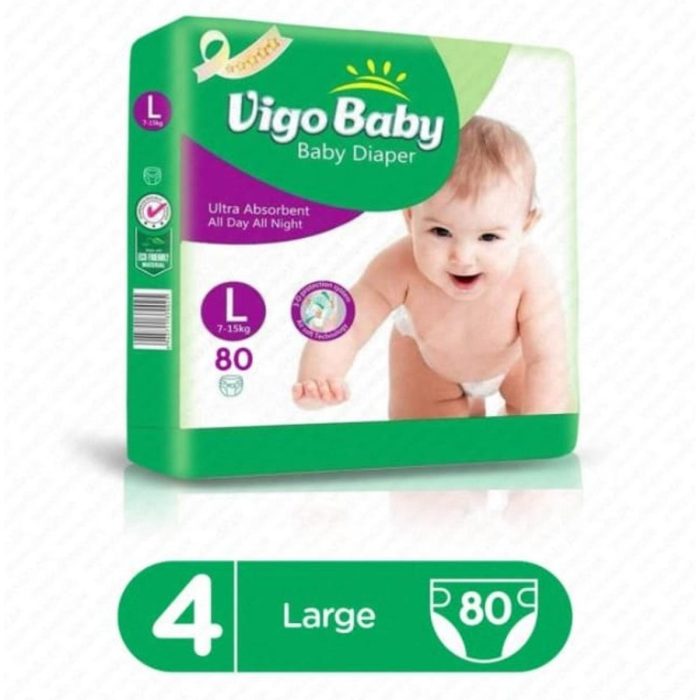 Vigo Baby is a highly recommended brand for baby skincare, particularly their diapers. Their new-generation diapers offer exceptional quality and all-around protection. With maximum absorbency and ultra-absorbent paper, Vigo Baby diapers keep your baby dry and comfortable. They are designed to protect and soothe your baby's skin, while the air-soft technology ensures a soft and breathable experience. Choose Vigo Baby for reliable and high-quality diapers that prioritize your baby's comfort and well-being.
Nana Smarty: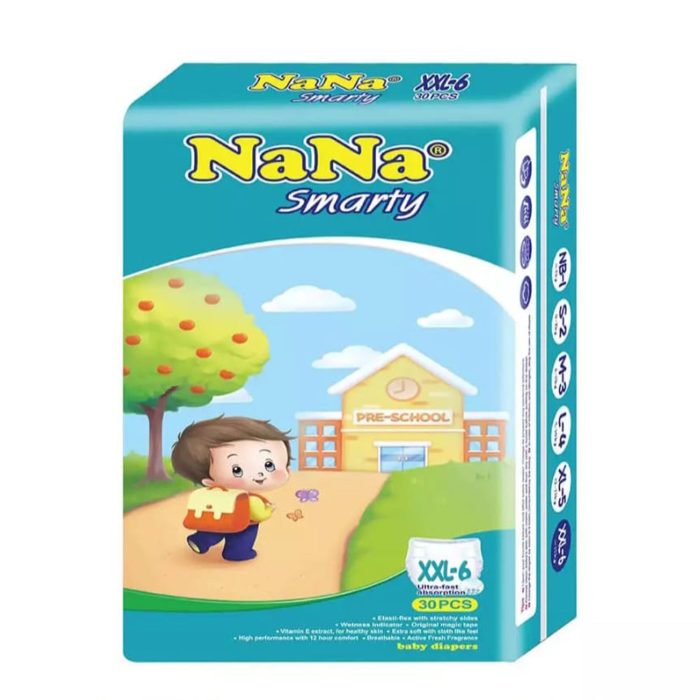 Nana Smarty is a top-rated baby diaper brand in Pakistan. In 2023, it gained a reputation for being the softest and most comfortable diaper, with a breathable texture that is perfect for a baby's sensitive skin. Nana Smarty diapers provide extra dryness, and superb softness, and offer anti-rash and anti-bacterial properties. They are designed to keep your baby's skin healthy and fresh. With a stretchable elastic side, Nana Smarty diapers ensure maximum comfort during walking and crawling and can keep your baby dry for up to 12 hours.
Carebaby: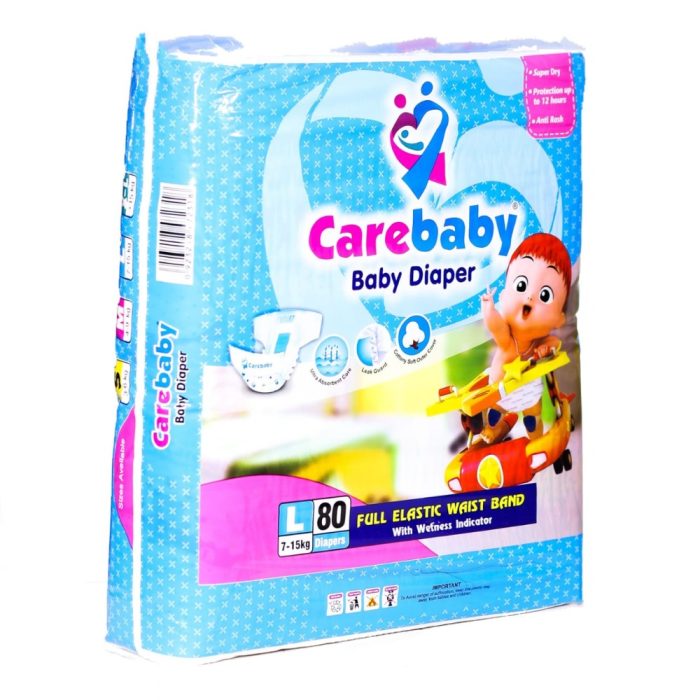 Carebaby is an excellent choice for those seeking an affordable yet high-quality diaper option. It offers all the features found in more popular baby diaper brands, providing long-lasting leak protection to keep your baby comfortable and active. Carebaby diapers are designed to offer reliable performance at an affordable price, making them one of the most cost-effective diaper brands for Pakistani mothers.
Shield Baby Diapers:
Shield Baby Diapers are a prominent name among the best baby diaper brands in Pakistan. What sets Shield diapers apart is their pull tabs and extra-durable plastic lining, which prevent the fabric from getting damaged and ensure leak-free performance. The brand has been producing effective and reliable diapers for babies of all ages, from newborns to toddlers.
Huggies Little Snugglers: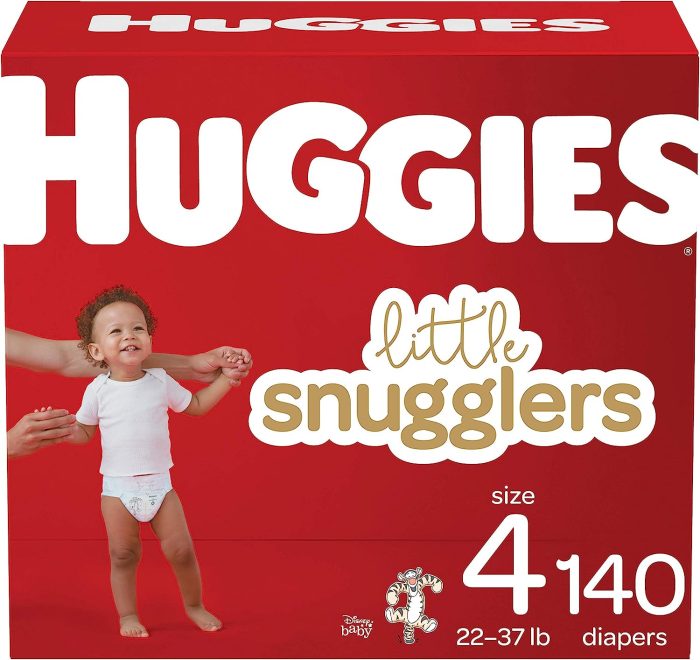 Huggies is a globally renowned brand in the baby diaper market, and their Little Snugglers line is highly popular in Pakistan. Huggies diapers offer a variety of options, each with its unique qualities. Little Snugglers diapers are known for being free of chlorine, natural rubber latex, parabens, fragrances, and EU allergens, making them a safer choice for babies. Huggies diapers provide excellent absorbency and keep your baby comfortable and dry throughout the day.
Final Thoughts on Best Baby Diaper Brands in Pakistan
choosing the best diaper for your baby is a crucial decision that every parent faces. Thankfully, the Pakistani market is filled with a plethora of diaper brands, each catering to different absorption needs and price ranges. With endless options available in cities like Lahore, Karachi, and Islamabad, parents can explore and find the perfect fit for their little ones.
When it comes to ensuring your baby's comfort and protection, it's essential to consider factors like absorption capacity, rash-free materials, and overall quality. We have explored some of the top baby diaper brands in Pakistan, offering excellent choices to make your decision easier.