Azad Kashmir, often referred to as "Heaven on Earth," is renowned for its breathtaking natural beauty. This region, which shares borders with Northern Gilgit Baltistan and the Pakistani provinces of Punjab and Khyber Pakhtunkhwa, attracts tourists year-round with its stunning landscapes and panoramic views.
While the winters in Azad Kashmir are freezing, with heavy snowfall and blizzards leading to the closure of borders, the best time to visit is from April to October when the weather is pleasant. Despite the challenging weather conditions, Azad Kashmir offers visitors a chance to immerse themselves in the vast and picturesque scenery of this beautiful country.
Azad Kashmir is divided into two parts: one part occupies Jammu and Kashmir, while the other is an independent entity administered by the government of Pakistan. The portion under Pakistani control is known as Azad Kashmir.
Here are the top 15 places to visit in Azad Kashmir:
Taobat: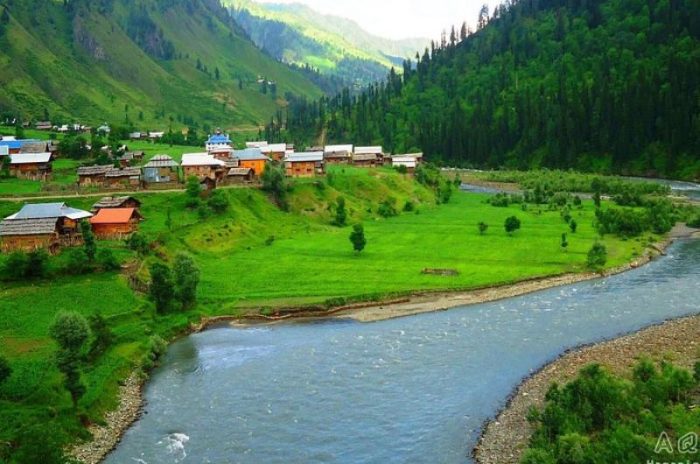 Located in the mesmerizing Neelum Valley of Azad Kashmir, Taobat is a picturesque village that captivates visitors with its enchanting beauty and serene atmosphere. Situated in Sharda Tehsil, Taobat serves as the final destination in the Neelum Valley before reaching the border of Pakistan. To reach Taobat, one must embark on a scenic journey from Kel, which takes approximately three hours. Along the way, travelers are treated to breathtaking views and encounters with other stunning places like Halmat, Janawai, and Sardari. Taobat has become a popular tourist spot, attracting visitors with its astonishing vistas.
Taobat, nestled in the heart of Azad Kashmir, lies just 39 kilometers away from Kel and marks the boundary between India and Pakistan, making it the last spot in Azad Kashmir. The village is surrounded by natural beauty, with lush greenery, majestic mountains, and serene lakes that create a tranquil atmosphere throughout the year.
The weather in Taobat tends to be mild, with temperatures reaching around 26 degrees Celsius in the warmest month of July. In winter, the average high temperature in January drops to 3.8 degrees Celsius. Regardless of the season, Taobat Valley offers a serene ambiance and serves as a haven for nature lovers and adventure seekers.
Arang Kel: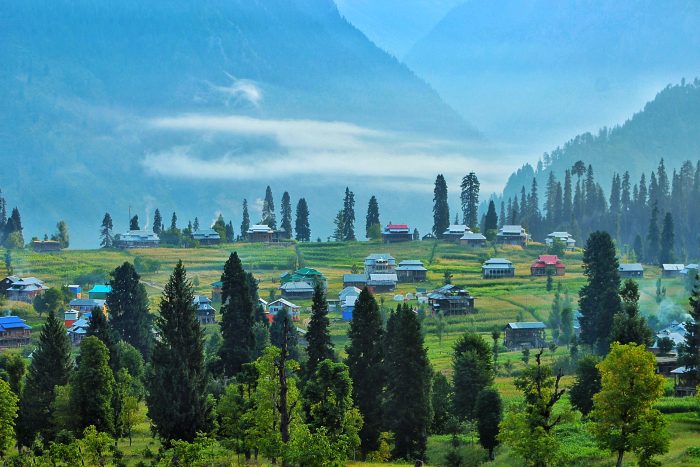 Nestled in the velvety green landscape of Azad Kashmir's Neelum Valley, Arang Kel is a mesmerizing village situated above Kel on a hilltop. Sitting at an altitude of 8,379 feet (2,554 meters) above sea level, Arang Kel is often referred to as the "Pearl of Neelum Valley." The meadows of Arang Kel are adorned with abundant vegetation, and during the summer months, they come alive with the graceful presence of horses, goats, and the melodious songs of birds. In winter, a thick blanket of snow covers the entire village, transforming it into a pristine white palace and enhancing its ethereal beauty. This makes Arang Kel a delightful place to visit throughout different seasons.
To reach Arang Kel, there is a scenic trek from Kel that leads to Nanga Parbat. Along the way, visitors can enjoy spectacular views of the majestic Nanga Parbat Mountain, providing a truly awe-inspiring sight. The journey from Arang Kel to Nanga Parbat takes approximately three hours, allowing travelers to immerse themselves in the tranquility of the surroundings while enjoying the melodious sounds of nature. Arang Kel stands as one of the most serene and captivating destinations in Azad Kashmir, offering an ideal location for trekking enthusiasts and those seeking breathtaking views. Make sure to include the heavenly village of Arang Kel in your itinerary.
Leepa Valley: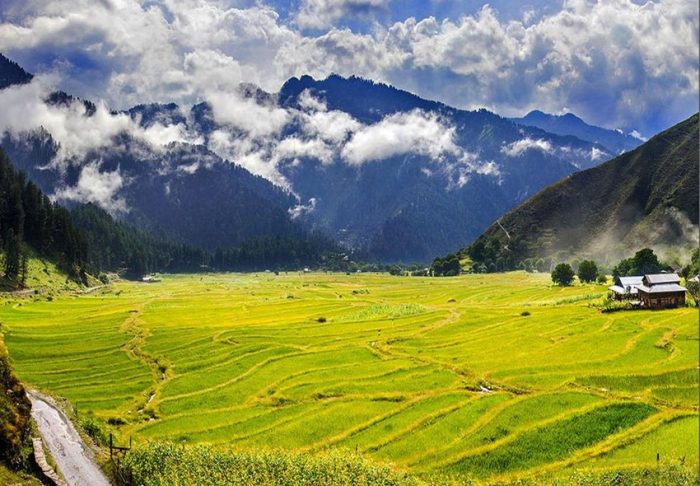 Leepa Valley is a stunning destination in Azad Kashmir that offers breathtaking natural beauty. It is known for its picturesque pine trees and fertile valley, providing a countryside ambiance that is truly captivating. Situated 83 kilometers from Muzaffarabad, Leepa Valley is divided into five sectors: Nowkot, Kasirkot, Dao Khan, Leepa, and Chananian. The weather in Leepa Valley is pleasant, and the best time to visit is from May to November when the climate is comfortable and welcoming.
Leepa Valley has a rich history as it was once part of the Kupwara District in Jammu and Kashmir, and now it is part of the Jhelum Valley in Azad Kashmir. Local jeeps are available to transport visitors to Leepa Valley, crossing through Reshian. The region is accessible from Muzaffarabad, and exploring Dao Khan, Leepa, and Chananian sectors is highly recommended. To experience the most captivating places in Kashmir, don't miss out on the breathtaking views of Leepa Valley!
Shounter Lake: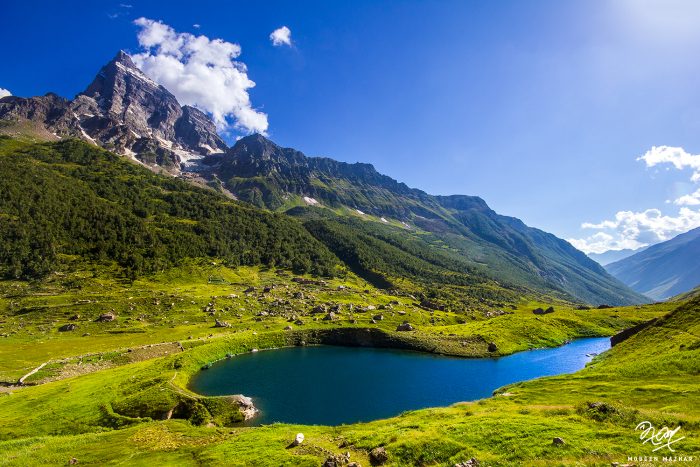 Shounter Lake is a captivating natural gem that should be visited between the months of May and August, when the weather is pleasant. It is located in the Shounter Valley, a sub-valley of Neelum Valley in Azad Kashmir. Despite its small size, Shounter Lake boasts a significant depth and is situated at an elevation of 3,100 meters (10,200 feet) above sea level, surrounded by pristine natural beauty.
The lake is embraced by glacial waters, lush green grass, majestic mountains, and scattered specimens of various plants. In winter, the lake freezes over, and the surrounding hills are blanketed in a thick layer of snow, transforming the entire landscape into a breathtaking white panorama. However, it is important to note that visiting Shounter Lake during winter can be dangerous due to heavy snowfall and the risk of landslides, making it challenging to travel by jeep.
To reach Shounter Lake, one can take a jeep from Kel or Neelum Valley. It is a perfect destination for camping enthusiasts, photographers, and hiking lovers. Set up your campsite, immerse yourself in the serene ambiance of Shounter Lake, and capture the stunning beauty of the surrounding scenery. It is undoubtedly one of the most scenic places to visit in Azad Kashmir.
Muzaffarabad: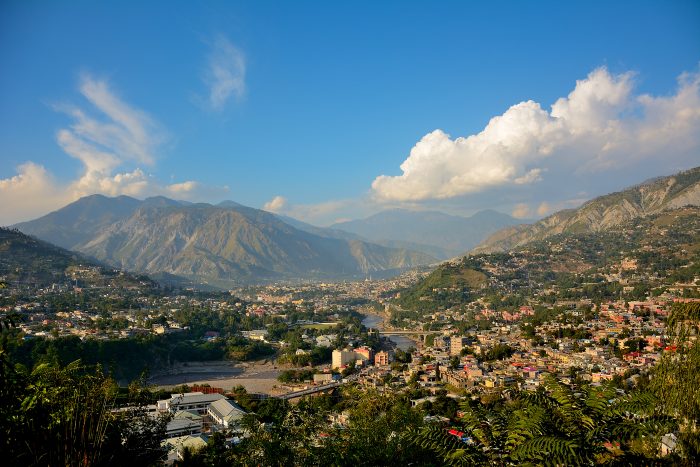 Muzaffarabad, the political and cultural hub of Azad Kashmir, serves as the capital city. It is the largest city in the region and is situated west of Khyber Pakhtunkhwa and north of the Neelum District. Muzaffarabad is renowned for its grandeur, natural beauty, and peaceful environment, making it an ideal base camp for both locals and international visitors. The city boasts numerous leisure spots that beckon exploration, such as Sathra, Lohar Gali, and the confluence of the Neelum and Jhelum rivers, offering breathtaking views that leave a lasting impression.
The name "Muzaffarabad" derives from Sultan Muzaffar Khan, the chief of the Bomba Tribe, who ruled over Kashmir and constructed the Red Fort to safeguard the Mughal Empire. The Red Fort stands as a historic landmark in the city, unfolding tales of Muzaffarabad's rich past. To experience the beauty and cultural heritage of this capital city, make sure to visit Muzaffarabad and relish its breathtaking grandeur.
Ratti Gali Lake: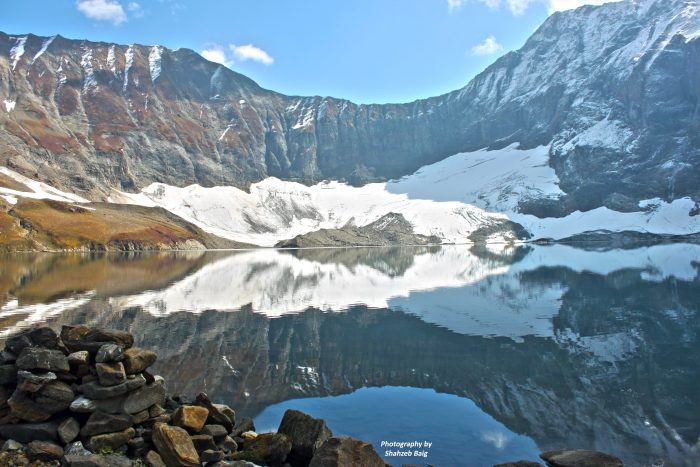 Ratti Gali Lake is a well-known destination in the Neelum Valley. Situated at an altitude of 12,130 feet (3,700 meters), this icy lake is nestled in the picturesque Neelum Valley. The lake is fed by glacier water from the surrounding mountains, resulting in fresh and cool waters that cascade down from the peaks. The captivating beauty of Ratti Gali Lake is enhanced by the surrounding mountains, adorned with green meadows and vibrant flowers, creating an exotic scene during spring and summer.
In winter, the lake freezes over, and the mountains are covered in a pristine blanket of snow, transforming the entire landscape into a mesmerizing white wonderland. Occasionally, floating glaciers can be observed in the lake during the winter, adding to the scenic beauty of this frozen paradise. Accessible through Dowarian, visiting Ratti Gali Lake offers the opportunity for trekking and photography, allowing visitors to immerse themselves in tranquil and picturesque surroundings. It is truly one of the most breathtaking locations in the Neelum Valley, providing a perfect setting for trekking enthusiasts and photography enthusiasts alike.
Kutton Upper Neelum: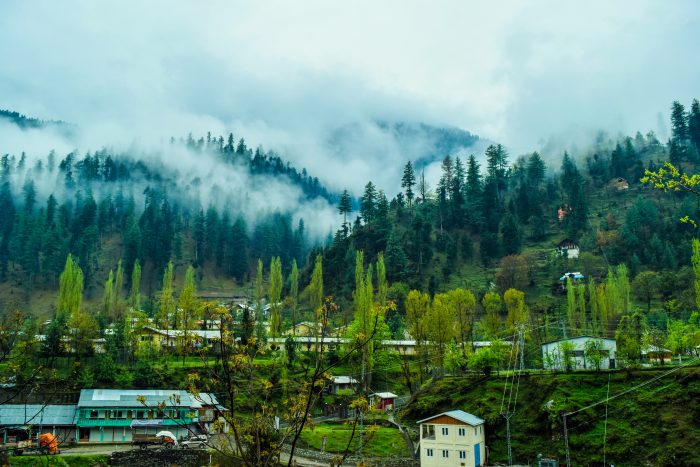 Kutton and Upper Neelum are among the most popular tourist destinations in Azad Kashmir. A visit to the upper part of Neelum Valley is an essential part of your vacation. The area is renowned for its panoramic views and the meandering streams that flow alongside the village. Located approximately 82 kilometers from Muzaffarabad and 2 kilometers from Keran, Kutton and Upper Neelum offer a serene and picturesque experience.
With an elevation of 1,530 feet above sea level, Kutton and Upper Neelum provide a calming ambiance with the soothing sound of water and the gushing streams that pass through the village. The Azad Kashmir Tourism Department has constructed a rest house to accommodate tourists and facilitate visits to nearby attractions. Don't miss the opportunity to witness the tranquil waters and panoramic views of Neelum Valley by visiting Kutton and Upper Neelum!
Banjosa Lake: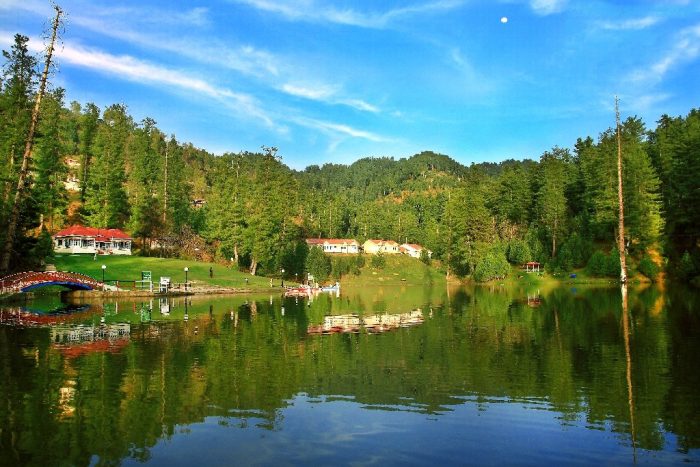 Banjosa Lake is a picturesque waterbody surrounded by lush greenery, offering a serene and peaceful atmosphere. Located 18 kilometers from Rawalakot in the Poonch District of Azad Kashmir, this artificial lake presents a delightful play of green, red, and blue colors, creating a sparkling reflection that is simply mesmerizing. You won't be able to take your eyes off this beautiful lake! Banjosa Lake has a surface elevation of 1,981 meters, and it showcases the perfect combination of trees and houses, making it one of the must-visit tourist spots in Kashmir.
The best time to visit Banjosa Lake is during the summer season when the temperature hovers around a pleasant 25°C. In winter, the area receives snowfall, which drastically drops the temperature, creating a romantic atmosphere that attracts honeymoon couples. During autumn, the lake is adorned with vibrant brown and red leaves, providing a golden and reddish-brown spectacle along with the shimmering reflection on the water. When you visit this romantic lake in Azad Kashmir, be sure to enjoy the tranquility and indulge in activities such as boating and photography!
Ramkot Fort: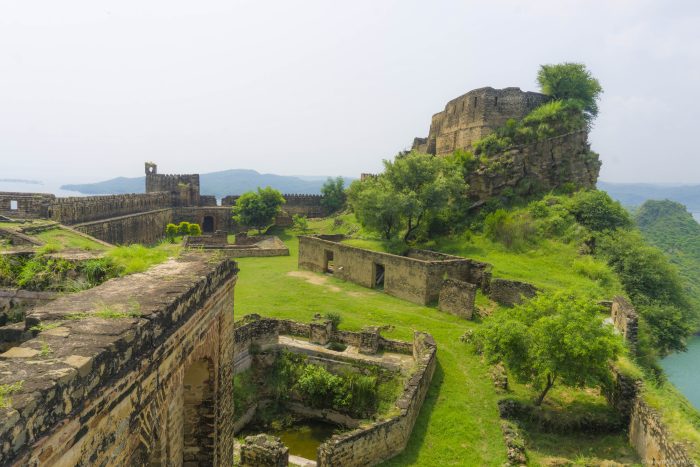 Azad Kashmir is steeped in history, and the region is home to various historical sites that offer insights into its rich past. One such captivating attraction is Ramkot Fort. Located next to Mangla Dam, the fort dates back to 1342 during the Delhi Sultanate's reign. It is situated on the banks of the Jhelum River and can be reached by boat, 13 kilometers away from Dina, or 79 kilometers by road from Mirpur.
Ramkot Fort showcases the architectural design of Muslim military structures from the medieval period. The fort's origins can be traced back to the 5th and 9th centuries, and during the 17th century, Muslim rulers rediscovered and fortified the area. Today, remnants of the fort remain, offering a glimpse into its historical significance. Exploring Ramkot Fort is a must for those interested in discovering archaeological sites in Azad Kashmir. Immerse yourself in the wonders of this structure and uncover the stories it holds.
Toli Pir: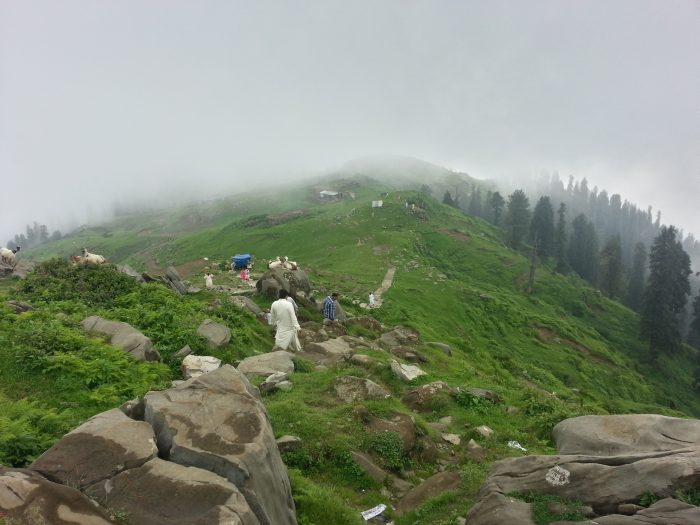 Toli Pir is an enchanting destination known for its breathtaking beauty. Situated in the Poonch District of Azad Kashmir, Toli Pir is located at an elevation of 8,800 feet above sea level. It is one of the famous places to visit in Kashmir, Pakistan. The peak is on the way to Rawalakot and offers a heavenly view with stunning landscapes that will leave you mesmerized. From the peak of Toli Pir, you can enjoy panoramic vistas and behold three main rivers: Abbaspur, Bagh, and Poonch. It feels as though you can see the world from the top of Toli Pir!
Toli Pir is accessible by car, and the drive takes approximately 1 hour and 45 minutes, covering a distance of 30 kilometers from Rawalakot. The winter months bring extremely cold temperatures, and the hilltop is covered in snow. Due to the high altitude, reaching Toli Pir can be challenging during heavy snowfall, which leads to road blockages. It is advisable to visit Toli Pir from April to early October when the weather is pleasant. Don't miss the opportunity to visit this popular destination in Kashmir, Pakistan!
Rawalakot: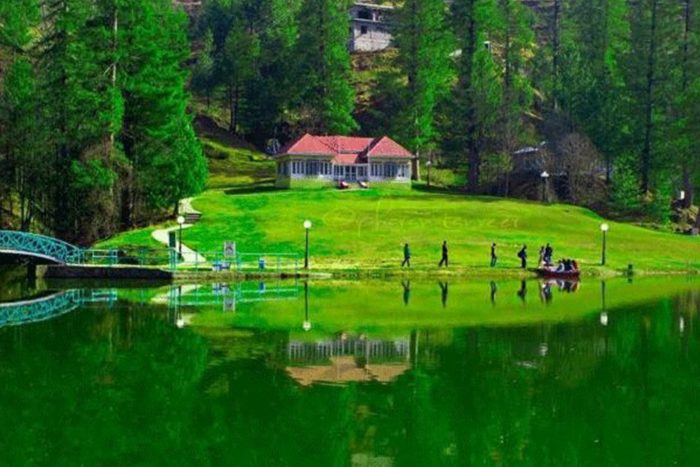 Rawalakot is the main headquarters of the Poonch District and is the most famous town in Azad Kashmir. It is located 80 kilometers from Islamabad and Rawalpindi, making it easily accessible for visitors. You can reach Rawalakot via Goyain Nala and Tain Road. Situated at an elevation of 1,638 meters (5,374 feet), the city is 76 kilometers from Kahuta and 120 kilometers from Rawalpindi.
Rawalakot is also known as the Pearl Valley due to the abundance of almond blossoms, which create an illusion of scattered pearls when viewed from the mountains. The area is adorned with blooming flowers and green hills, offering stunning views during the spring and summer seasons. While the winter season can be challenging, the summer months showcase the intriguing beauty of Rawalakot. Don't miss visiting popular tourist spots like Tatta Pani, Sudhngalli, and Toli Pir when exploring the area. To experience the charm of this famous town in Azad Kashmir, make sure to visit Rawalakot!
Sharda: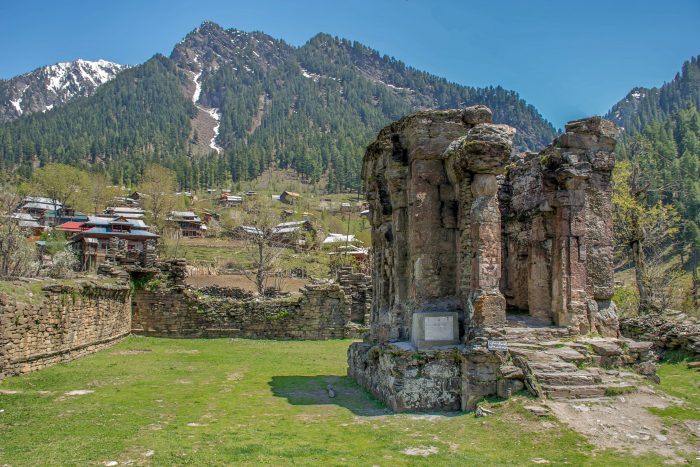 Sharda is a must-see destination in Azad Kashmir, especially if you're visiting the Neelum Valley. It is one of the prominent tourist spots in Kashmir, known for its attractive scenery and several huts situated on flat land. Sharda is located 136 kilometers from Muzaffarabad and despite being a small city, it possesses a captivating beauty and a rich history. Situated on the banks of the Neelum River at an altitude of 1,981 meters (6,499 feet), Sharda offers lush green meadows and a serene atmosphere.
The name "Sharda" is derived from the remains of the Sharada Peeth, an ancient temple dedicated to the Hindu goddess Sharada. In the morning, the sunlight reflects off the river water, creating a picturesque landscape. During winter, the village is covered in thick snow, transforming it into a stunning white wonderland. Sharda has several guesthouses and hotels, offering a comfortable stay for visitors who wish to enjoy trekking and sightseeing. Don't miss the opportunity to visit this beautiful small city in the region!
Patheka: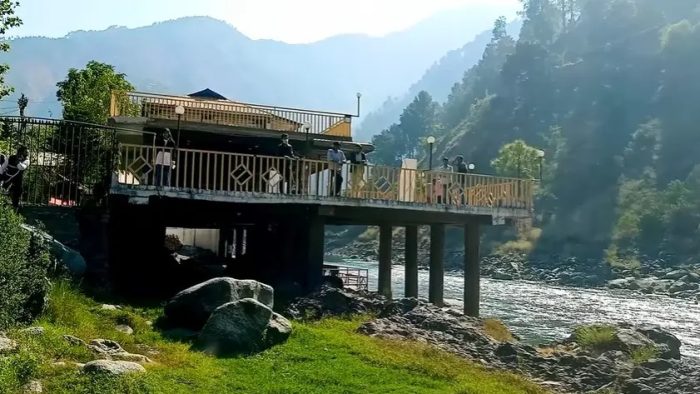 Patheka, the entrance point to Neelum Valley, is a charming town renowned for its bustling business district. It serves as a hub where travelers can find everything they need for their daily routines and explore the vibrant attractions of Neelum Valley. Numerous hotels in the area cater to a large number of tourists, ensuring comfortable accommodations.
Surrounded by towering mountains, pleasant weather, and lush green knolls, Patheka offers a delightful setting that attracts visitors from far and wide. The road to Patheka is adorned with tall trees, providing a scenic view of the city. It is undoubtedly one of the top tourist attractions in Azad Kashmir. Exploring the entrance point of Neelum Valley is an absolute must, as Patheka allows you to immerse yourself in a rich green environment and enjoy the pleasant weather. Don't miss the opportunity to visit this captivating business district and experience its unique charm.
Pir Chinasi: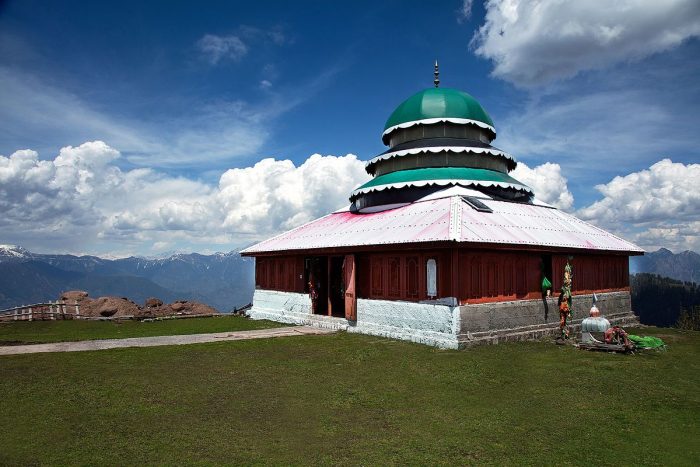 Pir Chinasi is an astonishing spot to explore in Azad Kashmir. This region is known for its shrines and religious sites, and Pir Chinasi is one of the notable shrines in the area. Located to the east of Muzaffarabad, reaching Pir Chinasi requires navigating through twists and turns, making the journey a bit challenging. Safety and security should be ensured while visiting this area. The shrine itself sits at an altitude of 2,900 meters and is a popular tourist destination in Kashmir.
Pir Chinasi offers breathtaking views of snowy peaks in winter and blooming trees in summer. The shrine has historical significance, as it is associated with Hazrat Shah Hussain, a saint of Greater Kashmir who resided in this area. Surrounded by dense greenery and nearby mountains, the shrine's beauty is enhanced by its natural surroundings. Each corner of Pir Chinasi holds a unique charm that makes it a worthwhile visit. Explore this religious place in Azad Kashmir and enjoy the exotic location of Pir Chinasi!
Jehlum Valley: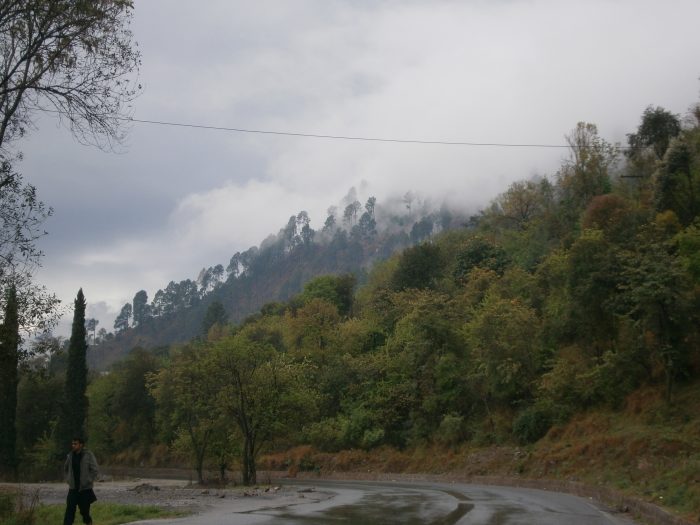 Jhelum Valley is renowned for its hospitality and attracts both local and foreign travelers. The main attraction for tourists is the winding rivers that flow between massive mountains. The valley is located 50 kilometers across the Jhelum River and is surrounded by lush green mountains. The main city in Jhelum Valley is Hattian Bala.
The valley is characterized by ripe rice fields and wooden houses, offering an unforgettable view. Unique to Jhelum Valley are the sweet cherries and walnuts that you can savor, unlike anywhere else. Nearby, you'll find Leepa Valley, which is a popular site due to its dense fields and greenery. Don't miss the opportunity to visit Jhelum Valley and witness the meandering rivers amidst the majestic mountains. It is one of the most peaceful places to visit in Azad Kashmir.
Red Fort: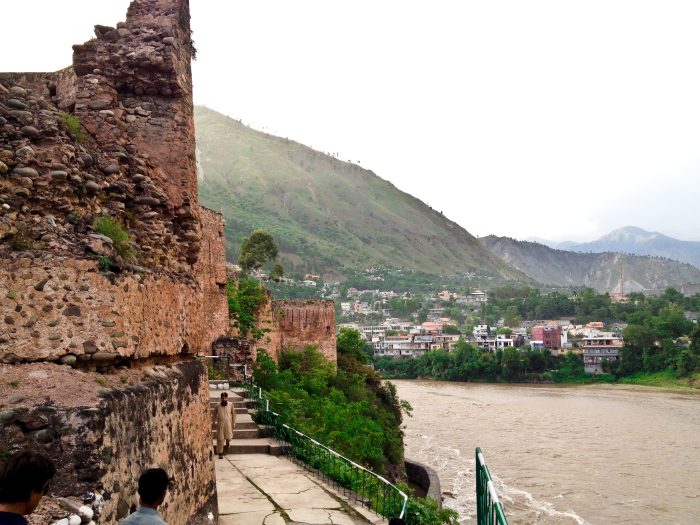 The Red Fort, also known as Muzaffarabad Fort, is located in the capital city of Azad Kashmir. It was built by the Chak dynasty of Kashmir as a defensive structure against potential Mughal threats. Construction of the fort began in 1559 and was completed in 1646 under the reign of Sultan Muzaffar Khan of the Bomba Dynasty. The Red Fort holds great historical significance and serves as a fantastic site for archaeologists to explore the region's history. It is a famous heritage site in Azad Kashmir and attracts many foreign visitors. Don't miss the opportunity to visit this lovely Red Fort when planning a trip to explore the historical sites of the region.
Final Thoughts on
Azad Kashmir is home to numerous scenic places and beautiful locations that have preserved the natural beauty of the region. With its calm and relaxing atmosphere, these places to visit in Azad Kashmir offer spectacular views and unique experiences. From panoramic vistas to historical landmarks, Azad Kashmir will captivate your senses as you explore this enchanting region in Pakistan. Be sure not to miss these beautiful and famous destinations!