Pakistan is steadily progressing in its development journey, achieving significant milestones across various sectors. While the pace of progress may be relatively slower compared to some other countries, the nation has made substantial strides over time. A clear indicator of this development is the rising number of skyscrapers and impressive skylines in several cities across the country.
In cities like Karachi, Lahore, and Islamabad, tall buildings have become a prominent feature, enhancing the urban infrastructure and showcasing Pakistan's growth. The construction of these towering structures is a testament to the country's dedication to improving its overall infrastructure and urban landscape.
Let's explore the top 10 tallest buildings in Pakistan, ranked according to their height, as they stand tall as symbols of progress and development in the country. These remarkable structures are a reflection of Pakistan's ambitions and its drive to keep moving forward on the path of advancement.
Bahria Icon Tower: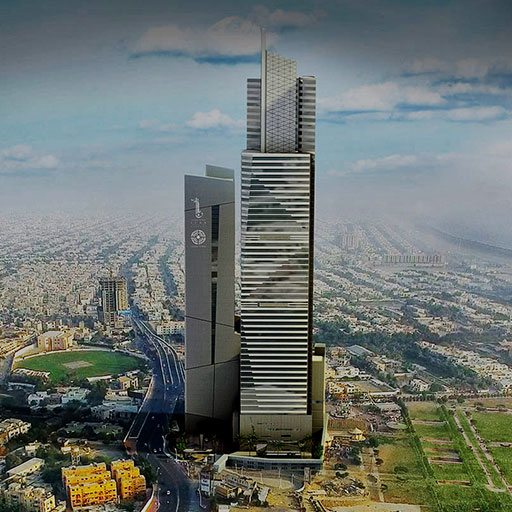 Bahria Icon Tower stands tall as the highest building in Pakistan, gracing the skyline of Karachi, Sindh, near the picturesque Arabian Sea coast. This impressive complex comprises a 62-story tower housing corporate offices and luxurious apartments. Additionally, there are 42-storey mixed-use buildings, all-encompassing an international standard shopping mall.
The visionary behind the Bahria Icon Tower is Malik Riaz, a prominent and renowned figure in Pakistan's construction industry. His vision has brought to life this magnificent architectural marvel that has become an iconic landmark in the city.
Chapel Skymark: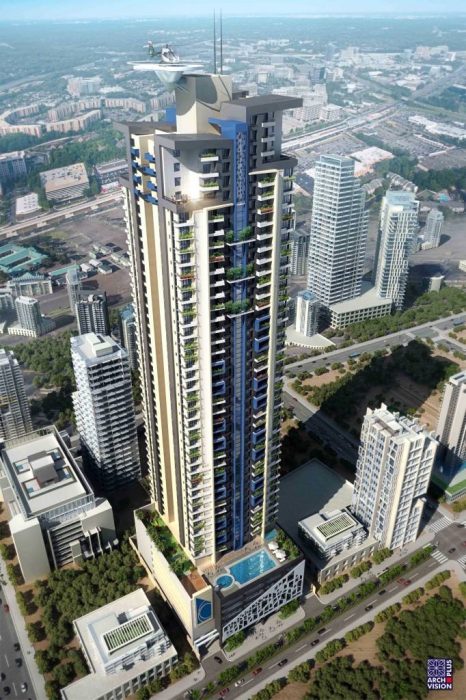 Situated in Karachi, Chapel Skymark is an awe-inspiring high-rise building, towering gracefully with 50 floors. The primary objective behind its construction is to achieve unparalleled architectural brilliance. The developer's unwavering focus is to provide residents with a lifestyle of utmost luxury and excellence.
A notable feature of Chapel Skymark is the provision of multiple floors dedicated to parking, offering top-notch facilities for vehicle security and convenience. This aspect addresses the concerns of residents, as their vehicles hold significant financial value and are crucial assets.
Located near PIDC Karachi, Chapel Skymark is an enticing apartment project, attracting numerous investors due to its proximity to famous areas in Karachi. Although the structure is still under construction, it promises to be a symbol of elevated living and modernity.
Bakht Tower: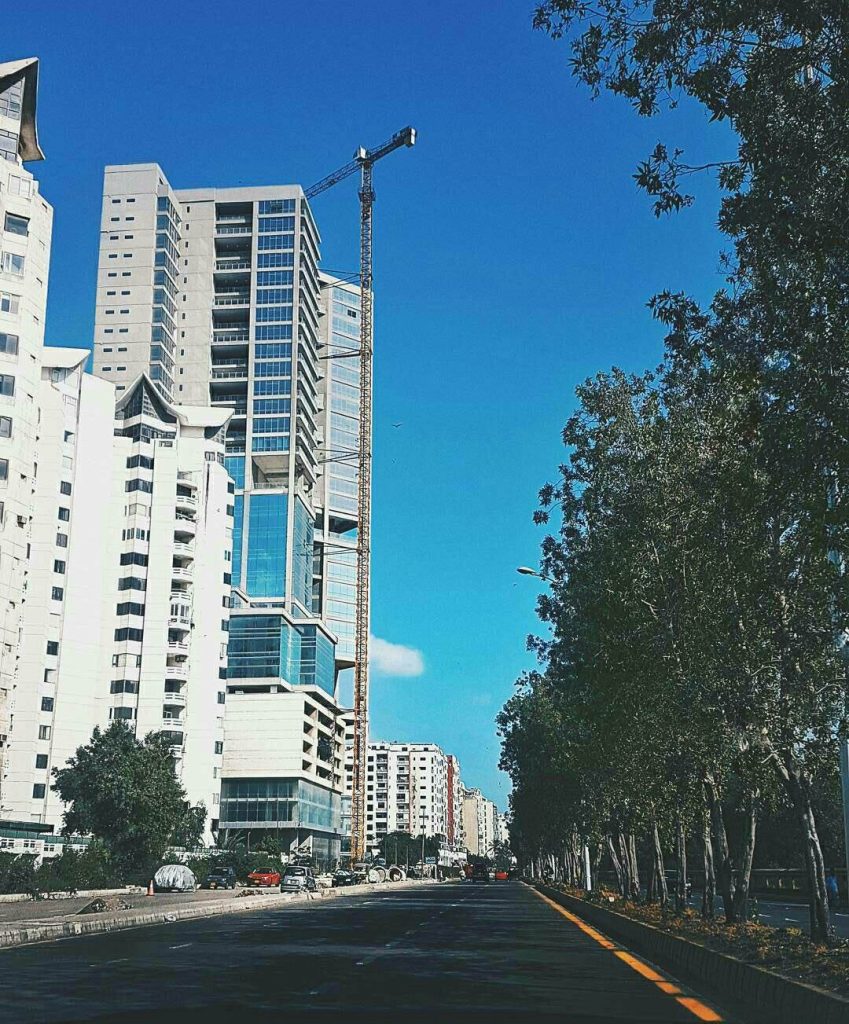 Aesthetically designed and boasting 33 floors, Bakht Tower stands tall as a remarkable mixed-use building in Karachi, specifically located in the prestigious area of Clifton, overlooking the mesmerizing sea.
Completed in 2015, Bakht Tower now houses numerous corporate firms and families, providing them with a perfect blend of commercial and residential spaces. The tower's strategic location, facing the sea, adds to its allure and appeal.
Ocean Towers: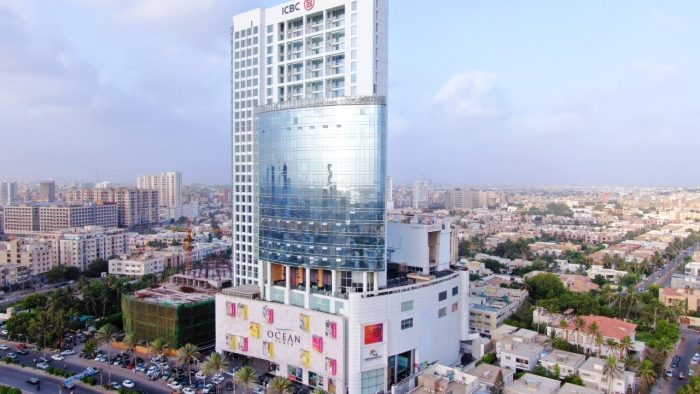 A magnificent and grand architectural wonder, Ocean Towers holds its place among the largest buildings in Pakistan, occupying a prime location in Clifton and Do Talwar. Its soaring height commands attention even from a distance, captivating all who lay eyes on it.
Categorized as a commercial property, Ocean Towers houses cinemas, offices, and a sprawling shopping mall. The project, backed by significant investments starting in the 2000s and culminating in 2021, features 30 floors.
Notably, Ocean Towers generates its own electricity through a powerhouse with a capacity of producing 5 megawatts. Safety is a top priority, and the building is equipped with a sophisticated system to monitor smoke and heat frequencies, ensuring the residents' well-being.
Mega G4 Tower: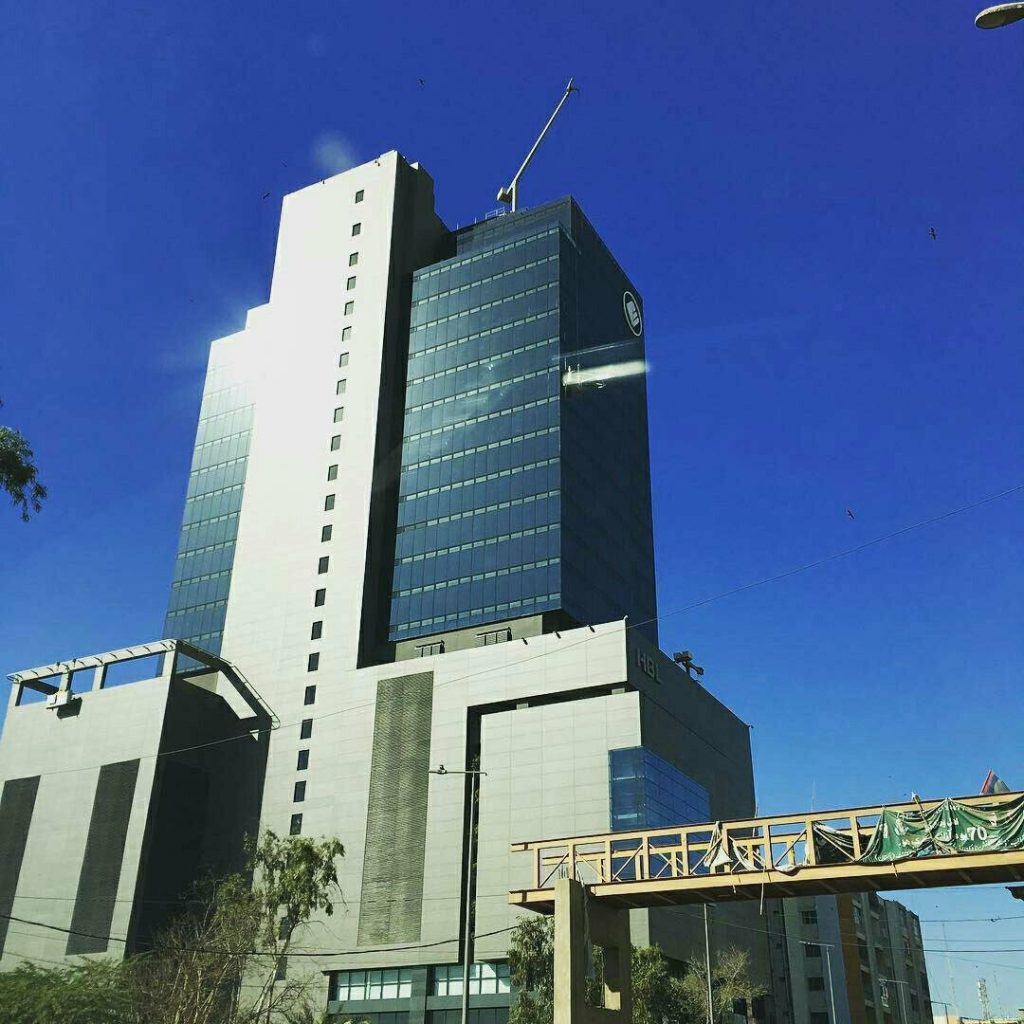 Situated in Karachi, Mega G4 Tower is one of Pakistan's prominent commercial buildings, known for its spacious and modern office spaces. Although its name may not ring an immediate bell for some, its distinctive structure is recognized by almost everyone in the city.
Located near the iconic Teen Talwar, a famous landmark in Clifton, Mega G4 Tower boasts an impressive 27 floors. Notably, the tower proudly displays the giant logo of HBL, as the bank has its regional head office within the building. This association has led to the tower being commonly referred to as HBL Mega Corporate Tower.
Dolmen Towers:
A remarkable project in Karachi, Dolmen Towers encompasses both commercial and residential sectors, making it a versatile and sought-after development.
Consisting of two towers, Tower A and B, Dolmen Mall stands tall with an impressive height of 40 floors each. What sets these towers apart and makes them popular among people is the provision of multiple parking floors, providing convenient parking options beyond the ground floor.
Strategically located close to the Karachi shoreline, Dolmen Towers holds a key position for commercial activities, making it an ideal choice for businesses and residents alike.
One Constitution Avenue:
Nestled in Islamabad near the Jinnah Convention Center, One Constitution Avenue presents a promising project offering luxurious apartments in the heart of both twin cities, Rawalpindi and Islamabad.
Boasting CDA approval, this elegant building comprises multiple structures, with each tower featuring 26 floors. Developed in line with international standards, One Constitution Avenue offers a lucrative investment opportunity, ensuring a sophisticated and modern living experience for its residents.
The Centaurus Mall:
One of the notable giants among Pakistan's buildings, The Centaurus Mall, stands proudly in Islamabad. With a unique and awe-inspiring design, the complex comprises three striking skyscrapers, seamlessly connected to an upscale shopping mall.
The mall itself spans an impressive 26 floors. Construction of this remarkable structure commenced in 2005 and reached completion in 2011, with the mall becoming fully operational in 2013. Offering a mix of luxury, shopping, and entertainment, The Centaurus Mall has become a popular destination for residents and tourists alike.
Ufone Tower Islamabad: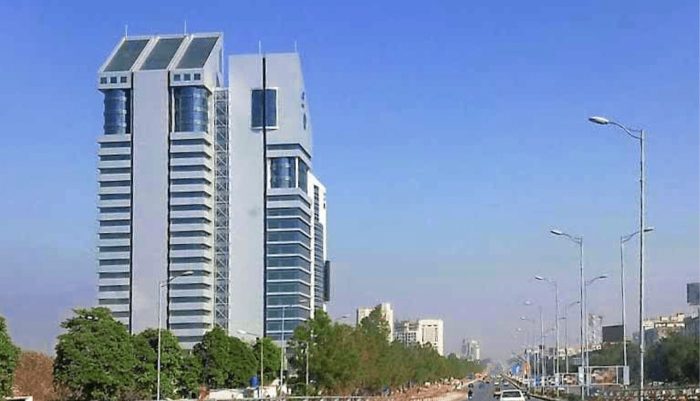 Nestled in the Blue Area of Islamabad, the Ufone Tower commands attention with its 26 floors, making it a prominent landmark in the capital city. Construction of this iconic tower also began in 2005, similar to The Centaurus Mall.
Built under the auspices of Pakistan Telecommunication Trust and designed by the renowned firm NESPAK, the Ufone Tower serves as a testament to the nation's progress in the field of telecommunications and urban infrastructure.
Arfa Software Technology Park: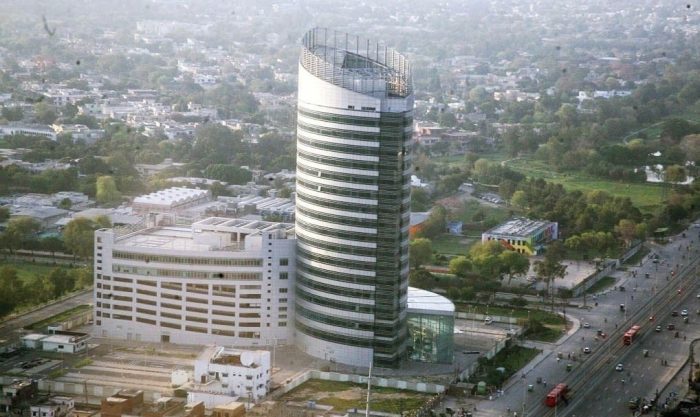 Once known as the Software Technology Park, the Arfa Software Technology Park is an impressive high-rise building located on Ferozepur Road in Lahore. Construction of this beautiful tower commenced in 2006 and reached completion in 2012.
While it may not claim the title of the tallest building in Pakistan, the Arfa Software Technology Park holds the distinction of being the largest IT building in the country, particularly in Punjab. With its 17 floors, the tower stands as an architectural marvel and is proudly owned by the Punjab Information Technology Board.
Final Thoughts on Top 10 Tallest Buildings in Pakistan
Pakistan's journey towards development has been gradual but noteworthy, with significant achievements in various sectors. The rise of skyscrapers and modern infrastructure in major cities like Karachi, Lahore, and Islamabad is a testament to the country's progress and ambition to keep pace with global standards.
While the development might not be as rapid as in some other parts of the world, the construction of tall buildings symbolizes Pakistan's determination to create a modern and thriving urban landscape. These impressive structures not only enhance the skylines but also demonstrate the nation's commitment to growth and advancement.
As Pakistan continues to strive for further development, the construction of tall buildings will remain a prominent aspect of its urban landscape, showcasing the country's resilience and aspiration to be at par with other developed nations. The journey toward progress is ongoing, and with each milestone achieved, Pakistan takes a step closer to a brighter and more promising future.