Karachi, a bustling metropolis on the shores of the Arabian Sea, boasts a plethora of historical sites and picturesque family picnic spots that entice travelers from far and wide. However, for the locals, finding time to explore these gems amidst their busy schedules can be a challenge. Everyone yearns for quality time with loved ones and a much-needed escape from the daily routine, making the search for the best places to visit in Karachi a top priority.
Fear not, for we have curated a comprehensive list of the 10 most beautiful places in Karachi, ensuring that both locals and travelers can uncover the city's hidden treasures. From historical landmarks to serene picnic points, these locations promise a delightful experience for all.
So, join us as we embark on a journey to explore the enchanting corners of Karachi. Whether you seek a tranquil retreat or a dive into the city's rich heritage, our list will guide you toward unforgettable destinations that will captivate your heart and offer cherished memories with your loved ones. Let's begin this exciting adventure together!
List of 10 Most Beautiful Places in Karachi
Clifton Beach: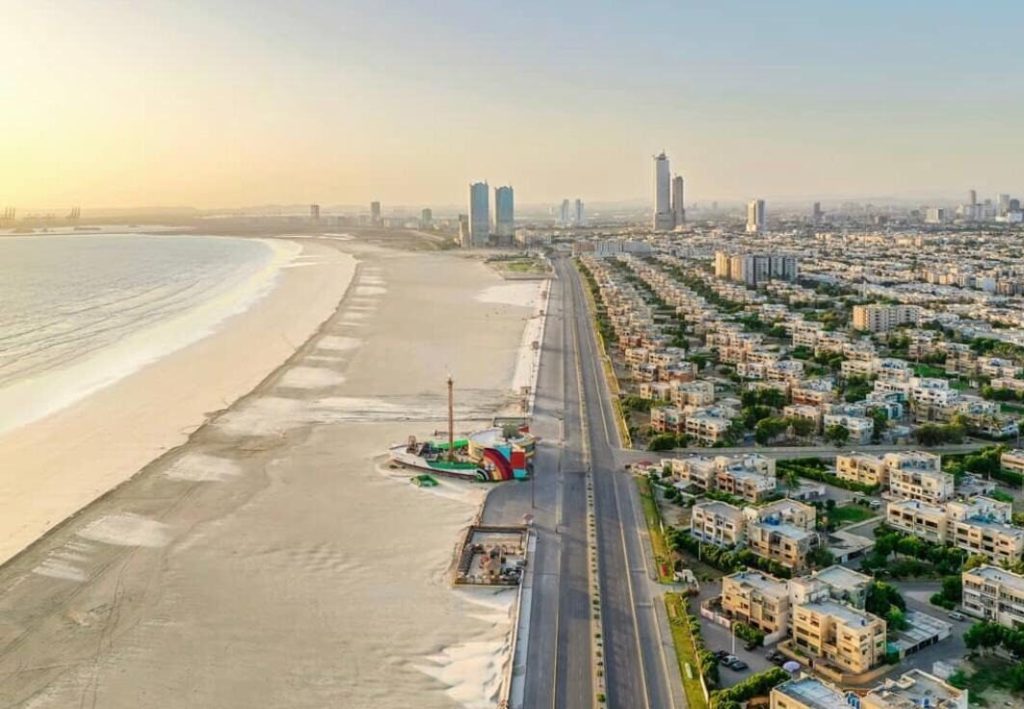 For an authentic coastal experience without breaking the bank, Clifton Beach, also known as Sea View, is the perfect destination. This beach, located along the Arabian Sea, stretches from Karachi to Ormara in Balochistan, offering breathtaking natural beauty and a host of recreational activities and renowned eateries.
At Clifton Beach, you can revel in the charm of a sunset, explore seashells on the shore, and bask in the cool sea breeze. The beach caters to various interests, from camel rides and scuba diving to cliff diving and buggy rides, making it an ideal spot for adventure seekers.
For those looking to extend their stay, there are residential areas along the seashore, including the popular Seaview apartments in gated communities. Additionally, top-rated 3-star and 4-star hotels in the city provide comfortable accommodations for a memorable beachside retreat.
Mazar-e-Quaid: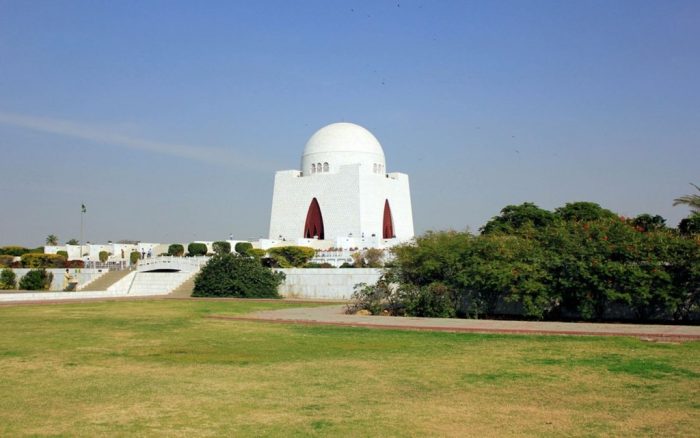 Karachi proudly houses the final resting place of Quaid-e-Azam Muhammad Ali Jinnah, the founder of Pakistan. Mazar-e-Quaid, also known as the Jinnah Mausoleum, stands as one of Karachi's most visited landmarks. Construction of this iconic mausoleum began in 1960 and was completed in 1971, making it a significant tourist attraction in Pakistan.
Mazar-e-Quaid not only holds the tomb of Quaid-e-Azam but also encompasses the final resting places of other notable figures such as his sister, Māder-e Millat ("Mother of the Nation") Fatima Jinnah, Sardar Abdur Rab Nishtar, Liaquat Ali Khan, and Nurul Amin. Open to the general public, the mausoleum serves as a symbol of homage to the heroes of Pakistan.
For international travel, Pakistani passport holders can explore visa-free entry options available in many countries. To plan a hassle-free and enjoyable trip with loved ones, consider engaging the services of a trusted travel agency in Pakistan, which offers exceptional services at affordable rates.
Mohatta Palace:
Nestled in the heart of Karachi, the Mohatta Palace is a stunning architectural marvel. Originally built in 1927 as the summer residence of the renowned Hindu businessman, Shivratan Mohatta, the palace boasts a captivating design by Agha Ahmed Hussain. Constructed with pink Jodhpur stone combined with local yellow stone from Gizri, the palace mirrors the elegance of Rajasthan's stone palaces.
Having historical and political significance, the Mohatta Palace was later given to Fatima Jinnah after the partition, where she spent her final years. Today, the palace has been transformed into a state-owned museum, welcoming visitors to admire its exquisite contemporary Mughal art and architecture.
With vast gardens and corner tomb structures, the Mohatta Palace stands as a distinguished landmark. For an immersive experience in the splendor of Mughal art, make sure to add Mohatta Palace to your list of must-visit places in Karachi.
Charna Island: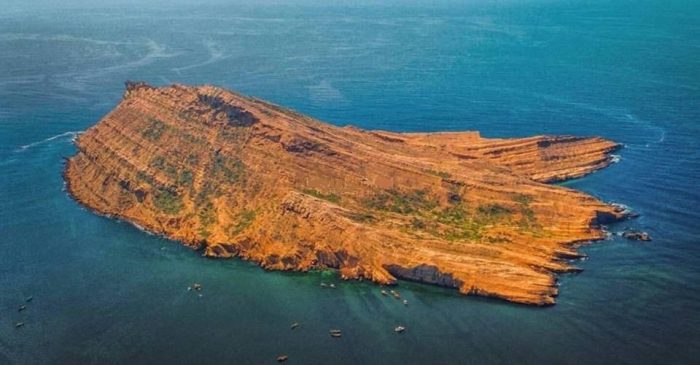 Charna Island, also known as Churna Island, is a captivating destination located near Mubarak Goth, Kiamari Town in Karachi, Sindh, Pakistan. Situated about 9 km (5.6 mi) west of the mouth of the Hub River, known as "Manjhar Beach," it marks the boundary between the provinces of Balochistan and Sindh.
This uninhabited paradise in the Arabian Sea is often referred to as "Cheerno" by local fishermen. It is approximately 6 km away from Mubarak Village, renowned for its fishing community. While Charna Island is utilized by the Pakistan Navy as a firing range, it is also a thriving hub for adventure sports and recreational activities.
Adventure enthusiasts flock to the island to indulge in an array of exciting activities, including scuba diving, freediving, underwater photography, hiking, speed boating, kneeboarding, wake surfing, banana tubing, jet skiing, cliff diving, and snorkeling. The surrounding waters are teeming with various species of lobsters, crabs, and other fish, making it a popular spot for fishermen as well.
Port Grand: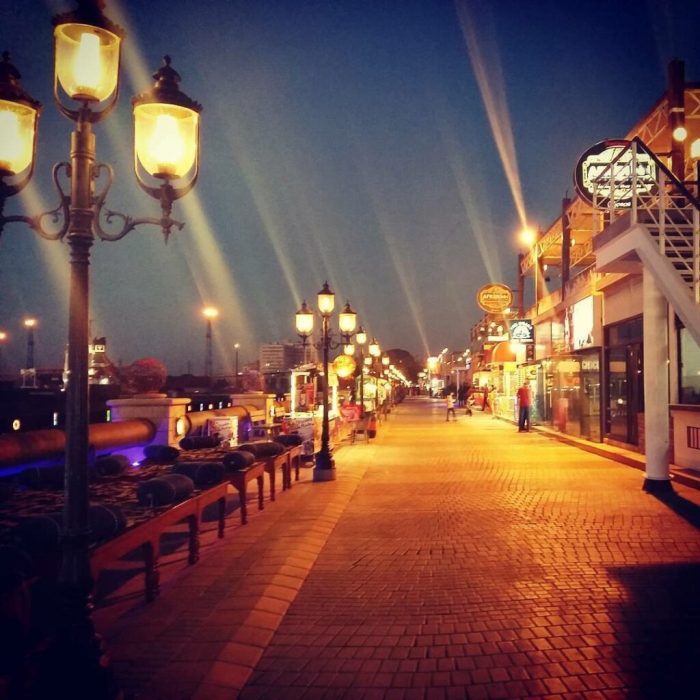 Port Grand holds the reputation of being Karachi's entertainment hub, drawing crowds with its diverse range of eateries, restaurants, and cinemas. The one-kilometer bridge that transforms into a lively food street and market stalls offers an array of both local and international cuisines. From traditional Pakistani dishes to global delicacies, visitors can savor a variety of flavors at Port Grand, with meals ranging from affordable to more luxurious options.
This vibrant location is a must-visit for those eager to explore Karachi's famous cuisines while enjoying a picturesque view. The scenic beauty of the area adds to the overall experience, making it one of the most charming places to visit in the city. Whether with friends or family, a trip to Port Grand promises wholesome and delightful dining moments.
Haleji Lake: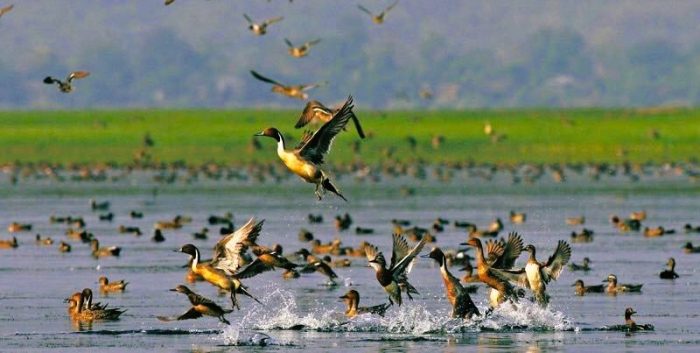 Haleji Lake, located in the Thatta District of Sindh Province, Pakistan, is a perpetual freshwater lake covering an area of 6.58 km2 (2.54 sq mi). Surrounded by marshes and lagoons, the lake offers a picturesque natural setting that is truly captivating. Notably, it stands as Asia's largest bird den, making it a paradise for bird lovers and birdwatchers alike.
The lake is home to diverse flora and fauna, including cotton teal, Indian spot-billed duck, purple moorhen, and Pheasant-tailed jacana. Additionally, Haleji Lake serves as a vital breeding ground for egrets and herons, enhancing its ecological significance.
For birdwatchers and adventurers seeking a serene and enchanting experience amidst nature's beauty, Haleji Lake should undoubtedly be on their list of must-visit destinations.
Frere Hall: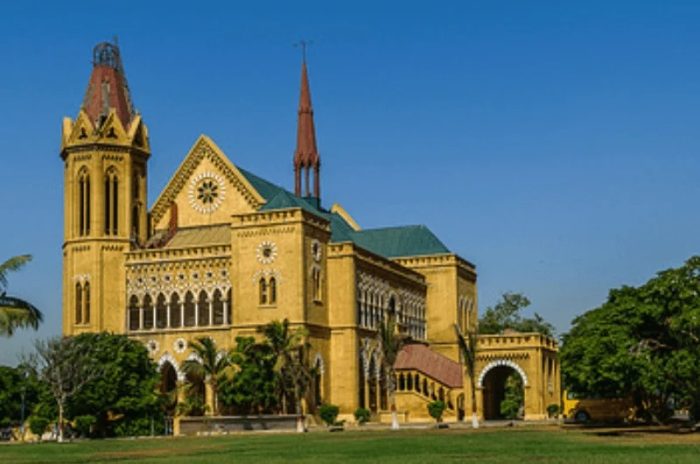 Frere Hall stands as one of Karachi's most captivating and historical landmarks, making it a must-visit destination. Constructed during the early British colonial era in Sindh, the building dates back to 1895 and once served as the city's town hall. Today, it has been repurposed as an exhibition space and library, accessible to the public.
A special charm surrounds Frere Hall on Sundays when it hosts a book fair in its courtyards. Numerous booksellers and hawkers gather to offer books at remarkably affordable prices, making it a bibliophile's paradise. For book lovers, this is a haven where literary gems can easily be discovered and cherished.
Quaid-e-Azam Museum:
Also known as the Flagstaff House, the Quaid-e-Azam Museum is centrally located in Karachi and holds immense historical significance. This museum houses personal belongings and memorabilia of Quaid-e-Azam, the founder of Pakistan. Originally designed by British architect Moses Somake, the building served as Quaid-e-Azam's residence from 1944 to 1948, after which his sister, Fatima Jinnah, resided there until 1964.
Since 1985, the museum has been conserved by the Pakistani government, serving as a cherished tribute to the great leader. For history enthusiasts, visiting this museum offers an extraordinary opportunity to get a glimpse into the life and legacy of Quaid-e-Azam.
Turtle Beach: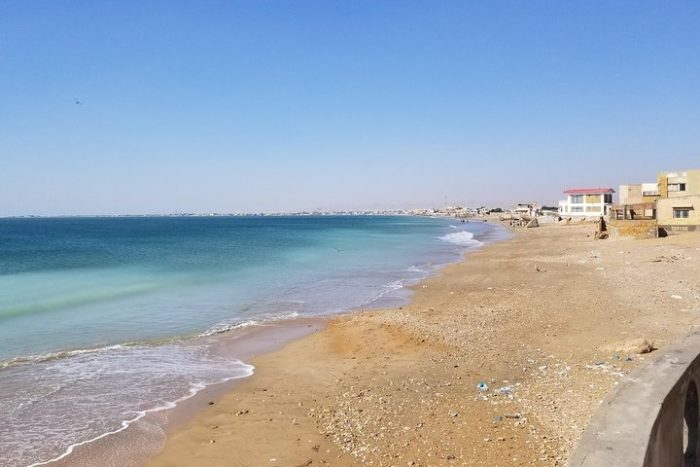 For a delightful and nature-centric experience, a visit to Turtle Beach is highly recommended. This beach serves as a nesting ground for some of the rarest turtle species, including Green Sea Turtles and Olive Ridley Turtles. Witnessing these magnificent creatures laying their eggs is a remarkable sight, drawing nature lovers and conservationists alike.
Turtle Beach is not only about turtles but also offers a range of enjoyable activities for visitors. It boasts numerous picnic spots ideal for spending a beautiful day with family and friends. For those seeking adventure, the beach provides thrilling activities such as speed boating, fishing, and jet skiing. Additionally, camel and horse rides along the seashore add a touch of charm to the overall experience.
Chaukhandi Tombs: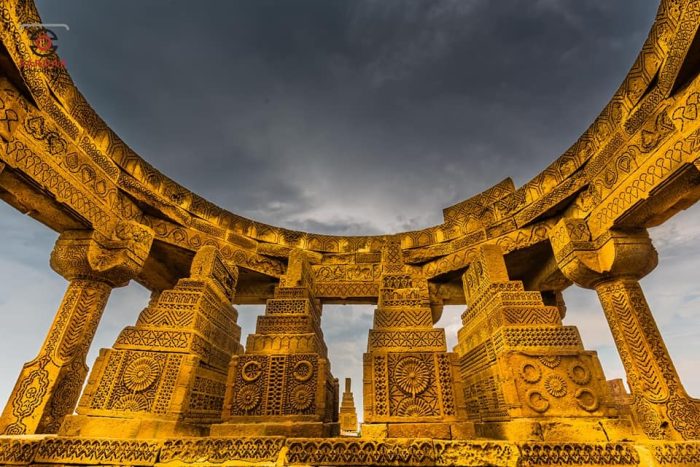 Located approximately 29 km (18 mi) east of Karachi in Sindh province, the Chaukhandi Tombs are an ancient and remarkable site. These tombs are renowned for their unique sand structures and are attributed to the Jokhio tribe, serving as their family graveyard.
Built primarily during the Mughal era between the 15th and 18th centuries, the tombs feature buff-colored sandstone construction. They are designed as single graves or groups of up to eight graves raised on a common platform. The intricate carvings and detailing on these tombs showcase the remarkable craftsmanship of their time, making it a captivating destination for history enthusiasts and those intrigued by unique architecture. Morning visits are recommended to fully appreciate the splendid artistry on display.