For all the Pakistani food enthusiasts out there, Rawalpindi boasts a vibrant food scene with some of the finest restaurants in the country. Whether you crave juicy tikka kebabs, aromatic biryanis, or a plethora of other flavorful dishes, Rawalpindi's culinary offerings cater to every taste bud.
After extensive exploration and delightful taste tests, we have carefully curated a list of the top-notch Pakistani restaurants in Rawalpindi that are an absolute must-visit for anyone eager to savor the rich culinary heritage of Pakistan. From authentic Desi delights to innovative fusion creations, this city has it all on its plate.
So sit back, savor a glass of refreshing lassi, and get ready to indulge in the tantalizing flavors of cuisine that Rawalpindi has to offer!
List of Top 10 Best Restaurants in Rawalpindi
The Monal Downtown Saddar Rawalpindi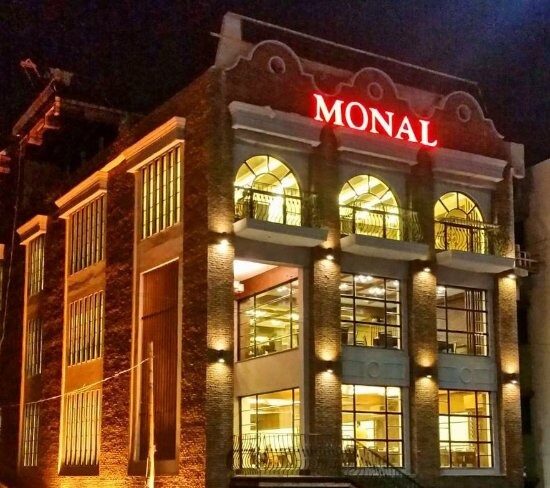 The Monal Pir Sohawa, located in the Margalla Hills, is renowned as the best restaurant in Islamabad due to its picturesque landscape and exceptional food. To cater to a wider audience, The Monal has expanded beyond Islamabad and opened outlets in Rawalpindi as well. One of these outlets, known as Monal Downtown, is situated in Saddar, Rawalpindi. Monal Downtown features two floors and a rooftop dining area, recreating the same ambiance as its flagship location, with open-air dining and live music performances.
The food at Monal Downtown maintains the same high-quality standards, taste, and diverse menu as the original restaurant. The menu offers a range of options, including desi food, Chinese, Italian, Continental, and more. While customers have various preferences, many tend to opt for the Pakistani specialties when visiting Monal. Although the prices at Monal Downtown are relatively higher, the delectable food and delightful atmosphere make it a worthwhile experience. Additionally, Monal Downtown offers economical individual platters that combine multiple items, such as the Pakistani Platter, Chinese Platter, Thai Platter, and Italian Platter, making it suitable for smaller groups.
Whether it's family dinners, birthday celebrations, special occasions, or event catering, Monal Downtown accommodates all needs. The restaurant ensures impeccable service in every aspect and even offers a Sunday Brunch from 10 AM to 2:30 PM at a price of Rs 1035 + tax.
Monal Downtown Contact Details: Website: http://rwp.themonal.com/ Address: Saddar, Rawalpindi, Punjab 46000 Contact Number: (051) 5130365 Timings: 8 AM – 12 PM
Mei Kong Restaurant Rawalpindi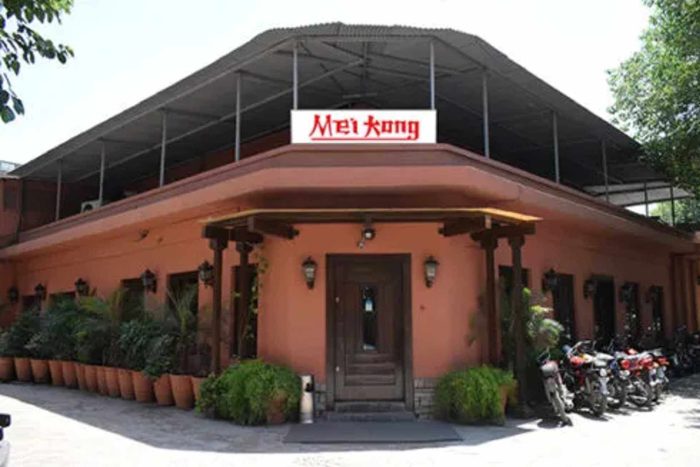 Mei Kong is an established Chinese restaurant located in Saddar, Rawalpindi, with a legacy of serving customers for several decades. Mei Kong holds the distinction of being one of the pioneering restaurants that introduced authentic Chinese cuisine in Pakistan. The restaurant features a traditional Chinese ambiance, adorned with red lanterns, dim lights, and modern furniture.
The family-oriented ambiance, cooperative staff, and efficient service make Mei Kong a reliable choice for those seeking classic Chinese dishes like Hot n Sour Soup, Chicken Manchurian, and Egg Fried Rice. Mei Kong offers a wide variety of options in chicken, beef, and seafood dishes, catering to different preferences. While the prices at Mei Kong are not significantly lower compared to newer Chinese restaurants like Asian Wok, their serving sizes are relatively more generous. A single main dish at Mei Kong is sufficient to serve 3-4 people comfortably.
Mei Kong has recently introduced a Lunch cum Hi Tea buffet, offering more than 20 items for just Rs 1250 + tax. The buffet includes Chinese dishes, BBQ, bakery items, and more. Children below the age of 6 can enjoy the buffet for free, while a 50% charge is applicable for children between 6 and 10 years old.
Mei Kong Saddar Contact Details: Address: 32 Haider Rd, Saddar, Rawalpindi, Punjab 46000 Contact Number: (051) 5566577 Timings: 12:30 PM – 3:00 PM, 6:30 PM – 12:00 AM
Texas Steakhouse Saddar Rawalpindi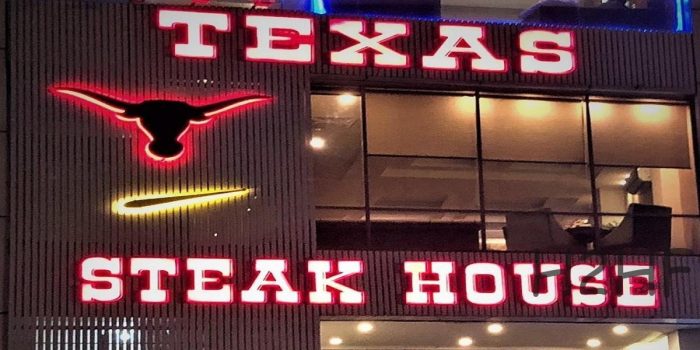 If you're in search of a premium-cut beef steak in Saddar, Rawalpindi, Texas Steakhouse is the place to visit. Alongside steaks, the restaurant offers a delectable selection of Mexican and Italian cuisine. Upon entering Texas Steakhouse, guests are transported to the rustic ambiance of Texas, with its distinctive decor, including cowboy hats and horse seats, adding to the overall experience. The cozy and dimly lit atmosphere enhances the dining experience.
The menu at Texas Steakhouse is focused on delivering quality steaks. From mild to spicy sauces, there is a variety of options to choose from. Specialties include the Tarragon Steak for those seeking a familiar taste and the French Onion Steak for those looking for something different. In addition to steaks, the menu offers burgers, sandwiches, grilled chicken, seafood, and delectable desserts. The Malt Cake from their dessert menu is highly recommended. It is important to note that Texas Steakhouse is relatively expensive, as is customary for steakhouses.
Texas Steakhouse also has a branch in E-7, Islamabad. With the relaxation of restrictions, the restaurant now offers indoor dining to vaccinated individuals holding a valid certificate. It is important to adhere to safety measures, such as wearing masks and maintaining social distancing, even for those who have received the vaccine.
Texas Steakhouse Saddar Rawalpindi Contact Details: Address: Adam Jee Rd, Saddar, Rawalpindi, Punjab 46000 Contact Number: (051) 5792132 Timings: 12 PM – 12 AM
Ox & Grill Steakhouse Saddar Rawalpindi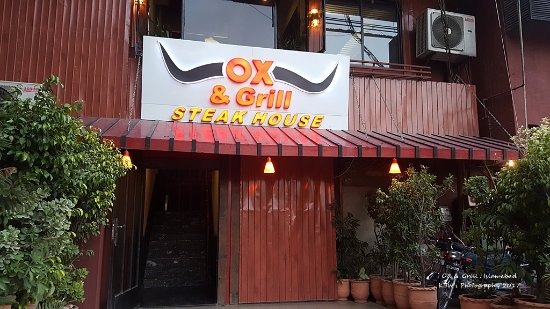 Ox & Grill Steakhouse, known for its delectable food and great ambiance, has gained popularity among steak lovers. This particular branch is located on Murree Road in Saddar, Rawalpindi, offering a convenient location for customers who visit the main Saddar Bazar for shopping. The restaurant provides a cozy and relaxed atmosphere, perfect for enjoying flavorful and delicious food. Unlike crowded and noisy places, Ox & Grill Steakhouse offers comfort and tranquility, making it one of the best dining options in Saddar, Rawalpindi.
The restaurant's interior design is simple yet trendy, with a predominantly red color theme. The comfortable sofas and appropriate lighting contribute to a pleasant dining experience. The staff is always ready to assist in selecting the perfect order, and they often surprise customers with complimentary desserts. The menu at Ox & Grill Steakhouse offers a variety of options, including steaks, burgers, sandwiches, grilled chicken, pasta, and seafood such as Fish n Chips, a perennial favorite. The restaurant also has a separate bar that serves cocktails, making it an ideal spot to enjoy a refreshing drink during the summer. Additionally, the limited dessert menu features delicious treats.
For a long time, Ox & Grill Steakhouse has been offering a lunch deal where customers can enjoy a 50% discount on their second entree. The discount applies to the item with the lower price, providing a significant saving opportunity. With indoor dining now available, it's the perfect time to plan a dinner at Ox & Grill Steakhouse and savor their delightful offerings.
Ox & Grill Contact Details: Address: Rafiq Sehgal Street, Murree Rd, Saddar, Rawalpindi, Punjab 46000 Contact Number: (051) 5130023 Timings: 12 PM – 12 AM
Ranchers Saddar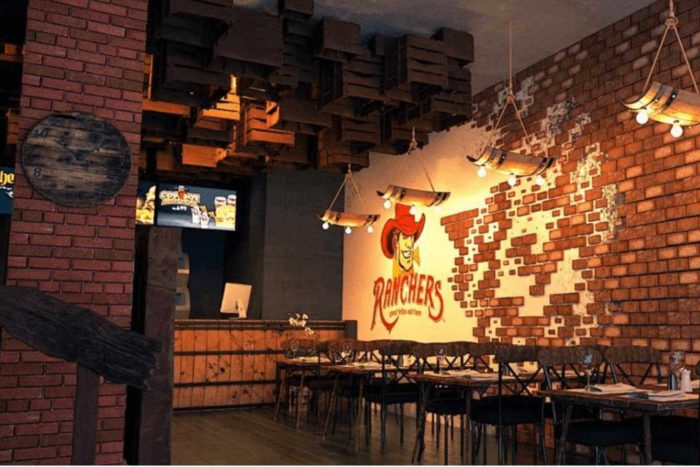 Ranchers, a popular burger house with branches in I-8 Markaz, Islamabad, and Saddar, Rawalpindi, is known for serving the best, biggest, and juiciest burgers in town. The restaurant takes pride in providing food that fills your mouth and satisfies your hunger. Ranchers stands out with its mouthwatering burgers and maintains a vibrant atmosphere, making it a lively and enjoyable dining destination.
The restaurant attracts a large crowd, predominantly young boys, who have hearty appetites. Ranchers is well-suited to satisfy their hunger with its generously-sized burgers, offered at highly reasonable prices. Ranchers guarantees an unbelievable price for their large burgers, ensuring customers return for more. The restaurant offers amazing deals that cater to various budget limitations, providing options for everyone.
Ranchers specializes in beef and chicken burgers, available with single or double patties, depending on individual preferences and appetites. In addition to burgers, they offer a range of affordable pizzas and various side dishes. One of their popular snacks is the Frizza, a combination of fries and pizza priced at just Rs 299. Visit Ranchers and give in to the temptation of their delectable offerings.
Ranchers Saddar Rawalpindi Contact Details: Website: https://rancherscafe.com/ Address: Rizwan Arcade, Adam Jee Rd, Saddar, Rawalpindi, Punjab 46000 Contact Number: (051) 5120558 Timings: 11:30 AM – 12:30 AM
Marco Polo Saddar Rawalpindi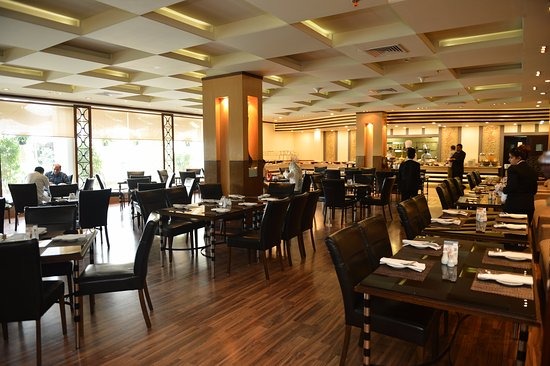 If you're planning a special occasion or a business lunch and looking for a fine dining experience, Marco Polo is the restaurant to consider. Located in Saddar Rawalpindi at PC Hotel, Marco Polo offers a fusion of desi and Western-style food, making it a great choice to introduce foreign guests to Pakistani cuisine with a unique twist. The restaurant provides a soothing environment where you can sit back, relax, and enjoy a family lunch or engage in discussions about your next project.
As part of the Pearl Continental Hotel, Marco Polo is designed luxuriously, reflecting its upscale nature. The prices are on the higher side, making it a more exclusive dining option. The restaurant offers an à la carte menu as well as hi-tea buffets and weekend brunches, providing a wide variety of choices including Pakistani specialties, continental dishes, Italian cuisine, and much more.
There is no strict dress code at Marco Polo, allowing you to dress comfortably while maintaining a decent appearance. The restaurant is now open for indoor dining, so be sure to check out the deals, discounts, and buffet menus they have on offer.
Marco Polo PC Rawalpindi Contact Details: Website: https://www.pchotels.com/pcrawalpindi/en/dining.html Address: Pearl Continental Hotel Rawalpindi Contact Number: 111 505 505 Timings: 6:30 AM – 11:30 PM
Hardee's Saddar Rawalpindi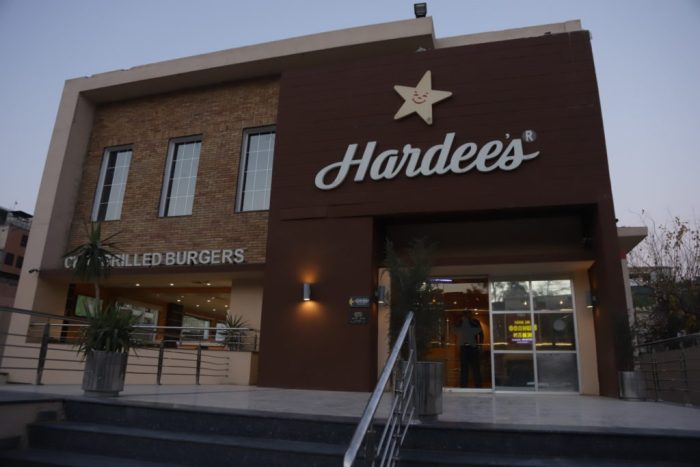 Among the many restaurants in Saddar Rawalpindi, one name that stands out is Hardee's. Known for its chargrilled burgers, Hardee's is an international fast-food chain with branches worldwide, including one in Saddar Rawalpindi. While the quality has reportedly declined recently, Hardee's remains a popular choice for fast food. During the COVID-19 pandemic, the restaurant temporarily closed its dine-in area but continued to serve customers through delivery and drive-thru services.
Hardee's is perfect for grabbing a quick meal, as its drive-thru service is efficient. The menu features a range of Angus burgers, chargrilled burgers in both chicken and beef options, sandwiches, wraps, and snacks such as tender bites and loaded fries. Additionally, Hardee's offers hand-scooped milkshakes in four flavors, including a special ice cream sandwich.
Don't forget to check out their deals and promotions. With the indoor dining area now open, you can enjoy your meal in a more comfortable environment or opt for takeout and enjoy it elsewhere at your convenience.
Hardee's Saddar Contact Details: Website: https://hardees.com/ Address: 41 Haider Rd, Saddar Cantt, Rawalpindi, Punjab 46000 Contact Number: 111 200 400 Timings: 11:30 AM – 1:00 AM
Habibi Restaurant Rawalpindi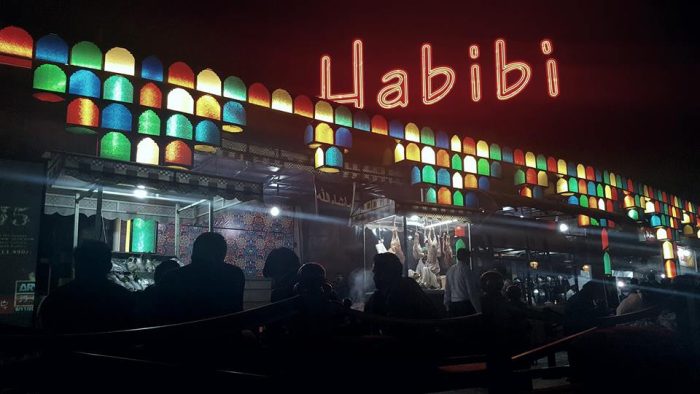 Habibi Restaurant is another great option for delicious traditional food in Rawalpindi. The restaurant is located on the bustling Food Street in Rawalpindi and features a charming interior with wooden decor and intricate glasswork.
The menu at Habibi Restaurant offers a variety of mouthwatering appetizers, main courses, and desserts. Their Habibi Special BBQ platter is a popular choice, priced at approximately Rs 1350. Other house specialties include Habibi Special Mutton Roast Boti, Special Taka Tak, Special Seekh Kabab, and more. Habibi aims to provide exclusive and premium traditional food at affordable prices.
In addition to its high-quality food and traditional fine dining experience, Habibi Restaurant is also known for its excellent service. It has quickly become a leading restaurant in its category, particularly for those who enjoy classical BBQ and flavorful meat dishes.
Habibi Restaurant Contact Info: Website: Habibi Restaurant Address: Cricket Stadium Rd, Shamsabad, Rawalpindi, Punjab Contact: (051) 4855047 Timing: Mon-Sat 12:00 PM – 1:05 AM
Nando's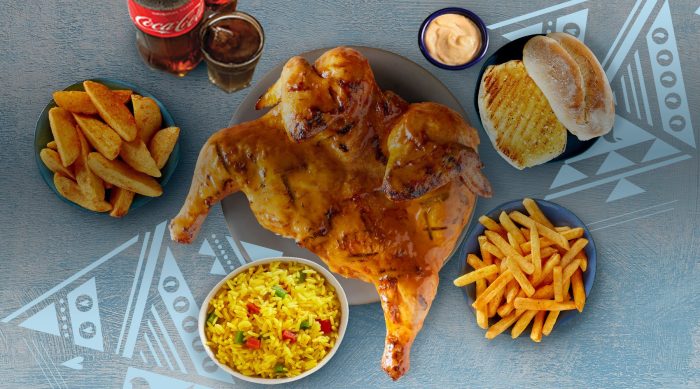 When it comes to Afro-Portuguese cuisine in Bahria Town, Rawalpindi, Nando's stands out as a true gem. Renowned for its delectable PERi-PERi flame-grilled chicken, this restaurant surpasses all others in the category, making it a must-visit for food enthusiasts. The flavorsome chicken, prepared to perfection, guarantees a memorable dining experience that will leave you craving for more.
Beyond its culinary excellence, Nando takes pride in its superb service, receiving numerous accolades for its warm and accommodating staff. Upon stepping foot in the restaurant, you're greeted with a welcoming ambiance, making you feel right at home. What's more, the added charm of live music performances enhances your dining pleasure, creating a vibrant atmosphere that adds to the overall enjoyment of your meal.
Make your way to Theme Park Avenue, Phase 7, Bahria Town, and prepare yourself for an unforgettable gastronomic adventure at Nando's.
Mindanos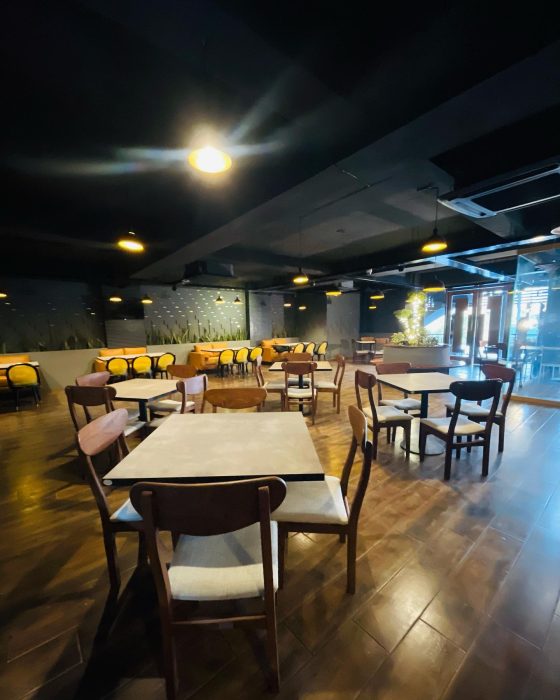 As culinary boundaries continue to blur, Mindanos in Rawalpindi stands as a testament to the growing love for international cuisine in Pakistan. This restaurant boasts a meticulously crafted menu, bringing together the finest flavors from around the world under one roof.
Indulge in mouthwatering chicken grilled paninis, savor the freshness of a Caesar salad, or delve into the indulgent pleasure of molten chicken lasagna. The diverse and carefully curated menu ensures that every palate finds something to relish, satisfying even the most discerning foodies.
Beyond the tantalizing meals, Mindanos offers a dining experience that is both elegant and inviting. The tasteful décor adds a touch of sophistication, while the homely ambiance ensures you feel comfortable and at ease throughout your visit.
For those seeking a culinary journey through various international delights, Mindanos is the destination to explore. Located on Bahria Food Street, Phase 7, Bahria Town, it promises an unforgettable dining experience that will keep you coming back for more.
Final Thoughts on 10 Best Restaurants in Rawalpindi
Rawalpindi's food scene is a true delight for Pakistani food lovers, offering an array of culinary treasures that satisfy every craving. From traditional and mouthwatering Desi dishes to innovative and fusion-inspired creations, this city's restaurants showcase the richness and diversity of Pakistani cuisine.
So, the next time you find yourself in Rawalpindi, be sure to embark on a gastronomic adventure, by trying out these recommended restaurants. From succulent kebabs to aromatic biryanis, each dish will take your taste buds on an enchanting journey.
In the end, we hope this food guide serves as your compass to navigate the delightful world of Pakistani flavors in Rawalpindi. Indulge in the unforgettable tastes, celebrate the cultural richness, and relish every moment as you embrace the food-loving spirit that brings people together. Happy dining!