It is with deep sadness that we share the news of the passing of the esteemed icon of Pakistani showbiz, Qavi Khan. On March 5, 2023, the veteran star bid farewell in Canada at the age of 80, concluding a remarkable career that spanned film, television, and stage. In this tribute, we aim to delve into the life, family, biography, and the causes behind the departure of this beloved figure.
Qavi Khan – Biography, Facts & Life Story
| Field | Information |
| --- | --- |
| Real Name | Muhammad Qavi Khan |
| Place of Death | Canada |
| Gender | Male |
| Date of Death | March 5, 2023 [1] |
| Nationality | Pakistani |
| Hair Color | Black |
| Height, Weight & Physical Stats | Bodytype: Slim |
| Eye Color | Black |
| Date of Birth | November 13, 1932 |
| Religion | Islam |
| Cause of Death | Cancer |
| Birthplace | Peshawar |
| Profession | Actor |
| Nickname | Qavi |
| Zodiac Sign | Scorpio |
Qavi Khan, an iconic actor, commenced his journey in the world of entertainment as a child actor on Radio Pakistan in Peshawar. Witnessing the nascent stages of television broadcasting, he transitioned to Pakistan Television Corporation in Lahore, marking the beginning of an illustrious career.
The actor, born in Peshawar and belonging to the Yousefzai Pashtun tribe, made an impactful entry into films in 1965, amassing over 200 films to his credit. His fame soared with the PTV drama serial "Andhera Ujala." Recognizing his significant contributions, he was honored with the Pride of Performance Award in 1980 and the Sitara-e-Imtiaz Award in 2012.
Qavi Khan's Life Journey 
Born on November 13, 1942, in Peshawar, Khyber Pakhtunkhwa, Pakistan, Qavi Khan's rich life journey was a tapestry woven with dedication and passion for his craft. His demise, marking the end of an era, transpired at the age of 80.
Qavi Khan's Family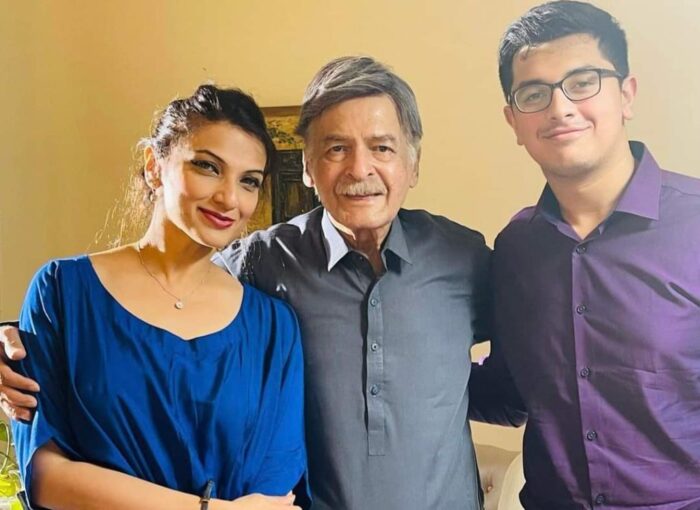 While Qavi Khan's professional life illuminated the screens, his personal life was anchored in family bonds. Residing in Canada, he shared his life with Naheed Qavi, whom he married in 1968. Together, they built a family comprising four children—two daughters and two sons.
In the family photograph, the rare glimpses of moments capture the warmth and unity that defined the Khan household. The names of the sons, Adnan Qavi and Mehran Qavi, echo through the family narrative, and both held their own in the drama series on PTV during the late nineties.
Adnan and Mehran 
The Khan legacy extends through Adnan and Mehran Qavi, the two eldest sons of Qavi Khan. While they once graced the screens in PTV drama series during the late nineties, their paths eventually diverged toward opportunities in the IT industry. The sons, having relocated to Canada, carved out success in their respective fields, embodying the resilience and adaptability characteristic of the Khan family.
Qavi Khan's Daughters 
Within the tapestry of Qavi Khan's family, two daughters, Mehnaz Qavi and a younger daughter, reside. While details about the younger daughter remain veiled, Mehnaz, along with her husband, has chosen England as their abode. Although the younger daughter's narrative remains shrouded in mystery, the family's ties extend across borders.
In a captured moment, the daughter-in-law of Qavi Khan is seen alongside her husband, Adnan Qavi, offering a glimpse into the family's shared joys and connections.
Qavi Khan's Health Struggles: A Battle Against Liver Cancer
The twilight years of Qavi Khan's life were marked by a valiant struggle against illness. Undergoing medical treatment at a hospital in Vaughan City, Canada, the veteran actor was grappling with the challenges posed by liver cancer. As revealed by his son, Adnan Qavi Khan, in an interview with Geo News, the iconic actor's battle with this formidable foe ultimately reached its conclusion.
In Memoriam: A Final Farewell to an Icon
On March 5, 2023, Qavi Khan bid adieu to the world, leaving behind a legacy etched in the annals of Pakistani showbiz. The actor's departure, triggered by the relentless onslaught of liver cancer, marked the end of an era.
As we pay our respects to this luminary of the entertainment industry, our thoughts echo prayers for his soul's eternal peace. May Allah grant him a place in Jannah, and may his contributions continue to resonate in the hearts of those who cherished his art.
Feel free to share your sentiments or additional insights into Qavi Khan's biography by leaving a comment below. Your thoughts are valued, and we'll incorporate them into this tribute.
Moreover, for the latest updates on Pakistani drama casts, actor profiles, and showbiz news, we welcome you to explore our website. Connect with us on Instagram and Facebook to stay abreast of the ever-evolving landscape of the entertainment world. Thank you for being part of our community.