When it comes to selecting a 125cc motorcycle in Pakistan, the Honda CG 125 undeniably emerges as the leading choice among riders. Renowned for its remarkable power and exceptional quality, this bike encompasses all the features and attributes that an avid motorcycle enthusiast desires. The enduring allure of the 125cc category remains unwavering, as it continues to captivate riders with its ideal balance of performance and maneuverability.
However, amidst the fervor and enthusiasm surrounding these bikes, the prevailing issue of inflation within the country has cast a shadow of uncertainty upon the hopes and aspirations of many riders. As prices soar, the dreams of acquiring a 125cc motorcycle have been dampened for numerous individuals. The relentless and rapid increase in prices over the past few months has reached staggering heights, leaving many potential buyers disheartened.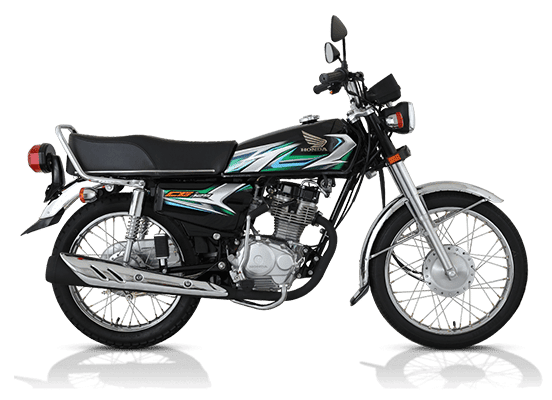 Given the circumstances, it becomes crucial to stay informed about the latest pricing details of the highly anticipated Honda CG 125 model for the year 2023. To address this need, we are pleased to provide you with all the comprehensive information and updates you require before the arrival of June. Whether you are a prospective buyer or an enthusiast seeking to stay up-to-date, we aim to equip you with the necessary knowledge to make an informed decision.
By delving into the specifics of the Honda CG 125 2023, we will uncover its innovative features, advancements, and improvements over its predecessors. Additionally, we will explore the various pricing options available, taking into account any potential modifications or additions that may affect the overall cost.
Overview of Honda CG 125
Honda has built a solid reputation for manufacturing reliable and trustworthy vehicles, and the Honda CG 125 2023 is no exception. This model has established itself as a robust and dependable bike, capable of tackling diverse road conditions while consistently delivering exceptional performance. With its focus on durability and longevity, the CG 125 is constructed using high-quality materials and components, ensuring that it can endure daily usage and regular wear and tear. As a result, this motorcycle retains its value and remains in excellent condition over time.
Reliable Performance:
One of the standout features of the Honda CG 125 is its relatively powerful engine, which sets it apart from smaller bikes in its class. This enhanced power output strikes a balance with fuel efficiency, making the CG 125 an ideal choice for both city commuting and occasional highway riding. Whether you're navigating through crowded urban streets or embarking on adventurous journeys, this motorcycle delivers the necessary performance to meet your riding needs.
Comfort and Ergonomics:
In addition to its impressive performance, the CG 125 boasts a well-thought-out ergonomic design that prioritizes rider comfort. Its upright seating posture, coupled with well-positioned handlebars, contributes to reduced fatigue, allowing for a comfortable riding experience even during long journeys. Honda understands the importance of rider comfort and has carefully engineered the CG 125 to ensure a relaxed and enjoyable ride, regardless of the terrain or distance covered.
Resale Value:
Investing in a Honda motorcycle, such as the CG 125, often proves to be a wise decision due to its strong resale value. If you decide to sell your bike in the future, you'll likely discover that it retains a significant portion of its original value. This aspect makes the CG 125 an excellent investment, as it not only provides a reliable and enjoyable riding experience but also holds its worth over time.
Specifications of Honda CG 125
Engine: The Honda CG 125 2023 is equipped with an air-cooled 4-Stroke OHV engine, ensuring efficient and reliable performance. Its bore x stroke measurements stand at 56.5 x 49.5 mm, contributing to its power delivery and overall capabilities.
Starting Mode: To ignite the engine, the CG 125 utilizes a kick start mechanism, allowing riders to easily start their journeys with a swift kick.
Transmission: The motorcycle features a constant mesh 4-speed transmission system, providing smooth and precise gear shifting for an enjoyable riding experience.
Fuel Capacity: The CG 125 has a petrol capacity of 9.2 liters, ensuring ample fuel for longer rides without frequent refueling stops.
Final Drive Type: A roller chain is employed as the final drive type in the CG 125, offering durability and efficiency in transferring power from the engine to the rear wheel.
Dimensions: The motorcycle's dimensions are measured at 1912 x 735 x 1026 mm (L/W/H), providing a balanced and proportionate structure that contributes to stability and maneuverability on the road.
Ground Clearance: With a ground clearance of 132 mm, the CG 125 allows riders to navigate over speed bumps and uneven terrains with ease, minimizing the risk of bottoming out.
Seat Height: The seat height of the CG 125 measures at 764 mm, offering a comfortable and accessible position for riders of various heights.
Suspension: The front suspension consists of a 103 mm telescopic fork, while the rear suspension features a 68 mm swing arm. This combination ensures a smooth and controlled ride, absorbing bumps and maintaining stability.
Wheelbase: The wheelbase of the CG 125 is measured at 1204 mm, providing a balanced distance between the front and rear wheels for enhanced stability and maneuverability.
Tires: The motorcycle is fitted with a 2.50 – 18 (4 PR) tire at the front and a 3.00 – 17 (6 PR) tire at the rear, offering optimal grip and traction on various road surfaces.
Weight: The CG 125 has a dry weight of 100kg, contributing to its agility and ease of handling for riders.
Honda 125 New Sticker 2023: In the latest model, Honda has introduced a new sticker design, providing a fresh aesthetic appeal to the motorcycle. Apart from this visual enhancement, the specifications and features remain unchanged from previous models, ensuring that riders can expect the same reliable performance and durability that the Honda CG 125 is renowned for.
Price of Honda CG 125 in Pakistan in 2023
As of now, the Honda CG 125 2023 is priced at PKR 275,900 in Pakistan. Please note that prices are subject to change as June approaches.