Hello, creative souls! Do you love bringing colors to life, turning simple outlines into vibrant masterpieces? Well, your iPad is not just a device; it's a canvas waiting for your artistic touch. In this blog post, we're diving into the world of the best coloring apps designed specifically for iPad users.
These apps are like magical coloring books, offering endless hues and shades at your fingertips. Whether you enjoy relaxing with intricate patterns or you love creating vibrant characters, these apps have something for every coloring enthusiast. Forget about the mess of physical paints and pencils; now, your imagination can run wild without any limits, all on your trusty iPad.
Top 10 Best Coloring Apps for iPad
Colorfy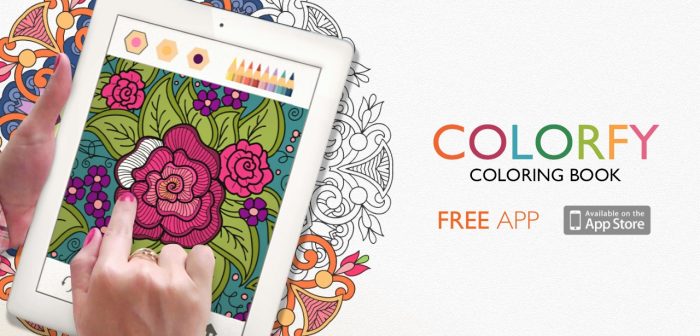 Colorfy transcends age barriers, offering a delightful coloring experience for both adults and children. With its intuitive interface, users can embark on a creative journey by selecting their preferred coloring task and simply tapping to apply vibrant hues. The app boasts a diverse array of brushes and gradient colors, empowering users to customize their pictures with unmatched flexibility. Featuring a vast collection of over a thousand pictures, Colorfy ensures endless artistic exploration. What sets Colorfy apart is its offline functionality, allowing users to edit pictures without interruptions. For those seeking enhanced features, upgrading to the premium version opens the door to a world of additional creative possibilities.
Pros:
Inclusive for All Ages: From children to adults, Colorfy caters to a wide audience, fostering creativity and artistic expression without age limitations.
Variety of Brushes and Gradient Colors: The app provides an extensive selection of brushes and gradient colors, enabling users to add intricate details and vibrant shades to their creations.
Additional Features: Colorfy offers supplementary features that enhance the coloring experience, ensuring users have access to diverse tools for their artistic endeavors.
Cons:
None: Colorfy's seamless functionality and feature-rich environment eliminate significant drawbacks, ensuring an enjoyable coloring adventure for all users.
Happy Color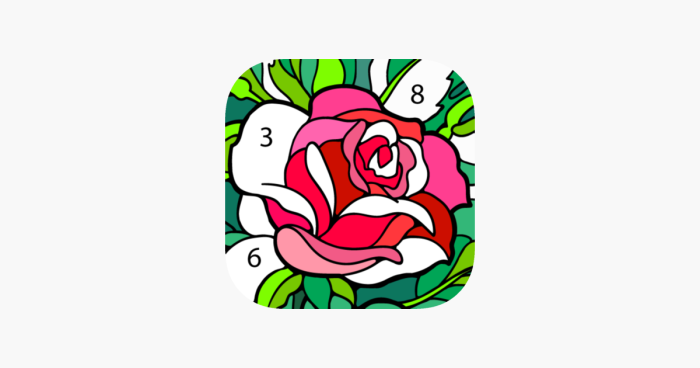 Happy Color transforms the art of coloring into an engaging numerical game, blending creativity with playfulness. This app offers users a unique experience, allowing them to explore their imagination while finding moments of fun and relaxation. Regardless of age or lifestyle, users can effortlessly navigate the app, selecting their favorite images to bring to life with vibrant colors. While the app is available for free, in-app purchases provide access to additional features, enriching the coloring journey. What sets Happy Color apart is its collaboration with Marvel and Disney, enabling users to paint beloved characters and superheroes. Moreover, the inclusion of art templates from diverse international artists promotes inclusivity and cultural appreciation.
Pros:
Exceptional User Experience: Happy Color ensures an outstanding coloring experience, merging creativity with entertainment, making each session enjoyable and satisfying.
Marvel and Disney Characters: Through strategic partnerships, users can immerse themselves in the world of Marvel and Disney, adding an extra layer of excitement to their creations.
Coloring Book for Me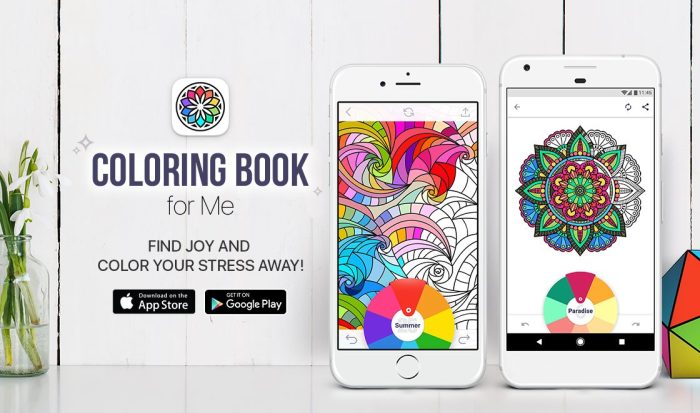 Coloring Book for Me stands as a pinnacle of digital creativity, offering a vibrant array of features. From unique mandalas to an extensive palette selection, this app caters to artistic expression. With over 20 diverse categories curated by exceptional artists, users can explore a world of creative possibilities. The innovative "Color with Photo" function elevates the experience, allowing real-time or camera roll photos to be seamlessly integrated into coloring pages. A thriving community aspect enables users to share, admire, and inspire through their artwork. Moreover, the app seamlessly supports the Apple Pencil, enhancing precision and creativity.
Pros:
High Quality: Coloring Book for Me maintains a standard of excellence, delivering high-quality illustrations and tools for users to create stunning artwork.
Create Your Palette: Unleash artistic freedom by customizing palettes, mixing and matching colors to craft unique and personalized shades.
Apple Pencil Support: Designed with precision in mind, the app fully supports the Apple Pencil, providing users with a seamless and responsive drawing experience.
Cons:
None: The app's robust features and user-friendly interface eliminate notable drawbacks, ensuring a smooth and enjoyable creative process.
Pigment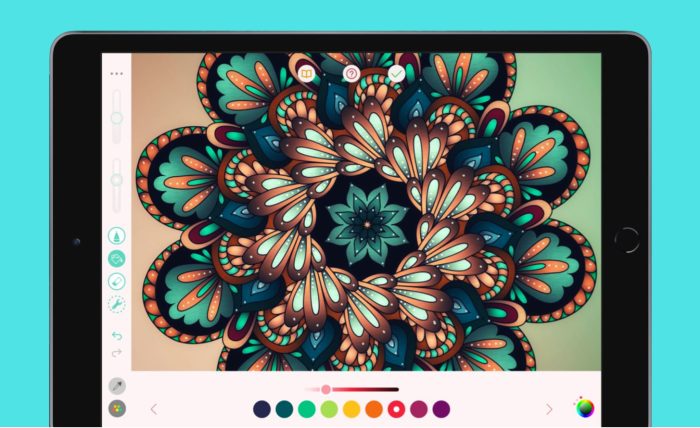 Pigment redefines the art of digital coloring, offering unparalleled versatility and a vast spectrum of creative tools. Users can explore a multitude of instruments, including pencils, markers, airbrushes, watercolors, and oil paints. The app's unique color mixing capability allows for the creation of intricate shading gradients, enhancing the depth of the artwork. Pigment offers three distinctive coloring modes: "Automatic" for seamless within-the-lines coloring, "Freehand" for a realistic coloring experience, and "Advanced" for a precise selection of specific areas to color simultaneously. The app's imaginative tools, such as the Fade and Broom brushes, add a touch of magic to designs, ensuring every creation is exceptional.
Pros:
Most Flexible Coloring Experience: Pigment provides an unparalleled level of flexibility, empowering users to explore various coloring techniques and styles.
Hundreds of Colors: Dive into a vast spectrum of colors, with the ability to mix and match shades, enabling the creation of visually stunning artwork.
Selective Coloring: The "Advanced" mode allows users to selectively color specific portions of an image, adding depth and creativity to designs.
Cons:
None: Pigment's feature-rich interface and diverse toolkit leave no room for notable drawbacks, ensuring an enriching and enjoyable coloring experience.
Lake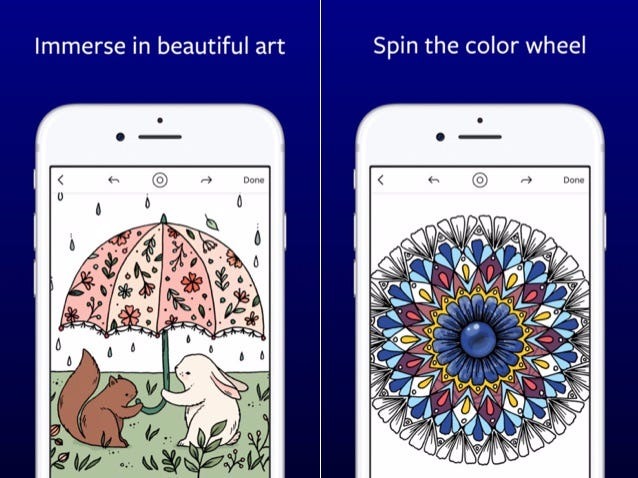 Lake provides a tranquil oasis where users can escape the bustle of everyday life by immersing themselves in the soothing art of coloring. Offering an extensive collection of more than 85 coloring books meticulously crafted by independent artists from around the world, Lake ensures a diverse and inspiring selection for users to explore. The app's intuitive toolkit includes a variety of brushes, from relaxing tones to convenient tap-to-fill options. With tools like spray, fill, eraser, watercolor brush, and acrylic brush, users have the creative freedom to bring their visions to life.
Lake encourages users to curate their favorite coloring books in the My List section, providing easy access to preferred designs. Additionally, the app features My Studio, where all ongoing projects are conveniently stored for seamless continuation. Catering to the preferences of Apple Pencil users, Lake offers support for this stylus, enhancing the precision of the coloring experience. The app further refines user interaction by incorporating features like a history palette displaying used colors and zoom in/out capabilities. With iCloud sync support, users can effortlessly transition between multiple iOS devices, ensuring a hassle-free coloring journey. While a subscription option is available, Lake also offers a free version, making the joy of coloring accessible to all.
Pros:
Rich Collection of Coloring Books: Explore a vast array of over 85 coloring books, each crafted by talented independent artists, offering a diverse range of themes and styles.
Intuitive Coloring Toolkit: Lake's toolkit includes brushes such as spray, fill, eraser, watercolor, and acrylic, providing users with versatile options to unleash their creativity.
Seamless User Experience: Features like My List and My Studio enhance user convenience, allowing easy organization of favorite designs and effortless continuation of ongoing projects.
Apple Pencil Support: Tailored for Apple Pencil users, Lake offers precise and responsive stylus support, enhancing coloring precision.
Cross-Device Compatibility: iCloud sync ensures a smooth transition between various iOS devices, allowing users to enjoy uninterrupted coloring sessions.
Cons:
None: Lake's thoughtful design and feature-rich environment eliminate notable drawbacks, providing an enjoyable coloring experience for users of all levels.
Recolor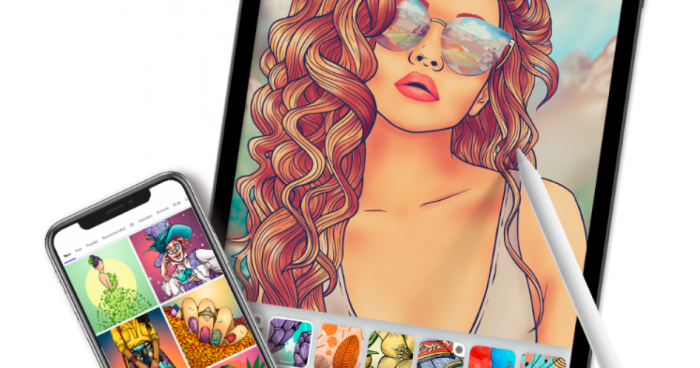 Recolor stands as a pinnacle of iOS coloring apps, boasting a remarkable collection of over 1,000 exquisite coloring pages. This expansive selection spans diverse themes, including Mandalas, Animals, Bouquets, Ornates, Low Polys, and Mortes, catering to a wide range of artistic tastes. The app's brilliance truly shines through its stunning and harmonious color schemes, transforming every stroke into a vibrant celebration of life and creativity. As users immerse themselves in the therapeutic act of coloring, Recolor becomes a powerful tool for stress relief and artistic expression.
Recolor offers users the option of membership, providing access to its extensive library of coloring pages for a subscription fee of $3.99 per week, $9.99 per month, or $59.99 per year.
Pros:
Expansive Coloring Pages: With a collection of over 1000 excellent coloring pages, Recolor ensures endless creative exploration, covering a diverse array of themes.
Harmonious Color Schemes: The app's meticulously curated color palettes enhance the visual appeal of every design, elevating the coloring experience to an artistic masterpiece.
Stress Relief and Artistic Expression: By engaging in the act of coloring, users find solace and creative expression, making Recolor a valuable tool for relaxation and artistic fulfillment.
Recolor's vast library of high-quality coloring pages and its emphasis on harmonious color schemes make it a standout choice for users seeking both artistic satisfaction and stress relief. With its subscription model, Recolor offers a premium coloring experience for enthusiasts of all levels.
Colorest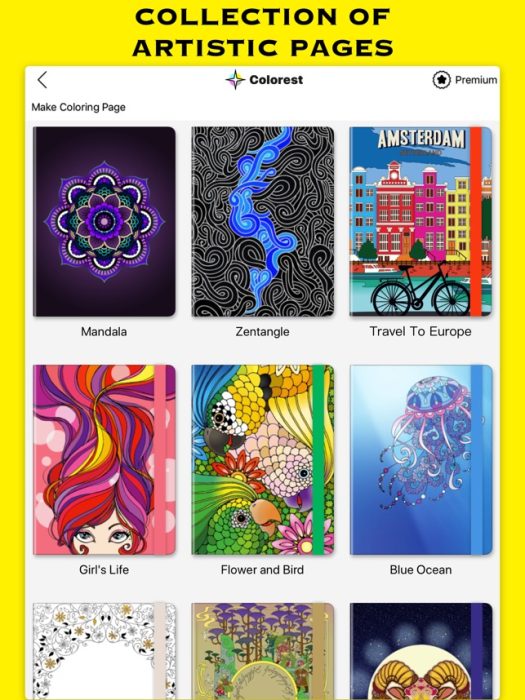 Colorest stands as a vibrant canvas for your creativity, offering a diverse and expressive adult coloring book experience. This app provides a plethora of options to let your imagination soar. With Colorest, you're not just coloring; you're crafting masterpieces. One of its standout features is the availability of various colored pencil sets, including the enchanting rainbow and glitter pencils. These pencils add a mesmerizing shimmer to your creations, with the rainbow pencil alone displaying around six colors simultaneously, providing an unparalleled effect.
The app offers a wide array of coloring options, allowing you to experiment with different brushes and fully utilize the precision of the Apple Pencil. But the creative journey doesn't stop there; Colorest provides multiple canvas types, ranging from underwater scenes to intricate carpet designs and even the rustic beauty of wood textures.
Colorest's diverse range of coloring books ensures there's something for everyone, whether you're captivated by the intricate patterns of Mandalas or the enchanting world of Interweave Girl's Life. Once your masterpiece is complete, Colorest lets you share your artwork with friends and family by placing it in an Augmented Reality frame, adding a touch of magic to your creations.
Pros:
Diverse Colors and Effects: Colorest offers a wide selection of colors and effects, including unique options like rainbow and glitter pencils, allowing for truly expressive and captivating artwork.
Versatile Coloring Options: The app provides various brushes and complete Apple Pencil compatibility, giving you the tools to bring your artistic visions to life.
Multiple Canvas Types: Explore different canvas types, such as underwater and wood textures, enhancing the diversity of your coloring experience.
Sharing Magic: Colorest lets you share your creations with loved ones by placing your artwork in Augmented Reality frames, adding a delightful interactive element.
Cons:
None: Colorest's feature-rich environment ensures an enjoyable and creative coloring experience without notable drawbacks.
Coloring Pages for Color Therapy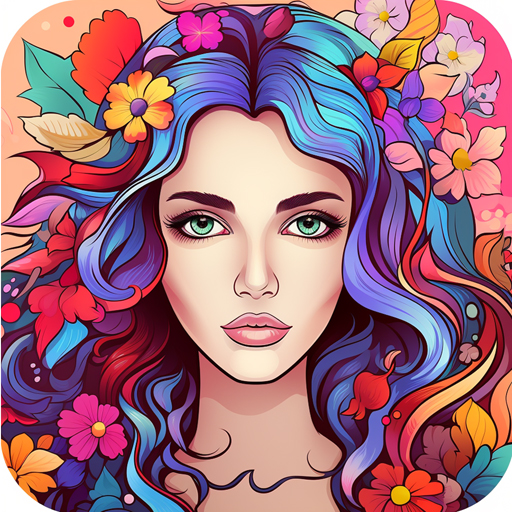 If you find solace in the art of mindful coloring, Coloring Pages for Color Therapy is your sanctuary. This app elevates coloring to a therapeutic experience, enhancing mindfulness and providing a moment of tranquility amid the hustle and bustle of life. By immersing yourself in the process of coloring, you can enhance your sense of mindfulness and inner calm.
Coloring Pages for Color Therapy offers a vast collection of over 5000 coloring pages, spanning diverse themes such as Mandala, floral designs, animals, scenic locations, intricate patterns, and more. These intricately designed pages serve as a canvas for your creativity, allowing you to explore various coloring techniques and styles.
The app provides a selection of realistic techniques, including the flat brush, airbrush, and oil painting, enabling you to experiment with different textures and shading effects. You have the freedom to choose from a wide range of line colors and endings, allowing for detailed and nuanced coloring. One of the standout features is the smear function, which seamlessly blends colors, adding depth and richness to your creations.
While the base features of the app are accessible for free, premium options are available for those seeking an even more immersive and personalized coloring experience.
Pros:
Mindfulness Enhancement: Coloring Pages for Color Therapy promotes mindfulness, offering a serene and meditative coloring experience that fosters inner peace.
Diverse Themes: Explore a vast array of themes, from Mandala to nature-inspired designs, providing endless creative inspiration.
Realistic Techniques: The app offers realistic coloring techniques like flat brush, airbrush, and oil painting, enabling intricate and lifelike coloring.
Seamless Color Blending: The smear feature allows you to blend colors seamlessly, creating smooth transitions and enhancing the overall depth of your artwork.
Cons:
Premium Features: While the base app is free, premium features require additional payment for access, limiting some advanced options to paying users.
Adult Coloring Book
Adult Coloring Book stands as a beacon of creative freedom, offering an unparalleled variety of meticulously crafted images to inspire your artistic endeavors. With an extensive collection of beautifully designed coloring pages, this app ensures that boredom is a thing of the past. Its diverse range of images caters to a wide array of preferences, ensuring that everyone can find something that resonates with their artistic spirit.
One of the app's standout features is its vast color palette, allowing you to infuse your creations with the exact hues you envision. While the app offers a delightful selection of free coloring pages, you can elevate your experience by subscribing to its premium edition. By opting for the premium version, priced at $2.99 per week, $4.99 monthly, or $22.99 yearly, you gain access to an extensive library of books and color schemes, providing endless inspiration for your coloring adventures.
Pros:
Endless Entertainment: Adult Coloring Book offers an endless array of coloring pages, ensuring hours of engaging entertainment.
Wonderfully Crafted Images: The app features meticulously designed images that capture the essence of creativity, providing a delightful canvas for your coloring skills.
Varied Color Options: With a diverse color palette, you have the freedom to bring your artistic visions to life with precision and vibrancy.
Cons:
None: Adult Coloring Book provides a seamless and enjoyable coloring experience without significant drawbacks.
Colorgram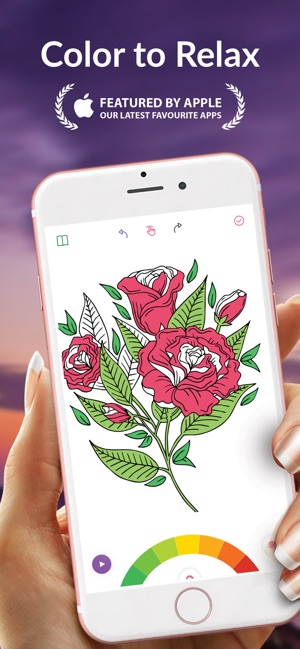 Colorgram invites you into a vibrant world of creativity, where technology and artistry seamlessly converge. This app offers a rich tapestry of coloring options, including intricate mandalas, mesmerizing patterns, graceful animals, and delicate flowers. With a collection of 2,500 coloring pages spanning over 19 categories, Colorgram ensures there's something for every artistic preference.
Designed with both adults and younger users in mind, Colorgram's diverse range of pictures and extensive palette of colors cater to a wide audience. The app doesn't just stop at coloring; it fosters a sense of community through its vibrant time-lapse feature. With this feature, you can watch captivating time-lapse videos of your coloring process, from the initial strokes to the final masterpiece.
Additionally, Colorgram offers a premium membership, starting at $4.99, providing access to even more inspiring content. With a premium membership, you can explore a thriving time-lapse community and apply mesmerizing effects to enhance the visual appeal of your artwork.
Pros:
Vibrant Time-lapse Community: Immerse yourself in a lively time-lapse community, witnessing the creative processes of fellow artists and enthusiasts.
Inclusivity: Colorgram caters to both adults and younger users, offering a diverse range of images and colors suitable for various age groups.
Enhanced Artwork: Apply stunning effects to elevate the attractiveness of your creations, adding an extra layer of visual appeal.
Cons:
In-App Purchases: While the app is free to download, it offers in-app purchases, with additional content and features available through various subscription plans starting at $4.99.
Final Thoughts on Best Coloring Apps for iPad
As we conclude our colorful journey through the best coloring apps for iPad, we hope you're feeling inspired and ready to dive into a world of creativity. These apps have transformed the way we express ourselves, turning our iPads into portals of imagination and artistic wonder.
The joy of coloring isn't just about filling spaces; it's about blending shades, creating gradients, and adding your personal touch to every stroke. With these apps, your creativity knows no bounds. From intricate mandalas to whimsical characters, you can explore various styles and techniques, all in the palm of your hand.
These digital coloring experiences offer not just a canvas, but a sanctuary. A place where you can unwind, de-stress, and let your creativity flow freely. And the best part? No limits, no restrictions – just endless possibilities and the joy of creation.
So, don't hesitate to immerse yourself back into these apps, try new palettes, experiment with textures, and let your artistic spirit soar. Your iPad isn't just a device; it's a gateway to a world of colors and creativity.
Here's to the magic of digital art, the thrill of self-expression, and the endless beauty of your imagination. Happy coloring, and may your artistic adventures continue to brighten the world, one stroke at a time! 🌈✨
Further Readings
Best Manga reader apps for iphone
Best apps for downloading mp3 songs