Pakistan has truly produced some of the most awe-inspiring talents the cricketing world has ever seen. Renowned for their sheer pace, lethal deliveries, and ability to swing the ball both ways, these express pacers have left a lasting impact on the game.
Each fast bowler in this list has a distinct style and flair that sets them apart, but they all share a common trait – the ability to intimidate batsmen and take wickets in crucial moments. The sight of a Pakistani fast bowler steaming in with a red ball in hand, ready to unleash a fiery bouncer or a searing yorker, is enough to send shivers down the spine of any opposition.
From the iconic heroes of yesteryears to the rising stars of today, Pakistan's tradition of producing exceptional fast bowlers continues to thrive. These players have not only brought pride and glory to their nation but have also left an indelible mark on the rich tapestry of cricket history. So without further ado let's look into the Top 10 Best Pakistani bowlers of all time.
List of Top 10 Best Pakistani bowlers of all time.
10- Aaqib Javed: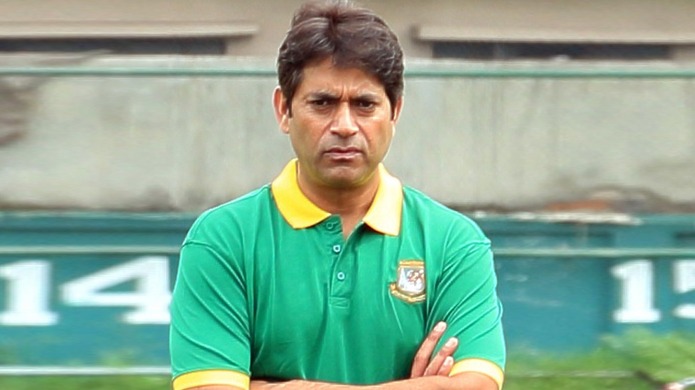 Aaqib Javed Sandhu, a talented Pakistani fast bowler, possessed all the attributes of a formidable cricketer: a silky smooth run-up, a visually appealing action, aggressive bowling, decent pace, and the ability to swing the ball both ways. He made his debut for Pakistan at the young age of 16 and played a total of 22 Tests and 163 ODIs during his relatively short cricketing career, which lasted just a decade, concluding in 1998 when he was 26 years old.
Javed's career overlapped with the era of two legendary Pakistani fast bowlers, Waqar Younis and Wasim Akram, who were dubbed the "two W's." While he had immense talent and potential, competing alongside these cricketing icons limited his opportunities and affected his chances of a more successful and prolonged career.
Moreover, Aaqib Javed's career was marred by his vocal opposition to match-fixing during the 90s, implicating both Akram and Younis. This may have resulted in him being sidelined and discarded earlier than expected, given the superstar status and unparalleled talents of the other two bowlers.
Despite the challenges, Javed had some memorable moments in his cricketing journey. Notably, his exceptional performance of 7-37 against India in 1991, at the age of 19, remained the best bowling figure in ODI cricket for nearly a decade. He achieved this feat with a hat-trick, making him the youngest bowler to achieve such a milestone. Additionally, he was known for elevating his game against India, evident from his lower bowling average of 24.64 against them compared to his overall ODI bowling average of 31.43. Furthermore, Javed was part of Pakistan's triumphant 1992 World Cup-winning squad.
Despite his relatively short career, Aaqib Javed's impact and contributions to Pakistani cricket remain noteworthy, leaving a lasting impression on fans and fellow cricketers alike.
9- Umar Gul: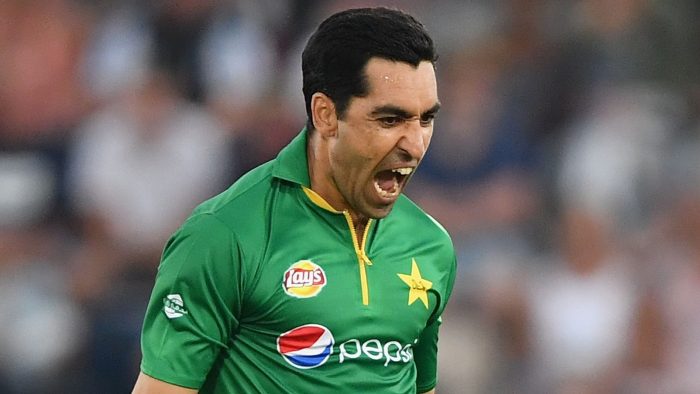 Umar Gul, hailed as one of Pakistan's greatest-ever T20I fast bowlers, had a remarkable cricketing journey with its fair share of challenges. His entry into the national side came after Pakistan's disappointing 2003 World Cup campaign, where he replaced cricketing legends Wasim Akram and Waqar Younis. He made an explosive debut against a strong Indian batting lineup in 2003, but unfortunately, a back injury soon sidelined him for over a year.
Gul's realization that the five-day format was physically taxing led him to focus on shorter formats, particularly ODIs and T20Is. His mastery of bowling swinging yorkers made him a nightmare for batsmen in the death overs. Gul played a crucial role in Pakistan's journey to the final of the 2007 World T20 and their victorious campaign in 2009, finishing as the leading wicket-taker in both tournaments.
Injuries posed a significant challenge throughout Gul's career, impacting his performance and sidelining him at various points. Despite this, he continued to impress with his skills and was once considered the world's best T20 bowler.
As a talented fast bowler with fierce determination, Umar Gul's contributions to Pakistani cricket, especially in the T20 format, earned him a well-deserved place among the country's cricketing greats.
8- Mohammad Asif: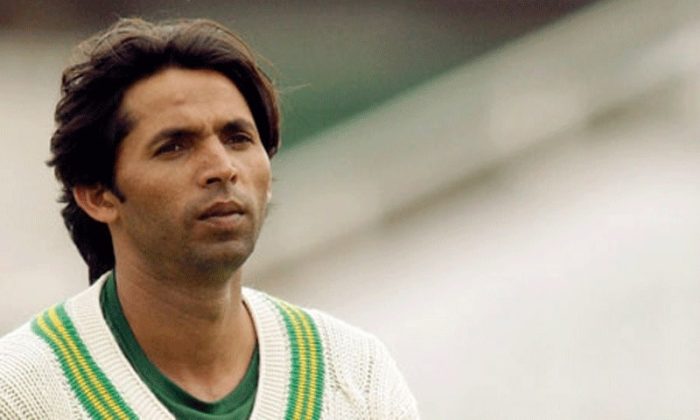 Mohammad Asif, known for his remarkable talent and skill as a fast bowler, played a limited number of international matches for Pakistan, with only 91 appearances across all three formats. Despite his relatively low number of career appearances, his exceptional ability to move the ball off the surface in various directions set him apart as a cricketing gem.
Asif's bowling prowess was revered, and he was often likened to the great Wasim Akram in terms of talent and technique. His ability to strategize, bait, and deceive batsmen made him a formidable force on the field. However, his international career faced setbacks due to doping and drug-related issues, which led to intermittent bans and controversies. In 2015, the ICC lifted the ban imposed on him, but his career had already been cut short by whatever happened in 2010.
Despite the controversies, Asif's skillful bowling left a lasting impact on cricket enthusiasts and experts. With an impressive record of 106 wickets in just 23 Tests at an average of 24.36, Mohammad Asif's brilliance as a bowler secured him a spot among Pakistan's cricketing greats. His ability to skillfully manipulate the ball earned him a place on this list, celebrating his undeniable craft over the limited career appearances.
7- Mohammad Amir: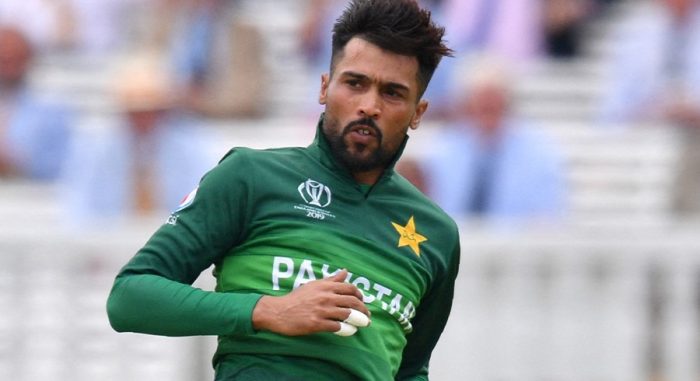 Pakistan has always been fortunate to witness young talents with immense potential, but none shined brighter at the tender age of 17 than Mohammad Amir. His exceptional skills and maturity for his age had experts envisioning a career that could surpass even the great Wasim Akram. Amir's ceiling was set incredibly high, and he was considered the heir to Akram's legacy.
However, his promising journey took a hit in the summer of 2010 when he became involved in a controversy that resulted in a ban from cricket. While Amir returned to the game, he could never fully recapture the magic of his earlier years. The post-ban Amir, though effective, had to adjust his style, becoming more focused on line-and-length bowling rather than relying solely on pace and swing. He still displays flashes of his old brilliance, but it's not as consistent as before.
At just 27 years old, Amir has time to rebuild his legacy and climb higher on this list. However, his decision to quit Test cricket and his performances outside England, where he excels, may hinder his ascent. Unless he leads Pakistan to another major title and consistently performs at his best, his chances of surpassing some of the cricketing greats ahead of him might be slim.
119 wickets in 36 Tests @ an average of 30.47 Finest moment: Six-for against England at Lord's as a teenager
6- Sarfraz Nawaz: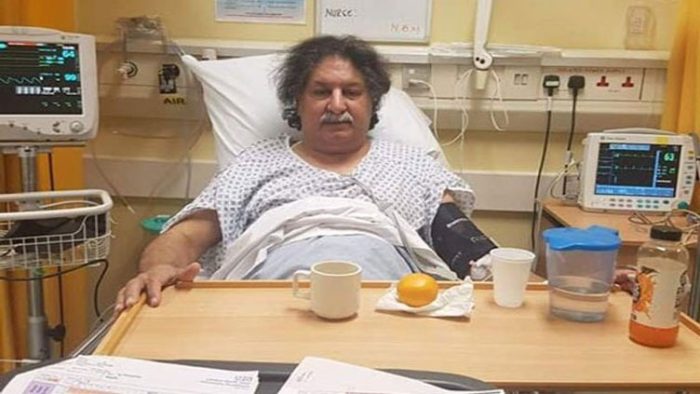 When you think of a typical Pakistani fast bowler, an image of a big, strong figure with broad shoulders, flowing locks, and an intimidating stare comes to mind. The stereotype is often associated with the legendary Imran Khan, but the true pioneer of this archetype was Sarfraz Nawaz. Imran Khan may have perfected it, but Nawaz was the original prototype.
One of Nawaz's most significant contributions to the sport was his invention, or at least perfection, of the art of reverse swing. He laid the foundation for many great careers, including those of Khan, Wasim Akram, and Waqar Younis, who later became Pakistan's superstar pacers.
Nawaz's impact extended beyond his innovation, as he caused substantial damage on the field, especially against the formidable Australian team. He once bowled a devastating spell, taking seven Australian wickets for just one run in 33 deliveries. The Aussies went from 305/3 to 310 all-out, with Nawaz claiming a total of nine wickets in that innings, leaving only one batsman run out.
Today, many teams have bowlers who can reverse swing, and this owes a debt of gratitude to the burly Punjabi, Sarfraz Nawaz, who not only created the magic formula but also shared it generously with the next generation.
63 wickets in 45 ODIs @ an average of 23.22
5- Shoaib Akhtar: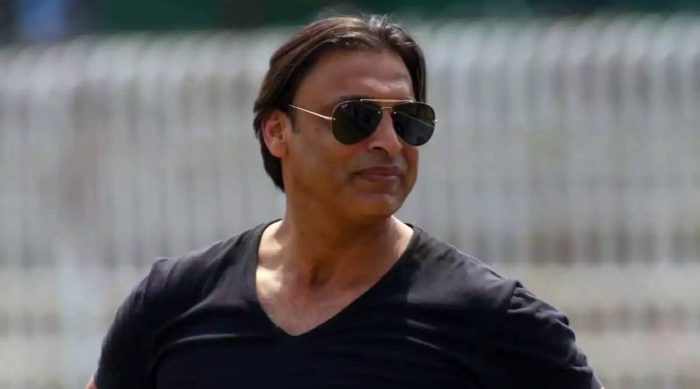 Shoaib Akhtar, famously known as the "Rawalpindi Express," is arguably one of the most controversial cricketers in history. His career was riddled with injuries, doping controversies, ball-tampering allegations, and clashes with fellow players and cricket boards. Despite the baggage, he possessed an unmatched talent as the fastest and fiercest bowler the world has seen.
Underneath the theatrics and controversies, Akhtar displayed an impressive playing career, taking 444 wickets across all formats at a combined average of 24.4. These numbers are exceptional, even by the highest standards. His ability to win matches singlehandedly, even on challenging Asian wickets, set him apart from other pacers.
Notably, he silenced the hostile crowd in Kolkata, India, with a remarkable performance against names like Sachin Tendulkar. In Lahore against New Zealand, he took a remarkable six-wicket haul, displaying his ability to demolish batting line-ups. He played a crucial role in Pakistan defending a modest 169-run target against South Africa.
However, it is regrettable that his on-field achievements have been overshadowed by his controversies in our memories. Akhtar's ferocious feats deserve to be remembered and celebrated for their true greatness.
247 wickets in 163 matches @ an average of 24.97 Finest moment: Silencing the hostile Kolkata crowd
4- Imran Khan: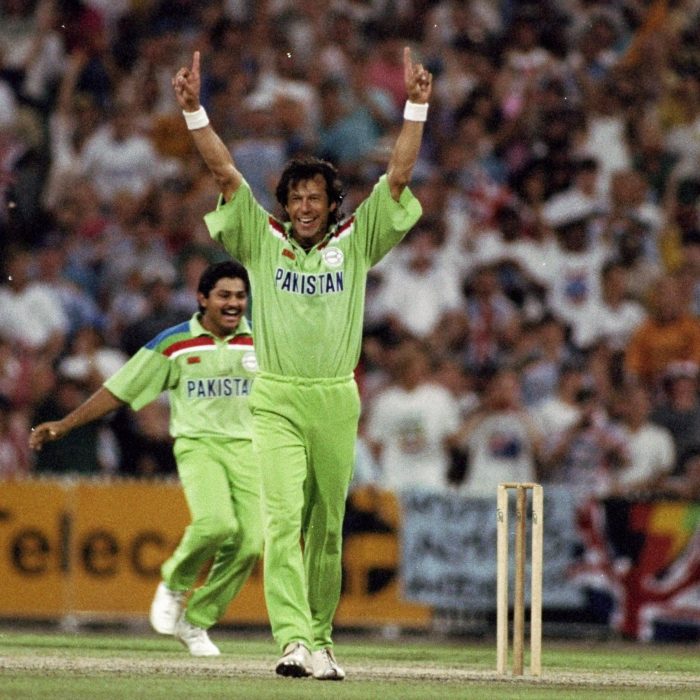 Imran Khan, widely regarded as the greatest and most successful cricketer in Pakistan's history, is celebrated as one of the finest all-rounders the game has ever seen. His remarkable career statistics boast over 500 wickets and more than 7000 runs, a testament to his exceptional skills with both bat and ball.
Born into a Pashtun family in Lahore in 1952, Imran Khan's cricketing journey began at a tender age. Making his debut for the Pakistan cricket team at just 18 years old against England in 1971, he quickly established himself as a force to be reckoned with on the international stage. His leadership qualities were evident early on, foreshadowing the iconic role he would later play as the captain of the Pakistan cricket team.
One of the defining moments of Imran Khan's illustrious cricketing career came in 1992 when he led the Pakistani team to a historic victory in the Cricket World Cup held in Australia. Under his captaincy, Pakistan achieved the pinnacle of success, etching their name in cricketing history and bringing glory to the nation.
Beyond his sporting achievements, Imran Khan ventured into the world of politics, demonstrating his passion for serving the people of Pakistan. As a prominent political figure, he founded the Pakistan Tehreek-e-Insaf (PTI) party and played a pivotal role in shaping the nation's political landscape.
3- Saqlain Mushtaq: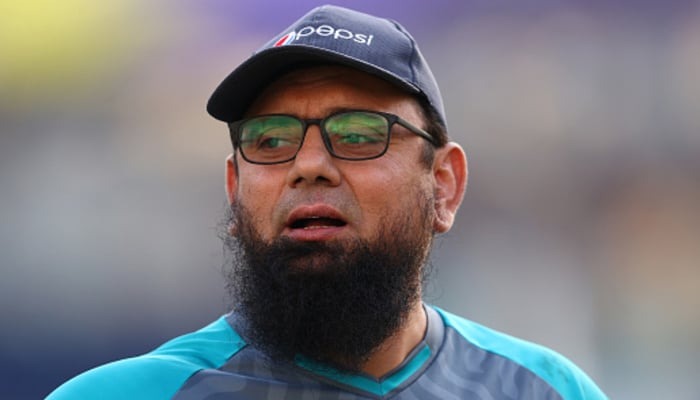 Among Pakistan's finest spin bowlers, Saqlain Mushtaq left an indelible mark on the history of cricket. Hailing from Pakistan, he later ventured into coaching and made significant contributions to the sport, even as a British Pakistani cricket coach.
Saqlain's specialty was spin bowling, and he was renowned for pioneering the "doosra" – a deceptive delivery that spun away from right-handed batsmen. His crafty spin bowling prowess earned him accolades, and he is revered as one of the best spin bowlers in the game's history.
In his stellar career, Saqlain secured 208 wickets in 49 Test matches and an impressive 288 wickets in 169 ODI matches. His contributions to Pakistan cricket as both a player and a coach have left an enduring legacy and continue to inspire young cricketers to embrace the art of spin bowling.
2- Waqar Younis: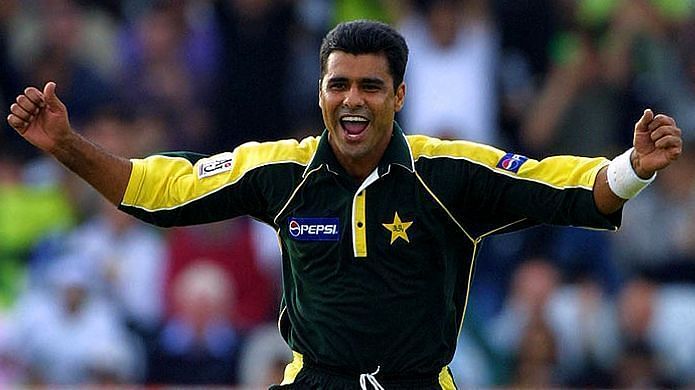 A standout figure in Pakistan cricket, Waqar Younis, was an exceptional bowler who formed a formidable partnership with Wasim Akram. Serving as the captain of the Pakistan cricket team at one point, Waqar's prime weapon was his mastery of reverse swing bowling, particularly with his deadly yorkers that bewildered many a batsman.
Waqar's bowling skills were a crucial element in Pakistan's success, and he consistently proved to be a match-winner for his team. Throughout his career, he scalped 373 wickets in 87 Tests and an impressive 416 wickets from 262 ODIs. His ability to strike fear into the hearts of batsmen and deliver crucial breakthroughs earned him immense respect both within Pakistan and globally.
1- Wasim Akram: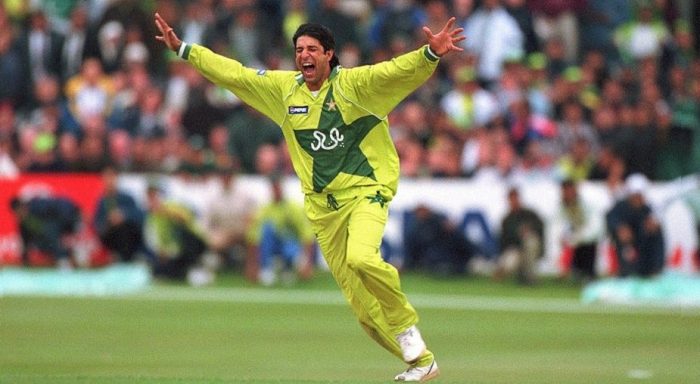 Wasim Akram, often hailed as one of the greatest fast bowlers in cricket history, was an exceptional Pakistani cricketer who donned multiple roles as a coach and captain of the Pakistan cricket team. His incredible talent lay in mastering two challenging techniques – the yorker and the reverse swing, which left batsmen grappling to face his deliveries. Aptly known as the 'Sultan Of Swing,' Akram's ability to swing the ball both ways made him a nightmare for opposing teams.
Throughout his illustrious career, Wasim Akram's achievements spoke volumes of his prowess. With an impressive record of 414 Test wickets in just 104 matches and a staggering 502 ODI wickets in 356 matches, he cemented his status as a true cricketing legend. His contributions to Pakistan cricket have left an enduring legacy that continues to inspire aspiring cricketers worldwide.