Birthdays are magical moments filled with joy, laughter, and the warmth of loved ones. Planning the perfect celebration can turn these moments into cherished memories. If you're in Karachi and wondering where to make your birthday unforgettable, you're in for a treat!
Join us on a delightful journey as we uncover the best places to celebrate birthdays in Karachi. From cozy cafes to exciting entertainment hubs, this city has it all. In this guide, we'll highlight the most welcoming and enjoyable spots, ensuring your special day is everything you've dreamed of. Let's explore the vibrant options Karachi has to offer and make your birthday celebration truly spectacular!
List of Best Places to Celebrate Birthdays in Karachi
The Valley Event Venue:
Nestled in the heart of Karachi, The Valley stands as a testament to exceptional event hosting. Their all-inclusive event package is designed to provide unparalleled value for your money. Immerse yourself in the charm of customized decorations tailored to your preferences, complemented by a top-notch sound system, vibrant confetti, and elegant balloons and ribbons. The venue is adorned to illuminate your special occasion in the most enchanting way possible. Culinary delights await you with a diverse menu featuring exquisite Italian, Moroccan, and Mexican cuisine, each dish crafted to perfection, ensuring a delightful gastronomic experience.
Location: F-35 Scheme Block 4 Clifton, Karachi.
Koffie Chalet:
At Koffie Chalet, elegance meets tranquility, offering a serene ambiance and ample space for your celebrations. Their commitment to excellence is reflected in their exceptional decorations that capture the eye and enhance the overall experience. Indulge your taste buds in a delectable array of dishes, each meticulously prepared to satisfy your cravings. The birthday cake, made from the freshest ingredients, adds a sweet touch to your celebration. The venue's spacious layout ensures that your event is comfortable and enjoyable, creating lasting memories for everyone involved.
Location: Mona Arcade, 102-A Captain Fareed Bukhari Shaheed Road, Sindhi Muslim Cooperative Housing Society Block A Sindhi Muslim CHS (SMCHS), Karachi.
Kababjees, Do Darya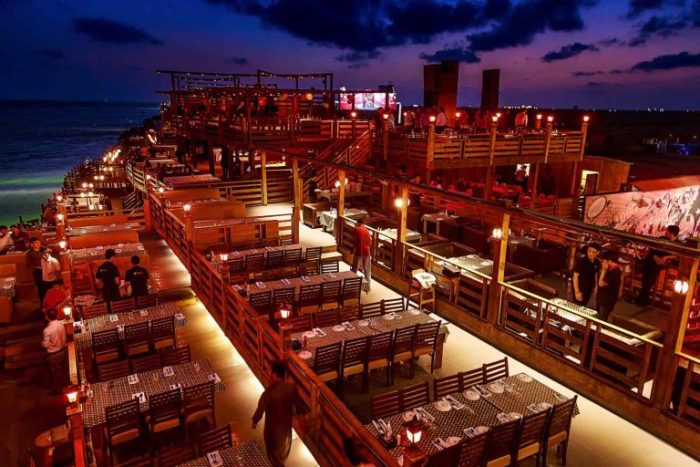 Experience the epitome of fine dining by the sea at Kababjees, an open-air haven that perfectly combines coastal charm with culinary excellence. Nestled in D.H.A. Phase 8, Zone C, Karachi, this venue offers a picturesque setting for birthday celebrations. Delight your senses with a diverse menu featuring Chinese, Continental, and desi delicacies, each dish infused with exquisite flavors. The venue's prime location adds an extra layer of allure to your event. Kababjees takes pride in its elegant decorations, meticulously designed to add a unique charisma to your celebration, ensuring that your event stands out in style.
Address:
9:00 AM – 12:00 AM
Contact:
(051) 2898055
Menu:
Google Map Location:
Haveli Kebab and Grill:
Nestled in the heart of North Nazimabad, Haveli Kebab and Grill stands as a culinary gem, renowned for its delectable kebabs and a fusion of Turkish and Pakistani cuisine. The spacious and inviting ambiance creates the perfect backdrop for any event or special occasion, ensuring a memorable experience for your loved ones or a birthday celebration that will be cherished. Beyond their mouthwatering Turkish dishes, it's the warm atmosphere and impeccable service that truly elevate your dining experience, making your birthday celebration truly remarkable.
Location: B 117 Shahrah-e-Jahangir Rd, Block H North Nazimabad Town, Karachi.
Cafe Strada:
Step into the refined elegance of Cafe Strada, where sophistication meets exceptional service. This chic cafe offers a spacious environment and premium services, taking care of all your event decorations. For a mere Rs 5000, you can enjoy a private space equipped with a dedicated sound system, ensuring your celebration is intimate and memorable. The culinary delights at Cafe Strada are unparalleled, featuring a diverse menu that spans Italian, Mexican, and Continental cuisines. Your guests can indulge in a culinary journey that tantalizes their taste buds, adding a touch of gourmet elegance to your event.
Location: Bangalow # F64-1, Block # 4, KDA Scheme No.5 Clifton, Karachi.
Côte Rôtie:
Embark on a gastronomic adventure at Côte Rôtie, a prestigious French bistro located in the heart of Karachi. This top-rated venue offers a unique menu and exquisite accommodations, making it an ideal choice for a range of celebrations, from bridal showers to birthday parties and wedding anniversaries. The bistro boasts both outdoor and indoor seating facilities, allowing you to bask in the ambiance of your choice. The impeccable service and unwavering commitment to quality ensure that your experience at Côte Rôtie transcends the ordinary. Indulge in delectable offerings that span breakfast, brunch, lunch, hi-tea, and dinner, treating your guests to a culinary affair that's as memorable as your special occasion.
Location: Plot/St, 1, Block 8 Clifton, Karachi.
Café Aylanto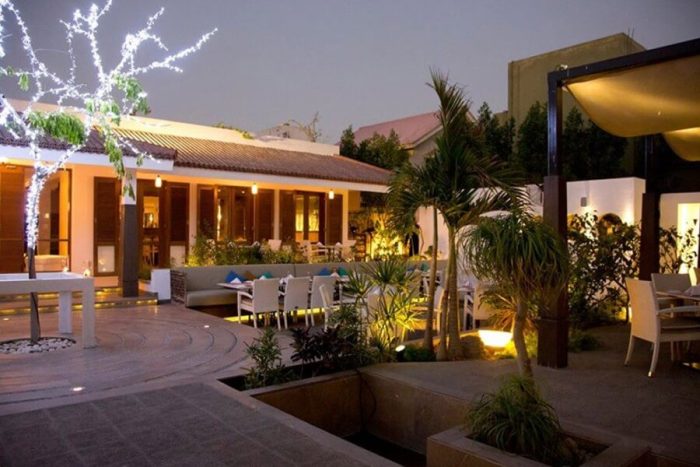 Indulge in the epitome of luxury and fine dining at Cafe Aylanto, where every moment becomes a cherished memory. This esteemed venue offers a magnificent ambiance, making it a preferred choice for events and occasions. What sets Cafe Aylanto apart is their meticulous attention to decoration; whether you prefer their expert touch or have specific visions, they ensure your setting reflects your desires. The extensive menu boasts a plethora of delectable options, including a delightful variety of expertly crafted cakes, adding a touch of sweetness to your event. Furthermore, Cafe Aylanto provides comprehensive birthday packages that encompass all essential elements, guaranteeing a truly notable celebration.
Address:
D 141, Block 4 Clifton, Karachi, Karachi City, Sindh
Contact:
0307 2952686
Menu:
Google Map Location:
Cafe Elemento:
At Cafe Elemento, simplicity meets sophistication in a delightful fusion. This charming cafe exudes a fresh and inviting atmosphere, serving dishes crafted from the finest ingredients. Specifically tailored for birthday parties and events, Cafe Elemento offers a seamless experience, handling everything from vibrant balloons to festive confetti, ensuring your event is etched in memory. Their menu is a culinary journey filled with flavorsome delicacies, tantalizing taste buds, and satisfying cravings.
Location: 180 E PECHS Block 2, Karachi.
Rosati Bistro:
Embrace the modern charm of Rosati Bistro, a cafe that blends elegance with an extensive menu of authentic Continental cuisines. The ambiance exudes warmth and coziness, creating the perfect setting for birthdays and special occasions. What sets Rosati Bistro apart is their complimentary decoration service, tailored to your event's theme and preferences, ensuring an aesthetically pleasing atmosphere. It's an ideal choice for those seeking a memorable celebration with a touch of sophistication.
Location: Main, B 12 Shahrah-e-Faisal Rd, Karsaz KDA Scheme 1, Karachi.
The Patio
Discover the spacious elegance of The Patio, an ideal venue for birthdays and wedding anniversaries. This venue offers a significant space coupled with impeccable food quality, ensuring an exceptional experience. Their top-notch service ensures every detail is taken care of, making your day truly memorable. The menu boasts a diverse range of options, catering to various preferences, ensuring everyone finds something to delight their palate.
Address:
F-50/1 F-Street, Block 4 Clifton, Karachi, Pakistan
Contact:
0300 8291936
Menu:
Google Map Location:
As we conclude our exploration of the best places to celebrate birthdays in Karachi, it's clear that this city is brimming with options to make your special day extraordinary. Whether you prefer the serene ambiance of a beachside restaurant, the thrill of an amusement park, or the comfort of a charming café, Karachi has something for every birthday enthusiast.
Remember, beyond the glitz and glamour of these places, what truly makes a birthday special is the company you keep and the moments you share. It's the laughter with friends, the smiles with family, and the joy of being surrounded by those who matter most.